Chattanooga may be a small city, but it's making a big noise as a hiking and trail running destination.
Chattanooga is a premier outdoor destination that you probably haven't heard of but absolutely deserves a spot on your hiking radar.
This riverside city boasts more than 50 trailheads within 30 minutes of downtown, 100+ miles of single-track, and one of the highest concentrations of climbing spots on the East Coast. When you're ready to give your feet a break, Chattanooga is also well-known for horseback riding, whitewater rafting, and even hang gliding.
In short, what was once deemed "the dirtiest city in America" in the 1960's has transformed into a premier travel destination for outdoor enthusiasts. It's a two-time winner of Outside Magazine's Best Town Ever award, and the only city to earn the distinction twice.
We've compiled our choices for the 14 best hikes to help you explore the urban and natural terrain around Chattanooga. Whether you're stopping through for a week or a weekend, there's a hike to suit your needs, including plenty of family friendly excursions.
Don't forget that we're talking about the South, so it's blessed with warm weather for most of the year. Thanks to nearly nine months of pleasant temps you'll have no excuse but to keep hitting the trails again and again.
Related Read: The 12 Best Spots to See Tennessee's Fall Foliage
1. Greeter Falls
Why you should go: A short hike boasting one of Tennessee's most impressive waterfalls.
Distance: 3.2 miles
Elevation Gain: 520 feet
Difficulty: Moderate
Lower Greeter Falls is considered one of the most beautiful waterfalls on the East Coast. On this 3.2 mile loop you'll get not one, but two stunners, including the 15-foot Upper Falls and the dramatic 50-foot Lower Falls.
The falls are located about 45 minutes northwest of Chattanooga, in the Savage Gulf area of South Cumberland State Park. This easily accessible hike follows Firescald Creek, which is bounded by Jurassic-looking sandstone cliffs and shaded by dense hardwood trees.
Once you get to Greeter Falls you'll be lavished with aquamarine waters begging you to jump in for a swim.
"Greeter Falls are just so good," praises Christian Murillo on The Outbound Collective. "An epic three-walled amphitheater-like gulch surrounds you and is actually surreal. The Lower Greeter Falls is definitely one of the most beautiful and impressive waterfalls on the East Coast."
More Information: Hiking the Appalachians and Beyond
2. Sunset Rock via Bluff Trail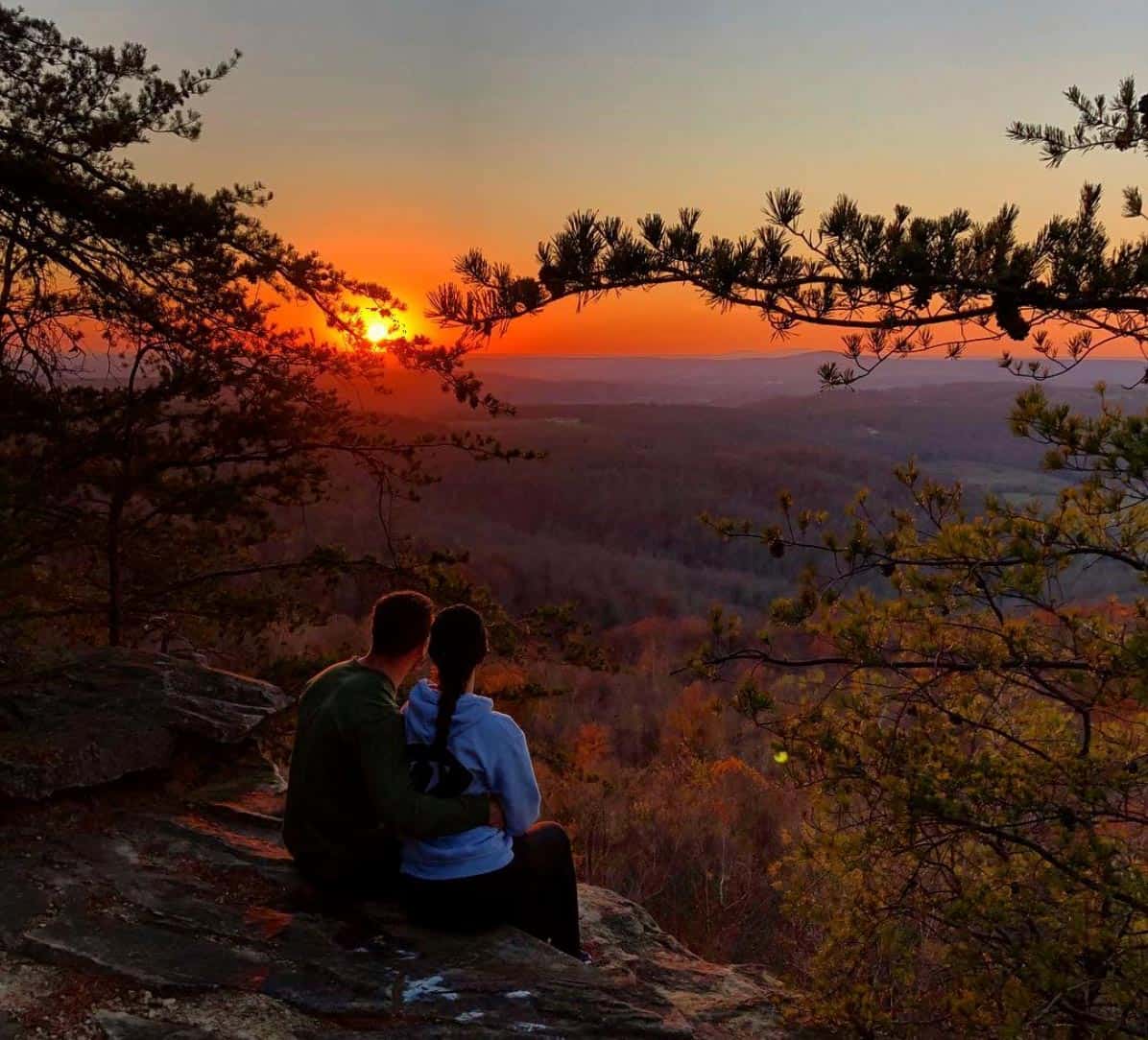 Why you should go: A go-to spot to watch stunning sunsets over the Tennessee Valley.
Distance: 3.4 miles
Elevation Gain: 600 feet
Difficulty: Easy
Soak in the last rays of the day from Sunset Rock and watch as the dusky skies fill with pastel blooms over Cumberland Plateau to the west of the city. It's just a few minutes from downtown Chattanooga, and the easygoing trail makes it a great choice for hikers of all ages and skill levels.
The Bluff Trail actually features two overlooks for the price of one hike, making this a classic trail on Lookout Mountain. Along the way you'll also stop by Point Park for expansive views of Chattanooga.
This is "one of the most incredible views in Tennessee," says Joshua Smeton on AllTrails.
If you're feeling ambitious, you can try your hand at the King Of Lookout Mountain run. Start at The Tap House, then head uphill for 1.86 miles to Point Park. Earn your sunset, then reward yourself with an ice cold beer when you're finished.
More Information: Atlanta Trails
3. Snoopers Rock Trail
Why you should go: One of the best panoramic views of the Tennessee River Gorge.
Distance: 5.9 miles
Elevation Gain: 1,160 feet
Difficulty: Moderate
Overlooking Tennessee's version of Horseshoe Bend, Snoopers Rock offers an unmatched view of the Tennessee Gorge.
This hike is one of the most accessible on our list, located just outside the city. The trail can get busy on weekends, but don't let that stop you. The rocky promontory unveils a breathtaking panorama that's worth braving the crowds to see for yourself.
Of course, you can still soak in the incredible view without a lengthy hike. The scenic vista is only a little over a half-mile from the upper parking lot.
More Information: Hike The South
4. Fiery Gizzard Trail to Raven's Point
Why you should go: An all-day adventure on one of the most iconic trails in the Southeast.
Distance: 9.6 miles
Elevation Gain: 1,250 feet
Difficulty: Hard
The Fiery Gizzard trail is widely considered one of the best hikes around. While the path has a comical name, this challenging full-day hike is no laughing matter.
For those who are up for the adventure, the double loop path delights hikers with ample waterfalls, towering rock walls, cascading streams, lush woods, and jaw dropping views at Raven's Point. A word to the wise: tackle the rock and boulder fields along the Fiery Gizzard trail first, as the uneven terrain is difficult as a return trip.
"It's all worth the payoff," encourages Daniel Nygren on AllTrails. "Beautiful views at Raven's Point plus the scenery during the scramble is like out of a fantasy world… Great hike!"
More Information: AllTrails
5. Lula Lake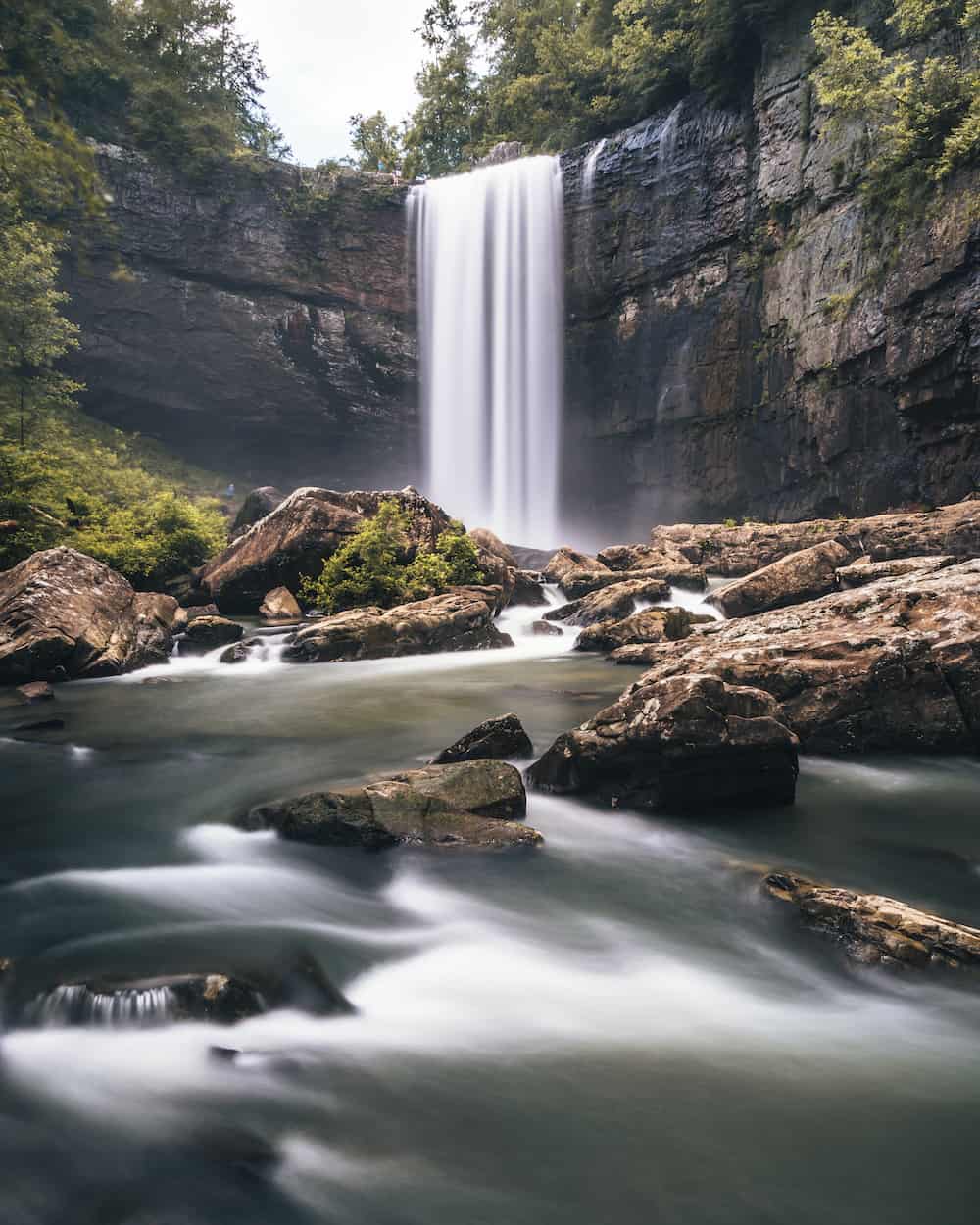 Why you should go: Take the plunge and hike to the stunning 120-foot Lula Falls waterfall.
Distance: 3.9 miles
Elevation Gain: 475 feet
Difficulty: Moderate
Lula Lake is one of Chattanooga's most beautiful natural destinations, and it's just 30 minutes from downtown to boot. You'll want to take your camera for this one as the hike offers a panoply of gems, from the dramatic 120-foot Lula Falls to a brilliant turquoise lake.
If you're up for more backcountry adventure, the surrounding area features over eight miles of trails on 8,000 acres of private land at the foothills of the Appalachian Mountains. The area is maintained by the Lula Lake Land Trust, and advance reservations are required.
Lula Lake is open on the first and last Saturdays of each month from 9am to 5pm. From May to November, it's also open on the first and last Sundays of the month from 12pm to 5pm.
"A must see," says Kellie Honea on The Outbound Collective. "There are many draws: blue-green waters, cool rocks, choice of clearly-marked trails, many small falls…and the magnificent waterfall literally takes your breath away."
More Information: Chattanooga Fun
6. Cumberland Trail: North Chickamauga Creek Section
Why you should go: A peek into the coal mining past with beautiful natural features.
Distance: 13.2 miles
Elevation Gain: 3,480 feet
Difficulty: Hard
The longest hike on our list takes you along the North Chickamauga Creek Gorge, which is recognized by the National Park Service for its "outstanding scenic, recreational, geologic, fish and wildlife, historic, and cultural values."
On this long day-hike deep within the sandstone plateau of Walden's Ridge, you'll meander through a small portion of the 7,093-acre park while getting familiar with one of the main tributaries of the Tennessee River. Along the way you'll be immersed in rocky scrambles, burbling waterways, unobstructed wilderness, and a look at the recent industrial past. The area was once used for coal mining, and you'll pass a mine shaft and a coal tipple on the hike.
"Great trail for families, as much of it is wide and easily traversed," encourages Carlie Mahaffey on AllTrails. "There are many awesome swimming spots and most are relatively easy to access from the trail."
More Information: Cumberland Trails
7. Glen Falls Trail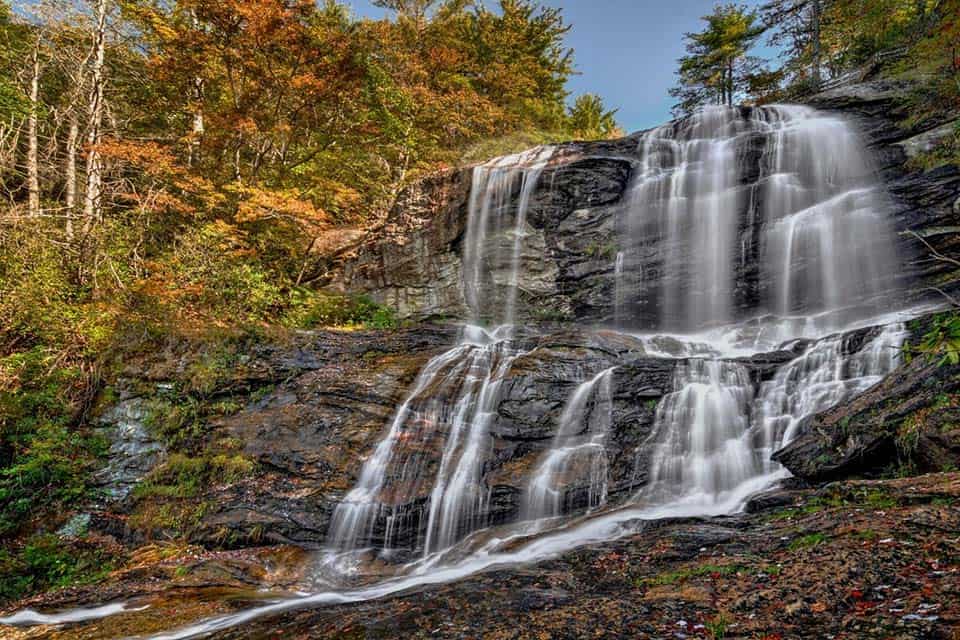 Why you should go: A great place for kids to explore close to downtown.
Distance: 2.1 miles
Elevation Gain: 475 feet
Difficulty: Easy
A quick 15-minute drive from downtown Chattanooga brings you to an excellent family-friendly excursion: Glen Falls Trail. Children will enjoy this natural playground filled with manmade tunnels, boulder fields, and rocky staircases overflowing with tumbling water.
Visit in the fall for spectacular color or the spring for more rushing waterfalls. Glen Falls is considered a high-mountain waterfall, which means the water flow is determined by the volume of recent rain. When there's ample rainfall, you'll hear the falls before you see them.
More Information: RootsRated
8. The Enclosure Trail at Old Stone Fort State Archaeological Park
Why you should go: Step into history and explore an early Native American settlement.
Distance: 1.4 miles
Elevation Gain: 100 feet
Difficulty: Easy
Take a hike into history at Old Stone Fort State Archaeological Park and explore ancient Native American land from the Middle Woodland period (200 BCE – 500 CE). The state park features more than seven miles of hiking trails that showcase the Duck River, rated one of the five most biodiverse rivers in the world by National Geographic.
Every inch of trail is worth exploring here, but the Enclosure Trail that explores the Old Stone Fort is the crowd favorite. The 1.4-mile route provides 12 interpretive signs to help you understand the fascinating history of the fort, which was constructed 1,500 to 2,000 years ago.
If you have more time to explore the park, try the Forks of the River Trail that brings you to where the Little Duck and Big Duck waterways diverge. The Nature Trail is another great choice, delivering a pleasant walk through the lush woods.
More Information: Tennessee State Parks
9. Big Daddy Loop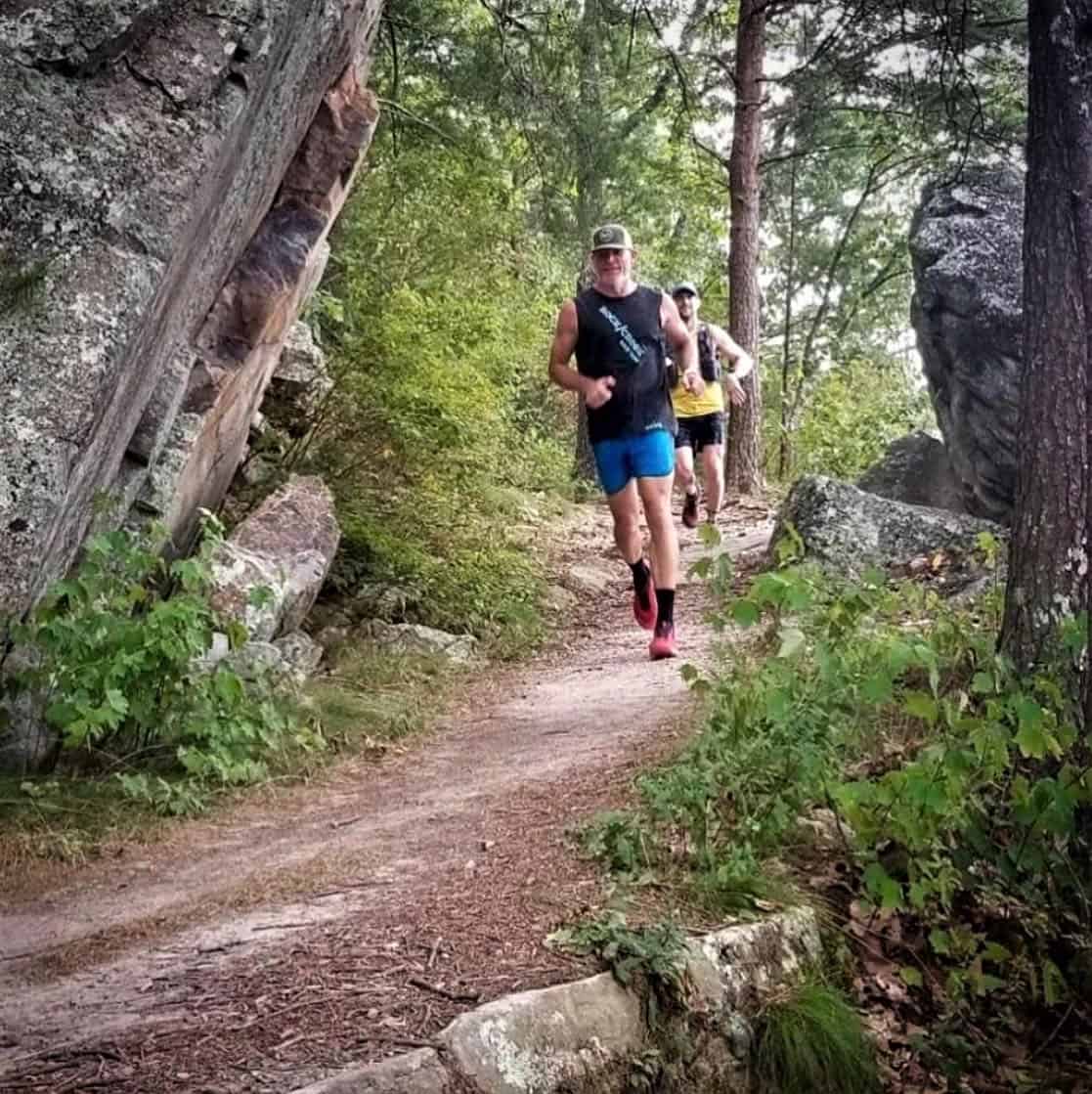 Why you should go: A big trail run that's just a few minutes from downtown.
Distance: 10 miles
Elevation Gain: 1,740 feet
Difficulty: Hard
Chattanooga is known as a great trail running city, and the Big Daddy Loop is one of the most popular routes in town.
The route follows seven trails along the western flank of Lookout Mountain. Runners will enjoy a leg-pumping uphill challenge with excellent views, from majestic sandstone cliffs on one side and opulent scenes of the valley on the other.
Your run begins at the Cravens House, a historic structure that was once used as a headquarters by both the Union and Confederate armies. You'll work your way through the Rifle Pits Trail, Guild Trail, Gum Springs Trail, Skyuka Springs Trail, John Smartt Trail, and the grand finale, Bluff Trail.
More Information: AllTrails
10. The Tennessee Riverwalk: Citico Bar to Veterans Bridge
Why you should go: A family-friendly river trail through downtown Chattanooga.
Distance: 2.7 miles
Elevation Gain: 200 feet
Difficulty: Easy
Enjoy a day filled with nature, food, and some of the best sights in Chattanooga with the Tennessee Riverwalk. The paved path stretches for 13 miles, allowing you to create a family adventure with any combination of bicycling and walking. You can easily rent bicycles using Chattanooga's bike share program, with several stations located right along the river.
You'll find a variety of activities along the Riverwalk, from the Tennessee Aquarium to the Bluff View Art District and the historic Walnut Street Bridge. At 2,376 feet long, the historic bridge is actually one of the longest pedestrian bridges in the world.
We suggest enjoying lunch near the tiered staircase by the Aquarium, taking a dip at Ross's Landing Park, and topping it all off with ice cream from Clumpies Ice Cream Co.
More Information: Chattanooga Fun
11. Big Creek Gulf, Big Creek Rim, & Stone Door Trails Loop
Why you should go: A remote trail with spectacular rim views.
Distance: 8.7 miles
Elevation Gain: 1,575 feet
Difficulty: Hard
Expect grand views and remote wilderness on the Big Creek Gulf Loop.
Along this hearty trail you'll be treated with varied terrain, moody rock formations, and ample respite from city life concerns. The 15,590 acres of the Savage Gulf area is one of the most rugged and pristine parks in the state, and is surprisingly only 35 minutes from Chattanooga.
"We dropped down the Stone Door and were amazed at the scenery with boulders as large as houses," says Andrew Ward on AllTrails. "Every tree and plant imaginable, and giant trees to walk under, it lived up to my expectations."
More Information: Emily Takes a Hike
12. Cloudland Canyon West Rim Loop
Why you should go: Tremendous views over one of Georgia's largest and most scenic parks.
Distance: 4.8 miles
Elevation Gain: 730 feet
Difficulty: Moderate
One the most dramatic of Georgia's state parks, the Cloudland Canyon West Rim Loop offers stellar overlooks, a hobbit home cavern, waterfalls, and a photo-op under a staggeringly large boulder.
Start with a treat as the paved path takes you to the first lookout on the trail. For close-up encounters with the aesthetic Cherokee Falls and Hemlock Falls, you can take the Waterfall Trail, a 1.1-mile diversion that descends into the canyon, or you can skip this while still catching sight of the falls by staying on the West Rim Loop Trail. From there, the hike crosses over Daniel Creek and continues along the canyon's rim for captivating long-range views.
Note that swimming and climbing on rocks are strictly forbidden, and regulations are enforced.
"Scenery is absolutely amazing! The overlooks are breathtaking," says Leonel Ortiz on AllTrails.
More Information: Hike The South
13. Walls of Jericho
Why you should go: Trek into the woods of Davy Crockett for an unbelievable waterfall.
Distance: 6.6 miles
Elevation Gain: 1,350 feet
Difficulty: Hard
Don your raccoon tail hat and take a hike like Davy Crockett once did along the Walls of Jericho trail.
Make your way through the narrow gorge while enjoying the ambient pitter-patter of three waterfalls along the hike. You'll encounter thick woods and moss-covered boulders before funneling into sheer rock cliffs guiding your way. The trail culminates with a natural amphitheater comprised of a 50-yard wide limestone bowl and a cascading waterfall.
Located in the Paint Rock River watershed, the wilderness area supports diverse wildlife including the rare Tennessee cave salamander, 100 species of fish, 45 species of mussels, and plenty of birds.
"The trail contains beautiful scenery with wildflowers, streams, and lots of trees," says James Cleckler on AllTrails. "Be sure to cross at the first waterfall and keep going to the very back of the area. Worth every step."
More Information: Emily Takes a Hike
14. Fall Creek Falls and Cane Creek Falls
Why you should go: A short hike for tallest waterfall in the East.
Distance: 2.4 miles
Elevation Gain: 560 feet
Difficulty: Moderate
Take it easy with a quick hike to Fall Creek Falls, the tallest waterfall east of the Mississippi River. It's a spectacular sight to behold at 256-feet-tall, and nearby Cane Creek Falls reigns as the largest waterfall by volume in the park. The best times to visit are after heavy rainfall for surging torrents.
Fall Creek Falls State Park is one of the most popular destinations in the state, so expect weekend crowds on this well known path. If you're looking for more solitude, make your way through the more than 50 miles of hiking and mountain bike trails in the park. No matter your path, the sparkling streams, deep gorges, pine forests and caves are sure to make the trip worth your while.
"Absolutely lives up to the hype," says Tim O'Dell on AllTrails. "Great for kids and my dog. Two for one special of stunning falls at the bottom and the top and a suspension bridge for fun thrown in. Very cool hike."
More Information: Hike The South
Explore More
Sign up for Weekend Wanderer to join 10,000+ readers getting epic travel ideas every week.
---