Find your solitude and creativity in the majesty of the Berkshire Mountains.
Located on the opposite side of the state from Boston, the Berkshire Mountains were once home to the Mohicans until they were tragically and forcibly removed by colonial settlers. In more recent years, the area has been a top tourist destination for many visiting the New England area. Herman Melville even wrote the bulk of Moby Dick from his estate deep within the Berkshires, and Melville isn't the only celebrity to grace the area either; Meryl Streep, James Taylor, and Yo-Yo Ma all have homes here.
But, let's face it, you likely aren't visiting the area to catch a glimpse of a celebrity. You are likely here for the peace and solitude that nature has to offer. Luckily, there are endless hikes to quench whatever thirst you might have. Whether you are aching for some waterfalls, bird-watching, mountain summits, or a simple jaunt in the forest, the Berkshires have exactly what you need.
1. Clam River Trail
Why you should go: one of the only spots within the Berkshires where you won't find another soul.
Difficulty: Easy
Length: 3.5 miles
Elevation gain: 500 feet
Enjoy seclusion and silence when hiking the Clam River Trail. For some odd reason, this trail is not as well trafficked as many of the other trails within the Berkshire Mountains. It might be because there are no sweeping views from a mountain summit, but that doesn't mean it isn't beautiful.
Despite the lack of foot traffic, Clam River is filled with towering pines along narrow paths, canyon-esque spots, and access to the Clam River for potential fishing.
Related Read: The 6 Best Scenic Byways to Fully Experience Massachusetts
2. Sunset Rock Loop
View this post on Instagram
Why you should go: it's called Sunset Rock for a reason – sunsets are sublime here.
Difficulty: Moderate (due to elevation gain in a short distance)
Length: 1.3 miles
Elevation gain: 300 feet (mostly in the second half of the hike)
If you're itching to bring your significant other to a romantic sunset view, look no further than Sunset Rock Loop. Its short distance makes for a quick jaunt up to 180-degree views that face west. it's also a fantastic hike during winter when you can see the forest covered in snow.
Chances are, you won't be the only person who's thought of it, but luckily, the summit has various places to get a bit more peace and quiet. That way you can snuggle up with the one who warms your heart. Don't forget a headlamp to ensure a safe hike back down to your car.
Pro tip: for a longer hike, do the Hoosac Range Trail to Spruce Hill. You won't regret it.
3. Parson's Marsh Trail
View this post on Instagram
Why you should go: you can bring your kiddo in a stroller.
Difficulty: Easy (and fully accessible)
Length: 0.6 miles
Elevation gain: 36 feet
The outdoors can be hard for those who might have mobility issues. Trails inherently prevent many from accessing them simply due to the literal nature of the path. Luckily, there are trails like Parson's Marsh Trail that allow practically anyone to enjoy the outdoors.
Make sure to bring a pair of binoculars because the Observation Deck at the end gives a perfect view of the marsh and its resident birds. Spring is the ideal time to visit when blooming wildflowers line the trail.
Related Read: 6 Backpacking Trips in the White Mountains That are Unforgettable
4. Mount Greylock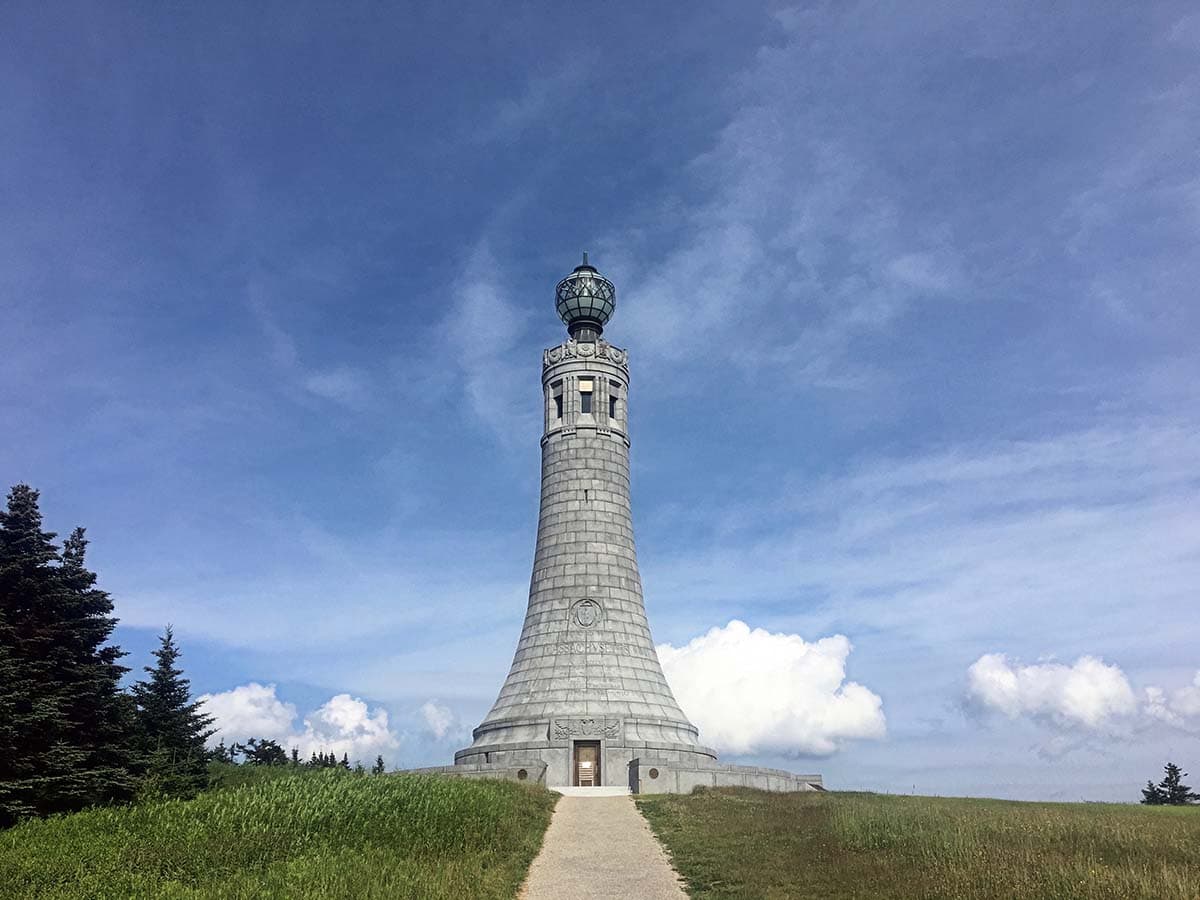 Why you should go: sit on the top of Massachusetts.
Difficulty: Difficult
Length: 6.7 miles
Elevation gain: 2300 feet
There are several ways to get up to the top of Mount Greylock including via the Gould Trail, Cheshire Harbor Trail, and Bellows Pipe Trail. The most popular is the latter but no one trail is better than the others. Due to Mount Greylock being the tallest mountain in Massachusetts, the trail is heavily used.
In the summertime, visitors can also drive up the mountain, which means the summit will be filled with people from all walks of life. Luckily, the summit spans a large area and includes a lodge where you can grab food. Still, bring your usual hiking snacks (but just know a slice of chocolate cake might await you at the top.)
Related Read: 5 Best Backpacking Trips in Maine for a Wild Adventure
5. Bob's Way
View this post on Instagram
Why you should go: some of the best wildlife viewing in the state.
Difficulty: Easy
Length: 3.0 miles
Elevation gain: 450 feet
The trail along Bob's Way Loop is a lesser-known path that traverses through various ponds, wetlands, and forests. It was once home to a great blue heron rookery and is now a haven for an abundant number of wildlife species, especially birds.
The trail was named after the conservationist, Bob Thieriot, and pays homage to the land he loved. The trail "ends" (it's a loop, so it's not really the end) at a lookout called Dave's Bench where you can relax before finishing up the loop.
6. Stevens Glen Trail
Why you should go: it's like walking through a fairytale.
Difficulty: Easy
Length: 1.2 miles
Elevation gain: 230 feet
New England is home to a lot of rain and overcast skies. Although most might not like the dreariness, it makes for some dramatic photos while hiking Stevens Glen Trail. The trail takes you through a hemlock forest with lots of rock formations and ferns.
But the real stunner is the waterfall along Lenox Mountain Brook cascading down a steep ravine. The moss and lichens that line the boulders, which have been carved out by the cascades, give the area a spectrum of color.
Related Read: The 8 Most Magical Treehouses in Massachusetts
7. Rounds Rock Trail
View this post on Instagram
Why you should go: great bang for your buck.
Difficulty: Easy
Length: 1.0 mile
Elevation gain: 100 feet
The kid-friendly, Rounds Rock Trail, is located within Mount Greylock State Reservation. It's got almost as good of views as the ones you get when climbing the state's highest summit. However, your lungs and legs will be as fresh as when you first started. It's a great option for those who have children with them or those who might have limited mobility issues.
The focal point of the park is the 93-foot-tall Veterans War Memorial Tower which sits on the mountain's summit. There's also a visitor's center and both are accessible by car.
8. Finerty Pond
View this post on Instagram
Why you should go: get a taste of the Appalachian Trail.
Difficulty: Difficult
Length: 5.0 miles
Elevation gain: 1,350 feet
You don't have to walk the full 2,190 miles to experience the Appalachian Trail. There are about 90 miles of the Appalachian Trail within the Massachusetts border, five of which are on the trail to Finerty Pond. This is one of the harder hikes on the list and includes some rocky sections (as is the case with many trails in the Berkshires).
You won't see sweeping views on this hike, as the majority of the trail is masked with trees, but the pond is extremely picturesque and is a perfect quieter hike for those wanting some solace.
9. Race Brook Falls & Mount Everett
View this post on Instagram
Why you should go: breathtaking waterfall and beautiful views.
Difficulty: Difficult
Length: 6 miles
Elevation gain: 2,200 feet
Sure, you could see the rushing waters of Bash Bish Falls, but instead, opt for the calmer and quieter Race Brook Falls. The cascades are about a mile from the start of the trail and before most of the ascent. If you just want to see the waterfall, you can turn around and cut your distance down to two miles.
I suggest heading further to the summit of Mount Everett to take in the wide views of the surrounding forests and hills. This is also a popular trail in the winter, but make sure to wear appropriate footwear if hiking during the colder months when ice and snow will be on the trail.
10. The Boulders
View this post on Instagram
Why you should go: ride down a natural slide to bring out your inner child.
Difficulty: Moderate
Length: 5.0 miles
Elevation gain: 500 feet
It's not every day that you get to fly down a slide in nature's playground. Aptly named "The Boulders," these smooth rocks make for the perfect natural slide. After years of use, the surface has only gotten smoother and easier to slide down.
But there's more to the trail than just the boulders. Hikers can enjoy tall hemlocks, gorgeous autumn foliage, and wide trails to make for easier walking. It's a great option for those with little ones — or for anyone wanting to bring out their inner child.
Explore More of New England
Sign up for the Weekend Wanderer to join thousands of readers getting epic travel, hiking, camping, and gear ideas every week.
---