We research, evaluate and select travel destinations based on a number of factors, including our writers' experience, user reviews and more. We may earn a commission when you book or purchase through our links. See our editorial policy to learn more.
Was this article helpful?
---
Glacier National Park — the Crown of the Continent — is chock-full of pristine forests, jagged mountain ridges, wildflower-studded meadows, and awe-inspiring lakes. And plenty of Airbnb options nearby.
Part of the world's first international peace park to celebrate the friendship between the United States and Canada, Glacier National Park is a true gem.
Whether you experience the park via one of the park's famous red car tours or from a hiking trail (or both), you'll get amazing views of the park almost always regarded as one of the most beautiful in the world. No matter where you go, be on the lookout for wildlife like mountain goats, moose, and grizzlies, all of which are often seen in the backcountry.
The park is massively popular and trails get crowded, so consider requesting a backcountry permit and spending one night camping at a developed backcountry trail. If you thought the views of Glacier from the opening scenes of "The Shining" (partially filmed in the park!) were lovely, wait until you see the more off-the-beaten-path destinations.
Some travelers may want their Airbnb near Glacier to be no more than a place to sleep at night while others may be looking for lodging as beautiful as the park. But no matter what you're after, these Airbnbs near Glacier National Park should cover most of the bases.
Don't forget that Glacier National Park straddles the Continental Divide – the weather can be extreme, especially in the winter. Toss a down jacket in your bag even if you're visiting in the summer.
Related Read: 11 Montana Glamping Rentals for an Upscale Outdoor Stay
1. The Ahern Cabin
Why you should stay: Charming log cabin with plenty of play areas for kids.
Location: Martin City
Sleeps: 6
Minimum stay: 1 night
Rates from: $125/night
Like all glaciers in the park, the Ahern Glacier (for which this cozy cabin is named) has, sadly, been heavily impacted by global warming. So if you want to see it, book this cabin sooner rather than later. It'll be the perfect spot to relax after you make the long and challenging day hike to either Helen Lake or Iceberg Lake, both of which offer views of the Ahern Glacier.
Located just nine miles from the west entrance, you're close to everything that Glacier has to offer including the free Going-to-the-Sun Road Shuttle (which is far more convenient than trying to find parking.) Local tip: if you're visiting in February, stick around for Martin City's weekend-long Cabin Fever Days and Barstool Ski Races.
Check Availability
Related Read: 50 Coolest Airbnbs in the U.S. for a Great American Adventure
2. Riverfront Modern Log Cabin
Why you should stay: Rich and inviting log cabin complete with a private hot tub.
Location: Hungry Horse
Sleeps: 8
Minimum stay: 1 night
Rates from: $271/night
This picturesque mountain retreat is a perfect place for a week-long getaway with friends and family. It looks as if it was pulled from a Glacier postcard and has room for anyone who might want to hitch a ride in your car to this incredible destination.
Windows adorn almost every inch of this secluded getaway, almost eliminating the separation between you and nature. You can have dinner on the super spacious deck or head to the fire pit near the river to listen for the night critters coming to life as the sun sets.
"We spent the last year planning this incredible trip! This cabin was everything we hoped it would be and more!"
Check Availability
Related Read: 6 Gorgeous Treehouse Rentals in Montana
3. Blackfoot Glacier Cabin
Why you should stay: Affordable, historic-style cabin for the perfect romantic Western getaway.
Location: Martin City
Sleeps: 4
Minimum stay: 1 night
Rates from: $87/night
Named after the second-largest glacier remaining in the national park, this rustic cabin can sleep four but is really best for two guests that want to turn the romance up a notch. The authentic clawfoot tub even has a stainless-steel caddy to hold wine and candles – the perfect way to end a day outdoors.
On cold, winter nights, grab some logs from outside for the wood stove and snuggle under the flannel blankets. Or venture out onto the patio with a glass of whiskey to warm the insides while snow falls around you. The owners manage a few different cabin-style Airbnbs near Glacier, so they're familiar with the area and can help recommend guides and tours if you're overwhelmed by all the options.
Check Availability
Related Read: 6 Epic Backpacking Routes in Glacier National Park, Montana
4. The Falls Creek Cabin
Why you should stay: A simple stay in a valley with your own private waterfall.
Location: Glacier County
Sleeps: 6
Minimum stay: 2 nights
Rates from: $159/night
Get a taste for the less-visited eastern side (the Two Medicine area) of Glacier National Park while staying in this quaint and simple cottage in the heart of Lewis and Clark National Forest. It's extremely close to the east entrance into the park.
While there are tons of hikes to choose from when staying close to this stunning national park, the ones around Marias Pass offer some of the best views. But if you need a rest day, just stay close to home. Since it's in the middle of "big sky country," the cabin's got sweeping views of the surrounding mountains and canyons; wildlife sightings are extremely common.
Bears especially love this area since there are serviceberries aplenty in the spring and summer. They're actually super tasty for humans, too – just make sure to make constant noise if you're out picking them since the bears will be prowling around the same bushes.
Check Availability
Related Read: 9 Epic Glamping Sites Near Yellowstone National Park
5. Waterfront Home on Lake McDonald
Why you should stay: A small home in the park on a private beach.
Location: West Glacier
Sleeps: 4
Minimum stay: 3 nights
Rates from: $275/night
Forget about an Airbnb near Glacier National Park – why not book a home in the park instead? Sitting on the shore of Lake McDonald, this one-of-a-kind home has everything you need to create an unforgettable vacation in one of the most scenic national parks in the world. You can start each evening by taking a glass of bubbly down to the boat dock to watch the sun dip below the majestic mountains across the lake.
For the best experience, book this house in the spring to view the Garden Wall – the famed hillside named for its abundance of wildflowers.
Check Availability
Related read: Revisiting the Fatal Grizzly Attacks That Changed America's National Parks Forever
6. Glacier Ridge Chalet
Why you should stay: A cabin with a complimentary four-wheeler.
Location: Babb
Sleeps: 9
Minimum stay: 1 night
Rates from: $238/night
You'll feel as if you're staying in your own private wildlife preserve at this magnificent two-story home. If you're a birders, don't forget your binoculars as songbirds are abundant on the property throughout the year. It's a bit surpring that it's one of the more affordable large-group Airbnbs near Glacier.
Even if watching birds isn't your thing, you'll enjoy hanging out in the private hot tub to take in the sweeping views of Glacier National Park and the darkest night sky you've ever seen. Seriously: the chalet is within region's Dark Sky Zone, creating opportunities for world-class stargazing. And if you're lucky, there's even a slight chance of seeing the northern lights. There's an in-house telescope you can use to help prowl for shooting stars.
Check Availability
7. The MooseshroomYurt
Why you should stay: An affordable bunk-style stay for a laid back group.
Location: Columbia Falls
Sleeps: 6
Minimum stay: 2 nights
Rates from: $199/night
Calling all nature lovers! This cozy 20-foot yurt is perfectly located for all your outdoor adventures. Crazy about waterfalls? Good, because you're only seven miles from the park's west entrance and dozens of waterfalls along the Going-to-the-Sun Road. Amphibian nerd? There's a small pond on the property to get up close and personal with the life cycle of a frog. More of a mammal person? Don't you fret, because there's wildlife galore on this nine-acre property.
Although pooches aren't allowed on the hiking trails in Glacier National Park, they're more than welcome on this property (although anyone younger than 21 isn't.) There's no indoor restroom, but the shared bathhouse is only a two-minute walk away.
Check Availability
Related Read: 11 Extraordinary Glamping Stays Near Glacier National Park, Montana
8. The Essex Bungalow
Why you should stay: "Sorry, boss: my partner rented a place with no cell service!"
Location: Essex
Sleeps: 4
Minimum stay: 2 nights
Rates from: $89/night
An eclectic combination of train buffs, skiers, and fishermen make up the remote mountain community of Essex and The Bungalow is smack in the middle. Set near the train tracks, this space isn't for those who want complete solitude, but its a great spot if you want to be near fantastic backcountry and cross-county skiing.
Essex is about 30 minutes south of the west entrance to Glacier National Park, which means you're also near some of the far-less-busy hikes south of the park, east of the Hungry Horse Reservoir.
You'll hear the whistles and feel the vibrations of the passing trains with a stay at this Airbnb, but that's part of life in Essex. Make sure to walk over to the historic Izaak Walton Inn and grab dinner at the Dining Car Restaurant (the town is seriously obsessed with trains.) This is one of the best Airbnbs near Glacier NP if you just want to chill out and enjoy a slower pace of life for a few days.
Check Availability
9. Modest Cabin in the Woods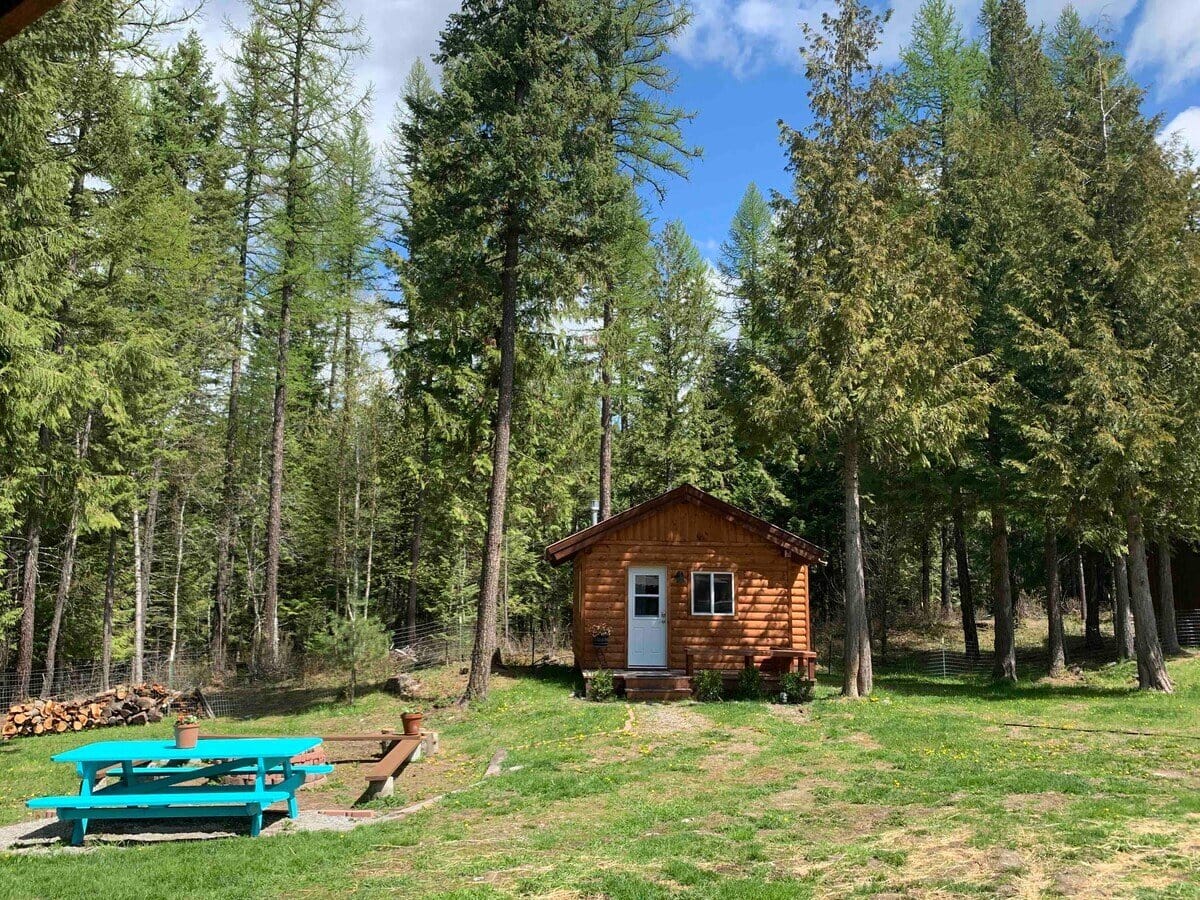 Why you should stay: A budget-friendly rental near both the park and a few cute MT mountain towns.
Location: Columbia Falls
Sleeps: 2
Minimum stay: 3 nights
Rates from: $85/night
Trails for mountain biking, dirt bike riding, hiking, snowmobiling, skiing, snowshoeing, fishing, kayaking, rafting, and hunting are all within close proximity to this secluded retreat. If you don't want to bring your own kayaks or snowshoes, the hosts will gladly let you borrow theirs (if they're not using them, of course!)
"Not only was the place picture perfect, it's close enough to all the bars and restaurants, but yet far enough away to be in the beauty of nature. If I could give them a million stars I would."
Check Availability
10. Heart Rock River Retreat
Why you should stay: A riverfront home within walking distance to Glacier.
Location: West Glacier
Sleeps: 5
Minimum stay: 3 nights
Rates from: $258/night
Just a stone's throw away from Glacier National Park (no, seriously: it's just across the river that runs through the backyard ), this quiet home-away-from-home will keep you coming back for more. Just look at the reviews – many guests have come back several times just to stay in this cozy home.
Looking as if it belongs on a list of Swiss Airbnbs, not Glacier National Park Airbnbs, this chalet is roomy and welcoming with a massive deck, well-manicured yard, and steps down to the river. There's really no need to even go inside (except for the fact that it gets really cold at night!)
Check Availability
Plan Your Trip to Glacier National Park
Now that you've picked the perfect Airbnb near Glacier, here's what should be on your must-do list.
Find Your Next Adventure
Get epic travel ideas delivered to your inbox with Weekend Wanderer, our newsletter inspiring more than 10,000 readers every week.
Was this article helpful?
---