---
The wild wild west of today has traded rough and tumble ranches for the luxury and comfort of modern Airbnbs.
When you think of Wyoming, there's a good chance that vivid images of cowboys and roaming buffalo come to mind. The state's exciting Wild West persona and epic mountain ranges are major draws for the millions of tourists who flock to Wyoming every year.
Whether to live the snow bunny life at the famous ski resorts of Jackson Hole or to embark on exciting hikes through Yellowstone or the Tetons, it doesn't get much more western than Wyoming.
Use this list of the best Airbnbs in Wyoming to find a gorgeous place to lay your head at night.
Related: How to Spend One Day in Grand Teton National Park, Wyoming
1. Granite Ridge Cabin 7590
Why you should stay: An uber-luxe villa nestled amongst the epic mountain and forest views of Jackson Hole.
Location: Teton Village
Sleeps: 4
Minimum stay: 5 nights
Rates start from: $802/night
If close proximity to some of Wyoming's best natural sites and a relaxing hot tub sound appealing, the luxurious Granite Ridge Cabin 7590 may be just right for you. This high-end two-bedroom log home is part of the prestigious Airbnb Luxe program and features an expansive outdoor deck with a dining table and a barbecue.
Soaring vaulted ceilings and the wood-burning fireplace in the living room create a warm and inviting atmosphere prefect for at-home lounging. It's also hard to beat the property's easy ski slope access to the Jackson Hole Mountain Resort, which is only steps away.
Check Availability
2. Grass River Retreat
Why you should stay: A cozy and well put together pet-friendly cabin encircled by the Popo Agie River.
Location: Lander
Sleeps: 3
Minimum stay: 1 night
Rates start from: $125/night
The Grass River Retreat is a cute log cabin situated a short drive from Sinks Canyon State Park and the nature preserve encompassing the Wind River Mountains. This little home features a fire pit, front porch, and yard games and has been stocked with all of the comforts of home for a relaxing stay in a quiet community.
Guest Nathan declares, "Would highly recommend to any and all looking for a rustic getaway — the cabin and surroundings are wonderful."
Check Availability
3. Shooting Star Cabin
Why you should stay: Indulge in a home with five-star amenities perfect for large gatherings in close vicinity to Grand Teton National Park and the local ski slopes.
Location: Teton Village
Sleeps: 12
Minimum stay: 1 night
Rates start from: $1,370/night
The Shooting Star Cabin is a modern Airbnb with an open floor plan and towering windows that showcase the striking snowcapped peaks of Teton Village.
Everything inside this four-bedroom home has been carefully selected to accommodate large groups, from the extra long dining table to the spacious outdoor area with a hot tub. The ski slopes of Jackson Hole Ski Resort are conveniently within walking distance, and the attractions of the Grand Tetons are just a mile away.
Check Availability
Related read: Register Cliff: Where Pioneer Graffiti Becomes an Historic Time Capsule
4. The Mercantile Loft A
Why you should stay: A historic hotel turned apartment with a fantastic upper-level terrace.
Location: Laramie
Sleeps: 8
Minimum stay: 2 nights
Rates start from: $160/night
The Mercantile Loft A is a second-floor apartment in a historic redbrick building that once famously housed a hotel for the Union Pacific Railroad. Today everything has been lovingly updated with your comfort in mind but still features pleasant touches from the past, including a clawfoot tub, original wooden floors, and doors.
When the weather is nice, head out to the sunny upper-level terrace where cafe tables and a grill create an excellent place for a cookout. From the balcony, take in views of the neighboring railway tracks and city skyline. The main streets of downtown Laramie are steps away from the property.
Check Availability
5. Granite Ridge Cabin
Why you should stay: A haven for guests seeking a relaxing stay with a hot tub near Jackson's top attractions.
Location: Jackson
Sleeps: 10
Minimum stay: 2 nights
Rates start from: $1,229
The Granite Ridge Cabin offers guests a comfy place to call home after a long day at the Jackson Hole Ski Resort or exploring the best of Jackson. The home has an attached two-car garage to conveniently accommodate large traveling groups or for sport equipment storage.
From the garage, step inside to admire the cabin's attractive knotty pine ceilings and exposed beams that couples well with the rustic touches of the antler chandelier and Western decor. The home's other standout features include a hot tub and a wood-burning fireplace.
Check Availability
6. Jackson Guesthouse
Why you should stay: A clean and contemporary guesthouse stationed in a quiet part of Jackson with panoramic views.
Location: Jackson
Sleeps: 4
Minimum stay: 5 nights
Rates start from: $325/night
This Jackson guesthouse is a family-friendly home situated on a dead end road far from the busy streets of the city. Striking mountains rest on the horizon and offer excellent viewing from the spacious yard and peaceful outdoor patio. There's even a hot tub for guests looking to soothe their tired muscles and unwind after a busy day of sightseeing.
The interior of the home has a wood-burning stove, on-site laundry, and homey decor. The area's extensive network of bike trails runs past the property, and Yellowstone National Park is less than two hours away.
Check Availability
7. 3620 Phoenix House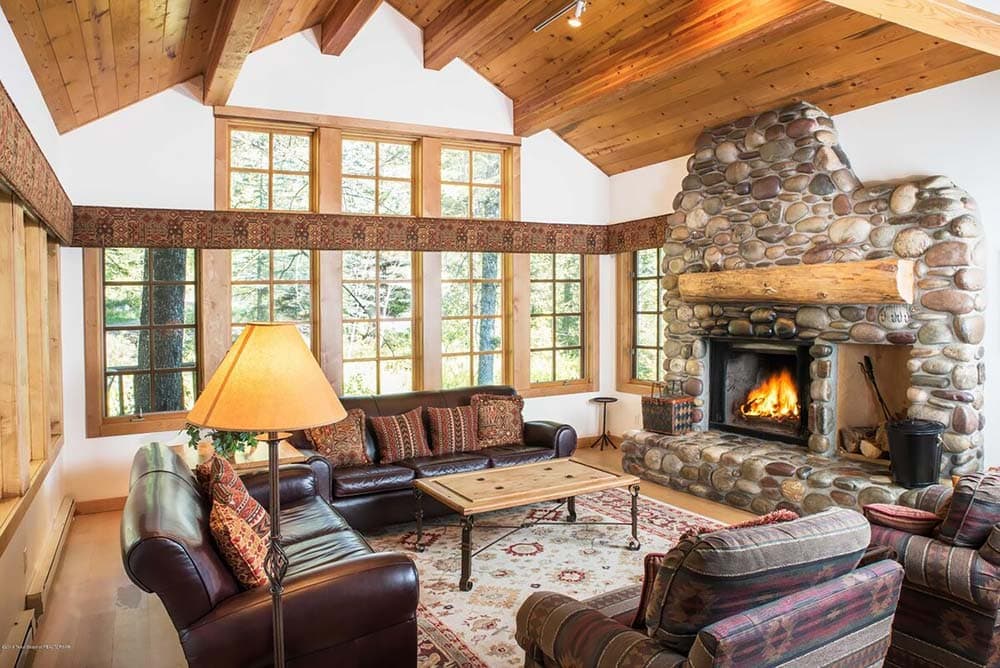 Why you should stay: An idyllic ski chalet tucked into a thicket of trees with a hot tub and numerous outdoor spaces to relax.
Location: Jackson
Sleeps: 10
Minimum stay: 5 nights
Rates start from: $1,290/night
The 3620 Phoenix House is a rustic yet modern cabin with touches of European charm nestled in Wyoming's largest ski destination. Quaint log furniture complements the wooden accents that are found throughout the home to create a classic cabin experience. This property boasts luxury amenities that'll warm your bones in the winter months, including two stone fireplaces and a bubbling hot tub.
There's also a spacious two-car garage and a mudroom outfitted to store your outdoor equipment. When the weather is nice, there are numerous outdoor areas to enjoy including five balconies and three porches.
Check Availability
8. Heart Mountain Japanese Cabin
Why you should stay: An architecturally unique cabin featuring a cedar wood dry sauna close to both downtown Cody and Powell.
Nearest town: Powell
Sleeps: 2
Minimum stay: 2
Rates start from: $150/night
For an architecturally unique place to stay in Wyoming, the Heart Mountain Japanese Cabin fits the bill. The home's structure has eye-catching Japanese inspired touches such as a circular round window at the front and a set of exquisite Fusuma sliding doors leading to the bedroom.
Other worthwhile features include an elliptical bathtub and epic views of the Bighorn Basin. This home sits on a property that's a part of a 400-acre farm and out in the quiet of the countryside. Its location away from the central city's light pollution makes for beautiful star gazing, perfect for enjoying next to a blazing bonfire.
Check Availability
9. Rusty Elk Lodge
Why you should stay: Escape to the peace and quiet of Star Valley in a well-equipped home with sweeping views of the Bridger Mountain Range.
Location: Thayne
Sleeps: 4
Minimum stay: 2 nights
Rates start from: $224/night
You'll find a cozy home base for outdoor fun at the Rusty Elk Lodge. This two-bedroom home was custom built with natural materials inspired by the local landscapes. Exquisite details like the gleaming hardwood floors, shining copper finishes, leather furniture, and expansive windows are just the start.
The hosts also go above and beyond to make guests feel welcome with complimentary toiletries, a coffee corner, and s'mores supplies. During your stay, spend time with loved ones running around the wide-open yard or next to the fire pit roasting marshmallows. The Snake River Canyon runs nearby and offers fantastic white river rafting tours and makes for fantastic wildlife viewing.
Check Availability
10. Centennial Cabin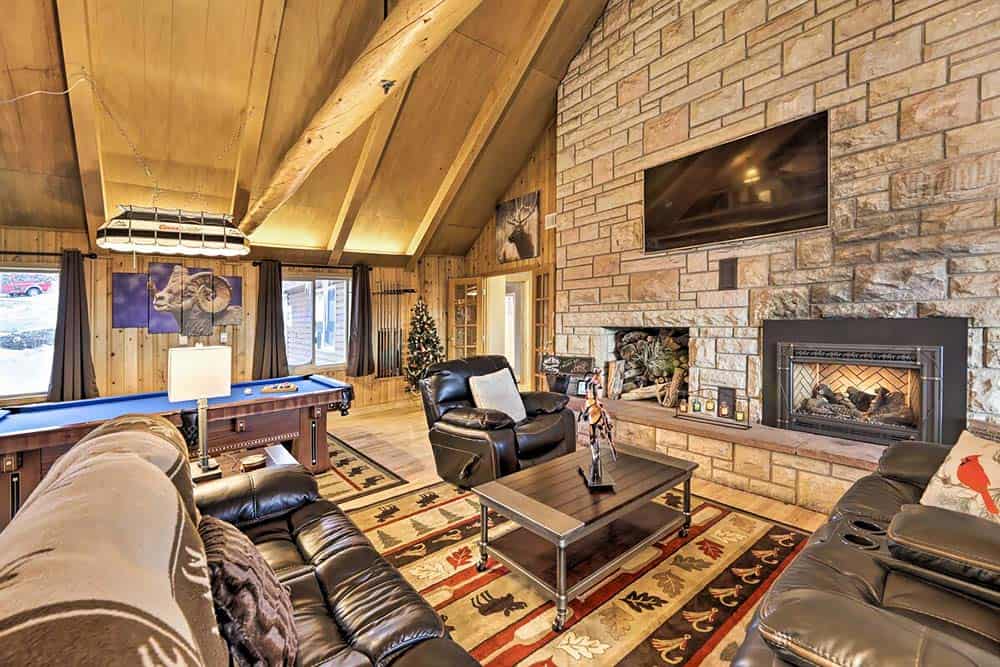 Why you should stay: Modern decor and fun amenities welcome you to southern Wyoming at this two-bedroom, six-bed cabin.
Location: Centennial
Sleeps: 14
Minimum stay: 3 nights
Rates start from: $480/night
The Centennial Cabin is an entertainment hub for guests near the famous Snowy Range Ski Area. Equipped with a hot tub, sauna, and enough fluffy robes for all, this Airbnb offers up a spa-level experience. When you've had your fill of relaxing, strike up a hearty game of pool with the family in the living room.
The home's ground floor is filled with stunning interior design features such as a floor to ceiling stone wall, a fireplace, and vaulted ceilings. Guest Brittany gushes, "This beautiful home had everything you could ever need! The views are fantastic, the home is warm and well equipped, and the location is amazing".
Check Availability
11. Legg Ranch House
Why you should stay: A secluded stone ranch in Wyoming's peaceful countryside a short distance from Yellowstone National Park.
Nearest Town: Cody
Sleeps: 4
Minimum stay: 2 nights
Rates start from: $199/night
Set in the picturesque Wapiti Valley, the Legg Ranch House is a secluded Wyoming Airbnb just outside the city of Cody. Yellowstone's east entrance is approximately 30 miles away, meaning the home is set well outside the typical tourist zone for those not interested in contending with crowds.
The interior of the home has knotty pine surfaces that pairs well with the classic cabin decor and patterned textiles. This ranch has been recently remodeled and updated with brand new appliances for your comfort. It sits on a spacious yard with few neighbors in sight.
Check Availability
More Incredible Stays
Get epic travel ideas delivered to your inbox with Weekend Wanderer, our newsletter inspiring more than 10,000 readers every week.
---