We research, evaluate and select travel destinations based on a number of factors, including our writers' experience, user reviews and more. We may earn a commission when you book or purchase through our links. See our editorial policy to learn more.
---
The Wolverine State boasts endless outdoor adventures — and with 40 percent of the state covered in water, it's an aquatic adventurer's heaven.
Michigan's motto, "si quaeris peninsulam amoenam circumspice" — which translates to "if you seek a pleasant peninsula, look about you" — is about as accurate as they come. With 3,288 miles of freshwater coastline (more than any other state), it's hard to stand somewhere where you won't see a beautiful land-meets-water landscape.
Although Michigan is mostly known for its outdoor recreation activities — including world-renowned fishing, of course — it also boasts rich history as the birthplace of the Oldsmobile, Ford vehicles, and Motown Records, among others.
Maybe you're wanting a family reunion (moody teenagers and all) and need a place big enough to satisfy even your cranky uncle. Maybe you want some solitude to unplug and unwind while rekindling the romance with your partner in a tiny home set deep in the woods.
Maybe you're a history nut and want to sleep within the walls of a refurbished factory. Regardless of your interest, Michigan is where it's at. "If you seek a pleasant Airbnb, look below."
Related Read: 10 Best Weekend Road Trips From Detroit, Michigan
1. Lakefront A-Frame
Why you should stay: You don't need to be a bird nerd to enjoy the wildlife around this vintage home.
Location: Kalkaska
Sleeps: 8
Minimum stay: 3 nights
Rates from: $265/night
Imagine sitting out on the enormous deck of this lakefront home, coffee in-hand, watching the fog cascade over the glassy water as the sun rises and the loons begin their haunting calls. Heaven, right? With fifty feet of lake frontage, this property lives and breathes lake life. Whether it's fishing, kayaking, or skipping rocks, this property has it all.
The windows along the back of the A-frame are the central focus, allowing sunlight and the natural world to shine in. Even on cold, winter days you'll still feel as though you're outside as you watch the wildlife — but you'll be warm and cozy inside, instead.
If you're inspired by the wildlife around the home and want to up your birding game, grab your binoculars (or buy some in town) and then head over to the old growth forests of Hartwick Pines State Park known for its warblers and other songbirds.
Check Availability
Related read: 7 Idyllic Cabin Rentals in Michigan with Hot Tubs
2. The Aqua Dock
Why you should stay: Dream rental for a water-loving adventure family.
Location: Irons
Sleeps: 10
Minimum stay: 2 nights
Rates from: $150/night
This tastefully decorated, light, and airy cottage makes you feel as if you've stepped into the 1950s, but with all the conveniences of now. It sits on 40 feet of private sandy beach on Harper Lake and has a shed stocked with  every activity under the sun (literally). From fishing poles to stand up paddleboards to canoes, kayaks, and even a paddle boat, this home will make even your moodiest teenager smile.
After a fun-filled day out on the water, make sure to enjoy an outdoor shower before lounging back inside. If it's a chilly night, cozy up to the wood burning fireplace and roast some marshmallows (yes, even inside!) with your kids.
Though most families with younger kids tend to pack everything their kids could ever possibly need, you don't need to here — the hosts at the Aqua Dock have you covered with highchairs, pack n' plays, and plenty of children's' books and toys.
Check Availability
Related Read: 10 Secluded Cabin Rentals in Amazing Michigan
3. Barn of Three Oaks
Why you should stay: There's a full-size shuffleboard in-house. Need you hear more?
Location: Three Oaks
Sleeps: 11
Minimum stay: 5 nights
Rates from: $270/night
This converted barn is the ideal spot for vacationers traveling with the whole family or celebrating a girls' weekend away. Its antique farmhouse facade complements the delicately arranged modern furniture and elegant bathrooms.
And while this home is in a barn, it's no pigsty: it has a well-appointed kitchen and large dining area fit for dinner with 11 guests. So you while you have the option of eating like pigs after a long day of exploring, you certainly won't be living like one.
Between the two livings areas, you'll have enough space to keep everyone happy: the kids can watch their favorite movies in one area while the adults sit back and try a local whiskey in the other. And speaking of whiskey, this rental has all the glasses you'll need, no matter what your go-to cocktail is.
Scotch on the rocks, check. Boxed wine, check. Old Fashioned, check. And if you want to play some tunes to create the perfect ambiance, you can choose between the large array of records or connect to the Bluetooth in the house: the perfect melody of old meets new.
If you're feeling like you need to get some air (which we doubt, with the amount of room in this place), head on over to the various antique stores that surround the area. Or maybe taste some handcrafted spirits down at Journeyman Distillery.
Check Availability
Related Read: 9 of the Best Cabin Rentals in Michigan
4. Eppstein House
Why you should stay: Three words: Frank. Lloyd. Wright.
Location: Galesburg
Sleeps: 6
Minimum stay: 2 nights
Rates from: $400/night
Love architecture? Good news: this house was designed by the Frank Lloyd Wright. It bears his classic hallmarks, including an emphasis on harmony between humanity and the environment (which he called organic architecture). The Eppstein House has been featured in magazines around the world and is simply stunning.
The Prarie-style-meets-mid-century-modern home is completely restored with furniture Wright designed, including the dining table. Though you may feel like you stepped back in time, the home has all the modern conveniences you could ask for. Keeping with Wright's signature style of blending indoors and outdoors, there are three terraces where you can sit and immerse yourself in the abundant greenery that surrounds the home.
Wright's famous Meyer May House is just about an hour north if you feel the need to see more of his architectural gems, but it's understandable if you just wanted to relax at the Eppstein House (also on the National Register of Historic Places) without having to deal with tours and crowds.
Check Availability
Related Read: 9 Unique Places to Stay in Michigan for an Extraordinary Escape
5. The Wayfarer Treehouse
Why you should stay: Feel like you're in Sweden without the expensive flight.
Location: Lake Leelanau
Sleeps: 6
Minimum stay: 2 nights
Rates from: $289/night
If you're looking for a secluded retreat, look no further than this Scandinavian modern home surrounded by oaks, maples, and birches. The large and abundant windows make it feel like you're staying in a treehouse, but without the vertigo sometimes associated being sky-high.
Scandinavian tones spread throughout the house, including into the kitchen. With its euro-style drawer dishwasher (it's eco-friendly!) and Ikea-like counters, the cooking space is comfortable and convenient.
There's plenty to do surrounding the property (and make sure to bring Fido, as they allow pets.) You can hike around the cherry orchards, make your way down to the lake, or be a guest at one of the many establishments in the area. 45 North Vineyard & Winery, Tandem Ciders, and Hop Lot Brewing Company are all popular spots to try local libations.
Check Availability
Related Read: 7 Magical Treehouse Rentals in Michigan
6. Seeblick Haus
Why you should stay: Just look at the views from that wrap-around porch…
Location: Northport
Sleeps: 6 guests (with prior approval – it fits 4 comfortably)
Minimum stay: 3 nights
Rates from: $350/night
This house almost looks like it came off a cargo ship with its boxy and industrial frame, but the Seeblick Haus is no shipping container. It's a small vacation home that's almost always booked up through the spring and summer, so it's safe to say it's one of the most popular Airbnbs in Michigan.
Between the large windows surrounding the home and the open floor plan, you've got great 270-degree views of the surrounding bay no matter what the season. And since the home sits on 12 acres, you'll have peace and solitude — it's the ultimate private getaway. Cooking here is also a delight; the copper pots in the kitchen will make you feel like a world-renowned chef even if you're just boiling an egg.
Check out Barb's Bakery for the most amazing doughnuts before a day at the beaches of Peterson Park or Christmas Cove. End your day at Tandem Ciders for some great drinks and even greater views as the sun sets on another perfect Michigan day.
Check Availability
Related Read: The 10 Best Lake Camping Destinations in Michigan
7. The Willow House
Why you should stay: The house is literally made from a rollercoaster… what?!
Location: Stevensville
Sleeps: 6
Minimum stay: 2 nights
Rates from: $209/night
As a great escape from bustling Chicago, this cottage has a story to tell. It was constructed with stone and wood reclaimed from a rollercoaster at the historic Silver Beach Amusement Park (which operated between 1891-1971). The site is now a County Park and is definitely a must-see for anyone visiting the Willow House.
"The house itself is beautiful, clearly full of history and character. The early photos and sketch of the house in the living room are a great touch" said AirBnB guest Katie.
The home is elegantly furnished with whites and tans pieces throughout to create a clean look. Make sure to bring some steaks (or portobellos, for you vegetarians) to grill out back on the convenient patio. You might even get a visitor or two… of the deer variety, that is.
There are great trails at nearby Grand Mere State Park and Warren Dunes State Park with spectacular views looking out onto Lake Michigan. And don't worry about leaving your four-legged buddy behind: Willow House allows dogs.
Check Availability
8. Secluded Tiny Home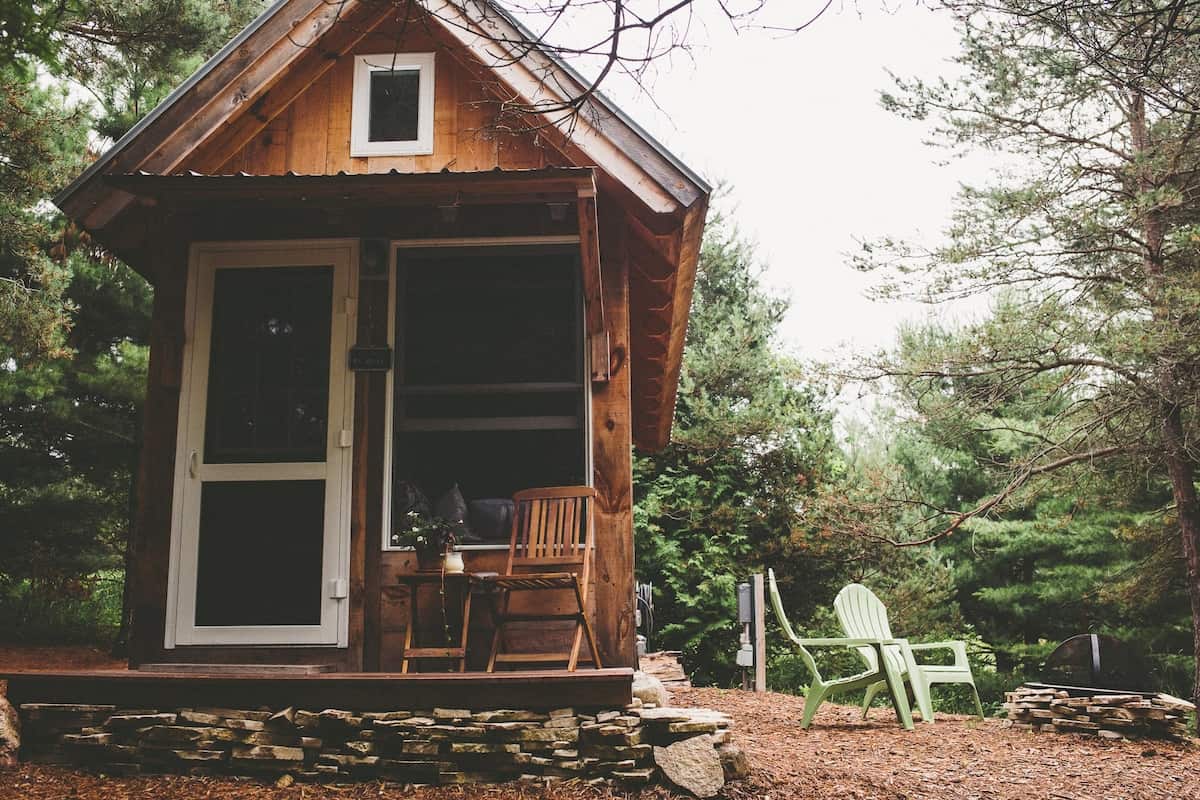 Why you should stay: Small on space, but big on nature.
Location: Charlevoix
Sleeps: 2
Minimum stay: 1 night
Rates from: $120/night
Although short on space, this tiny home packs a punch without feeling constricting. Ringing in at just 200 square feet, it's the perfect place for a solo reset or couple's weekend. It's in beautiful northern Michigan and is sure to bring out the nature-loving soul in every traveler. And how could it not, with no Wi-Fi connection and no television? This home is the very definition of unplugged.
The small space forces you to explore the surrounding property, which is simply lovely. Trails are literally just outside your door, but if you're feeling more adventurous, head over to Fisherman's Island State Park and its six miles of unspoiled Lake Michigan shoreline.
On your way back to your retreat, make sure to pop into one of the many restaurants in the town of Charlevoix including local favorites: stop by Smoke on the Water for ol' fashioned BBQ, or head to Stafford's Weathervane Restaurant with beautiful views of Lake Michigan for a more refined experience.
Check Availability
Watch on YouTube
Explore the Midwest
Sign up for Weekend Wanderer to join thousands of readers getting epic travel and Airbnb getaway ideas every week.
---