We research, evaluate and select travel destinations based on a number of factors, including our writers' experience, user reviews and more. We may earn a commission when you book or purchase through our links. See our editorial policy to learn more.
Was this article helpful?
---
Michigan's beautiful and rugged locales are perfect for making your next getaway both romantic and adventurous.
Michigan's tourism slogan is "Pure Michigan," but it should be "Pure Romance" because this neck of the Midwest boasts some incredible destinations that will add a little spice to your love life. Although far from tropical, the Great Lake State features long stretches of sandy beaches, island escapes, boutique shopping, and culinary delights.
In Michigan, couples can slow down and experience the charm of the state's many quaint coastal towns. And nothing says romance more than relishing Michigan's northern wine country and cherry region. All that's left to do is decide where to stay, and thankfully romance seekers have a lot of choices.
From bed and breakfasts to luxurious resorts and quiet cabins in the woods — no matter what you're looking for, these incredibly romantic getaways in Michigan are better than Cupid's Arrow.
1. Lake Shore Resort
View this post on Instagram
Why you should go: Lake Shore Resort is a 3-star bed and breakfast in one of Michigan's beloved coastal towns. Rooms are simple yet well-appointed, featuring mid-century modern furnishings. The resort boasts a heated pool and a private stretch of beach along Lake Michigan, not far from downtown Saugatuck.
Pros: Guests enjoy complimentary access to resort kayaks, cruiser bikes, and lakeside yoga classes. The resort also features two miles of hiking trails near Lakeshore Drive. In the evening, sit beside the roaring fire pit and relax under the stars.
Cons: The Lake Shore Resort is adults-only, taking family vacations off the table (but for a romantic getaway, that might just be what you're after).
What's nearby: The streets of downtown Saugatuck, known for art galleries and excellent boutique shopping, are just a seven-minute drive from the resort. If you don't wish to travel far, a few restaurants and bars are closer to the hotel, like the Saugatuck Brewing Company. Douglas Beach Park is just over a mile from the resort.
If you go: 2885 Lakeshore Drive, Saugatuck, MI, 49453, United States; (269) 857-7121
Check Availability
2. True North Cabin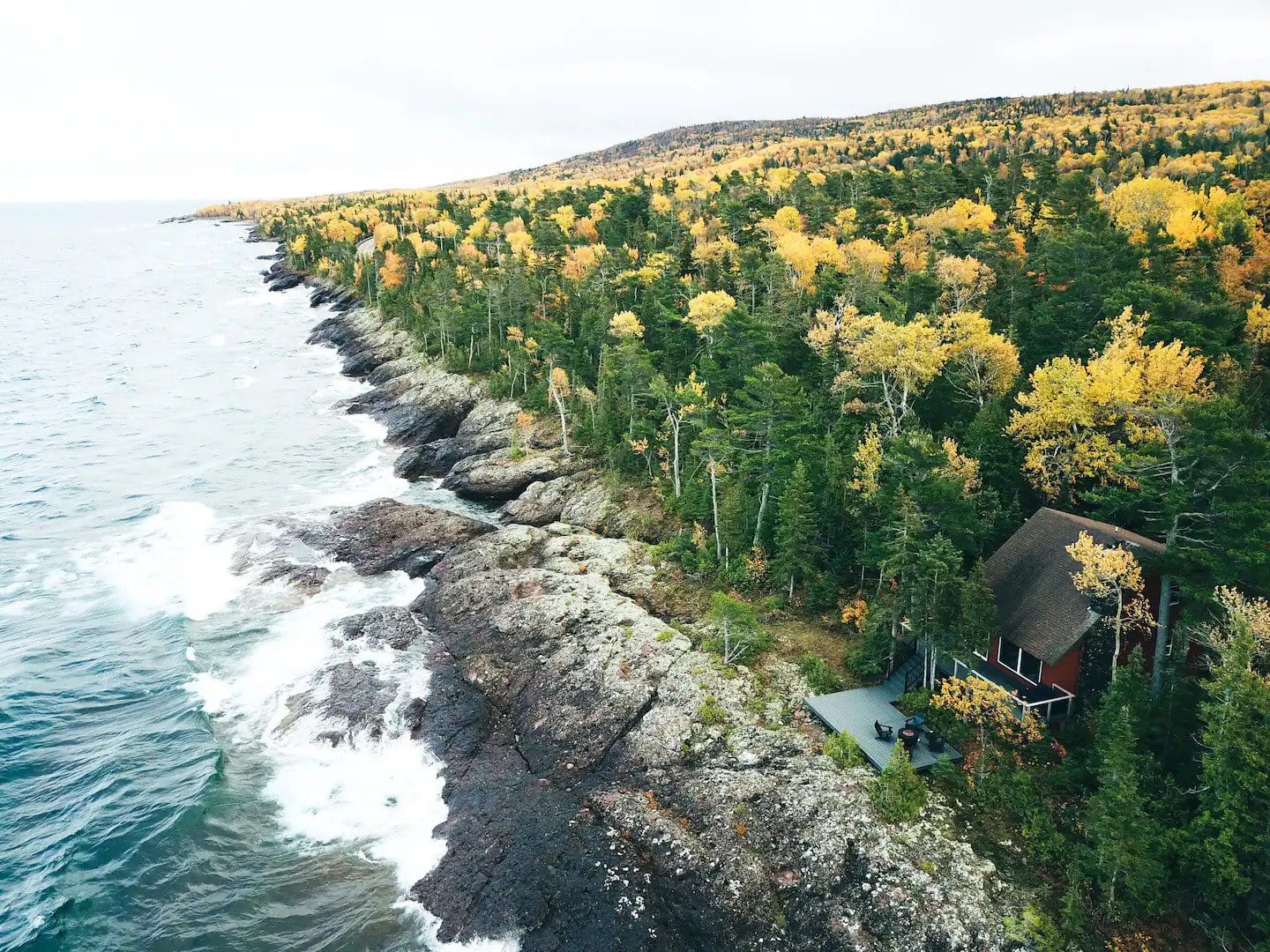 Why you should go: Nestled on Michigan's Upper Peninsula, True North Cabin is a secluded hideaway for four boasting 300 feet of water frontage on Lake Superior. This recently updated cabin features modern decor and an excellent outdoor area with a fire pit overlooking the water, providing a perfect place to unwind.
Pros: Cozy touches fill the home, including a fireplace, record player, and hanging wicker chair piled with fluffy blankets.
Cons: The cabin does not have cell service or WiFi, promising a rare chance to fully disconnect. However, an onsite landline is available for emergencies.
What's nearby: Just 25 minutes away in Copper Harbor, visitors can cruise Lake Superior and see the beauty of Michigan's pristine Isle Royale National Park from the water. Copper Harbor is also home to restaurants and the Brickside Brewery, where you can enjoy a cold one after a long day of exploration.
If you go: Eagle Harbor, Michigan
Check Availability
Related read: 10 Awesome Glamping Getaways in Michigan
3. Couples Retreat on the River
Why you should go: Escape the hustle and bustle and treat yourself to a couples retreat on the river. This unique A-frame cabin features a stone fireplace and timber accents that ooze outdoorsy charm. From the expansive windows, relish the peaceful view of the Sauble River and the yard's arched bridge over it.
Pros: Far from neighbors and busy roads, the sprawling yard provides a private place to relax next to the water or beside the bonfire. There are kayaks available for use on the passing river and nearby lakes.
Cons: Pets are allowed to stay at the cabin but for an additional fee. There is also a minimum stay of three nights.
What's nearby: Ludington State Park Beach is about 45 minutes away from the cabin, where you can swim in the refreshing waters of Lake Michigan and visit Big Sable Point Lighthouse. Several smaller lakes in the area, including Sand Lake and Big Star Lake, are perfect for calm paddling and fishing.
If you go: Branch, Michigan
Check Availability
4. Grand Hotel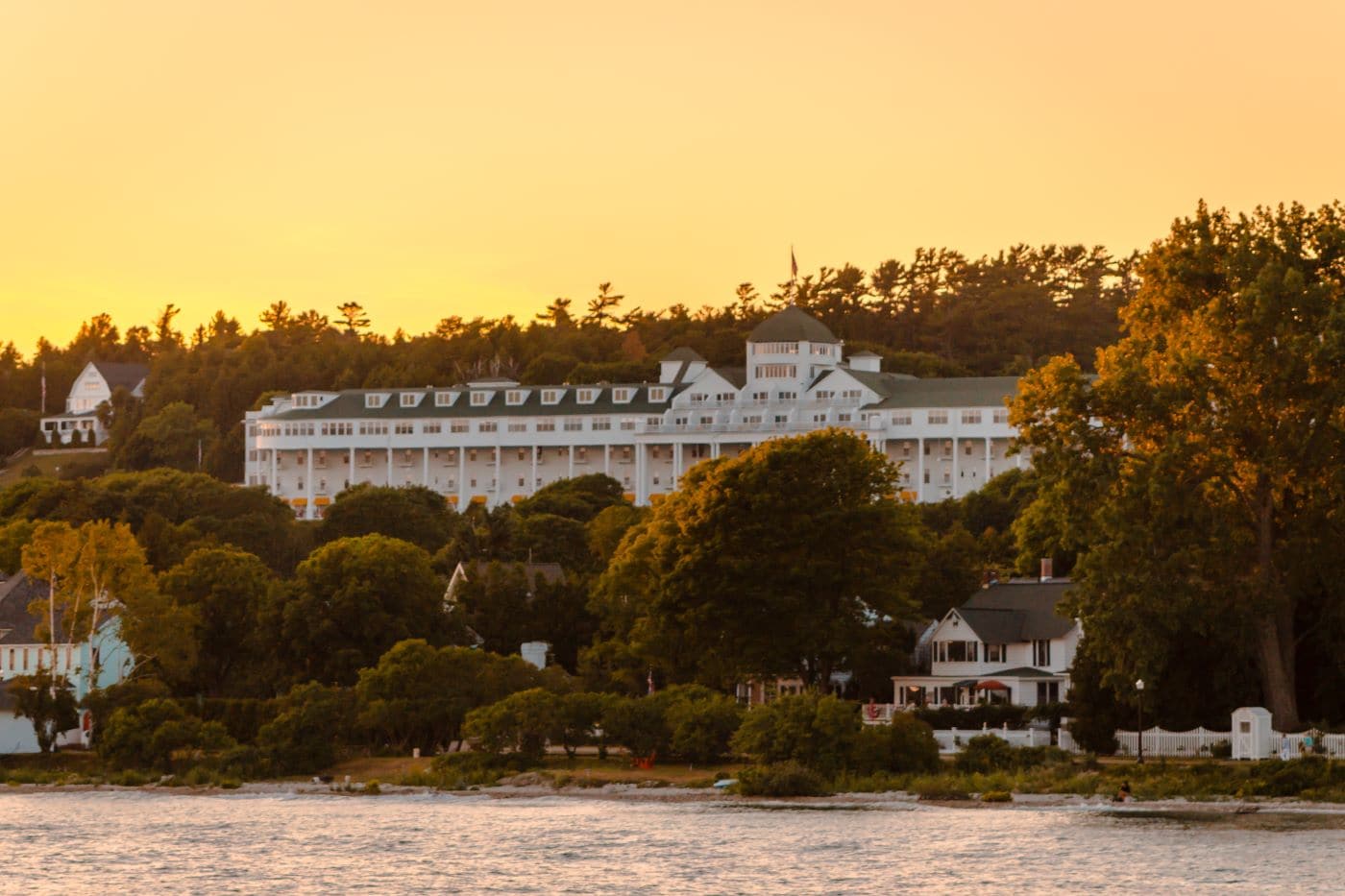 Why you should go: Aptly named, Grand Hotel has been welcoming guests on Mackinac Island since 1887. Living up to its grand tradition, this four-star resort offers elegant guest rooms, spacious suites, private cottages, and afternoon tea.
Besides old-world charm and elegant decor, Grand Hotel is home to the world's longest porch, measuring 660 feet long and overlooking Lake Huron and the Mackinac Bridge.
Pros: The resort has many on-site amenities like a seasonal heated swimming pool, hot tubs, and sauna. The Jewel Golf Course provides a unique golfing experience, where travel between the front and back nines is done via horse-drawn carriage. As if that wasn't enough, Grand Hotel also features 13 onsite dining options, a salon, spa, live music, and more.
Cons: Grand Hotel is one of the most expensive places to stay in all of Michigan. Also, no cars are allowed on the island.
What's nearby: Besides its charm and scenery, what makes Mackinac Island special is that everything is at your fingertips! In fact, the entire island can be walked in under four hours, totaling just eight miles. A few of the best things to do on the island include visiting Mackinac Island State Park, sampling the local fudge, and getting a history lesson at Fort Mackinac.
If you go: 286 Grand Avenue, Mackinac Island, MI 49757; 1-906-847-3331
Check Availability
Related read: 10 Best Weekend Road Trips From Detroit, Michigan
5. Geodesic Dome Home
Why you should go: Run away to the woods with a lovely stay at the Geodesic Dome Home #5. This spacious, 13-foot tall dome is on 75 acres bordered by state lands, promising exciting hiking and complete privacy.
The living space is optimized to feature a partitioned bedroom and a spacious living area. Next to the dome is a separate building that houses the full bathroom and kitchenette.
Pros: It's ideal for couples seeking a romantic jaunt in nature. Clear, geometric panels in the bedroom look out onto the forest. During your stay, soak up some sunshine on the expansive deck or enjoy a dip in the unique outdoor tub with your loved one.
Cons: This vacation rental is well-appointed and features luxurious touches, but it feels more like glamping and may not be the preferred romantic stay for everyone.
What's nearby: Traverse City, a popular art and culinary town home to wine tastings, breweries, and a yearly film festival, is just 20 minutes away. Other exciting Michigan destinations like Elk Rapids, Sleeping Bear Sand Dunes, and some of the state's best golf courses are also close.
If you go: Williamsburg, Michigan
Check Availability
6. The Round Haven On Big Glen Lake
Why you should go: The Round Haven On Big Glen Lake is an eco-friendly getaway to Leelanau County. This charming tiny home wows with its circular walls and airy atmosphere, complemented beautifully by boho decor.
Pros: Although tiny, The Round Haven is maxed out on homey details like radiant floor heating, a rain shower, and a skylight in the bedroom. Access to Glen Lake is a short walk from the front door and the turquoise waters of Sleeping Bear National Lakeshore are minutes away by car.
Cons: The hosts' primary residence borders the property. However, guest Megan notes, "Throughout our stay both Maddy and Cien were around and attentive but also gave us plenty of space and privacy."
What's nearby: Glen Arbor often ranks top of the charts for most beautiful places in the United States thanks to the sweeping dunes of Lake Michigan and the county's sprawling vineyards.
During your visit, make time for the famous (and challenging) Dune Climb at Sleeping Bear and La Becasse Restaurant for a romantic dinner at a French bistro.
If you go: Glen Arbor, Michigan
Check Availability
Related read: 11 Beautiful Small Towns on Lake Michigan For a Coastal Getaway
7. Inn at Bay Harbor
Why you should go: On the shores of Little Traverse Bay sits the Inn at Bay Harbor, an elegant four-star resort noted for its grandeur. The hotel offers standard hotel units with the option to upgrade to suites and studios, some of which feature kitchenettes, a balcony, or a jacuzzi tub.
Pros: Nothing screams romance more than a romantic walk on the beach, made possible by the inn's private stretch of lakeshore. After a long walk, pamper yourself with a 60 or 90-minute couple's massage at the spa, and as the sun sets, dine with your partner at the on-site steakhouse and wine bar where you can toast to a relaxing weekend away.
Cons: Some reviewers have commented that the facilities are a little dated. But overall, couples, in particular, enjoy their stay at the Inn at Bay Harbor.
What's nearby: Petoskey State Park, home to sandy strolls and forested hiking trails, is about a 15-minute drive from the hotel. Champion-level courses like Crooked Tree and Bay Harbor are just across the way for couples who enjoy golfing together.
If you go: 3600 Village Harbor Dr, Bay Harbor, MI 49770; +18553514295
Check Availability
8. Green Acres
Why you should go: Somewhere in the woods outside of downtown Grand Haven lies Green Acres, a cozy tiny home on a private farm. This quaint gazebo-turned-tiny home sits on an elevated deck shaded by trees. The interior has a plush bed and numerous outlets to charge your devices.
Pros: This glamping gazebo offers a unique farm-stay experience where guests can visit with pigs, goats, kittens, and more.
Cons: This tiny home is a studio without an attached bathroom, which is a short walk to the nearby farmhouse.
What's nearby: Grand River is close by where you can kayak and fish. The lakeshore and city streets of Grand Haven are also close, offering a place to grab a nice meal and snap photos of the historic lighthouse. No visit is complete without visiting the sandy beach at Grand Haven State Park.
If you go: Grand Haven, Michigan
Check Availability
Related read: 7 Magical Treehouse Rentals in Michigan
9. Harless + Hugh Loft
Why you should go: Harless + Hugh Loft is a dreamy space for two in downtown Bay City. This exquisite home oozes personality and is best for those seeking a relaxing city escape close to natural beauty.
Pros: This loft's stunning interior has been thoughtfully curated to be aesthetically pleasing and supremely cozy. Upscale accents like a dry sauna and hot tub provide a spa-like experience for couples. The home also features a wood-burning fireplace and an outdoor area with a fire pit, all within walking distance of many restaurants.
Cons: As a city break destination with large windows, this Airbnb is less private than other vacation rentals.
What's nearby: Conveniently situated on the Saginaw Riverwalk Trail, guests have easy access to the best biking and walking trail in the city.
Just a 15-minute drive from the loft is Bay City State Park, where you can marvel at the impressive expanse of Lake Huron. If you have time, pop by the Harless + Hugh coffee shop and The Public House cocktail bar, both owned by the hosts.
If you go: Bay City, Michigan
Check Availability
Explore Michigan
Get epic travel ideas delivered to your inbox with Weekend Wanderer, our newsletter inspiring thousands of readers every week.
Was this article helpful?
---