The Maroon Bells are known as one of the most photographed mountains in the world – but there are more hiking trails than just the Bells. Here are our favorite hikes in the Maroon Bells-Snowmass Wilderness Area.
Colorado has excellent hiking, but the Maroon Bells-Snowmass Wilderness Area stands out as something truly special. Close your eyes, hear the words, and you'll likely be transported to an alpine wonderland framed by a handful of majestic bell-shaped peaks! Somehow, they're even more stunning when hiking through them in person—and I know that watching the sun rise on the Bells is akin to an out-of-body experience.
The region—which sits between the idyllic mountain towns of Carbondale, Crested Butte, and Aspen—is truly breathtaking at any time of year, but much of this wilderness sits above a peachy 9,000 feet. Bottom line: summer and fall are the best times to visit. Trails here range from easy, kid-friendly loops with epic lakefront views and stands of fluttering aspen trees, to leg-busting multi-day trips full of hot springs, moose, and talus-strewn peaks.
No matter what difficulty level of hike you're seeking, there's a little something for everyone in the Maroon Bells-Snowmass Wilderness. So, book your Aspen campsite, nab your permits, and enjoy the best hiking trails the Maroon Bells have to offer.
Mount Sopris
Why you should go: Mount Sopris has more relief than any other mountain in the state of Colorado.
Distance:

13 miles (round trip)

Elevation gain:

4,412 feet

Difficulty:

Strenuous
If you've ever driven from Glenwood Springs to Carbondale and wondered to yourself, "what is that enormous, twin-tipped mountain in the distance," this might be the hike for you. Beginning at Dinkle Road, the 13-mile round-trip up Mt. Sopris can be completed as a burly one-day trek or a more manageable overnight backpacking trip. Most campers set up their tents at Thomas Lakes and then hike the remaining 5.4 miles (round-trip) the following day.
(Or, if you're a local like our Territory Supply managing editor Heather Balogh Rochfort, go big with the 'Sopris Sprint': bike from the town of Carbondale up to the trailhead, hike up to the summit and back, then enjoy the downhill ride to town for a mega 32-mile day with 7,000 feet of climbing….but don't say we didn't warn you. This one hurts.)
Due to the prevalence of afternoon thunderstorms, it's essential to begin this trek very early in the morning. Get ready for loads of loose scree and talus-hopping, if you embark on this route. At the summit, it'll all seem worth it, as you're greeted with 360-degree views of the surrounding 14ers, like Capitol Peak and Snowmass Mountain. Feeling strong? Descend to the saddle and bag the Sopris' twin summit, a mere half-mile away, if the storm clouds haven't rolled in yet.
Maroon Bells Scenic Loop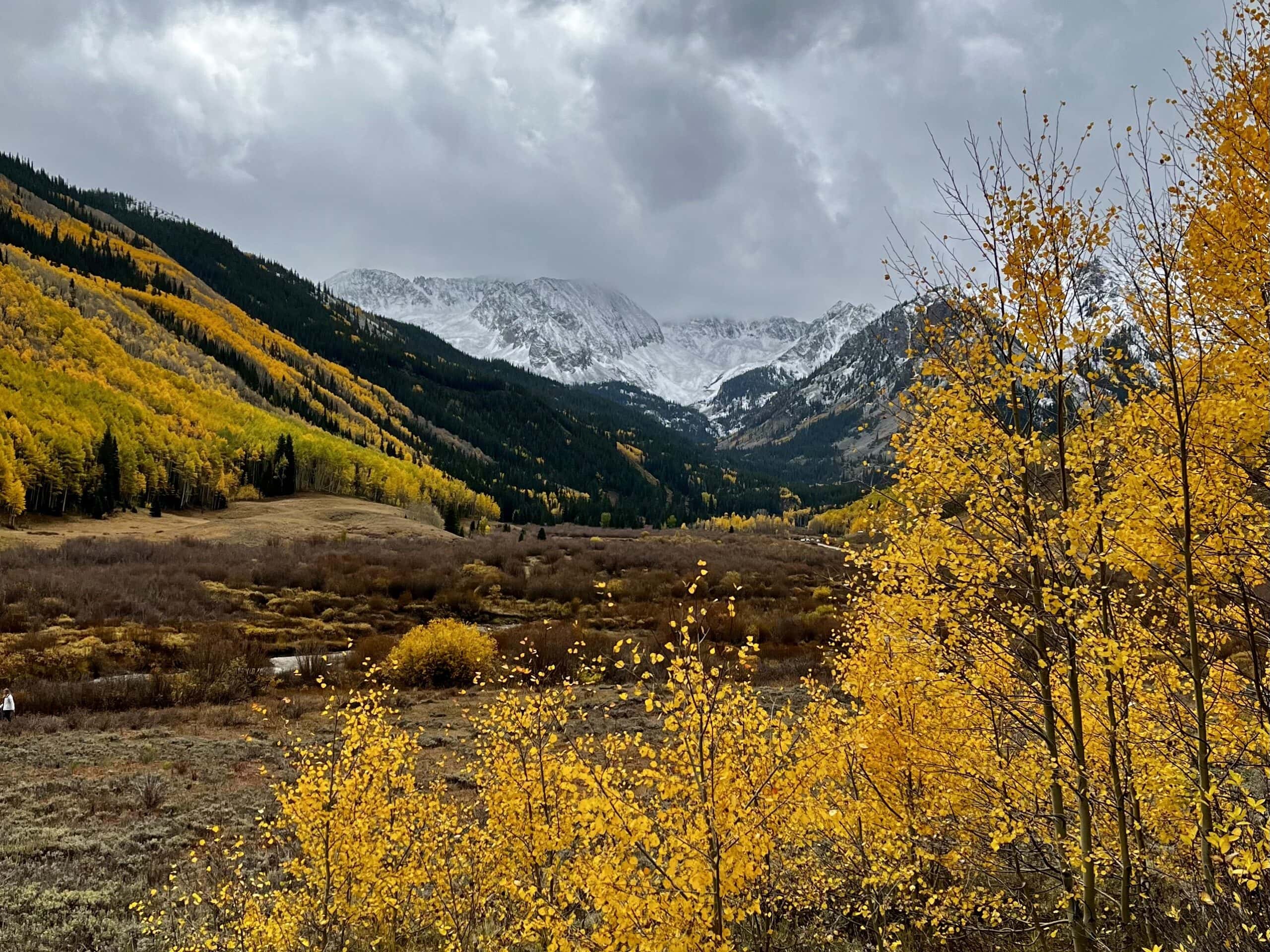 Why you should go: One of the most iconic hikes in the area, this short loop is ideal for snapping the perfect Maroon Bells photo.
Distance:

2 miles (round trip)

Elevation gain:

160 feet

Difficulty:

Easy
One of the best high reward, low effort hikes in the entire United States, the Maroon Lake Scenic Loop offers some of the most iconic photo opps for nabbing a shot of the sedimentary, burgundy-tinted peaks with a sparkling lake in front. Be on the lookout for moose on this tranquil 2-mile lollipop loop that follows burbling Maroon Creek and traverses around Maroon Lake. It's a popular hike, so be sure to stay on the trail and footbridges to help protect the area's fragile wildflowers and prevent erosion. Along the way, take in views of colorful meadows jam-packed with lush wildflowers and, of course, the iconic Maroon Bells peaks. In autumn, this is a fantastic option for both leaf peepers and photographers, as it offers stellar views with minimal effort. Anglers, take note: fishing is allowed at spectacular Maroon Lake (permit required).
Crater Lake
Why you should go: Meander through aspen groves on the way to a shimmering alpine tarn.
Distance:

3.5 miles (round trip)

Elevation gain:

688 feet

Difficulty:

Moderate
If you're keen on lakeside lounging, but want a little more challenge than the aforementioned Maroon Lake Scenic Trail, pop on over to Crater Lake. At just under 4 miles and 688 feet of elevation gain, it's the perfect half-day hike to stretch your legs, break a sweat, and soak up some spectacular Colorado scenery. This trail continues past Maroon Lake, following picturesque Maroon Creek through groves of white-barked aspens. Crater Lake offers excellent photo opportunities, as well as easy lake access for swimming and wading. Pro tip: go in early summer before the lake recedes with the snowmelt and pack a picnic to make it an all-day affair.
Conundrum Hot Springs
Why you should go: Grab a permit for this epic overnight (or long day) trek to a wild hot spring.
Distance:

17 miles (round trip)

Elevation gain:

2,788 feet

Difficulty:

Strenuous
It's a tricky overnight permit to nab (particularly if you're eyeing a coveted summer weekend), but well worth it for avid backpackers who fancy a muscle-soothing soak in a natural hot tub—with a view. Conundrum Hot Springs is a challenging 8.5-mile trek that follows Conundrum Creek uphill, crossing it three times on primitive log bridges before reaching the hot springs proper. Once you've arrived, you'll want to pick an established campsite (camping right next to the springs is prohibited) before stripping down and plopping in. From the cluster of small warm water pools, visitors can gaze out at spectacular Rocky Mountain views, from the lofty elevation of 11,200 feet.
Keep in mind: this hike isn't the solitude-infused journey that it once was. When I first made this trek in the early 2000s and stumbled down from Conundrum Peak, there was literally no one at the hot springs. Today, the permit system has been enacted because it's widely known and uber popular. That doesn't mean it's not worth it; just be aware that you won't have this glorious place to yourself. Be nice, clean up after yourself, and make friends.
Cathedral Lake
Why you should go: Short in distance but long on impact, Cathedral Lake is a local favorite that hits just right during shoulder season.
Distance:

5.4 miles (round trip)

Elevation gain:

2,070 feet

Difficulty

: Strenuous
Balogh Rochfort loves hiking to Cathedral in the fall shoulder season for one reason: wild ice. The steep hike to Cathedral Lake starts gently but quickly morphs into an uphill battle as the trail ascends through an aspen forest and officially crosses into the Maroon Bells-Snowmass Wilderness Area and past the turn for Electric Pass. But if you can stomach the steep switchbacks and time it just right, you may be treated to wild ice skaters skimming along the surface of the lake before it's hidden beneath wintry snow drifts.
Of course, summer is a perfect time to visit the lake, too. If you've got the gumption to bring your fly rod, consider a few casts. You'll need a permit, but there is nothing better than fly fishing below the toothy cirque—and there are definitely fish in those crystal-clear waters.
Crested Butte to Aspen via West Maroon Pass
Why you should go: This wildflower-studded point-to-point is often listed as the prettiest hike in Colorado.
Distance:

11 miles (point-to-point)

Elevation gain:

2,247 feet

Difficulty:

Strenuous
This trek between the iconic Colorado mountain towns of Aspen and Crested Butte is on many Coloradans' bucket lists, with good reason: it's epic. It's one of the most spectacular trails in the state, offering a point-to-point experience that's akin to thru-hiking, without ever having to sleep on the ground (that is, if you don't want to). It's a butt-kicker, passing through fields of wildflowers, ascending to rust-hued West Maroon Pass (elevation 12,490 feet), and skirting Crater Lake before dropping you at the feet of the utterly magical Maroon Bells.
Local's Tip: If you have the gumption, tackle this as a two-day affair like we did: hike from Aspen to Crested Butte via West Maroon, catchy a shuttle into Crested Butte for a night of bubble baths and pizza, and then hike the return trip from Crested Butte to Aspen via East Maroon Pass. It's a tough two-fer and you'll need to deal with all the permits, but it's worth it.
Geneva Lake
Why you should go: This stunning, moderate trail is less-trafficked than its near-town cousins.
Distance:

5 miles (round trip)

Elevation gain:

1,307 feet

Difficulty:

Moderate
Sure, in the summer months, you're likely to see other humans on nearly every trail in the Maroon Bells-Snowmass Wilderness. But this moderate, 5-mile trip up to Geneva Lake is a great half-day option for hikers who'd rather not deal with the madness of the Maroon Bells day permitting system. The catch? You'll need a 4WD vehicle to reach the trailhead from the sleepy town of Marble.
Begin at the North Fork Trailhead and meander through alpine meadows and stands of aspens and pines before switchbacking up, up, up to striking views of Treasure Mountain. A stream parallels most of the trail for easy water access (just treat it before drinking). When you finally reach Geneva Lake, take in commanding views of 14er Snowmass Mountain and 13er Hagerman Peak. Not tired enough yet? Continue on for another 1.25 miles (one way) to reach Little Gem Lake. When you've had enough, head back to Marble and dine on the world's best pulled-pork barbeque at Slow Groovin. They're only open during the summer, but it's worth timing your trip to make it happen.
If You Go: The Logistics
Because of the region's exquisite beauty, it can get incredibly crowded, particularly on weekends. For this reason, the powers that be have implemented a mandatory parking reservation system ($10 per vehicle) from May 15th through October 31 each year. Visitors can also opt to catch a shuttle from downtown Aspen or Aspen Highlands ($16 for adults, $10 for seniors over 65, and $10 for children under 12, if you book in advance). The shuttle bus runs from May 26 through October 22nd.
If you're planning on venturing out for an overnight backpacking trip, be sure to double-check what zone you'll be pitching a tent in before you lace up your boots, and be aware that snow often lingers above 10,000 feet well into June. Popular areas (think Conundrum Hot Springs and Crater Lake) require advance permits, while others allow hikers to register at the trailhead. No matter where you're backcountry camping, approved, bear-proof food storage containers are required, and hikers should always, always follow fire restrictions in place.
Explore More in Colorado
Get epic travel ideas delivered to your inbox with Weekend Wanderer, our newsletter inspiring more than 10,000 readers every week.
Was this article helpful?
---