We research, evaluate and select travel destinations based on a number of factors, including our writers' experience, user reviews and more. We may earn a commission when you book or purchase through our links. See our editorial policy to learn more.
Was this article helpful?
---
These unique places to stay near Boston are a worthy addition to any New England bucket list.
Boston is a unique destination with plenty to offer locals and visitors alike. Not only is it known for iconic American landmarks like Fenway Park and the Freedom Trail, but it's also the land of baked beans and abundant seafood.
Not to mention, it boasts a rich history that dates back to the American Revolution (Boston Tea Party, anyone?) And as one of the country's oldest cities, it has an air of European charm thanks to Beacon Hill's cobblestone streets and the colonial remnants that still stand today.
While there's no denying that Boston is a beautiful destination, sometimes it's necessary to get away for a taste of something new. This list shares some of the most unique places to stay near Boston when wanderlust hits.
1. Second Wind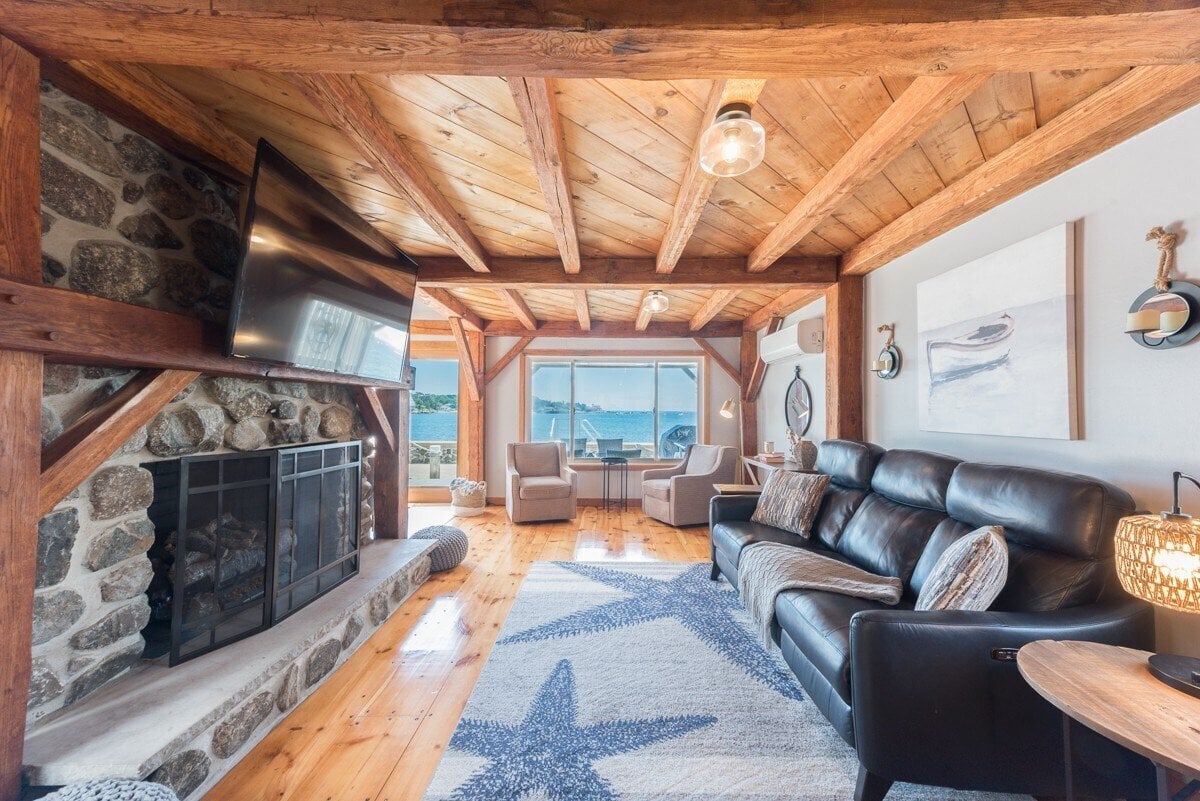 Why you should stay: An oceanfront, professionally-managed Airbnb on an island paradise 30 minutes from Boston.
Location: Nahant
Sleeps: 7
Minimum stay: 2 nights
Rates from: $524/night
Take in the sweet ocean air at Second Wind, a charming three-bedroom that sits on its own slice of beach. Throughout the home, tasteful and beachy decor pays homage to the calm waters outside, which can be viewed from the living room's expansive windows. This beach paradise also features a gas fireplace and a luxurious primary bedroom with a private balcony.
Behind the house, lounge on the concrete patio that's furnished with a grill, dining table, and plush chairs under the cover of a sun shade. During low tide, a stretch of sand becomes accessible via a ladder. The hosts have even installed an outdoor shower so you can conveniently rinse off after a day at the beach.
Check Availability
Related Read: 10 Massachusetts Cabins for Getting Lost in the Wilderness
2. Normandy Farms
View this post on Instagram
Why you should stay: A seasonal glamping resort with luxury cabin, yurt, safari tent rentals, and four swimming pools.
Location: Foxborough
Sleeps: 2-6
Minimum stay: 2-3 nights
Rates from: $200/night
Recognized by USA Today as one of the nation's best RV parks, Normandy Farms is the place to go for outdoor recreation. The resort offers various styles of camping, including rentals and classic tent and RV sites, so no matter your preferred style, all are welcome. Each rental has a fire pit and a picnic table for that authentic camping experience.
On top of the classic amenities you'd expect from a campground, Normandy Farms also has an 18-hole disc golf course, bike park, and dog park for your four-legged friends. Those seeking to pamper themselves will appreciate the onsite gym and wellness center, where you can book a massage treatment during your stay. You'll find this resort about 45 minutes south of Boston and an hour and 15 minutes from Cape Cod.
Check Availability
Follow 'em: @NormandyFarmsCG
3. Concord's Colonial Inn
Why you should stay: A historic inn that dates back to 1716 and embodies much of the original spirit of colonial times.
Location: Concord
Sleeps: 2-4
Minimum stay: 1 night
Rates from: $149/night
Get a taste of the olden days with a charming getaway at Concord's Colonial Inn. This quaint yet upscale inn is nestled in the heart of Concord within walking distance of the area's popular Revolutionary War sites like ​​Minute Man National Historical Park, and just a short drive from Walden Pond, where Henry David Thoreau made his cabin and wrote Walden. Every room at the inn is unique, but all combine modern amenities with period details that reflect the region's history.
For those seeking extra space, you can upgrade to spacious suites — some even feature a full kitchen or jacuzzi tub. There are even cottage rentals behind the hotel for larger groups. During your stay, grab a drink at The Liberty pub or a meal at the inn's restaurant, Merchant's Row.
The inn is also steeped in history. One of its rooms was used to store ammunition by the Minutemen. One night, a certain patriot by the name of Paul Revere caught word that the British were going to march to Concord and destroy the arms cache stored at the inn. Revere rode his horse to Boston's Old North Church and hung two lanterns, signaling that the British were crossing the Charles river by boat. The colonists mobilized, leading to The Battle of Concord and Lexington. Yep, America's revolution literally began right here at the inn.
Check Availability
Related Read: 10 Chill Romantic Getaways in Massachusetts
4. The Merchant Salem
View this post on Instagram
Why you should stay: A modern, four-star boutique hotel in the heart of downtown Salem.
Location: Salem
Sleeps: 2-4
Minimum stay: 1 night
Rates from: $208/night
The Merchant Salem is an exquisite example of colonial architecture that dates back to 1784. You know an establishment is historic when George Washington himself has paid it a visit! The property's original charm can still be felt throughout the hotel, with its red brick facade and interior woodwork. But The Merchant is far from stuffy! Pops of color and vibrant patterns bring new life to this Salem landmark.
One thing that makes The Merchant extra special is that every room has heated bathroom floors and a gas fireplace. Guests can also book one of the larger suites — some of which feature a seating area and a soaking tub. While you're there, make time for nearby attractions like the Salem Witch Museum and the historic district, which are both within walking distance.
Check Availability
Follow 'em: @TheMerchantSalem 
5. Addison Choate
View this post on Instagram
Why you should stay: An art-filled boutique hotel just a short drive from the beaches of Cape Ann Peninsula.
Location: Rockport
Sleeps: 2-3
Minimum stay: 1 night
Rates from: $229/night
Run away to the seaside at Addison Choate, an artsy hotel just under an hour away from Boston. Various room options are available, some with ocean views and others with full kitchens. All stays include a full breakfast and afternoon snacks, keeping the classic inn vibe alive and creating an excellent sense of community amongst the guests. The hotel also offers unique extras like a romance add-on or retro gaming package where you'll receive an old-school console and bundle of games for use during your stay.
The Addison Choate is tucked away in a quiet part of Rockford, where it's easy to unwind with little distraction. From Good Harbor Beach to the town's quaint shopping and the beautiful tide pools at Halibut Point State Park, there's plenty to keep you happily busy.
Check Availability
Related Read: 7 Spectacular Weekend Road Trips from Boston, Massachusetts
6. Spacious Skies Minute Man Campground
View this post on Instagram
Why you should stay: A camping resort with cabins, classic sites, and fantastic outdoor amenities about 45 minutes northwest of Boston.
Location: Littleton
Sleeps: 2-6
Minimum stay: 1 night
Rates from: $49.50/night
Spacious Skies Minute Man Campground is a modern camping destination full of exciting things to do for the whole family. The grounds feature a variety of sporting activities, like bocce ball, basketball, and volleyball, as well as a heated swimming pool. There's also a rec hall where you can strike up a friendly game of pool or try to beat the high score on retro arcade games.
This campground offers standard tent spots and RV sites with 30 and 50-amp hookups. For those who want to avoid hauling gear, one- and two-bedroom cabin rentals are available for booking (but remember to bring your own linens!).
Check Availability
Follow 'em: @SpaciousSkiesMinuteman
7. Nantasket Beach Resort
View this post on Instagram
Why you should stay: A three-star resort on Nantasket Beach where Bostonians and visitors can pamper themselves.
Location: Hull
Sleeps: 2-4
Minimum stay: 1 night
Rates from: $129/night
Treat yourself to a romantic getaway at the Nantasket Beach Resort. Modern rooms with seaside stylings create the quintessential New England resort at this beachside escape. Noteworthy amenities include the spa, fitness center, heated pool, and hot tub. There's also a rooftop deck with ocean views. The resort has a family-owned restaurant, the Shoreline Kitchen and Bar, and a smoothie shack that also serves coffee to help give you the energy for a long day at the beach.
This glamorous resort sits on the coast not far from Wompatuck State Park and other charming oceanside villages. Nantasket Beach Resort is only 40 minutes from Boston or a quick 15-minute ferry from Boston Harbor.
Check Availability
Related Read: 10 Magical Glamping Destinations in New England
8. The Mason Suite of Salem
Why you should stay: A one-bedroom suite in a historic red-brick home nestled in the heart of Salem.
Location: Salem
Sleeps: 4
Minimum stay: 2 nights
Rates from: $179/night
The Mason Suite of Salem is an all-American home that dates back to 1844. The first thing to catch your eye is the exquisite red brick exterior and the recently updated interior that beautifully pairs modern finishes with antique pieces. This charming one-bedroom suite features a kitchenette and sofa beds in the living room to accommodate additional guests. Plus, many of Salem's main attractions can be easily reached by foot.
Skylights on a vaulted ceiling, ornate wallpaper, a stunning maroon-tiled bathroom, and a quaint, ivy-covered courtyard all combine to create a space that feels fresh and modern, without ruining the home's colonial-style charm.
Check Availability
Follow 'em: @MasonSuite_Salem
Explore New England
Get epic travel ideas delivered to your inbox with Weekend Wanderer, our newsletter inspiring thousands of readers every week.
Was this article helpful?
---