We research, evaluate and select travel destinations based on a number of factors, including our writers' experience, user reviews and more. We may earn a commission when you book or purchase through our links. See our editorial policy to learn more.
---
On your next getaway, why not skip the crowded community spaces at a hotel and opt for a vacation home with an indoor pool? It'll be like having your own private resort.
Having your very own indoor swimming pool is a luxury not everyone can afford. That's why booking a unique vacation rental while you travel can be half the fun –— it gives you a chance to live like a millionaire with some pretty unique amenities you probably don't have in your own home.
Instead of going the traditional hotel route, consider renting an exciting vacation rental with a pool. The options below all have tons of space, lots of privacy, and sometimes hot tubs and amazing yards — and your own indoor pool, of course! These incredible vacation rentals with indoor pools will make a splash any time of year.
1. Catskills Mountain Retreat
Why you should stay: Family-friendly vacation rental in the Catskills with tons of space.
Location: Windham, NY
Sleeps: 12
Minimum stay: 2 nights
Rates from: $835/night
Treat yourself to a relaxing Catskills Mountain retreat in this impressive five-bedroom airbnb with lots of ways to stay entertained. Inside, you can take a dip in the heated in-ground swimming pool, complete with a cathedral ceiling and a floor-to-ceiling brick fireplace.
In the expansive five-acre yard is a kids' playground, a putting green, multiple patio spaces, a fire pit, and a grill. Not far from the property are the ski slopes and hiking trails of the Catskills plus the downtown streets of Windham, famous for its historic buildings and Windham Mountain Resort.
Check Availability
Additonal Read: 12 Unique Airbnbs in Missouri, from St. Louis to the Ozarks
2. Catalina Foothills Home
Why you should stay: Contemporary desert home with its own indoor waterslide and a second-story running track.
Location: Tucson, AZ
Sleeps: 8
Minimum stay: 3+ nights
Rates from: $518/night
Bask in the Arizona sunshine at this Catalina Foothills home with everything you could possibly need for a visit to Tucson. Of course this vacation rental has an indoor pool, but it also has a loaded home gym, an arcade game and slot machine, and a relaxing indoor hot tub.
The interior is impressive with unique architectural elements that include a central fireplace in the living room, arched doorways, and modern Southwest-inspired design elements. This gem is in the desert outside the city, which you can see from the home's front porch. The hosts welcome guests with a basket of snacks and wine for a nice added touch.
Check Availability
3. California River Retreat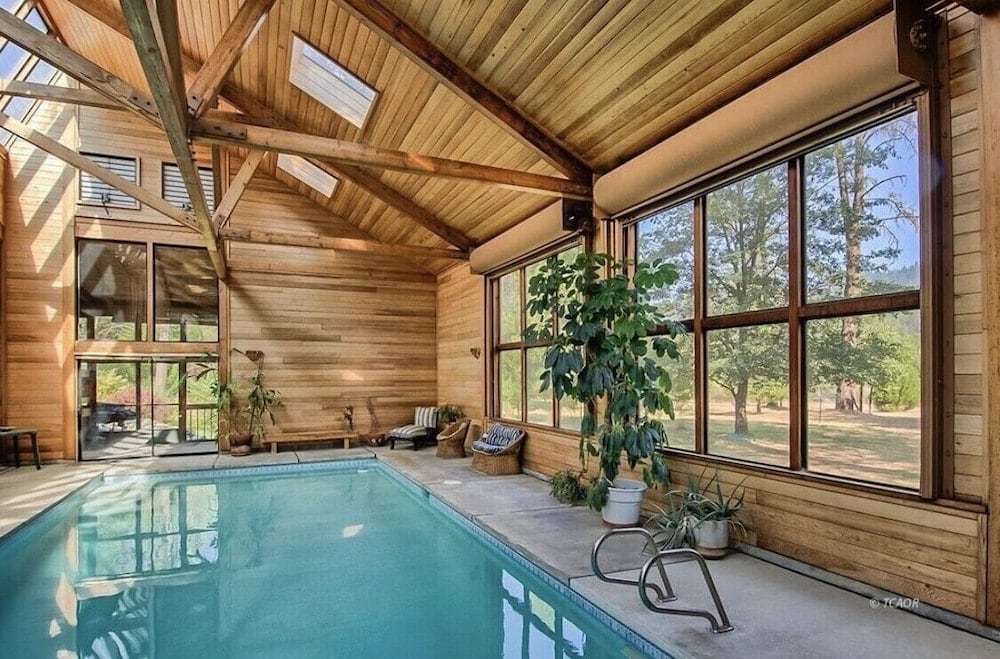 Why you should stay: Secluded northern CA cabin with massive outdoor space on the Trinity River.
Location: Lewiston, CA
Sleeps: 12
Minimum stay: 3 nights
Rates from: $397/night
This California river retreat takes the best of an outdoorsy cabin getaway and combines it with luxury amenities including an indoor heated pool and hot tub. And it's all housed in a stunning separate pool house with tall windows, gleaming wooden surfaces, and an all-glass seating area.
The home's lovely interior has cabin furnishings, an open floor plan, and a stone fireplace. There's even a piano for those who enjoy tickling the ivories and a pool table for family game time. This is one of the best vacation homes with an indoor pool if you're also a fishing enthusiast as the nearby river is packed with trout – don't forget your fishing license.
Check Availability
4. Minnesota Home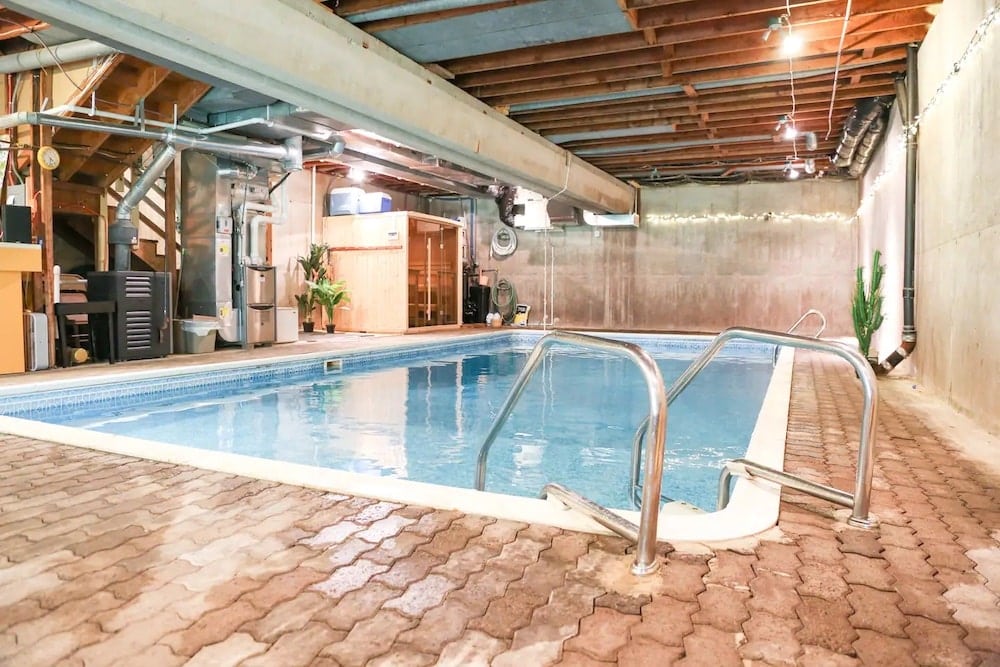 Why you should stay: Budget-friendly group vacation home with an indoor pool and 17 private acres.
Location: Spring Valley, MN
Sleeps: 11 (inside, more guests allowed outside)
Minimum stay: 3 nights
Rates from: $275/night
An ideal vacation rental for large groups, this Minnesota home is so much more than your typical midwestern house. As if the five bedrooms weren't enough, the hosts are totally cool with tent camping in the yard to accommodate more guests. And the yard also has a fire pit and RV hookup.
During your stay, splash in the spacious indoor pool that comes complete with a rope swing, pool toys, and plenty of chairs. There's even a wooden sauna that can fit up to six people. After you've had your fill of the pool, relax around the mid-century modern fireplace with any one of thousands of books that line the home's walls. The home's a little quirky, but the price is right and the outdoor space is beautiful.
Check Availability
5. Raccoon River Retreat
Why you should stay: Resort-worthy home rental near the surprisingly cool city of Des Moines.
Location: Adel, IA
Sleeps: 8
Minimum stay: 2 nights
Rates from: $399/night
The Raccoon River Retreat is ideal for disconnecting for a few days (or at least coming close to it, since the Wi-Fi is so-so). During the summer, take advantage of the private swimming pond and small pier in the backyard. In the evenings, plan to gather at the outdoor patio spaces, complete with a fire pit and trampoline.
The fun-focused amenities continue in the pool house, which has a roomy indoor pool complete with floaties and a built-in basketball hoop. And if someone in your space wants more space, no problem — this rental also has a large tent and a rustic log-and-stone cabin for guests interested in a glamping experience.
Check Availability
6. Tennessee Log Cabin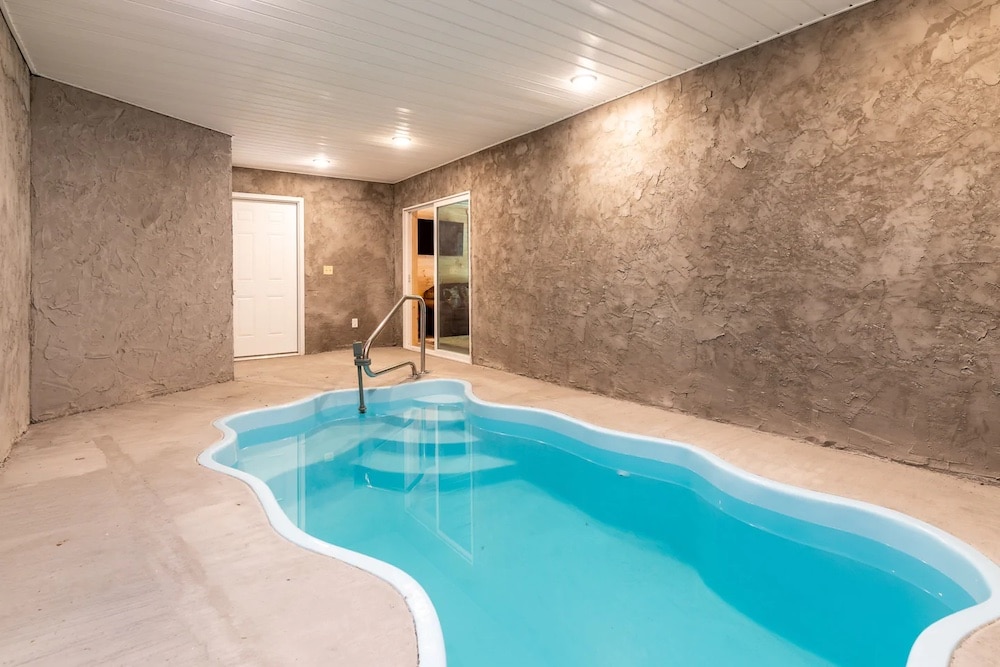 Why you should stay: Charming log cabin with outdoor living space near Great Smoky Mountains National Park.
Location: Pigeon Forge, TN
Sleeps: 12
Minimum stay: 4+ nights
Rates from: $323/night
On a wooded lot about a 15-minute drive from the main tourist streets of Pigeon Forge is this  Tennessee Log Cabin. It boasts four expansive bedrooms, including one with an en-suite bathroom and jetted tub. Guests are free to make a splash in the home's small but elegant private indoor pool or head over to the neighborhood community pool in the summer.
What's maybe the best feature of this vacation home (besides the indoor pool) is its proximity to Great Smoky Mountains National Park. Usually, large homes with high-end amenities are pricey, especially near national parks, but this has a rather low starting price. And from being near the landmarks of the Great Smoky Mountains National Park, you're also near Dollywood, the Aquarium of the Smokies, and countless museums and fun souvenir shops.
Check Availability
7. Dream Inn the Smokies
Why you should stay: New home, epic mountain views, and a private pool in a gated neighborhood.
Location: Gatlinburg, TN
Sleeps: 14
Minimum stay: 3 nights
Rates from: $517/night
Wake up surrounded by the beauty of Appalachia in the Dream Inn the Smokies, an upscale cabin conveniently located to the Great Smoky Mountains National Park entrance. It's part of a gated community, ensuring guests enjoy privacy and incredible amenities.
Not only does this attractive home feature an indoor pool, but it also has a large movie theater room, a hot tub on the wraparound deck, and a game room with fun favorites like a pool table. There's also an upper-level balcony that makes for a lovely place to take in the striking mountain landscape.
Check Availability
Related Read: 8 Incredible Glamping Spots Near Gatlinburg, Tennessee
8. Santa Fe Getaway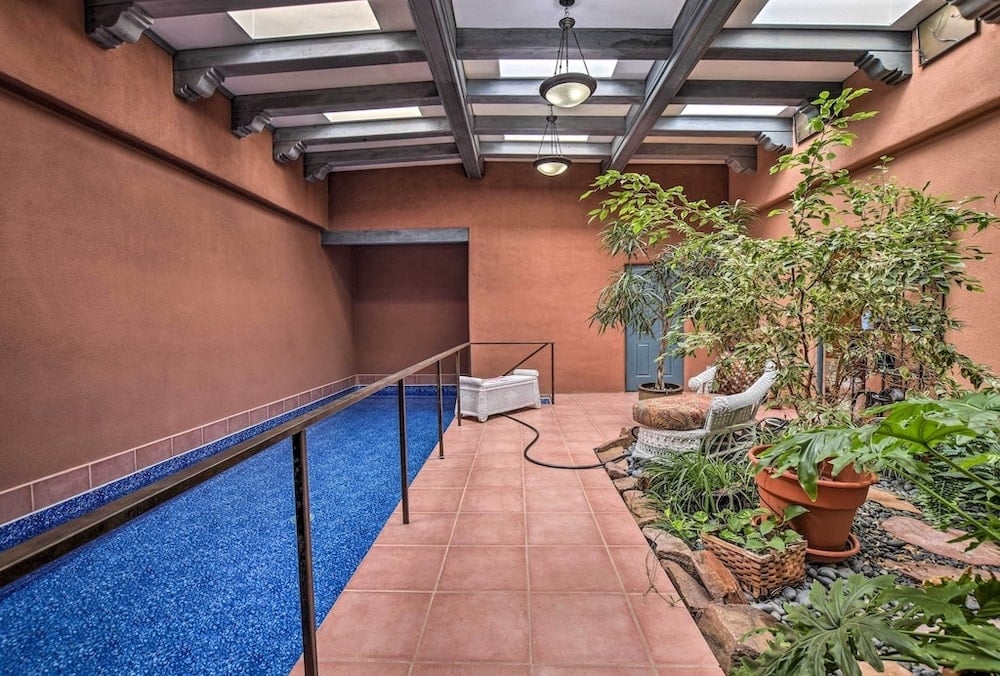 Why you should stay: Desert home with an indoor lap pool 15 minutes from artsy Santa Fe.
Location: Santa Fe, NM
Sleeps: 6
Minimum stay: 3 nights
Rates from: $353/night
At the Santa Fe getaway, exposed log beams, southwestern elements, and an abundance of natural light help make this desert airbnb feel warm and cozy. The main residence has three bedrooms, but the home has an additional guest suite available for rent if you have a larger group.
This unique pool house has an indoor desert garden and a long indoor pool so you can get in your workout with a few laps on vacation. The bedrooms are all quite roomy and the home looks much like a southwestern lodge, making it a good pick if you want resort vibes without staying in a crowded Santa Fee resort.
Check Availability
9. Lakeside Lodge
Why you should stay: Three-bedroom vacation home with an indoor pool so big you can paddleboard on it.
Location: Liberty Lake, WA
Sleeps: 10
Minimum stay: 3 nights
Rates from: $665/night
The Lakeside Lodge is a great escape for anyone who loves the water thanks to its spectacular indoor pool and proximity to Liberty Lake, which is within walking distance. The non-pool parts of the house are quite roomy and elegant too, ensuring that everyone in your group can hang out together without feeling cramped. There's also a nice gym area in case swimming laps isn't your thing.
The stylish home is near Spokane and just a few minutes from the Idaho border in case you want to explore some of the outdoor recreation near Coeur D'Alene.
Check Availability
10. Milford Luxury Home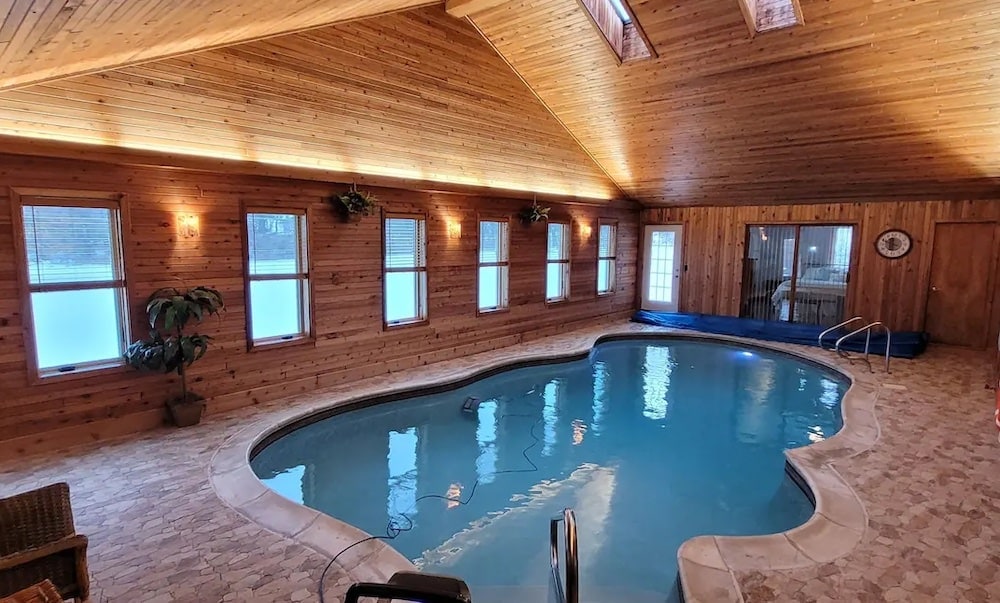 Why you should stay: Dog-friendly vacation home with a pool near skiing and hiking.
Location: Milford Charter Township, MI
Sleeps: 10
Minimum stay: 3 nights
Rates from: $323/night
Everything about the Milford Luxury Home is tinged with elegance, from the modern decor to the upscale kitchen appliances and wood-paneled pool house connected to the main living space. That means you can take a dip in the heated indoor pool even in the dead of winter — you won't find that at most nearby airbnbs.
This three-bedroom rental is in a prime location for visitors from Ann Arbor or Detroit seeking a weekend away as both are less than an hour's drive from the property. Popular ski resorts like Alpine Valley and Mt. Holly are also nearby. There's tons to do outside in Ann Arbor, from mountain biking to disc golf — or wineries, for when you want to hang out in the sun for a while.
Check Availability
11. Suttons Bay Village House
Why you should stay: Five bedrooms on the shore of Lake Michigan.
Location: Suttons Bay, MI
Sleeps: 13
Minimum stay: 2 nights
Rates from: $660/night
From the cozy Suttons Bay Village House, you can walk to beautiful Lake Michigan — or hang out at the home, since it's in a peaceful neighborhood and has both an indoor pool and a hot tub. Outside, the lovely front porch with swinging benches is a nice place to sip coffee in the morning, and the concrete courtyard with an outdoor dining table and grill welcomes al fresco dining.
The interior is filled with classic accents like crown molding and sparkling chandeliers that marry oh-so-well with the antique furnishings. Although oozing with retro charm, the property has modern touches, too, including Wi-Fi, a sauna, and air conditioning. When you do want to venture out, make some time to check out the wineries and breweries around the adorable town of Suttons Bay.
Check Availability
12. Golf Course Villa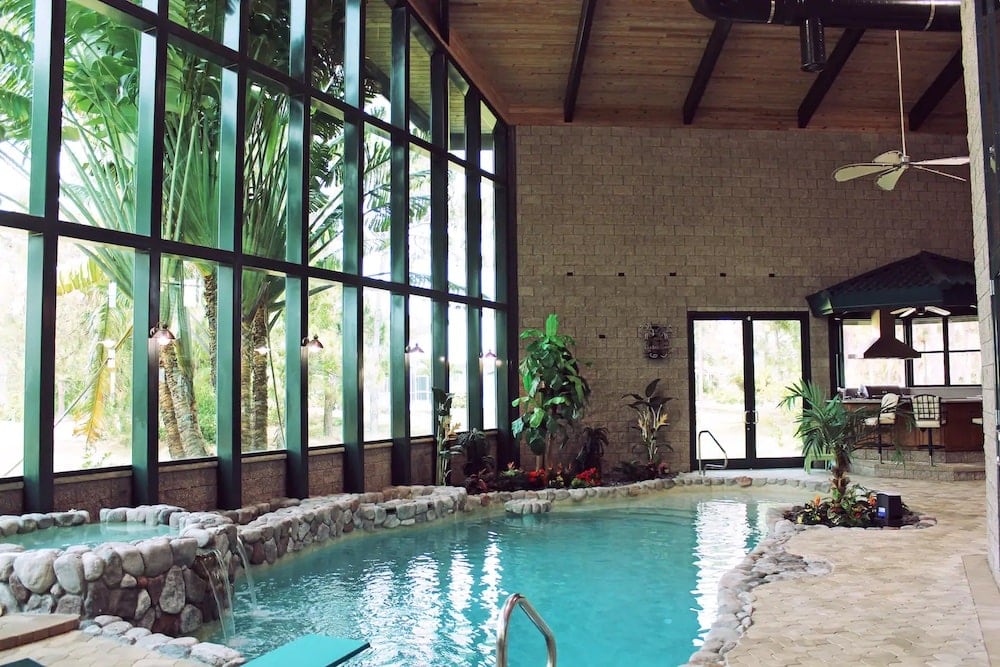 Why you should stay:  Resort-like vacation rental on a golf course near Fort Myers and the Gulf of Mexico.
Location: Punta Gorda, FL
Sleeps: 14
Minimum stay: 4 nights
Rates from: $800/night
Find paradise at this contemporary golf course villa, complete with a striking grand entrance and vaulted ceilings. Swimming in the saltwater pool feels like being transported to a jungle lodge thanks to the glass building overlooking surrounding palm trees that allows sunlight to pour in.
Next to the pool is a relaxing hot tub, a pool table, and a circular bar. And when you need to rinse off the chlorine, head to the large walk-in shower with dual shower heads or the jetted tub in the largest bathroom. When you've had your fill of the pool (and the neighborhood golf course), famous Fort Myers Beach is under an hour away.
Check Availability
13. Luxurious Home
Why you should stay: Exquisite group vacation rental just outside Nashville.
Location: Nashville, TN
Sleeps: 12
Minimum stay: 2 nights
Rates from: $549/night
This luxurious home is loaded with everything a group of friends would need for a weekend near Nashville, including both an indoor and outdoor pool, plus a hot tub. Didn't bring your swimsuit? Bummer – but there's still plenty to do in the arcade room, packed with vintage arcade games, air hockey and pool tables, and a basketball pop-a-shot game. As if that wasn't enough, the yard also features a fire pit, swinging hammocks, a putting green, and a playground for the kids.
There's really not much reason to leave the home, except for the fact that it's so close to Nashville. That makes it an excellent choice for bachelorette or bachelor parties, but make sure to note the price increase: the price goes up by $25 per person, per night past the first four guests.
Check Availability
Find Your Next Getaway
Sign up for the Weekly Wanderer to join thousands of readers getting the inside scoop on travel and gear every week.
---