With a state that's as big and as diverse geographically as Texas, you won't be disappointed with the hiking options.
If you think hiking in Texas means trudging along dusty tracks in an endlessly flat landscape, then you're in for a real surprise. Within the state's over 268,000 square miles, you'll find trails through impressive canyons, to the top of mountains, through dense forests, and across stunning landscapes. Whether your time in the Lone Star State is limited or you want to make sure you've experienced the absolute highlights, these are the best hikes you can find in Texas.
Just remember that in any given season, the weather and temperature can vary pretty widely between each of these picks since they're found in different regions with distinct climates. Make sure to check what the situation is like beforehand so you can head out with the appropriate gear.
Related Read: 9 Best Texas Lavender Farms for Getting Your Fragrance Fix
1. Lighthouse Trail
Why you should go: See an iconic rock formation in the second-largest canyon in the U.S.
Nearest town: Canyon
Difficulty: Moderate
Distance: 5.7 miles (round-trip)
Elevation gain: 500 feet
Palo Duro Canyon is the second largest canyon in the country (we all know the largest), and within the state park, the Lighthouse Trail is the most popular hike. Made up of dirt and sand paths, this relatively short route takes you up to the famous rock formation from which it gets its name and beautiful, elevated views of the canyon.
It's important that you bring lots of water for you and your dog (if you're taking them) during this out-and-back hike since there's little shade along the way and the heat can be no joke.
2. Santa Elena Canyon Trail
Why you should go: It's low effort for high reward with this popular, picturesque trail.
Nearest town: Terlingua
Difficulty: Easy
Distance: 3 miles (round-trip)
Elevation gain: 600 feet
Santa Elena Canyon is one of the most beautiful sights in all of Big Bend National Park, so it's no surprise that the trail that goes there, Santa Elena Canyon Trail, is also one of the most trafficked. Since this hike is short, mostly shaded, and doable for a range of skill levels, it makes a great spot for novice hikers or families to hit the trail for some epic scenery.
This trail follows the Rio Grande and takes you between the towering canyon walls, offering plenty of perfect spots for picture-taking.
3. South Rim Trail
Why you should go: Those who take on this challenging mountain hike will be treated to spectacular views all the way to Mexico.
Nearest town: Terlingua
Difficulty: Challenging
Distance: 12 to 14.5 miles (loop)
Elevation gain: 2,000 feet
It's hard to top the far-reaching views you get from Big Bend National Park's South Rim Trail. Once you've made the climb to the top, soak up those incredible vistas of the Chihuahuan Desert — yes, that's Mexico out in the distance!
Which direction you decide to start this loop trail does make a difference to your experience. Clockwise, from the Pinnacles trail, you'll have to face the steeper climb right at the start. Go counter-clockwise from the Laguna Meadows trail, and it's a longer but gradual uphill.
Feeling extra fit? Add the three-mile side trip to Emory Peak, the tallest peak in the park.
4. Window Trail
Why you should go: An awesome natural vista awaits you on this hike through the desert mountains.
Nearest town: Terlingua
Difficulty: Moderate
Distance: 5 miles (round-trip)
Elevation gain: 500 feet
Window Trail gets its name because you end up in a window-like opening — please don't get too close to the edge! where you can look out to impressive views of the Chihuahuan Desert. Depending on how crowded it is, it's possible that you may have to wait for your turn at the "window."
Conveniently, you can start this hike right from the Chisos Basin Visitor Center. You'll want to save your energy while hiking since you'll have to go uphill on the return portion of this out-and-back trail.
Guadalupe Mountains National Park
5. Guadalupe Peak Trail
Why you should go: Complete this hike and you can say you've been to the "Top of Texas."
Nearest town: Carlsbad (New Mexico)
Difficulty: Challenging
Distance: 8.4 miles (round-trip)
Elevation gain: 3,000 feet
As its name reveals, Guadalupe Peak Trail leads you to Guadalupe Peak, the highest natural point in the state standing at 8,751 feet. Needless to say, the views you get at the top are incredible, stretching far out to the horizon.
If you want to soak up the scenery rather than immediately heading back down, consider pitching a tent at the Guadalupe Peak Wilderness Campground. Keep a good eye on the weather too, since you don't want to deal with severe storms while up on the mountain.
Caprock Canyons State Park
6. Caprock Canyons Trailway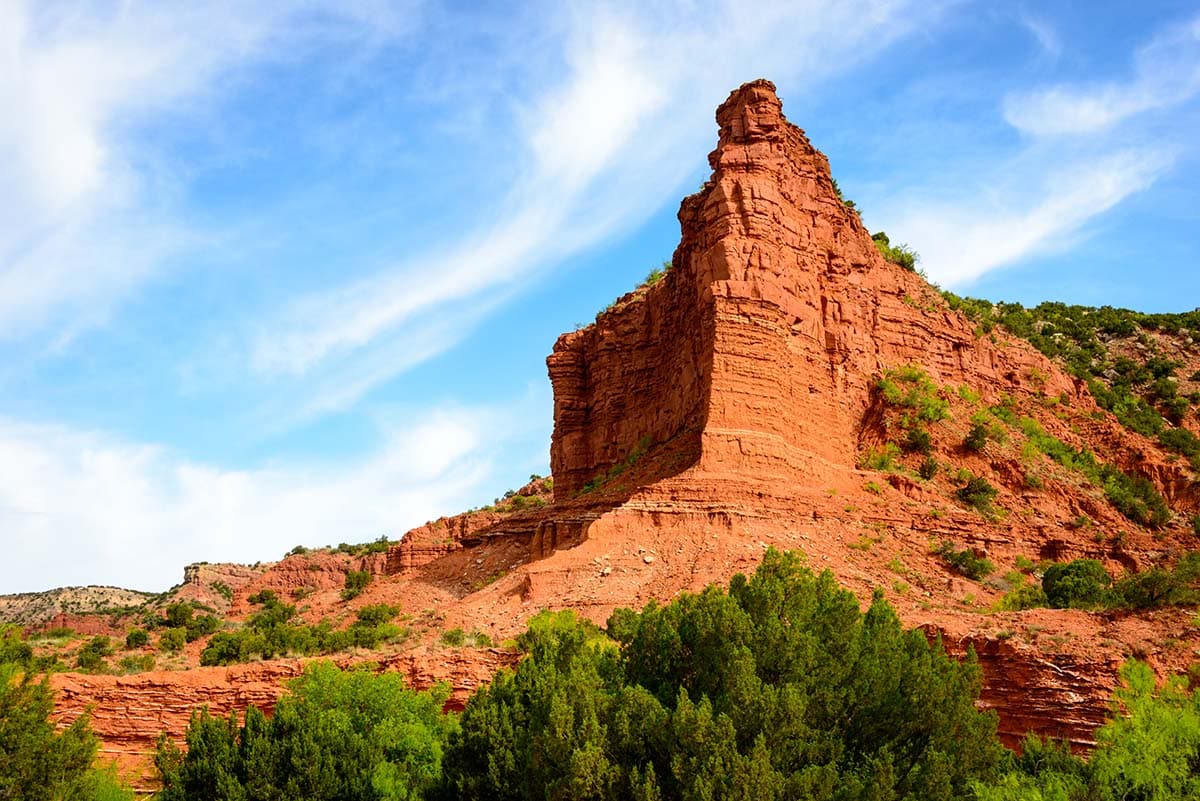 Why you should go: You can immerse yourself in the rugged country on this multi-day hike that traverses three different counties.
Nearest town: South Plains or Estelline
Difficulty: Easy to challenging
Distance: 64 miles (one-way)
Elevation gain: 2,350 feet
If you're a fan of long-distance hiking (a.k.a. backpacking) then check out the impressive Caprock Canyons Trailway.
Changing in landscape from open plains to red canyons, this hike makes its way from South Plains in the west to Estelline in the east. One of the highlights is the Clarity Tunnel, an abandoned railroad tunnel that's home to a colony of up to 500,000 Mexican free-tailed bats.
If you don't have the time to complete the Trailway in one go, you can hike one or more of the designated smaller sections, which range from five miles long to 17 miles long. Another important note: Texas State Parks recommends bringing all the water you need since you're unlikely find any along the trail.
Sam Houston National Forest
7. Lone Star Hiking Trail
Why you should go: As the longest hike in Texas, this trail offers thru-hikers day after day of peaceful nature.
Nearest town: Cleveland, Richards, Coldspring, or New Waverly
Difficulty: Easy to moderate
Distance: 129 miles (one-way)
Elevation gain: 3,500 feet
For another multi-day hiking option, why not go big with the longest hiking trail in all of the state? Found in the Piney Woods region, Lone Star Hiking Trail twists its way through the Sam Houston National Forest.
You may be surprised, however, at just how diverse the landscape changes from forest to swamp to even some country roads. While it may be long, the trail is relatively flat so it's more manageable for different skill levels.
You don't need a special permit for this hike, and camping is allowed anywhere along the trail except for during deer-hunting season when you must stay in a designated campsite.
8. Gorman Falls Trail
Why you should go: See one of Texas' tallest waterfalls on this verdant hike.
Nearest town: Bend
Difficulty: Moderate to challenging
Distance: 3 miles (round-trip)
Elevation gain: 300 feet
If you find yourself in Colorado Bend State Park, the one hike you must do is the Gorman Falls Trail. You may be smack dab in the heart of Texas, but it almost feels like you're in the tropics somewhere given how lush and green the vegetation is all around.
While the hike is short, the difficulty level here comes from how rocky and slippery it can get close to the nearly 70-feet-tall waterfall. That being said, it's not the best idea to bring your pup to this one, but it is a good idea to choose the right footwear before setting off.
Lost Maples State Natural Area
9. East Trail
Why you should go: Hike during the fall to see some of the most dazzling autumn colors the state has to offer.
Nearest town: Vanderpool
Difficulty: Challenging
Distance: 4.4 miles (loop)
Elevation gain: 600 feet
While East Trail is nice any time of the year, it truly shines during the autumn when the trees burst into shades of yellow, orange, and red. Lost Maples State Natural Area is one of the best places in Texas to see fall foliage, and this is the trail to go on if that's your aim.
Aside from the numerous maple trees you pass on your way, other highlights of this hike include sections of the Sabinal River, a grotto, a rock that many say resembles a monkey, and the scenic overlooks.
10. Old Baldy Trail
Why you should go: The river and canyon views at the top are more than worth it.
Nearest town: Leakey or Concan
Difficulty: Moderate
Distance: 1 mile (round-trip)
Elevation gain: 400 feet
Don't be fooled by Old Baldy Trail's short distance — it's a steep way up to the summit of good ol' Mount Ol' Baldy so wear your good hiking shoes and prepare for a bit of a workout. If you're not already out of breath once you reach the top, you will be once you see the spectacular view of the park and the Frio River canyon.
This hike is quite popular (according to some sources, Garner State Park is the most visited park in Texas), so if you want to avoid the crowds try to come early in the day or during the week.
Explore More of Texas
Sign up for Weekend Wanderer to join 10,000+ readers getting epic travel ideas every week.
---