Boise offers dozens of hiking trails accessible from the city itself, and hundreds more in the nearby Boise National Forest.
Many of the most visited trails are open to hikers, mountain bikers, and equestrians. Despite the wealth of trails surrounding the city, it can get a little crowded out there at times.
Which is why this list is hiker-centric. Boise is having a bit of a growth spurt as a city. Its economy is booming, and a lot of people with active lifestyles are moving to the area who are taking full advantage of the region's exceptional outdoor recreation opportunities.
Residents and visitors alike will find the trails on this list to include many of the best hikes that Boise has to offer. From the promenade along the Boise River to the heights of the Sawtooth Mountains, there's a hike here for everyone.
This list includes urban greenways for those who do not care to leave the city, accessible trails in the nearby Rocky Mountain foothills, and backcountry routes for those who prefer to be far removed from the din of civilization. Keep reading to discover Boise's best hikes, and check out these top-notch Idaho Airbnbs if you need a place to stay if you're visiting from out of town.
Related Read: 9 Fun and Scenic Lake Camping Spots in Idaho
1. Stack Rock Trail
Why you should go: Climb up to a towering granite monolith and panoramic views.
Difficulty: Moderate
Distance: 9.4 miles
Elevation gain: 1424 feet
A local favorite, the Stack Rock Trail is sure to please. It offers up a fair challenge due to its length, but it's not a difficult hike. There are awesome views throughout the entire trek and the rock formations at its end make for an awesome destination.
This is a very popular trail among hikers and mountain bikers alike, so keep an eye out for traveling cyclists when you're observing the distant vistas. The main route begins at a paved parking lot, but it is possible to shave off a couple of miles by driving down a dirt road to where it intersects the trail.
The path is well-shaded during the summer and is fairly easy to follow even when covered in winter's snow. No matter when you visit or how far you go, you're sure to enjoy this one.
2. Table Rock
Why you should go: A short but steep hike to a high elevation plateau.
Difficulty: Moderate
Distance: 3.2 miles
Elevation gain: 832 feet
While there are a number of ways to get to Table Rock's summit, this is the most direct route. Elsewhere, there are mountain bikers and dirt roads that'll cross your path. Though steep, this trail is mostly used by hikers.
The route starts off with an interesting tour of the old Idaho state penitentiary's exterior. These ruins provide a look into Idaho's Old West with its 19th-century architecture. Inside, there is more to see, but you'll have to pay to get in.
The trail rises above the penitentiary as it climbs up toward the summit. Once at the top, you can explore the rocky plateau and venture off onto further trails if you're looking for a longer hike.
Related Read: 7 Awesome Yurt Rentals in Idaho for a Rustic Getaway
3. Hulls Gulch Nature Trail
Why you should go: Rolling grassy hillsides, interpretive signage, and no mountain bikes!
Difficulty: Moderate
Distance: 6.3 miles
Elevation gain: 1131 feet
Hulls Gulch Nature Trail is one of the few trails in the foothills east of Boise where mountain bikes are not allowed. That is enough reason for many to choose this trail for an afternoon hike, but there's plenty more reason that you should give it a go.
It's a fairly easy walk despite its length and elevation. The trail is clearly defined for its entire length, and the elevation that is gained is along a consistent gentle slope.
This trail leads hikers across miles of rolling hills that are covered in beautiful grassland and sprinkled with boulders. Interpretive signage can be found beside the trail, and much-appreciated footbridges make crossing the wet gulch a breeze.
4. Adelmann Mine and Lucky Peak
Why you should go: Visit an abandoned gold mine on your way up to the summit which overlooks Treasure Valley.
Difficulty: Moderate
Distance: 9.5 miles
Elevation gain: 2435 feet
The scenery only gets better the higher you climb on your way to Adelmann Mine and Lucky Peak. You'll start off this trek in the Boise River Wildlife Management Area and hike your first couple of miles up a double-track dirt road through an open meadow.
At about mile two you will come across a small meadow to the right with a path that leads to Adelmann Mine. The ruins of the mining operation still stand to this day.
Turn back to the trail junction and go back the way you came for an easy hike, or continue up to the summit for a greater challenge. The views get better the higher you go, and you'll eventually make your way into a lovely forest where the shade provides a welcome respite from the sun on hot summer days.
The peak has a radio tower, a bird observatory, and yurts, as well as panoramic views. There are several dirt roads that provide access to the peak, so you'll likely encounter a number of other people exploring the summit.
5. Cervidae Peak
View this post on Instagram
Why you should go: Get in a workout while you climb to breathtaking views above the Lucky Peak Reservoir.
Difficulty: Challenging
Distance: 4.4 miles
Elevation gain: 1883 feet
The hike to Cervidae Peak is sure to be a sweaty trek. Your calves are going to burn, and the trail is exposed for its entire length, so make sure to apply a coat of sunblock— especially during the summer.
It's an awesome hike, though. There are flat spots to catch your breath between the multiple steep ascents. Once at the top, you'll have grand views of the mountainous landscape in every direction. This is the highest peak on the north side of the Lucky Peak Reservoir, and it's one of Boise's four Grand Slam Peaks.
The views are phenomenal and they change with the seasons. Wildflowers, snow-draped hills, and summer activity in the reservoir all make for fascinating seasonal sights.
6. Red Cliffs Nature Center Trail
View this post on Instagram
Why you should go: Mesmerizing red sandstone formations and sagebrush-steppes.
Difficulty: Moderate
Distance: 3 miles
Elevation gain: 482 feet
The undulating Red Cliffs Nature Center Trail is wide, padded with sand, and well-maintained. While it has its fair share of uphill elevation gain, its rolling nature provides plenty of breaks for catching one's breath.
There are many crisscrossing trails in the area, making sticking to the specific route difficult without a GPS device, but much of the area is worth exploring and difficult to get lost in. There are many mountain bikes around, though, so keep an eye out.
The red sandstone cliffs are the spectacle of choice for this trail. They are certainly eye-catching. Coupled with the sagebrush-covered hillside, it'll feel as if you're walking around in one of Utah's spectacular parks.
7. Mores Mountain Loop
View this post on Instagram
Why you should go: A high elevation hike where most of the uphill is climbed by your car.
Difficulty: Easy
Distance: 2.0 miles
Elevation gain: 492 feet
You can drive most of the way to the summit of Mores Mountain, making this loop hike an easy trek to the peak where panoramic views of the surrounding mountains can be experienced.
If hiking this trail in winter, it becomes a bit harder. The road is often closed by a gate about a mile before the trailhead when there is snow. You can park your car near the gate and hike the rest of the way up, but be prepared to tack on a couple more miles and a few hundred more feet of elevation gain in the snow.
8. Polecat Loop
View this post on Instagram
Why you should go: A winding trail on the edge of town in the foothills of the Rocky Mountains.
Difficulty: Moderate
Distance: 6.8 miles
Elevation gain: 822 feet
Polecat Loop is a popular route for hikers, runners, mountain bikers, and equestrians. Reason being that it is a fun and moderately challenging trail that is minutes from the residential areas of northern Boise.
As with most other hikes in the area, there are a number of crisscrossing trails, enabling you to make your hike shorter or longer at a moment's notice. The route, as mapped, circles around Polecat Gulch and provides great views of Treasure Valley.
9. Homestead Trail
View this post on Instagram
Why you should go: A not-so-busy trail to an old homestead.
Difficulty: Easy
Distance: 4.4 miles
Elevation gain: 922 feet
Relative to many of the other trails in the foothills outside of Boise, this Homestead Trail is easy, but it does have a fair amount of elevation gain. The slope is gentle, yet consistent throughout.
Those interested in a quick trip out into nature will appreciate this hike. It does well to showcase the grassy, sagebrush-speckled landscape outside of the city, and it isn't frequented by many runners or mountain bikers, so you'll find a fair amount of solitude and serenity.
10. Kingfisher Trail
View this post on Instagram
Why you should go: Exceptional birding, hunting, and fishing opportunities.
Difficulty: Easy
Distance: 10.8 miles
Elevation gain: 90 feet
The Kingfisher Trail starts at the New York Canal in Nampa, southwest of Boise, and then hugs the shoreline of southwestern Lake Lowell for the rest of its course. Locals still refer to this path as Tio Lane and the lake as Deer Flat Reservoir as these are their original names.
An abundance of wildlife makes this a special Boise-area hike. It is located within the Deer Flat Wildlife Refuge where over 200 avian species have been recorded. Likewise, there are countless critters scuttling about the terrain and a wide variety of fish swimming in the lake. Bring your binoculars, and maybe a fishing pole, for this one.
11. Boise River Greenbelt Trail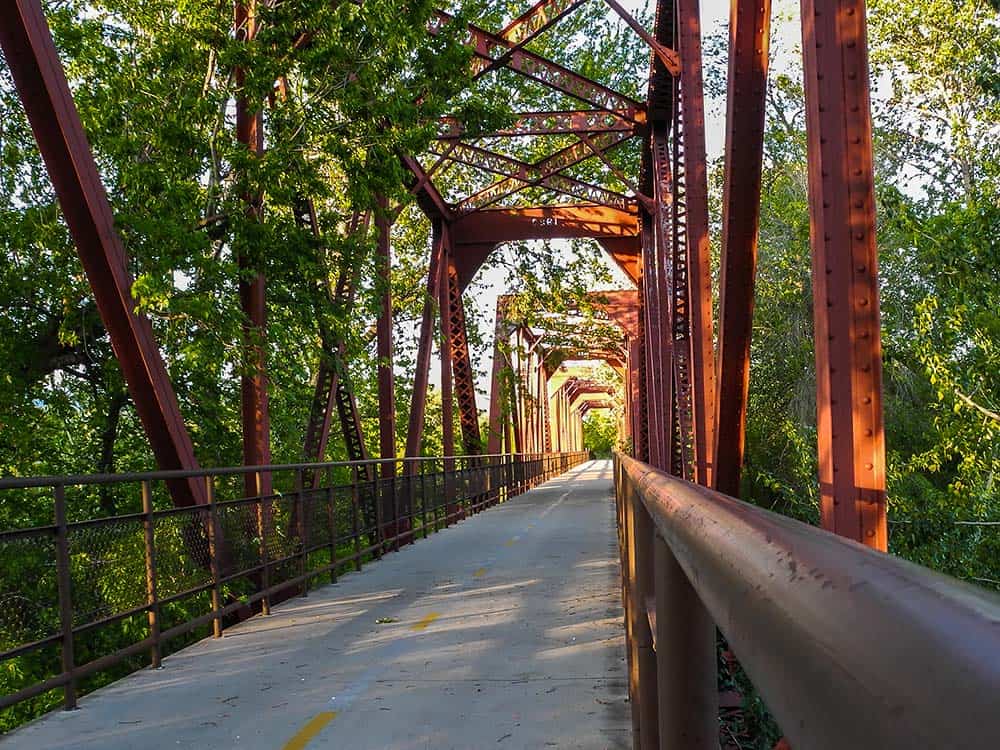 Why you should go: A city-crossing greenway along the Boise River.
Difficulty: Easy
Distance: 25 miles
Elevation gain: 200 feet
Don't worry about the length of this trail, because you can follow it for as long or as short as you'd like. The Boise River Greenbelt Trail follows the Boise River, hugging its banks on both sides along its entire length through the city.
The trail offers a great number of recreational opportunities. If you're visiting downtown Boise, the trail can be a relaxing retreat to break up your urban adventure. Further down the trail, especially its southern end, birdwatching and fishing are common activities.
There is a series of parks along the pathway which is affectionately called the Ribbon of Jewels. It's an easy trail to traverse by foot or bike, and it's loaded with conveniences from end to end.
12. Oregon Trail
Why you should go: A short walk through history with an educational trail marker.
Difficulty: Easy
Distance: 2.8 miles
Elevation gain: 177 feet
This section of the Oregon Trail begins at an elaborate trail marker with historical information about the trail and the historic forts of the area. The trail follows the edge of a cliff offering views of the Boise River Dam below. Also of visual interest is the columnar basalt cliff face across the way.
A junction near the turnaround of this out-and-back leads uphill to a higher plateau on another branch of the Oregon Trail that travels a similar length for those looking to stay out a little longer. There are many more sections of the Oregon Trail in Idaho and elsewhere that are worth a visit, too, for those interested in America's pioneering history.
13. Kepros Mountain
Why you should go: A remote trail for dedicated peak baggers.
Difficulty: Moderate
Distance: 9.8 miles
Elevation gain: 1664 feet
Kepros Mountain is one of four peaks near Boise that are known as the Boise Grand Slam Peaks. It's located west of Lucky Peak Reservoir in the Danskin Mountains where few people other than intrepid hikers and hunters tend to roam.
Though it may look intimidating, this trail is not all that challenging. The beginning and end are where the steep bits are, but most of the journey is flat ridgewalking with stellar views all around. This is a good one for those in search of a day-long secluded escape.
14. Wees Bar Petroglyph Trail
View this post on Instagram
Why you should go: Petroglyphs, a dam, an old homestead, and a waterfall. This trail has it all.
Difficulty: Moderate
Distance: 11.8 miles
Elevation gain: 839 feet
Starting at the Swan Falls Dam on the Snake River, the Wees Bar Petroglyph Trail follows the river through a canyon formed by crumbling cliffs. The scenery is jaw-droppingly gorgeous.
You'll weave through the grass, trees, and boulders of the gorge. Stunning rock formations line the entire trail. En route to your destination, you'll come across the ruins of a homesteader's cabin which you can explore.
A large pipe on the opposite side of the river is your signpost signaling that you've reached Wees Bar. Here, you'll want to turn your attention to the boulder field on your left where there are dozens of large rocks with petroglyphs etched all over them, as well as the ruins of old man Wees' former house.
Explore More Trails
Sign up for the Weekend Wanderer and join thousands of readers getting epic travel ideas every week.
---