We research, evaluate and select travel destinations based on a number of factors, including our writers' experience, user reviews and more. We may earn a commission when you book or purchase through our links. See our editorial policy to learn more.
Was this article helpful?
---
While The Big Apple certainly has a lot to offer travelers, New York State provides so much to explore, from the Catskills to Niagara Falls and the Adirondacks to the Finger Lakes.
The best part? Many of the most amazing spots to hike, camp, and otherwise enjoy the great outdoors are located just a short jaunt from New York City, some of which you can even reach without having a car — though you may have to take a quick taxi ride from the train station.
Interested in combining your big trip to the big city with some big excitement just a short drive away? Here are 10 stellar glamping spots new New York City for a quick weekend getaway.
Related Read: 7 Weekend Trips From NYC With or Without a Car
1. Glen Campsite
Why you should stay: Enjoy hike-in glamping without actually doing much hiking.
Location: Parksville
Sleeps: 2
Minimum stay: 2 nights
Rates from: $175/night
It's not always easy to find a perfect blend of luxury living and privacy when you're looking for a glamping site, but this hike-in campsite offers just that. Glen Campsite in the Catskills is about a 10-minute hike from your car, but it feels worlds away from civilization. There are actually four sites on the property, all of which are dog-friendly (with an extra fee).
You'll sleep in a safari-style canvas tent with a queen bed and all the amenities you need for lux camping, from charging stations for your tech to a half bathroom, outdoor kitchen, and seating on a covered deck. It's all the stuff you love about backcountry camping without a touch of all the things you love about a hotel, too.
Check Availability
Follow 'em: @HemlockFallsCamping
2. Vintage '55 Spartan Royal Manor
Why you should stay: This glamping site is a can't-miss blast from the past.
Location: Shandaken
Sleeps: 3
Minimum stay: 2 nights
Rates from: $120/night
This lovingly restored charms of this vintage 1955 Spartan Royal Manor will transport you back to the 1950s. The motorhome is outfitted with everything you need for a picture-perfect, vintage-inspired stay.
The wood paneling on the walls, the wallpaper in the kitchen, the lamp lighting overhead — it's all straight out of your grandparents' vacay photos. When you're not enjoying the cozy interior, you can sit out by the fire or travel off the site's five acres to explore the Catskills. You'll be very close to Slide Mountain, which is a big recreation area outside Poughkeepsie.
Check Availability
Related Read: 10 Gorgeous Cabin Rentals Near Lake Placid, New York
3. Gatherwild Ranch
Why you should stay: A luxurious resort experience for travelers without a car.
Location: Germantown
Sleeps: Up to 4
Minimum stay: 1 night
Rates from: $175/night
Looking for a glamping spot near NYC that isn't actually too far from urban development? Then a glamping resort may be a good fit.  Gatherwild Ranch allows you to fully enjoy the glamping experience without feeling like you're on your own. Your glamping neighbors are just a few steps away, but careful landscaping ensures a high level of privacy.
Multiple glamping options are available, whether you'd prefer a canvas tent, an A-frame cabin, or a caravan. Staying here is a bit like being on a farm as the ranch as the tent is on an apple orchard and home to free-range chickens, ducks, and goats. It's easy to get here, too – just take Amtrak from the city to the Hudson station and arrange for the resort to pick you up.
Check Availability
Follow 'em: @GatherWildRanch
4. Wolf Hollow Camp
Why you should stay: Comfortable camp-like retreat on 40 acres, complete with breakfast.
Location: Andes
Sleeps: 2
Minimum stay: 2 nights
Rates from: $200/night
This safari tent at Wolf Hollow Camp is on 40 acres, so you're pretty much guaranteed a high level of privacy. Those same 40 acres also hold a lot of space to explore, with places to hike, swim beneath waterfalls, watch the wildlife, or even forage for mushrooms, if the season is right.
When you're ready to relax from your excursions, your glamping site is outfitted with a big bed, and complimentary grill setups and cookware. There's also Wi-Fi near the check-in area in case you need to download a movie.
Check Availability
Follow 'em: @WolfHollowCamp
5. Collective Governors Island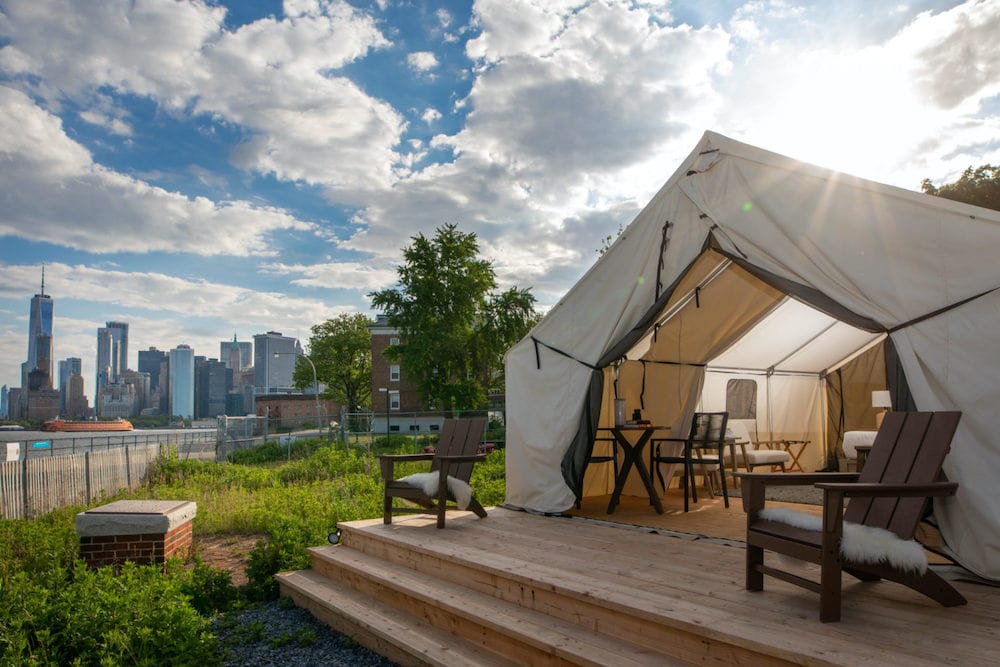 Why you should stay: City-view luxury glamping 10 minutes from Manhattan.
Location: NYC
Sleeps: 3
Minimum stay: 1 night
Rates from: $211/night
Stay in designer tents and outdoor shelters on Governors Island, just a short ferry ride away from downtown Manhattan. It's the closest glamping spot to NYC and makes a quick and easy getaway. If there ever was five-star glamping, this would be it. You'll have climate control (even in the tents!), spa-style bathrooms, private decks, Wi-Fi, full electricity, and more.
The lineup of activities makes this the best adult sleep-away camp ever, with guided yoga and meditation sessions, nightly s'mores, and cooking classes, among other offerings. Breakfast is served in your tent, nightly entertainment fills the starry skies with music, and the camp's Great Lawn is just the right place to mix and mingle with your fellow campers.
Check Availability
Follow 'em: @CollectiveRetreats
6. Moon Lodge Yurt
Why you should stay: Unbeatable views from bed.
Location: Lagrangeville
Sleeps: 3
Minimum stay: 2 nights
Rates from: $135/night
Need to get away from all the light pollution of the big city? The Moon Lodge Yurt has you covered thanks to an entirely clear ceiling that provides fantastic views of the stars and sky. The yurt is incredibly environmentally friendly, with a composting toilet, solar power, and biodegradable toiletries. Pending traffic, this place to glamp near NYC is actually near NYC — the drive should take no more than 90 minutes.
The yurt's sides are all fabric in the summer months to get you as close to nature as possible, but in the colder seasons, the thin fabric is replaced with canvas and insulation so you can stay nice and cozy — though the wood-burning stove helps, too. The actual yurt property is small, but there's hiking in the woods just behind the complex.
Check Availability
Related Read: 11 of the Coolest New York Yurt Rentals
7. Rock Hill Glamping Dome
Why you should stay: Sleep in a romantic geodesic dome with a private deck.
Location: Rock Hill
Sleeps: 4
Minimum Stay: 2 nights
Rates from: $142/night
The Rock Hill Glamping Dome sits next to 9,000 acres of undeveloped state forest for the perfect amount of privacy for a couple's trip. Still, despite the privacy, this isn't a glamping spot that you'll need to hike to, nor one that's going to require a four-wheel drive. The walk from the parking area to the dome will take you under five minutes.
Just pull up, unpack and enjoy camp life. The dome's spacious interior, ample forest views, and loads of natural light are an ideal setting for a glamping getaway near NYC. Outside the dome, there's a covered grill station for outdoor cooking and a detached restroom with a camp shower and toilet. There's no Wi-Fi, but since you'll be the only dome on property, you'll have unobstructed nature views to watch thanks to the entirely clear wall.
Check Availability
Related Read: 9 Incredible Cabins with Hot Tubs in Upstate New York
8. Getaway Outpost
Why you should stay: Stylish, dog-friendly glamping resort two hours from NYC.
Location: Roscoe
Sleeps: 4
Minimum stay: 1 night
Rates from: $169/night
Getaway's Outpost in Roscoe offers a selection of Catskills cabins scattered across a 69-acre property. Every cabin is already outfitted with beds, linens, pillows and toiletries, and they all have their own bathrooms and kitchenettes.
These are no ordinary cabins in the woods, though. The picture-perfect cabins feature huge windows looking out into the trees, carefully placed outdoor furniture to make the most of a roaring fire and fall foliage, and modern finishes. This is definitely not roughing it.
Check Availability
Related Read: Top 10 East Coast Vacation Spots You Never Considered (But Should!)
9. Tiny Orchard Home
Why you should stay: For when you want the best glamping spot near NYC and the best wineries near NYC.
Location: Marlboro
Sleeps: 3
Minimum stay: 2 nights
Rates from: $248/night
This tiny orchard home has been featured in top travel publications for its unique style and setting. It's as modern as can be, taking advantage of the creativity of tinyhome designers to include details like two elevated sleeping lofts and a living space with mountain views.
The views keep going everywhere you look in this window-heavy tiny home, which also has a full bathroom and useable kitchenette. The home is in an orchard on the Shawangunk Wine Trail, putting you within distance of more than a dozen different wineries. What more could you want for a girls' or couple's getaway?
Check Availability
11. The Waterfall Campsite
Why you should stay: Safari tent at an adults-only glamping resort near a waterfall.
Location: Parksville
Sleeps: 2
Minimum stay: 2 nights
Rates from: $175/night
Who wouldn't want to stay in an elevated canvas camping tent next to a plummeting waterfall with a swimming hole at the bottom? This waterfall campsite offers exactly that, plus a fire pit in the woods surrounded by tall tree.
Sip coffee on your back balcony overlooking the woods before cooking up breakfast in the covered outdoor kitchen. When you're ready to head out for the day, you can explore on-property or head to the nearby Slide Mountain Wilderness or Sundown Wild Forest.
A few caveats: you'll have a very short walk to the property, there are no showers available, and this glamp spot near NYC is truly disconnected, so expect no Wi-Fi at cell service that's spotty at best.
Check Availability
Find Your Next New York Adventure
Sign up for the Weekend Wanderer to join thousands of readers getting epic travel ideas every week.
Was this article helpful?
---