We research, evaluate and select travel destinations based on a number of factors, including our writers' experience, user reviews and more. We may earn a commission when you book or purchase through our links. See our editorial policy to learn more.
---
There's so much more to New York than N.Y.C. — just check out these fabulous Airbnbs spread out throughout the Empire State.
Thanks to attractions like New York City and Niagara Falls overshadowing the rest of the state, people from outside the area may know very little of the worthwhile natural wonders and quaint small towns throughout the rest of New York.
Rolling green hills and natural landmarks such as the Catskills, the Adirondacks, and stunning blue lakes, offering plenty to do in the way of hiking, biking, and skiing and snowboarding.
For hiking and warm-weather fun, Letchworth State Park, Taughannock Falls State Park, Watkins Glen boast some of New York's most impressive natural sights and hiking trails. And if you're there for the snow, Lake Placid, Hunter, and Windham are just a few of the best ski destinations around.
Whether you're a born and raised New Yorker or a first-timer looking to get off the grid, check out these top picks for the best New York Airbnb rentals. Too bad you can't fit them all into one trip!
Related Read: 10 Amazing & Secluded Cabin Rentals in New York
19 of the Best New York Airbnb Rentals
1. Luxury Treehouse
Why you should stay: An luxurious two-story "treehouse" stationed 14 feet up in the heart of the Adirondacks.
Location: Remsen
Sleeps: 4
Minimum stay: 1 night
Rates start from: $240/night
Handcrafted by local Amish craftsmen, it takes just one look at this luxury treehouse bursting with impeccable design aesthetic to understand why it's on this list of best Airbnbs in New York. Traverse the 80-foot suspension bridge to reach the front door, entering the ground floor with a gourmet kitchen, an Art Deco-esque accent wall, and a wood-burning fireplace.
To get some quality shut-eye, head upstairs to the elegant bedroom with a floor-to-ceiling window while the kids doze off in a room of built-in bunk beds.
Check Availability
Related Read: 10 Beautiful Mountain Resorts in the Adirondacks
2. The Black A-Frame
Why you should stay: Modern and moody A-frame with solar power in the wooded hills of the Catskills.
Location: Kerhonkson
Sleeps: 4
Minimum stay: 2 nights
Rates start from: $275/night
Find magic at the Black A-Frame, a vintage two-bedroom cabin recently renovated to feature stylish furnishings, a gourmet kitchen, and eye-catching bathrooms. The home's gorgeous floor-to-ceiling windows, exposed beams, and original brick fireplace are sure to amaze, as are the home's outdoor amenities.
Tucked away in the woods of Kerhonkson, the property also boasts a screened-in gazebo, private deck, and a fire pit for the ultimate NY getaway.
Check Availability
Follow 'em: Instagram
3. Camp Arden
Why you should stay: Disconnect in this little cabin near Saranac Lake and Lake Placid.
Location: Loon Lake
Sleeps: 2
Minimum stay: 2 nights
Rates start from: $119/night
Camp Arden is one of the most artfully rustic New York Airbnb rentals where the cell service is weak, but untouched nature is plentiful. The home's fire pit and patio grill overlook the idyllic pond, and inside, your feet will stay toasty with heated floors.
Guest Amanda raved that "The screened in porch was definitely a highlight for us, and we enjoyed walking on the trails around the property. We even saw some moose tracks!"
Check Availability
Related Read: 10 Romantic Getaways in the Adirondacks for a Two-Person Stay
4. Adirondack Mountainside A-Frame
Why you should stay: Charming A-frame in the mountains with furnished decks and vintage accents.
Location: Jay
Sleeps: 4
Minimum stay: 2
Rates start from: $149/night
The Adirondack Mountainside A-Frame makes this list of the best New York Airbnb rentals for its beautiful architectural frame, cozy atmosphere, and peaceful wooded location near popular landmarks like Whiteface Mountain, Lake Placid, and Lake Champlain.
Windows fill the entire back wall of the home to let in dramatic views, and natural sunlight over the home's ground floor and sleeping loft. It also has charming old-school accents like a claw-foot tub and stove dating to the 1920s.
Check Availability
Related Read: 12 of the Best Airbnbs in the Adirondacks
5. Casa Minnewaska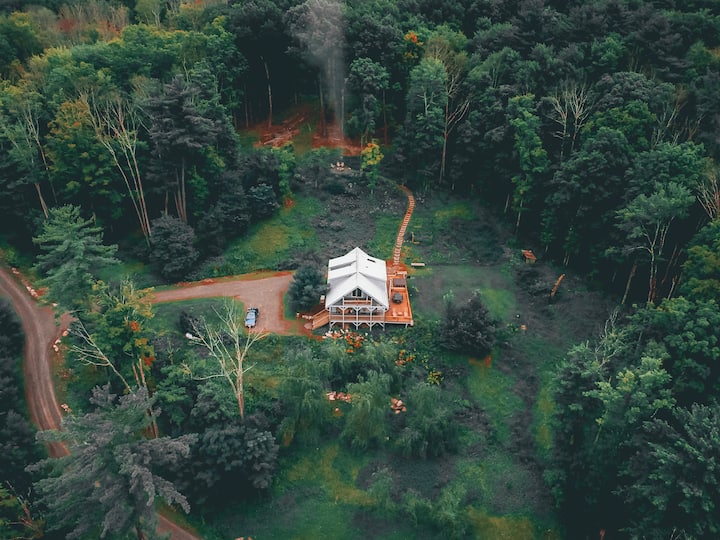 Why you should stay: Beautiful five-bedroom cabin with a wraparound deck and views of wilderness for miles.
Location: Kerhonkson
Sleeps: 10
Minimum stay: 2 nights
Rates start from: $250/night
Casa Minnewaska is a bright and airy three-bedroom, three-story home carefully nestled into a hillside surrounded by Minnewaska State Park. Standout features include an interior vintage wood-burning stove and multiple porches and decks for a morning coffee in your PJs.
Outside, a meandering trail leads to the fire pit, and Stony Kill Falls and Point Lookout are also within walking distance from the backyard.
Check Availability
Follow 'em: Instagram
6. The Minka
Why you should stay: Stunning modern bungalow on Cayuga Lake with free kayak use for renters.
Location: King Ferry
Sleeps: 4
Minimum stay: 2 nights
Rates start from: $108/night
At The Minka, less is more. The home's new and tasteful interior, which has a kitchen, full bed, and sleeper sofa, allows the natural wonder of the surrounding landscape to be the star of the show.
Spend your days on the water (just steps from the cabin) or tour the local vineyards before coming home and relaxing on the front patio as the sun sets. Be prepared for a sky filled with vibrant colors.
Check Availability
Related Read: 10 Glamping Spots Near NYC for a Wooded Escape
7. The Micro
Why you should stay: A tiny house on wheels in a prime location for hiking and lake fun.
Location: Lake Placid
Sleeps: 2
Minimum stay: 1 night
Rates start from: $72/night
In just 300 or so square feet of space, The Micro manages to provide everything you could need, wrapped up in a cheery atmosphere. From the fully equipped kitchen with gas burners and a mini-oven to the lofted queen bed and the full bathroom with shower, nothing has been sacrificed in this high-end tiny home on wheels.
Also worth a mention is the fact that the property has a nice little front porch and is conveniently close to Lake Placid, Saranac Lake, and local eateries. This home is quirky, comfortable, and downright adorable.
Check Availability
Related Read: 10 Enticingly Romantic Getaways in New York State
8. The Glass House
Why you should stay: A tiny gem featured in The New York Times for its beautiful facade.
Location: Marlboro
Sleeps: 2
Minimum stay: 2 nights
Rates start from: $271/night
If you appreciate unique structural design and massive windows, The Glass House may be one of the best New York Airbnb rentals for you on this list. Inside, natural wood and cabinetry pair well with white walls and casual decor to create a cozy space.
The 30-acre yard is completely surrounded by the lush rolling hills of Hudson Valley, as well as local apple trees and grapevines. It's a fabulous escape from the chaos of NYC.
Check Availability
Related Read: 11 Beautiful Cabin Rentals in the Adirondacks
9. Maitopia
Why you should stay: A fantastic retreat to the woods complete with an all-glass solarium bedroom.
Location: Red Hook
Sleeps: 6
Minimum stay: 3 nights
Rates start from: $390/night
Maitopia is a contemporary cabin decked out with monochrome tones and fabulous amenities such as an egg-drop fireplace, a year-round heated swimming pool, and massive glass french doors that separates the living room and outdoor deck.
Guests can take their pick of beds from the primary bedroom with en-suite soaking tub, lofted twins above the living room, or the all-glass cottage outside. Close to Rhinebeck and just 1.5 hours from New York City, its location makes it an easy getaway to upstate New York.
Check Availability
Related Read: 10 Best Spots for Snowshoeing in Upstate New York
10. Cottage by the Water
Why you should stay: A vibrant and sunny two-bedroom cottage jutting out onto the Hudson Basin.
Location: Queens
Sleeps: 5
Minimum stay: 2 nights
Rates start from: $211/night
Sleep in a bright and airy cottage by the water with an over-the-water deck and dining room that uniquely hang over a residential channel. During your stay, you'll have gorgeous views of the beachy cottages of Queens from the large window in the living room. Y
ou'll also be close to NYC attractions like Frank M. Charles Memorial Park and Rockaway Beach, and just steps from the subway so you can easily make your way into the city.
Check Availability
11. Catskills Cabin
Why you should stay: An eclectic two-bedroom cabin with a big personality near popular ski resorts.
Location: Jewett
Sleeps: 4
Minimum stay: 2 nights
Rates start from: $270/night
This Catskills cabin has no shortage of character and is one of the most ideal New York Airbnb rentals for avid skiers and snowboarders planning to ski Windham Mountain or Hunter Mountain.
Lovely interior accents include exposed beams, an art deco bronze backsplash, and fun vintage touches like a retro riding horse and light-up Coca-Cola sign. Other noteworthy amenities include a spacious yard, a deck with a private hot tub, and an indoor brick fireplace.
Check Availability
12. The Chez Tree Rest
Why you should stay: A unique treehouse Airbnb on a peaceful plot of hardwood trees just south of Syracuse.
Location: LaFayette
Sleeps: 2
Minimum stay: 2 nights
Rates start from: $225/night
The Chez Tree Rest is a magical tiny home hoisted in the branches of two majestic maples. To get to the two-story treehouse, you'll ascend a 60-foot suspended cable bridge over the cabin's ground-level deck.
Inside, a well-appointed kitchenette, half bath, and lofted double bed helps any traveling duo stay cozy. And just 30 feet away via another suspended bridge is a fun octagonal deck in a neighboring tree.
Check Availability
14. The Willow Treehouse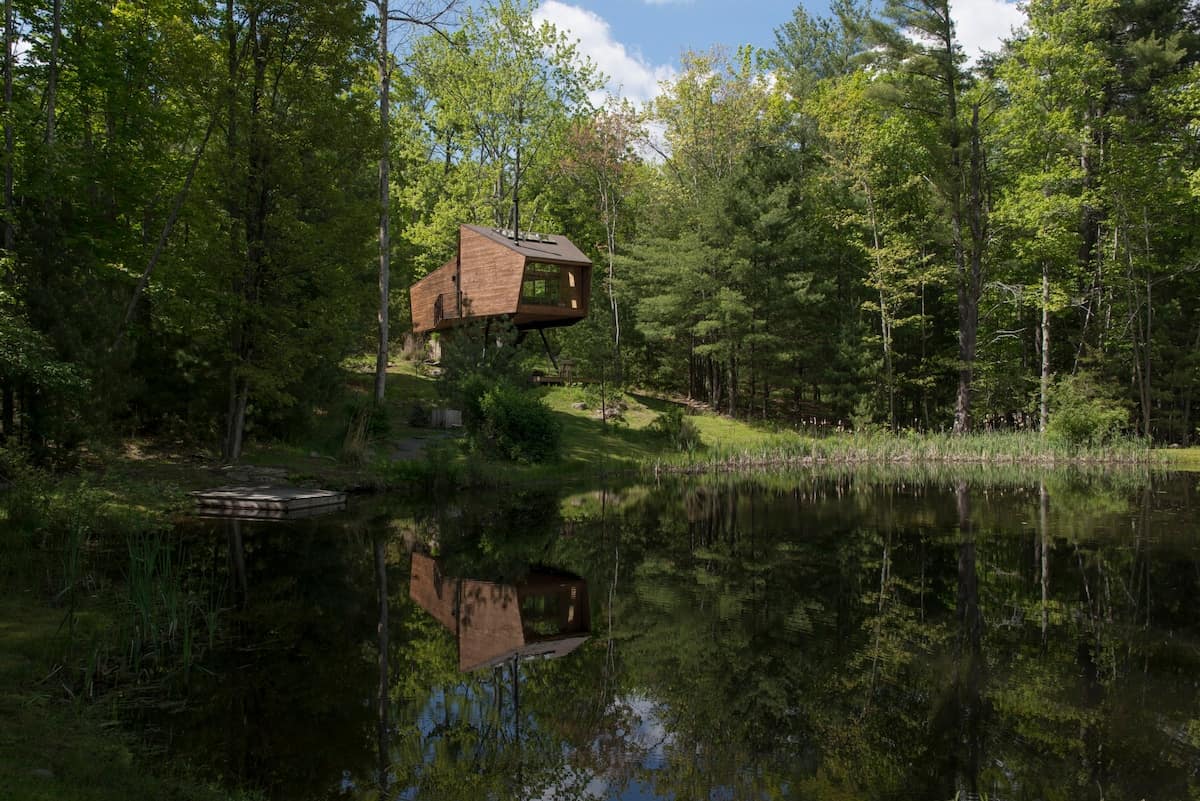 Why you should stay: An architecturally striking treehouse with a full glass wall overlooking a swimming pond and lush scenery.
Location: Willow
Sleeps: 2
Minimum stay: 2 nights
Rates start from: $350/night
The Willow Treehouse is one of the most unique New York Airbnb rentals in the state, where traveling solos or duos can happily escape to the seclusion of 34 wooded acres.
This wooden cabin is visually stunning inside and out, equipped with a spacious kitchenette, warm and inviting lofted bedroom, and living spaces that showcase the enchanting views. Outside, a traditional Swedish hot tub will soothe your soul, especially after a long day of outdoor exploration.
Check Availability
15. Mariaville Goat Farm Yurt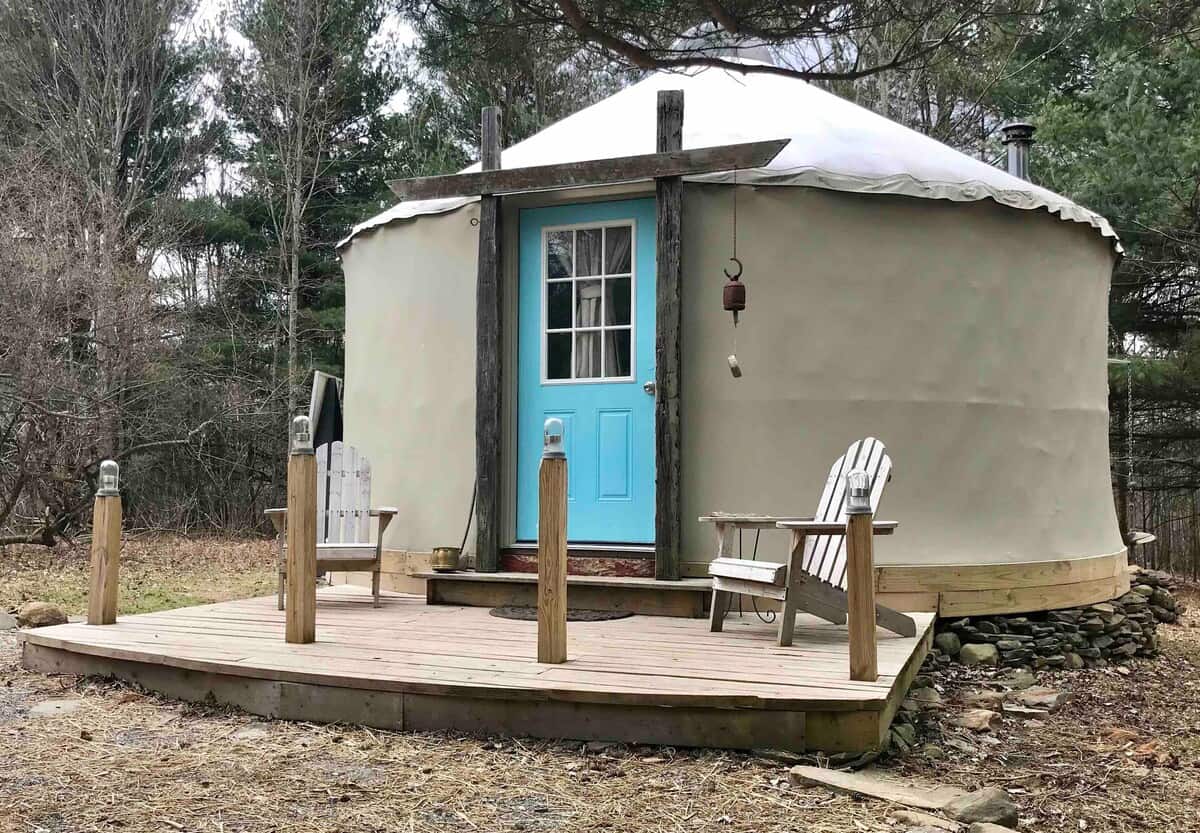 Why you should stay: Hang out with adorable goats in your very own 20-foot yurt.
Location: Pattersonville
Sleeps: 4
Minimum stay: 1 night
Rates start from: $95/night
Mariaville Goat Farm yurt is an exciting and one-of-a-kind rustic stay on a farm where fun-loving goats run rampant and guests can take goat yoga classes on the weekends.
The yurt has a solar-powered outdoor shower akin to a huge bird nest, plus a reclaimed barn-wood outhouse and a hammock out in the yard. When it's time to turn in, snuggle up in the full murphy bed as the wood stove keeps you warm.
Check Availability
16. Whispering Wind Treehouse
Why you should stay: Be one with nature in this cute glamping-style treehouse Airbnb rental.
Location: Argyle
Sleeps: 2
Minimum stay: 2 nights
Rates start from: $195/night
Sleep under a transparent roof and count the stars at the Whispering Wind Treehouse, a charming little Airbnb near the New Hampshire border.
Not for the faint of heart, this beauty does not have WiFi, running water, or indoor plumbing, making it all too easy to disconnect and recharge without modern distractions. Wake up to the call of the birds and sip a steaming cup of joe on the balcony.
Check Availability
17. The Happy Camper Bus
Why you should stay: A run-of-the-mill school bus on the outside, but a pleasant and modern stay inside.
Location: Taberg
Sleeps: 4
Minimum stay: 2 nights
Rates start from: $99/night
You'd be surprised what can be accomplished with a dream and a hammer, and The Happy Camper Bus is proof that the ordinary can be transformed into the extraordinary.
One step inside and you're immediately greeted by homey touches, from the wood-paneled walls to the beechwood breakfast nook. This exceptional stay even has a king bed, kitchenette with a full-size oven, mini wood stove, and an onboard bathroom.
Check Availability
18. Adirondack Treehouse
Why you should stay: Sleep in a peaceful treehouse Airbnb with an outdoor kitchen near Saratoga Springs.
Location: Middle Grove
Sleeps: 3
Minimum stay: 2 nights
Rates start from: $260/night
Climb a spiral staircase with tree-branch railings to get to the Adirondack treehouse, a quaint cottage experience with a balcony, queen bed, and lofted twin bedroom.
The treehouse overlooks the home's detached outdoor kitchen with a microwave, fridge, and running water, as well as a full bathroom. There's also a furnished deck and fire pit for your enjoyment during the warmer months.
Check Availability
19. Glamping Dome
Why you should stay: A sleeping dome less than 30-minutes from the original Woodstock site.
Location: Rock Hill
Sleeps: 4
Minimum stay: 2 nights
Rates start from: $128/night
If you love sleeping outside but are looking to elevate your camping game, you've got to check out this glamping dome — a sturdy shelter on an elevated deck with a clear soft window and a queen-sized bed.
The campsite includes access to an outdoor kitchen area with a grill, table, storage space, water dispenser, and a permanent bathhouse with hot showers. Getting to this hidden gem is a treat and requires a golf cart ride on a winding dirt path through the woods.
Check Availability
Explore More Amazing Getaways
Sign up for Weekend Wanderer to join thousands of readers getting epic travel ideas every month.
---