There are many reasons to visit Washington – home of the "American Alps" – and hot springs are at the top of our list.
Whether you're looking to pamper yourself in a mineral pool or want a backcountry excursion to go with your soak, Washington offers some pretty cool hot springs.
You'll find these relaxing pools set deep within the alpine wilderness, a hop skip and jump from the trailhead, and conveniently located at a family resort.
Of course, there's no better time to visit these hot mineral pools than on a typical cold, cloudy Pacific Northwest day.
If you're heading to Washington and ready to chill out the Washingtonian way, take a look at the seven best hot springs in Washington state.
Related Read: 9 Amazing Lake Camping Sites in Washington
Gamma Hot Springs
If you're up for a challenge, then pack your gear and head on out to the Gamma Hot Springs. Located deep in the Glacier Peak Wilderness, a trip to the Gamma Hot Springs is more than a hike — it's an expedition.
This hot spring is remote, to say the least. You'll need to hike through miles of tricky terrain and overgrown trail that's difficult to navigate.
Even with locked-down coordinates, you'll want to have some backcountry navigation and backpacking experience under your belt before heading out.
Once you do make it, however, you'll be rewarded.
Albeit small in size, the experience of soaking in this backcountry pool with an alpine view and no one around for miles is worth the adventure every step of the way.
Related: 11 Warm & Cozy Yurt Rentals in Washington
Olympic Hot Springs
Up for a trek? It's a bit of a hike to the Olympic Hot Springs, but it's well worth the effort when you reach this rainforest-style oasis.
Located in Olympic National Park, the Olympic Hot Springs are an isolated group of seven natural pools nestled among enchanting old-growth trees. With an average daily temperature of 98° to 105°, they're the perfect place to warm up on a chilly Pacific Northwest day.
Be advised, this is no short journey. The road to the trailhead was washed out years ago and never reopened. Now, to reach the remote Olympic Hot Springs you'll have to hoof it on roughly 9-miles of abandoned road until you reach the original trailhead. In total, it's about 21-miles round-trip so you may want to plan ahead and make a night of it.
Sol Duc Hot Springs
If relaxing in a hot pool of mineral water is your idea of luxury, you'll love the Sol Duc Hot Springs. Located in Olympic National Park, these "sparkling water" hot springs are more than just soaking pools — they're part of the Sol Duc Hot Springs Resort.
Here, you'll have your choice of three mineral soaking pools. When you need to cool off from the 100° hot springs, take a dip in the resort's refreshing freshwater pool.
While you may be surrounded by a family resort, the hot springs are in fact spring-fed by snowmelt and rain. As the water seeps through the cracks, it mixes with gases from volcanic rock and into the pool to warm you up.
Mount Baker Hot Springs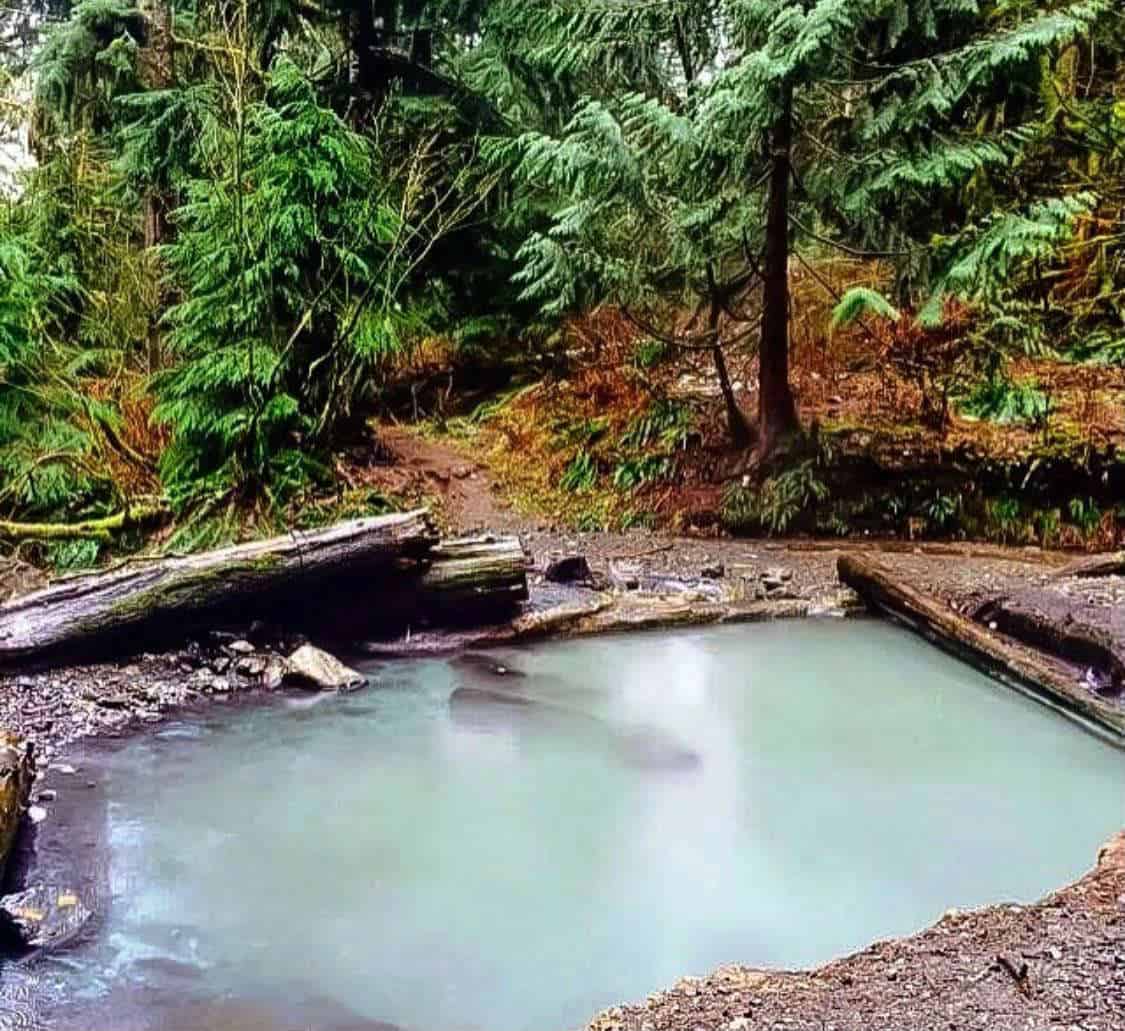 We get it. Not everyone digs resorts, and finding the time for an overnight trip isn't easy. Luckily, the Mount Baker Hot Springs is only a short hike away — if you can even call it a hike. Located near Concrete in Mount Baker-Snoqualmie National Forest, this hot springs will cost you less than a mile's walk round trip.
Surrounded by nature, these rock and log-walled hot springs consist of two secluded geothermal pools that reach approximately 100°. With enough room to hold a small group between the two, you and your buddies can enjoy a soak in solitude.
That is, as long as you don't see a whole mess of cars in the parking lot. Since this is a short walk in, the area can get crowded.
Oh, and don't be surprised if you arrive and a few folks are wearing their birthday suits. It's Washington, after all.
Goldmyer Hot Springs
Tucked away in the foothills of the Northern Cascades is Goldmyer Hot Springs. Serene and tranquil, these tiered pools are a dreamy sight to behold.
Situated on 20 acres of wilderness preserve, you'll have to trek 4.5 miles to reach these hot springs. Once there, you'll be greeted by pristine pools with temperatures reaching up to 111°.
If you find yourself too at peace to make the hike back, you'll be happy to hear that campsites are available nearby. However, you'll want to book in advance. The Goldmyer Hot Springs is operated by the non-profit Northwest Wilderness program and only accept 20 people per day.
So, while clothing may be optional, hopefully the limited day-use means that weird naked guy who always manages to show up won't be there to ruin the party.
Related Read: 9 Soak-Worthy Hot Springs in California
Carson Hot Mineral Springs
Winter in Washington means some roads to the hot springs are completely inaccessible. Luckily, that's not the case for the  Carson Hot Mineral Springs. Adjacent to the Columbia River Gorge in Carson, you'll take a trip back in time at this resort.
Built the 1900s, the Carson Mineral Hot Springs offers a rustic setting to decompress and push the reset button. The resort pumps in mineral water from the nearby Wind River to fill several soaking areas.
This includes the bathhouse clawfoot tubs, mineral therapy pool, and private deck hot tubs. While this may not be your typical pampering resort, you'll find peaceful relaxation nonetheless.
The resort does not let anyone under the age of 18 in the bathhouse or therapy pool, so it's best suited for an adult getaway.
Scenic Hot Springs
You'll find the Scenic Hot Springs in the Alpine Wilderness near Stevens Pass. It's situated on a vast 40 acres of private property, and is open to the public with special permission.
To keep conditions pristine and prevent overcrowding, only ten visitors are allowed to soak in these pools daily. Book a reservation and you'll be able to enjoy the three piping-hot pools with nothing but a view of the surrounding dense forest.
As with most hidden gems, be ready to put in a little bit of effort before reaping your reward. You'll have to travel down an unmarked forest road and trek uphill for a couple miles before reaching your destination. Be sure to make reservations beforehand, because in these parts they don't take kindly to trespassers.
More Pacific Northwest Adventures
Sign up for Weekend Wanderer to join 10,000+ readers getting epic travel ideas every week.
---