We research, evaluate and select travel destinations based on a number of factors, including our writers' experience, user reviews and more. We may earn a commission when you book or purchase through our links. See our editorial policy to learn more.
---
Connecticut has all the ingredients for a perfect Hallmark rom-com, with its rolling hills, quaint towns, and classic New England charm.
You might be a New York executive sent to Connecticut to shut down a charming inn run by a ruggedly handsome owner. Or perhaps you're a down-on-your-luck artist set up on a blind date by your best friend. Regardless of your love story, the Constitution State is an ideal place to create a spark or rekindle a romance.
There is a place for everyone, no matter your preference on location, experience, or ambiance. The state is home to breathtaking scenery, elegant homesteads, quintessential New England inns, and cottages by the sea.
So grab your beau, boo, babe, darling, love bug, or whatever it is you might call your significant other and head to the third smallest state for the best romance has to offer. Check out our list below to find the best spots for a snuggly getaway.
1. Winvian Farm
Why you should stay: the definition of high-class luxury and one-of-a-kind experiences.
Nearest town: Litchfield
Sleeps: 5 guests
Minimum Stay: 1 night
Rates from: $799/night
Romance is defined in numerous ways, so there should never be only one single type of experience to satisfy your personal definition of it.
At Winvian Farm, you have a wide range of lodging options to ensure the perfect getaway for you and your partner. For those with a bit more adventure, you can stay in a fully restored 1968 Sikorsky HH-3F Pelican helicopter. Or, stay in the Secret Society cabin for the ones who might need a bit more secrecy for their tryst.
If you'd rather rummage around in the stables, stay at the aptly named Stable cabin. My personal favorite is the Library where you're surrounded by stacks and stacks of literary classics in a breathtaking cottage. If the cottages and rooms aren't enough, throw in a visit to their luxury spa or their five-diamond, farm-to-table restaurant.
Check Availability
Related read: The 10 Best Things to Do During Fall in Connecticut
2. Joshua Cove Cottage
Why you should stay: there's an outdoor shower in case things get a little dirty (wink).
Nearest town: Guilford
Sleeps: 4 guests
Minimum Stay: 2 nights
Rates from: $300/night
A private beachside oasis awaits you when you stay at this cottage along Joshua Cove. This cape with cedar shake siding might as well be on Nantucket, but instead, resides in southern Connecticut. Roast marshmallows at the fire pit on the beach while snuggling your boo under a blanket.
Or curl up on the large leather couch to enjoy the view through the floor-to-ceiling windows. Or sneak away to the loft for a more private type of cuddling as the sun sets across Long Island Sound. Whatever type of foreplay is your preference, a stay here means you'll have all the seclusion you need to make things memorable.
Check Availability
Related read: 7 Breezy Romantic Getaways in Rhode Island
3. Mayflower Inn & Spa
Why you should stay: curtains around the beds offer even more privacy for your late-night endeavors.
Nearest town: Washington
Sleeps: 4 guests
Minimum Stay: 1 night
Rates from: $720/night
Old Victorian charm oozes from every corner of the Mayflower Inn & Spa. The eclectic wallpaper, the bowties on the barmen, the antique chairs, and the four-post beds allow you to soak in New England elegance.
The charm continues in the experiences you can create during your visit. Partake in the Field and Farm Cocktail Class or ask the tarot if your current partner is "the one" – on second thought, maybe don't ask it that.
Before you settle in for the night, make sure to grab dinner at The Garden Room and then pop by The Tap Room for an after-dinner cocktail. Grab a bottle to bring back to your room to keep the party going. If you're lucky to have snagged a room with one of the deep soaking tubs then climb on in for a little bubbly in some bubbly (see what I did there?).
Check Availability
Related read: 8 Tranquil Cabin Rentals in Connecticut
4. White Hart Inn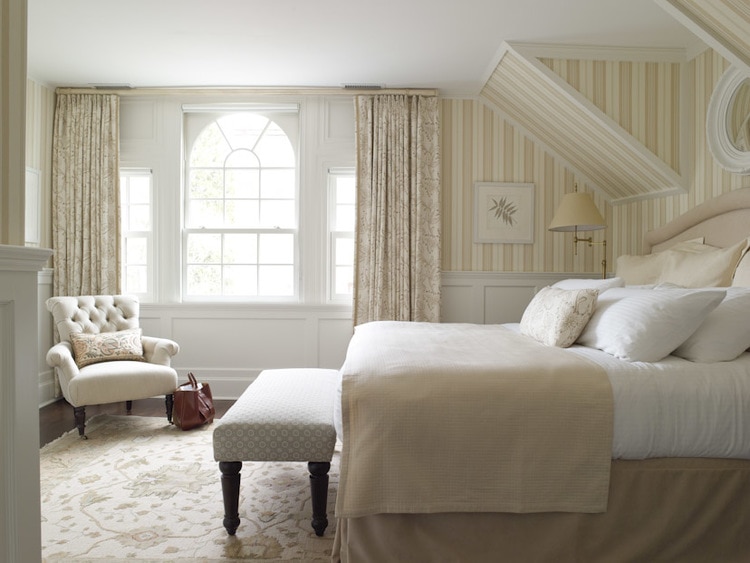 Why you should stay: only the price tag is cheap here.
Nearest town: Salisbury
Sleeps: 6 guests
Minimum Stay: 1 night
Rates from: $275/night
What was once a small tavern is now an elegant and charming inn in the foothills of the Berkshire Mountains. The White Hart Inn has dozens of rooms (including one dedicated to John Harney who started his tea company in the basement of the Inn).
But there's more than just tea at the inn's restaurant. Their cocktail menu is full of unique drinks including a rum and rye mix called Forbearance and Benevolence and a tequila cocktail called No Space of Regret. Hopefully, you'll feel the same about your partner the next morning.
Check Availability
Related read: 10 Best Hikes in the Berkshire Mountains to Get Away From it All
5. The Little Lake Cabin
Why you should stay: a complete copper cocktail set to make the perfect Moscow Mules.
Nearest town: New Fairfield
Sleeps: 4 guests
Minimum Stay: 2 nights
Rates from: $250/night
With an abundance of blankets, you'll never be cold when you stay at the Little Lake Cabin. However, you might not need any blankets depending on how much heat you stir up with your partner. If you need help with getting things started, grab the s'mores-making kit given by your gracious hosts and head to the fire pit to roast some marshmallows.
Don't forget your bathing suits to relax in the hot tub on chilly nights. Then head into the cabin and wrap yourselves in the complimentary robes until darkness takes you back to the bedroom. You likely won't need your robes after that.
Check Availability
Related read: What to See on a New York to Boston Road Trip Filled With History
6. Madison Beach Hotel
Why you should stay: unparalleled views of Long Island Sound.
Nearest town: Madison
Sleeps: 4 guests
Minimum Stay: 2 nights
Rates from: $271/night
Just under two hours from New York City, the Madison Beach Hotel is the perfect romantic escape from city life. You can choose between various rooms including ones with an ocean view where you can watch the sunrise and sunset straight from your windows. And in case you and your party are of the double-date variety, there are several suites that can accommodate up to four people.
Before shacking up for the night, grab dinner at The Wharf and a drink from The Crows Nest to make sure you have enough sustenance (and maybe some liquid courage) for whatever activities might occur after dessert.
Check Availability
7. Stonecroft Country Inn
Why you should stay: super quiet since there are only ten guest rooms.
Nearest town: Ledyard
Sleeps: 2 guests
Minimum Stay: 1 night
Rates from: $195/night
The outside of Stonecroft Country Inn might make you think you'd have to wear a powder wig to stay there, but that couldn't be further from the truth. Sure, there is lots of classic New England ambiance on its exterior, but the interior oozes timeless vibes. Guest rooms range from the 1807 House to the converted Yellow Barn.
The latter is perfect for those wanting a bit more modern amenities (and whirlpool tubs roomy enough for two) while the former allows guests to unplug and unwind.
Whether you are looking to try your luck at the slots (Foxwoods Resort Casino is a 10-minute drive) or walk along the cobblestone streets of downtown Mystic, Stonecroft Country Inn will leave you satisfied – perhaps in more ways than one.
Check Availability
Related read: 10 Magical Glamping Destinations in New England
8. The Spa at Norwich Inn
Why you should stay: after a spa treatment, you just have to walk upstairs to your room.
Nearest town: Norwich
Sleeps: 4 guests
Minimum Stay: 1 night
Rates from: $200/night
The rooms at the Spa at Norwich Inn aren't anything to write home about but that's not why you would stay here anyway. Instead, you stay at the Inn to have the full spa experience. Choose from services such as massages, body wraps, facials, nail treatments, and even some sweating in an infrared sauna.
But if you're looking for a bit more action (and I don't mean in the bedroom), you can head to one of the two casinos not too far from the Inn. Foxwoods Resort and Casino is only a 15-minute drive while Mohegan Sun is only about three minutes away. Hopefully, your partner won't be too upset when you lose all your money at the slots though.
Check Availability
9. River Barn
Why you should stay: rolling around in the hay isn't just for the horses here.
Nearest town: Essex
Sleeps: 4 guests
Minimum Stay: 2 nights
Rates from: $231/night
A truly unique stay just on the outskirts of Essex Village, this rustic yet sleek barn is everything you'll need for a romantic getaway. The River Barn is packed full of all the amenities you didn't know you needed.
A guitar to serenade your sweet honey? Yup, they've got a Martin & Co. A record player with a spectrum of musical tastes to get in the right groove? Yes, sir – they've got that too.
Or maybe you don't want to get off the couch so, instead, you just call out to Alexa to play the "romantic playlist" and you're all set.
Insider tip: don't forget to open the freezer to see what the hosts might have left you upon arrival. Better yet, ask the hosts to stock your fridge (for an additional fee) so you never have to leave once you arrive.
Check Availability
Related read: 8 Unique Places to Stay Near Boston When You Need to Get Away
Explore More of New England
Sign up for Weekend Wanderer to join thousands of readers getting epic travel, hiking and camping ideas every week.
---