We research, evaluate and select travel destinations based on a number of factors, including our writers' experience, user reviews and more. We may earn a commission when you book or purchase through our links. See our editorial policy to learn more.
---
With over 750,000 acres spanning two states, White Mountain National Forest provides ample opportunities for autumn enjoyment.
White Mountain National Forest has the largest number of peaks above treeline in New Hampshire, but it's also home to endless forests perfect for viewing autumn foliage.
You can experience the magic of New England autumn without leaving the comfort of your car by taking a scenic drive through the mountains.
Or you can leave the pavement behind and hit up one of the many trails, including those that summit the coveted four-thousand-footers where views are endless. You can even prolong your stay with an epic camping spot so you can take in the colors of autumn no matter the time of day.
No matter your adventure of choice, check out the recommendations below for the best possible spots to view the fall colors.
A Quick Note About White Mountains Fall Foliage
Leaves change color no matter what, but the iconic fall foliage that the White Mountains (and New England in general) are known for is also highly dependent on several factors.
Climate change has dramatically changed the timing and vibrancy of fall foliage across the world and the White Mountains are no exception. Even without climate change as a factor, autumn colors rely on warm, sunny days followed by cool nights. If it's too wet or too dry of a summer, the timing of peak foliage will be earlier or later than usual.
Peak fall foliage ranges from late September until early November across the Granite State. However, White Mountain National Forest peaks towards the beginning of that period. You can keep track of New Hampshire state foliage through this website so you plan your adventure at the right time.
If conditions are right, I'll argue the most beautiful vistas of autumn foliage are found in the White Mountains. With the combination of sugar and red maples, aspens, birches, and oaks, the sea of leaves spans the entire color spectrum.
1. Mount Washington
Why you should go: it's the highest spot to see fall colors across five states and even into Canada all at once.
Location: Gorham
Peak foliage: late-September to mid-October
There are a few ways to get to the highest summit in the northeast United States. You can do it the old-fashioned way and hike up on your own two feet. This is an all-day excursion and should only be attempted by experienced hikers.
Hiking up Mount Washington (this goes for all the summits above treeline) is some of the most rugged hiking you could ever do. Weather changes quickly and often so be prepared for all types of conditions and turn back if things become unsafe.
You can also drive up the Mount Washington auto road which recently got the last part of the road fully paved. Even though the road can be traversed by most cars, it's slow going and at times the road is so narrow that you'll have to crawl by oncoming traffic.
Lastly, you can skip all the work and hop on the Cog Railway – it's the second steepest ascent in the world (the first is in Switzerland).
Local tip: go as early as possible since the afternoon usually brings in clouds and thunderstorms. Not only will it be unsafe to be outside above treeline, views will be non-existent.
2. Kancamagus Highway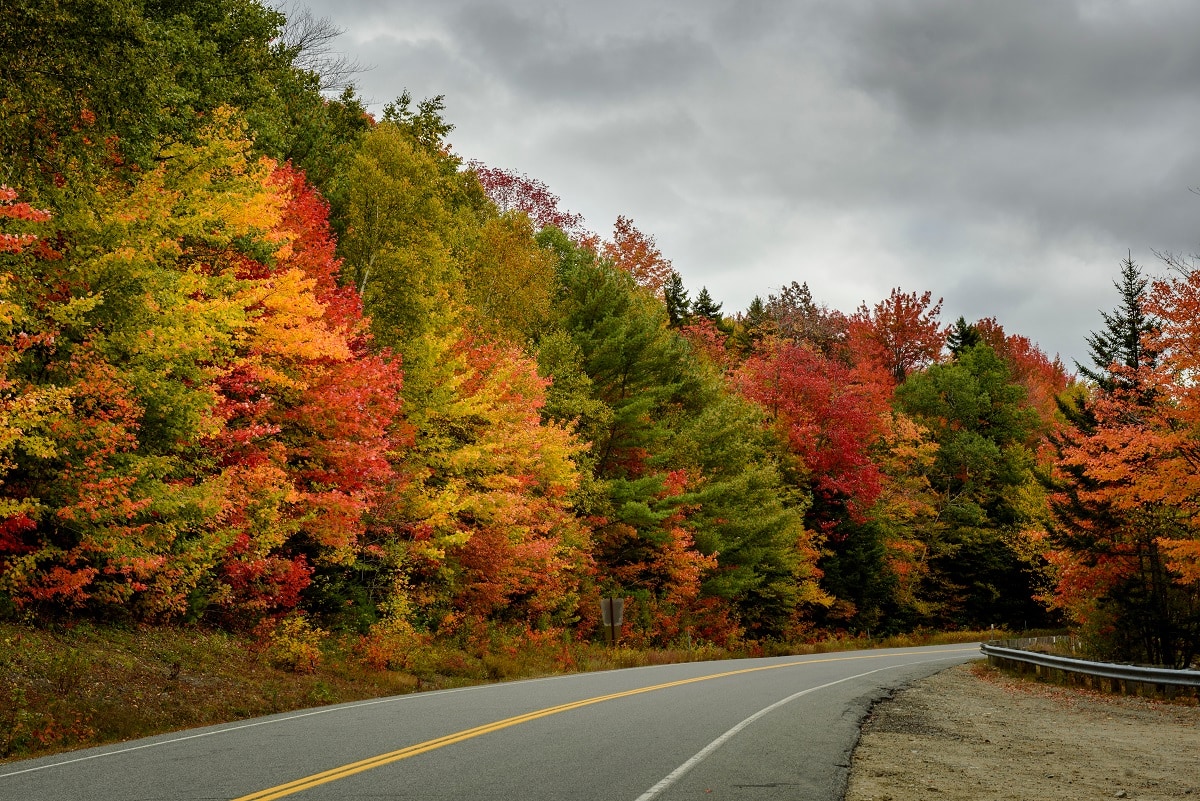 Why you should go: an easy way to see dozens of scenic spots.
Location: Lincoln to Conway
Peak foliage: late-September to mid-October
If you searched for the best road to see fall foliage in New England, chances are that the Kancamagus Highway would be first on the list. Known as "The Kank" by locals, the road travels along the valley of the White Mountains between Lincoln and Conway, New Hampshire.
It follows the Pemigewasset River and offers plenty of pull-outs to view the fall foliage. Notable stops to make are Sabbaday Falls, Sugar Hill Lookout, Rocky Gorge and Falls Pond, and Albany Covered Bridge.
PRO TIP: again, go early. This road is a two-lane route which means if there are lots of cars, the going is very slow. When you go early, parking lots aren't filled to the brim and the short hikes to some scenic vistas and waterfalls are tourist-free.
Related read: The 8 Most Magical Treehouses in Massachusetts
3. Cannon Mountain
Why you should go: great for all ages and abilities.
Location: Franconia
Peak foliage: late-September to mid-October
You don't need to be an experienced hiker to take in the views from Cannon Mountain, one of the 48 four-thousand-footers in the state.
You can simply take the aerial tramway up Cannon Mountain which doesn't require any footwork whatsoever. Make sure to book your tickets early for peak fall foliage since it is a popular place to visit during those weeks.
No need to bring a lunch or snacks since the Café 4080' serves up snacks, light meals, and drinks!
4. Artist's Bluff
Why you should go: to bring out your inner creativity.
Location: Franconia
Peak foliage: late-September to mid-October
The quick hike up Artist Bluff will get your creativity juices flowing and inspire you to paint a magical landscape. Located just north of the Cannon Mountain aerial tramway and Echo Lake, the trailhead for Artist Bluff is a busy one.
Due to the short distance to the summit, this hike is very popular especially in the autumn months. The vistas at the end, however, are worth sharing with all the other hikers and view seekers.
Related read: The 6 Best Scenic Byways to Fully Experience Massachusetts
5. Mount Pierce
Why you should go: best views of Mount Washington.
Location: Crawford Notch
Peak foliage: late-September to mid-October
There are some easy ways to gain elevation for many of the options to view fall colors on this list. But the view from atop Mount Pierce can only be found through the soles of your feet.
Even though it takes more effort to make it to the top, Mount Pierce is one of the "easier" four-thousand-footers. This also means you won't be alone in your travels. As with other places in the White Mountains, being an early bird works in your favor.
6. Mount Willard
Why you should go: get that iconic autumn foliage snapshot.
Location: Crawford Notch
Peak foliage: late-September to mid-October
Starting at the Crawford Notch train station, the trail up Mount Willard gradually meanders through maple and birch forests. The bulk of the hike is under tree cover so bring lots of layers for the chilly autumn days. As is typical with New Hampshire hiking, the trail is covered in roots and rocks.
But make sure to look up every now and then to see the kaleidoscope of colors coming from the treetops. The summit greets you with views looking south along the valley. Route 302 divides the mountains and makes for a dramatic photo.
Related read: 10 Best Hikes in Stowe, Vermont to Experience Outstanding Views
7. Zealand Falls and Hut
Why you should go: where else can you get chocolate cake at the end of a hike?
Location: Twin Mountain
Peak foliage: late-September to mid-October
The road to the Zealand Falls trailhead is only accessible in the milder months before snow closes it for the season. Take your time on the dirt road if you've got a smaller vehicle and look out for potholes. Once you make it to the end, the trail to Zealand Falls is an easy and relatively flat jaunt through the forest.
You'll walk along wide, dirt paths and across raised boardwalks through wetlands. With the changing ecosystems comes a change in leaf colors so be sure to breathe it all in.
When the trail gets steeper, it means you're almost there! You'll see a sign for viewing the Falls or you can head straight to the hut to get some grub. Bring cash so you can fill your boots with all the chocolate cake, soup, and coffee you can take!
8. Middle Sugarloaf Mountain
Why you should go: a summit with a lot of space to spread out and enjoy the views.
Location: Twin Mountain
Peak foliage: late-September to mid-October
In case you haven't figured it out yet, going to the White Mountains in the autumn months is popular. Only the trails that are long and isolated have very few people on them.
Otherwise, you won't be alone on the hikes you do. But when you hike up Middle Sugarloaf Mountain, the summit allows for everyone to spread out. The granite slabs span hundreds of feet when you reach the top and is ideal for setting up a picnic lunch. You can view Mount Washington and the rest of the Presidential Range from here.
Local tip: this is one of the best sunrise hikes in the White Mountains.
Related read: 5 Best Backpacking Trips in Maine for a Wild Adventure
9. Conway Scenic Railroad
Why you should go: sit back and relax and let the train do the work.
Location: North Conway
Peak foliage: late-September to mid-October
Due to its popularity, book early when decide to take a ride on the Conway Scenic Railroad. There are several excursions you can take including a 55-minute ride along the valley or a 5-hour adventure in the mountains.
All are beautiful and none will disappoint. There are specific foliage trains that traverse through the most scenic parts of the White Mountains that you can only see from the train.
Local tip: try to book the Rhonda Lee or Leslie Anne upper dome train cars. They'll give the best views of the leaves.
Explore New England
Get epic travel ideas delivered to your inbox with Weekend Wanderer, our newsletter inspiring thousands of readers every week.
---