Add magic to your next adventure with a stay in one of these charming A-frame cabins scattered across America's 50 great states.
A-frames have skyrocketed to become one of the most highly sought-after and visually appealing vacation rentals in the travel industry. They're recognized for their unique and retro architectural style and are often paired with a chic and modern interior, an off-the-grid locale, and a level of coziness that travelers can't help but feel drawn to.
In the name of inspiring wanderlust, here are some of the best A-frame cabins in America, one for each state, all of which are bucket list worthy!
1. The A-Frame
This vintage home dates back to the '50s and maintains the original charm of the rural countryside. The A-Frame can be found just outside of Montgomery, on a rural property where fresh air and wooded views are in no short supply.
Check Availability
Read more: 11 Unique Airbnbs in Alabama for a Stunning Southern Getaway
2. Salted Roots Blue Door A-Frame Cabin
Revel in the beauty of Resurrection Bay at this brand-new, glass-front A-frame, encircled by lovely spruce dotting the sandy shores of Lowell Point.
Check Availability
Follow 'em: @saltedrootsalaska
Read more: 13 Remote & Secluded Cabin Rentals in Alaska
3. Creekside A-Frame Cabin
The desire to witness the otherworldly red rocks surrounding Sedona are a major draw to this Oak Creek A-frame cabin. However, this reclaimed home in the woods with its sliding French doors, relaxing deck, and wooded atmosphere is enough to entice visitors on its own.
Check Availability
Read more: 14 Cozy Pet-Friendly Cabin Rentals in Arizona
4. Hidden A-Frame at Double Bridge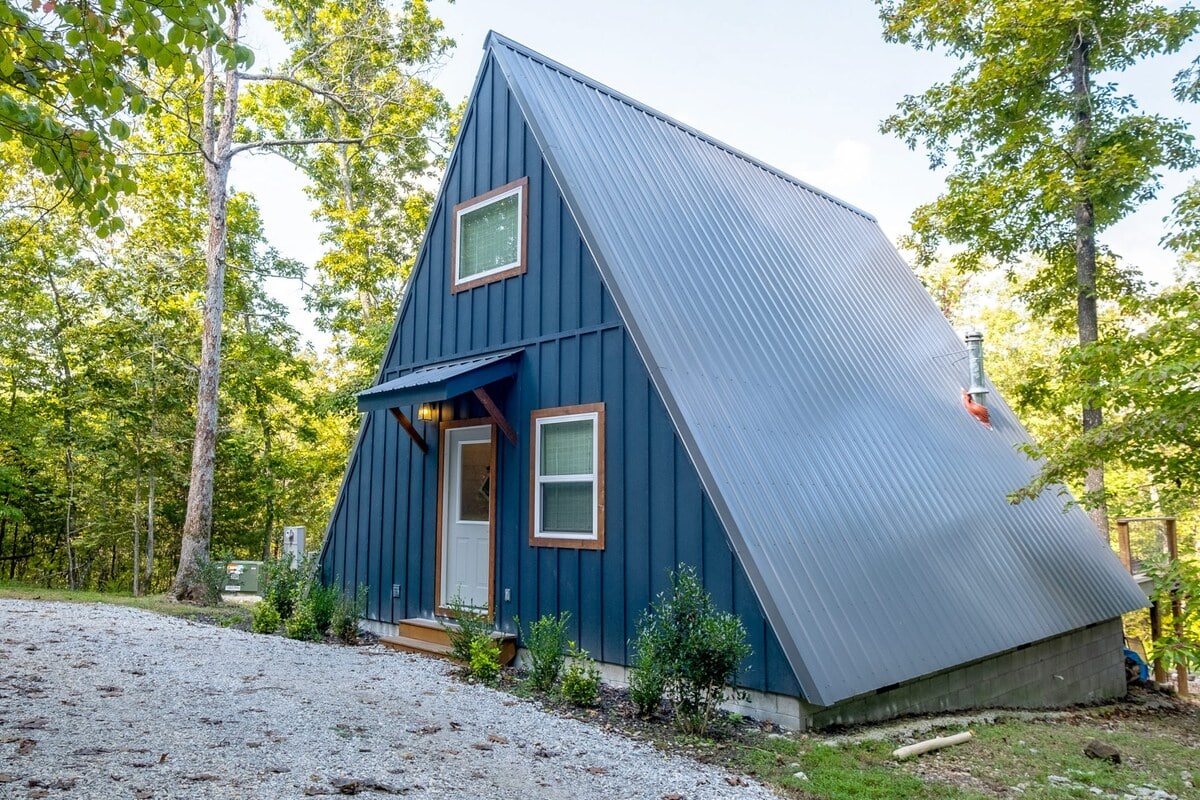 An abundance of natural light and good vibes make the Hidden A-frame at Double Ridge a top pick for Arkansas. You'll find weak cell reception on the property, but homey features and an open door policy for traveling pups make this an ideal home base for exploring attractions like Blanchard Springs Caverns.
Check Availability
Read more: 12 Best Cabin Rentals in Hot Springs, Arkansas
5. Shasta A-Frame
This Shasta A-frame is a classic outdoorsy cabin with an elevated deck nestled between three national parks on a storybook, forested property. Gleaming wood ceilings, string lights, and floor-to-ceiling windows are showstoppers at this natural oasis.
Check Availability
Follow 'em: @treehouseaframe
Read more: 18 Stunningly Secluded Cabin Rentals in California
6. High Point Hideaway
The High Point Hideaway is a beautifully restored home with a spiral staircase, bubbling hot tub, and twinkling lights that brighten the wooded exterior.
Check Availability
Follow 'em: @highpointhideaway
Read more: 14 Secluded Cabin Rentals in Colorado for Remote Getaways
7. The A-Frame Inn
Take in picturesque views of Hartford's skyline at the A-Frame Inn, a city home with a private hot tub and ping pong table.
Check Availability
Read more: 12 Best Airbnbs in Connecticut for the Ultimate Getaway
8. Georgetown Cabin
Five minutes from the antique shops in historic Milton and 30 from the beauty of Lewes Beach is this unique Delaware A-frame. Outfitted with farmhouse decor, a gas fireplace, and a screened-in deck, people and furry friends alike are welcome.
Check Availability
Read more: 10 Great Airbnbs in Delaware for a Coastal Getaway
9. The Pink Seahorse
Pretty in pink doesn't even begin to describe The Pink Seahorse, a beachy A-frame along Florida's eastern coast. This Jacksonville destination also features an outdoor shower, numerous outdoor seating areas, and a backyard that boards the Guana River Preserve.
Check Availability
Follow 'em: @thepinkseahorseaframe
Read more: 9 Treehouses in Florida For a Unique & Affordable Stay
10. Hey Frame
The Hey Frame is a custom-built interior dream with a dock and deck overlooking Lake Hartwell. Thoughtful touches abound, such as a well-stocked coffee nook, a wood-burning stove, and a tandem kayak for a day on the lake.
Check Availability
Follow 'em: @heyframehouse
Read more: 10 Wonderfully Secluded Cabin Rentals in Georgia
11. Hale Manu
Aptly named the Hawaiian word for "birdhouse," this quirky A-frame not only resembles its namesake but also houses a lovely chandelier of feathered friends. Other excellent features include the jungle lanai behind the house and the six-minute drive to Volcanoes National Park.
Check Availability
Read more: 9 Best Glamping Destinations in Hawaii
12. Röra Haus
The Röra Haus is a modern mountain cabin in the Valley High residential community, a short drive from Boise. A wall of windows, stylish decor, and quiet surroundings make it a joy to disconnect in nature at this two-bedroom A-frame.
Check Availability
Follow 'em: @rorahaus
Read more: 11 Secluded Idaho Cabin Rentals to Fall in Love With
13. Secluded Lakehouse
Unwind at this secluded home, situated on a private lake stocked with fish and a floating trampoline between Champaign and Kickapoo State Park.
Check Availability
Read more: 12 of the Best & Most Unique Airbnbs in Illinois
14. The Artist's A-Frame
Small town living and friendly hospitality await at the Artist's A-Frame, a retro meets recently updated house for four. The hosts go above and beyond to stock the kitchen with complimentary coffee and beverages so that you can stay refreshed during your visit to Madison and nearby Clifty Falls State Park.
Check Availability
Read more: The 13 Best Cabin Rentals in Indiana
15. Cabin in the Woods
This A-frame in the woods is lofted atop a detached garage with a cozy interior and a TV with an expansive movie collection. Unleash your inner child as you climb up the ladder to the bedroom after a long day exploring Effigy Mounds National Monument and Marais Lake.
Check Availability
Read more: 11 Great Airbnbs in Iowa for a Midwestern Getaway
16. Carnahan A-Frame
The Carnahan A-Frame is a mid-century modern Airbnb with nods to the '60s, including the spacious Cantilever deck and retro works of art. This home sits on a 15-acre property amongst the Flint Hills of Kansas, along Tuttle Creek Lake.
Check Availability
Read more: 12 Best & Most Unique Airbnbs in Kansas
17. Lakefront Cabin
This charming A-frame cabin is a couple of blocks from a public boat launch and the Shady Cliff Resort on the shores of Lake Malone. This three-bedroom has a home-away-from-home feel, complete with a stone fire circle and access to four kayaks.
Check Availability
Read more: 12 Best & Most Unique Airbnbs in Kentucky
18. The A-Frame on the Cane
Try your hand at tiny home living in this cute, little A-frame near the Cane River Creole National Historical Park and main streets of Natchitoches. This Louisiana Airbnb is a fantastic place to spend the weekend in a modern home with a spiral staircase.
Check Availability
Read more: 9 of the Best Airbnbs in Louisiana for an Amazing Bayou Getaway
19. Lakefront Home
Crystal clear stargazing and spectacular views of Lily Bay on Moosehead Lake wow at this lakefront A-frame cabin. During your stay, make the most of the home's private dock, sparkling clean amenities, and the yard's fire pit. And keep your eyes peeled for roaming moose!
Check Availability
Read more: 10 Super & Secluded Maine Cabin Rentals
20. The Golden A-Frame
The Golden A-frame is a pet-friendly home with outstanding amenities that include a stylish interior, swinging hammock chairs, a shuffleboard table, and a hot tub on the deck. The waters of North Glade Cove are just down the road, where visitors can swim, boat, and kayak.
Check Availability
Follow 'em: @goldenaframe
Read more: 12 Best Airbnbs in Maryland for a Great East Coast Getaway
21. Secluded Cabin
Located on a secluded property an hour from Springfield, this Becket A-frame is a serene cabin by Little Robin Lake, local breweries, and cliff jumping at Becket Quarry. This cozy home features a foosball table, a balcony, and well-appointed outdoor spaces with a fire pit.
Check Availability
Read more: 10 Best Massachusetts Airbnbs for a Unique Weekend Getaway
22. Fernside A-Frame
Lavish decor and outdoorsy accents marry well together at the Fernside A-Frame, a two-bedroom cabin along the Sturgeon River. Come to escape the daily grind with a calming float on the passing river, an evening of stargazing on the deck, and conversation around the fire pit.
Check Availability
Read more: 20 Best Cabin Rentals in the Upper Peninsula of Michigan
23. Lilla Norr
The Lilla Noor embodies the spirit of dark academia, featuring vintage accents and Swedish-inspired design, with a pledge to prioritize sustainability. This A-frame is an hour and 15 minutes from Minneapolis, nestled along Snake River in a small town dotted with mom and pop shops.
Check Availability
Follow 'em: @lillanorr_aframe
Read more: 10 Secluded Cabins in Minnesota to Get Away from it All
24. Luna Lodge
The Luna Lodge is an A-frame that takes inspiration from ski chalet cabins with a southern twist. The home is a clean and spacious three-bedroom lake house overlooking Moon Lake, just over an hour south of Memphis.
Check Availability
Read more: 10 Best Airbnbs in Mississippi For a Unique Southern Vacation
25. Farm Charm A-Frame
Farm Charm A-Frame is a farm stay on 70 acres where free-range animals roam, and a quiet lake offers fishing fun. This glamping cabin is a rustic stay highlighted by the corrugated metal roof, outdoor composting toilet, and its charming, unfinished quality.
Check Availability
Read more: 12 Unique Airbnbs in Missouri, from St. Louis to the Ozarks
26. Montana A-Frame
This Montana A-frame is a quaint cabin with an elevated deck not far from Georgetown Lake and Discovery Ski Hill. The property features a spiral staircase leading to a loft with great views through the massive windows and an RV pad with hookups.
Check Availability
Follow 'em: @montanaaframe
Read more: 11 Montana Glamping Rentals for an Upscale Outdoor Stay
27. Lake Hastings Home
This Lake Hastings A-frame is a family-friendly lake house complete with an in-ground swimming pool, a hot tub, and a large grassy yard overlooking the water. The home welcomes pets so the entire family can enjoy lake fun and is within walking distance to a public dock.
Check Availability
Read more: 10 Best Airbnbs in Nebraska for a Midwestern Getaway
28. Tahoe Hideaway
Relish in the beauty of Lake Tahoe and nearby ski resorts at this A-frame home situated equidistant between the two. Stunning cathedral ceilings, a stone fireplace, and contemporary design elements make this home an interior designer's dream. The wraparound deck is a nice touch too.
Check Availability
Read more: 10 Best Airbnbs in Nevada for a Unique Silver State Getaway
29. Saco River A-Frame
The Saco River A-Frame is immersed in the National Forest of the White Mountains, with access to a private beach on the river. Inside, knotty pine vaulted ceilings and well-appointed outdoor amenities make for a relaxing trip to the mountains.
Check Availability
Read more: 12 Best VRBOs in New Hampshire for an Unforgettable Experience
30. Lokal A-Frame
Treat yourself to a hotel-level stay at the Lokal A-Frame, an upscale three-bedroom cabin along the sandy shores of the Maurice River. This luxurious cabin in the woods features a wood-fired hot tub, a fire pit, charcoal grill, bar basics, and even a jacuzzi jet tub.
Check Availability
Read more: 12 Best and Most Unique New Jersey Airbnbs
31. A-Frame of Mind
A-Frame of Mind is a classic mountain chalet with panoramic views of the Sierra Blanca Mountains and Alto Lake. The interior is an open floor plan with cabin furnishings and a spacious deck providing a comfy place to rest before hitting the nearby Ruidoso trails and ski slopes.
Check Availability
Read more: 11 Best Cabin Rentals in Cloudcroft, New Mexico
32. The A-Frame at Evergreen Cabins
The A-Frame at Evergreen Cabins is a custom-built getaway on the edge of the Adirondack Park that boasts rustic yet modern decor. The home's motorized roll-out bed makes it easy to sleep under the stairs, and other notable amenities such as the wall of windows and outdoor shower add a touch of whimsy.
Check Availability
Instagram: @evergreen_cabins
Read more: 7 of the Coolest Treehouse Rentals in New York
33. Cozy Owl Cabin
This inviting and free-spirited A-frame cabin features an elevated balcony overlooking the surrounding wooded property and passing stream. It's just ten minutes from downtown Boone, offering semi-seclusion and the convenience of local eateries and breweries dotting the Appalachian Mountains.
Check Availability
Instagram: @cozy_owl_cabin
Read more: 14 Amazing Cabin Rentals in Cherokee, North Carolina
34. Unique Fargo Home
Unique architectural accents amaze at this Fargo A-Frame, a home that boasts an incredible brick fireplace column and a spiral staircase that winds up it to the lofted bedroom. This North Dakota home is fully stocked and puts guests in the historic Hawthorne neighborhood, a 15-minute walk from downtown Fargo.
Check Availability
Read more: 12 Best & Most Unique Airbnbs in North Dakota
35. The Triangle
The Triangle is an intimate, tiny home in the forest, complete with a wood-burning stove and thoughtful attention to detail. It offers guests the chance to experience small-town living in Ohio's idyllic Amish country not far from downtown Burton.
Check Availability
Follow 'em: @thetrianglecabin
Read more: 11 Unique Airbnbs in Ohio for the Perfect Midwest Getaway
36. California Dreaming
California Dreaming is an airy A-frame that perfectly melds the stylish decor from California with southern hospitality. This spacious cabin for ten is set on a wooded three acres, with two decks, one balcony, and a whole lot of charm. Guests love the sunken Nordic hot tub, outdoor fireplace, and spiral staircase.
Check Availability
Read more: 12 Best and Most Unique Airbnbs in Oklahoma
37. Welches A-Frame
Welches A-Frame is an ideal destination for hikers itching to explore the vast wilderness of the Mount Hood region. After a day of hiking, rest up in a home where a wall of glass, a central fireplace, and double decks fully immerse you in the beauty of the PNW.
Check Availability
Follow 'em: @welchesaframe
Read more: 15 Private and Secluded Oregon Cabin Rentals
38. the little A
The little A cabin sits in the woods, furnished with a hammock and Adirondack chairs set around a firepit. The interior has stunning knotty pine walls, attractive retro furniture, and pops of potted plants for a touch of greenery. The Promised Land State Park is less than ten minutes away by car.
Check Availability
Read more: 16 Best Pennsylvania Cabin Rentals
39. Green Hill Pond Cottage
This Green Hill Pond Cottage is a quaint three-bedroom cabin not far from the area's best beaches along Ninigret Pond and the seashore. After you've had your fill of water activities, grill out in the yard or curl up next to the fireplace.
Check Availability
Read more: 10 Best Rhode Island Airbnbs for a Coastal Retreat
40. A-Frame on the Lake
Swim, kayak and fish to your heart's content or relax in the screened-in gazebo at this peaceful A-frame lake house, 45 minutes from Columbia. This South Carolina cabin also features an expansive deck with a fire pit encircled by forest.
Check Availability
Read more: 10 Best & Most Unique Airbnbs in South Carolina
41. Modern Cabin
This industrial-styled A-frame cabin is set in the Black Hills less than an hour from Mount Rushmore. The interior's floor-to-ceiling windows, gleaming wooden surfaces, and upscale amenities are to die for, as is the patio furnished with a hot tub. Guests enjoy access to a community swimming pool and lounge areas.
Check Availability
Read more: 8 Great South Dakota Glamping Spots, from Budget to Lux
42. Zurich Hūs
The mountains are calling at Zurich Hūs, a spacious, treehouse-esque A-frame located a short drive from the Great Smoky Mountains and Pigeon Forge. An open floor plan and bohemian decor foster a relaxing atmosphere, and the views over the treetops from the deck will take your breath away.
Check Availability
Follow 'em: @zurichhus
Read more: 12 Best Cabin Rentals in Nashville, Tennessee
43. The Comal Cabin
Situated on the A-Frame Ranch, the Comal Cabin is a minimalistic yet modern retreat with access to 17 acres not far from downtown Fredericksburg. Soak up the Texas sunshine on the well-furnished deck or in the cowboy stock tank pool, and then sit around a blazing campfire as the sun sets.
Check Availability
Follow 'em: @aframeranch
Read more: 9 Beautifully Secluded Cabin Rentals in Texas
44. Cottonwood Chalet
The Cottonwood Chalet is a renovated A-frame tucked away in the Wasatch Mountain Range overlooking a fresh-scented grove of aspens from the deck. Bright white walls pair nicely with the home's exposed wooden beams and vintage-inspired decor. This cabin is under an hour from the Salt Lake City Airport and the Silver Fork Ski Lodge.
Check Availability
Follow 'em: @cottonwoodchalet
Read more: 12 Stunning & Secluded Utah Cabin Rentals
45. Black A-Frame Vermont
Escape to where the cell service is weak at this Insta-famous A-Frame nestled on a secluded seven-acre property in Vermont's Green Mountains. Outfitted with a hot tub and wood-burning fireplace, this recently updated cabin is in a prime location for hikers and skiers seeking a modern getaway in nature.
Check Availability
Instagram: @BlackAframeVT
Read more: 12 Best & Most Unique Airbnbs in Vermont
46. Bryce A-Frame
Perched amongst the treetops of Virginia's Shenandoah Valley is the Bryce A-Frame, an airy three-bedroom with impeccable interior design. This property is conveniently located across from the Bryce Resort, where guests can indulge in excellent outdoor activities year-round.
Check Availability
Read more: 11 Cozy & Natural Glamping Destinations in Virginia
47. Wander A-Frame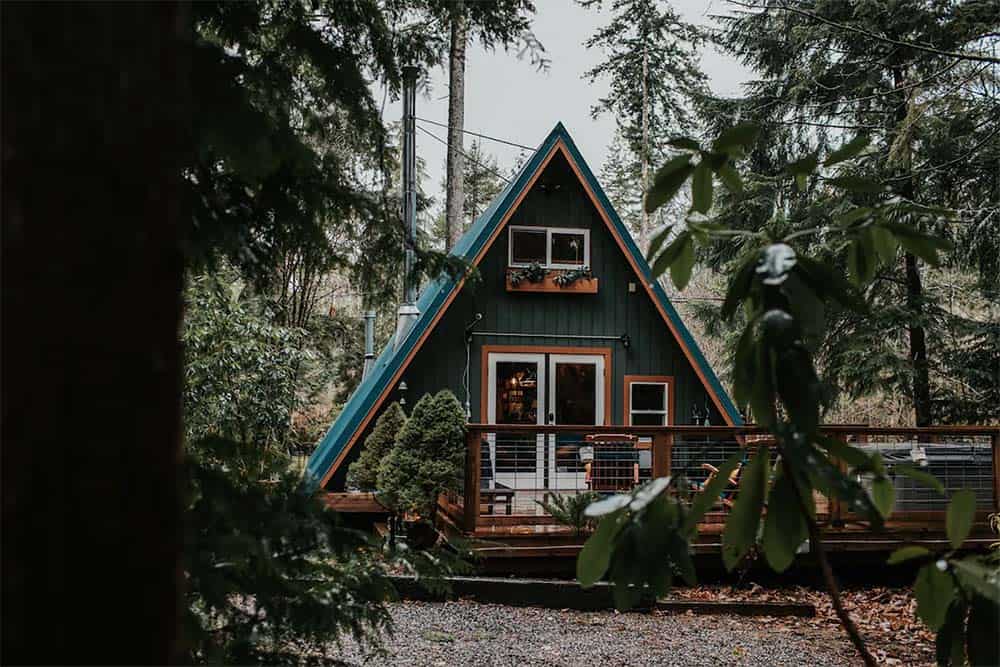 Wander is a classic PNW cabin with Scandinavian-inspired decor that has perfected the art of coziness. Equipped with homey touches such as fresh coffee, a spacious wraparound deck, and a hot tub, resting up after a dose of adventure in Washington's Mt. Baker region is all too easy at this A-Frame.
Check Availability
Follow 'em: @wanderaframe
Read more: 12 Private and Secluded Cabin Rentals in Washington
48. Santi's Lost Stream
Santi's Lost Stream is a rustic A-frame cabin with knotty pine walls and tall chalet windows that bring the George Washington National Forest sights inside. This two-bedroom is situated on a sprawling five-acres, allowing visitors to find peace in nature without sacrificing high-end features like heated bathroom floors.
Check Availability
Follow 'em: @santisloststreamcabin
Read more: 11 Best West Virginia Airbnbs for a Unique Country Getaway
49. Goathaus
Goathaus is a mid-century modern A-frame perched atop a bluff with Lake Michigan views on Wisconsin's idyllic Door County Peninsula. Aside from the unique spiral staircase and yard with hammocks around a fire circle, guests come to indulge in the local landscape, wine and eats.
Check Availability
Read more: 11 Peacefully Secluded Cabin Rentals in Wisconsin
50. Cozy Buffalo Cabin
Experience life in the American west at this A-frame in northern Wyoming. Featuring a collection of Western books, a yoga room for two, and numerous decks, this cabin makes for a scenic escape not far from the Big Horn National Forest.
Check Availability
Read more: 11 Amazing Wyoming Cabin Rentals To Warm Your Soul
Discover More Getaways
Sign up for Weekend Wanderer to join thousands of readers getting epic and gear travel ideas every week.
---