---
Embrace Oregon's quirky culture by staying in a unique vacation rental that's just as wild as the state it calls home.
Whether you're a local Oregonian planning a weekend getaway or an out-of-towner gearing up to visit the Pacific Northwest, the best way to ensure an unforgettable experience is by booking a vacation rental.
Sure, hotels and their endless amenities are nice, but for those who value seclusion and originality, a hotel simply can't compete with a vacation rental. Picture a cottage on the beach, a cabin in the woods, or a classic yurt in the mountains, and you'll quickly see the appeal.
Any vacation rental is sure to spice up your trip, but for a truly singular experience that you'll be talking about for years to come you'll want to browse Airbnb's Unique Stays — a convenient set of filters to apply while searching for rentals in an area.
Find a comfortable chair and a cold drink before you start, because browsing Airbnb's Unique Stays is possibly more addicting than your Instagram feed (and we all know how much time social media saps from our days).
Don't have time to peruse the archives? Here's a quick list of our favorite unique vacation rentals in Oregon, covering everything from simple (yet classic) accommodations to opulent cabins and country estates.
Also be sure to check out some of the best Oregon Coast cabin rentals and Oregon yurt rentals.
1. Off The Grid Fire Lookout
Why you should stay here: A rustic-yet-refined cabin perched 40 feet above the meadow, affording phenomenal views of the surrounding Umpqua National Forest.
Sleeps: 4
Minimum stay: 3-4 nights
Pets: No
Off The Grid is one of the most popular vacation rentals in Oregon, and for good reason. Modeled after classic US Forest Service fire lookouts, the 40-foot tower sits in a spacious meadow on 160 acres of private land, encompassed by the scenic Umpqua National Forest.
"Beyond all expectations! This was an incredible experience, one we hope to repeat for years to come," says Molly on Airbnb.
The incredible views are the main draw here, but unlike traditional fire lookout rentals this one doesn't require roughing it in an early 20th century cabin. Take a look inside and you'll be pleasantly surprised to find a well-appointed interior space that's rustic yet refined, boasting modern essentials like a propane oven/range, double sink with hot and cold running water, refrigerator, and iMac computer.
Off The Grid can sleep up to four guests between a queen-size bed in the loft and two twin beds in the main living area. Visitors can soak up the amazing views on the wraparound deck, and relax in the secluded wood-fired spring-fed hot tub. There's also a shower on the deck, and a vault toilet about 100 feet away from the tower.
Check Availability
2. Dome Sweet Dome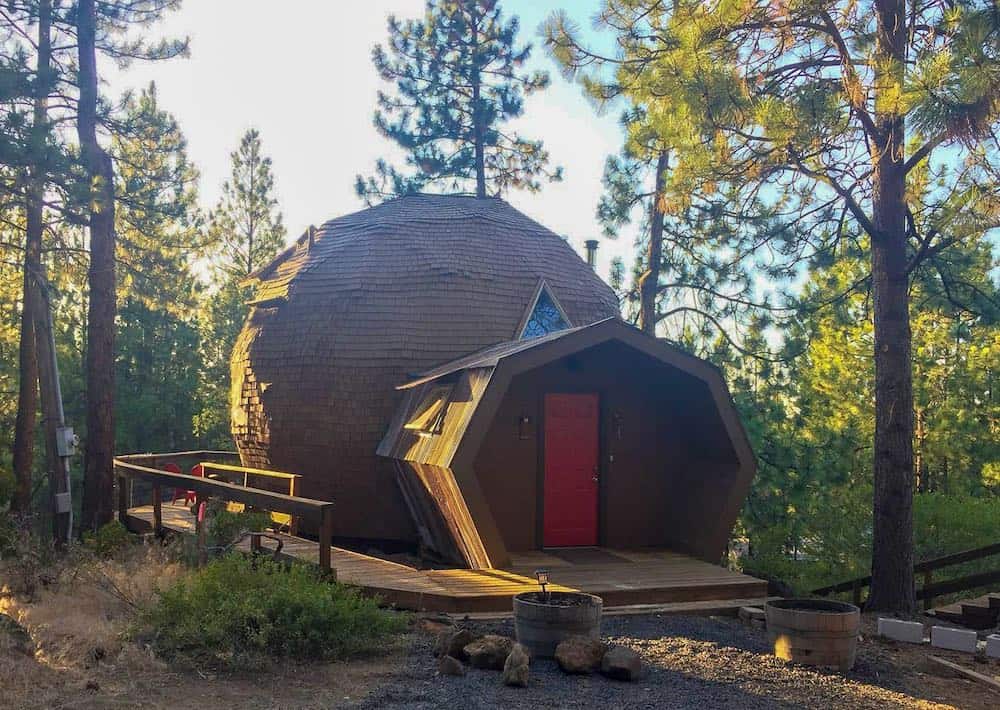 Why you should stay here: A unique geodesic dome that's great for outdoor enthusiasts.
Sleeps: 4
Minimum stay: 1 night
Pets: No
"A unique stay that has everything you need to just unwind and relax. It's one of those places you'd love to sit in and write a novel," says Kaustav on Airbnb.
Dome Sweet Dome features a fascinating geodesic dome architecture paired with a well-designed interior. The triangular windows provide plenty of natural lighting, and the open floorpan design helps the interior to feel larger than its actual square footage.
Dome Sweet Dome sits on a private wooded lot with a large deck where you can soak in the abundance of fresh air. Hikers and mountain bikers will enjoy nearby Phil's Trail, and the Deschutes River is a short five minute walk from the property.
Check Availability
3. Little Red Caboose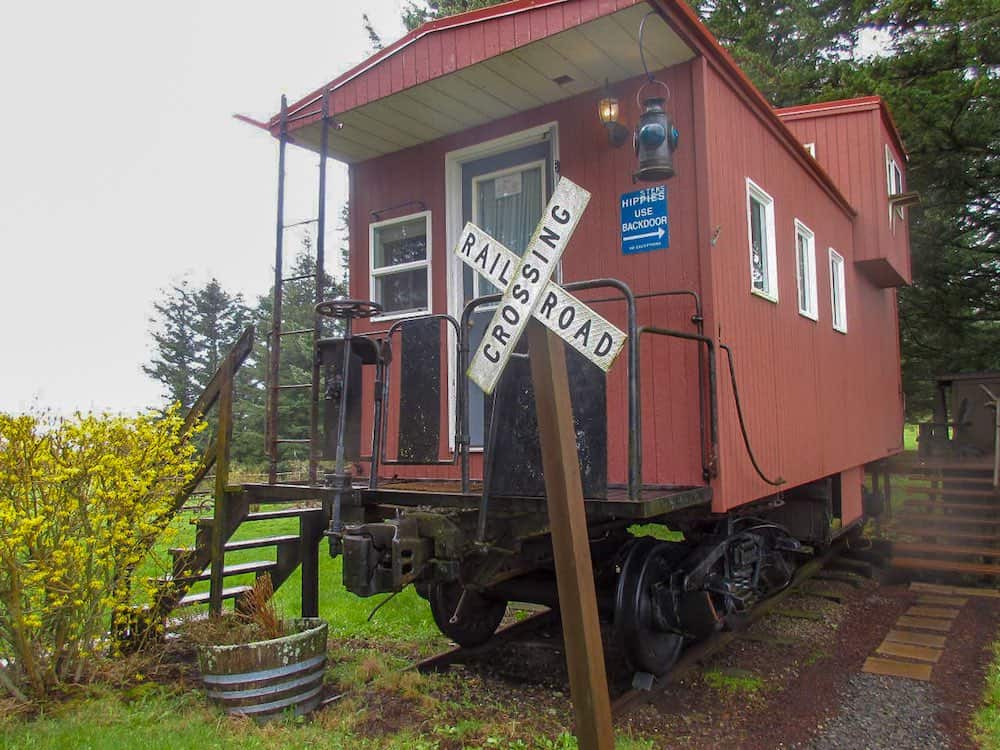 Why you should stay here: Treat your inner child (and your actual children, if that applies) to a weekend stay in a train car with a spectacular view.
Sleeps: 4
Minimum stay: 2 nights
Pets: No
If you have kids or grandkids that love trains, check out the Little Red Caboose in Troutdale. The authentic railroad caboose sits on a short piece of railroad track on a seven acre farm in the Columbia River Gorge, featuring a completely renovated interior and gorgeous landscape views.
The Little Red Caboose can accommodate up to four guests with a queen bed for the adults and a double bed in the loft for the kids. There's a kitchenette inside for basic cooking, and a campfire outside where you can roast hot dogs and s'mores. Glampers will appreciate the private bathroom with indoor plumbing, though the caboose doesn't afford the luxury of a shower.
"We loved staying at the little red caboose!" Exclaims Anna on Airbnb. "The location is so quiet and beautiful, and our five and three year olds were so excited to stay in a train! It was a fun adventure and [the host's] thoughtfulness made it even better. We had a camp fire and fed the horses carrots. A gorgeous spot [that I] highly recommend!"
Check Availability
4. Deer Haven Farm Treehouse
Why you should stay here: A truly magical treehouse built by the Treehouse Master himself that'll excite any child and the young at heart.
Sleeps: 5
Minimum stay: 2 nights
Pets: No
The majestic Deer Haven Farm Treehouse sits on an herbal farm in the Dundee Hills of Willamette Valley. Perched on a hill amidst the trees on this secluded property, the treehouse affords stellar views and convenient access to local wineries and restaurants.
The Deer Haven Farm Treehouse was designed and built by Pete Nielson of Animal Planet's Treehouse Masters TV show. Needless to say it's breathtaking inside and out, boasting expert craftsmanship and luxury amenities that easily beat out the competition for the best treehouse in Oregon.
Don't take our word for it, though. The Deer Haven Farm Treehouse has been featured by Rachel Ray, The Atlantic Magazine, and Gerry Frank's Oregon Travel Book.
"The setting at Deer Haven Farm and Treehouse accommodations were lovely, relaxing and so peaceful," reports Blair on Airbnb. "The treehouse was a perfect base for our exploration of the surrounding wine country. We would definitely recommend Deer Haven Farm and Christina's Treehouse to anyone looking for a unique and special experience."
Check Availability
5. The Floating Cabin
Why you should stay here: A rustic cabin on the Columbia River where you can go fishing from the porch.
Sleeps: 8
Minimum stay: 2 nights
Pets: No
Straddling the Columbia River between Portland and Vancouver, the Floating Cabin is an excellent choice for folks who want to spend their vacation on the water. Let the gently rocking water beneath the floating platform lull you to sleep at night, spend your morning fishing from the porch, then end the day with a boat ride down the river.
"Don't hesitate to book this place! Cliff and Laura are the most gracious hosts and the house is spectacular," reports Lon W. on VRBO.
The Floating Cabin can accommodate up to eight guests with three bedrooms and 1,800 square feet of living space. The main cabin features two bedrooms and two bathrooms with a full kitchen, while the detached tender features a studio with another bedroom, full bath, living room, and kitchen.
The cabin's interior is purposefully designed to honor pre-20th century cabins with rustic decor and plenty of corrugated sheet metal, paired with comfortable leather couches and modern amenities. In other words, the cabin looks like an old school cabin, but it packs all the comforts and upgrades of a modern bachelor pad.
Check Availability
6. The Silver Betty
Why you should stay here: Hit the road with a classic Airstream and set up camp anywhere adventure takes you in Oregon.
Sleeps: 4
Minimum stay: 3 nights
Pets: Yes
How about a vacation rental that isn't tied down to one location? Book a trip with the Silver Betty and you can enjoy the classic RV experience in a modern Airstream wherever you please.
The Silver Betty is based in Bend, which is where you'll pick up and drop off the Airstream. Bend Airstream Adventures can also drop off the Silver Betty anywhere in Central Oregon, though that option carries a $100 delivery fee.
The Silver Betty is a 2017 Northwest Airstream, measuring 22 feet in length with the capacity to sleep up to four guests. It's pet friendly, so feel free to bring your pooch along for the adventure, too!
Follow 'em: Instagram
Check Availability
7. Barber Ranch
Why you should stay here: A secluded farmhouse set on a 250+ acre ranch in rural Eastern Oregon.
Sleeps: 10+
Minimum stay: 1 night
Pets: Yes
If you're looking for a secluded vacation rental with ample room to roam, deafening silence, and a sky full of stars, it's tough to beat Barber Ranch. The 1940s farmhouse sits on more than 250 acres of private land near the Oregon-Idaho border, encompassed by scenic rivers and rolling hills.
"We enjoyed Barber Ranch so much! Beautiful home stocked with games, plenty of blankets and toys. Perfect for adults and kids! If you're looking for a quiet getaway, this is the place!" Exclaims Savannah H. on Vrbo
The farmhouse at Barber Ranch retains its classic 1940s aesthetic on the outside, while the interior strikes a beautiful balance between rustic farmhouse and modern upgrades. There's room for at least 10 guests (and pets!), making this vacation rental an ideal choice for large families.
When you're not exploring the sprawling property, head over to the Snake River Recreation Area for boating, fishing, swimming, hiking, wildlife watching, and stargazing. Feel free to bring your OHVs, too — there's plenty of room to ride around here.
Follow 'em: Instagram
Check Availability
8. Forrest Lodge
Why you should stay here: A majestic A-frame cabin that's less than 30 minutes from Mount Hood.
Sleeps: 12
Minimum stay: 2-4 nights
Pets: No
The Forrest Lodge sits on three acres of land in the village of Rhododendron, encompassed by majestic old growth forest and groomed trails. The exquisitely crafted A-frame cabin soars forty feet above the lush landscape, featuring an expansive 4,200 square feet of living space with two master suites and two bedrooms.
To capitalize on the scenic views and maximize natural lighting, the unique cabin features a plethora of windows and a massive round beveled-glass window in the living room. The all-wood interior helps guests feel at one with the natural forest atmosphere, while the stone accents and modern amenities add a touch of rustic elegance.
For recreation, head over to neighboring Mount Hood for a day of high-altitude adventure. At night, warm up in the indoor sauna before spending a relaxing evening in the private hot tub.
"This property is breathtaking," reports Matt M. on Vrbo. "I love to cook, and the kitchen is huge, beautiful, and fully equipped. The pictures don't do the house justice. The hot tub and the sauna got more than their fair share of use. It's very conveniently situated — less than 10 minutes from a state park where we played hours of volleyball and 15 minutes from the Ramona Falls trailhead. Can't recommend highly enough."
Check Availability
9. Heartline Ranch Tipis
Why you should stay here: Camp in comfort in one of six traditional Native American tipis on a 450 acre horse ranch.
Sleeps: 4
Minimum stay: 1 night
Pets: Yes
Heartline Ranch in Klamath Falls has constructed a mini "tipi village" on their 450 acre horse ranch, offering six campsites with authentic Native American tipis, fire pits, and picnic benches. The tipis can accommodate up to four campers, featuring comfortable mattresses, seating, floor rugs, and an indoor fire pit to keep warm.
"This is a great escape and something out of the ordinary. Highly recommend!" Reports Victoria L. on Vrbo.
There's no electricity at the campground, but they do provide drinking water, porta-potties, and a propane-heated shower for your convenience. They'll provide a towel for your shower, but you'll need to bring your own bedding and food.
Heartline Ranch is a working horse ranch, so you can schedule a guided horse tour for the full ranch-life experience. When you're ready to explore beyond the ranch, Crater Lake is just down the road.
Follow 'em: Facebook
Check Availability
10. At The Joy Vineyard Retreat
Why you should stay here: Retreat to a luxury estate surrounded by picturesque vineyards in the heart of Willamette Valley's acclaimed Eola Amity Hills.
Sleeps: 14
Minimum stay: 2-3 nights
Pets: Yes
At The Joy is a luxury countryside estate surrounded by the Anahata Vineyard. With 30 acres of private land and scenic vistas of the Willamette Valley in every direction, it's easy to see why At The Joy is such a popular retreat for family gatherings and special occasions.
The 6,500 square foot estate features a main house with attached bungalows, all remarkably well furnished and decorated. There are six bedrooms total — three in the main house and three in the bungalows — in addition to a spacious great room, game room, and private conference room.
Of course, you'll probably be spending most of your time outside at this property. You can bask in the sun on the porch, cool off in the pool, enjoy a glass of wine around the fire pit, and stroll through the vineyard for a bit of fresh air.
"We loved being At The Joy — it's even better than the pictures," says Steven F. on Vrbo. "It's an amazing property with indoor and outdoor beauty that's very well stocked for large families. The bedrooms and bathrooms were updated and extremely comfortable and spread out – the pool villas are particularly great. The outdoor space is a highlight with pool and hot tub and incredible views and privacy."
Follow 'em: Instagram
Check Availability
11. Camp Heaven
Why you should stay here: A cozy private glampsite on five acres of wooded wonderland that's just 17 miles from Portland.
Sleeps: 2
Minimum stay: 1 night
Pets: Yes
Glamping is a fun way to bridge the gap between family members who love to camp and those who prefer not to sleep in the dirt.
Camp Heaven checks all the right boxes to appeal to both parties. There's five acres of private woods provide ample seclusion and room to roam, while cozy amenities like a queen bed, private bathroom, and covered daybed ensure you won't be roughing it in the wild.
"Had a great stay. Camp was clean and romantic as advertised. Very nice getaway!" Says Kim B. on Vrbo.
Camp Heaven is just 17 miles southwest of Portland, but you'll feel like you're a world away from the bustling city on this secluded property. When you're not lounging around the campsite, the area features more fun activities like wine tasting, canoeing, and wildlife watching.
Camp Heaven provides everything you need for a comfortable experience, including sheets, pillows, and blankets for the bed, wood for the campfire, a cooler with ice and bottled water, and coffee service with Danish pastries for breakfast. The fully stocked bathroom also comes with fluffy robes, sandals, spa towels, and grooming supplies.
Follow 'em: Facebook
Check Availability
12. Yurt On The Bay
Why you should stay here: Enjoy panoramic views of Tillamook Bay from your oceanside campsite, where you'll sleep in comfort inside a classic yurt.
Sleeps: 4
Minimum stay: 2-6 nights
Pets: Yes
When it comes to unique vacation rentals, it's hard to top the experience of staying in a yurt. The rustic glamping experience isn't for everyone, but if you're a fan of camping and the outdoors then you're in for a treat.
"This is such a unique experience…so beautiful, peaceful and serene," says Shayla C on Vrbo. "If you think this place looks cute even the slightest, do it! You will not be disappointed!"
The Yurt on the Bay delivers the comforts of a cabin with 525 square feet of interior space, a queen-sized bed, and a futon in the living room that can accommodate two more sleepers. You can cook fresh meals in the kitchen, there's a bathroom with a shower, and the yurt is furnished with beautiful handcrafted pieces like an alder bed and oak pub table.
That said, it's what's on the outside that's going to sell you on this place. As the name implies, the Yurt on the Bay sits right on the Tillamook Bay in Bay City. Guests will enjoy panoramic views from the property, which you can soak in around the fire pit or in the private hot tub.
There's ample space to park your boat on the property and pets are welcome, though there's an additional nightly fee and a 25 pound weight limit.
Follow 'em: Facebook
Check Availability
13. Luxury Wine Country Yurt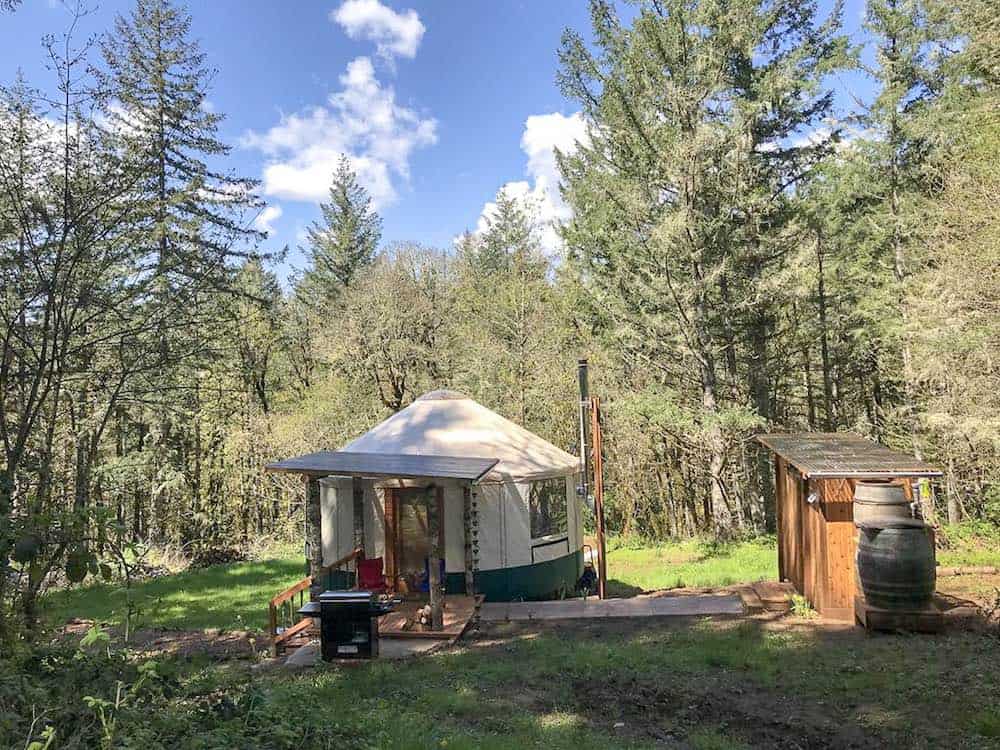 Why you should stay here: A comfy-cozy off-the-grid yurt offering 30 acres of seclusion, vineyard views, and convenient access to local wineries.
Sleeps: 4
Minimum stay: 1 night
Pets: Yes
If the idea of glamping in a yurt sounds appealing but you're looking for more backwoods vibes, check out this luxury wine country yurt in McMinnville. The yurt sits on a 30 acre wooded property surrounded by vineyards, and there's a vineyard within walking distance that offers daily wine tastings.
The handcrafted yurt features comfortable (albeit small) futon beds, a soapstone wood stove for heat, a custom kitchen, and a BBQ grill outside. There's also a compost toilet for when nature calls, and a shower with hot water.
"We were honestly blown away by the stay we had here and wished we had book more nights," reports Stef H. on Vrbo. "The property itself is really magical and the yurt is simply amazing. They have everything you need and more. We are definitely planning a trip back in the near future. If you're looking for a really unique getaway I would not think twice about booking this again."
Check Availability
Explore Oregon!
Sign up for our free email to join thousands of readers getting epic travel, hiking, camping and gear ideas every week.
---