We research, evaluate and select travel destinations based on a number of factors, including our writers' experience, user reviews and more. We may earn a commission when you book or purchase through our links. See our editorial policy to learn more.
Was this article helpful?
---
Embrace Oregon's quirky culture by staying in a unique Airbnb that's just as wild as the state it calls home.
Whether you're a local Oregonian planning a weekend getaway or an out-of-towner gearing up to visit the Pacific Northwest, this is the best way to ensure an unforgettable experience.
Sure, hotels and their endless amenities are nice, but for those who value seclusion and originality, a hotel simply can't compete with a vacation rental. Picture a cottage on the beach, a cabin in the woods, or a classic yurt in the mountains, and you'll quickly see the appeal.
Best Airbnb Rentals in Oregon – Our Picks!
Here's a quick list of our favorite Airbnbs in Oregon, covering everything from simple (yet classic) accommodations to opulent cabins and country estates.
1. Heartland Treehouse
Why you should stay: A secluded nature retreat in the forest of the Oregon Coast Range.
Location: Langlois
Sleeps: 2
Minimum Stay: 2 nights
Rates From: $146/night
The Heartland Treehouse isn't just one of Oregon's most unique Airbnbs, it's also one of the coolest treehouse rentals in the United States.
This treehouse offers a balanced mix of rustic and modern, so you can feel like you're close to Mother Earth without roughing it. Located in the hills above Langlois, this is a great place to come if you really want some seclusion, whether you're looking to chill on the deck (in a soaking tub, maybe?) or hit the local hiking trails — you can even hear the sound of a waterfall nearby.
"The pictures legitimately do not do this place justice. It is INCREDIBLE. So beautiful, so serene, so magical! What a gift to be able to disconnect and bask in nature."
Check Availability
2. Mt. Hood View Tiny House
Why you should stay: Beautifully built (and hosted) tiny home with epic views of Mount Hood.
Location: Sandy
Sleeps: 2
Minimum stay: 1 night
Rates from: $128/night
Sitting on a forested 23 acre property, this incredible tiny house is among the most highly rated Airbnbs in Oregon. It's got the full package too: amazing views, secluded but convenient to access, beautifully decorated, and managed by an awesome superhost.
Inside the studio-style home you'll find reclaimed hardwood floors, natural cedar panel walls, and amazing touches throughout. Of course, everything about the home was built toward one focal point: the incredible view of Mount Hood. The most incredible feature of the house is the front window wall, which moves to open the entire view side of the studio to the outdoors.
Check Availability
3. The Milk House at Cast Iron Farm
Why you should stay: Enjoy a relaxing retreat on a working farm in the heart of the Yamhill Valley wine country.
Location: McMinnville
Sleeps: 7
Minimum stay: 1 night
Rates from: $135/night
If you've ever wanted to live on a farm, here ya go. A small, single-family operation — renowned for their top-quality raw dairy milk — the Cast Iron Farm offers you the chance to sleep in their barn! Of course, you'll sleep upstairs in a 1,700-square-foot converted space with an open floor-plan, hardwood floors, and a big ol' farm style kitchen — dubbed The Milk House.
The hosts are available to give you a tour, introduce you to the animals, and give you a glimpse of how a real farm operates. The farm sits just a mile-and-a-half outside McMinnville, a vibrant small town home to plenty of amazing restaurants, wine bars, and an annual UFO festival.
"Excellent location, hospitality and lodgings. If you are thinking about this, just book it, as you will not be disappointed."
Check Availability
4. Off The Grid Fire Lookout
Why you should stay: A rustic-yet-refined cabin perched 40 feet above the meadow, affording phenomenal views of the surrounding Umpqua National Forest.
Location: Tiller
Sleeps: 4
Minimum stay: 3 nights
Rates From: 189/night
Off The Grid is one of the most popular vacation rentals in Oregon, and for good reason — you'll probably need to get on their email list to snag an opening. Modeled after classic US Forest Service fire lookouts, the 40-foot tower sits in a spacious meadow on 160 acres of private land, encompassed by the scenic Umpqua National Forest.
The incredible views are the main draw here, but unlike traditional fire lookout rentals this one doesn't require roughing it in an early 20th century cabin. Take a look inside and you'll be pleasantly surprised to find a well-appointed interior space that's rustic yet refined, boasting plenty of modern essentials. Visitors can soak up the amazing views on the wraparound deck, and relax in the secluded wood-fired spring-fed hot tub.
Check Availability
5. Otter Rock Surf Yurt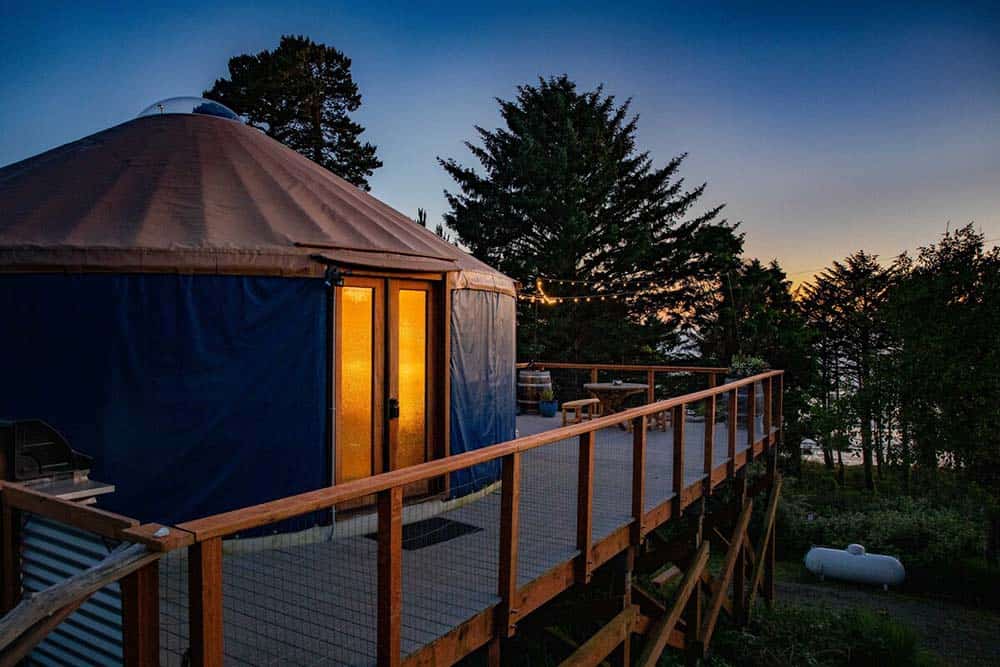 Why you should: Take in the sights and sounds of the Oregon Coast from an awesome and airy yurt.
Location: Otter Rock
Sleeps: 4
Minimum stay: 2 nights
Rates from: $155/night
There's a whole bunch of great yurt rentals in Oregon, but this one offers a uniquely incredible view of the Pacific Ocean. Dubbed the Otter Rock Surf Yurt, this is an amazing spot to listen to the waves crashing or watch the sun go down. Overlooking the Devil's Punchbowl, the view is awesome, and the beach is just a short stroll away — hello tide pools and whale watching!
While this yurt is close to nature, it isn't primitive, with wifi onsite plus a full kitchen and bathroom shower (plus and outdoor shower if you get all sandy from your beach adventures).
Check Availability
6. Deer Haven Farm Treehouse
Why you should stay: A magical treehouse built by the Treehouse Master himself.
Location: Newberg
Sleeps: 5
Minimum stay: 2 nights
Rates from: $200/night
The majestic Deer Haven Farm Treehouse sits on an herbal farm in the Dundee Hills of Willamette Valley. Perched on a hill amidst the trees on this secluded property, the treehouse affords stellar views and convenient access to local wineries and restaurants.
The Deer Haven Farm Treehouse was designed and built by Pete Nielson of Animal Planet's Treehouse Masters TV show. Needless to say it's breathtaking inside and out, boasting expert craftsmanship and luxury amenities that easily beat out the competition for the best treehouse in Oregon.
Don't just take our word for it, though. The Deer Haven Farm Treehouse has been featured by Rachel Ray, The Atlantic Magazine, and Gerry Frank's Oregon Travel Book.
Check Availability
7. My Tiny Wine Wagon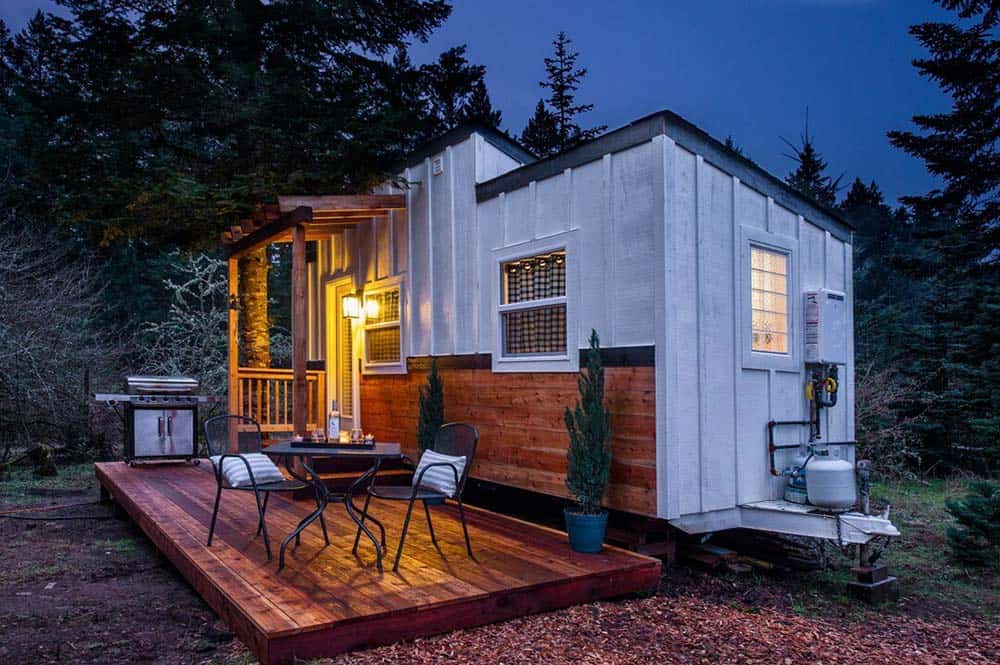 Why you should stay: If you love wine, you'll feel right at home.
Location: Sherwood
Sleeps: 3
Minimum stay: 3 nights
Rates from: $85/night
My Tiny Wine Wagon is the newest addition to My Tiny House Village, a fantastic collection of four tiny home Airbnbs all on the same property — see also: My Tiny Hideout, My Tiny Bird House, and My Tiny Perch.
All of these houses are adorable, but My Tiny Wine Wagon's has the most unique theme — and the property is located at the "start" of Oregon's wine country (if you're coming from Portland, at least), so there's plenty of vino to go around. You'll undoubtedly find yourself mesmerized by the wine glass chandelier, especially if you're a few glasses in.
Be sure to visit the Hawk's View Winery next door, which has incredible views of Mount Hood in addition to amazing wine.
Check Availability
8. Tomahawk Island Houseboat
Why you should stay: Reconnect with a romantic stay in the Columbia River's Tomahawk Island Marina.
Location: Portland
Sleeps: 2
Minimum stay: 2 nights
Rates from: $75/night
Straddling the Columbia River between Portland and Vancouver, the Tomahawk Island Houseboat is an excellent choice for folks who want to spend their vacation on the water.
This cozy studio is perfect for couples looking for something intimate — and the interior is decked out floor to ceiling with cabin-style planks for a real PNW feel. This is definitely a tiny home, so all the features in the kitchenette and bathroom are miniaturized but functional and modern. Just know you'll only have five to ten minutes of hot water in the shower.
The marina is just across the bridge from downtown Vancouver and a short drive into downtown Portland, so there's plenty to see and do nearby too. There's also a pair of kayaks provided on the houseboat if you have the urge to paddle out.
Check Availability
9. Dome Sweet Dome
Why you should stay: A unique geodesic dome that's great for outdoor enthusiasts.
Location: Bend
Sleeps: 4
Minimum stay: 2 nights
Rates from: $136/night
Dome Sweet Dome features a fascinating geodesic dome architecture paired with a well-designed interior. The triangular windows provide plenty of natural lighting, and the open floorpan design helps the interior to feel larger than its actual square footage.
Dome Sweet Dome sits on a private wooded lot with a large deck where you can soak in the abundance of fresh air. Hikers and mountain bikers will enjoy nearby Phil's Trail, and the Deschutes River is a short five minute walk from the property.
"A unique stay that has everything you need to just unwind and relax. It's one of those places you'd love to sit in and write a novel."
Check Availability
10. The TECH Studio at Treetop Lodge
Why you should stay: Teched out "barn" geared toward working professionals needing a change of scenery.
Location: Lakeside
Sleeps: 3
Minimum stay: 1 night
Rates from: $184/night
Freshly renovated in July 2020, the TECH Studio was created as a retreat for working professionals to escape the monotony of city life and still remain productive. The living room is hooked up with two ultra-wide LED wall-mounted monitors compatible with both Windows and Apple users, with top-of-the-line workstations in the both of the bedrooms as well — including a 110″ projector in the master bedroom.
When it's time to unplug, the property is surrounded by the beauty of the Oregon Coast Range. The barn is set on a twelve acre property, with a direct access to a private lake via a walking trail. Located just fifteen miles north of Coos Bay, you'll be within striking distance of many of the Oregon Coast's most iconic sights and hikes.
Check Availability
Watch on YouTube
Also be sure to check out some of the best Oregon glamping spots and Oregon yurt rentals, or the ultimate Portland to Seattle road trip itinerary.
More PNW Explorations
Sign up for Weekend Wanderer to join thousands of readers getting epic travel, hiking, camping and gear ideas every week.
Was this article helpful?
---