When it gets hot, it's time to get wild at a water park — Texas style.
The Texas heat is no joke with temperatures easily topping 100 degrees during multiple months of the year, so you better believe the locals know how to keep cool. Aside from hunkering down in air-conditioned spaces and visiting the closest pool, there are all-day outings to the water park, where the whole family can beat the heat and have a blast while doing so.
In all corners of the state, you can find water parks with attractions like crazy twisting slides, chill lazy rivers, and fun wave pools. With rides for those who want to really get their adrenaline pumping as well as for those who'd rather keep things on the calmer side, these top water parks across Texas offer fun for all ages.
Related Read: The 6 Best Islands in Texas for an Unforgettable Vacation
1. Schlitterbahn Waterpark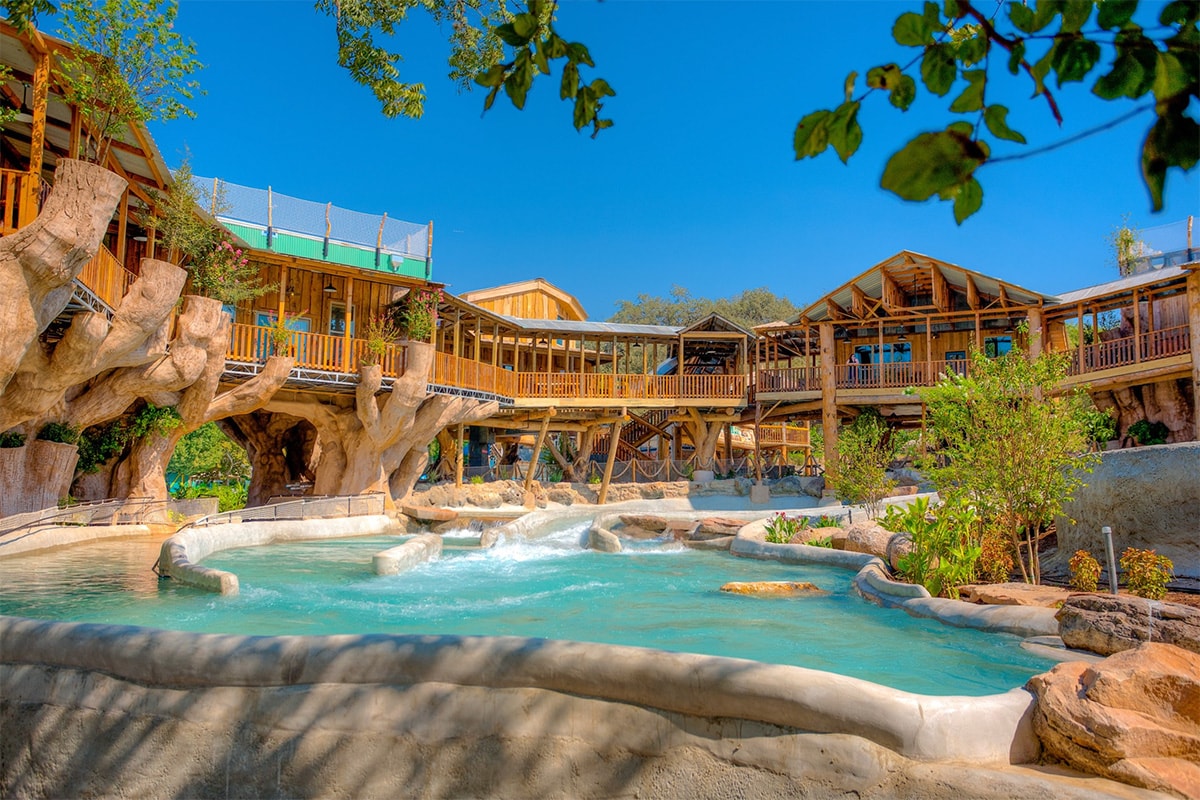 If there's one name you might know in the Texas water park game, it's Schlitterbahn. Schlitterbahn Waterpark has two locations: the original in New Braunfels, which spans over 70 acres, and another location in Galveston, which is around 26 acres. Both offer an array of rides from thrilling water coasters to zippy tubing adventures to boogie surf zones.
From 2017 to 2021, Schlitterbahn New Braunfels was voted the World's Best Waterpark in Amusement Today's Golden Ticket Awards, so you know that if you want an amazing waterpark experience, you'll be in safe hands with Schlitterbahn.
2. Six Flags Hurricane Harbor Arlington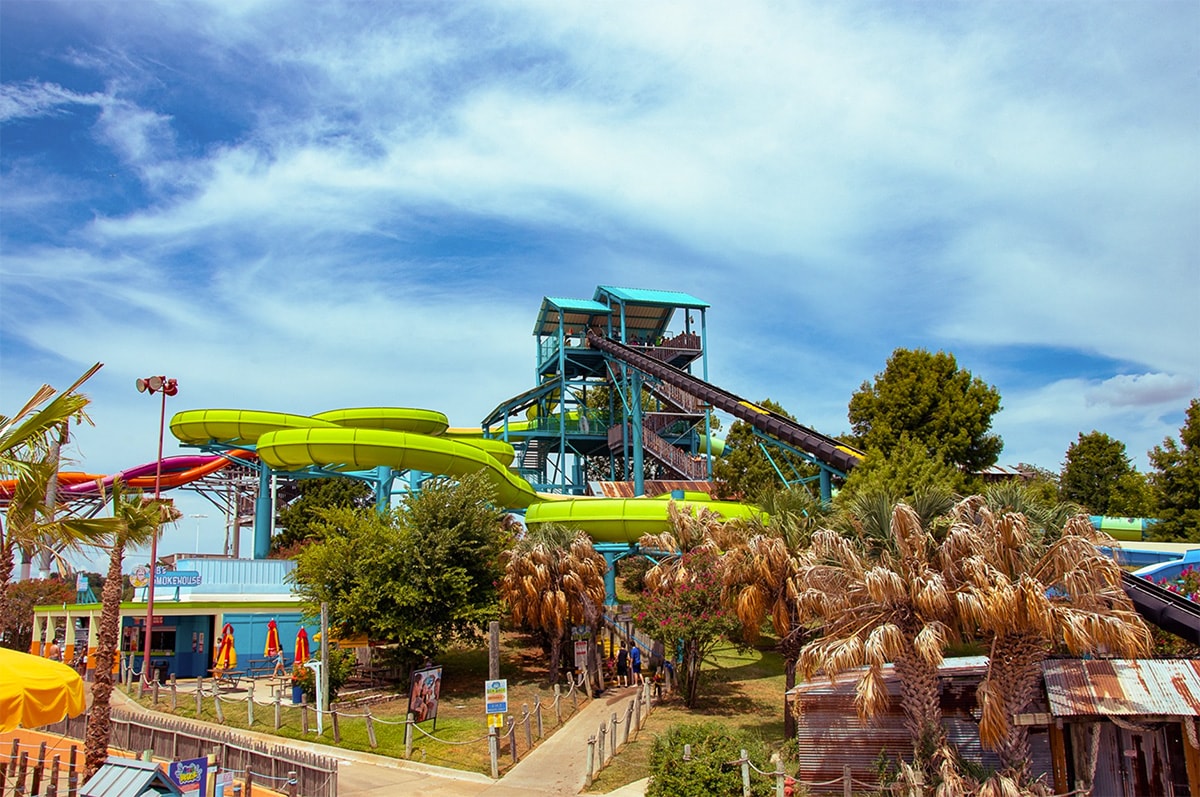 Six Flags is synonymous with a good time, and along with their other popular amusement parks in the state, they have a water park in Arlington: Six Flags Hurricane Harbor Arlington. Taking up 46 acres, Hurricane Harbor has over 40 rides and attractions.
There are thrill rides like the Banzai Pipeline, which has three intertwining slides that each offer a different experience. Then, there are family rides like the slow-moving lazy river. And for the little ones, there are kids' rides like Hook's Ship, where four small slides jut out of a cool-looking pirate ship.
Related Read: 8 Cozy Cabin Rentals Near Dallas, Texas
3. NRH₂O Family Water Park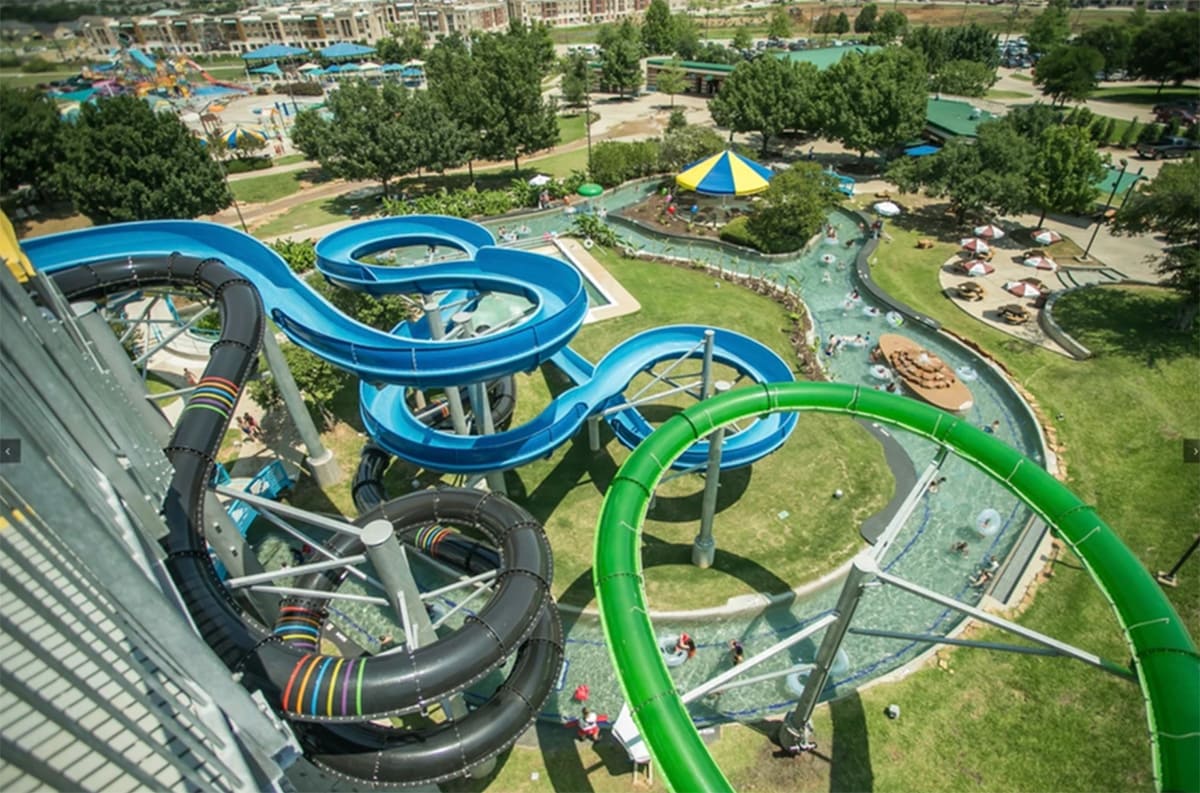 For another place to cool down in the Dallas-Fort Worth area, there's NRH₂0 Family Water Park. One of the highlights of this water park is the massive, colorful water playground which has five levels and is a true kid paradise. Other fun attractions include the 280-foot-long body slide and the 1,1151-foot-long uphill water coaster.
For your comfort and convenience, you have the option to reserve cabanas and loungers at the park in case you want more shade and privacy. If you're a resident of North Richland Hills, where the park is located, you can get a discount on a single-day admission ticket.
4. Aquatica San Antonio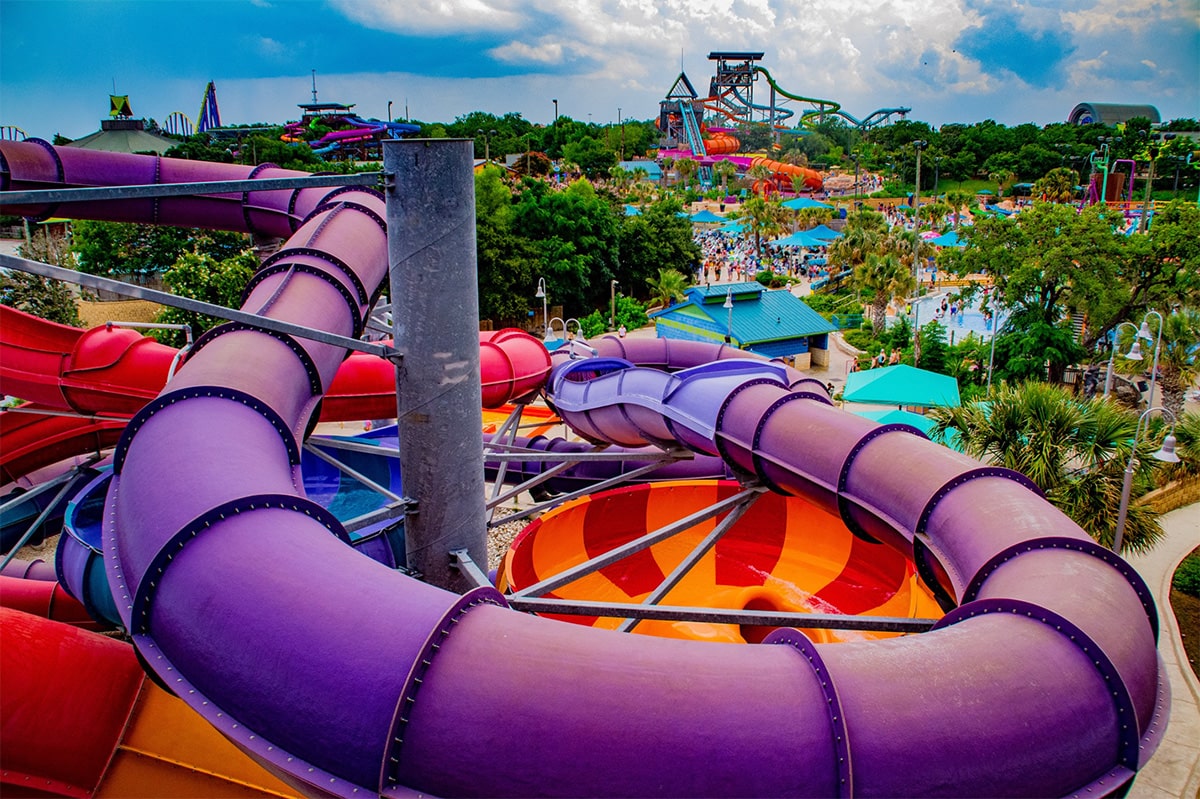 San Antonio has SeaWorld, but did you know that within SeaWorld, you can visit a water park called Aquatica San Antonio? You'll have to buy separate admission into Aquatica, and once you're in, there's lots of fun to be had.
Be brave and try Ihu's Breakaway Falls, the tallest drop slide in Texas, or check out Stingray Falls, where you travel on a raft through an underwater grotto as stingrays swim around you. In addition to the water slides, there is an assortment of pools, a lazy river, and animal experiences.
Related Read: 10 Best Weekend Road Trips from San Antonio, Texas
5. Epic Waters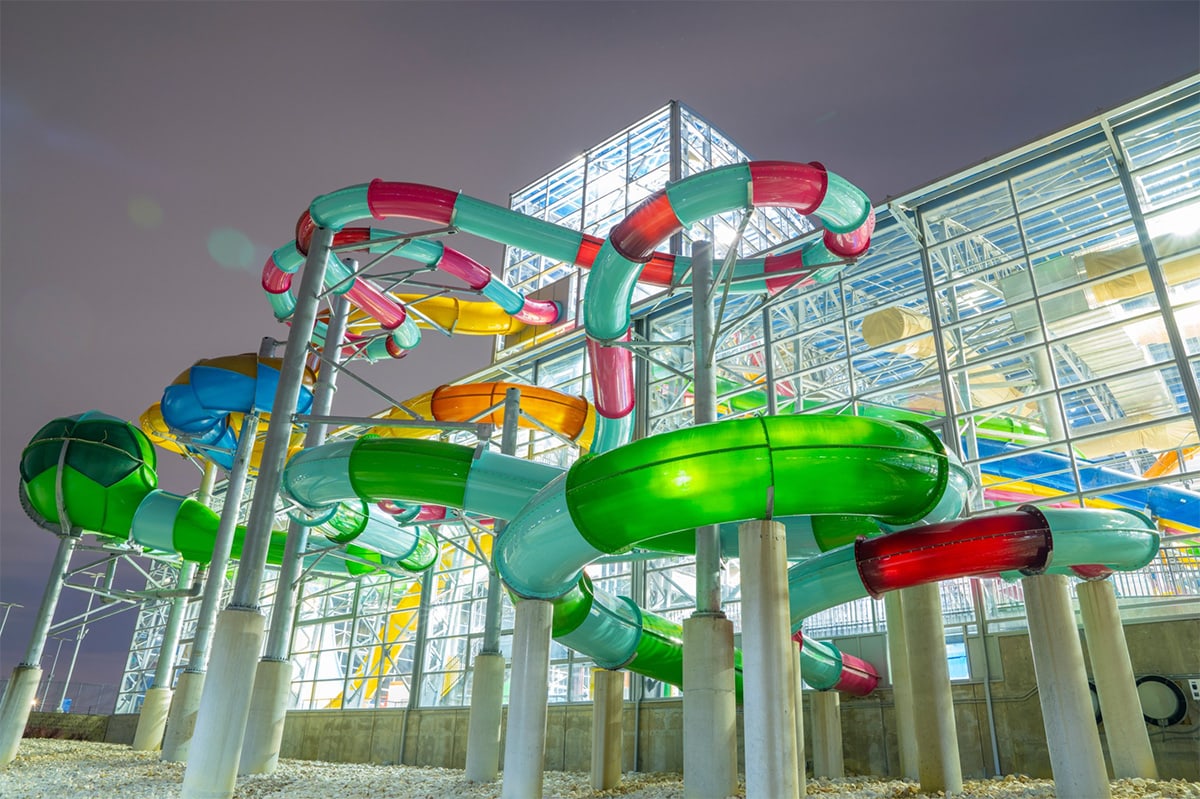 No one said a water park had to be outdoors! Part of the 172-acre EpicCentral complex, Epic Waters is a glass-enclosed waterpark, which is open all year round — whatever the weather.
Some of the attractions include the Yellowjacket (a slide that twists around until it sends you up a high wall and then back down again), the Lasso Loop (a body slide that takes you through a 360-degree loop), and E-Racers (where you slide down on mats to race those in the tubes next to you).
6. Great Wolf Lodge Water Park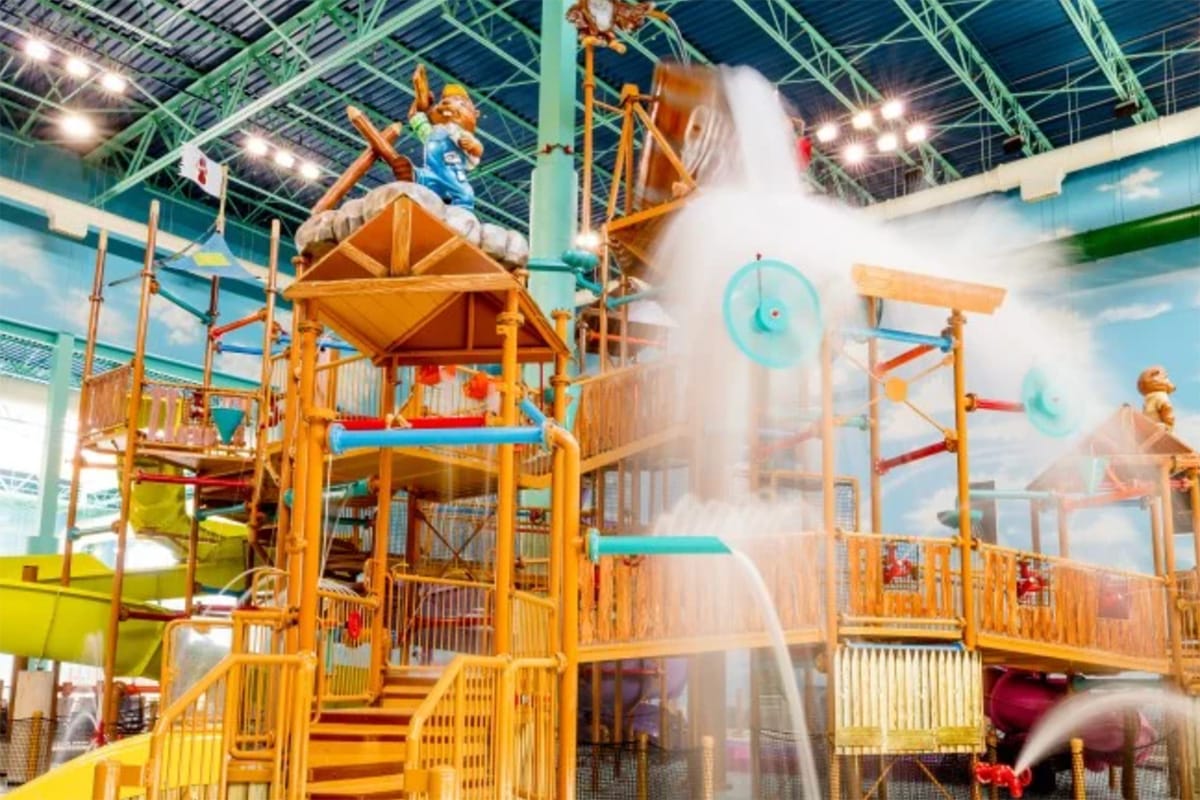 With its impressive 80,000-square footage, the indoor Great Wolf Lodge Water Park is another indoor water park that makes for a good choice if you're searching for a family vacation that doesn't require too much traveling.
The water park is part of a greater resort, so you can book a suite here and enjoy easy walking access back and forth from the guest rooms to the water park. There are even more attractions on-site like a ropes course and an arcade, so it really feels like a one-stop shop for family fun.
Related Read: 11 Best Resorts in Texas for a Rejuvenating Getaway
7. Typhoon Texas Waterpark
There are two options for experiencing Typhoon Texas Waterpark: Their location in Austin and their location in Katy. You may see some of the same rides at both parks like The Dueling Daltons, a ride with four free-fall slides, and the Gully Washer, which has a multi-level play structure with an 800-gallon water bucket.
But you'll also notice some differences (the Houston location has a ride called Monster Storms, for example, where you take off on a six-person raft). Why not visit both and decide which is your favorite?
8. Splashway Water Park
The town of Sheridan may be small, but they go big with their local water park: Splashway Water Park. Of all the attractions, the Loco Mono is one that'll surely catch your eye with its brightly colored tubes that twist and curve from up high, making for an exciting ride.
If you're a real thrillseeker, head to the Summit Plumet where the floor drops out from underneath you, plunging you down the slide. Splashway also has an RV park and campgrounds, so you can extend your visit into a longer getaway.
Related Read: The 9 Best State Parks Near Austin, Texas
9. Pirates Bay Waterpark
Drive east out of Houston to get to Baytown, and you'll reach Pirates Bay Waterpark. For those who like a little more extreme action, there are rides like the Flowrider, where you can surf a simulated wave (beware of wipeouts), and the Boomerango, which features a steep drop down.
For something that doesn't get your heart racing so fast, head over to the lazy river or wave pool, which are always favorites with visitors. When you get hungry, you can grab some bites at Surfside BBQ or Beachside Snack Shack inside.
10. Wet 'N' Wild Waterworld
Situated right next to the border with New Mexico, Wet 'N' Wild Waterworld claims to have the biggest wave pool in Texas. You know what this park is also big on? Shade! Unlike some other amusement parks, there are plenty of spots here to take cover if the sun gets to be too much.
If you're planning a bigger get-together, you can rent a picnic table or cabana ahead of time so you have a spot to hang when you're taking a break from the 25 rides and attractions.
Related Read: 15 Fantastically Free Things to Do in Houston, Texas
11. Splash Kingdom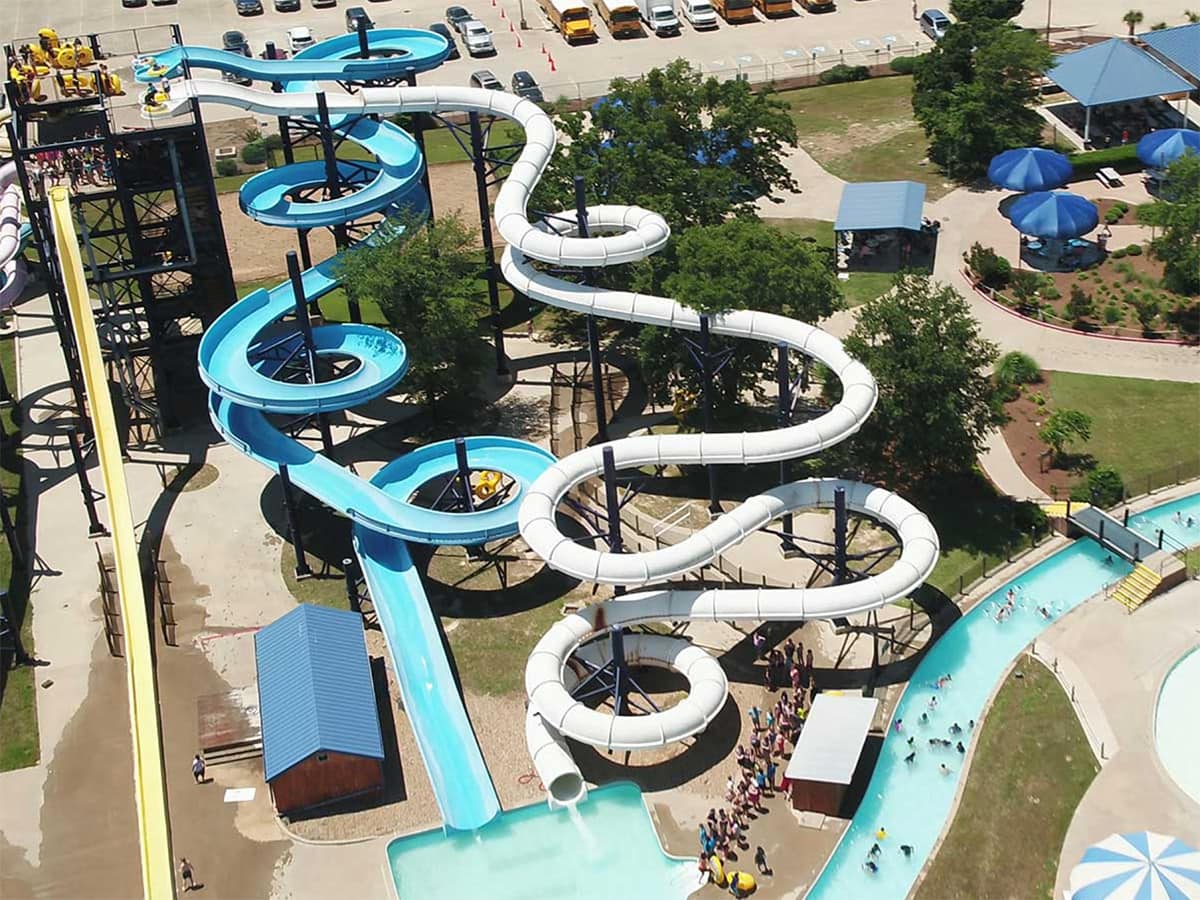 Splash Kingdom has not one, not two, but five locations — four of which are in Texas (the other is in Louisiana). Each location has its own theme, so for example Splash Kingdom Paradise Island in Canton has a Volcano Mountain slide, Splash Kingdom Air Patrol in Greenville has a pair of slides that pop out from under an antique airplane, and Splash Kingdom Wild West in Hudson Oaks has a frontier-themed splash pad.
All active military, fire, and police get a free season pass that grants admission to one of the Splash Kingdom locations.
12. Hawaiian Falls
Hawaiian Falls has five water park locations in Texas: Roanoke, Mansfield, Waco, Garland, and The Colony. There are different rides and attractions at each outpost, so even if you've been to one Hawaiian Falls park before, you can experience totally different fun at another.
Some highlights include Roanoke's Beach Blasters, where two tubes take off at the same time so you can race your friends, and Waco's The Rush, where you travel down a closed tube slide with a laser light show and water misters inside.
Related Read: 12 Best Beaches in Texas to Enjoy the Sun & Surf
13. Rock'N River Water Park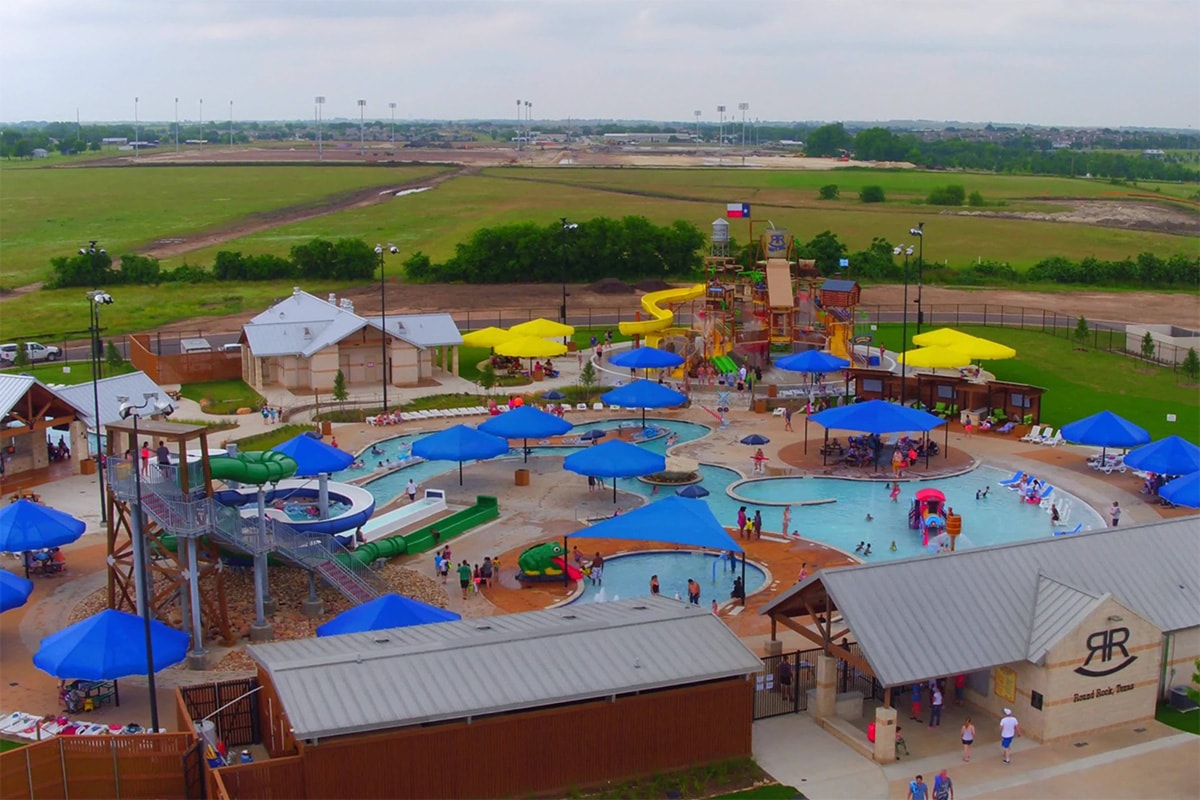 Located in Round Rock, Rock'N River Water Park is a small water park you can find in Old Settler's Park not far from the baseball diamond. If you know you'll need shade to make it through a day at the water park, then go ahead and book a rental like a cabana or a bungalow online before your visit.
This water park also is a good place to throw a birthday party since they offer packages that include ice cream, drinks, and squirt toys.
14. Hurricane Alley Waterpark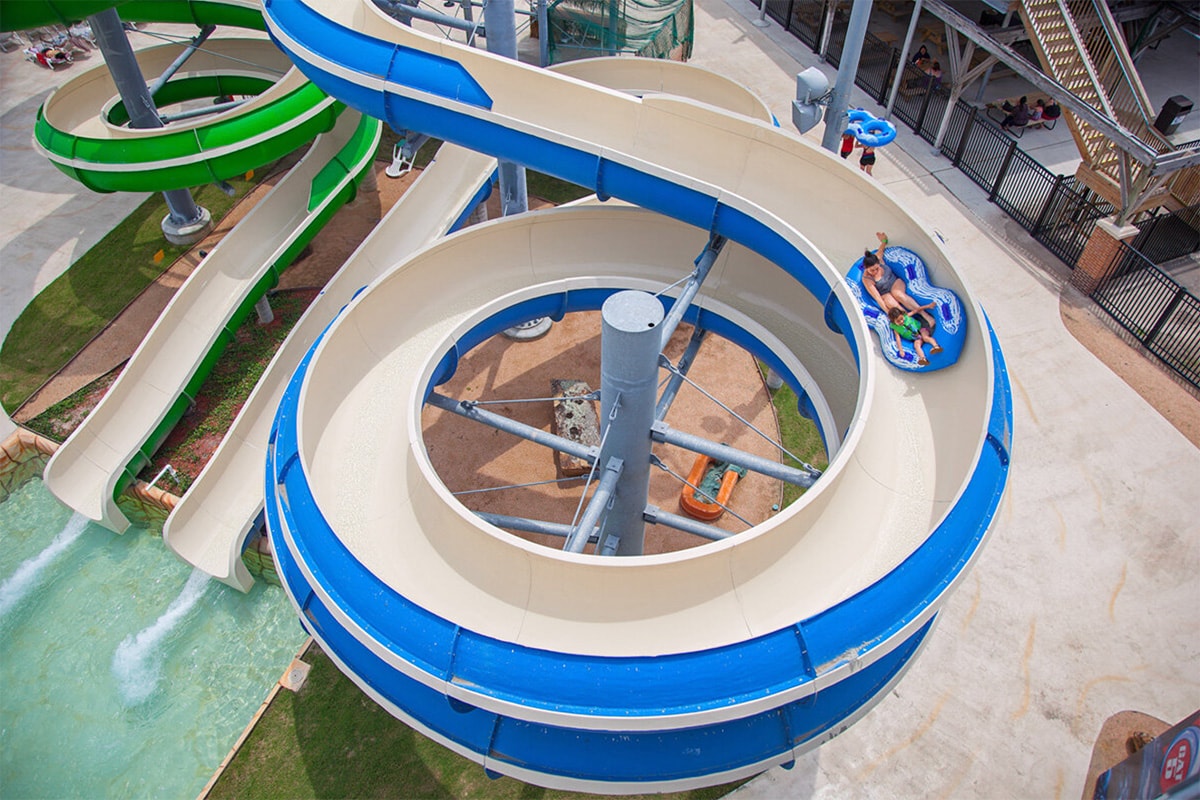 Hurricane Alley Waterpark is in Corpus Christi, just across the bridge from the Texas State Aquarium. Here, you can ride down a six-story slide, shred to your heart's content on a surf simulator, splash around in a baseball-themed play area, and more.
Keep an eye on their calendar because this water park puts on special events throughout the season like movie nights and Sensory-Friendly Sundays, during which the music is turned off to create a more enjoyable environment for kids with specific sensory needs.
Related Read: 8 Must-Do Weekend Road Trips from Austin, Texas
15. Beach Park at Isla Blanca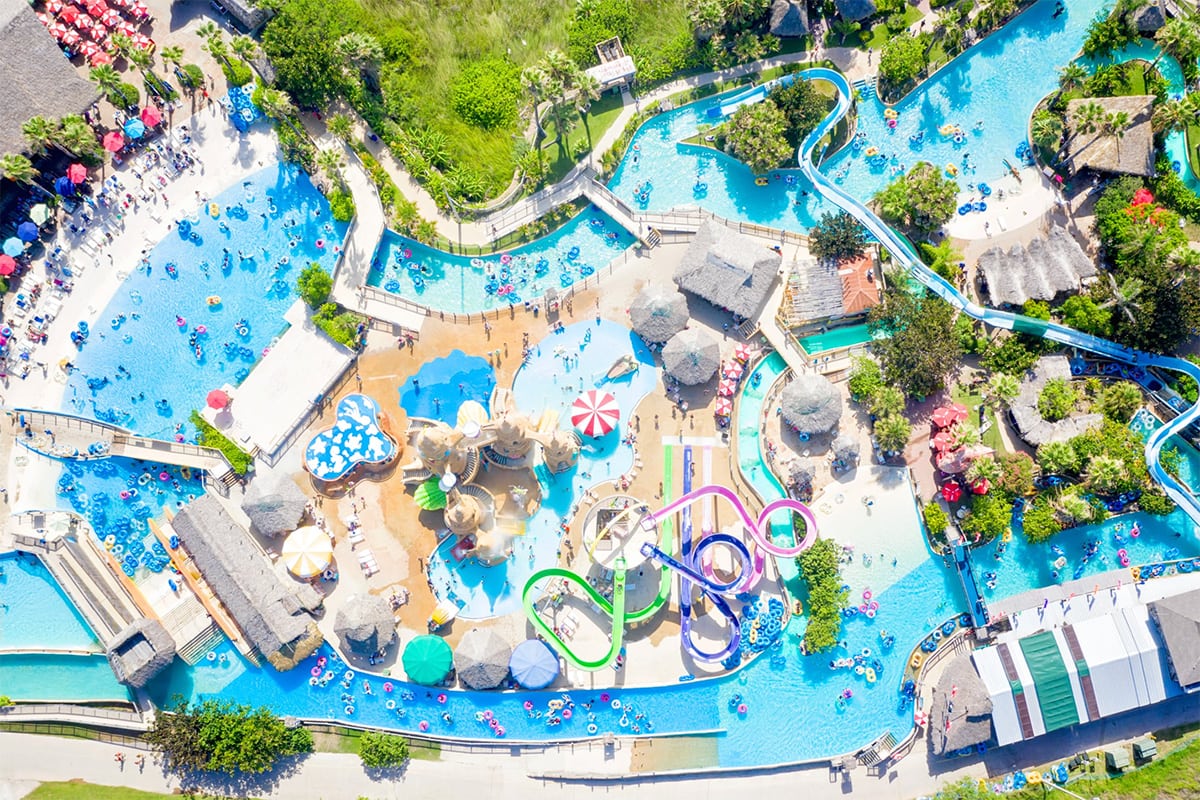 South Padre Island is famous for being an entertainment destination, and along with its beaches and resorts, it offers Beach Park at Isla Blanca. The centerpiece of this water park is the Sand Castle Cove, a giant water playground that's designed after a sand castle, has a big ol' tipping bucket, and stands five stories tall.
For adults, there's Bob's Float-in Bar, which you can swim up to to get a refreshing drink. There's even a zip line where from 100 feet in the air you can look out onto the Gulf of Mexico.
Explore More in Texas!
Get epic travel ideas delivered to your inbox with Weekend Wanderer, our newsletter inspiring thousands of readers every week.
Was this article helpful?
---