Kauai is the Hawaiian Island that outdoor enthusiasts flock to for its unspoiled beauty and secluded trails.
Of the major islands of Hawaii, Kauai has a reputation as being the most scenic — the most wild. It's where the likes of Jurassic Park and Pirates of the Caribbean were filmed, and it is home to some of the most remote and challenging trails in all of Hawaii.
That's not to say that all of Kauai's trails are difficult or dangerous, but the landscape is richly complex. There are deep canyons, striking oceanside cliffs, and huge mountains that are all covered in swaths of lush rainforest. As a result, many of the best trails can be a bit tricky to traverse.
The rewards are among the best that Hawaii has to offer, though. From private beaches to hidden waterfalls, there is a wealth of treasures to uncover along Kauai's best trails. What will you discover?
Related Read: 9 Cabin & Cottage Rentals in Hawaii For a Perfect Island Escape
1. Hanakapi'ai Falls Trail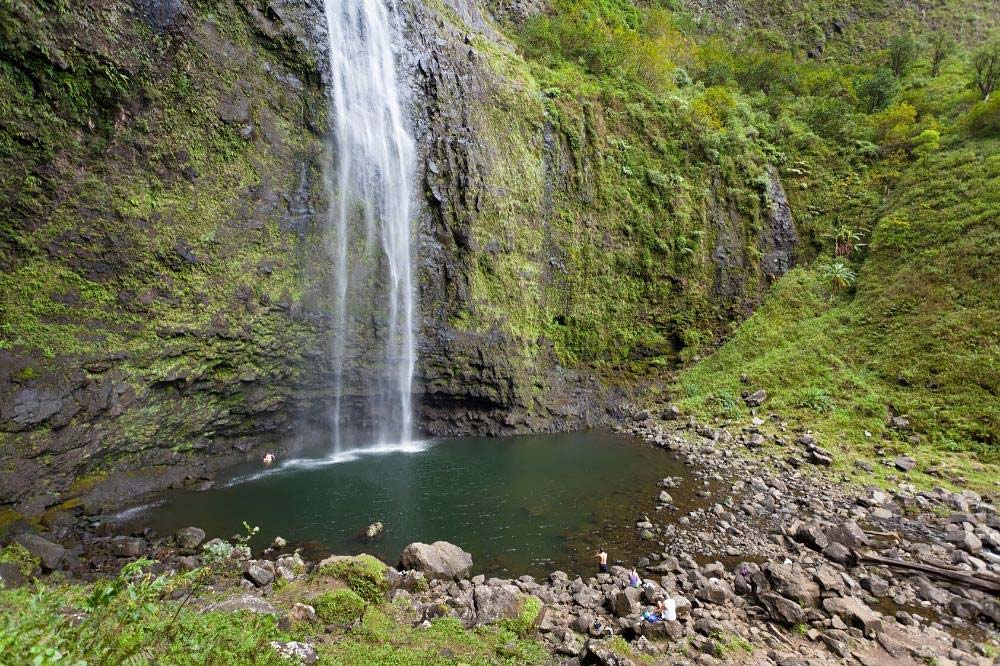 Why you should go: A workout of a hike with a 300 foot waterfall and wading pool to chillax in.
Difficulty: Challenging
Distance: 7 miles
Elevation gain: 2404 feet
The Hanakapi'ai Falls Trail is one of the most popular routes on all of Kauai despite its difficulty. That's because this trail is beset with unbelievable island views throughout, and the spectacular plunging waterfall at its endpoint is an unforgettable destination.
It is a difficult trek, though. Not only is there a fair bit of elevation to climb, but the trail is composed primarily of slick mud and uneven rocks. You'll have to cross some streams, too, and heavy rains can make Hanakapi'ai Creek dangerous and impassable.
The first two miles of this trail leads to Hanakapi'ai Beach before turning inland toward the falls. This is a wonderfully secluded spot to rest and is rewarding enough in its own right that you won't feel bad about turning around if the trail or weather turns out to be too much.
Related Read: 11 Awesome Waterfall Hikes on Oahu, Hawaii
2. Kalalau Trail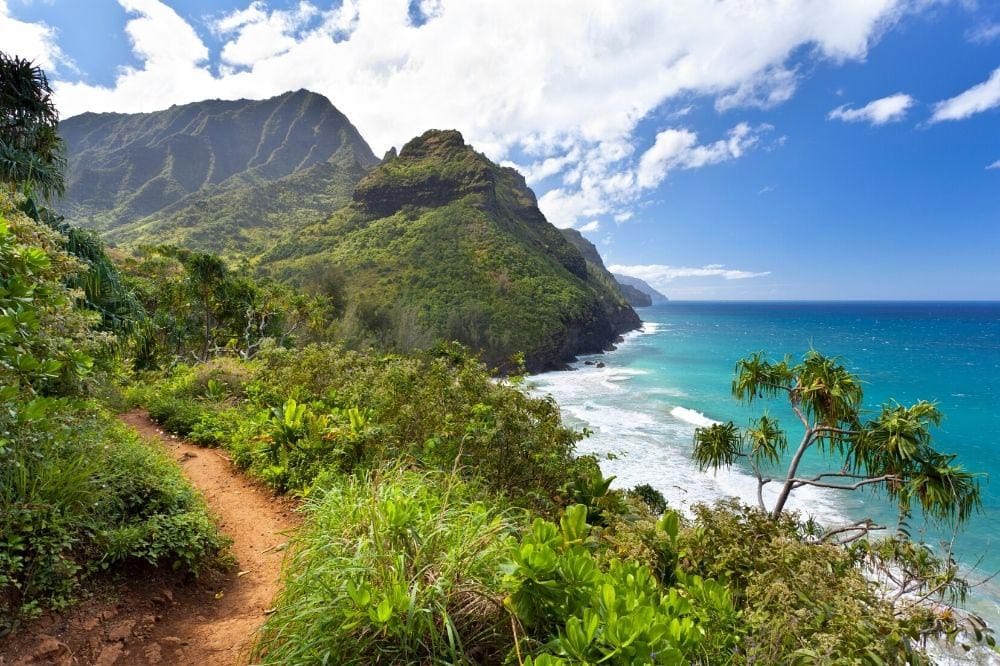 Why you should go: Hike or backpack to the remote, pristine white sands of Kalalau Beach.
Difficulty: Challenging
Distance: 22 miles
Elevation gain: 6177 feet
Riddled with jaw-dropping sights throughout, the Kalalau Trail is the reason many adventurous souls travel to the island of Kauai. It's a challenging trail that'll test even the most athletic of hikers and reward them with some of the most beautiful and tranquil scenery in the world.
Those who take on the full route will be subjected to multiple steep hill climbs and valley crossings across a remote, prehistoric-looking landscape where the verdure that covers the striking oceanside cliffs is so richly green that it nearly forms a new color all its own.
There are multiple waterfalls to see along the route. Once you've traversed the valleys and streams, you'll come upon the most flawless island beach you could ever imagine, and, if you're lucky, you'll have it all to yourself.
Camping is allowed on the white sands of Kalalau Beach, but nowhere else on the trail. You're going to want to make the most of your time here.
Related Read: 10 Romantic Getaways in Hawaii for a Tropical Retreat with Your Boo
3. East Nounou Mountain (Sleeping Giant) Trail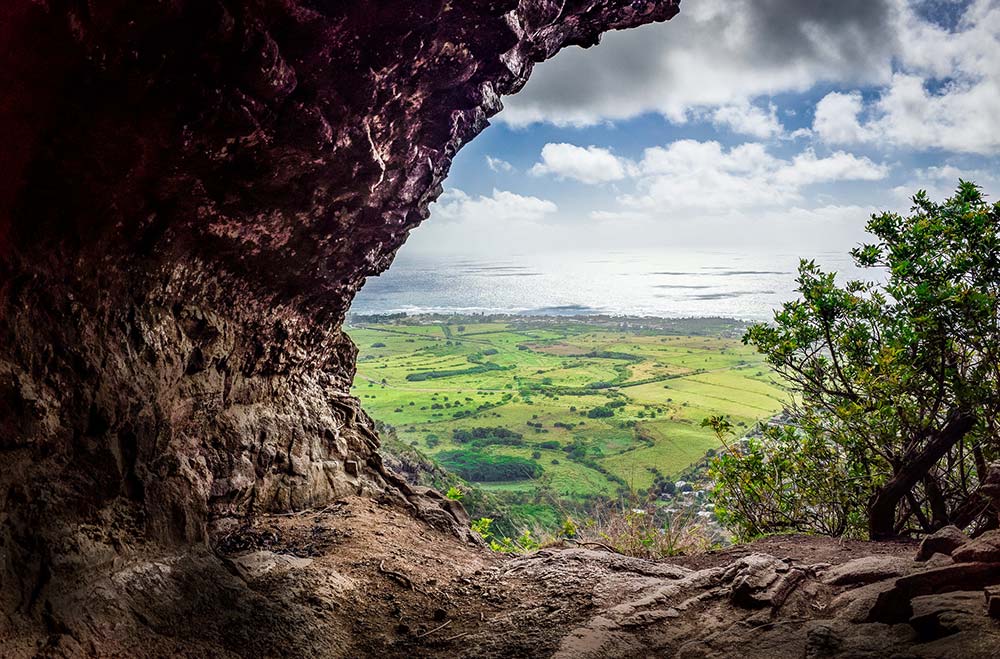 Why you should go: Climb to a prominent precipice with panoramic views overlooking west Kauai.
Difficulty: Moderate
Distance: 3.2 miles
Elevation gain: 1034 feet
It's easy to see the profile of the Sleeping Giant known as Nounou Mountain from the neighborhoods near the trailhead. This hike leads to the giant's chest where a picnic shelter and astounding views await. The trail itself is a pleasant and fairly mud-free romp through the forest and over lava rock.
Those looking for the best views possible, though, will continue past the shelter along a precarious bit of rocky trail to the giant's head where unbounded 360-vistas of the surrounding island are found.
Related read: 8 Treehouse Rentals in Hawaii That'll Elevate Your Tropical Getaway
4. Hoopii Falls Trail
Why you should go: A pair of cascading waterfalls with some Hollywood prestige.
Difficulty: Moderate
Distance: 2 miles
Elevation gain: 200 feet
Hoopii Falls Trail is one of the easier waterfall hikes on Kauai, though it can still be muddy and slippery after a rainstorm. The trail starts at the end of a nondescript street in the foothills of northwest Kapaa and winds its way along Kapaa Stream behind the area neighborhood.
The dirt path above the street is easy to traverse when it is dry and leads hikers on a lovely jaunt through the forest. Upon reaching the stream you'll begin to hear the falls ahead. The tumbling, cascading waters at each of the falls make for excellent photographs.
The terrain along the creek at each of the waterfalls can be treacherous, so be careful of your footing. The area around the lower waterfall in particular, can be quite slick, but it is also the location of a memorable scene from Jurassic Park.
5. Queen's Bath Trail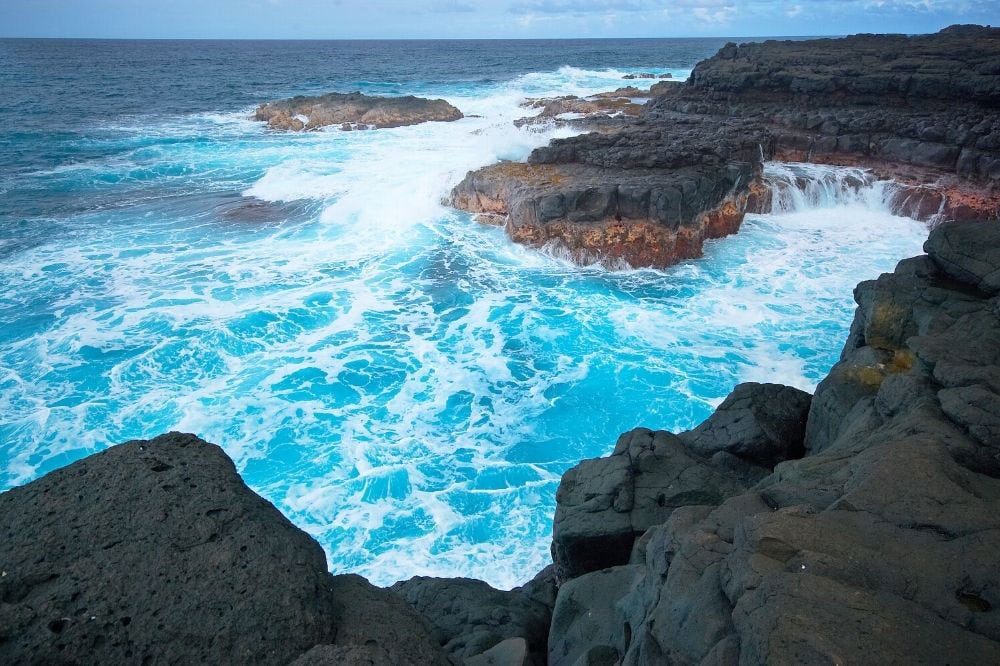 Why you should go: Swimming and snorkeling are the main draw, and the trail is downright gorgeous.
Difficulty: Moderate
Distance: 0.8 miles
Elevation gain: 98 feet
Though short in length, Queen's Bath Trail is a difficult and, at times, dangerous hike. You'll be making your way down a muddy trail over uneven lumps of lava rocks and over many ruts and roots. As with many Kauai hikes, though, the destination is worth the trouble.
Queen's Bath is famous as a seaside swimming pool. However, you should only ever wade into the waters of the bath at low tide, and even then should be aware of your surroundings. The ocean laps into the pool with every wave at low tide, and a sudden sneaker wave could cause trouble.
The overall experience is amazing, though, even if you only dip your feet into the pool. You'll hike through a grove of hala trees before making your way to the rocky shoreline, and the coastal beauty here is extraordinary.
6. Maha'ulepu Heritage Trail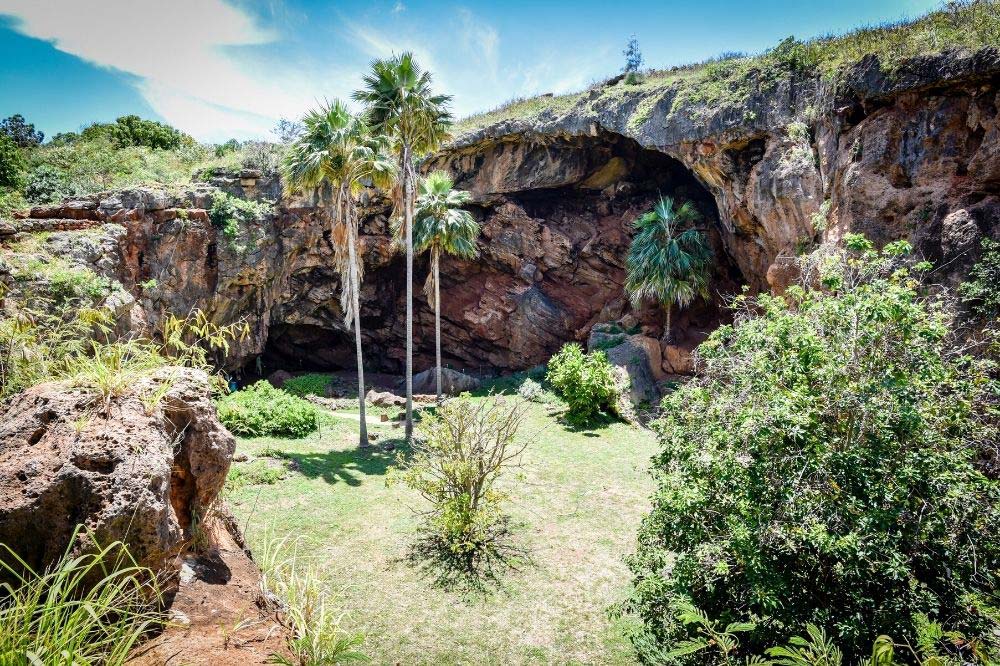 Why you should go: A multi-faceted hike leading to a fossil-rich cave and wildlife-frequented viewpoint.
Difficulty: Easy
Distance: 4.2 miles
Elevation gain: 250 feet
Beginning at the end of Shipwreck Beach, the Maha'ulepu Heritage Trail hugs the coastline on its way to Punahoa Point and the Makauwahi Cave Reserve. There are many parallel paths to choose from that meander around the sand dunes and offer opportunities to spot different lava formations, petroglyphs, and sea creatures.
Makauwahi Cave is easy to miss, though the trail does circle around it. This cave is still undergoing heavy research by paleontologists for its fossil diversity, and it was also featured in Pirates of the Caribbean. You're welcome to explore its inside.
Outside, Punahoa Point is where you may catch a glimpse of endangered monk seals resting on the shoreline or migrating whales passing by in the open water.
7. Kuilau Ridge Trail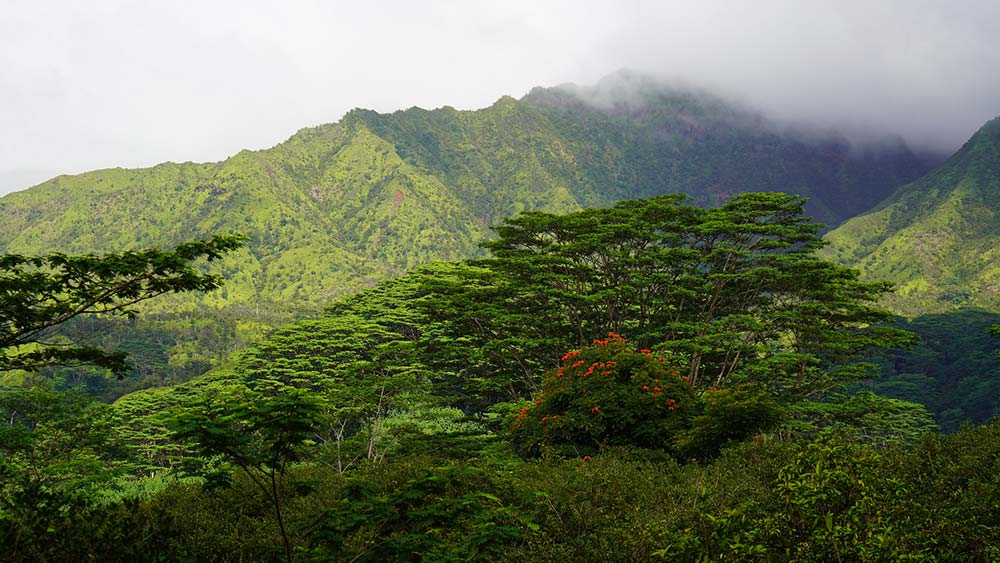 Difficulty: Easy
Distance: 4.5 miles
Elevation gain: 667 feet
Why you should go: Sweeping views and the diversity of flora make this a magnificent stroll.
The Kuilau Ridge Trail takes hikers on a tour of the heights of the Keahua Arboretum overlooking the Makaleha Mountain Range and Ohia Forest. A wide array of native and non-native plants are on display, showcasing the biological diversity of the island's tropical rainforests.
It's possible to continue onward to the Moalepe Trail for those interested in a longer hike. Most will want to turn around at the ridge trail's high point, though, where a covered picnic shelter offers a nice place to rest and take in the surrounding landscape.
8. Nu'alolo Trail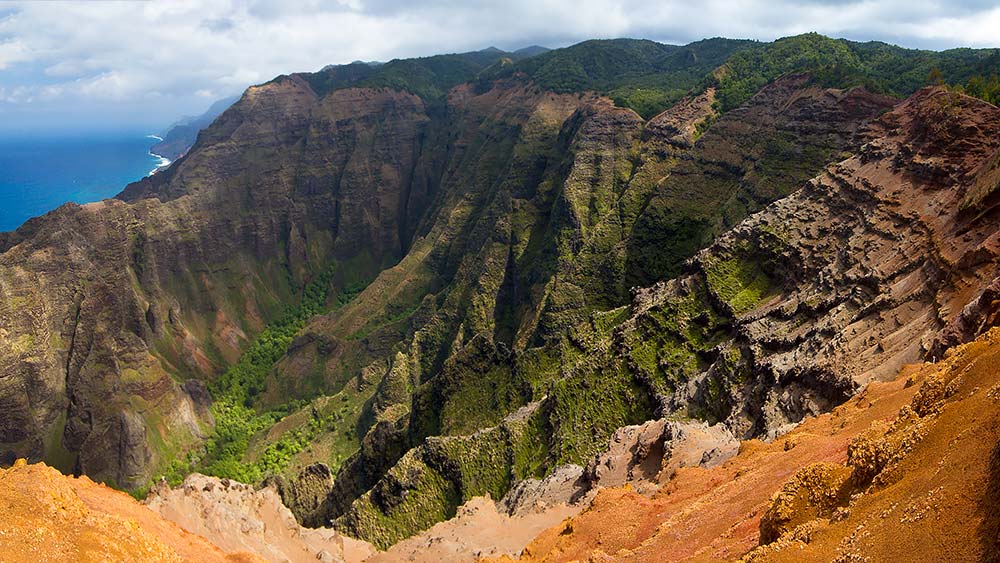 Why you should go: Deep, mesmerizing canyons and a remarkable vista endpoint.
Difficulty: Challenging
Distance: 7.5 miles
Elevation gain: 2578 feet
Starting off near the Koke-e Lodge and Museum, the Nu'alolo Trail is a cross-country track full of ups and downs as it crosses a length of rugged topography. Hikers will surpass mountain ridges, open grasslands, and ohia forests as they make their way to the spectacular Lolo Vista Point.
A small metal fence marks the point of no return where the vista resides above all else in the vicinity. You'll be standing atop a sheer oceanside cliff overlooking the gorgeous Nu'alolo Valley and an ocean horizon so long that you can see the curvature of the Earth.
Niihau Island comes into view as well. This island is off-limits to tourists and is home to the last remaining vestiges of "old Hawaii". There may be no better place on the island to sit and ponder life's great questions.
9. Makaleha Trail
View this post on Instagram
Difficulty: Challenging
Distance: 2.8 miles
Elevation gain: 849 feet
Why you should go: Trek through a bamboo forest to a two-tiered waterfall and magical swimming hole.
While not daunting in elevation or length, the Makaleha Trail is a muddy and wild hike through a dense forest. Progress will be slow as you securely plant each step and climb over fallen trees on your way to the fairyland setting that is Makaleha Falls.
The swimming hole at the falls' base is your chance to cool off and relax after conquering the trying trail. There are a couple more routes that lead off from this piece of paradise to two other waterfalls that exist close by if you're up for more exploration.
10. Iliau Nature Loop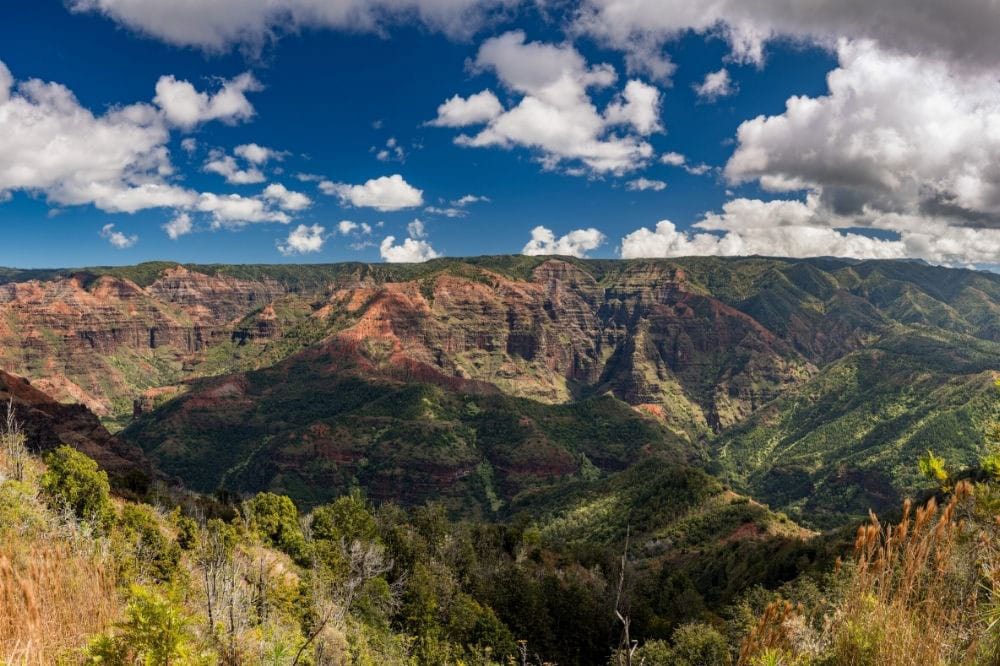 Difficulty: Easy
Distance: 0.4 miles
Elevation gain: 52 feet
Why you should go: Grand Canyon-esque scenery covered in verdant greenery.
The Iliau Nature Loop is a short trail that overlooks a stretch of the stunning Waimea River Canyon opposite of Kaluaha'ula Ridge. It also leads to a much longer route that drops into the canyon and follows the river in both directions where multiple campsites are located.
Just down the road is the Waimea Canyon Lookout which is an even shorter trail with arguably grander views from above the canyon. Both spots are worthy of a pit stop as you make your way through Waimea Canyon State Park.
11. Okolehao Trail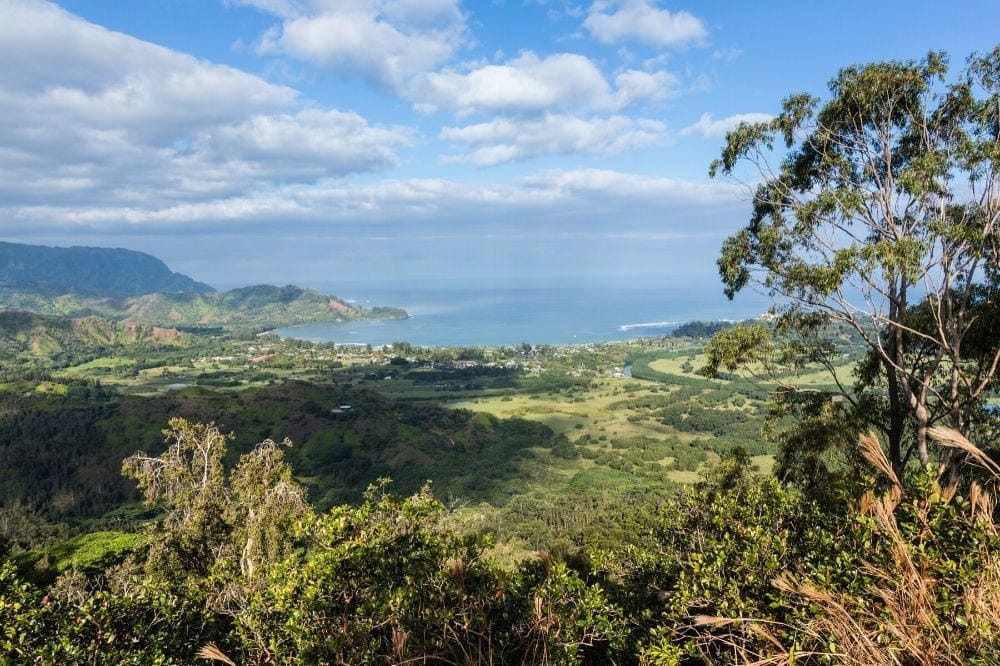 Difficulty: Challenging
Distance: 5 miles
Elevation gain: 856 feet
Why you should go: An epic trail with various stages in the Hanalei National Wildlife Refuge.
Many will find the first mile to the first vista of the Okolehao Trail to be enough of an adventure, but the trail continues on to higher plateaus through more difficult terrain for the truly adventurous.
The trail climbs above the town of Princeville, providing several viewpoints along its route, each one better than the last. The beginning section is thick with plantlife that smothers the trail, but it opens up as you climb to a ridge after the first viewpoint.
The highest portion, though, turns into a rope-assisted muddy climb to Kauai's Twin Peaks. There is an astounding, all-encompassing view at the top, but, for many, the spectacular view partway up will be plenty enough.
12. Shipwreck Beach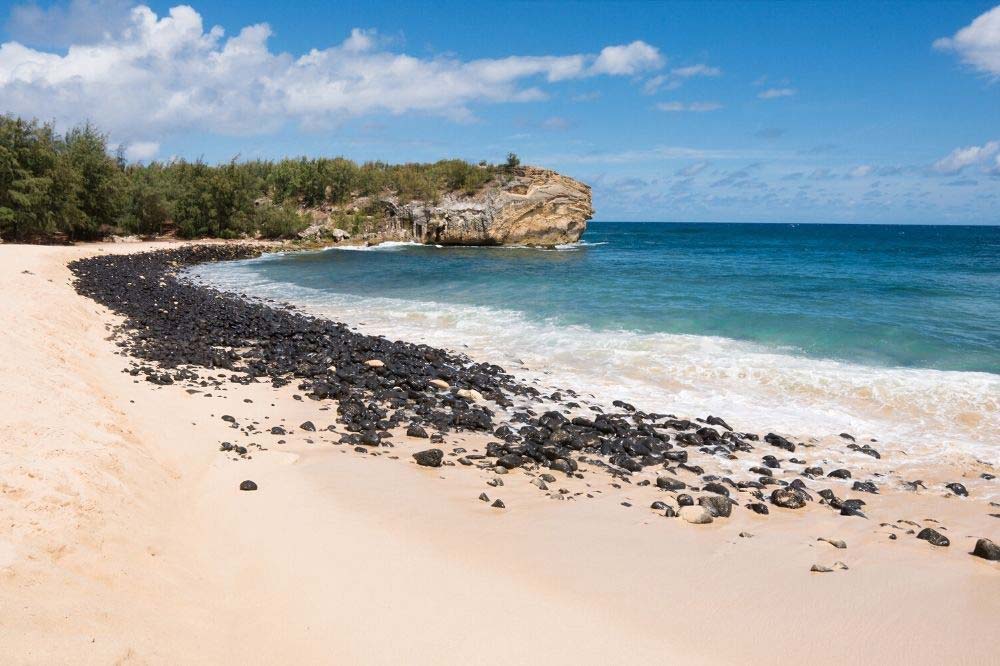 Difficulty: Easy
Distance: 0.5 miles
Elevation gain: 29 feet
Why you should go: Tidepools, cliff diving, and plenty of beachside wildlife.
There are many paths along and near Shipwreck Beach to explore. The majority of the area is within sight of the Grand Hyatt Resort and Poipu Bay Golf Course, but there are plenty of nooks and crannies where you can find some privacy along the shoreline.
The beach itself is a fine place to relax, but the trails that venture off toward the cliffs on the eastern side of the beach offer up much more visual interest in the form of tide pools, plant life, wildlife, and unique rock formations.
13. Black Pipe Canyon Loop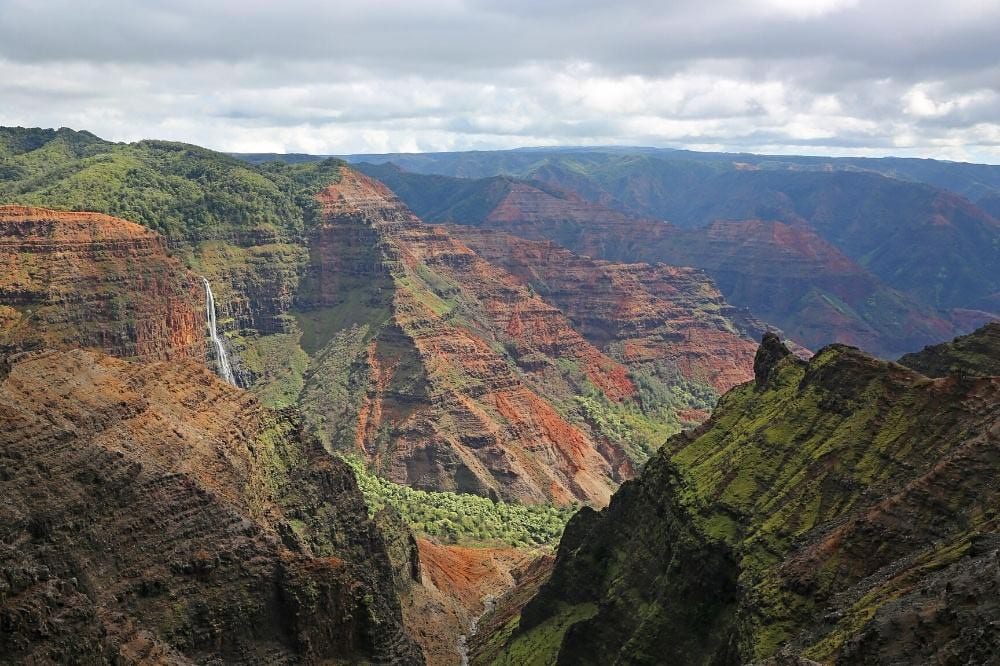 Why you should go: Canyonlands, waterfalls, wading pools, and wildlife — this route has it all.
Difficulty: Moderate
Distance: 3.7 miles
Elevation gain: 1305 feet
There is so much to experience along the Black Pipe Canyon Loop that you may have to hike it multiple times to take it all in. The breathtaking canyon vistas are enough reason to venture out on this accessible trail, but they're only one part of the story.
There are a couple of waterfalls you will come upon during this hike. One is a picturesque cascading waterfall with an inviting wading pool, while the other is a multi-layered cliff-plunging waterfall where you can explore its upper reaches prior to the plunge.
Elsewhere this trail guides hikers through ohi'a forests, across scenic ridgelines, and to otherworldly rock formations that look to have been purposefully built. There's a lot to absorb on this trek.
14. Waimea Canyon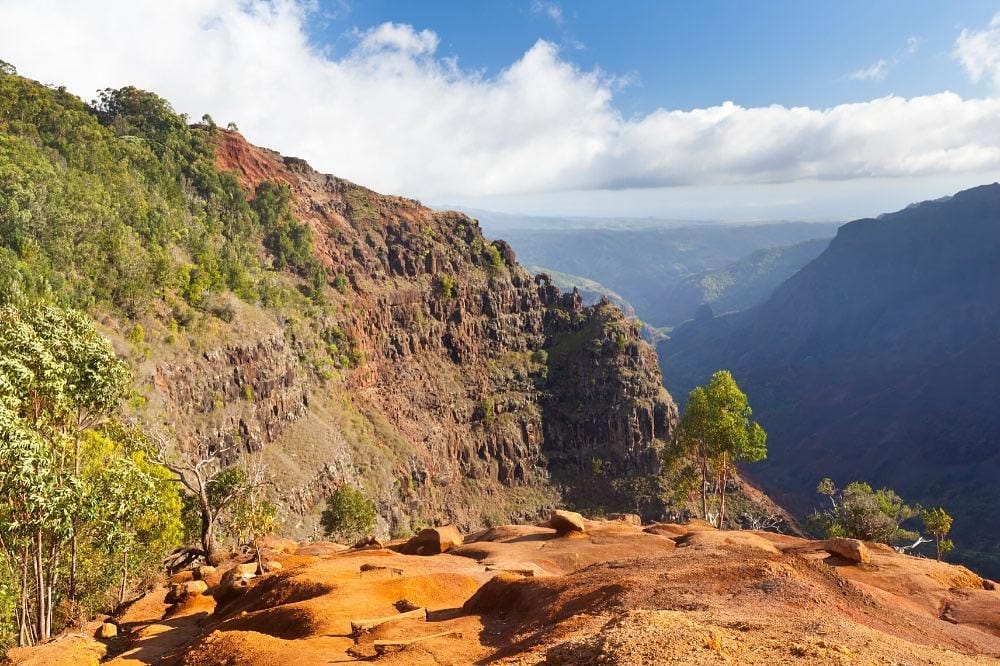 Why you should go: Kauai's preeminent deep canyon backpacking route.
Difficulty: Challenging
Distance: 12.9 miles
Elevation gain: 3838 feet
The journey into the bowels of Waimea Canyon can be as long or as short as you'd like. As a day hike, a 4.4-mile trip will lead you down to the river from the canyon overlook, but an exhaustive backpacking journey could cover well over 20 miles for those who want to see it all.
Once at the base of the canyon, the trail sticks close to the Waimea River, following it both north and south for a number of miles. Prepare to get your feet wet, because you'll be crossing the river many times over.
There are multiple places to camp along the trail, and you're likely to experience complete solitude at night in the heart of Kauai.
15. Jurassic Park Gate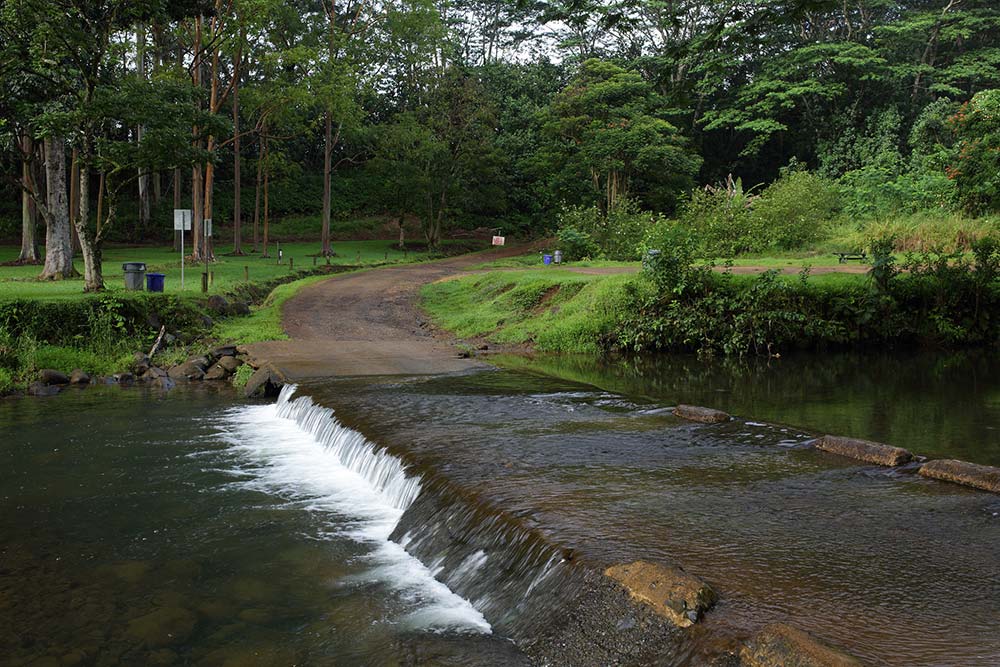 Difficulty: Moderate
Distance: 9.8 miles
Elevation gain: 1545 feet
Why you should go: Hike or ride to the iconic entrance to Jurassic Park.
There are two different approaches to the Jurassic Park Gate trail. Obviously, you can hike it. The route begins at the beautiful Keahua Arboretum and sticks to a deteriorated dirt road that is rarely travelled or maintained.
There are a few spillways and streams to cross, which may be enough to deter some, but otherwise it is a relatively mild hike besides its length. The photo opportunity at the end is legendary.
The second way to approach this trail is to drive it rather than walk it, and preferably with the help of a local guide. Portions of the road may be closed or too dangerous to drive, and at times even too dangerous to walk, so be sure to check in with locals before undertaking the journey. Recent infrastructure updates have improved the road conditions.
More Incredible Adventure Ideas
Sign up for Weekend Wanderer, our free email newsletter featuring epic travel, hiking and outdoor ideas from around the country.
---