Trekking to the hot springs of Arizona truly lets you soak it all in — wild communes of naked retirees, epic slot canyons with azure pools, day hikes to charming oases, and grand resorts that have thought of everything.
Arizona, famous for its dry heat, offers a surprisingly vast bathing menu full of quirk, wonder and luxury.
Finding a hot spring for the first time is always an adventure, and one easy to shy away from. Questions can abound: will you find the right place? Will it be crowded? Will it be full of naked folks?
Related Read: 9 Easy Hikes in Sedona That'll Take Your Breath Away
Arizona Soak Guide 101
For first timers, this can all be… a lot.
Rest assured, once you're mid-soak under that gorgeous Arizona sky, you'll know the effort was worth it. Here are a few tips to set you up for success.
Note the Season
Most springs are closed or should be avoided in the high heat of the summer months.
Stay Glass-Free Forever
Never bring glass of any kind to a spring area, and, of course, hike out with everything you bring in (here's why Leave No Trace is so important).
This may sound like a killjoy rule, but it is truly dangerous if glass gets into a pool. It's sharp, becomes invisible in water, and everybody's tender bits are right there.
Skip the Dunk
There are rare but terrifying bacteria, Naegleria fowleri, that want to eat your brain. The good news is, they can only get in through the nose.
Yes, it's a wild thing, and no, you really don't want to be the weird cautionary tale. Keep your head above water, and keep that nose dry.
Know Your Nudie Etiquette
If you hike to a spring and folks are enjoying it au natural, don't worry, you can still wear your suit if that's your preference. Usually, the whole naked thing will feel like much less of a big deal once you're in the water.
If the tub is very small, do wait to get in until it feels like there is appropriate personal space for all involved. Also be aware when using your camera, and wait until the naked strangers aren't in the frame. Check out more hot tub etiquette tips here.
Manage the Crowd
We all hope to have these beautiful oases to ourselves, even if just for a few minutes, but this is often rare, especially on weekends. If you arrive at a spot and there are a lot of folks already bathing, be sure to greet your fellow bathers, ask if there is room, and let them know you are happy to wait.
Once you are soaking, be sure to keep an eye on your own time in the tub. If there's an awesome spot in the tub, definitely enjoy it, but make sure other folks get a chance as well.
And not that you would, but…don't pee in the spring, and if you do need to relieve yourself, aim for about 200 feet away from the water source and off the beaten path.
Now that you know the ropes, here's a short list of the most epic soaks to seek out when adventuring in Arizona.
1. Kaiser Hot Spring
View this post on Instagram
Location: Wikieup
Type: Undeveloped
Reservations: No
Located about two hours away from Phoenix on BLM land, Kaiser Hot Spring is a perfect day hike. Head to US 93 at mile marker 134, and park in marked areas under the freeway to enjoy a 1.5-mile hike through the gorgeous wash bed of Kaiser Canyon.
The hot spring is a small stone-lined pool that can hold 2-3 people comfortably. While you soak, gaze at surrounding hills and sharp blue sky that are so specific to Arizona. This spring is clothing optional, and might be a bit too small to share with strangers, though it isn't as popular as other spots, so you might have it all to yourself.
Related read: These Scenic Train Rides in Arizona Will Blow Your Mind
2. Verde River Hot Springs
View this post on Instagram
Location: Camp Verde
Type: Undeveloped
Reserverations: No
Note: The trails to these springs are currently closed due to fire damage. Check for current updates here.
If the trails are open, you have a high clearance vehicle, and the willingness to wade across a river or two, then reward awaits. Verde Hot Springs is the site of a 1920s resort that burned down to everything but its stone foundation, leaving two cement pools, one over six feet deep.
Vibrant murals cover the stone walls of the ruins, left by generations of groovy visitors. Legend has it that Al Capone once vacationed here. Nudity abounds. Also popular with van-lifers. Camping is available when the area is open.
Related read: 9 of the Best Places to Camp Near Sedona, Arizona
3. Sheep Bridge Hot Springs
View this post on Instagram
Location: Yavapai County
Type: Undeveloped
Reservations: No
While Verde Hot Springs is closed, head out to this gem of a hot spring on the same river. Sheep Bridge has a little something for everyone — hiking, swimming, soaking and vistas forever. Reach the spring itself by walking through a dark tunnel of reeds that opens suddenly to a clearing with a stone tub.
Finding the little grotto can feel like a true discovery, and it's just the start of a day at Sheep Bridge. Fling yourself from a rope swing into the cool river water, or cross the namesake bridge that spans the river to gawk at the surrounding hills.
This is a special place, deep in the Arizona countryside. There's some work to get there — 38 miles of serious dirt road, but the hot water and spectacular views will reward you for the trek. Primitive camping is available. Open year round.
Related Read: Butcher Jones Recreation Site: Soak Up Saguaro Lake
4. Hot Well Dunes Hot Springs
View this post on Instagram
Location: Bowie
Type: Developed
Reservations: No
Welcome to Arizona's most hard-to-get-to jacuzzi. In the midst of 2,000 acres of BLM land, the spring has been developed into two solar-powered cement tubs that look like your usual hotel hot tubs, but dropped in the middle of an exquisite, empty landscape.
The dirt road out to this surprise of an oasis is long, bumpy, and can be incredibly tenuous, so be sure to check conditions ahead of time. Camping, picnic areas, and facilities are available. The area is popular for off-road vehicle explorations of the trails and dunes that surround the springs. Also great for bird watching and picnics.
Related read: 9 Awesome Weekend Road Trips from Tucson, Arizona
5. Kachina Mineral Springs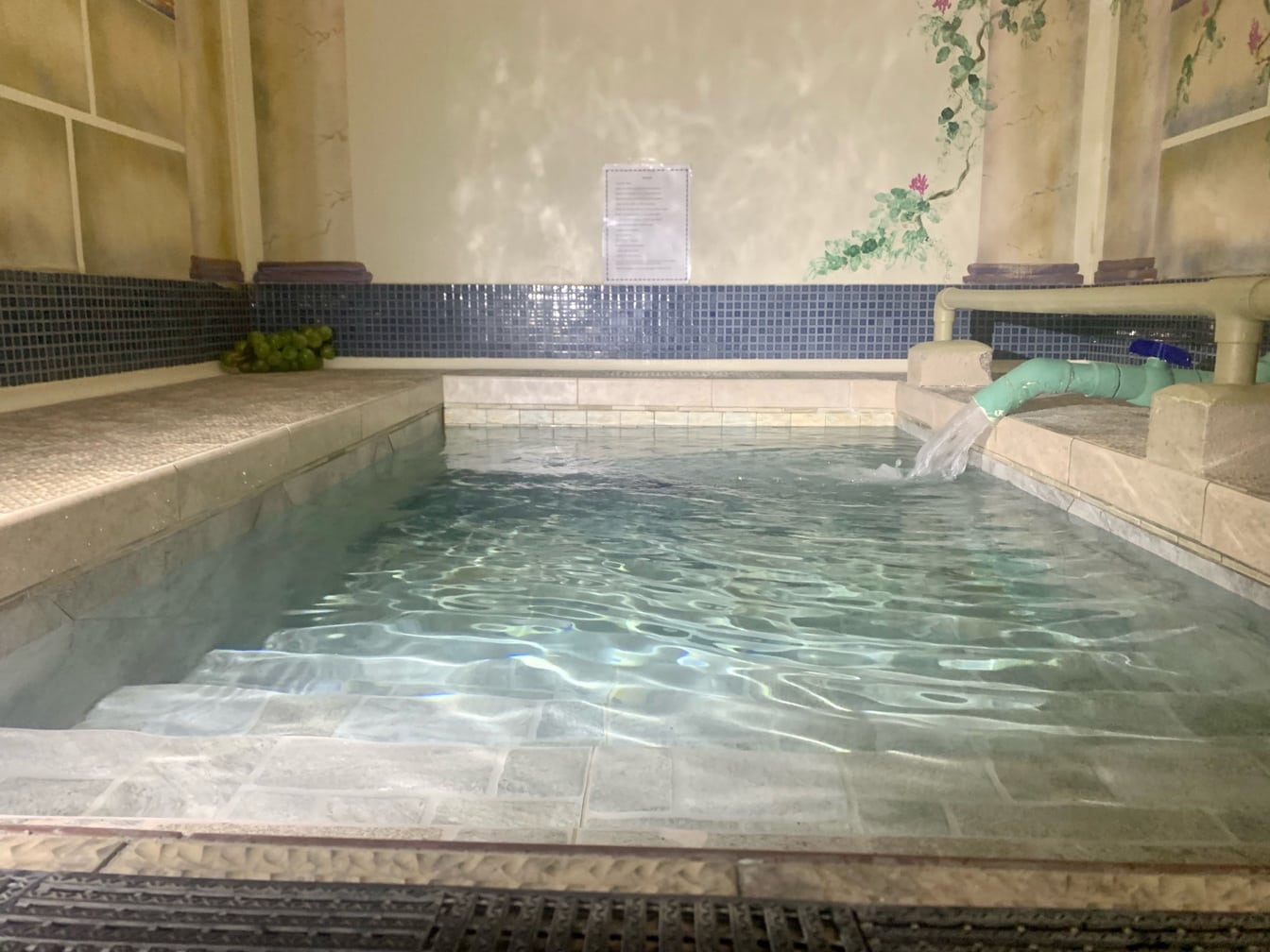 Location: Safford
Type: Developed
Reservations: Yes
A low-key day spa that's a bit of a hideaway, Kachina Mineral Springs offers several indoor tubs where you can soak either with reservations or as a walk-in. The simple, pared down decor skips the outsider art feel of the other local springs, and focuses more on utility than charm.
Still, this budget-savvy destination holds onto a sense of 1960s desert kitsch that is hard to resist. The massage/soak combos are particularly beloved by locals, who praise the spa for its reliability and affordable luxury.
6. Essence of Tranquility Hot Springs
View this post on Instagram
Location: Safford
Type: Developed
Reservations: Yes
If you're craving more quirk with your hot water, head over to Essence of Tranquility. You'll find an array of public and private soaking tubs that can be rented for day use. Camping, cabins for rent and spa services are also offered.
Clothing is required in public areas, and each tub has a themed decoration that seems to have a logic of its own, making for an overall oddball charm. The place isn't spotless or luxurious, but its eccentricities and the hot water itself are the real stars here.
Each tub has its temperature clearly marked, ranging from 98 to 105 degrees, and there are plenty of resting areas where you can relax from your soak and marvel at Mt. Graham in the distance. Like so many hot springs, this is a weird bird of a place, and the more special for it.
Related read: 9 Rad Camping Spots Near Saguaro National Park, Arizona
7. El Dorado Hot Springs
View this post on Instagram
Location: Tonopah
Type: Developed
Reservations: Yes
Need something even more eccentric? Head to Tonopah. El Dorado springs are privately owned, rustically developed set of pools out in the desert that are set in their ways.
For the public pools, nudity is mandatory, and peacocks, chickens and pigs have been known to wander through the grounds. This is a spring that you will either leave swearing a lifetime allegiance to, or never visit again.
It promises a variety of tubs under the desert sky, and the joie de vivre of a relaxed desert-punk lifestyle. Not to be missed (at least once). Private tubs are offered for day or hourly use. Accommodations for camping and RVs, as well as rooms, are also available.
8. Castle Hot Springs
View this post on Instagram
Location: Morristown
Type: Developed
Reservations: Yes
Most of us aren't ever going to get to soak in the beautiful Castle Hot Springs. Access is limited to overnight guests only, and the luxury resort's rates are out of range for a lot of folks.
That being said, if you do ever end up as a guest of the resort, you will have access to three incredible tubs set into a rock face in the desert, creating a breathtaking oasis. Ranging in temps from 98 to 105 degrees, each tub is large enough for multiple swimmers, and offers crystal clear water.
The resort's rates include all meals, and a range of activities including pickle ball and in-room Scrabble. No pets allowed, and swimsuits are mandatory. This place is a true marvel, and because it is privately maintained, it's pristine. Enjoy a soak-of-a-lifetime in these artfully developed pools.
Related read: 15 Best Resorts in Arizona for an Epic Desert Retreat
9. Ringbolt (Arizona) Hot Springs
View this post on Instagram
Location: White Hills
Type: Undeveloped
Reservations: No
Note: This trail is closed during the peak of the hot season, usually mid May through September.
A small wonder of the world (and free), these springs just south of Hoover Dam in Lake Mead National Park are a hiker's delight. A 5.8-mile loop trail takes you through slot canyons to views of the Colorado River, and also have you clambering over small waterfalls.
This can be a difficult hike, especially with how much is on gravel that can be extra tiring. Be sure to bring water and snacks, and plan your day accordingly. The popularity of these springs has made for more trash in the area, so be sure to bring waterproof shoes to protect your feet while in the spring.
If you come from the Colorado River side of the loop (White Rock Canyon Trail), you will have to climb a 20-foot ladder that can be slippery, but it is manageable. You can avoid the ladder by approaching from the Hot Spring Canyon Trail side and doubling back instead of completing the full loop.
Either path will take you to the four pools that make up this glorious spring, nestled right in the slot canyon. Each pool has a different temp, and as you find the one that is just right, you can revel at the rose and gold colors of the stone around you and the noise of the water trickling down into the lower tubs.
A hearty day out, and one you will never forget. Accessible also by kayak from Hoover Dam or Willow Beach. Camping available nearby on the Colorado River.
Explore Arizona
Get epic travel ideas delivered to your inbox with Weekend Wanderer, our newsletter inspiring thousands of readers every week.
Was this article helpful?
---