We research, evaluate and select travel destinations based on a number of factors, including our writers' experience, user reviews and more. We may earn a commission when you book or purchase through our links. See our editorial policy to learn more.
Was this article helpful?
---
When visiting the Red River Gorge, there's no need to choose between luxurious accommodations and the craggy canyons that have put "The Red" on the map — you can have the best of both worlds.
The Red River Gorge Geological Area boasts an abundance of striking rock formations and outdoor activities, making it a popular place for nature lovers and adventure junkies. From exciting rock climbing opportunities, zip-lining spots, and canoeing routes — you name it, and it's possible. However, of all the things to do, making time for local hikes like Lover's Leap, the Natural Bridge, and Fat Man's Misery is highly recommended.
The Red River Gorge can be found about two hours south of Lexington within the Daniel Boone National Forest. And while its claim to fame is its scenic wonder, the region also boasts classic cabin stays that make it easy to disconnect in the great outdoors. And for those seeking a bit more out of their visit, there are many fabulous red river gorge cabins with hot tubs scattered around the region.
Plan an escape to where the national forest meets rolling mountains with one of the best cabin rentals with hot tubs in the Red River Gorge.
Related Read: 9 Delightful Weekend Road Trips From Columbus, Ohio
1. Cozy Canopy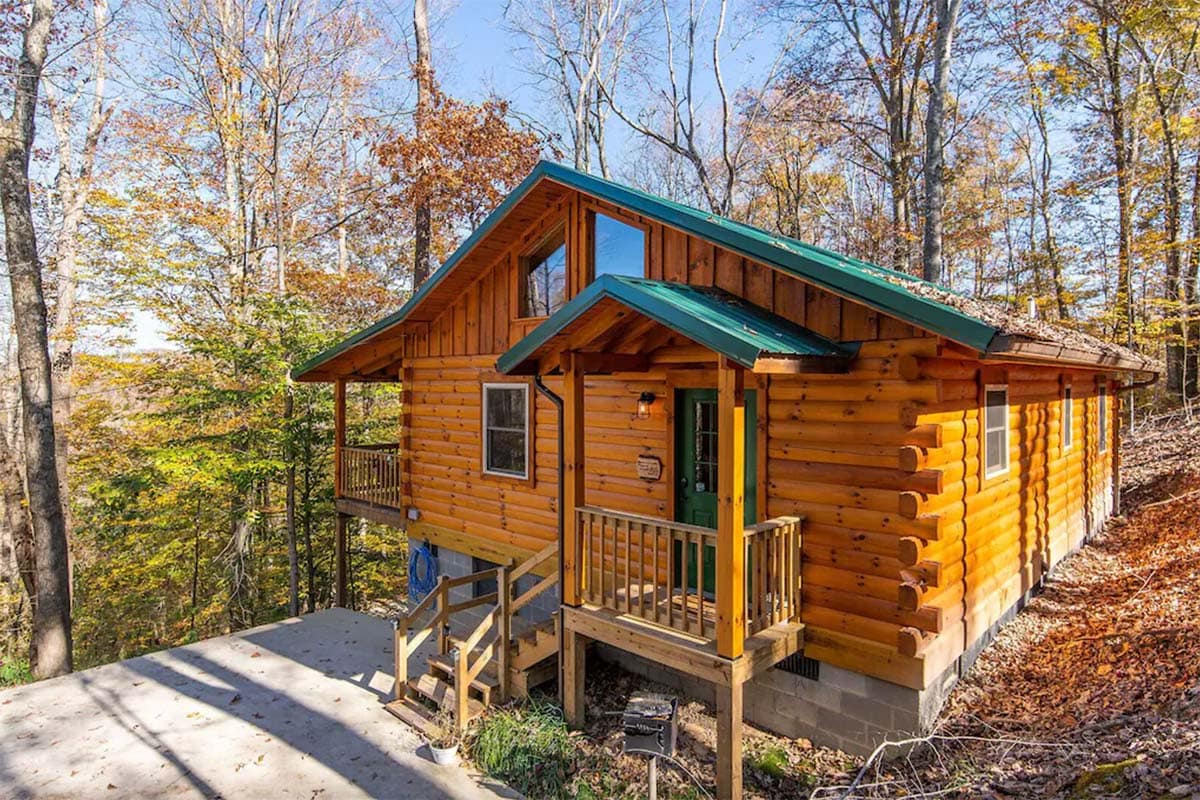 Why you should stay: A secluded log cabin in the woods less than a mile from Natural Bridge State Park.
Location: Slade
Sleeps: 5
Minimum stay: 1-2 nights
Rates start from: $146/night
The mountains are calling at the Cozy Canopy, a wooden cabin perched amongst the rolling hills of the Red River Gorge. The driveway to reach the house is quite steep, and a vehicle with four-wheel drive is recommended for a smooth arrival. However, you're rewarded with tranquility in the woods once you're there.
The cabin's interior is best described as simple yet homey, allowing the gleaming wooden surfaces to shine without competition. The hosts have equipped this two-bedroom cabin with popular board games for wholesome family fun. You'll also find a dining table, a charcoal grill, and a glorious, circular hot tub on the covered deck.
Check Availability
Follow 'em: @StayOverCabins
2. The Porch Place
Why you should stay: A family-friendly cabin on an expansive property ideal for large groups.
Location: Rogers
Sleeps: 10
Minimum stay: 2 nights
Rates start from: $350/night
The Porch Place is a beautiful cabin known for its sparkling clean interior and prime locale near the region's top attractions. It features three separate bedrooms, a lofted sleeping space, and a pull-out bed in the basement. However, the star of the house is arguably the spacious wraparound deck that's furnished with idyllic rocking chairs and a bright blue swinging bench.
A sprawling grassy yard surrounds the cabin and provides the perfect place for all to play, whether with the exciting lawn games or the wooden jungle gym for the kids. But the six-person hot tub is where you can ultimately enjoy some R&R any time of day.
Check Availability
Follow 'em: @RedRiverRoostCabinRentals
3. Honeysuckle Bridge Cabin
Why you should stay: A modern cabin with a circular hot tub nestled next to an epic natural sandstone arch.
Location: Campton
Sleeps: 12
Minimum stay: 1-2 nights
Rates start from: $399/night
Relish VIP access to one of the Red River Gorge's most incredible attractions at the Honeysuckle Bridge Cabin. Situated on five acres, cabin dwellers who stay here can marvel at the property's natural sandstone bridge via a short walk. The cabin's outdoor spaces are also sure to impress and include a small concrete patio with a fire table and a stone-laid fire circle with Adirondack chairs.
Inside, this modern cabin exudes an airy atmosphere thanks to its exposed rafters and vaulted ceilings. The neutral tones and wooden elements that fill the space are perfectly complemented by the expansive windows and open floor plan of the ground level. There are four bedrooms to accommodate larger groups, one of which is a custom bunk room perfect for the kiddos. The screened-in porch provides another cozy place to spend time and features the same towering walls as the living room.
Check Availability
Related Read: 7 Hocking Hills Cabins with Hot Tubs for a Revitalizing Getaway
4. Sweet Williams Ridge Cabin
Why you should stay: A rustic cabin with an upscale interior and plenty of deck space.
Location: Rogers
Sleeps: 8
Minimum stay: 2-3 nights
Rates start from: $158/night
Escape it all at the Sweet Williams Ridge Cabin, a spacious home with resort-style amenities that include the likes of a movie room, wet bar, and a hot tub. There are three bedrooms at this Rogers cabin, one of which is a lofted sleeping space that sleeps five. The hosts understand how important it is to start your morning off right and have also set up a well-stocked coffee corner with all the essentials.
In the evening, spend time in the basement, where a fireplace and game table offers a whale of a time. A bubbling hot tub and two plush swing chairs out on the spacious deck give you options for where to kick back and relax. And it wouldn't be a trip to the cabin without nightly s'mores around the firepit.
Check Availability
Related Read: 9 Beautiful Cabin Rentals Near Cincinnati, Ohio
5. Big Boulder Lodge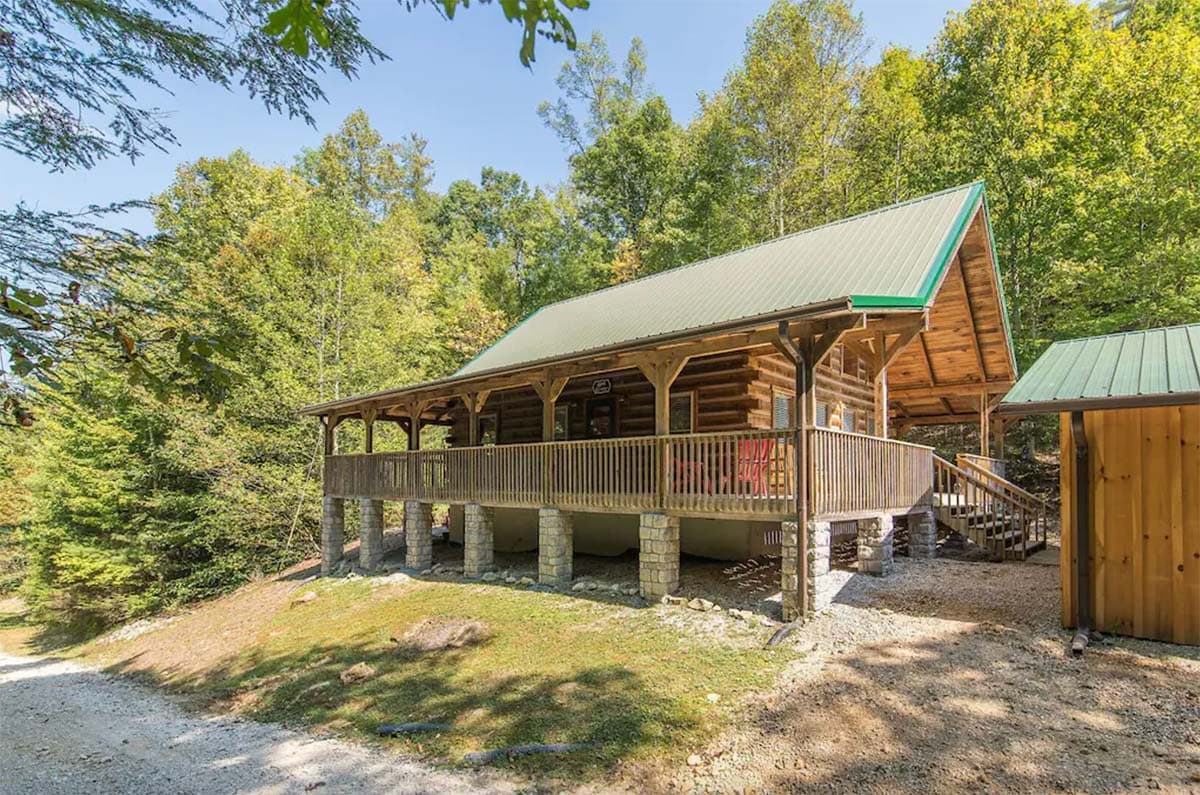 Why you should stay: A secluded Red River Gorge cabin on an impressive 150 acres of wilderness.
Location: Campton
Sleeps: 10
Minimum stay: 1-2 night
Rates start from: $231/night
At the Big Boulder Lodge, taking in the sights and sounds of the natural landscapes is the biggest draw to this three-bedroom cabin. With a fabulous wraparound deck furnished with a hot tub, plenty of seating, and four, count em', four hanging hammocks, there's a spot for everyone. Plus, the beauty of the Red River Gorge can be reached within ten minutes by car.
The interior of the lodge is just as incredible and boasts chalet-style windows and intentionally rustic elements like corrugated tin ceilings and log-cabin-style paneling. The loft acts as a second living room and is furnished with a plush sofa and a flatscreen TV, as well as a partitioned bed. This cabin is part of the Creekview property, a cabin rental compound in the Red River Gorge area, and is within walking distance to the hosts' other units.
Check Availability
Related Read: 8 Gorgeous Places to Go Glamping in Kentucky
6. Dreamscape
Why you should stay: A modern cabin built in 2020 that's set into a private hillside.
Location: Rogers
Sleeps: 6
Minimum stay: 1-2 nights
Rates start from: $215/night
Guests staying at the Dreamscape enjoy new amenities in a wonderfully wooded area. Cheerful pops of red are hallmarks of the exterior and interior of the cabin and are artfully accented by rough wooden surfaces and an abundance of natural light.
From the elevated, covered deck, take in idyllic views of the surrounding woods. A staircase connected to the deck leads to the gravel bonfire area. The firepit features a swivel grill grate for those who enjoy cooking over open flames, and there's also a gas grill for a more traditional cookout. For your stay, the hosts stock the home with a convenient "starter pack" that includes home basics to help you kick off your visit.
Guest Allison recommends, "The property is just gorgeous, and the trails are definitely worth the time. Make sure to head up to granddaddy falls! The walk along the river at the end is beautiful."
Check Availability
Related Read: 12 Incredible Weekend Road Trips From Cincinnati, Ohio
7. Pilot Point
Why you should stay: A private dog-friendly cabin on a secluded lot near the region's best hiking.
Location: Stanton
Sleeps: 7
Minimum stay: 1 night
Rates start from: $119/night
Pilot Point is a quaint two-bedroom log cabin with a sunny yellow front door and a bubbling hot tub. Although the house has recently been updated with modern conveniences, it maintains a bit of its original rustic charm through the wooden walls and exposed beams. The interior also features a flatscreen T.V. and board games that'll keep your family happily entertained.
Around three sides of the cabin, a covered deck equipped with a hot tub, grill, and ample seating is one of the best places to unwind after a long day of outdoor adventure. In classic cabin fashion, there's also a fire pit in the yard with outdoor chairs for your group.
Check Availability
Related Read: 9 Incredible Kentucky Treehouses For a Southern Getaway
8. Sleepy Bear's Dream
Why you should stay: A lakeside log cabin with a hot tub located 25 minutes from the Red River Gorge.
Location: Beattyville
Sleeps: 6
Minimum stay: 2 nights
Rates start from: $315/night
The Sleepy Bear's Dream is a fantastic log cabin overlooking a small seven-acre lake. It's located outside the central Red River Gorge area, away from the crowds, and provides a convenient home base for those seeking to relish the beauty of both land and water. The hosts even have an electric trolling boat available for rent to ensure your lake getaway is the best it can be.
When you're not sitting lakeside on the dock, take in the stunning view from any one of the home's numerous balconies, one for each bedroom and the living room. This cabin hosts numerous other exciting amenities that include, of course, a relaxing hot tub, a pool table, and a treadmill. The Natural Bridge State Park is about 10 miles away from the property.
Check Availability
Explore More
Get epic travel ideas delivered to your inbox with Weekend Wanderer, our newsletter inspiring more than 10,000 readers every week.
Was this article helpful?
---