We research, evaluate and select travel destinations based on a number of factors, including our writers' experience, user reviews and more. We may earn a commission when you book or purchase through our links. See our editorial policy to learn more.
Was this article helpful?
---
Cincinnati is a growing-in-popularity Midwest city on the Ohio-Kentucky border, offering an amazing food scene, lots of cultural appeal and a rich history.
However, visiting the Queen City, with its plenteous local breweries, German-inspired cuisine and major sports teams, doesn't necessarily mean you'll need to stay in bustling downtown to enjoy everything on offer. You can rent a cabin just a short distance outside the city to experience a mix of both urban fun and the quiet Ohio countryside.
Intrigued? Here are nine cabin rentals near Cincinnati, where you can chill out in peace, enjoy some wide open spaces and take the entire family and not need to book multiple hotel rooms.
Related Read: 7 Hocking Hills Cabins with Hot Tubs for a Revitalizing Getaway
1. The Rebecca Behm Antique Log Cabin
Why you should stay: Historic appeal on 40 secluded acres.
Sleeps: 6
Minimum Stay: 2 nights
Rates from: $170/night
The Rebecca Behm Antique Log Cabin is a steal. Where else are you going to find historic accommodations close to the city with space enough for six travelers, at a better price? Come back to us when you've found it.
Named after the wife of the original owner from the 1860s, the cabin sits on a dead-end road on 40 acres. Even with its historic exterior, though, the interior has been outfitted with all the modern amenities you need for an enjoyable stay, such as modern kitchen appliances and a walk-in tiled shower.
Still, a lot of the furnishings are antique or reclaimed, so the modern amenities don't detract from the historic vibe. There are two fireplaces, one inside and one outside. In addition to being close to Cincinnati, you're also close to lots of state parks for extra hiking fun.
Check Availability
Related Read: 9 Exciting Weekend Road Trips From Cleveland, Ohio
2. Branch Hill Cabin
Why you should stay: Log cabin luxury on a gated estate.
Sleeps: 15
Minimum Stay: 1 night
Rates from: $709/night
Branch Hill Cabin takes the cabin experience and gives it a big, luxury upgrade. Sure, the exterior of this rental looks a little like a woodsy rustic retreat, but step inside and you'll find sleek, fashionable, ranch-style accommodations you'll never want to leave.
A huge stone fireplace offers the perfect setting for cozying up on one of the leather couches. A marble-accented kitchen with new appliances makes cooking for the family a breeze. Large restrooms (one with a jacuzzi) make getting ready while on vacation easier than ever. A hot tub, multiple porches, a fire ring and the gated access are just the icing on the cabin cake.
Check Availability
Related Read: 9 Gorgeous & Secluded Cabin Rentals in Kentucky
3. Amish-Built Cabin
Why you should stay: Rural charm with a beautiful pond on the property.
Sleeps: 5
Minimum Stay: 2 nights
Rates from: $185/night
Ohio boasts a large Amish population and, if you know the Amish, you know that they have a way with wood — including when it comes to cabins. This Amish-built cabin offers a comfy, well-built spot to stay the night as you explore the surrounding region, no matter how near you stay or how far you go.
If you do stay close by, though, you'll find an 80-acre farm and pond with a private dock. Even closer to home, if you stay at the cabin, you'll enjoy snuggling by the roaring fireplace in the living room, sitting in the Adirondack chairs and making s'mores by the fire ring outside, and taking in the sunset views over the hills from the large covered porch.
Check Availability
Related Read: 12 Incredible Weekend Road Trips From Cincinnati, Ohio
4. Hopewell Croft
Why you should stay: Surprises (good ones!) at every turn.
Sleeps: 10
Minimum Stay: 2 nights
Rates from: $194/night
Hopewell Croft sits in South Ohio near Amish country, but also within easy driving distance of the city. The cabin offers a ton of space for large groups, including wide-open social areas, both inside and outside. Beyond this, though, there are a lot of special surprises waiting on the property.
Inside, a hidden treehouse loft makes for a cozy and private place to stay off the second floor. Look closely and you'll see that a cedar tree supports the second floor loft and cedar stairs. Outside, a meditation labyrinth awaits, as do walking trails and a stream.
Check Availability
Related Read: 8 Relaxing Cabin Rentals in Ohio's Amish Country
5. Cabin on the Ridge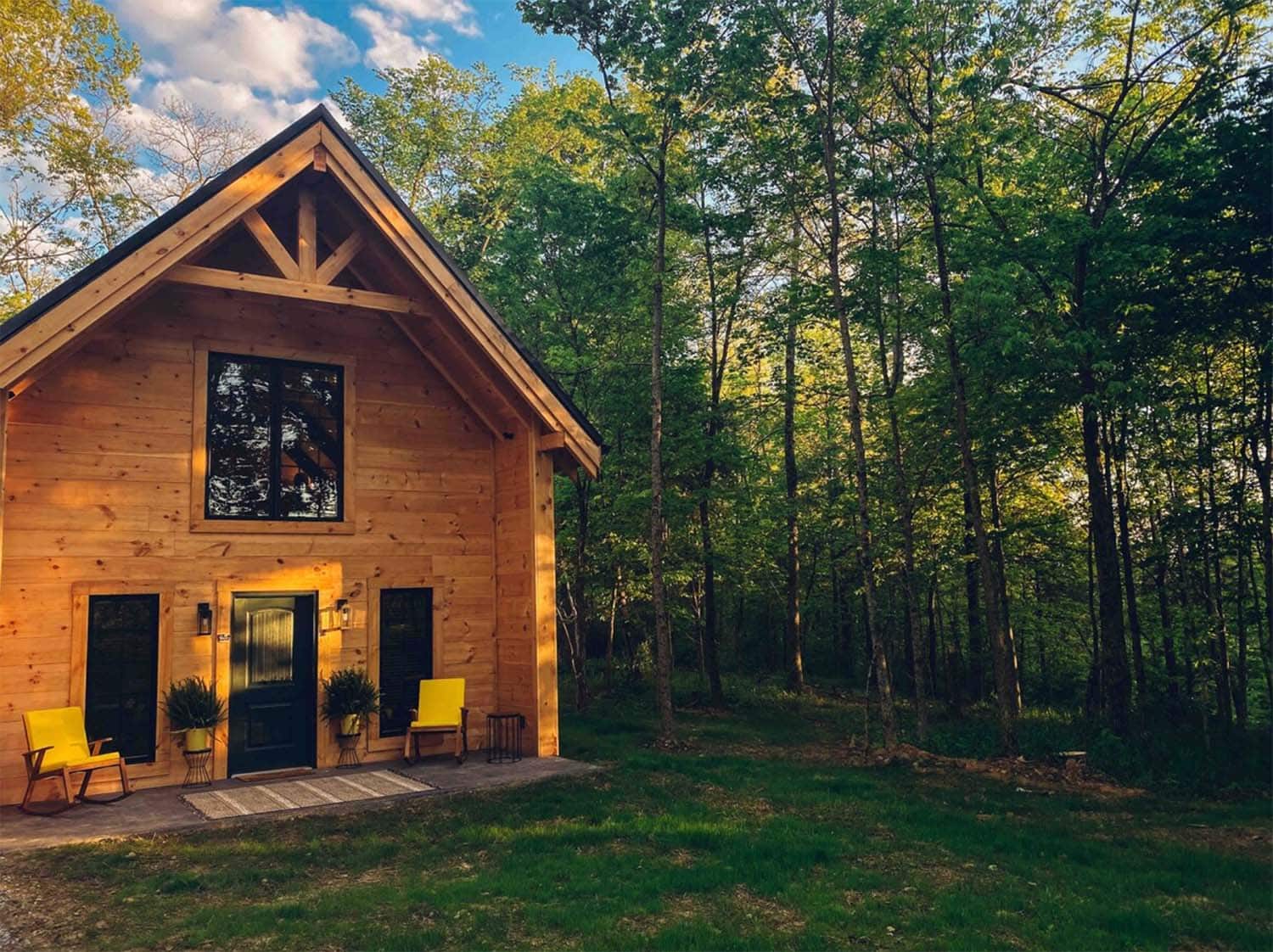 Why you should stay: Modern decor with just room enough for two.
Sleeps: 2
Minimum Stay: 1 night
Rates from: $104/night
If you'd rather stay in a smaller, cozier cabin, check out the Cabin on the Ridge, which is just big enough for two, making it ideal for a romantic getaway. In addition to being close to Cincinnati, this property also puts you within even easier reach of Madison, Indiana, which has been called the prettiest small town in the Midwest. Even if you don't want to enjoy the shopping and dining there, though, you can find outdoor adventure at adjacent state parks, as well as the charm of Amish country nearby.
But, if you don't want to leave the property, you'll still have a nice (and possibly romantic) time sitting out on the patio, taking in the stars, or cuddling on the couch and watching the gas fireplace. Maybe you and your sweetie will also enjoy cooking up breakfast for two in the small kitchen with its large views of the outside, or sipping on a cup of coffee on the second-floor balcony, off the bedroom.
Check Availability
Related Read: 9 Delightful Weekend Road Trips From Columbus, Ohio
6. Kentucky Climbers Cottage
Why you should stay: An as-seen-on-TV treehouse experience.
Sleeps: 5
Minimum Stay: 2 nights
Rates from: $275/night
The Kentucky Climbers Cottage sits across the river from Cincinnati, in Kentucky, but it's well worth the short drive to stay in this unique property featured previously on Animal Planet's TreeHouse Masters. Proudly off the grid, this treehouse-style cottage is accessed via a long drive.
Once inside, you'll find soaring ceilings, hammock-style seating and a big back deck overlooking the woods. The treehouse is located in a "village" on 200 acres that includes three other treehouses, which you can rent out as well.
The property offers more than 10 miles of hiking trails, all of which are themed around certain experiences; one, for example, features a tree canopy climbing course, while another features an abandoned 1800s log cabin.
Check Availability
Related Read: 9 Incredible Kentucky Treehouses For a Southern Getaway
7. The Log Cabin Lodge
Why you should stay: Big space, big views!
Sleeps: 12
Minimum Stay: 1 night
Rates from: $600/night
The Log Cabin Lodge is truly spectacular for one big reason: the views. This sprawling log cabin is big enough to hold the entire family and then some, and it sits up on a ridge where it overlooks miles of the Ohio River.
If you can take your eyes away from the view — which isn't easy, considering all of the deck space and big windows that this cabin features — you'll find that the cabin also offers a mammoth stone fireplace, walk-in showers, a big open-air kitchen, game room and more.
With a true log cabin vibe, it's a great getaway for those seeking a family vacation getaway with rustic style. When you're ready to leave the large abode, you're just a short drive away from top regional attractions, such as a life-size recreation of Noah's Ark.
Check Availability
Related Read: 16 Surprisingly Free Things to Do in Cleveland, Ohio
8. The Nature Spa House
Why you should stay: Near-endless and unique amenities.
Sleeps: 10
Minimum Stay: 3 nights
Rates from: $448/night
The Nature Spa House is a mishmash of interesting geometric architectural features, plus cool amenities that you'll really be hard-pressed to find in many other regional rentals. Think a huge covered pool, library, a gigantic walk-in closet, wet room, home gym, large game room, sauna, hot tub and more. Outside, you have hiking opportunities and a fire pit by the fishing pond. Some parts of the space are upgraded and mid-century modern, while other parts are a little vintage-y, but still on theme.
Once you're ready to explore further, you'll find that downtown Cincinnati is only a 30-minute drive away, though other attractions closer include state parks and a music center. The airport is also within a half-hour drive.
Check Availability
Related Read: 7 Unique Places to Stay in Kentucky
9. Three Pines Historic Log Cabin
Why you should stay: A classic log cabin loaded with 19th century charm.
Sleeps: 7
Minimum Stay: 2 nights
Rates from: $275/night
Three Pines Historic Log Cabin offers a truly unique historic space. The logs were hewn in the 1790s by a Revolutionary War veteran. In the 1800s, the cabin was both a tavern and an inn. Today, it offers three floors of modern amenities, including a modern add-on.
The home still features its original entertaining space, gathered around a large fireplace. With the surrounding trees and pond cutting you off from the rest of the world, you'll feel secluded and relaxed, even though you're not that far from civilization at all. Many state parks are within a quick driving distance, as are multiple shopping options and, of course, Cincinnati. Keep your eyes peeled for the resident wildlife and take full advantage of the cabin's wood delivery service, so you can build a cozy fire in the main room.
Check Availability
Explore More
Get epic travel ideas delivered to your inbox with Weekend Wanderer, our newsletter inspiring more than 10,000 readers every week.
Was this article helpful?
---