Thanks to the abundance of public property around Moab, there are plenty of places where you can rest your head at night without having to pay for campground fees.
Moab is a major hub for outdoor activities in the Southwestern United Sates. The town thrives on seasonal tourism, with "Moab Season" typically starting around spring break — when all the college kids come out to do every activity they can possibly fit into one week.
With Moab becoming a more popular destination for rock climbing, canyoneering, mountain biking, and river sports, it can be hard to dodge the crowds. That is, unless you know how to escape the crowds in prime free camping spots.
Best Dispersed Camping Near Moab – Our Top Picks!
These under-the-radar dispersed camping areas are far-removed from the noise and light pollution of the city, affording more peace and quiet and stellar stargazing opportunities at night. There's no charge to pitch your tent or park your RV, though keep in mind that these are primitive camping sites with no drinking water, toilets, or other amenities.
If that sounds like your cup of tea and you're willing to follow the Leave No Trace principles, check out one of these five dispersed camping areas near Moab.
Related read: 21 Outdoorsy Things To Do Near Moab
1. Sunshine Slabs
Why you should camp here: Experience desert solitude on the most Northern edge of Arches National Park, where you can nuzzle up to a cliff face that offers great climbing and enjoy hiking in the valley below.
Reservations accepted: No
Best seasons: Year-round
Campsite type: Tents, RVs, car camping
RV hookups: No
Sunshine Slabs is technically part of the most northern section of Arches National Park, and there's no clear line designating BLM land and National Park land on the ground.
This area is about 45-60 minutes north of Moab. Once you approach the cliff face, there are a few campsites off the road. These are pretty big sites with plenty of room for large groups.
This land is treated like BLM land, so while there are semi-designated campsites that have appeared over the years, treat this as dispersed camping.
Sunshine Slabs is a wonderful area to camp if you are a climber. The name comes from the slabby cliff face by the campsites. There are sport, mixed, and trad routes all along this face.
For a little adventure climbing, you can climb up the first cliff and work your way up to another secret world of climbing. That said, I only suggest doing this if you are a very experienced and competent trad climber!
If you're visiting Moab to climb hard desert towers in other areas, coming back to camp and climbing some easy/fun slab routes after dinner or on a rest day is a wonderful way to get the most out of your desert stay.
Getting There:
From US 191 heading South, look for a dirt road on your left between mile markers 152 and 153, just north of the Canyonlands airport.
After a small bridge, turn right and follow the road. The road becomes less maintained in spots, so a 4WD vehicle is best. Use extra caution after heavy rain.
Take another right at a T-junction. This is the last turn before reaching the Sunshine wall. There are campsite pull-offs to the left along the base of the slabby wall.
On your way to the campsites you'll go through BLM land that's heavily used for cattle ranching. Watch for cows on the road!
Sunshine Slabs is one of my favorite campsites in Moab because of how isolated it feels. Between dodging cows on the road and hearing crazy cow sounds in the middle of the night, camping here is always a good time.
Be sure to bring enough water for cooking and drinking, and WagBags to carry out human waste. Since Sunshine Slabs is farther from town than established campgrounds with fees, you don't need to worry about driving all the way out to the sites to find they're all taken. I've camped here for years and have only ever seen a few other parties.
Related Read: 8 Cozy Cabin Rentals Near Moab, Utah
2. Tusher Canyon
View this post on Instagram
Why you should camp here: North of Moab, enjoy an exciting drive to this canyon campsite where you'll find excellent hiking, mountain biking, rock climbing, and even Jeep trail routes.
Reservations accepted: No
Best seasons: Summer, fall
Campsite type: Tents, car camping
RV hookups: No
Tusher Canyon is another tucked-away spot north of Moab that's popular for mountain biking, off-roading, and rock climbing. The climbing here is definitely in the realm of "adventure climbing," and is all trad.
Camping in Tusher Canyon is free, though it's not largely established and should be treated like dispersed camping. Please follow the standard Leave No Trace principles to preserve the area for other campers.
Getting There:
From US 191 heading South, Mill Canyon Road will be on your right (left if you're coming from town). Mill Canyon Road is about 13 miles north of Moab.
Cross the tracks until you reach a Y-intersection, then take a right onto BLM 343.
You'll come to another Y-intersection. From here, follow the signs to Merrimac Jeep Trail. This road will dump you into a wash.
The wash is the end of the road. You can camp here along a pull-off earlier in the road, or you can hike in a little bit and camp. If you do decide to camp in the wash area, don't take up the whole area as others might come and want to use the trails.
Tusher Canyon is deep in the desert and the landscape allows for some incredible views away from town.
Related read: 10 Adventurous Campervan Rentals in Salt Lake City, Utah
3. La Sal National Forest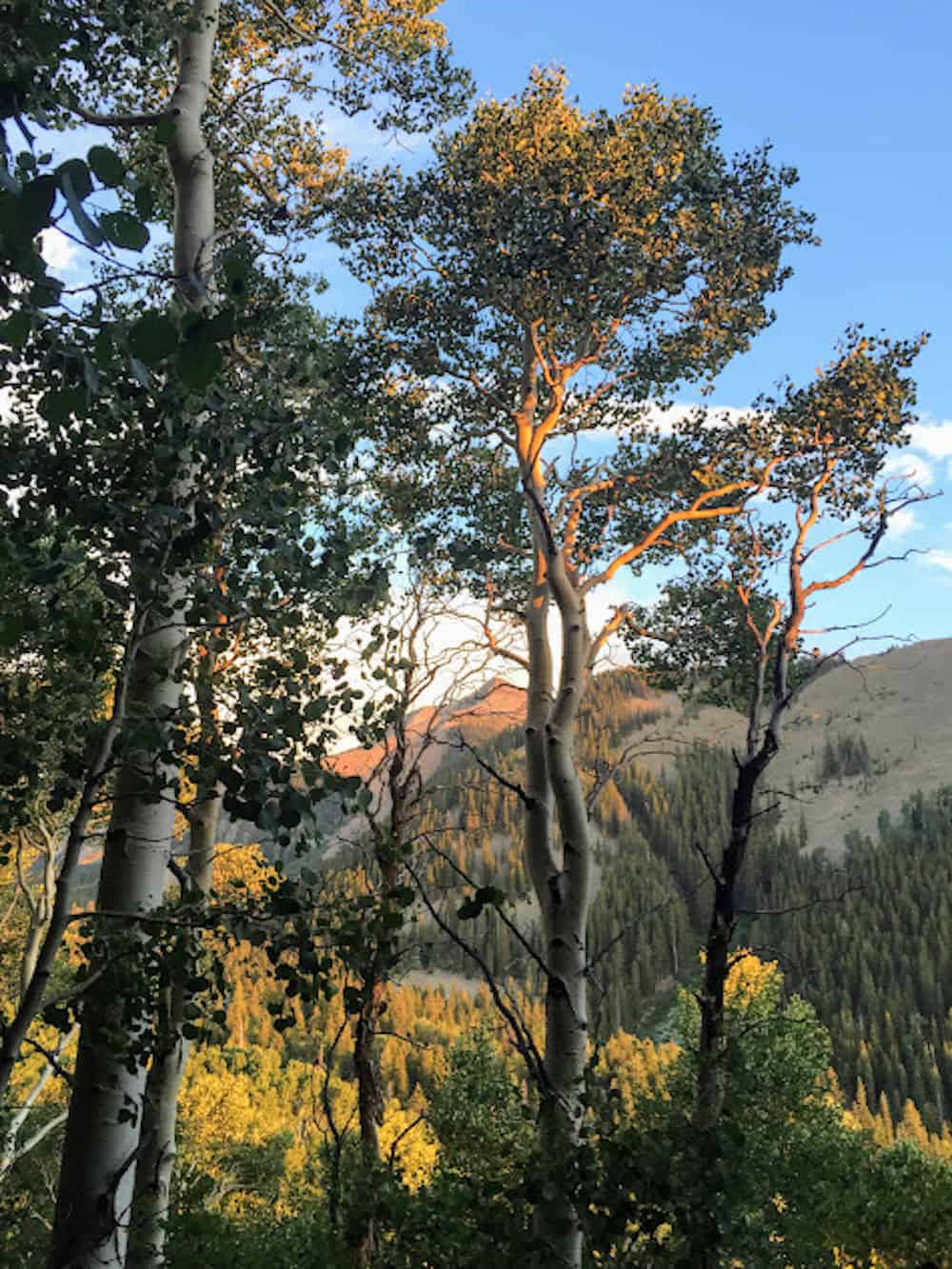 Why you should camp here: Get a different perspective of this Desert landscape in the La Sal mountain range.
Reservations accepted: No
Best seasons: Spring, summer, fall
Campsite type: Tents, hammocks, RVs, car camping
RV hookups: No
The La Sal Mountain Range overlooks the Moab desert, delivering amazing views and cooler temperatures that make it a great summer campground. The mountains offer a contrasting perspective of the Moab area, featuring more alpine terrain as you climb in altitude.
Getting There:
Drive south out of Moab on US 191. Turn onto the La Sal Mountain Loop Road that begins in Spanish Valley.
Follow this road into National Forest land. After about 15-20 miles, you'll begin to see pull offs and campsite.
Camping along the La Sal Mountain Loop Road is a great opportunity to explore the La Sals. Getting back to Moab only takes about 30-45 minutes, so it's easy to spend the day in the lower desert or restock supplies in town and come back to camp at night.
After 60 miles, La Sal Mountain Loop Road eventually circles back to Castle Valley and all the way to the Colorado River and HWY 128 east of Moab.
Related Read: 6 Epic Glamping Destinations Near Moab, Utah
4. Castle Valley
Why you should camp here: Find yourself among some of Moab's most iconic views in Castle Valley.
Reservations accepted: No
Best seasons: Spring, summer, fall
Campsite type: Tents, car camping
RV hookups: No
Castle Valley is home to some of the most iconic sandstone towers known to climbers. Castleton Tower and the surrounding towers are where climbing desert towers began.
If you are not a climber, don't worry — there are trails throughout Castle Valley BLM land, including trails that go up to the towers. These trails are strenuous, but absolutely worth the trek.
With a short drive out of your campsite, you can get back on HWY 128 East and jump over to the Fisher Towers area. You'll find established (paid) camping at Fisher Towers as well.
The Fisher Towers Trail is one of my favorite hikes in the area. Climbing the Fisher Towers is just as classic as the Castle Valley Towers, with summits such as Ancient Art and The Titan.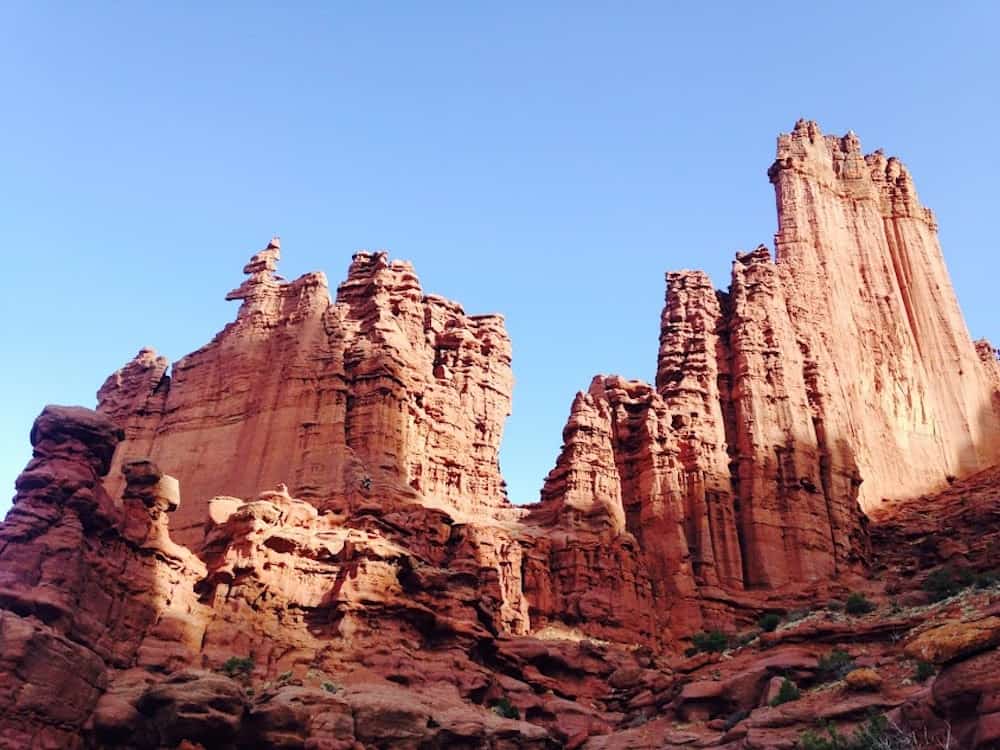 Getting There:
From Moab, head north on US 191.
Turn east on HWY 128/River Road, and follow the road for a while.
You will see a sign for Castle Valley and Castle Valley Road. Turn on this road, then drive about 4.5 miles south. You will see some obvious campsites.
Note that you can also reach Castle Valley by the La Sal Mountain Loop Road from the south.
Depending on the time of year, Castle Valley doesn't see too many people. Climbers typically won't be out here during the hot Summer months but will flock to the area in Spring and Fall.
There aren't any facilities at these campsites, and all waste needs to be packed out. Since this spot is 45-60 minutes away from town and without shade, it's vital to bring enough water.
5. Willow Springs Trail
Why you should camp here: Stay close to town with views sweeping views into Arches
National Park.
Reservations accepted: No
Best seasons: Year-round
Campsite type: Tents, RVs, car camping
RV hookups: No
Willow Springs is on BLM land, and is only about 15-20 minutes away from Moab. This area is widely known because there are dozens of campsites scattered along the road that are able to fit anything from a big RV to tents.
Like the Sunshine Slabs area, Willow Springs Trail borders Arches National Park. Willow Springs lies just west of the middle of Arches, so you'll get the full view of the spires and hoodoos from camp.
If you want to venture into the national park, the road that goes into the park from the campsites is a rough four miles. You can only hike, bike, or ride a 4×4 to get into the main park area using the off-road trail.
Getting There:
From Moab, go north on US 191.
Turn east on BLM 378/Willow Springs Road.
Willow Springs is no secret so it can get crowded during peak seasons.
There are no designated campsites, but the land has been flattened out over the years. To avoid further damage, stay in the areas that have already been used, instead of spreading the devastation. There are no facilities here and packing out waste is required.
While it might be crowded, Willow Springs is one of the closest and most easily accessed free camping sites. The view is nothing to complain about, either.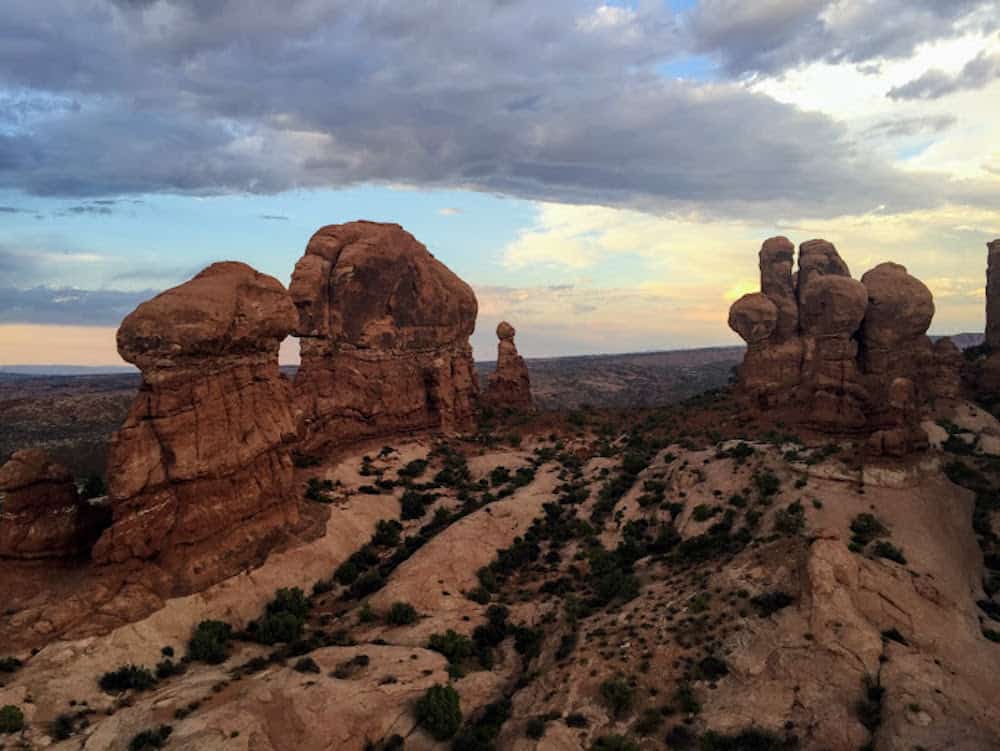 A Word On Dispersed Camping Etiquette
Much of the land surrounding Moab is public, with the majority of those public lands falling under the umbrella of the Bureau of Land Management. BLM land in Moab is utilized to its full potential, usually by ranchers, farmers, and recreationists.
Dogs are also allowed on BLM land! Just be sure to pick up after them and bring enough food/water for them.
As nice as free camping can be for your wallet, it comes with a few sacrifices and a lot more responsibility.
All dispersed camping in Moab's BLM land requires solid human waste to be packed out. All garbage needs to be packed out of these areas, and you must bring your own water (enough for cooking and drinking).
For all the water you'll need, you can go to a gear store in Moab called GearHeads to fill (and refill) your water jugs for free!
Leave No Trace ethics are a little different in the desert due to its sensitive ecosystem. To learn more about how to Leave No Trace in the desert, read through this helpful article on Desert Considerations for Minimum Impact.
Keep in mind that there are maintained campgrounds managed by the BLM that are NOT free, so if you are planning on staying on BLM land, make sure it's not a campsite that you have to pay for. The campgrounds will be well-marked if you have to pay, and they usually have more amenities such as fire rings, grills, and toilets.
Things To Do In Moab
Moab is a great destination for any trip for any activity. Using Moab as a home-base, you can visit Arches National Park, Canyonlands National Park, and La Sal National Forest.
The section of the Colorado River that flows through Moab is fairly easy-going, perfect for paddle boarding, kayaking, and canoeing.
With the money you'll save from camping for free, don't be afraid to spend a little dough on rental gear, guided trips, entrance into the National Parks, and good food. It's always great to give back to the amazing community that continues to provide access to these special areas.
When you're ready to hit the trails and start exploring, check out our helpful guides to the best hikes near Moab and Arches National Park hikes.
Plan Your Trip
Sign up for our free email to join thousands of readers getting epic travel, hiking, camping and gear ideas every week.
Was this article helpful?
---