We research, evaluate and select travel destinations based on a number of factors, including our writers' experience, user reviews and more. We may earn a commission when you book or purchase through our links. See our editorial policy to learn more.
---
The Pacific Crest Trail has become an iconic American long-distance backpacking route that captures the adventurous spirits of thousands of thru-hikers every year who dream of traversing the country by foot.
Most thru-hikers never make it end-to-end in a single attempt, and there are plenty of avid backpackers who cannot commit to the time and endurance training required to complete an entire thru-hike.
That's why many adventurous folks opt to traverse the Pacific Crest Trail one piece at a time. Section-hikers tackle lengths of the PCT on weekend backpacking trips and week-long wilderness excursions.
Some attempt to see each and every part of the trail over the course of many years, like putting together the pieces of a puzzle. Others venture out to experience the highlights, the best that the trail has to offer.
Thru-hikers may get all of the glory from outdoor magazines and gear brand spotlights, but section hikers deserve their fair share of admiration as well. Have you ever read Wild by Cheryl Strayed? She was a section hiker. Her adventure spawned a bestselling book and blockbuster movie.
Let that be the inspiration to go out and find your own story to tell. I attempted a thru-hike of the Pacific Crest Trail in 2015 and missed a few hundred miles due to injury, but I returned and was able to complete the entire trail over the next few summers.
You can read about the PCT thru-hike I embarked upon with my wife in my book, Adventure and The Pacific Crest Trail.
To help folks who don't have the time and means to conquer the entire PCT in one epic thru-hike, I've put together my recommendations for the top 5 Pacific Crest Trail section hikes to complete in Oregon and Washington.
These are more than weekend warriors can accomplish between the bookends of their workday grind, but each section on this list can be broken up into smaller segments if needed, especially the Oregon hikes where numerous roadways intersect the trail.
First, Prepare Yourself
I use Guthook's Guides every time I venture out onto the PCT. It's an incredibly detailed app that monitors your GPS location and provides invaluable info on towns, water sources, viewpoints, exit routes, and countless other data points created by professional hikers and updated by community comments.
In preparation for any long PCT hike, I also recommend planning your route using Craig's PCT Planner. This website let's you enter in your intended waypoints, hiking speed, and layover expectations to build a comprehensive schedule for your hike. See what elevation changes lie ahead, and let the algorithms figure out exactly how long it's going to take you to get from point A to point B.
Now, get ready, gear up, and have some fun Pacific Northwest adventures on the Pacific Crest Trail!
Related Read: Here's Why Leave No Trace Principles are So Damn Important
The Top 5 PCT Section Hikes in Oregon and Washington
1. Shelter Cove Resort to Elk Lake Resort
Distance: 46 miles
Elevation Gain: 3,501 feet
Let's start with the shortest and least-difficult hike on our list. This section of the PCT is easily accessible from both ends, is a relatively flat hike, and is conveniently placed between two lovely lakeside resorts.
Starting at Shelter Cove Resort, you'll cross a log bridge and meander upstream where Highway 58 and Willamette Pass Ski Resort reside. This area serves as an alternative parking area to the resort and can be another jump-off point for the trail.
Here's where you'll be leaving civilization behind as you ascend toward Oregon's popular Rosary Lakes. There may be quite a few hikers on these first few miles of trail seeking the swimming and fishing opportunities that these wonderful lakes provide.
Beyond the lakes lies Maiden Peak and its corresponding backcountry ski shelter. You can spend the night in this hidden cabin with its woodfire stove and picnic area, though you'll likely be sharing it with others.
From here the crowds will thin out as you delve deeper into the Cascade Range. Numerous lakes can be seen on both sides of the trail throughout this entire hike as you wander your way through both burnt and lushly vibrant forests.
Croaking frogs, windswept wildflowers, and camp robbing gray jays will be your ever-present companions during your adventure. Those gray jays are pretty darn cute, but don't leave your food unattended!
On the approach to Elk Lake, you'll find a scenic view of South Sister, Broken Top, and Mount Bachelor. The sound of boat motors and children playing at the lake below will ease you out of your wilderness mindset, growing louder as you make your way down toward the resort. Don't feel too bad for leaving the forest behind, though, as juicy burgers and fresh salads await at the restaurant below!
Related Read: 11 Best Hikes in the Alpine Lakes Wilderness
2. Elk Lake Resort to Timberline Lodge
Distance: 145 miles
Elevation Gain: 14,715 feet
Continuing where we left off, this next section is a doozy. Oregon is considered the "flat" state in the eyes of PCT thru-hikers, but that's essentially referring to everything south of Elk Lake. It's not the most intense hike on this list, but it isn't the easiest either.
The sights here are astounding. You'll first skirt pass the base of South Sister, sopping up the beautiful mountain for miles as you make your way around its mass. Then the trail drops you right into the middle of the Obsidian Limited Entry Area. Permits are required to enter this special place, so make sure to check with a local ranger station before you embark upon your journey.
Boulders and flakes of volcanically formed obsidian blanket the area. You'll find the shiny black rock everywhere, including as the background to wispy waterfalls and the base of churning streams. It's simply magical.
Soon, as you continue to walk, the obsidian disappears and you suddenly find yourself surrounded by porous volcanic rock.
The gritty, sole-scratching rock goes on for miles as far as the eye can see. You'll have to climb over mountains of it and walk for hours before finding the refuge of dirt and grass once more upon reaching Santiam Pass. If lava rock doesn't sound like your jam, skip everything we just mentioned and park your car here on your hike up to Timberline Lodge.
Resupply at the pass by catching a ride down the highway to the cute mountain town of Sisters or its big brother, Bend.
Once you return to the trail, the climbing truly begins with Three Fingered Jack standing in your way. Keep an eye out for mountain goats as you walk around this oddly named mountain.
Next up is Mount Jefferson, which tends to take people by surprise. This large mountain stands out much more drastically here on the trail than it does where most people can see it from the interstate highway. You'll climb up a good deal of its height until you reach a forested plateau called Jefferson Park. I don't want to spoil this spot for you, but I will say that it is one of my favorite locations on the entire PCT. You'll want to spend a night here.
All that now stands in the way from your destination and an endless brunch buffet is Oregon's own Mount Hood. Don't miss the slightly off-trail spectacle of Little Crater Lake before you begin your mountain ascent, because once you start climbing there's no turning back.
Mount Hood is a slippery, sandy beast to ascend. It's not a dangerous hike, but it will be exhausting. Good thing Timberline Lodge is right next to the trail at the top of your climb — you're going to want a drink when you're done!
From the lodge, you'll be able to catch an awe-inspiring vista of all the Cascade peaks you just left behind in your wake. They're all there, and all easily seen on a clear day from the timberline of Mount Hood.
Related Read: 12 Best Mount Hood Hikes for Breathtaking Oregon Views
3. Crater Lake to Ashland (Callahan's Lodge)
Distance: 103 miles
Elevation Gain: 7,556 feet
This is a special section to me because it was a part of what I missed out on during my initial thru-hike of the PCT. Excessive snowfall, raging wildfires, and my own inner-dialogue and fear kept me from completing this portion of the trail. It took me several more years to complete this section, but it was worth the return trips.
This is a great week-long hike that will help you rediscover who you are. For this purpose, I recommend starting at Crater Lake and walking south until you hit Callahan's Lodge just outside of Ashland.
The trail is easy to navigate, though your mind may begin to wander through the long stretches of green tunnel where no grand views are to be found. That's not to say this hike is lacking in views — far from it, in fact — but there are definitely some claustrophobic stretches between them.
It should be pretty easy to get a friend to drop you off at Crater Lake National Park. The lake is a sight that every person should wish to behold at some point in their lifetime. Take in the area for all it's worth, spend a night or two in the park with your crew, then head out onto the trail and find your way back to civilization.
That's the magic of this hike. You're dropped off in the middle of the forest with only the trail to help guide you back home. I want to leave much of this section a mystery so that you can discover it with your own eyes, ears, nose, and all of your senses.
There are grand mountains to see, and even some glimpses of the desert out east. After several days in the woods you'll ever so slowly begin to sense the hustle and bustle of the real world once again over the last 40 miles.
In the end, you'll end up on the shoulders of the interstate ready to slide right back into your life once more. Perhaps, though, you'll see things a little differently from here on out.
Related Read: The 17 Best Hikes in Crater Lake National Park, Oregon
4. Trout Lake to White Pass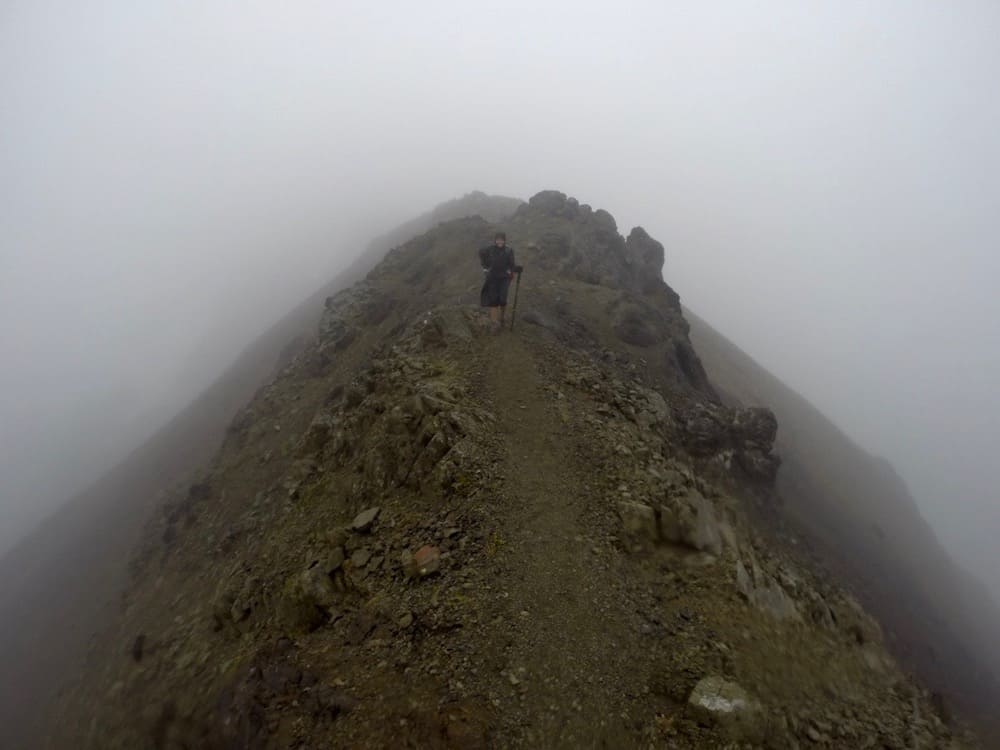 Distance: 66 miles
Elevation Gain: 8,452 feet
Between these two points resides what is arguably the most beautiful landscape to be found on the entire Pacific Crest Trail. It is also, arguably, the scariest section of trail to traverse along the PCT's entire length.
Enjoy your first day leaving Trout Lake full on supplies and good spirits as you traipse through the forests near Washington's perennially snow-capped Mount Adams. This beautiful stretch of trail showcases the wet and wild Washington wilderness you've come to expect from the Pacific Northwest.
As you walk away from Mount Adams and into the Goat Rocks Wilderness, though, your world begins to change. Upwards you'll hike toward the clouds in the sky to where you'll soon find yourself sliding your feet across a glacier's surface and up shale cliffs that can appear to be both bottomless and topless on foggy days.
And then you'll find yourself staring at the Knife's Edge, a thin strip of ridgeline trail with steep glacial drop-offs on either side. You'll either be tip-toeing over this razor-thin trail in the wind and fog with naught but cloud-encased abyssal depths on either side of you, or you'll be delighted with some of the most spectacular scenery you've ever seen in your life.
That may sound a bit dramatic, but it couldn't be closer to the truth. I, unfortunately, experienced the full extent of Knife's Edge stormy terror on my thru-hike, but most people are lucky enough to experience the sun shining over the monumental glory that is Mount Rainier.
Goat Rocks Wilderness is a stunningly beautiful area. I was able to witness this truth when I descended from the Knife's Edge and finally was able to see a bit of what the area had to offer.
I have yet to return, but I will soon, and I'm going to explore further into this wilderness wonderland to experience the full extent of its beauty. There were some escaped llamas wandering the landscape on my last visit — I wonder if I'll get to see them again.
Related Read: 14 Jaw Dropping Hikes in Mount Rainier National Park
5. Snoqualmie Pass to Stehekin
Distance: 179 miles
Elevation Gain: 30,310 feet
Starting things off the right way, the trail climbs steeply the first miles up to the amazing Kendall Katwalk, a rocky section of trail that has been blasted out of the cliff face that offers stellar views of the Washington Cascades. These first few miles may be heavily trafficked, but you'll be hard-pressed to find a crowded trail at any point north of here.
The views never falter, though, as you continue your journey cresting over the multitude of fog-strewn mountain tops. This is the Pacific Crest Trail, after all — you're in for plenty of ridge walking. When the path does take you down low into the verdant woods you'll come across an array of waterfalls and babbling brooks, many of which are accompanied by rustic wooden bridges which make for easy water crossings.
The ups and downs never cease, though. This is a hard hike. That difficulty rewards bold hikers with unmatched solitude and some of the most incredible scenery the PCT has to offer. You'll travel for miles upon miles with no one but whistling marmots and squeaking pikas to keep you company along this alpine adventure.
Those needing to resupply or opting for a shorter hike can hop out at Steven's Pass and catch a ride to the towns of Skykomish or Leavenworth. I'd urge you to continue further, though, because it only gets better from here.
The Glacier Peak Wilderness resides close to the northern terminus of the Pacific Crest Trail, offering thru-hikers one last chance to experience high-mountain glory before their months-long journey comes to an end. You'll circle around Glacier Peak, tackling incredible highs that showcase the rich landscapes which surround you, and dropping low down to fiercely flowing silt-polluted creeks.
The things you'll see on this hike truly cannot be properly expressed in words. It's a magnificent journey.
A journey that ends at the remote town of Stehekin. There are no roads to Stehekin. You can only get there by foot or by boat. This quaint village has only a smattering of permanent residents, many of whom operate the town's businesses for tourists of Lake Chelan, on the shores of which the town resides.
Home to the most well-regarded bakery on the PCT, Stehekin is a welcoming place where hikers can have all of their needs met. If you choose to bring your backpacking excursion to an end here, there is a lovely 3-hour ferry ride across the lake that will kick off your journey back home. There's no more relaxing way to end such an incredible and grueling hike.
Keep Exploring
Get epic travel ideas delivered to your inbox with Weekend Wanderer, our newsletter inspiring more than 10,000 readers every week.
---