Colorado's Browns Lake trail: wildflowers, solitude, and amazing views.
Colorado's la Poudre Canyon offers residents and travelers in Fort Collins a chance to get out of town in a hurry as it's only about a 30-minute drive from the city. The canyon's Poudre River is perfect for rafting, the cliffs are ideal for climbing and bouldering, and there's no shortage of hiking trails – it seems there's a trailhead, day-use area, or campground within every few miles on Highway 14.
The canyon and various wilderness areas nearby are all part of Roosevelt National Forest, which spans across more than 800,000 acres – that's larger than Rhode Island. There's no end to how much time you could spend exploring the area's many trails.
Browns Lake Trail, also sometimes written as Brown's Lake, and not to be confused with the Brown's Lake in Nathrop, is one of the area's hidden gems. Browns Lake isn't right off the highway like other trails in the area, so there's generally less traffic and more solitude for visitors who do make the trip. The bit of extra driving translates into some amazing views and unique terrain.
Aug. 2020 Update: This trail is currently closed due to fire damage. Check the trail's current status here.
Trail Details: Browns Lake Trail
| Details | Brown's Lake Trail |
| --- | --- |
| Distance | 9.2 miles |
| Difficulty | Moderate |
| Duration | 4 hours |
| Trail Type | Out and back |
| Starting Elevation | 10,480 feet |
| Elevation Gain | 2,070 feet |
| Seasons | Summer, fall |
| ADA Accessibility | None |
| Dogs | Allowed on leash |
| Trail Map | Browns Lake Trail |
| Nearest Amenities | Rustic, CO |
| Directions to Trailhead | Google Maps |
| Parking | Free |
| Road Conditions | CO Trip |
| Attractions | Browns Lake, Timberline Lake, wildflowers |
| Activities | Hiking, backpacking, trail running, fishing, horseback riding |
The Hike
You'll start to feel the elevation gain right from the trailhead. After a long, gradual climb over loose sand and rocks, the trail enters a shaded pine forest. The pines go on for a while, so enjoy it while it lasts – there's no shade once you're above the tree line.
After you pass the sign for the Comanche Peak Wilderness, you'll be approximately 11,000 feet above sea level and the trees will mostly disappear. Here, the scenery really begins to open up, offering views of the Medicine Bow Range to the west. On a clear day, you may be able to see Wyoming's Snowy Range to the north.
After about 1.6 miles, you'll see a Crown Point, a rocky outcropping on the left. There's no well-defined trail to the summit, but people often add the loop onto their hike. It adds approximately 400 feet of elevation gain.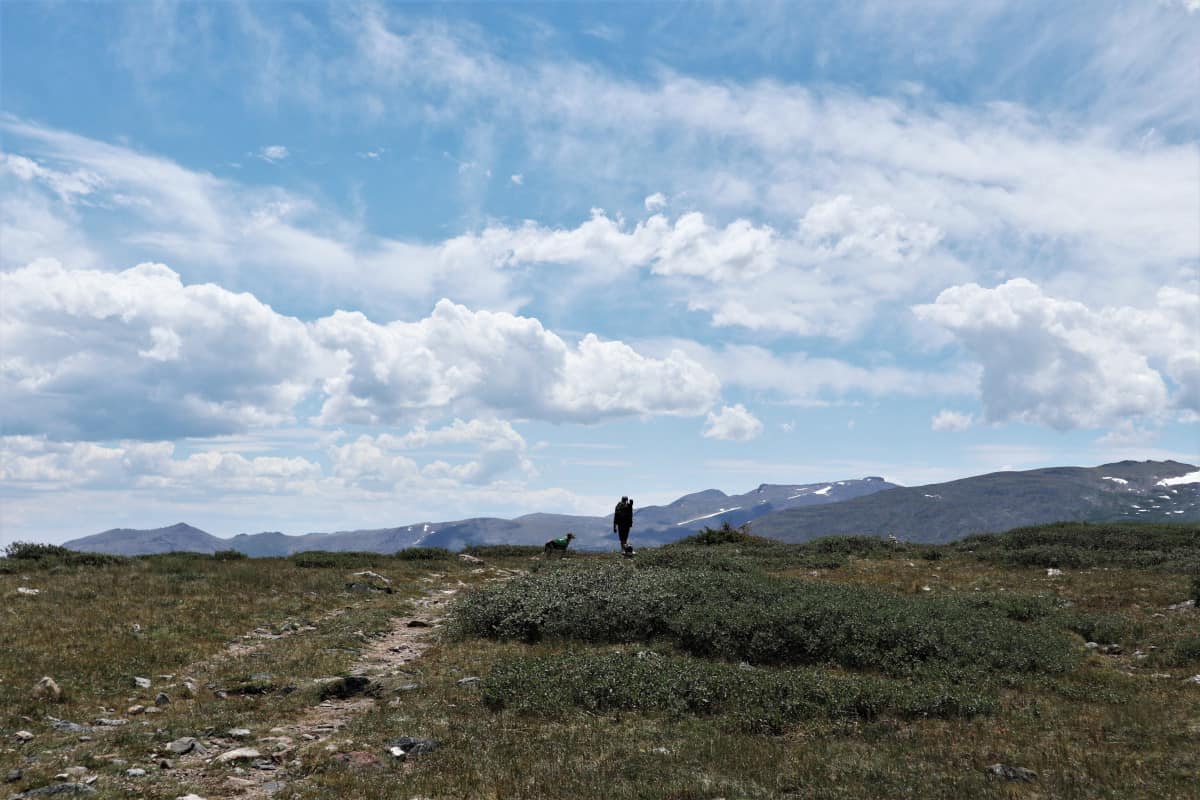 The next section of the hike offers views of Colorado's vast mountain ranges; it's nothing short of stunning. This section of trail is probably the hardest due to the elevation and lack of shade, so water, snacks, and sunscreen are vital here.
Follow the trail up and down the rolling hills until you dip in elevation and enter a lush, wildflower-packed forest.
You'll meander on the trail through the forest for a while, and it's a great part of the trail to slow your pace and take in the beauty. Since this part of Colorado is a dry climate, vibrant, green forests packed with wildflowers are a rare sight – so enjoy it.
At a break in the forest, you'll get your first look at the lake basin down below before a steep downhill section leading to the shore of Browns Lake. Follow the trail to the left through some brush and you'll find its smaller neighbor, Timberline Lake.
When you're ready to go, just backtrack to return to the trailhead.
When to Visit
Due to the higher elevation, snow stays on this trail into mid-June. To hike it in the spring or early summer, consider bringing traction spikes and gaiters to maneuver safely in the snow.
Prime backpacking season is July through Oct. Within this short hiking season, July offers amazing wildflower viewing, late September is ideal for viewing the changing aspen leaves, and October's temperatures help keep the mosquitos at bay.
Directions to Browns Lake Trailhead
The AllTrails directions to the trailhead is a bit off on the mileage, but luckily, it's easy to follow the road signs as there are only two important turns to make.
From Fort Collins, take Highway14 (Poudre Canyon Rd.) headed west. After 32 miles, you'll see a turn off for Pingree Park Rd. Follow the road for approximately 4.2 miles until the road forks; take a right here onto Crown Point Rd. From here, it's a straight shot to the well-marked trailhead.
Crown Point Road is rough in spots, but you will only need a 4WD vehicle if the road is muddy or snowy.
Area Tips and Resources
Know before you go: The trail begins on Roosevelt National Forest land, but then enters the Comanche Peaks Wilderness Area. If you're planning on backpacking, it's important to be aware of possible fire bans in both areas. Wood and charcoal fire bans are common, which means you'll need a backpacking or camping stove
Come prepared: Browns Lake Trail offers shade in some parts of the trail but is very exposed in others. Sun exposure combined with high altitudes means sunscreen is a must. Bring plenty of water or some way to filter and purify water along the way. There are no shops or gas stations after turning onto Highway 14, so be sure to fuel up  with gas and any food or snacks you'll need.
Inclement weather: Colorado's Front Range is known for the daily afternoon thunderstorms in the summer. Even if the forecast calls for sun, you never leave the trailhead without a rain jacket in this state. If lightning rolls in, seek shelter immediately and never assume you can beat the weather
Leave No Trace: Please do your part in protecting Colorado's trails by following Leave No Trace principles. Don't camp within 200 feet of the lake, don't pollute the lakes and creeks along the way, and pack out all trash (and any other trash you see while you're out.) Try to leave it better than you found it. If you're camping at Browns Lake, camp only in designated sites and abide by the "stoves only" restrictions. No campfires are allowed
Connecting trails: Comanche Peaks Wilderness has several trails in the area that cross the Browns Lake Trail. The Flowers Trail is a 29.7-mile trail that crosses Browns Lake Trail. For an epic backcountry adventure, consider adding the Little Beaver Creek Trail, Fish Creek Trail, or Comanche Reservoir Trail to your Browns Lake hike
Roosevelt National Forest dispersed camping: Pingree Park Road and Crown Point Road are very popular for dispersed car and RV camping. Camping here is free and very busy in the summer.
Explore More in Colorado
Sign up for the Weekend Wanderer to join 50,000+ readers getting epic travel, hiking, and camping ideas every month.
---