Awe-inspiring red rock canyons, otherworldly swamps, pristine white sand dunes, lush grottos with emerald green pools…all of that and more can be found in the Lone Star State.
If you want to experience the most beautiful places in Texas, then these are the absolute must-see spots. The outdoorsman, the Insta-queen, and everyone in between will fall in love with these destinations that truly show off just how spectacular Texas' nature is.
You can even make a road trip out of it and check them off your list one after another, or center an entire trip around a single destination – however you decide to do it, prepare to be left awestruck and inspired by nature's splendor.
1. Palo Duro Canyon
Palo Duro Canyon is called the "Grand Canyon of Texas," and a nickname like that comes with some pretty high expectations. No worries though, because the massive canyon, which measures 120 miles long, 20 miles wide, and 800 feet deep, doesn't disappoint in the looks department.
Its rock formations are marked by layers of rich reds, browns, and oranges that are dotted with green brush, creating a gorgeous display that stretches to the horizon. To experience Palo Duro Canyon, you can hike, bike, camp, or glamp in the state park. As you wander about, keep an eye out for hoodoos — those tall rock spires —which add to the landscape's beauty.
Related Read: 10 Best Hikes in San Antonio for Getting Out Into the Sunshine
2. Santa Elena Canyon
Big Bend National Park has plenty of scenic areas to enjoy, but Santa Elena Canyon is arguably its most beautiful. Located in the southwest portion of the park, it also happens to be one of the most accessible places to hike since you can park close to the trailhead and it's only 1.7 miles round trip.
With a curving river flanked by tall canyon walls, it's a can't-miss spot for anyone visiting the national park for the first time. Another great way to enjoy Santa Elena Canyon (if you're up for the adventure) is to go by water on a rafting or canoe trip!
Related Read: The Coolest Hot Springs in Texas for a Relaxing Soak
3. Hamilton Pool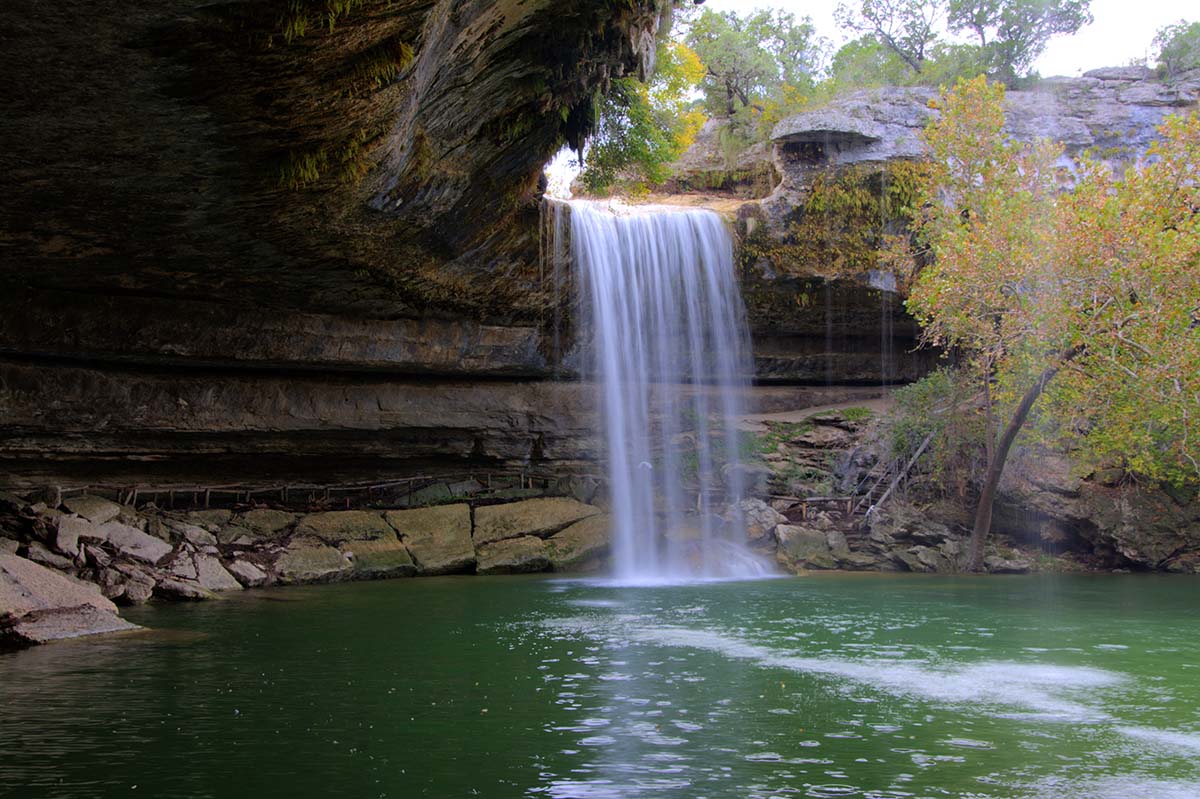 Hamilton Pool looks like it belongs in some enchanted fairy world. Here, a curved limestone rock cliff protrudes over a large pool that's often boasting a brilliant turquoise color. Depending on if it's rained recently, there can also be a waterfall that cascades from above, upping its magical vibes.
The pool was formed when millennia-long erosion collapsed a dome over an underground river, leaving in its place one of Texas' most beloved swimming holes. If you're planning to visit, just be sure to check online whether swimming is allowed because sometimes they close off water access due to high bacteria levels.
Related Read: 10 Best Hikes in Texas for Top-Notch Lone Star State Scenery
4. Monahans Sandhills State Park
At Monahans Sandhills State Park, you have free roam over undulating sand dunes that, in some places, reach up to 50 feet tall. Even if you know that there's a desert in the west part of Texas, it's still pretty surprising to be confronted by such a large swatch of sand dunes amid the region's signature scrub.
While you can explore the area on foot, there's a more fun option: sliding down the hills on a disk, which you can rent at the visitor's center. Since there are no marked trails in the area, just be mindful of where you're going so you can easily find your way back.
Related Read: The 11 Best Places to See Bluebonnets in Texas
5. Jacob's Well
From far away, Jacob's Well could look like your average spring or watering hole, but come closer and you'll see what makes it so special and famous around the world. A 12-foot-wide hole in Cypress Creek, Jacob's Well is actually the second-largest fully submerged cave in the state, and from above you can only get a glimpse of how far its dark depths go.
The spring reaches 140 feet deep, and it can be a real mind trip to jump into the hole knowing there's a mysterious, extensive, and, frankly, dangerous cave network below you. Swimming is only allowed from May to September, and reservations are required. If you're up for it, this is a swim you'll never forget.
Related Read: 15 Best Texas Water Parks to Cool Down & Get Wild
6. Gorman Falls
Many people travel to Colorado Bend State Park specifically to see Gorman Falls, a 70-foot waterfall surrounded by stunning greenery. To go there, take the Gorman Falls Trail, which is 1.5 miles each way. It's a pretty moderate hike but can become more difficult when you get closer to the falls and things get steeper and more slippery, so be sure to wear the right shoes.
If you're coming during the hotter months of the year, you'll want to put on ample amounts of sunscreen, pack lots of water, and maybe even wear a hat since most of the trail isn't shaded and the Texas heat (and sun) is infamous.
Related Read: 8 Captivating Texas Waterfalls You Absolutely Need to See
7. Caddo Lake State Park
Swamps too often get a bad rap, but one visit to Caddo Lake State Park is all you need to see how beautiful they truly are. At this park in East Texas, moss-covered bald cypress trees rise right out of the water. Since there is so much water, the best way to immerse yourself in the maze-like bayou is to go canoeing or kayaking.
Once on the water, enjoy the area's many paddling trails – there are more than 50 in the area! When you hear "swamp," you might think "alligator," and yes, the animals can be found in the park. The habitat is their home after all, and not yours, so brush up on your alligator safety and you shouldn't have any trouble. Or, choose a guided tour to go out with a professional who knows what to do.
Related Read: 11 Best Texas State Parks for Escaping into Nature
8. Longhorn Cavern
Texas has lots of caves worth visiting, but one of the best is Longhorn Cavern in the Hill Country. To access the cave, you'll need to book a spot on a guided tour – prices and times vary throughout the season. Many people would say that the most beautiful section of the whole cave is the Hall of Marble, where the curved rock formations look buttery smooth.
Though stunning and unique, it's important to resist the urge to touch! It's totally forbidden to touch anything in the cave since that can damage the formations.
Related Read: The 8 Best Rivers to Float in Texas
9. The Cave Without a Name
Another beautiful cave in Texas is The Cave Without a Name  — and yes, that's its official name. Like with Longhorn Cavern, you'll need to enter with a guided tour, which take place numerous times each day. While on the tour, you'll make your way through six different formation rooms, each of which is dazzling in its own way.
There's also a very special way to experience The Cave Without a Name: attending a concert in its Throne Room. Live music plus awesome acoustics (and a truly unique background) make for one unforgettable night out!
Related Read: 10 Cool Caves in Texas for Exploring Underground
10. Enchanted Rock State Natural Area
Enchanted Rock isn't like your average mountain. Rising to 1,825 feet above sea level and spreading across 640 acres, the mountain is actually domed, creating an awesome hiking experience as you head up its smooth slope. The state park actually compares climbing the rock to climbing the stairs of a 30 or 40-story building, so prepare yourself for a leg workout!
Not only is the pink granite mountain beautiful itself, but the sweeping views of the Hill Country when you reach the top are excellent. The park regularly hosts star parties too, in case you want to appreciate the views at night.
Related Read: 10 Beautiful Texas Hill Country State Parks You Need to Visit
11. Medina River
It's hard to choose just one river to include on this list, but the 120-mile-long Medina River is definitely up there in terms of its scenery. West of San Antonio, the narrow river is loved for its crystal-clear water and the bald cypress trees that sprout up from its banks.
You can float it, kayak it, and canoe it, and the Medina River Company is a good place to rent all the equipment you might need. However, there needs to be sufficient rainfall to get the water levels to where they need to be for recreation of that sort, so it's a smart idea to check in advance what the situation is like, so you're not left disappointed.
Related Read: 9 Best Texas Scenic Drives for Enjoying the Lone Star State Countryside
12. Padre Island National Seashore
Down in southern Texas, the Padre Island National Seashore is about 70 miles long, making it the longest stretch of undeveloped barrier island not just in the country, but in the entire world. If you have a high-clearance, 4WD vehicle, you can even drive right down the beach toward its more remote areas.
If you don't have the right kind of vehicle, a long walk along the coast is still gorgeous and fun. Another thing the Padre Island National Seashore is famous for is being the nesting place for the endangered Kemp's ridley sea turtle. In the summer, the park releases turtle hatchlings, and sometimes these events are public, offering you the chance to watch these cute little guys (they're the smallest sea turtle species in the world) slowly waddle their way into the sea.
Explore More in Texas
Get epic travel ideas delivered to your inbox with Weekend Wanderer, our newsletter inspiring thousands of readers every week.
---