Experience the wild, wide-ranging beauty of Texas through its best state parks.
Despite prevailing stereotypes of Texas as some giant piece of empty, flat, lonely desert, the state actually has a lot going for it in the nature department. Yeah, you can find stretches of desert that are frankly quite beautiful, but you can also find large swatches of dense forest, strips of white sandy beaches, lush hill country, mythical-looking swamps, and even rugged mountain ranges.
One way to experience this wonderful breadth of Texan landscapes is to visit its beautiful state parks. There are more than 80 of them in total — no two are alike, except for the fact that each offers tons of fun adventures for those whose happy place is the outdoors. In no particular order, here are some of the best state parks in Texas to add to your travel bucket list.
1. Palo Duro Canyon State Park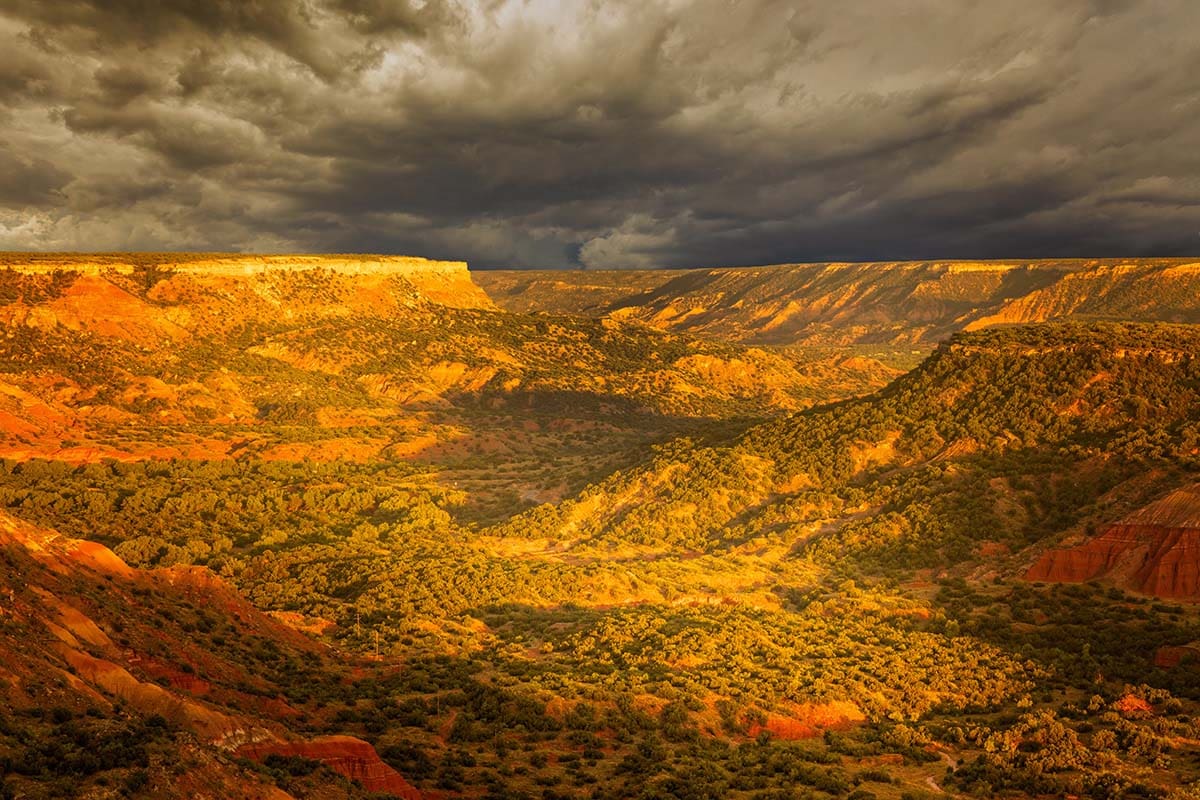 Why you should go: See the second largest canyon in the U.S. for yourself.
Nearest town: Canyon
Camping: Yes, 121 sites
We all know that Arizona has the Grand Canyon, but not everyone knows that Texas has Palo Duro Canyon. This is the second-largest canyon in America at 120 miles long, 20 miles wide, and reaching up to 800 feet in depth. At Palo Duro Canyon State Park, you can experience the natural wonder from down low and up high along the over 30 miles of trails, taking you through rock formations striped in rich shades of orange, red, and brown.
When you need a rest from all that hiking, mountain biking, and horseback riding, you can catch a showing of the family-friendly TEXAS Outdoor Musical, which takes place at the park's Pioneer Amphitheater and has been running for over 50 seasons.
Related Read: 13 Awesome Things to Do in Lubbock, Texas
2. Pedernales Falls State Park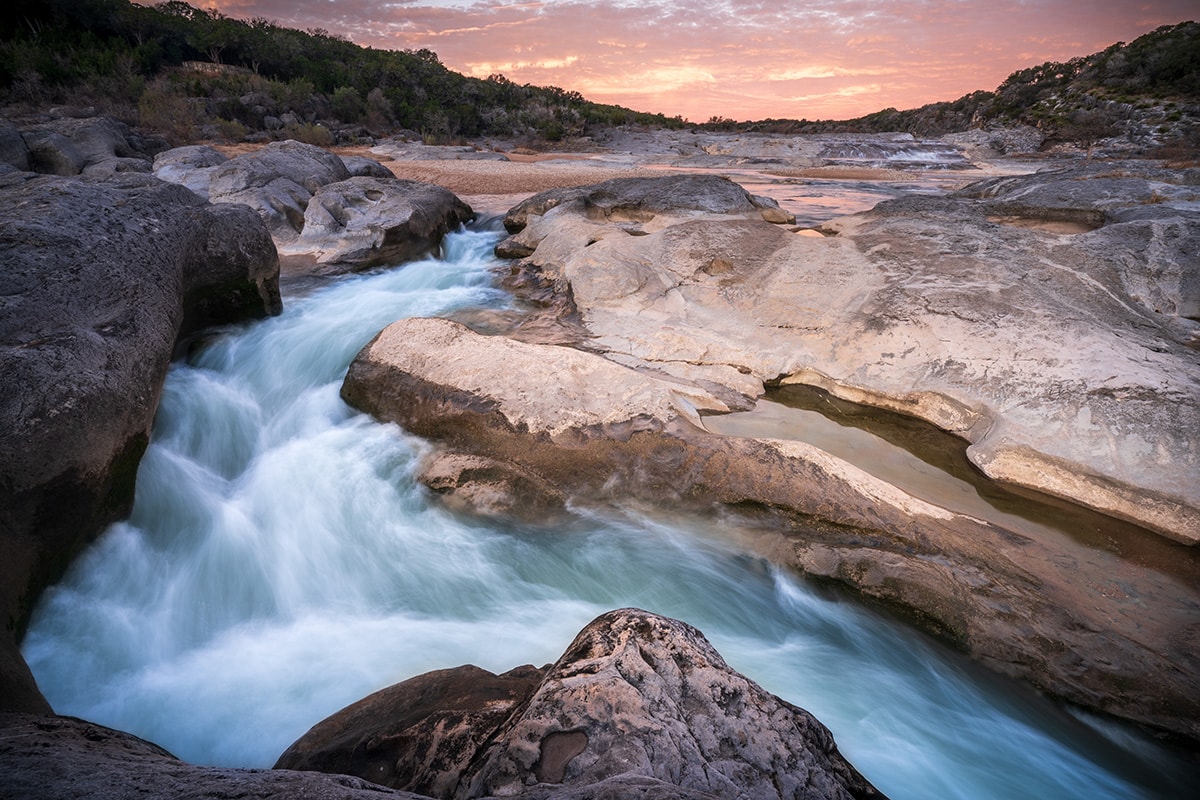 Why you should go: The impressive geology here is truly a sight to behold.
Nearest town: Johnson City
Camping: Yes, 69 sites
Many people come to Pedernales Falls State Park for one particular thing: the falls the park is named after. Rather than the towering types of waterfalls you might be imagining, the falls here are a long, wide stretch in the Pedernales River where water flows over large limestone slabs, giving off some real "Land Before Time," dinosaur-age vibes.
Viewing and hiking around the falls are far from the only thing to occupy your time at this state park though. There are other trails to explore, including a 10-mile one perfect for mountain bikers, spots for tubing, canoeing, and kayaking, and rugged stretches for horseback riding.
Related Read: 12 Beautiful Places in Texas Perfect for an Outdoor Adventure
3. Garner State Park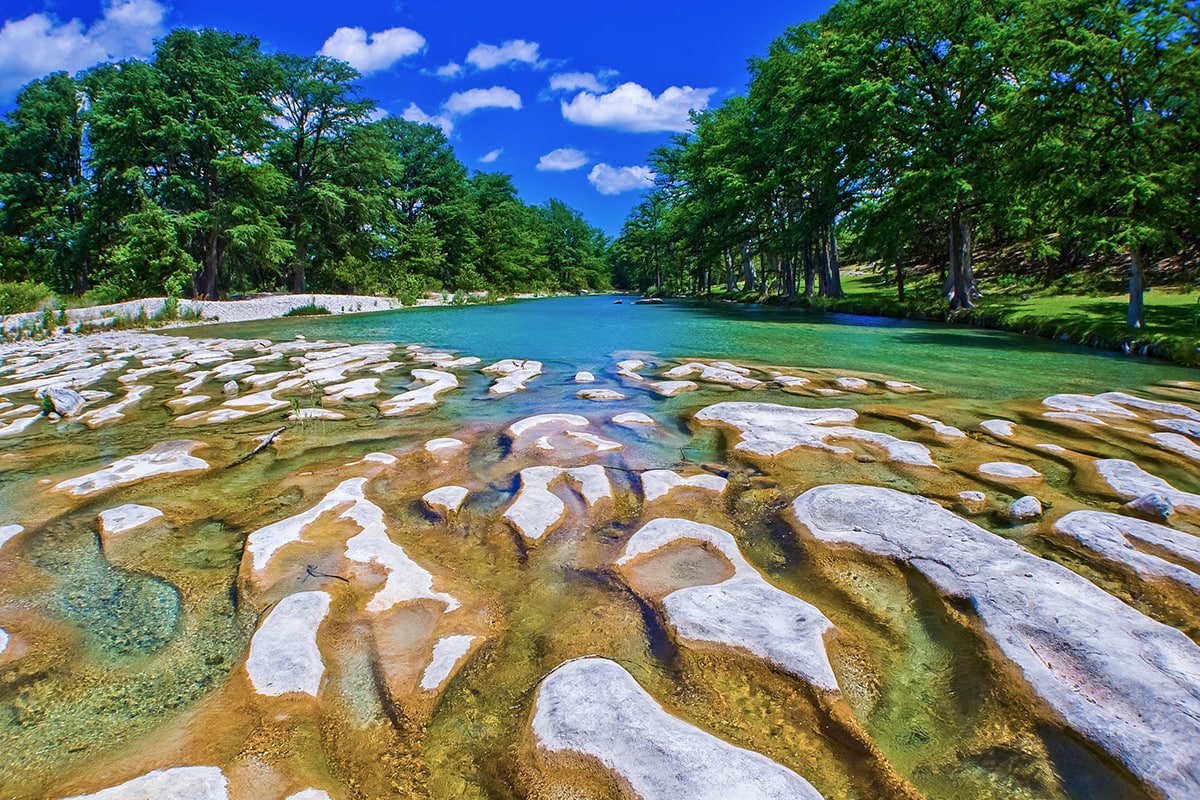 Why you should go: Floating the river and top-notch leaf peeping are just two of the great outdoor activities here.
Nearest town: Concan
Camping: Yes, 347 sites
Garner State Park is nestled right into a bend in the Frio River, meaning you're free to go swimming, tubing, and paddleboating. Back on land, you have 16 miles of trails to wander with one of the favorites being the short but challenging Old Baldy Trail, which gives you an excellent view of the river canyon.
One of the prime times to visit Garner State Park is in the autumn, particularly early November, when you can see the area's famous, colorful display of foliage. If you want to plan a trip then, just be sure to book your campsite far in advance since it's likely to get packed.
Related Read: The 7 Best State Parks Near San Antonio, Texas
4. Caddo Lake State Park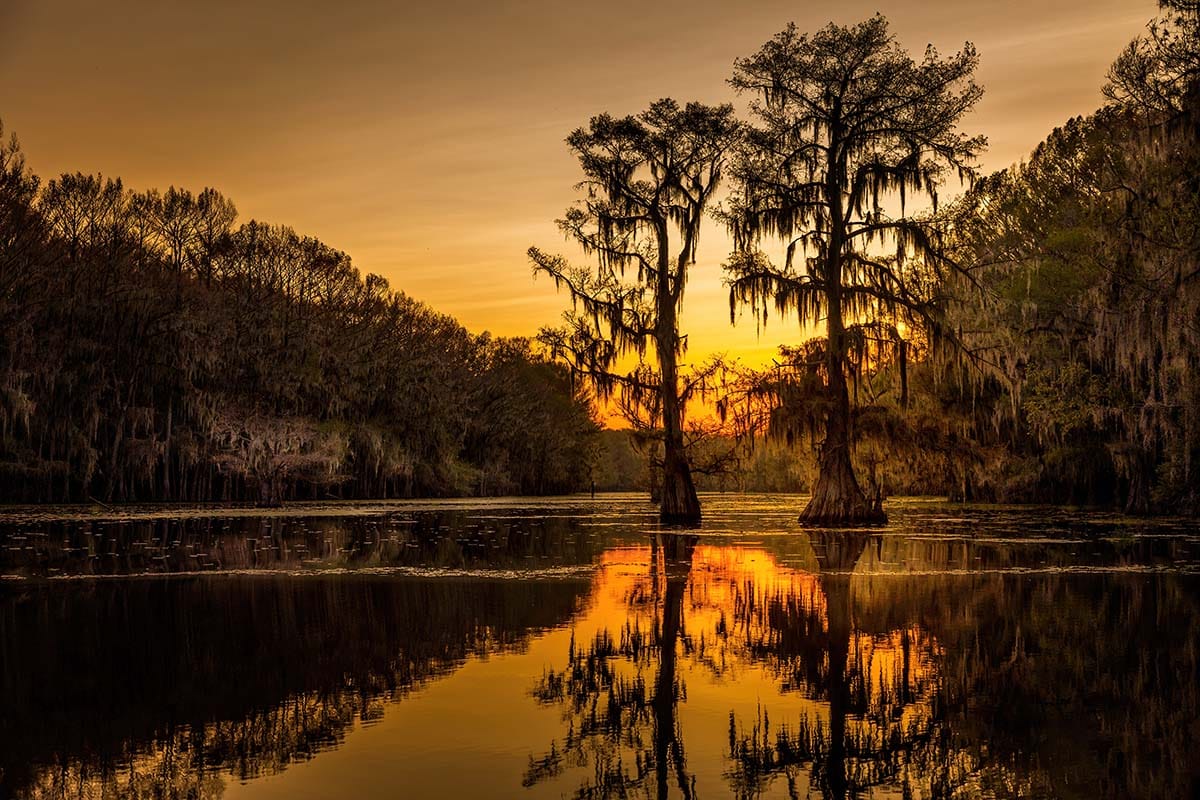 Why you should go: You can leave land behind to paddle your way through a picturesque swamp.
Nearest town: Karnack
Camping: Yes, 46 sites
Caddo Lake State Park challenges many peoples' idea of what a state park looks like with its swampy landscape that visitors can navigate by canoe or kayak. Anyone who doubts how beautiful a swamp can be will quickly change their mind as they paddle through these bayous with bald cypress trees shrouded in Spanish moss.
All that water also means lots of space to go fishing, so bring your gear if you want to fish for the over 70 different species in Caddo Lake. And don't worry if you'd like to get some regular hiking in since there are a handful of trails through woods, ranging from easy to moderate in difficulty level.
Related Read: 4 Incredible Campervan Rentals in El Paso for Your Next Adventure
5. Brazos Bend State Park
Why you should go: There's so much wonderful wildlife to appreciate at this state park with an observatory.
Nearest town: Needville
Camping: Yes, 91 sites
Brazos Bend State Park might just be an hour's drive outside of Houston, but it feels far more removed from the busy metropolis thanks to its 5,000 acres of varied terrain. There are prairies, woodlands, and wetlands, and living among that are a diverse array of species, including river otters, alligators, and hundreds of different birds.
Another unique feature of this park is that it has an observatory within its boundaries: George Observatory, a facility of the Houston Museum of Natural Science. Time your trip to the state park to include a Saturday so you can participate in some stargazing complete with a lazer tour from experts.
Related Read: 11 Peaceful Cabin Rentals Near Houston, Texas
6. Davis Mountains State Park
Why you should go: It's a peaceful, remote retreat where you'll be treated to a stunning display of stars at night.
Nearest town: Fort Davis
Camping: Yes, 93 sites
Out in West Texas, Davis Mountains State Park is the kind of place to go when you want to get away from loud city life, slow down, and appreciate a scenic combination of mountains and desert. There's hiking and biking across mountain ridges and valleys, there's lots of birding to be done, and there are starry night skies like you wouldn't believe.
Along with the campsites, you can stay at the Indian Lodge, which is a white-adobe motel built in the 1930s with its own pool within the park. While you're at Davis Mountains State Park, you're also in close vicinity to two other great attractions: Fort Davis National Historic Site and McDonald Observatory.
Related Read: The Coolest Hot Springs in Texas for a Relaxing Soak
7. Monahans Sandhills State Park
Why you should go: It's smooth, sand dunes as far as the eye can see at this unique state park.
Nearest town: Monahans
Camping: Yes 26 sites
Another state park you shouldn't miss in West Texas is Monahans Sandhills State Park. A sea of sand dunes stretching until the horizon with no water in sight is definitely not a common landscape in the States, but it's exactly what you'll get here. The state park has over 3,800 acres of sand dunes.
Rent a sand disk from the visitor center and send yourself flying down the sandhills. There are no specific trails to follow so it's a big free-for-all, which adds to the fun and adventure of the place. Word of warning: If you're coming during the summertime, bring lots of water and have foot protection since those sand dunes can get hot, hot hot.
Related Read: The 9 Best Weekend Road Trips from El Paso, Texas
8. Colorado Bend State Park
Why you should go: It's hiker heaven at this spot with a famous trail to a pretty waterfall.
Nearest town: Bend
Camping: Yes, 43 sites
At Colorado Bend State Park, you can while away your time pleasantly by exploring the 35 miles of trails. In fact, one of the best reasons to visit this state park is to hike the Gorman Falls Trail, which you'll find on many people's lists as one of the best hikes in Texas. The falls in question are a 70-foot-tall waterfall tucked amid lush greenery, making for a pretty enchanting spot.
Aside from that highlight, the trails will take you through an array of scenes from spring-fed pools to prairie grasslands to rolling hills to rocky canyons. There's even a cave that's inhabited by cave myotis bats and is accessible on a tour.
Related Read: 9 Cool Places to Stay in Dallas that Will Blow Your Mind
9. Inks Lake State Park
Why you should go: It's a Hill Country paradise at this state park next to a lake.
Nearest town: Burnet
Camping: Yes, 187 sites
At Inks Lake State Park, you can see why people love the Hill Country so much. The landscape is characterized by the inviting Colorado River, rock outcrops, shady trees, a diversity of cacti, and seasonal, shallow pools.
Come during the spring and you'll be treated to a gorgeous display of wildflowers. Stop by in the summer, and you can go for a swim at Devil's Waterhole (one of the state's best swimming holes). Fall and winter are fun too since it's a nice time to hike the nine miles of trails. And that's just scratching the surface seeing as you can scuba dive, kayak, fish, and more here.
Related Read: The 9 Best State Parks Near Austin, Texas
10. Caprock Canyons State Park
Why you should go: You'll get the opportunity to see some big ol' bison in the wild.
Nearest town: Quitaque
Camping: Yes, 124 sites
Just an hour and a half away from Palo Duro Canyon State Park, there's Caprock Canyons State Park, a worthwhile destination in its own right for anyone who wants to immerse themselves in that red rock landscape. There are an impressive 90 miles of trails to tackle, so hikers and bikers will have plenty to do.
While the canyons are cool and all, what's really awesome to see here is the bison. This state park is where the Texas State Bison Herd lives, and if you've never seen one of these mighty animals in the wild before, it's pretty special — just make sure to keep a safe distance away.
11. Mustang Island State Park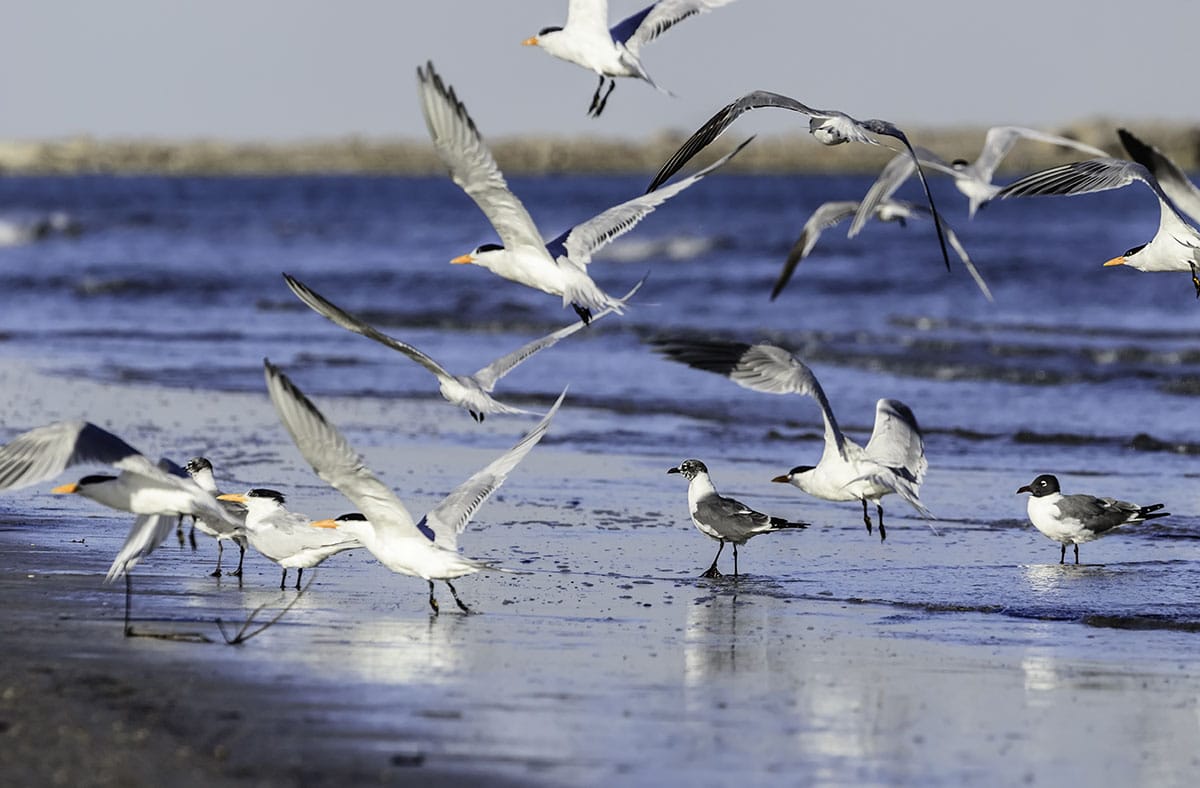 Why you should go: It's sand, sea, and sun at this state park in the Gulf of Mexico.
Nearest town: Corpus Christi
Camping: Yes, 98 sites
Part of the state's long chain of barrier islands, Mustang Island State Park is an ideal destination for those who love to be by the sea. There are over five miles of coastline for you to post up on so you can sunbathe, swim, and surf to your heart's content.
Love to kayak? Then checking out the Mustang Island State Park Paddling Trail is a must. Interested in birding? You'll be in a great spot since migrant birds pass through here. There's also the chance to see two kinds of sea turtles, which nest and swim in the park.
Explore Texas
Get epic travel ideas delivered to your inbox with Weekend Wanderer, our newsletter inspiring thousands of readers every week.
Was this article helpful?
---