If you grew up in Texas, you probably have at least one photo of you in a bluebonnet field. The gorgeous violet-hued flowers are the official state flower, and when they take over a field or even the side of a highway, it creates a stunning spectacle.
Bluebonnets bloom in springtime, normally around late March to mid-April, and many people mark their calendars for the occasion so they can snap some photos and see the beautiful blooms for themselves. If you want to see these superblooms for yourself, your best bet is to explore Texas' so-called "bluebonnet belt," which spans the central and eastern parts of the state.
Since bluebonnets are wildflowers, you can often see heaps of them growing on the side of the road when you're in this area of Texas – no private access or secret insider knowledge required (but keep in mind that some bluebonnet fields are part of private land!) But if you don't feel like driving around aimlessly and want the best chance of seeing an ample amount of them, here are some of the top spots to check out.
1. Ennis
Just south of Dallas, Ennis is serious about its bluebonnets — and that's recognized by the fact that the State Legislature designated it as the Official Bluebonnet City of Texas. Head to the Ennis Welcome Center during wildflower season and you can pick up a bluebonnet trail map to see over 40 miles of trails on public roads that are loaded with bluebonnets. The trail map is also made available online.
For more fun, you can visit the annual Ennis Bluebonnet Trails Festival, which always has plenty of food, drinks, and fun activities. The event is family-friendly and kids will have a blast with on-site entertainment like paddle boats, a petting zoo, and face painting.
Related Read: 9 Best Texas Lavender Farms for Getting Your Fragrance Fix
2. Burnet
Ennis isn't the only town getting some government recognition for its bluebonnets! Burnet, which is about an hour west of Austin, is designated as the Bluebonnet Capital of Texas. Every year, they host their own bluebonnet festival that draws thousands of visitors. There's a parade, live music, hundreds of vendors, and even a wiener dog race.
But, of course, bluebonnet viewing isn't restricted to the festival weekend or just one area in the small town. Inks Lake State Park, Haley Nelson Park, Wallace Riddell Park, and the Burnet Municipal Airport are all places where you have a high probability of seeing the wildflowers in bloom during their season.
3. Marble Falls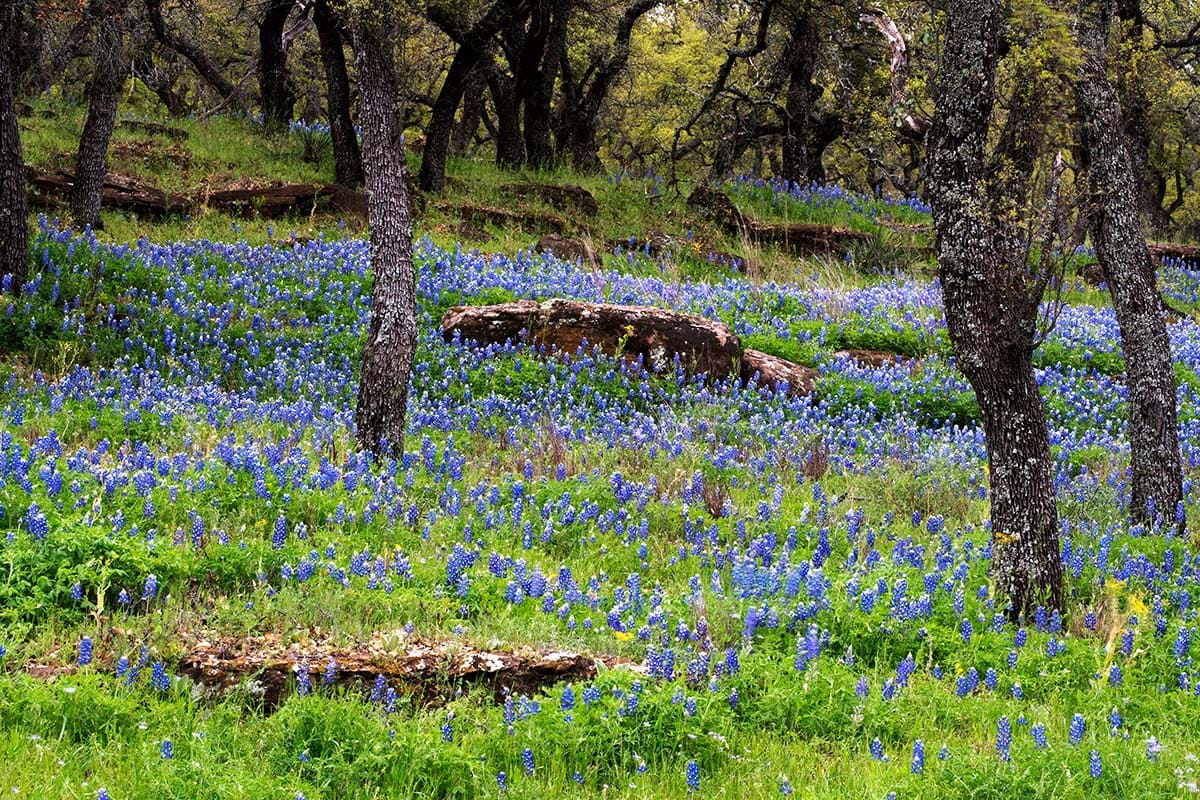 South of Burnet, along the Colorado River, you'll find Marble Falls. Here, you can explore the approximately 35-mile Bluebonnet Trail that takes you along Johnson Park, Marble Falls Cemetery, Falls on the Colorado Museum, and other local spots where bluebonnets are commonly found. Maps for this wildflower scenic route and others are available online.
Any bluebonnet tourist who finds themselves in Marble Falls should round out their trip with a visit to the Blue Bonnet Cafe. Opened in 1929, this beloved eatery has hearty comfort food and delicious diner classics like biscuits with gravy, chicken n' dumplins, and freshly made pecan pie.
Related Read: The 8 Best Camping Spots Near San Antonio, Texas
4. Kingsland
Kingsland is just about 15 minutes from Marble Falls, so if you're searching this Hill Country area for bluebonnets, then you might as well pop over to this small town. The most famous shot of bluebonnets here is off Ranch to Market Road 1431, where, during the spring, the abandoned railroad tracks are now covered with violet blooms.
Fair warning: It can be hit or miss what kind of wildflowers you see around the railroad tracks, but if there aren't any bluebonnets there, there's sure to be some in other parts of the town.
Related Read: 10 Beautiful Texas Hill Country State Parks You Need to Visit
5. Lady Bird Johnson Wildflower Center – Austin
To learn about all things wildflowers, bluebonnets included, Lady Bird Johnson Wildflower Center is the place to go in Austin. Spanning 284 acres, the center is divided up into different themed gardens, like the Woodland Garden, the West Texas Mountain Collection, and the interactive family garden. You can never say exactly when bluebonnets are going to make their appearance here, but the center says there's a good chance they'll be around in early April during peak season.
Admission to Lady Bird Johnson Wildflower Center costs $15 for adults, and they're open daily from 9 am to 5 pm. While planning your visit, you can check what's in season on their website.
Related Read: 11 Best Texas State Parks for Escaping into Nature
6. Brushy Creek Lake Park – Cedar Park
Just outside of Austin in Cedar Park, Brushy Creek Lake Park is another popular spot to try and see some bloomin' bluebonnets. The 90-acre park juts up to a 38-acre lake, and the violet of the flowers with the blue of the lake in the background makes for a stunning view. Since there's no swimming or motorized boating allowed in the lake, the water stays pretty tranquil.
This is a particularly great spot if you're wanting to see some bluebonnets with your kids since there's a hike-and-bike trail, a playground, a water playscape, and sand volleyball courts, perfect for making it a whole day adventure.
7. Muleshoe Bend Recreation Area – Spicewood
Moving further west to Spicewood, Muleshoe Bend Recreation Area is nestled in a bend on the Colorado River. The vistas of Lake Travis here are already great, but come at the right time and you'll get the bonus of bluebonnets fields covering the area.
When you're not taking in the wildflowers, there's plenty else to do here. You can go hiking, horseback riding, or mountain biking along the trails. You can take your boat or rent some kayaks or paddleboards to get out on the lake. There are campsites too if you feel like extending your stay. Muleshoe Bend Recreation Area costs $5 per adult for entrance while children aged 12 years and younger get in for free.
Related Read: The 8 Best Rivers to Float in Texas
8. Willow City Loop
When you talk about wildflowers in Texas, there's one drive that always comes up: Willow City Loop. One of the most scenic drives in the whole state, Willow City Loop can be found between Fredericksburg and Llano. Whatever time of year you go, you'll get to see a signature Hill Country landscape, but the loop really shines during the spring when you can see swaths of bluebonnets and other wildflowers covering the roadside.
The drive is about 23 miles in total, so it doesn't take long to complete (unless you're stopping to take tons of photos, of course). If you do pause for photos, just be mindful if you're on private property.
Related Read: 9 Cool Places to Stay in Dallas that Will Blow Your Mind
9. Wildseed Farms – Fredericksburg
View this post on Instagram
Speaking of Fredericksburg, you can't talk wildflowers without mentioning Wildseed Farms. It's the largest working wildflower farm in the U.S., with more than 1,000 cultivated acres in Texas and over 200 acres of wildflower fields in Fredericksburg. You can keep an eye on their Bloom Update to see how the bluebonnets are coming in.
Wildseed Farms is open every day of the week from 9:30 am to 5:00 pm. When planning your trip, keep in mind that the walking trail closes 30 minutes before closing. And before you leave, you may feel inspired to pick up some Texas bluebonnet seeds to grow in your own backyard.
Related Read: 10 Cool Caves in Texas for Exploring Underground
10. San Antonio Botanical Garden – San Antonio
View this post on Instagram
There's lots to enjoy at the San Antonio Botanical Garden thanks to its various attractions like the sensory garden, Kumamoto En Japanese Garden, and rose gardens. But if it's bluebonnets specifically that you're after, make your way to the Texas Native Trail and Hill Country Meadow. During wildflower season, you can spot bluebonnets here along with other pretty plants like pink evening primroses and gaura.
If you want to lend your support to the botanical garden, you can actually "adopt" a square-foot plot of the wildflower meadow for $100. Along with the feeling of having done a good deed, you'll get recognition on donor signage for the wildflower season. Admission to the San Antonio Botanical Garden is $16 for adults Monday through Thursday and $18 Friday through Sunday.
11. Brenham
The city of Brenham might be most famous for being home to Blue Bell Ice Cream, but it's also known as a bluebonnet hotspot. The city has a Wildflower Watch online where you can keep up-to-date on the bluebonnets' status. The website also offers a driving map showing wildflower hotspots in the area. Brenham is part of Washington County, which is famous for its bluebonnet display.
It's fun chancing upon fields of bluebonnets when you're not even looking for them and around Brenham you shouldn't have too much trouble spotting some even along the highway. But if you're feeling a little lost or not having much luck, try Old Baylor Park. It's well-known for its bluebonnets in the spring.
Explore Texas
Sign up for Weekend Wanderer to join thousands of readers getting epic travel ideas every week.
---