When it rains on Oahu, nearly every hike becomes a waterfall hike.
It's true. Fortunately, rain falls nearly every day on Oahu's Ko'olau Mountain Range, which creates dozens of awesome waterfall hikes to discover.
All of that rain also makes for muddy trails. Be prepared — any unpaved trail will be slippery and squishy after recent rainfall. While flip flops and sandals (slips, brah) will be adequate for easy, short trails, you'll want grippy trail runners or hiking boots for tougher treks.
Below you'll find many of the best waterfall hikes on Oahu. Each of the trails on this list features at least one spectacular waterfall, and some contain several. Read on to uncover other Oahu waterfall secrets, such as the best waterfall swimming pools and the most secluded waterfalls on Oahu.
Related Read: The 15 Most Incredible Hikes on Kauai, Hawaii
1. Manoa Falls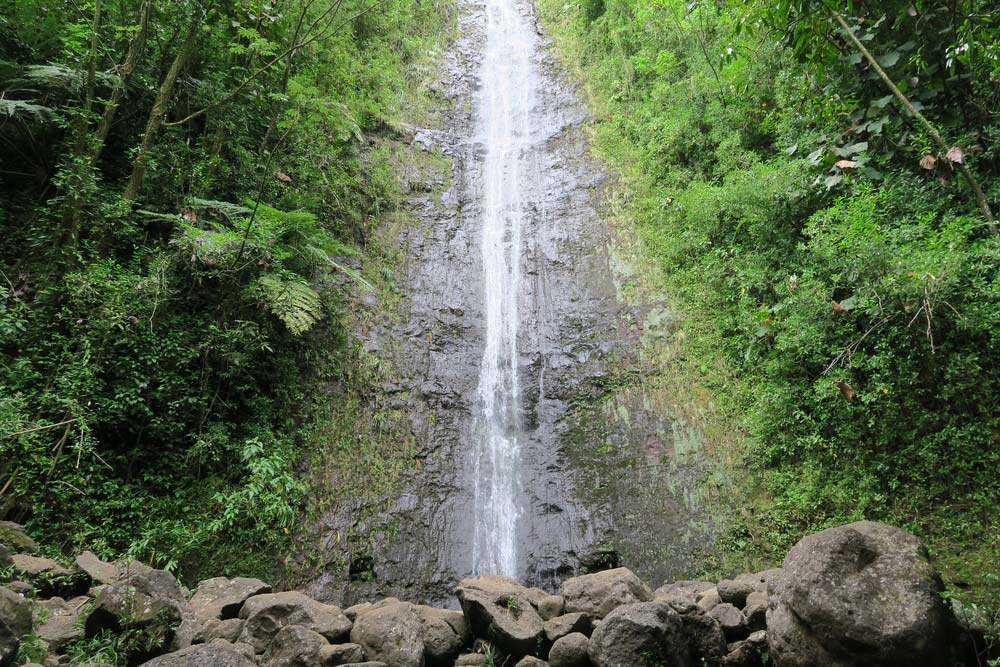 Why you should go: Not far from Waikiki Beach and the University of Hawaii.
Difficulty: Moderate
Distance: 1.7 miles
Elevation gain: 633 feet
Among the most accessible waterfalls on all of Oahu, Manoa Falls is popular among tourists and locals alike. The trail cuts through a dense bamboo forest, and, unlike most of the waterfall trails across Hawaii, this one is regularly maintained.
As a result, the trail is wide and covered in gravel. This is one of the few waterfall hikes on our list where your feet may not get completely covered in rainforest mud.
Manoa Falls is a towering waterfall set against a sheer basalt wall. There's a picturesque pool at its base, though swimming here is not allowed. Still, the location is mesmerizing to see in person and surely worth the trek.
2. Likeke Falls
View this post on Instagram
Why you should go: A two-tiered waterfall surrounded by the best scenery on the island.
Difficulty: Moderate
Distance: 0.8 miles
Elevation gain: 206 feet
Likeke Falls is an enchanting cascade of tumbling waters set beneath the iconic Pali Lookout. Though you can hike down to the falls from the Pali Lookout, the approach from below near the Pali Golf Course is much easier and less dangerous.
This little waterfall is often overlooked because it is surrounded by the most dramatic cliffs and greenery on all of Oahu. The Lookout is above, but also just around the bend lies the jaw-droppingly beautiful (and Instagram favorite) Ho'omaluhia Botanical Garden. If you're in the neighborhood to see these two tourist attractions but want to step off the beaten path to find the area's hidden beauty, hike out to Likeke Falls.
3. Waimea Falls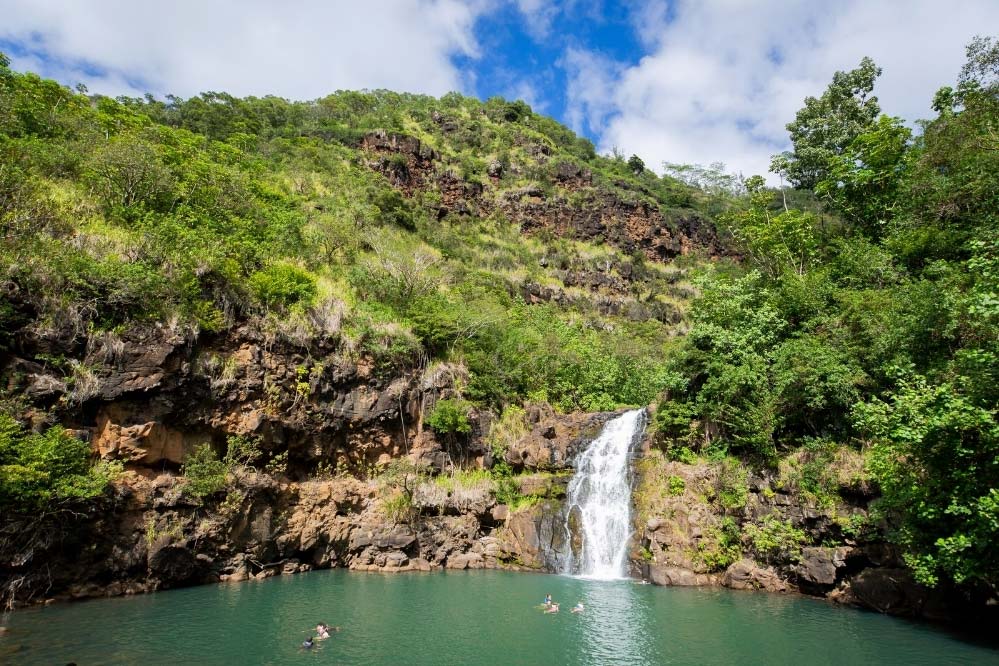 Why you should go: An easy, beautiful hike where you can walk off your North Shore shrimp truck lunch.
Difficulty: Easy
Distance: 1.9 miles
Elevation gain: 272 feet
The paved walkway leading to Waimea Falls makes for easy walking. However, you'll want to take your time on this one as the path cuts through a lush botanical garden and past numerous historical attractions. The area is a refuge for native Hawaiian plants and wildlife, so be sure to stay on the trail and observe all that you can from a distance.
Waimea Falls is a gushing torrent of water that journeys down a series of tiered rock ledges down into a wading pool. Swimming is allowed and encouraged here, though life jackets are provided and required.
Related Read: 10 Romantic Getaways in Hawaii for a Tropical Retreat with Your Boo
4. Lulumahu Falls
Why you should go: A fun side trip in the mountains between Honolulu and Kailua.
Difficulty: Moderate
Distance: 1.5 miles
Elevation gain: 300 feet
The journey to Lulumahu Falls begins at a roadside pullout near the crest of the Pali Highway. Rain is all but guaranteed at some point of the day here at the top of the ridge, and so the trail is perpetually muddy. Prepare yourself for a slippery and messy hike.
There are many branching trails in this neck of the woods that venture off around the Nuuanu Reservoir and elsewhere in the mountains, so be sure to bring a map of a hiking app to help you find your way to the falls.
The plummeting Lulumahu Falls emerges as if by magic from a green forest tunnel on a high cliff where it drops into a moderately deep wading pool where kids can play, and adults can soak up the sun. This spot can be quite crowded in the afternoon, so get there early if you want seclusion.
5. Judd Trail to Jackass Ginger Pool
View this post on Instagram
Why you should go: Multiple small waterfalls and a swimming hole along a gentle trail.
Difficulty: Easy
Distance: 1 mile
Elevation gain: 50 feet
A series of small waterfalls can be seen during the first quarter-mile along the Judd Trail to Jackass Ginger Pool. The route mostly follows the babbling creek of Nu'uanu Stream, where it leads to a natural swimming hole beneath a few rural homes.
Beware of the flash flood warnings for this trail. The homes you see are on stilts for a reason. If there's a chance for heavy rain, come back another time. Elsewise, this gentle hike and relaxing swim spot are a delight. The trailhead lies on the outskirts of a neighborhood northwest of Honolulu, and so it is easy to access for anyone touring the city.
Related Read: 9 Best Hiking & Outdoors Apps for iPhone and Android
6. Maunawili Falls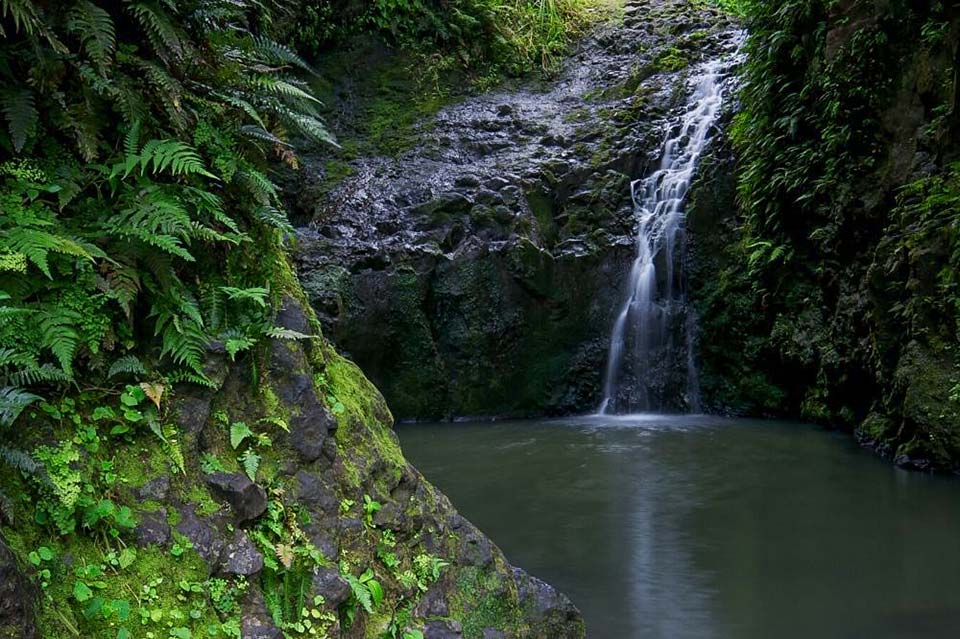 Why you should go: Enjoy this jungle trek that offers a stunning waterfall and views overlooking Kailua.
Difficulty: Moderate
Distance: 2.8 miles
Elevation gain: 1007 feet
Follow the Maunawili Stream uphill toward the precipice of the 'Ainoni Ridge, where the hidden wonder of Maunawili Falls awaits. This well-trodden trail is easy to follow but seems to transform with every few steps from hard-packed dirt to slick mud to tree roots and concrete stairs.
You'll be deep in the rainforest beneath Mt. Olympus, but upon reaching the end of your hike, you'll be subjected to sweeping views overlooking the Kailua coast in one direction and the verdant pali cliffs in another. Then, you'll soon come upon the plunging Maunawili Falls and the wonderfully deep swimming pool at its base. You'll certainly want to jump in after the uphill hike!
7. Waimano Falls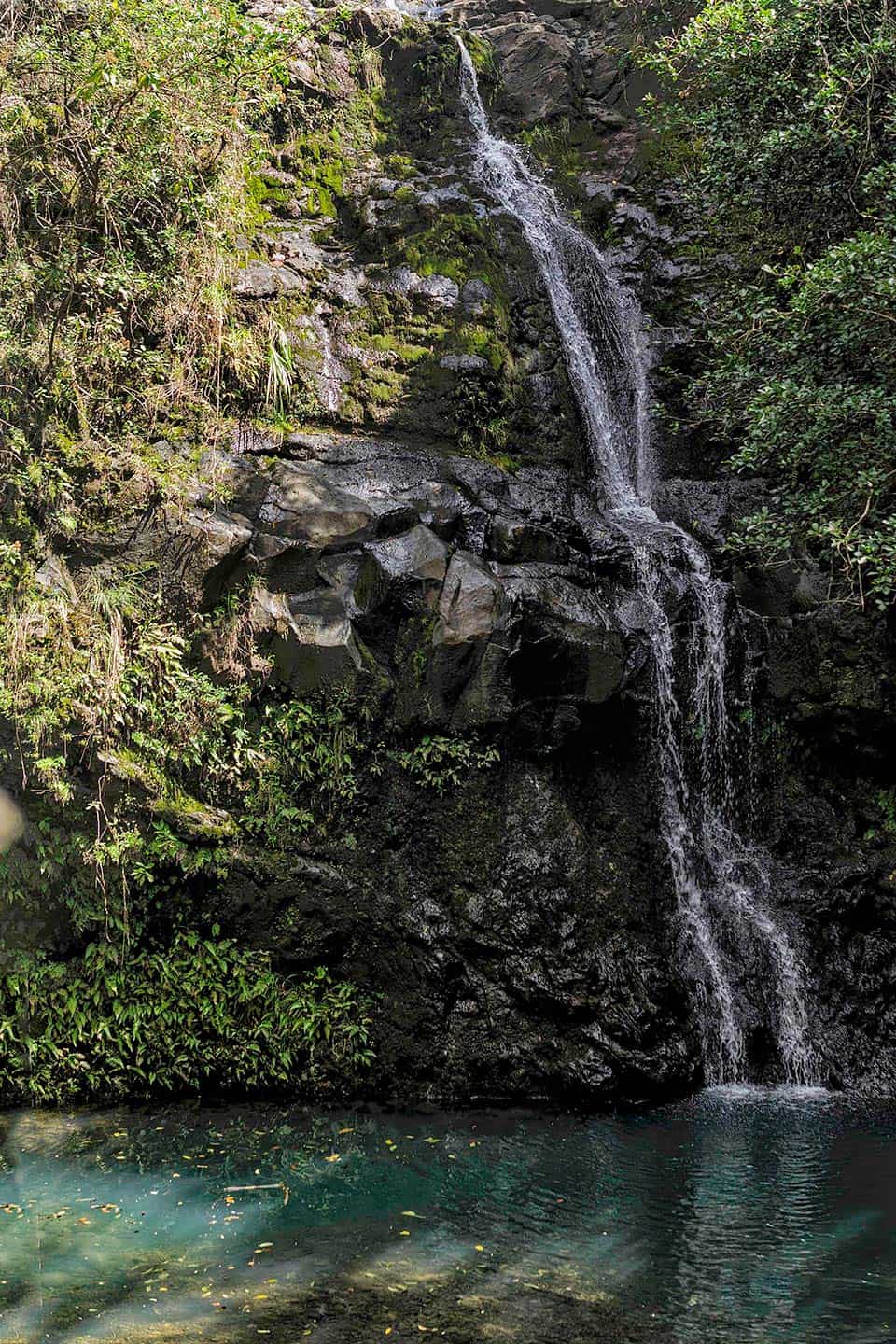 Why you should go: Multiple falls and pools for swimming with rope swings and marked cliff jumps.
Difficulty: Challenging
Distance: 2.9 miles
Elevation gain: 810 feet
Waimano Falls is a popular hike for those interested in swimming in one of Oahu's best freshwater natural pools. This often thin waterfall is like a delicate series of white ribbons against a dark basalt rock face. If you want to be certain that you'll see the falls, visit after rainfall. Oftentimes the falls will disappear during dry stretches.
Though the falls are pretty, the main draw is the upper and lower pools of crystal clear water. The lowest pool, in particular, is deep. Here you'll see numerous rope swings strung up in the trees surrounding the pool, and there is a marked spot where adrenaline-seekers like to cliff dive into the water.
8. Kapena Falls
Why you should go: A short but surprisingly wild hike on the outskirts of Honolulu.
Difficulty: Easy
Distance: 0.5 miles
Elevation gain: 30 feet
If you happen to be in Honolulu and feel the need for a quick outdoorsy adventure, look no further than Kapena Falls, literally. This quick and easy stroll is located in a patch of dense rainforest that's a 20-minute walk from the heart of downtown.
The rolling waters tumble down a rocky slope before falling a short distance into a sizable pool deep enough for swimming and cliff diving. Arriving at this oasis amid the urban sprawl is like stepping into the pages of a storybook.
9. Waiakeakua Falls
View this post on Instagram
Why you should go: Secluded, especially at the upper fall where few ever make the effort to visit.
Difficulty: Challenging
Distance: 2.4 miles
Elevation gain: 958 feet
This is a muddy, slippery, and challenging hike — and for those reasons, few make the journey. If you want a waterfall on Oahu all to your own for a short period of time, then Waiakeakua Falls on the Pu'u'pia Trail is one of your best bets.
You'll climb through dense rainforest to find the pristine waters of the falls lazily falling into a small pool beset with moss-covered volcanic rock. Most will end their journey here, but if you continue onward by climbing the falls themselves, you will then discover the Upper Waiakeakua Falls and a much larger wading pool. Here, you're likely to find solitude and tranquility within the Oahu rainforest.
10. Lua'alaea Falls
View this post on Instagram
Why you should go: Journey on a rarely-traveled and wild trail to an impressively tall waterfall.
Difficulty: Moderate
Distance: 1.5 miles
Elevation gain: 505 feet
The trail to Lua'alaea Falls begins at the same trailhead as the path to the much more popular Manoa Falls. As such, the beginning of the trail to Lua'alaea Falls is well-trodden, but once it veers off from the main path, it becomes much tighter and less trampled.
Though not a difficult route, the relative light use of the trail makes it a bit trickier to navigate. The slight increase in challenge, relative seclusion, and density of the forest make this hike more interesting than its sister trail, to some. The two-tiered Lua'alaea Falls presents a small and approachable lower waterfall that can be easily accessed while the 60-foot tall upper portion of the falls plunges in the distance down a steep rock face.
11. Mo'ole Valley Falls
View this post on Instagram
Why you should go: Several spectacular falls to find down a relatively mild, though rugged trail.
Difficulty: Moderate
Distance: 3 miles
Elevation gain: 200 feet
The Mo'ole Valley Falls reside near the Pali Highway opposite multiple more popular waterfall hikes. However, the two main Mo'ole Valley Falls are among the most impressive waterfalls on the island. They're best seen after a steady rain, though, so be sure to plan your hike accordingly.
Unfortunately, to get to the trailhead, you'll have to cross the Pali Highway. Other than this dangerous crossing, the trail is fairly easy to traverse if a bit rugged and overgrown. You'll come across several artificial waterfalls in the form of irrigation spillways. Though, the natural falls are far more dazzling.
The first natural waterfall is a treat, but it is only an appetizer to the main course. The last bit of hiking required to get to the second falls is the trickiest part of the trek, but there are ropes to help you keep your footing. Stick to the path that follows the stream to make your way to the second waterfall, where its immensity will astound you.
Explore More Hawaii
Sign up for Weekend Wanderer to join thousands of readers getting epic travel ideas every week.
---