From its iconic valley and sky-high granite domes to its massive sequoias and alpine lakes aplenty, Yosemite truly is a picture-perfect national park.
Of course, Yosemite is so much more than its famously traffic-choked valley, and that's why we've aimed to bring you a diverse list of the best hikes in Yosemite, with special attention to a few breathtaking sights in less-traveled nooks and crannies.
Once you've booked an epic glamping stay (or a chic Airbnb if you're feeling spendy), it's time for the fun part of planning a park trip — drooling over the sickest trails. Read on to explore our all-time favorites.
1. Lower Yosemite Fall
Why you should go: A family-friendly loop to take in the powerful spray of Yosemite's most famous falls.
Difficulty: Easy
Distance: 1 mile
Elevation gain: 50 feet
As a small chunk of America's tallest waterfall, Lower Yosemite Fall is a must-see on any visit to the park's famous valley. The waterfall plummets a staggering 320 feet to the ground below, spraying visitors on a well-positioned footbridge at the crux of the hike with chilly water.
The hike is one of those dreamy, low-effort, high-reward affairs, offering outstanding views of both Upper and Lower Yosemite Falls. Plus, it's easily accessed via the park's free valley shuttle system, so you can kiss your parking lot blues goodbye.
2. Cathedral Lakes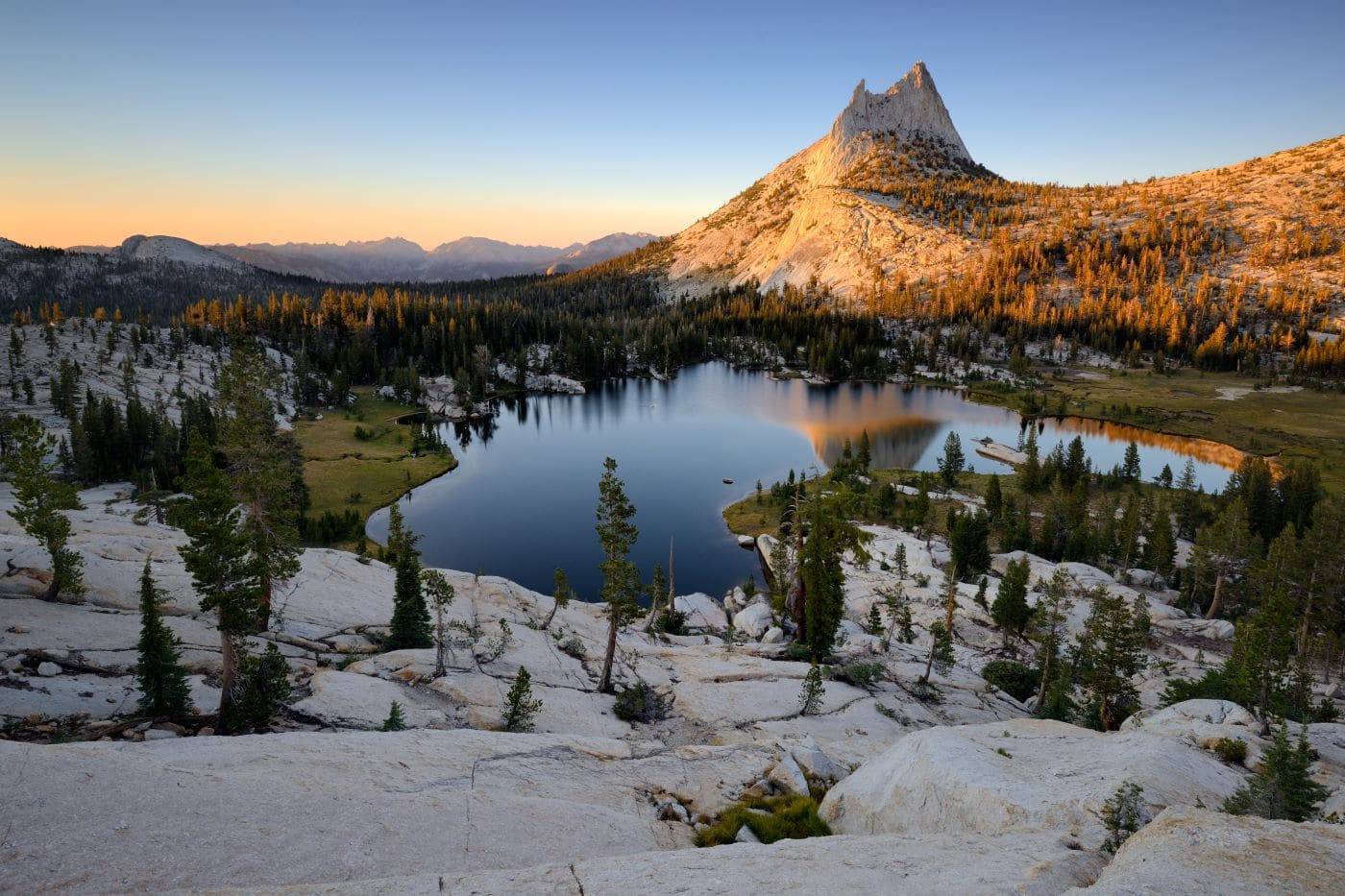 Why you should go: A moderate trek up to two picturesque alpine lakes with the stunning backdrop of Cathedral Peak.
Difficulty: Moderate
Distance: 7 miles
Elevation gain: 1,000 feet
In summer and fall, when Tioga Road is open to visitors, the 7-mile (round trip) trek to Upper Cathedral Lake becomes one of the most popular hikes in the park — and with good reason. It climbs to two pristine alpine tarns and is one of the most accessible ways to explore Yosemite's high country if you're not planning an overnight backpacking trip.
Beginning in the wildflower-strewn Tuolumne Meadows section of the park, the trail climbs steadily until it reaches a junction for Lower Cathedral Lake (with a striking view of Cathedral Peak if you remember to turn around). Turn right or continue up a granite staircase to reach the upper lake. Either way, you won't be disappointed with the scenery.
Related read: 9 Adventurous Things to Do in Yosemite National Park, California
3. Sentinel Dome and Taft Point Loop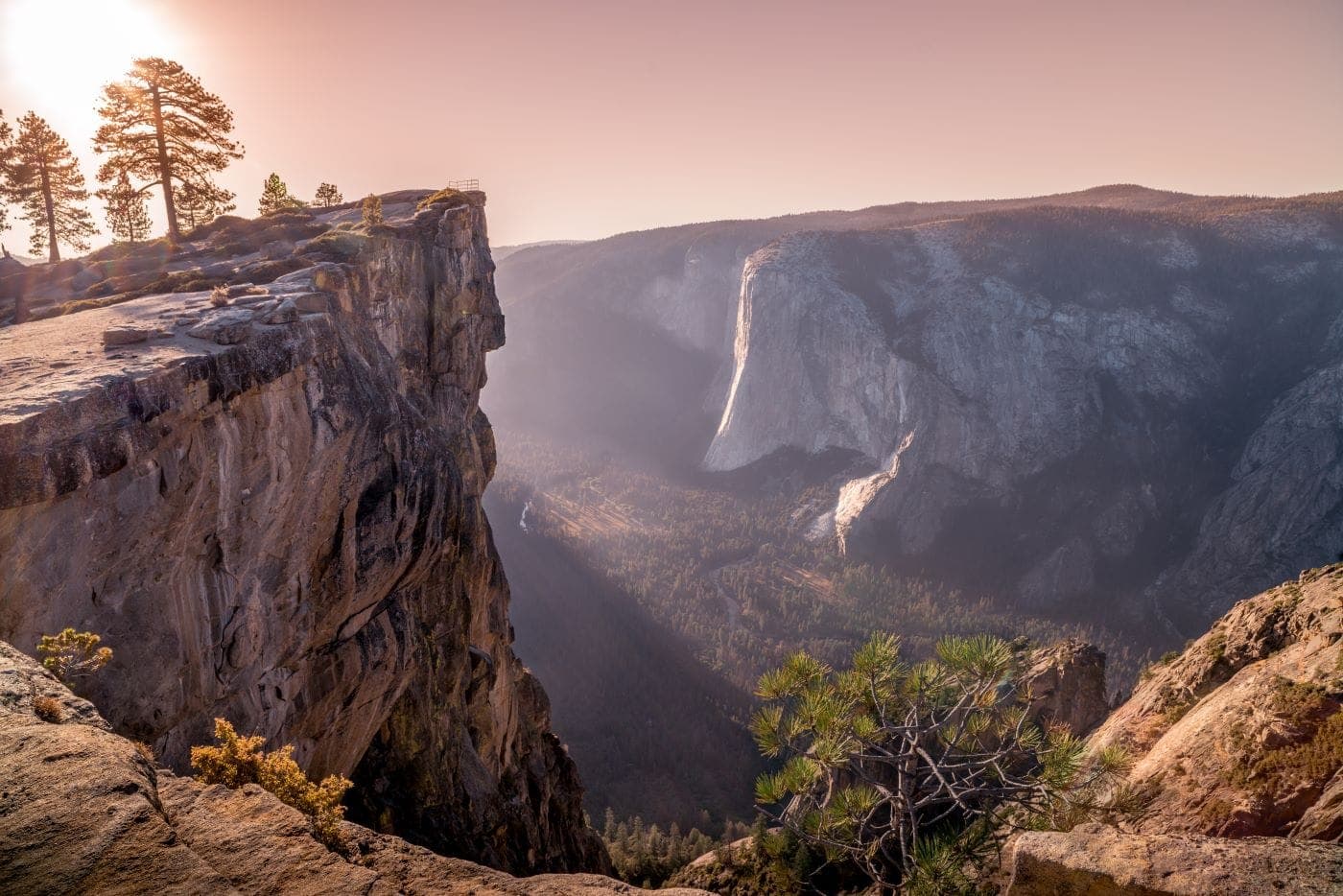 Why you should go: Escape the valley crowds on this 5-mile hike to some of the best views in the country.
Difficulty: Moderate
Distance: 5 miles
Elevation gain: 1,000 feet
Sure, Glacier Point has some of the most iconic views in Yosemite, but with a little extra planning and sweat, you can escape the swarms of tourists and encounter the best sights that Glacier Point Road has to offer.
This 5-mile loop trail starts at the parking area for Sentinel Dome and Taft Point, then follows gently rolling granite hills to commanding views of El Capitan, Half Dome, and Yosemite Falls. If you're seeking a shorter excursion, a roughly 2-mile version to either Sentinel Dome or Taft Point alone will also yield some seriously epic photo ops.
Related read: 10 Invigorating Hikes in the East Bay Area
4. Valley Loop Trail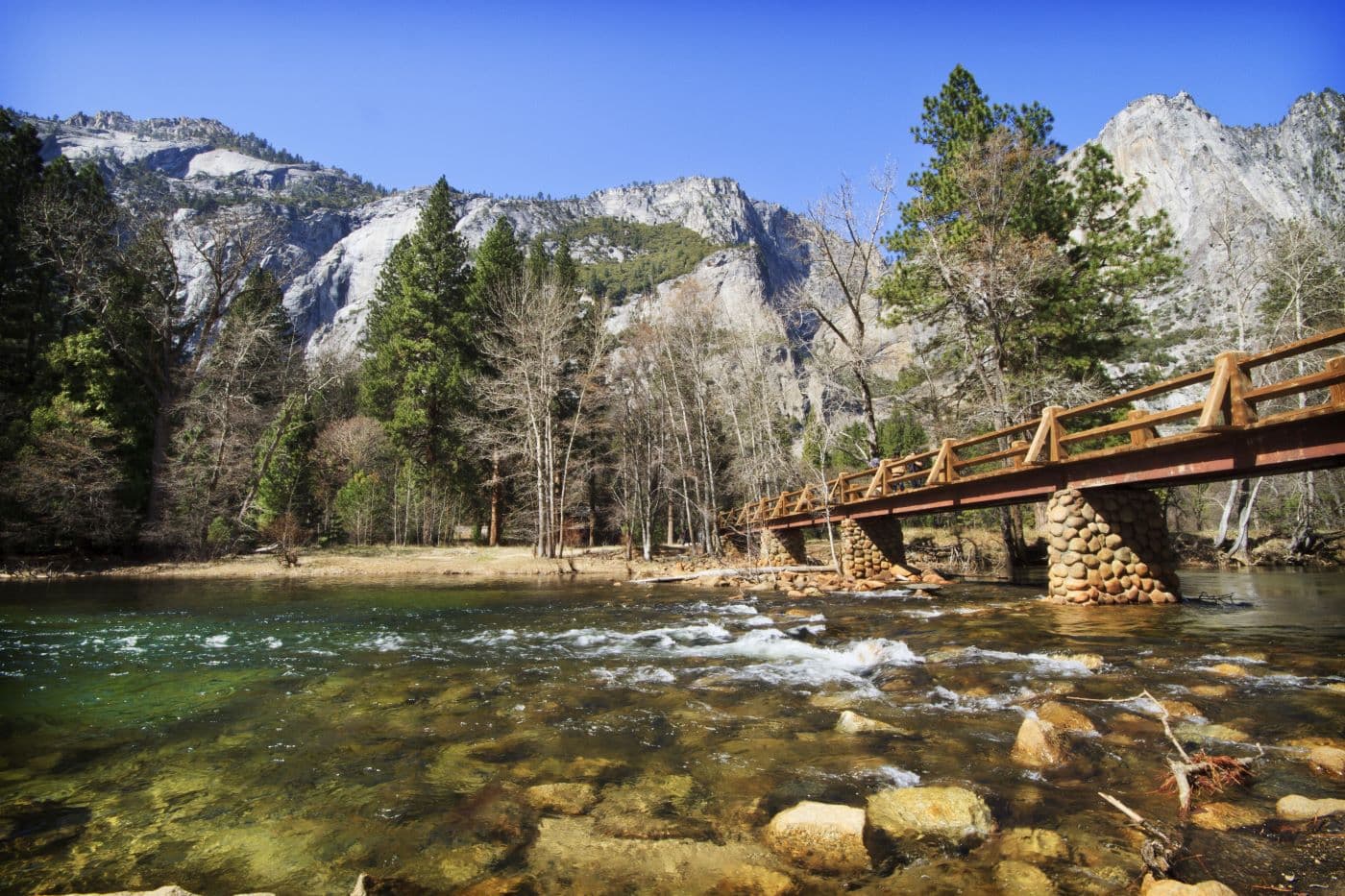 Why you should go: Witness the most famous sites in Yosemite Valley on this relatively flat multi-use trail.
Difficulty: Easy
Distance: 7.2 miles (half loop), 11.5 miles (full loop)
Elevation gain: mostly level
If you can only do one trail in Yosemite, this is a great one to pick. It's family-friendly, mostly flat, and a sure crowd-pleaser. The Valley Loop Trail winds along the mighty Merced River, through towering ponderosa and sugar pines, and past many of Yosemite's storied landmarks.
Begin at the Lower Yosemite Fall area, then head west past climber-favorite Camp 4. After that, the trail meanders toward El Capitan. If you're doing the full loop, you'll continue onward past lovely meadows and roaring Bridalveil Fall.
Related read: A Winter Guide to Visiting Yosemite National Park
5. Grizzly Giant Loop
Why you should go: Check out a grove of mature giant sequoias and the aptly named Grizzly Giant in the park's Wawona area.
Difficulty: Easy
Distance: 2 miles
Elevation gain: 383 feet
Who says the Wawona section of Yosemite is without merit? This often-overlooked southern corner of the park is home to Mariposa Grove, which harbors some of the largest, oldest trees on the planet — the giant sequoias.  Some of the trees in Mariposa grove are over 3,000 years old, making them some of the oldest living organisms in the world.
The Grizzly Giant Loop starts along the Big Trees Loop, then winds past notable trees like the Bachelor and Three Graces, the California Tunnel Tree, and, of course, the behemoth Grizzly Giant.
6. Wapama Falls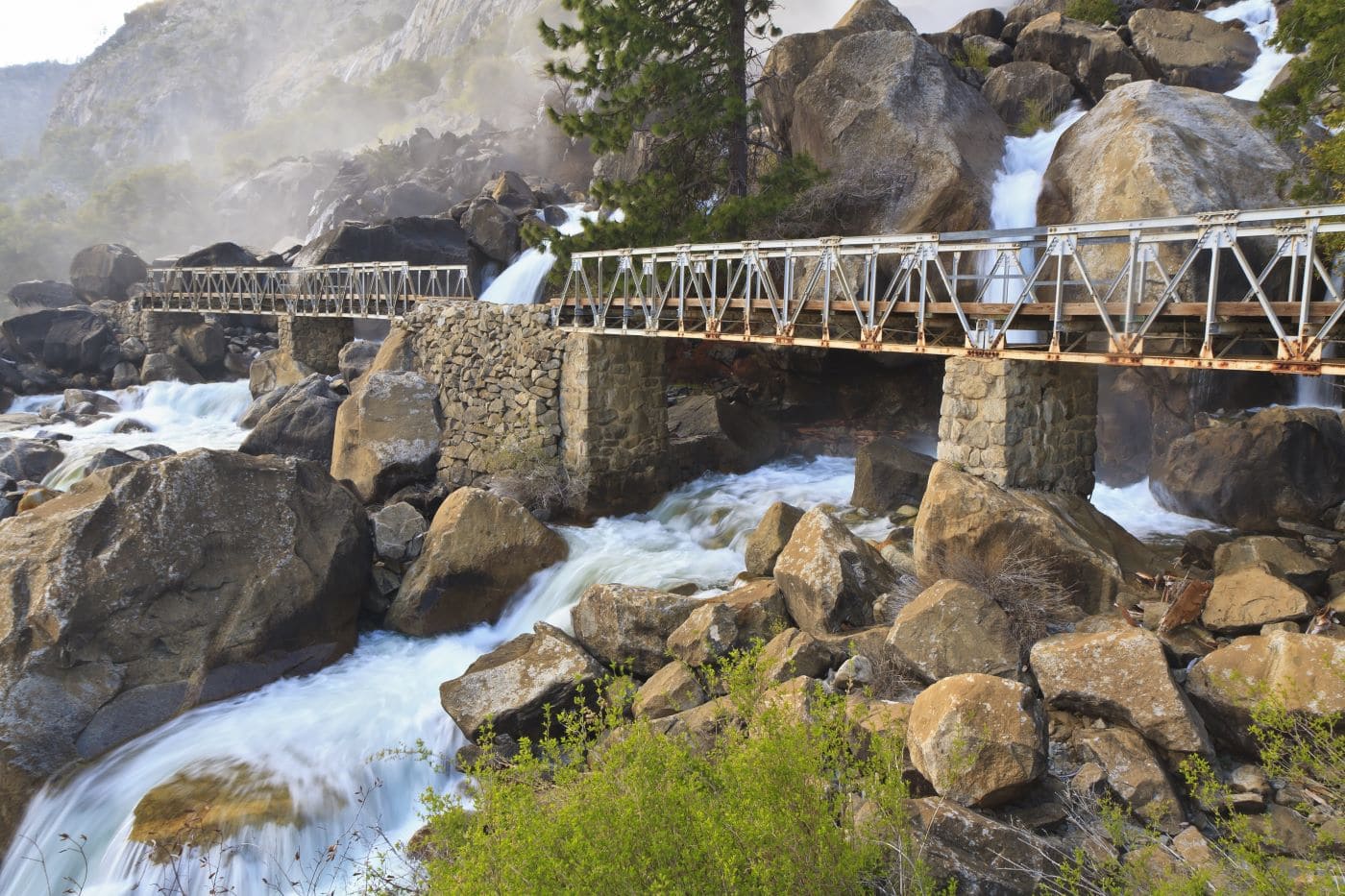 Why you should go: Explore the never-crowded Hetch Hetchy valley, one of Yosemite's best-kept secrets.
Difficulty: Moderate
Distance: 5.5 miles
Elevation gain: 200 feet
As one of the least visited waterfalls in Yosemite, you'd think that Wapama Falls was surrounded by lackluster views on all sides, but think again. This roaring beauty sits at the center of the Hetch Hetchy valley, which John Muir once said was as beautiful as Yosemite Valley itself. Yet, for some reason, most people never venture out to it.
Beginning at the O'Shaugnessy Dam, the trail to Wapama Falls hugs the edge of a large, sapphire reservoir (sorry, no swimming allowed), then meanders across granite slabs until it reaches a wooden footbridge where you can get splashed by the mighty waterfall before returning to your car.
Related read: The Most Scenic Los Angeles to Yosemite Road Trip Itinerary
7. Panorama Trail and Four Mile Trail Loop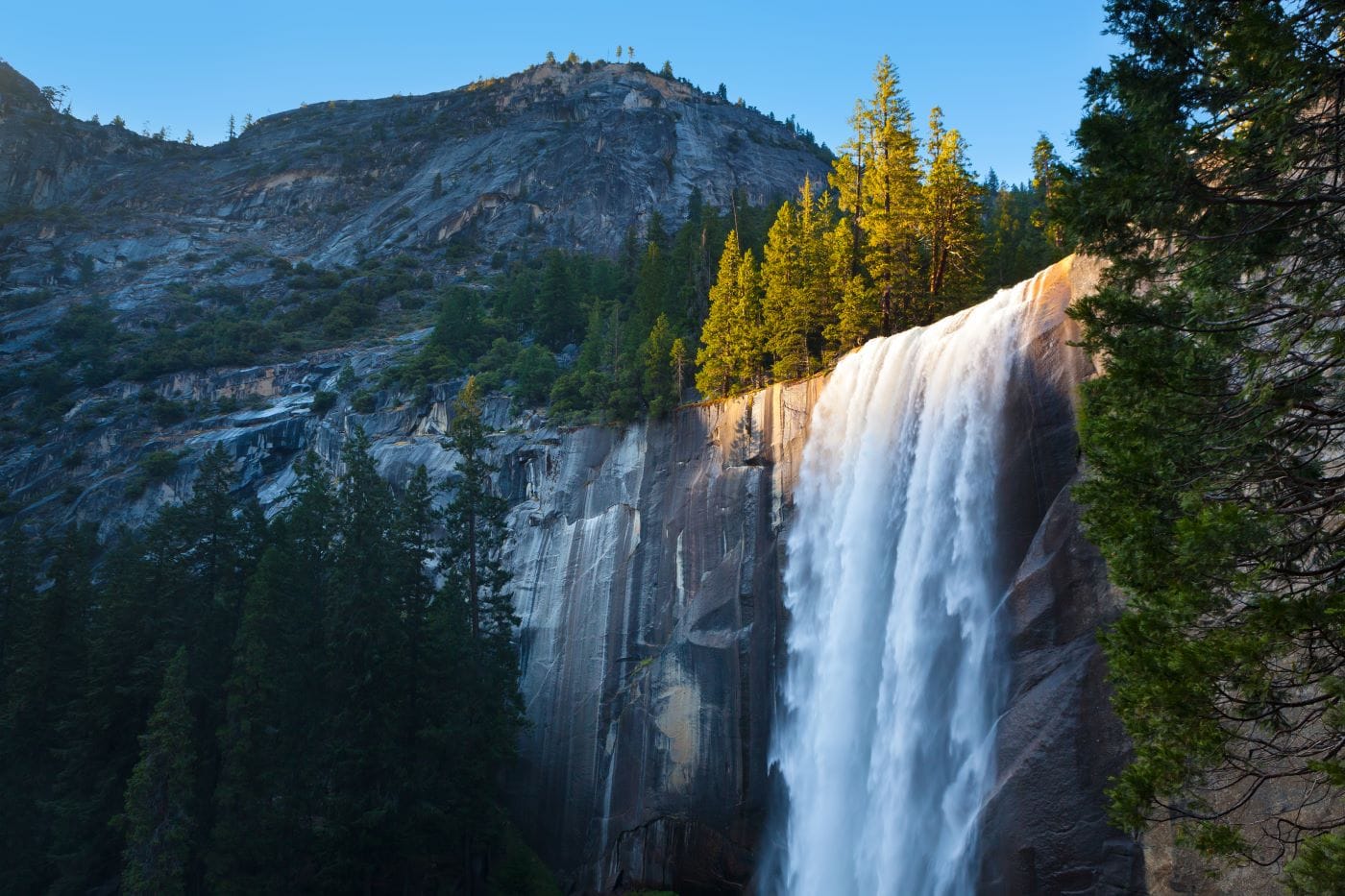 Why you should go: Start early and go big on this all-day epic that hits many of Yosemite's most famous highlights.
Difficulty: Challenging
Distance: 13 miles
Elevation gain: 3,124 feet
If you're the type of hiker who likes to put in the big miles and reap the reward of stellar vistas, this is the day trip for you. The Panorama – Four Mile Trail Loop links up two of the most gorgeous trails in Yosemite, no shuttle needed.
The hike starts with a steady climb along the Mist Trail, witnessing the raw power of Vernal and Nevada Falls along the way. Striking views of Half Dome lead to the Panorama Trail, which offers nothing but jaw-dropping valley views all the way to Glacier Point. Finish the trip with a huge downhill along the Four Mile Trail.
8. May Lake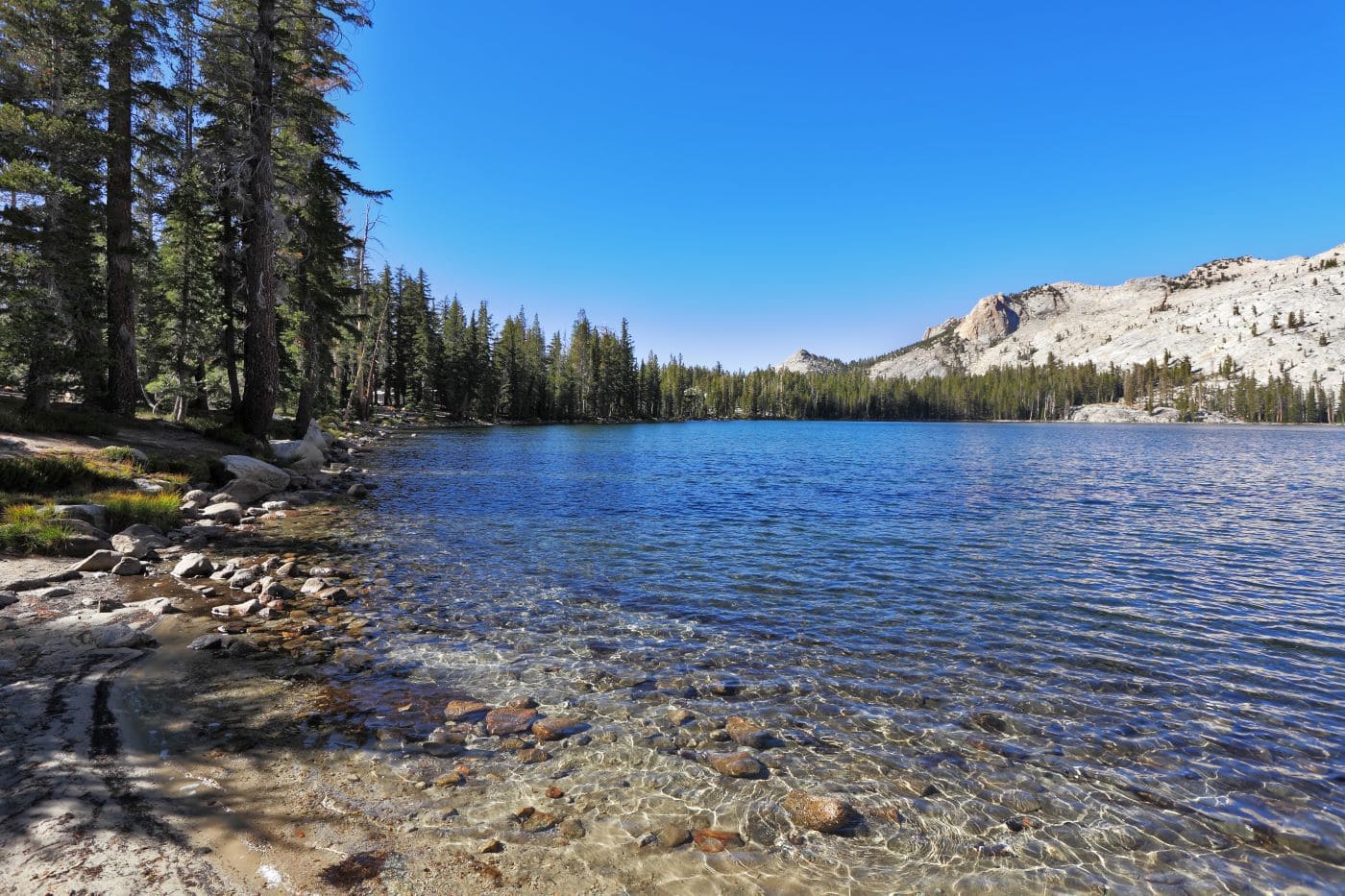 Why you should go: A short but steep hike to a sparkling alpine lake and beautiful views of craggy Mount Hoffman.
Difficulty: Moderate
Distance: 2.5 miles
Elevation gain: 500 feet
The moderate half-day trek up to May Lake is one of the more accessible and often overlooked hikes along Tioga Road, the main artery through Yosemite's High Country. It begins in a stunning old-growth forest, but soon climbs to offer outstanding vistas of Clouds Rest and Tenaya Lake, even before reaching the final destination.
Hikers looking for a bit more challenge and an all-day adventure might want to continue their journey to the summit of Mount Hoffman (6 miles round-trip), which towers over the glassy sheen of May Lake. Just be sure to download the proper GPS files and maps before heading out since there's some off-trail navigating to do.
Related read: 10 Killer Backpacking Trails in Yosemite National Park
9. Half Dome via the Mist Trail
Why you should go: Commanding views and a gut-wrenching cables section make Half Dome a true bucket list-worthy hike.
Difficulty: Challenging
Distance: 14.2 miles
Elevation gain: 4,842 feet
So many factors make the hike up Half Dome via the Mist Trail a once-in-a-lifetime experience. It starts at Happy Isles, at the edge of the iconic Yosemite Valley, then winds up toward Nevada Falls and Liberty Cap, an otherworldly dome at the edge of an immense cliff.
But, perhaps the most infamous section of this well-traveled trail is the final 400 feet, in which hikers must hoist themselves up near-vertical slick granite on a set of thick metal cables before topping out to awe-inspiring views. Get ready for leg burn if you intend to make the trek in a single day, and apply early and often for permits — they sell out months in advance.
Explore California
Get epic travel ideas delivered to your inbox with Weekend Wanderer, our newsletter inspiring thousands of travelers every week.
Was this article helpful?
---