We research, evaluate and select travel destinations based on a number of factors, including our writers' experience and expertise, user reviews and more. We may earn a commission when you book or purchase through our links. See our editorial policy to learn more.
Was this article helpful?
---
Houston: who needs a quiet vacation?
City living is great and all, but sometimes you just need to escape that traffic and noise and hole up somewhere where the air is fresher and you get more greenery than just those strategically placed trees you find in the suburbs.
We're talking about a cozy cabin getaway, y'all.
Houston may be a sprawling, tangled web of highways and urban attractions, but you won't have to drive for hours on end to leave the metropolis behind and reach a quiet cabin nestled in nature.
With so many great options for cabin rentals near the city, there's really no excuse not to go when you feel like your batteries are running low and you need the recharge that only Mother Nature can provide.
Here are some of the best cabin rentals near Houston to bookmark when you're ready for that next weekend away.
1. The Treehouse
Why you should stay: This decked-out, secluded retreat comes with direct access to Lake Livingston.
Nearest town: Pointblank
Sleeps: 9
Minimum stay: 3 nights
Rates from: $325/night
It's views of Lake Livingston all the way to the horizon at The Treehouse. This waterfront property is nestled amongst the trees so it's like your own little private paradise. Places to unwind are everywhere from the hammock on the deck to the firepit by the shore to the private boathouse with a swimming area.
Inside the house, it's all-out modern comfort—like those giant bean bag-like chairs in the living room that are calling your name. When you come in from the outdoors, get cozy by lighting up the fireplace and putting on some Netflix on the TV. If you ever feel bored (doubt it), there are stacks of board games in the closet.
Check Availability
Related read: 9 Best State Parks Near Houston to Escape the City
2. The Lodge
Why you should stay: Full of Southern charm, this big rental has its own fishing pond and plenty of space to spread out.
Nearest town: La Grange
Sleeps: 20
Minimum stay: 2 nights
Rates from: $736/night
If your idea of a great getaway is one where all your friends and family can tag along, then The Lodge is the post for you.
There are enough bedrooms to accommodate 20 people here, and there's more than enough to keep you and your travel companions as relaxed or entertained as you want to be. Outdoors, you can take out the canoe, go fishing in the bass pond, and have a barbecue. Indoors, you can play some piano, relax by one of the two fireplaces, and watch some TV.
You may not have to fight over the remote since there are four TVs, but you may need to do rock paper scissors to see who gets the bed in the cool screened-in porch. Decorated in country-style decor, all of the rooms are homey and comfortable though, and their rustic look matches your peaceful woodsy surroundings.
Check Availability
Related read: 6 Awesome Campervan Rentals in Houston, Texas
3. Getaway Brazos Valley
Why you should stay: It's easy to do a digital detox at this tiny home with unbeatable views from bed.
Nearest town: Navasota
Sleeps: 2
Minimum stay: 1 night
Rates from: $99/night
Those looking for a cabin rental near Houston are probably looking to immerse themselves in nature, and one of the highlights at Getaway Brazos Valley is the giant window that lets you enjoy the scenery even when you're inside laying in bed.
Despite the rental being a tiny cabin, the space feels airy and bright thanks to that aforementioned window and the minimalist interior design. You'll also have the conveniences you need like a kitchenette, shower, and toilet.
When you're not snuggling up inside, you can relax on the chairs by the fire pit and take in all the greenery that surrounds you. Really want to unplug? Leave your phone in the designated lockbox so you won't have any distractions.
Check Availability
4. Hobbit's Nest Treehouse
Why you should stay: You can say goodbye to the real world at this charming treehouse.
Nearest town: Paige
Sleeps: 4
Minimum stay: 1 night
Rates from: $181/night
Do you constantly wish you could just move to The Shire? Well, we can't offer you that, but you can pretend you're hanging with Frodo and friends at Hobbit's Nest Treehouse. Perched among the treetops, this quaint house is full of character with special touches like its wooden walkways, round windows, and canopy bed.
There's a bathroom with a toilet up next to the sleeping quarters, but you have a fun outdoor shower down below too. Underneath the house, you'll also find some hammocks to enjoy at your leisure. During your stay, have a wander on the shady trails around the 42-acre property, and don't worry—there are no Orcs to worry about here.
Check Availability
Related read: 15 Fantastically Free Things to Do in Houston, Texas
5. West Cabin
Why you should stay: This farm stay offers the chance to book dinners from a private chef.
Nearest town: Hempstead
Sleeps: 2
Minimum stay: 2 nights
Rates from: $99/night
West Cabin looks like an idyllic painting come to life with the small wooden house sitting on a grassy field and tucked perfectly into a nook in the woods. The rental is located on a 24-acre organic farm operated by the nonprofit Blackwood Educational Land Institute, and things like the bountiful kitchen garden, chicken coop, and pond just add to the experience.
While this spot is perfect for some quiet contemplation, you can also get a little bit more active by asking your hosts for a cooking class. Those who'd rather not cook on their getaway can also request the services of a private chef.
Check Availability
6. Rustic Cabin on the Lake
Why you should stay: This inviting cabin is right next to a little lake where you can fish and go boating.
Nearest town: La Grange
Sleeps: 6
Minimum stay: 2 nights
Rates from: $195/night
This rustic cabin on the lake is renovated and it looks it with its plush furniture, modern appliances, and perfectly Pinterest-y decor. It strikes a nice balance of rustic appeal without feeling like you're roughing it.
There's a covered deck so you can take in the views of the water without having to be roasted by the sun in the summer, and there's a table down by the lake when you want to eat al fresco.
What there's not is a great internet connection, so you probably shouldn't plan on doing any remote work here. But who wants to work anyways when you could be fishing or paddle boating by the lake, napping on the hammock, and gathering around the fire pit for s'mores?
When night falls, make use of the telescope to appreciate those beautiful starry skies out here in the country.
Check Availability
Related read: What to See on an Awesome Houston to New Orleans Road Trip
7. Zhen House
Why you should stay: You can sleep in a refurbished silo decorated to the nines.
Nearest town: La Grange
Sleeps: 4
Minimum stay: 2 nights
Rates from: $225/night
Those who love more unusual accommodations should take a look at Zhen House, which is an attractive cottage fashioned out of a vintage silo.
Inside, you'll see beautiful surroundings consisting of neutral colors, warm fabrics, and high-end furniture pieces (just look at those plush leather chairs!). Despite the fact that you're inside a piece of old farm equipment, it feels like real luxury thanks to special additions like the chandeliers and a cello for heaven's sake.
While there are two other silo cottages on the property, there's enough open space around you that it shouldn't feel too cramped. Or you could also just have your friends or family rent out the others so you've got your whole gang right next to you.
Check Availability
Related read: The Ultimate Houston to Austin Road Trip Itinerary
8. The Wildflower Ranch Log Cabin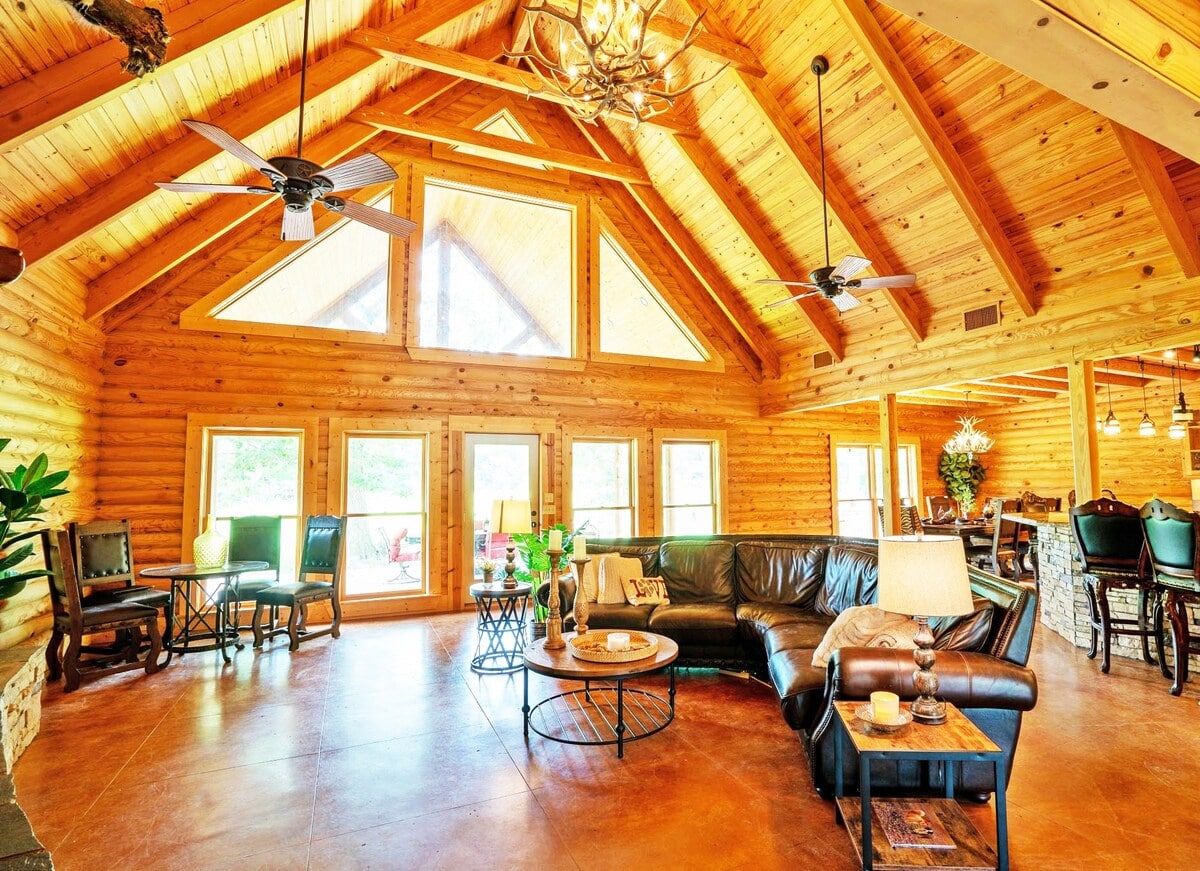 Why you should stay: This spacious, modern log cabin can fit the whole dang family.
Nearest town: Willis
Sleeps: 16
Minimum stay: 1 night
Rates from: $599/night
With room for 16 people, The Wildflower Ranch Log Cabin is the kind of place where you know you're going to make lasting memories with whoever you decide to bring with you. There are three separate suites to divvy up between you and your crew, but you all may be clammering for the Oak Suite, which is the main bedroom with a big soaking tub. It's not too shabby sleeping in one of the other suites though since they both have their own private bathrooms.
All in all, the cabin feels warm and welcoming thanks to things like the vaulted ceilings, open kitchen, and comfortable porch. Animal lovers rejoice because this property has a non-profit animal shelter on-site, and you can ask the hosts to set up a tour if you'd like (no access without a staff member present though!).
Check Availability
9. The Little Colony
Why you should stay: It's like traveling back in time at this historic log cabin.
Nearest town: Round Top
Sleeps: 4
Minimum stay: 2 nights
Rates from: $250/night
If The Little Colony looks like something from another era, it's because it is. This log cabin actually dates back to the 1850s, but don't worry because the interior is living in our modern age. You'll have your creature comforts like electricity and plumbing, and you'll also have comfortable beds to rest your head on at night.
One of the best places to sit at this property is on one of the rocking chairs on the covered porch where you can enjoy some pretty nice sunrises and sunsets. If you didn't already feel like you were traveling back to a slower, quieter time, then doing that will certainly get you there.
Check Availability
Related read: The Best Stops on an Epic Dallas to Houston Road Trip
Next Up in Texas Adventures
Get epic travel ideas delivered to your inbox with Weekend Wanderer, our newsletter inspiring more than 10,000 readers every week.
Was this article helpful?
---