We research, evaluate and select travel destinations based on a number of factors, including our writers' experience, user reviews and more. We may earn a commission when you book or purchase through our links. See our editorial policy to learn more.
Was this article helpful?
---
Any Houstonians in desperate need of a romantic getaway with their special someone? Check out these romantic getaways!
There's always a lot happening in Houston between its ever-full calendar of cultural events, the infamous traffic, and, you know, the everyday going ons of life in a thriving metropolis. While there are certainly romantic pockets you can escape to within the city, sometimes you just need something a little quieter, a little slower, a little more out there when you want to enjoy some quality one-on-one time.
Best Romantic Getaways Near Houston
From glamorous boutique hotels to lovely, little cottages, these are some of the best romantic getaways you can find near Houston. The longest you'll have to drive to get to one of these spots is 1.5 hours, which could very well be about the same amount of time it takes you to get across town during rush hour. So why not trade the traffic for a memorable retreat with the one you love?
1. StarHill Farms Hinze Cabin
Why you should stay: You can leave your worries at home when you visit this historic cabin that sits on a sprawling farm with trail rides.
Location: Round Top
Sleeps: 2
Minimum stay: 2 nights
Rates from: $250/night
StarHill Farms Hinze Cabin's old-timey look isn't just for show. Set on a property with over 300 acres (and some longhorns), it's actually a cabin from the mid-1800s that's been fully restored. Here, expect an interior design brings that rustic charm to the modern era.
During sunrises or sunsets, grab a seat on one of the rocking chairs on the wraparound porch. At night, cozy up by the wood-burning fireplace. Conveniently, you don't even have to leave the property if you're looking for some date ideas since they have fishing opportunities in ponds and creeks, and they also have trail rides.
Check Availability
Related Read: 10 Romantic Cabins in Texas for Quiet Weekends Away
2. The Frenchie
Why you should stay: Enjoy your own little cottage at this stylish boutique hotel with a private chef and masseuse.
Location: Round Top
Sleeps: 4
Minimum stay: 1 night
Rates from: $275/night
The Frenchie Boutique Hotel is a charming inn built in an 1890s farmhouse and cottage. While you can book rooms in the main house, some of the most romantic accommodations are either the Garden Cottage, which has a private kitchen and fire pit, or the Potting Shed, which has an en-suite bathroom with an antique tub and a private porch and patio.
Dial up the romance with a candlelit meal from the on-site private chef or an in-room massage. When you're not relaxing at the hotel, consider doing some boutique shopping around town at spots like Round Top Vintage Market and Townsend Provisions. And there's nothing cuter than sharing a slice of pie from Royers Café.
Check Availability
Related read: 9 Best State Parks Near Houston to Escape the City
3. Naturalist Boudoir TOO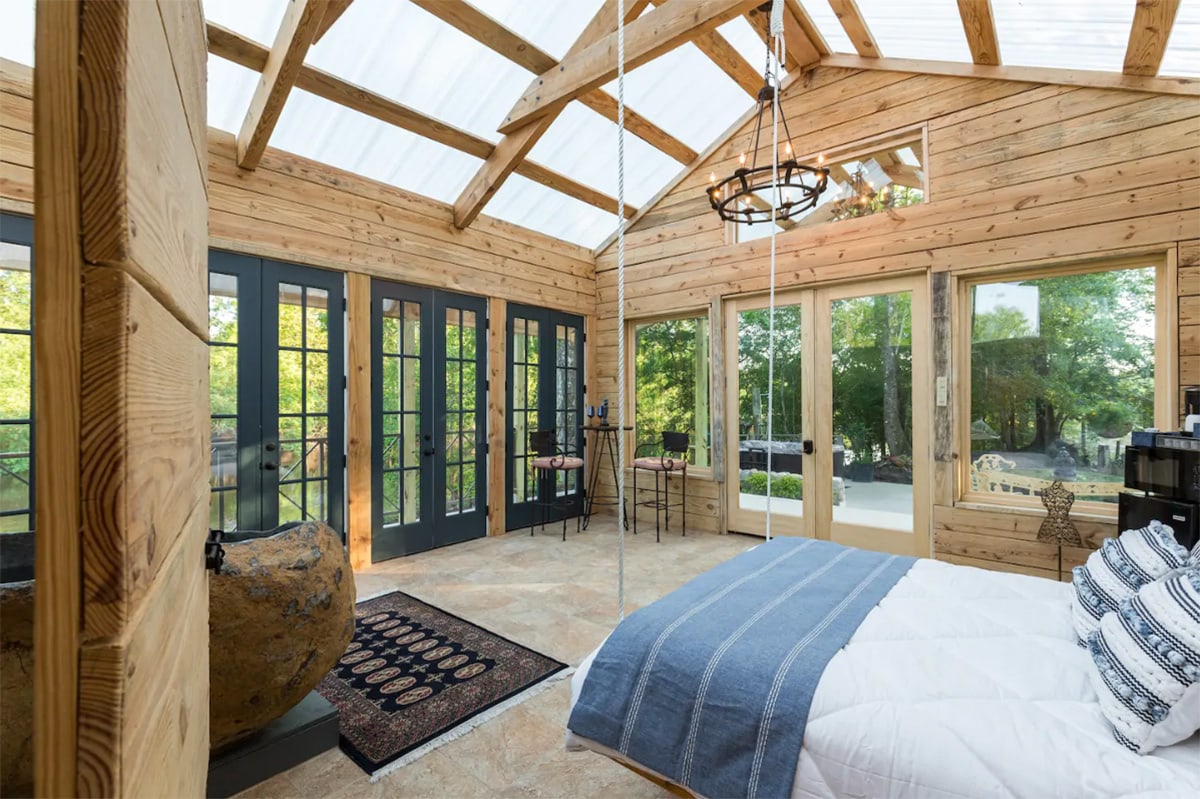 Why you should stay: Surrounded by nature, this beautiful cabin comes with its own hot tub plus one of the most unique bathtubs you'll ever soak in.
Nearest town: Lumberton
Sleeps: 2
Minimum stay: 1 night
Rates from: $211/night
From floor to ceiling, Naturalist Boudoir TOO seems designed to inspire romance. The cabin offers lots of privacy, which is great considering you have an outdoor shower and hot tub to enjoy. Inside, you'll find a beautiful suspended bed and an impressive rock tub that beckons you to take a bubble bath.
All of the windows and glass mean you'll enjoy great views of the surrounding trees when you're lounging about, and it really helps make you feel like you and your partner are one with nature here. For more of the outdoors, grab a seat by your little fire pit for some cozy evening talks.
Check Availability
Related Read: The 9 Best Weekend Road Trips from Houston, Texas
4. Natura Retreat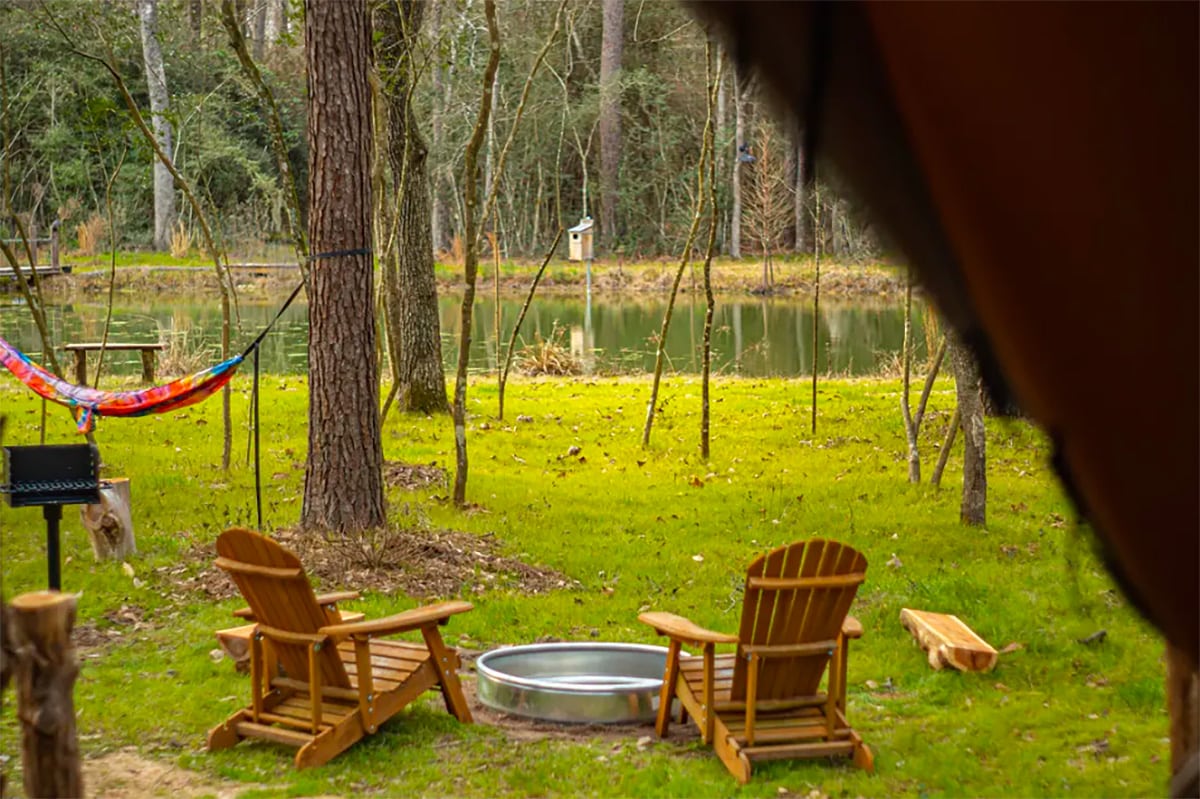 Why you should stay: Say goodbye to stress at this glamping experience for nature lovers that offers cool couple's activities.
Nearest town: Magnolia
Sleeps: 3
Minimum stay: 1 night
Rates from: $221/night
At Natura Retreat, you'll be inspired to reconnect not just with the one you love but also with nature. Situated on a tranquil, 25-acre property, the stay is a large tent with more interior space than you might expect. You'll have a comfy queen bed to sleep on plus a retro microwave and fridge for those breakfasts in bed and late-night snacks.
When the weather is nice, you can pull open the tent to enjoy the breeze from your bed but relaxing on the hammocks outside is another great option. For more fun couple's time, consider booking one of the property's experiences: You can go for a guided meditation in nature, do some outdoor yoga, or take an introduction to beekeeping class.
Check Availability
5. The Tremont House
Why you should stay: This historic, boutique hotel offers luxury in the middle of Galveston's downtown.
Location: Galveston
Sleeps: Up to 8
Minimum stay: 1 night
Rates from: $161/night
While you're waiting to take your romantic island vacation to the Caribbean, why not book a trip to the nearby island of Galveston? The Tremont House has a storied history dating back to 1839, but the rooms feel totally modern with their elegant decor. For extra romance, book the standard queen room facing the atrium or the Tremont Suite if you can splurge.
If you and your partner enjoy getting dolled up, you can have a little date night at the hotel's rooftop bar. Those cocktails will taste even better with the harbor views up there (and, of course, the great company by your side). Another option would be to grab a seat at Toujouse Bar inside where hopefully someone will be playing the piano and offering some background music for your date.
Check Availability
Related Read: The Ultimate Houston to Austin Road Trip Itinerary
6. Western Star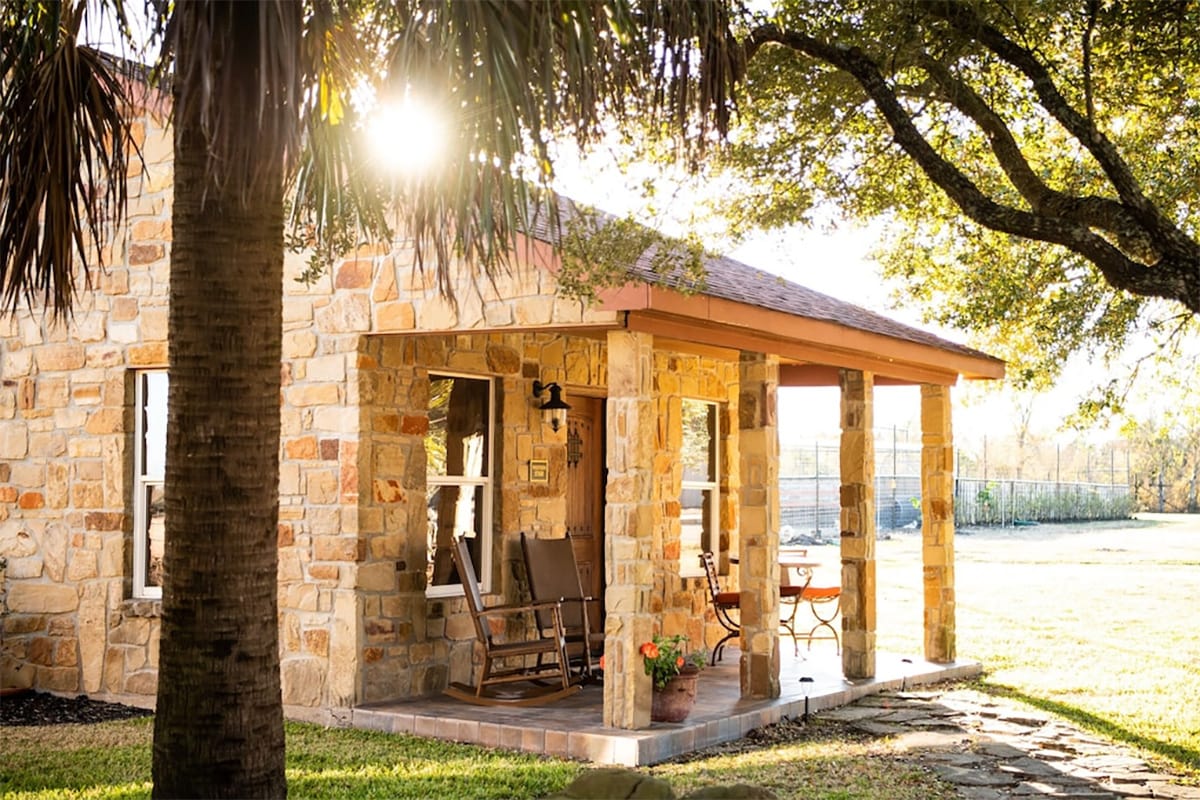 Why you should stay: Pretend you're a cowboy at this property with lots of indoor and outdoor activities for couples.
Nearest town: Brenham
Sleeps: 5
Minimum stay: 2 nights
Rates from: $189/night
It's easy to forget the real world for a little while with a stay at Western Star, one of a few cabins on an expansive ranch. There's a warmth to the place, which gives off just the right amount of country vibes with its homey decor and earth tones.
Is your dream date one where you're a little bit more active? Well, the opportunities are endless at this ranch. You can have a dip in the pool, go fishing in the ponds, and play ping pong or darts in the game room. You can also kick it up a notch with some horseback riding or a hayride.
Check Availability
7. Luxury Camping Cottage
Why you should stay: You've got a hot tub outside and a national forest nearby at this pretty cottage.
Nearest town: Washington
Sleeps: 4
Minimum stay: 2 nights
Rates from: $263/night
This luxury camping cottage has delightful touches of sophistication from the porcelain roses sculpted around the fireplace to the lush robes offered to guests. During your stay, try and wake up early to enjoy the sunrise from your porch and then enjoy a delicious breakfast in the main house's dining room.
You're close to Sam Houston National Forest here, which means you and your date can enjoy long, romantic hikes together in the woods during the day before you cozy up in your cottage at night. But before you knock out, maybe you want to spend some quality time together in your private hot tub…
Check Availability
Related Read: 15 Fantastically Free Things to Do in Houston, Texas
8. The Historic Hill House & Farm
Why you should stay: Go for a cute farm getaway at this countryside property with a variety of gorgeous accommodations.
Location: Willis
Sleeps: Up to 6
Minimum stay: 1 night
Rates from: $175/night
People have been enjoying getaways to The Historic Hill House & Farm for over a century, and it's easy to see why the place is so enticing with its upscale, country chic accommodations set in a rural landscape. This place was even a date spot for The Bachelor, so you know the romantic atmosphere is right.
There are different guest rooms to choose from, including cottages with private porches and a luxury yurt. Every stay here comes with a gourmet breakfast, but you'll also probably want to book a dinner for you and your boo at the inn's restaurant, which serves farm-to-table, Southern cuisine.
Check Availability
9. Magnolia Manor Cottage
Why you should stay: It's peace and quiet at this country cottage with a private pool.
Nearest town: Brenham
Sleeps: 4
Minimum stay: 1 night
Rates from: $225/night
Located on a private estate, Magnolia Manor Cottage has a distinct Southern flair. You've got all you need to hole up for a while, including a full kitchen. Looking to the bathroom, there are two great things about the shower: It has a rain shower head and there's room for two.
Step outside and there's the inviting swimming pool right there (it's all yours to enjoy). You're also free to wander the grounds, which are peppered with beautiful oak trees, and you can go pet the resident horses and donkeys. Head behind the main house and you can make use of the big fire pit.
Check Availability
Related Read: The Best Stops on an Epic Dallas to Houston Road Trip
10. The Zen Den Glamp Tent
Why you should stay: Unplug and enjoy nature at this glamping getaway in the forest.
Nearest town: Plantersville
Sleeps: 4
Minimum stay: 1 night
Rates from: $145/night
Nature lovers should get excited about The Zen Den Glamp Tent, which is a bell tent set on a raised platform in the woods. It's a cozy, simple set-up with enchanting fairy lights strung up in and around the tent. This isn't the spot if you're looking for a great WiFi connection, but that's not really necessary for a romantic getaway anyways.
The hosts will set you up with all the kindling and firewood you should need, so bring your s'mores supplies to have a fun night by your private fire pit. Don't worry, you can buy s'mores kits at the property if you forget. Nearby, you have Jollisant Farm where you can make a date of some berry or pumpkin picking. There's also Bernhardt Winery close by for yet another couple's activity.
Check Availability
Explore More in Texas
Get epic travel ideas delivered to your inbox with Weekend Wanderer, our newsletter inspiring thousands of readers every week.
Was this article helpful?
---