Loads of fresh snow and endless winter activities against the rustic backdrop of the Adirondack Mountains? Yes, please.
New York's Adirondack Park is a favorite destination for outdoor lovers year-round. In the summer and autumn months, hiking, kayaking, and rock climbing attract visitors from around the world. But winter is when this 6-million-acre preserve really comes to life.
Whether you're jonesing to hit the ski slopes, snowshoe up one of the many mountains, cozy up in an idyllic cabin to watch the snow fall, hit up one of the winter carnivals, or zip along the snowmobile trails, there's something to pique every interest.
Or, if you want to simply sit by the fire in your pj's with a hot toddy while the flakes fall outside, the Adirondacks have that too — no judgment here. Whatever your pleasure, this is your winter guide to frosty fun in the Adirondacks.
Winter Activities
…they abound. There's no shortage of things to do and adventures to be had in the Adirondack Mountains during the winter months. After all, the region has hosted not one, but two winter Olympic games. So, grab your boots and mittens, and let's explore.
Snowshoeing and Winter Hiking
Snowshoeing in the Adirondacks is like a fairytale. The forest of trees laden with freshly fallen snow looks like a scene straight out of Narnia. Whether you want to snowshoe along groomed trails with gear rentals or forge your own path up one of the many mountains with your own pair, there's more than enough routes for everyone.
Head to the Lapland Lake Nordic Center, where miles of snowshoe trails offer flat, hilly, and wooded terrain to meander through. With 3.6 miles of snowshoeing trails and rentals available, the Adirondack Interpretive Center in Newcomb is an easy choice. Fern Park in the Inlet area in the park's western region is another solid option for groomed trails.
If you're looking for a more rugged snowshoe endeavor involving a summit or having to lay fresh tracks of your own, consider the 3-mile Big Pond Trail in the Hoffman Notch Wilderness, Coney Mountain in Tupper Lake, or Big Crow Mountain in the High Peaks region.
Related Read: 10 Best Spots for Snowshoeing in Upstate New York
Downhill Skiing and Snowboarding
From smaller mountains like Old Forge's McCauley Mountain Ski Area, to bigger, resort-style experiences like Whiteface Mountain, the Adirondacks is loaded with options. In fact, there are more ski resorts in New York than in any other state, and Whiteface is known for hosting the Olympics as well as having the largest vertical drop east of the Rockies.
In the eastern Adirondacks, West Mountain is a small, family-friendly spot, great for beginners. Oak Mountain in Speculator is the southern Adirondack's version of West Mountain with a gorgeous view over Lake Pleasant and Family Fun Days on their docket. In the Malone area, there's also Titus Mountain, which has a small resort feel with runs for the whole family.
Looking for a backcountry experience where you have to skin up a mountain and ski down without anyone else around? Lyon Mountain near Malone will tick that box.
Related Read: 9 Incredible Places to Stay in Old Forge, New York
Cross-Country Skiing
If you're craving a ski venture without the whole "barreling down a steep mountain" thing, cross-country skiing might be more your style and the Adirondacks happens to be chock full of trails. The Jackrabbit Trail in Lake Placid is approximately 31 miles long, stretching from Keene to Paul Smiths, with scenic views and ungroomed trails most of the way. Four ski centers and backcountry routes make up this lengthy trail, but don't worry, you don't have to commit yourself to the entire thing, it's possible to cross-country ski just a portion of it, with varying access points stated on the map.
Groomed trails in Tupper Lake Golf Club are another fun option, with an entire network of looped trails to explore. Lapland Lake is fantastic for cross-country skiing as well, with on-site lodging and more than 30 miles of trails. Garnet Hill Lodge in North River is an excellent spot for cross-country too, with onsite rentals, a myriad of trails, lessons, and a warm fireplace to enjoy a drink and get toasty afterward.
Related Read: 12 of the Best Airbnbs in the Adirondacks
Snowmobiling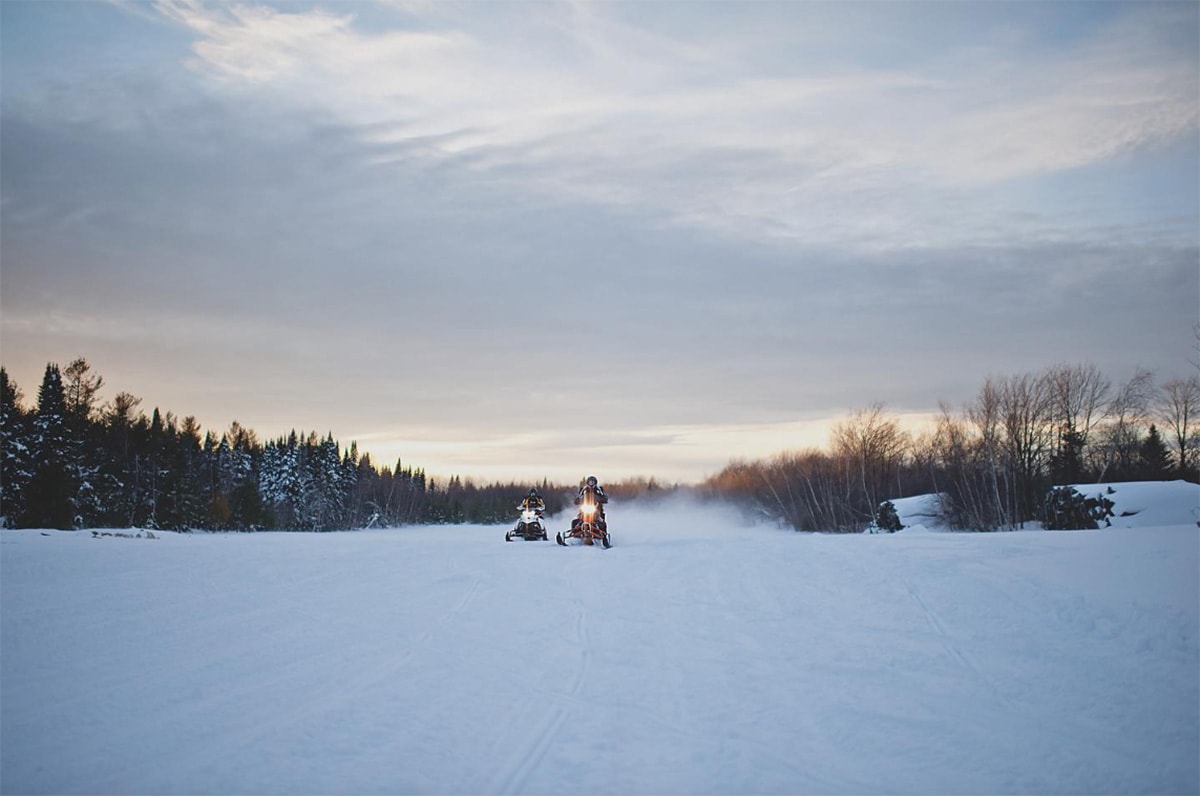 With thousands of miles of both groomed and backcountry trails, it's no wonder the Adirondacks are a popular destination for snowmobilers. The most well-known area in the park is the Tug Hill Plateau in the western Adirondacks. Hundreds of miles of groomed trails, regular snowfall, and a slew of restaurants, lodges, and bars make this one of the best regions to snowmobile.
Saranac Lake, Lake George, Schroon Lake, and Tupper Lake are just some of the other spots in the park where snowmobiles can be heard zipping along the trails.
Related Read: The 8 Best Camping Spots in the Adirondacks
Everything Else
Take a lovey-dovey sleigh ride and dash through the snow in various spots around the Adirondacks including Lake Placid's Adirondack Sleigh Rides and Circle B Ranch in Chestertown. Or, lace up your skates and work on your triple axel at one of the region's many frozen ponds and lakes like Gurney Lane Recreation Area in Queensbury, Mirror Lake in Lake Placid, or the Fern Park Recreation Area in Inlet, to name a few.
You can also try out one of winter's more unique sports with the Bobsled experience in Lake Placid and pretend to be an Olympian for the day (or at least an hour or so).
Related Read: 10 East Coast Vacation Spots You Never Considered (But Should!)
Lodging
Cozy cabins, pet-friendly hotels, classic Adirondack lodges, and unique rentals are all up for grabs when searching for accommodations in the park. The new Grand Adirondack Hotel puts you front and center in the heart of Lake Placid with all the outdoor exploits within reach…oh, and it's pet-friendly to boot.
Juniper Hill Cabin and the A-frame of the same name will have you staying just 5 minutes from Whiteface Mountain, so if you're a skier or snowboarder, booking is a no-brainer. Friends Lake Inn in Chestertown is for the romantics at heart, with its own activities and dining available on-site.
Events
View this post on Instagram
We're talking ice castles and outhouse races, folks. Winter festivals and events in the Adirondacks are perfect to plan your visit around. The oldest and most celebrated event is the Saranac Lake Winter Carnival, complete with a parade, ice castles, fireworks, and competitions like the frypan toss. It takes place yearly in February — for 2023 it runs from the 3rd-12th.
Indian Lake SnoCade is for snowmobile lovers, and the Brant Lake Winter Carnival draws guests and competitors with the famous outhouse races, where you have the chance to win $1,000. In 2023, the carnival will take place on February 18th.
Explore More in New York
Sign up for Weekend Wanderer to join thousands of readers getting epic travel ideas every week.
Was this article helpful?
---