Name a better way to cool off in the summer heat than a dip in a natural swimming hole…we'll wait.
Summer is a time to embrace the outdoors, with the extra daylight, warm temperatures, and the ability to comfortably celebrate our adventures with drinks on patios. But it also means dealing with the sometimes abrasively intense summer heat.
That's why Mother Nature so kindly gifted us swimming holes, where we can cool off and appreciate pure natural settings all at the same time. Upstate New York happens to have some pretty amazing swim spots — some with the magic of a waterfall, some that are hidden gems, and some that require a bit more effort to enjoy.
From the Catskill Mountains to the Adirondack Park and everything in between, these 9 swimming holes are some of the best for some classic summertime fun.
Just remember to carry out what you carry in, be respectful of nature, and practice leave no trace principles.
1. Fawn's Leap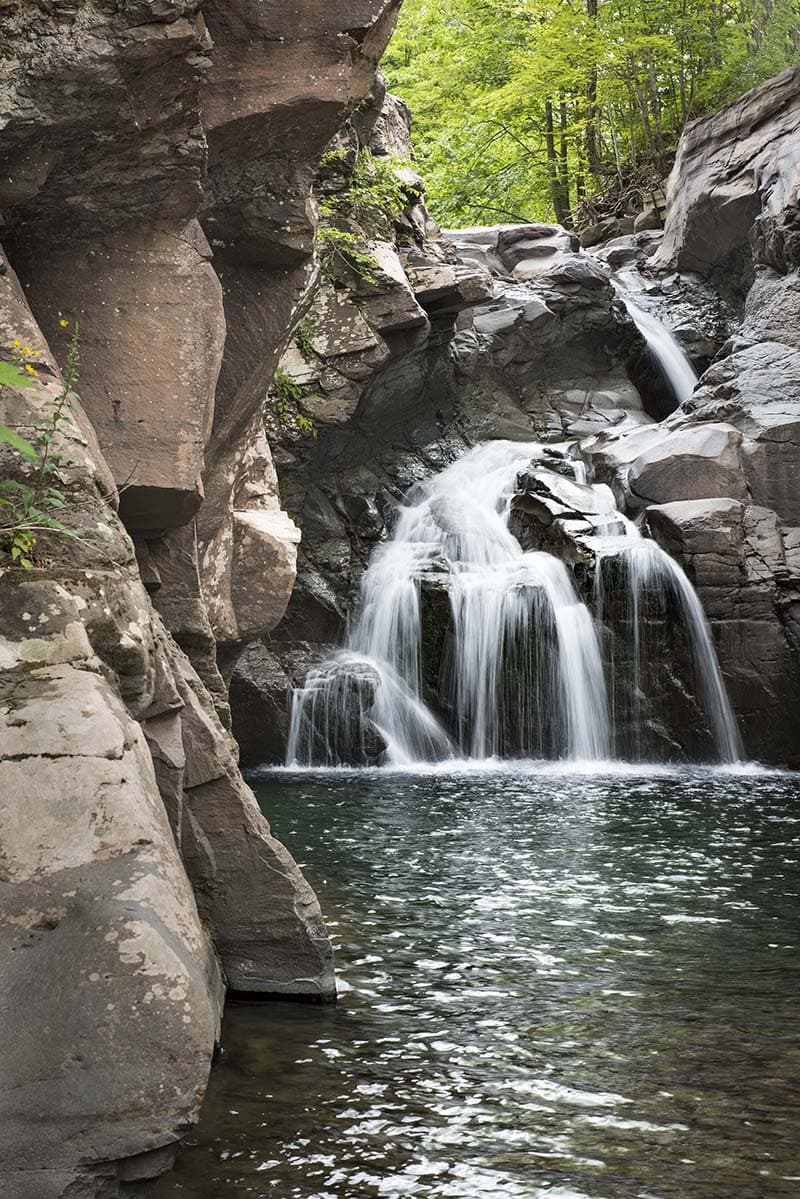 Nearest town: Hunter
Hike to swimming hole: 1.3 miles
Fawn's Leap in the Catskill region's Kaaterskill Wild Forest is for adventurers at heart. With the opportunity for a cool 24-foot cliff jump paired with a refreshing waterfall and a short hike, this natural pool is an all-around crowd-pleaser. You'll find the access point along Route 23A near Haines Falls just after the small Moore's bridge — parking is tricky (and limited) but whatever you do, don't park illegally or you will be towed.
Embark on the south river trail towards Kaaterskill Creek and enjoy the half-mile hike to Fawn's Leap. When you arrive at this popular swim spot, you can choose your own level of adventure. Wade into the pool, or take the uphill path that skirts the left side of the cascade, where you can jump into the water from your preferred height. A touch further up the creek, you'll find another swimming hole, Rat's Hole, with a rope swing and large boulders to jump from. This spot isn't as risky as Fawn's Leap due to the cliff jumping, but they pair perfectly with each other for a full swimming adventure.
Related Read: The Top 10 Best Hikes in Upstate New York
2. Kaaterskill Falls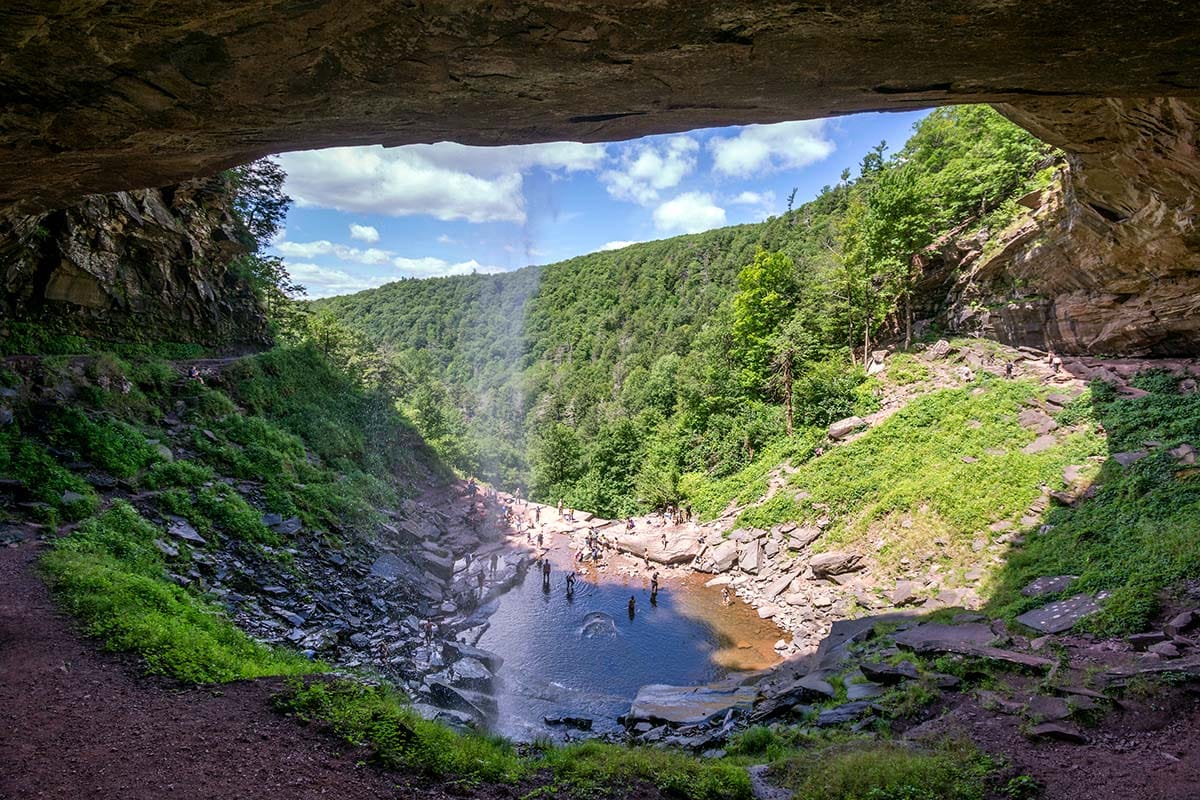 Nearest town: Hunter
Hike to swimming hole: 1.4 miles
Just up the road from Fawn's Leap access, is another bang-for-your-buck hike with an even bigger 2-story waterfall. Kaaterskill Falls has a drop of approximately 260 feet in total, with a sparkly, inviting pool at the base that's ideal for swimming. You can either start from the top and get the view overlooking the falls before hiking down to the bottom to enjoy your swim, or vice versa. (Though, there is more parking for the trailhead at the top.)
Bring appropriate footwear and be careful as the rocks get slippery. This is also a great spot for a picnic lunch, photography, or just overall summer outdoor fun. Due to its popularity, you'd be doing yourself a big favor by going mid-week or off-hours such as early in the morning. Either way, the waterfall itself is spectacular and completely worth the minimal effort, and the swimming hole is a huge bonus on a hot day.
Related Read: Gather Greene: A Nature Retreat in the Heart of the Hudson Valley
3. Enfield Falls
Nearest town: Ithaca
Hike to swimming hole: near parking
Enfield Falls is more of a natural swimming pool than a swimming "hole" but that just means more room for fun in the sun. Situated in the Finger Lakes region of New York in the Robert H. Treman State Park, Enfield Falls is the lower waterfall accessed by a short walk.
Fed by a picturesque cascade and featuring facilities like changing rooms, picnic tables, lifeguards, and even a diving board, this is easily a place you could spend an entire day dipping in the crisp Upstate New York water.
Although it's a popular spot, the roomy shallow and deeper sections have ample room for everyone without feeling like you're going to accidentally kick someone as you swim. Head to the deep end for a chance to go under the waterfall or do some cool jumps off the diving board (or both) — this place will have you feeling like a kid again.
Related Read: The 8 Best Camping Spots in the Adirondacks
4. Split Rock Falls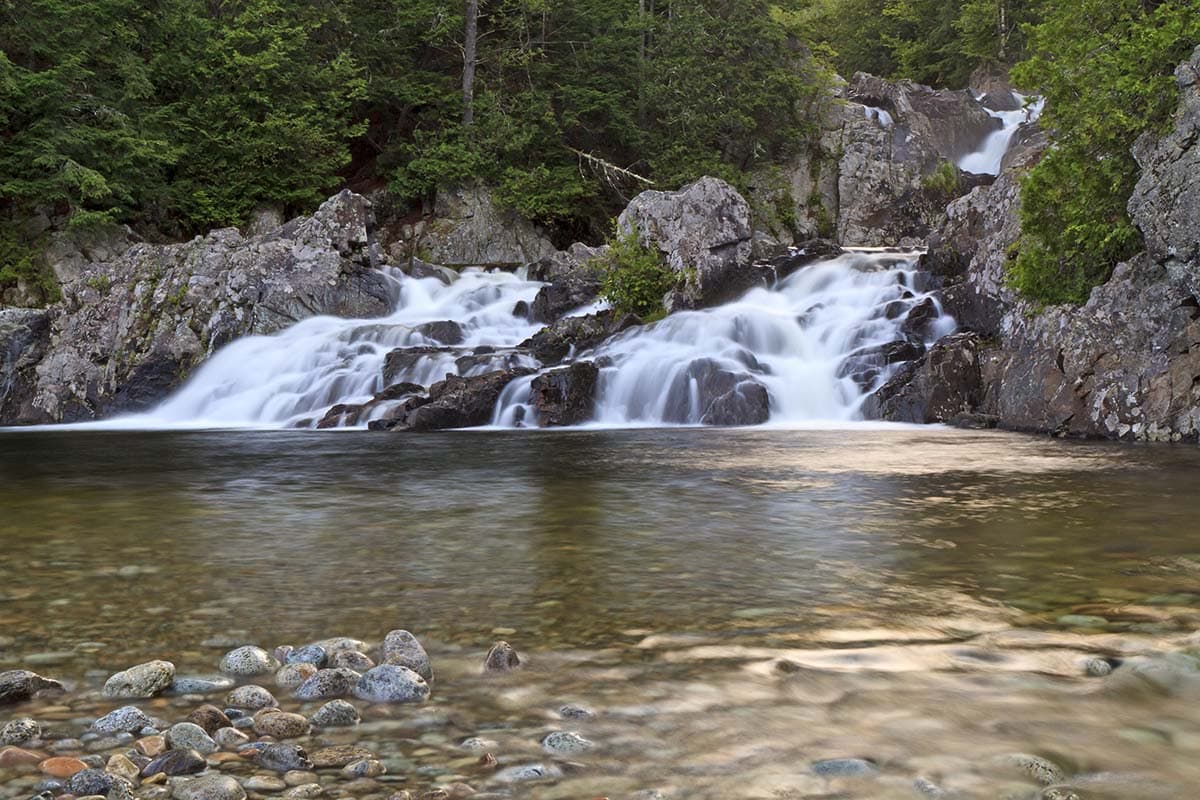 Nearest town: Elizabethtown
Hike to swimming hole: near parking
Uncover a crystal clear natural pool at the base of Split Rock Falls in the Adirondacks and feel like you've stumbled upon some sort of movie set. This scenic spot is accessed by a short 5-10 minute hike down to the Boquet River from the lot on Route 9.
Three tiers of the cascade create multiple pools for swimming, though most people stick to the middle and lower areas. The bottom of the large lower pool at the base of the falls is stone and sand; wearing water shoes is advised to wade in comfortably.
If you're feeling like a daredevil, climb up towards the top for some cliff-jumping action, too. You'll see people jumping off the rocks into the deep middle pool, but this should only be attempted if you are a strong swimmer. Even then, extreme caution should be taken when cliff jumping.
5. Otter Falls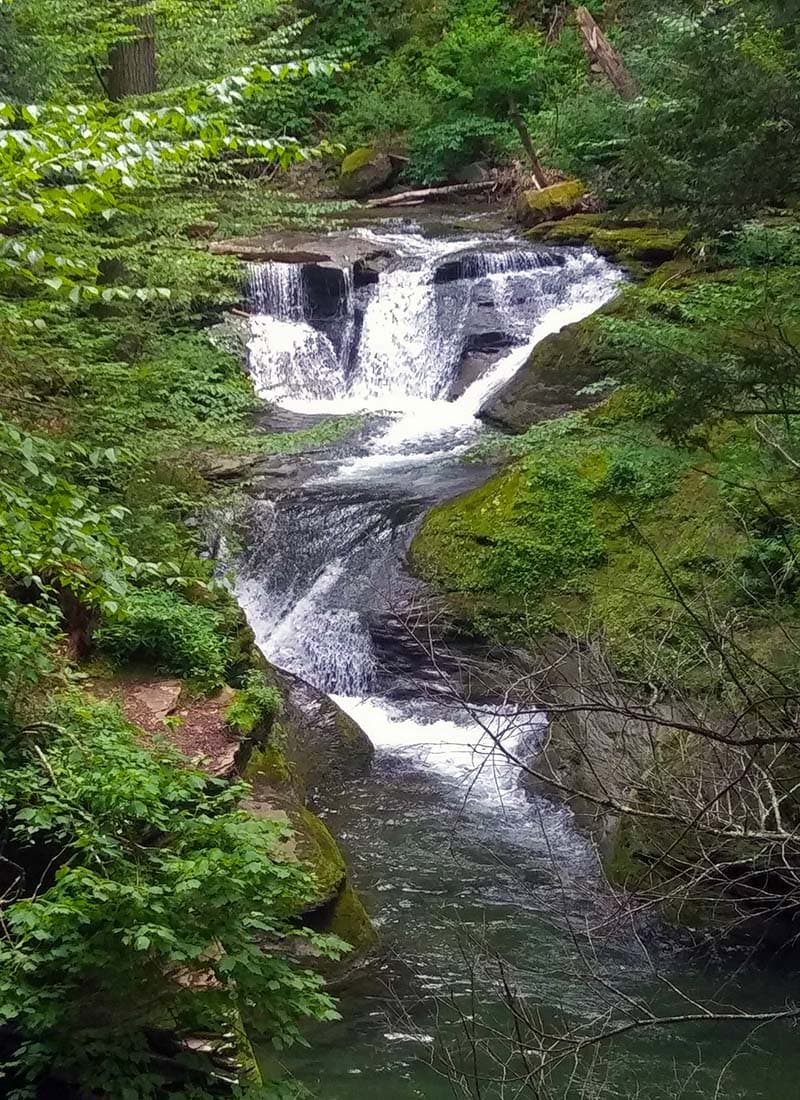 Nearest town: Shandaken
Hike to swimming hole: 1 mile
Situated on Esopus Creek, on the edge of the Big Indian Wilderness, this Catskills swimming hole is an easy-to-access spot with a 25-foot waterfall. Just after crossing the bridge on Route 47, a path to the cascade basin leads directly from the parking area. The swimming hole at the base of the falls is approximately 6-8 feet deep, dependent upon recent rainfall.
The force of the waterfall can impact the appearance of the water, making it look muddy at times, but it's safe for swimming and perfectly refreshing. Lounge on the surrounding rocks, dip your toes, read a book, or dunk for a full swim — this natural pool is your Catskill oyster.
This gem is also located just half a mile from the trailhead to Giant Ledge, a popular and challenging 6.3-mile out-and-back hike with views of the surrounding area. Stopping at the Otter Falls swimming hole post-hike is a must in the warm weather. The best time to visit Otter Falls for swimming is late spring or early summer as depending on rainfall, it may dry up a bit (not completely) with hot temperatures towards the end of the season.
6. Buttermilk Falls State Park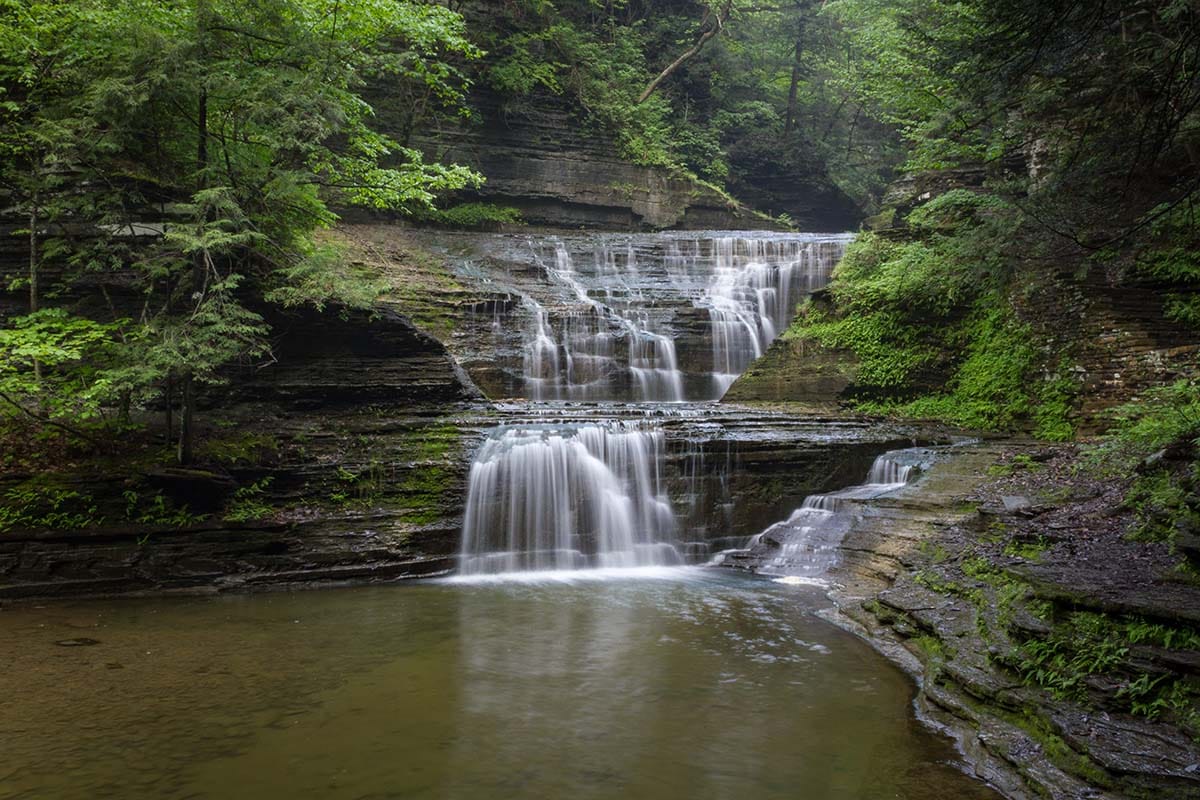 Nearest town: Ithaca
Hike to swimming hole: near parking
Another Finger Lakes treasure, Buttermilk Falls State Park is host to a beautifully scenic swimming pool at the base of the falls. The parking lot is situated by the creek-fed pool, but before jumping in, work up a sweat along the well-maintained, hour-long waterfall trail to explore the park a bit. One side skirts the gorge and the other side of the longer loop trail meanders along the rim.
You'll see a series of other cascades in the beautiful gorge with lush foliage, before hitting the refreshing pool yourself. Set up similarly to Enfield Falls, this pool is sizable with a pavilion, picnic tables, a lifeguard, and a set of platforms and steps for lounging.
Note: Swimming is open on weekends only.
7. Johns Brook
View this post on Instagram
Nearest town: Keene
Hike to swimming hole: 7 miles
Set in the High Peaks region of the Adirondack Park, Johns Brook is a well-loved swimming hole fueled by the gorgeous Bushnell Falls. The cascade has a drop of 20 feet through bedrock, creating a stunning backdrop for a summer swim.
Access is via a 3.5-mile trail, making you work for your dip. Start at the parking area for "The Garden" where you can hit the John's Brook trail going southwest towards Mount Marcy. At the half-mile mark, cross the creek via the Southside Trail where you'll discover several swimming holes as you make your way upstream. Here, you'll find Tenderfoot Falls and the Tenderfoot pools, as well as several more natural dipping spots further up.
8. Shanty Brook
View this post on Instagram
Nearest town: Wells
Hike to swimming hole: 1.3 miles
For a secluded swimming hole dip, head to Shanty Brook in the Adirondack region, an offshoot of the Sacandaga River. Located near the town of Speculator, the natural pool and waterfall can be accessed across the street from the somewhat missable parking area along Route 8. Keep an eye out for the semi-circle-shaped lot with two entrances, approximately 9 miles north of the Route 8 and Route 30 intersection.
The trail is more of a dirt road that will lead you towards a set of campsites, but you'll cross the Sacandaga River just before you reach it. Follow the path along the Shanty Brook until you see the 12-foot falls with clear mountain water for swimming. It's not a long hike, though the trail has been said to be overgrown and hard to follow at times — as an alternative, hike up the brook directly to reach the falls. This swimming expedition will be a true adventure, making your plunge even sweeter when you get there…and, you might even have it all to yourself.
9. Black Hole
View this post on Instagram
Nearest town: Warrensburg
Hike to swimming hole: near parking
Mill Creek Recreation Area in North Creek is home to the ominous-sounding "Black Hole," a popular spot in the midst of the Adirondacks. The Black Hole didn't gain its moniker for being an evil phenomenon, but rather for its deep pool of water formed by Dunkley Falls on its backside.
This natural pool's depth makes it a great spot for cliff-jumping from heights of up to 20 feet. It's suitable for more than just those looking for a thrill though, plenty of shallow spots for leisurely wading, lounging, or swimming are available. Pack a picnic lunch for this one…you're going to want to stay awhile.
Where to Go Next
Get epic travel ideas delivered to your inbox with Weekend Wanderer, our newsletter inspiring thousands of readers every week.
---