We research, evaluate and select travel destinations based on a number of factors, including our writers' experience, user reviews and more. We may earn a commission when you book or purchase through our links. See our editorial policy to learn more.
Was this article helpful?
---
Fall asleep in the treetops as you sway in the breeze in one of these unique treehouse rentals during your next epic outdoor adventure.
Treehouse vacation rentals have taken the US by storm and offer travelers a unique lodging option that's equal parts comfortable and exciting. Typically built using wooden stilts (or actual living trees) as supports, treehouses are essentially tiny homes lifted off the ground.
There are luxurious treehouses that don't miss any amenities, glamping-style treehouses that offer a blend of comfort and nature, and simpler options that retain the fun of actual camping. No matter what your preference, there's nothing quite like living out your childhood fantasy in a home perched high (or not so high) in the leaves.
If you're itching to try something new, here are some of the most exciting treehouses rentals in the US.
Related: 9 Treehouses in Florida For a Unique & Affordable Stay
Treehouse Vacation Rentals in the Midwest
1. The Treehouse Suite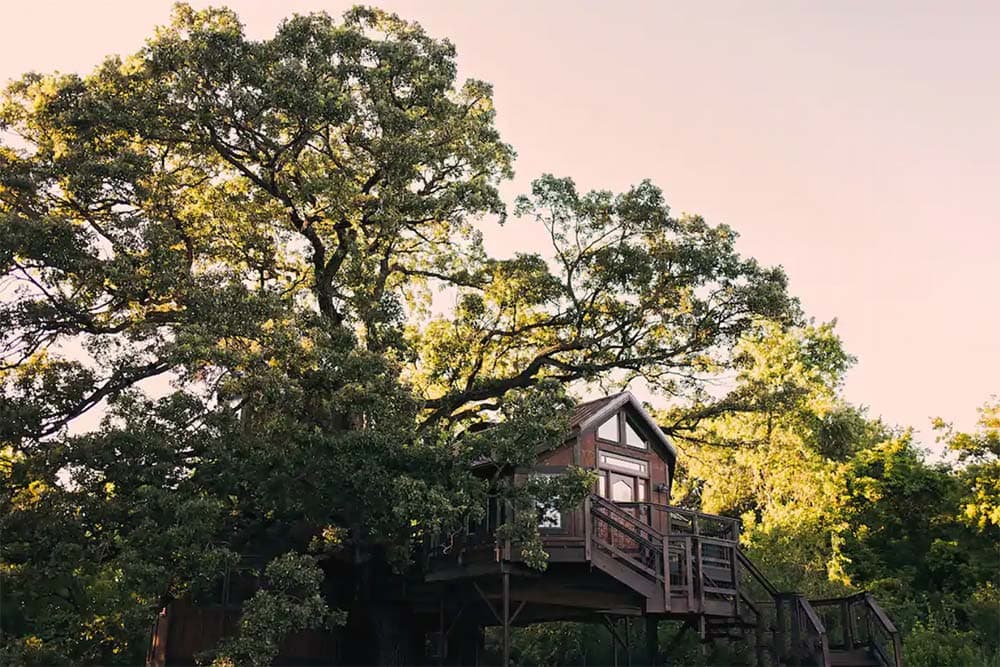 Why you should stay: A seven-room, four-deck treehouse neighboring a 500-acre park.
Location: Cottage Grove, Minnesota
Sleeps: 4
Minimum stay: 1 night
Rates from: $279/night
The Treehouse Suite is an opulent two-bedroom treehouse where gleaming wooden surfaces and jeweled chandeliers welcome you to a peaceful farm property.
This homey rental features plenty of places to relax including a secret den, a living space with a stone fireplace, a full bathroom with a rain shower and jacuzzi tub, and a dining nook.
"A much needed getaway! The treehouse was gorgeous, in a quiet location, and contained fun surprises around every corner!"
Check Availability
Related read: 7 Enchanting Treehouse Rentals in Wisconsin
Treehouse Vacation Rentals in the Northeast
2. Magical Treehouse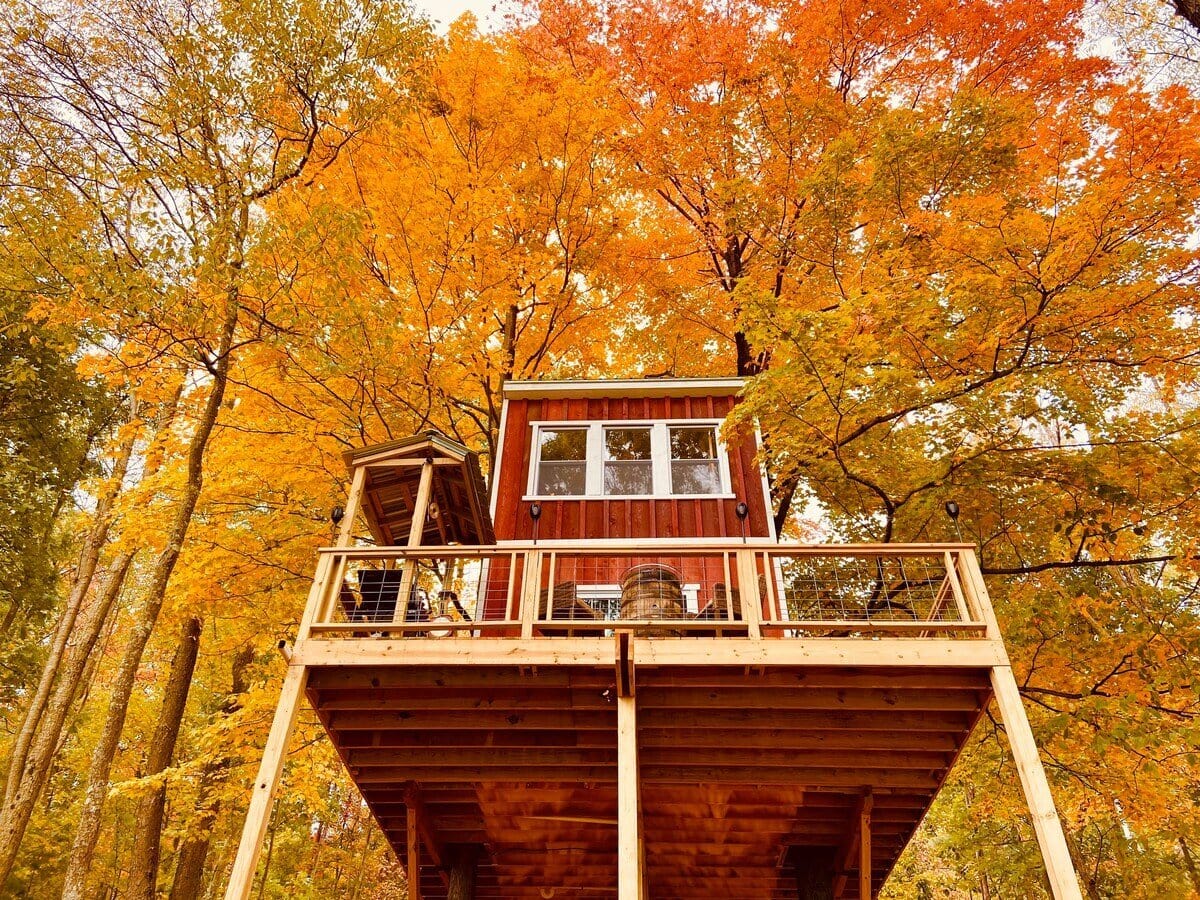 Why you should stay: Off-the-grid glamping treehouse near Ricketts Glen State Park.
Location: Mehoopany, Pennsylvania
Sleeps: 2
Minimum stay: 1 night
Rates from: $224/night
The magical treehouse is an unsuspecting gem in northeastern Pennsylvania. This rustic tiny home is perched among the leaves and boasts a large deck lit with glowing torches and views of the Endless Mountains. Wood reclaimed from a 150-year old barn lines the floors and an old-school wood-burning stove keeps the place warm. Underneath the treehouse is a fire pit and two hammocks, which offer a fantastic place to rest up in nature.
Check Availability
3. The Canopy Treehouse
Why you should stay: A well-equipped treehouse complete with a full kitchen and bathroom.
Location: Sanford, Maine
Sleeps: 4
Minimum stay: 1 night
Rates from: $425/night
The Canopy Treehouse isn't your average treehouse, but rather, an impressive two-bedroom getaway with high-end amenities. On a private three-acre wooded lot, this treehouse vacation rental features a beautiful spiral staircase, spacious deck, and a hot tub.
Inside, you're greeted by cozy knotty pine finishes and pops of vibrant red. Littlefield Pond is on the property, so you can kick back on the private dock or take the canoe out for a paddle. And Sanford is only about 30 minutes from Kennebunkport in case you want a summer beach day.
Check Availability
Related Read: 14 Incredible Georgia Treehouse Rentals to Upgrade Your Vacation
4. Willow Treehouse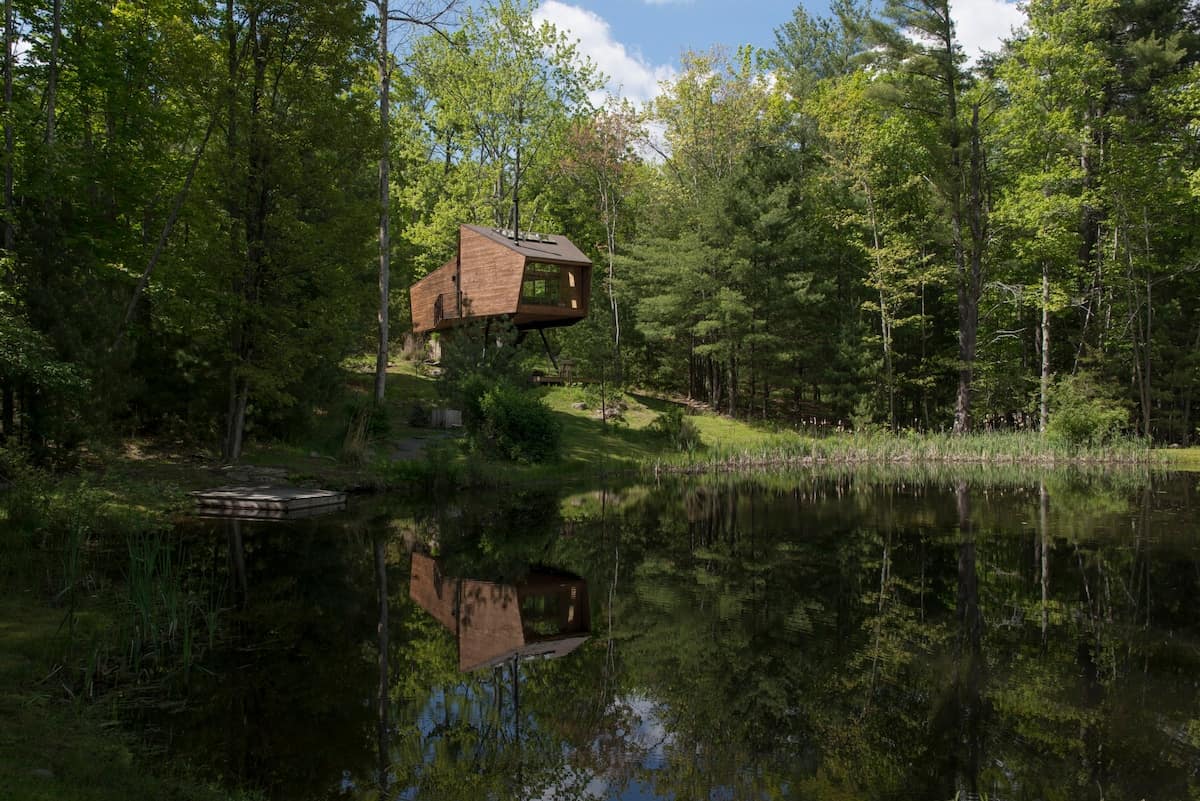 Why you should stay: An architectural wonder offering peace and seclusion near Woodstock.
Location: Willow, New York
Sleeps: 2
Minimum stay: 2 nights
Rates from: $382/night
The Willow Treehouse is an off-the-grid artistic wonder constructed with knotty pine surfaces and floor-to-ceiling windows looking out onto a swimmable pond. The home also features a wood-burning stove, an elevated sleeping loft, and a spacious deck underneath the treehouse.
You won't find Wi-Fi or strong cell service, only the surrounding nature, and the Swedish wood-burning hot tub to keep you occupied. And yes, it's that Woodstock. There are a few cool art galleries and cafes in town that celebrate the town's festival history.
Follow 'em: @treehousewillow
Check Availability
5. Ultra Luxury Treehouse
Why you should stay: An expertly crafted treehouse with an 80-foot suspension bridge.
Location: Remsen, New York
Sleeps: 4
Minimum stay: 1 night
Rates from: $495/night
The next time you venture to the Adirondack region of New York, indulge a stay at this ultra-luxury treehouse about an hour east of Syracuse. The wooden facade and the two-story floor-to-ceiling windows are sure to make your jaw drop, as are the suspension bridge and small on-property waterfall.
Inside, Art Deco-inspired touches, including retro Edison light fixtures, geometric paneled accent walls, and shining gold and brass finishes are sure to wow interior design enthusiasts. Other noteworthy amenities include the spacious wraparound deck, seating around the fire pit, and proximity to wineries and hiking at state parks.
Follow 'em: @evergreen_cabins
Check Availability
Treehouse Vacation Rentals in the South
6. The Birdhouse
Why you should stay: A studio treehouse near Dinosaur Valley State Park.
Location: Glen Rose, Texas
Sleeps: 2
Minimum stay: 2 nights
Rates from: $199/night
Surrounded by a sprawling 50 acres, The Birdhouse is a quaint treehouse with a balcony overlooking the peaceful sights and sounds of Texas Hill Country. Be sure to head to Dinosaur Valley State Park, where you can stand in actual dinosaur footprints. You don't have to be a kid to find that objectively awesome.
This cozy treehouse vacation rental has a rustic feel with modern amenities and is highly rated for the owners' friendly hospitality. During your visit, the hosts provide complimentary snacks, sodas, and coffee, and also offer optional add-on packages to make your stay extra special.
Check Availability
7. Treehouse at Danville
Why you should stay: A bright and airy treehouse yurt with an elevator, romantic outdoor shower, and a second upper deck.
Location: Geneva, Florida
Sleeps: 2
Minimum stay: 1 night
Rates from: $180/night
The Treehouse at Danville is a fun treehouse airbnb just 35 minutes from Orlando and 25 minutes from the sandy shores of Titusville. Rays of sunshine pass through the yurt's windows, brightening up the bohemian-styled interior and adjacent deck with a fireplace and grill.
In the evening, string lights make the entire treehouse site glow as you enjoy the hot tub, fire pit, and tiki bar. It's equal parts eclectic and fabulous.
Check Availability
8. Archimedes' Nest
Why you should stay: Custom treehouse on Emu Ranch surrounded by exotic wildlife and well-manicured gardens.
Location: Atlanta, Georgia
Sleeps: 2
Minimum stay: 1 night
Rates from: $268/night
The Archimedes' Nest is a modern and spacious home that boasts a grand spiral staircase, an electric fireplace, and an impressive gourmet kitchen. Enjoy a relaxing experience curled up in the lofted reading nook or on the balcony as you whip up dinner on the grill.
The property is within walking distance to the East Atlanta Village, a humming part of the city with notable restaurants and bars. Because the property is on a literally emu ranch, you can expect to see everything from emus to peacocks to swans wandering below your digs.
Follow 'em: @nesttreehouseatl
Check Availability
9. Upper Stone Mountain Treehouse
Why you should stay: A wheelchair-accessible treehouse just five minutes from the Appalachian Trail.
Location: Unicoi, Tennessee
Sleeps: 4
Minimum stay: 2 nights
Rates from: $182/night
The Upper Stone Mountain Treehouse is a homey treehouse vacation rental near the North Carolina border in a quiet rural setting. A wall of glass makes up the front exterior, allowing natural light in and for guests to peer out. Everything you need to be comfortable is provided for your stay, as well as extras that include two romantic soaking tubs, a fire pit, and an outdoor shower.
Nearby cities include Johnson City, Tennessee, and Asheville, North Carolina, convenient for staycationers. This is one of the best treehouses for guests with limited mobility thanks to the ramp, and there are wheelchair-friendly trails in nearby Cherokee National Forest.
Check Availability
10. The Serenity Treehouse
Why you should stay: An Airbnb Plus treehouse near the outdoor paradise of Asheville.
Location: Asheville, North Carolina
Sleeps: 4
Minimum stay: 1 night
Rates from: $285/night
Find refuge at The Serenity Treehouse, a rustic-meets-modern Asheville vacation rental that makes it easy to disconnect. Hardwood floors and knotty pine ceilings are beautifully paired with high-end furniture, and the treehouse's balcony is a lovely place to sit and take in the beautiful views.
Asheville is well-known for it amazing outdoor adventures ranging from mountain biking to whitewater rafting and rock climbing, so this is a perfect treehouse for a small group of outdoorsy friends planning to explore the area.
Check Availability
11. The Joshua Tree House
Why you should stay: A romantic treehouse getaway with lux amenities in northern Virginia.
Location: Bridgewater, Virginia
Sleeps: 2
Minimum stay: 2 nights
Rates from: $209/night
The Joshua Tree House is a highly sought-after treehouse in an unsuspecting, small Virginia town near the North River. Its standout features include a hot tub on the deck, a stunning walnut spiral staircase, a luxurious bathroom, and a hanging wicker chair in the lofted sleeping space.
Whether you're looking for a romantic retreat or an escape from the city, The Joshua Tree House is a fabulous option. Bridgewater is in the Shenandoah Valley, so there are plenty of trails nearby to fill a weekend.
Follow 'em: @joshuatreehouseva
Check Availability
12. The Carolina Treehouse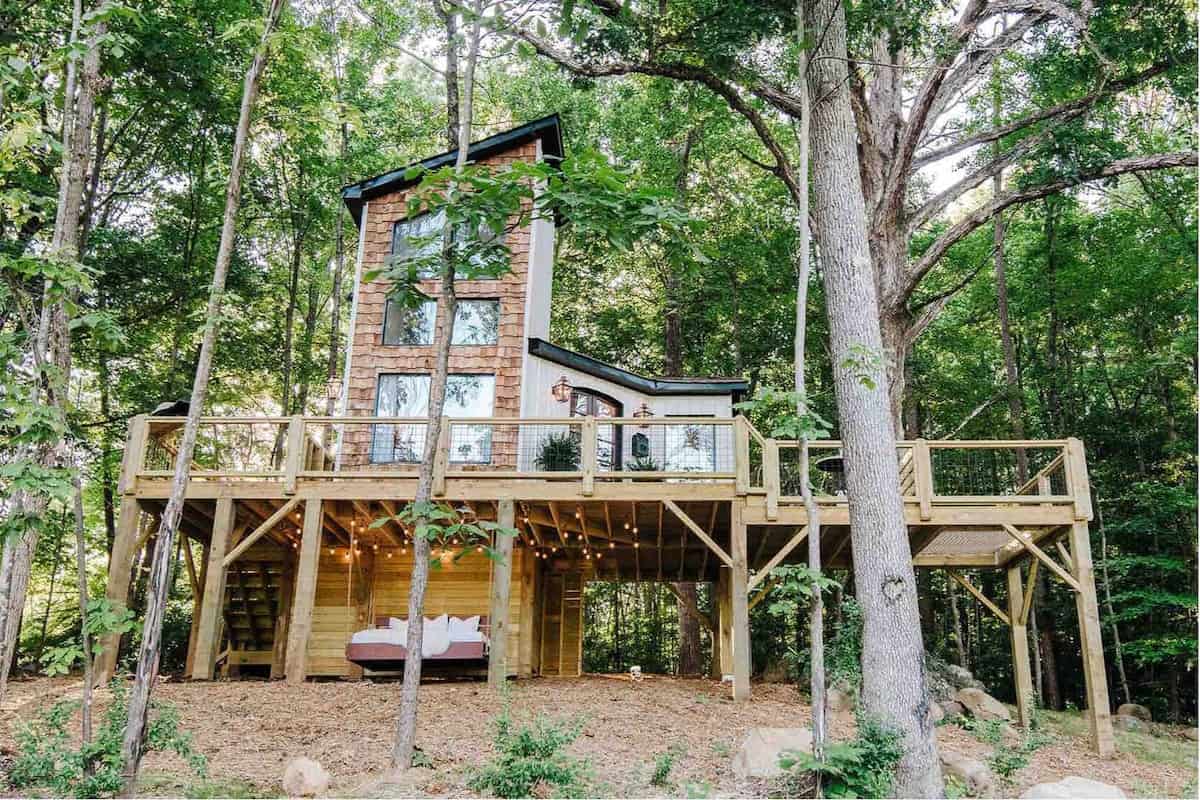 Why you should stay: A bohemian treehouse oasis.
Location: Charlotte, North Carolina
Sleeps: 2
Minimum stay: 1 night
Rates from: $301/night
Feel transported to your own little natural oasis at The Carolina Treehouse, a treehouse rental in a neighborhood near Charlotte. The hosts equipped this visually stunning home with a hammock, a record player, and an outdoor shower.
Guests can take kayaks out from the home's dock for a paddle on the private pond and then relax next to a blazing bonfire. There's evening a hanging lounge bed beneath the home. It's an incredibly romantic stay for two.
Check Availability
13. The Bella Luna
Why you should stay: High-end getaway near Sumter National Forest and numerous waterfall hikes.
Location: Mountain Rest, South Carolina
Sleeps: 2
Minimum stay: 2 nights
Rates from: $220/night
No detail was overlooked at The Bella Luna, a one-bedroom treehouse featuring vintage chandeliers, vaulted ceilings, and white shiplap paired with hardwoods. The home also has a petrified teak wood sink and natural plant-fossil stone tiling; it's truly beautiful.
Just outside is an attached balcony with a sneaky trap door that leads to a lower covered patio perfect for open-air dining.
Follow 'em: @bellalunatreehouse
Check Availability
14. Sulfur Ridge
Why you should stay: Resort-like treehouse getaway near several state waterfall parks.
Location: Bloomington Springs, Tennessee
Sleeps: 2
Minimum stay: 2 nights
Rates from: $325/night
Vintage and retro touches abound at Sulfur Ridge, a luxurious treehouse an hour outside of Nashville. Enter through a fantastic wine-bottle gate before driving up to the well-manicured yard with a stone patio, hot tub, and an outdoor swing bed.
A stair-free ramp leads to the front door and into a living space that rivals a boutique hotel. The home is furnished with a romantic antique bed frame, an old-school jukebox, and retro board games to pass the time. The hosts also offer add-on celebration packages.
Follow 'em: @sulfurridge
Check Availability
15. Wanderlust Treehouse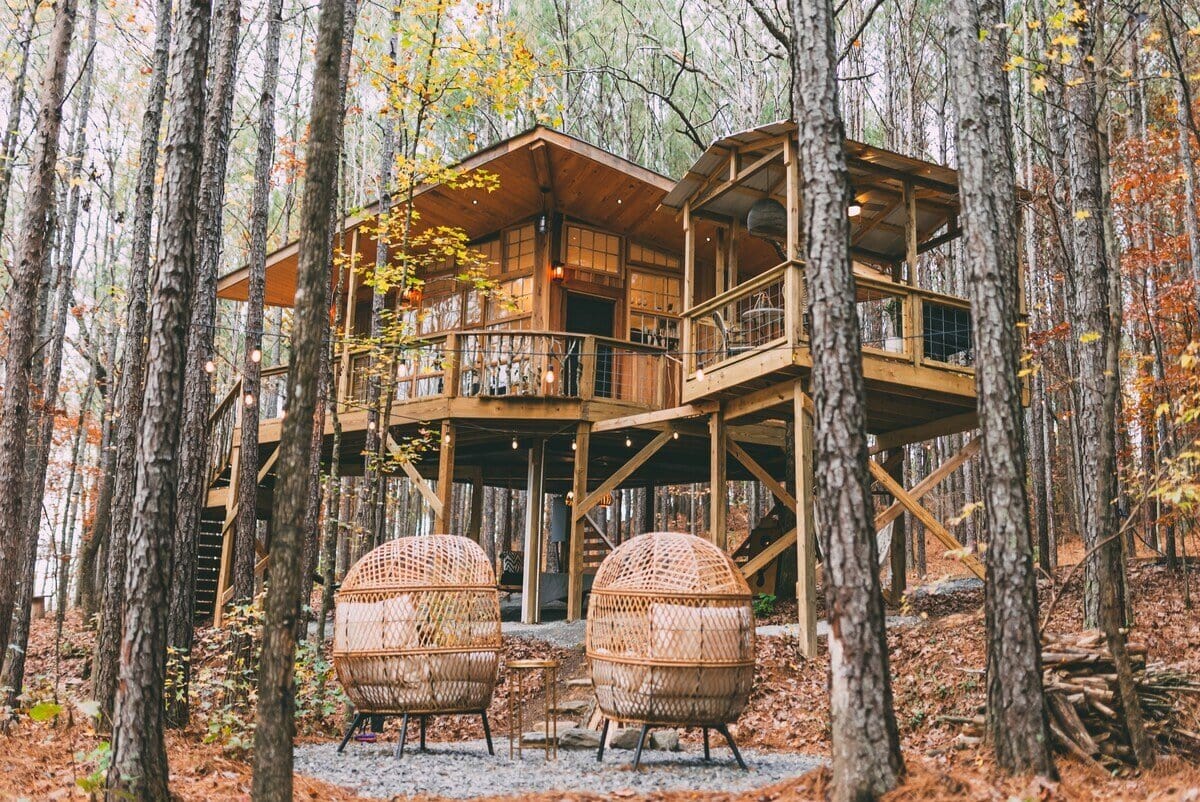 Why you should stay: Feel like a kid again in this adults-only treehouse.
Location: Crane Hill, Alabama
Sleeps: 2
Minimum stay: 1 night
Rates from: $350/night
The Wanderlust Treehouse is part of the Firefly Treehouses property and is on a wooded lot with a lake. This treehouse has attractive reclaimed windows, a hand-built bed swing, and string lights galore that light up the evening. When the sun is out, head across the mini-rope bridge to the deck or down to one of two elegant wicker chairs facing the campfire.
Crane Hill is pretty rural, but you'll be very close to Smith Lake where you can take paddle and float trips, fish, or rent boats for a day on the water.
Follow 'em: @fireflytreehouses
Check Availability
16. Secluded Romantic Treehouse
Why you should stay: A treehouse so well decorated you'll forget you're sleeping in the woods.
Location: Old Fort, North Carolina
Sleeps: 2
Minimum stay: 2 nights
Rates from: $293/night
Conveniently located 10 minutes from Old Fort and 20 minutes from Asheville, this secluded romantic treehouse is an excellent place for a staycation and a relaxing respite in nature. Take a dip in the soothing hot tub, play games next to the LED fireplace, or curl up in the soft and luxurious bedding for the utmost in relaxation.
The swinging rope bridge that leads to the front door adds a touch of whimsy you won't soon forget. Take a look at the photos to see why it's one of the most popular airbnbs in the state.
Check Availability
17. Selah Ridge Treesort
Why you should stay: A mountaintop treehouse boasting artistic craftsmanship and sweeping views of the North Georgia Mountains.
Location: Ringgold, Georgia
Sleeps: 4
Minimum stay: 2 nights
Rates from: $432/night
Set on a scenic 16 acres, the Selah Ridge Treesort property is in a prime location for exploring Georgia's wine country and noteworthy hiking trails. This pretty glamping treehouse is equipped with a separate bathhouse, an accordion glass door, and an outdoor rain shower.
There's also a deck with wooden rocking chairs, a fire pit, and a grill for fun evenings in the fresh air. There's no Wi-Fi, but the cell phone service is usually pretty good. And Ringgold is near Chattanooga in case you want to head to the city for a day.
Follow 'em: @SelahRidgeTreesort
Check Availability
Treehouse Airbnb Rentals in the West
18. Fantasy Treehouse and Resort
Why you should stay: A storybook treehouse with a hot tub and an open-air dining pavilion.
Location: Nephi, Utah
Sleeps: 6
Minimum stay: 1 night
Rates from: $140/night
Stationed in the treetops and across a 70-foot suspension bridge, the Fantasy Treehouse and Resort is a unique vacation rental about an hour south of Salt Lake City. The interior is divided between three levels, including a first-story living space, second-floor bedroom, and incredible crow's nest about 30 feet off the ground.
Unleash your inner child at this charming storybook treehouse. It's in a quiet town that makes for a great weekend escape for Salt Lake City residents.
Check Availability
19. The Eagles Perch Treehouse
Why you should stay: An expansive treehouse complex near Olympic National Park overlooking the Strait of Juan De Fuca.
Location: Port Angeles, Washington
Sleeps: 4
Minimum stay: 1 night
Rates from: $368/night
The Eagles Perch Treehouse embodies the spirit of Northwestern Washington in one lovingly constructed treehouse complex. Lofted roughly 20 feet in the air beside a picturesque cliff, this airbnb listing is for the smaller half of the treehouse and shares the spacious property with the neighboring unit.
From the inside, guests can marvel at peaceful ocean views and vibrant sunsets. Downtown Port Angeles is a quick 20-minute drive away, as is Sequim. And from Port Angeles, you can take the cycle path into Olympic National Park, avoiding the sometimes-crowded southern entrances.
Check Availability
20. Forestree at Out 'n' About Treesort
Why you should stay: Stay at a treehouse resort with outdoor community space near Oregon's southern border.
Location: Takilma, Oregon
Sleeps: 5
Minimum stay: 1 night
Rates from: $214/night
Complete with a 30-foot high suspension bridge, the Forestree at Out 'n' About Treesort (get it?) is a quaint treehouse furnished with the basics: beds, mini-fridge, sink, and toilet. Campers at the Out 'n' About Treesort are served a daily breakfast at the main lodge and have access to shared amenities that include a lounge with Wi-Fi, a fire pit, and a seasonal outdoor swimming pool.
This treehouse resort is an excellent option for those seeking a glamping experience close to natural attractions like the Oregon Caves National Monument.
Follow 'em: @outnabouttreesort
Check Availability
21. The Klickitat Treehouse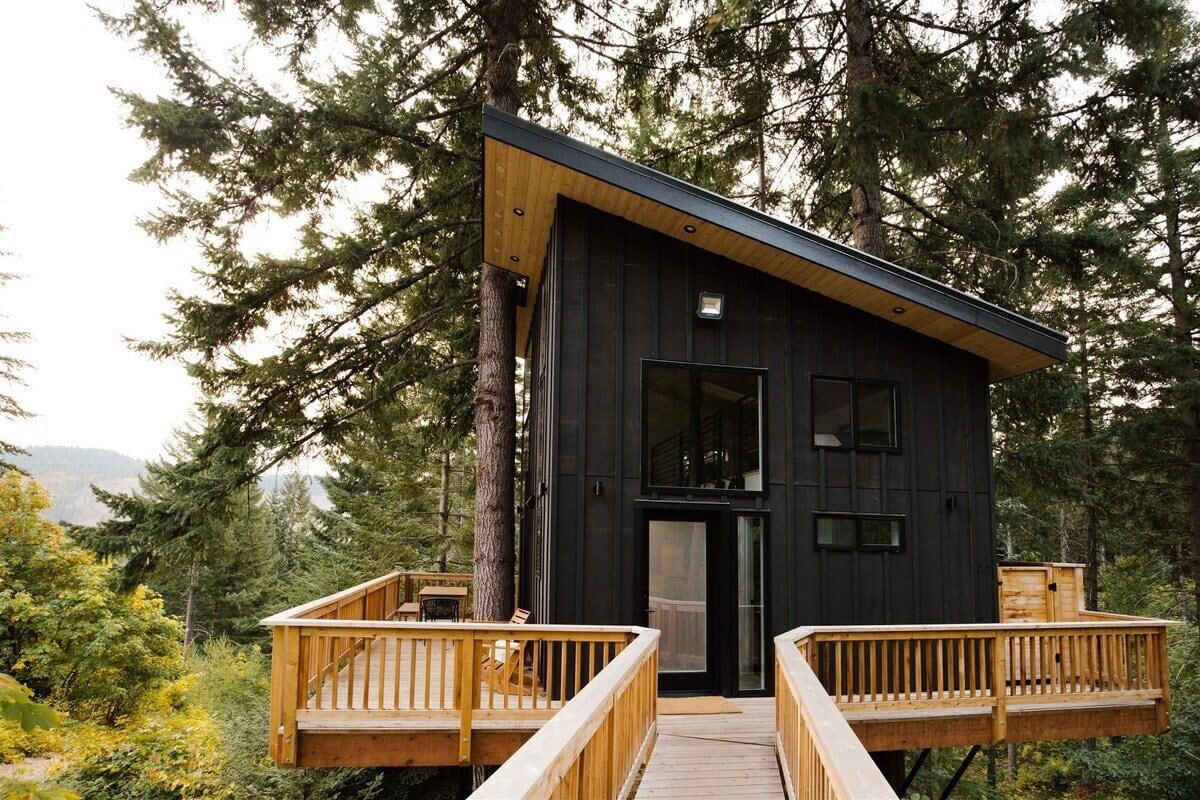 Why you should stay: An impeccably designed treehouse near Mount Adams and Mount Hood.
Location: White Salmon, Washington
Sleeps: 6
Minimum stay: 1 night
Rates from: $400/night
The Klickitat Treehouse is a spacious home bursting with eye-catching mid-century modern design and Scandinavian-inspired aesthetics. Soaring ceilings and large window panes brighten this two-bedroom treehouse to create a warm and cozy getaway located an hour from both Mount Adams and Mount Hood.
The Klickitat also features a wraparound deck, fire pit, and an outdoor shower. Believe it or not, this treehouse comfortably sleeps half-a-dozen guests.
Follow 'em: @the_klicktat_treehouse
Check Availability
22. Meadowlark Treehouse
Why you should stay: Two-story treehouse near Glacier National Park and Whitefish Mountain Ski Resort.
Location: Columbia Falls, Montana
Sleeps: 4
Minimum stay: 3 nights
Rates from: $499/night
The VRBO is a beautiful vacation rental that looks lifted from the pages of a fairytale. And actually, it has been lifted from something: the pages of a magazine. The treehouse has been in both Outside and Time magazines plus a show on HGTV. To reach the entrance, ascend the wooden spiral staircase where the first story features a well-appointed full kitchen, bath, and living space – an impressive feat for a treehouse!
Continue up the second spiral staircase to the largest suite with a private deck and bathroom. The surrounding property is a wooded acre furnished with a fire pit and picnic table, making for an excellent four-season retreat.
Follow 'em: @mttreehouse
Check Availability
23. San Jose Treehouse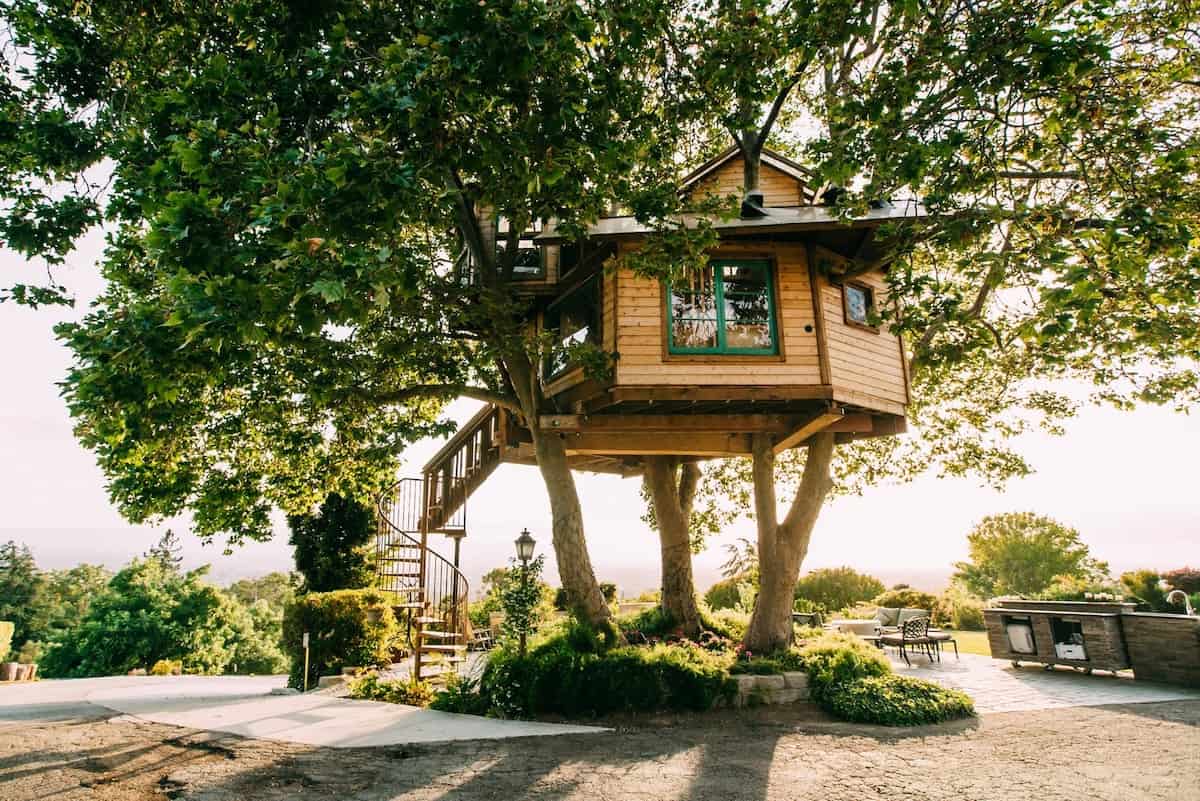 Why you should stay: Urban treehouse with a hexagonal sleeping loft and expansive deck.
Location: San Jose, California
Sleeps: 4
Minimum stay: 1 night
Rates from: $244/night
Securely balanced between three sycamore trees, this San Jose treehouse rocks sweeping views of Silicon Valley from above. The living tree supports actually pass through the interior and can cause the home to sway in the breeze, exuding that natural charm traditional treehouses are known for. This city treehouse is tucked away in the East Foothills neighborhood of San Jose, close to fun attractions like Alum Rock Park.
San Jose is a great basecamp for travelers who want to explore San Francisco and the wooded coastal areas just south of the city. You should probably book more nights than you think you'll need.
Check Availability
Find Your Next Adventure
Sign up for Weekend Wanderer to join thousands of readers getting epic travel and activity ideas every week!
Was this article helpful?
---