Hands down, one of the best things about camping is the food.
And while the meals usually get all the attention, passing around tasty snacks and side dishes is always a great way to bring everyone together around camp.
That's why we put together this list some of our favorite and easy to make side dishes for you to try on your next camping adventure! Also check out our collection of easy camping meal recipes for when you're planning out the main course.
Related read: 10 Amazingly Simple Camping Recipes for Kids
1. Loaded Campfire Nachos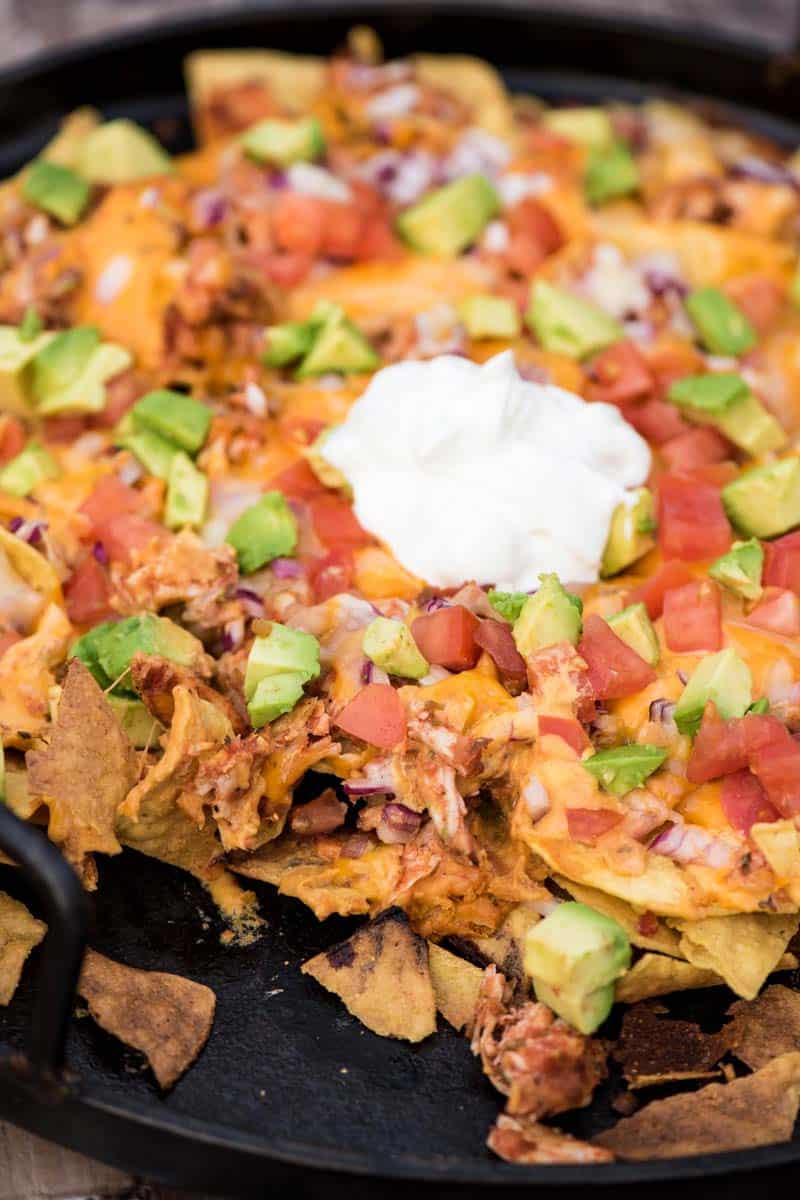 I immediately get excited about anything "loaded," and these nachos did not disappoint! Nachos are great for sharing and make for some easy-going camp munching.
Mel with Adventures of Mel has done a great job of putting together this recipe and in-depth instructions. She provides plenty of alternatives and different ways you can cook this dish depending on what you have available.
Related read: 11 Best Camping Apps for Wildin' in the Woods
2. Campfire Potatoes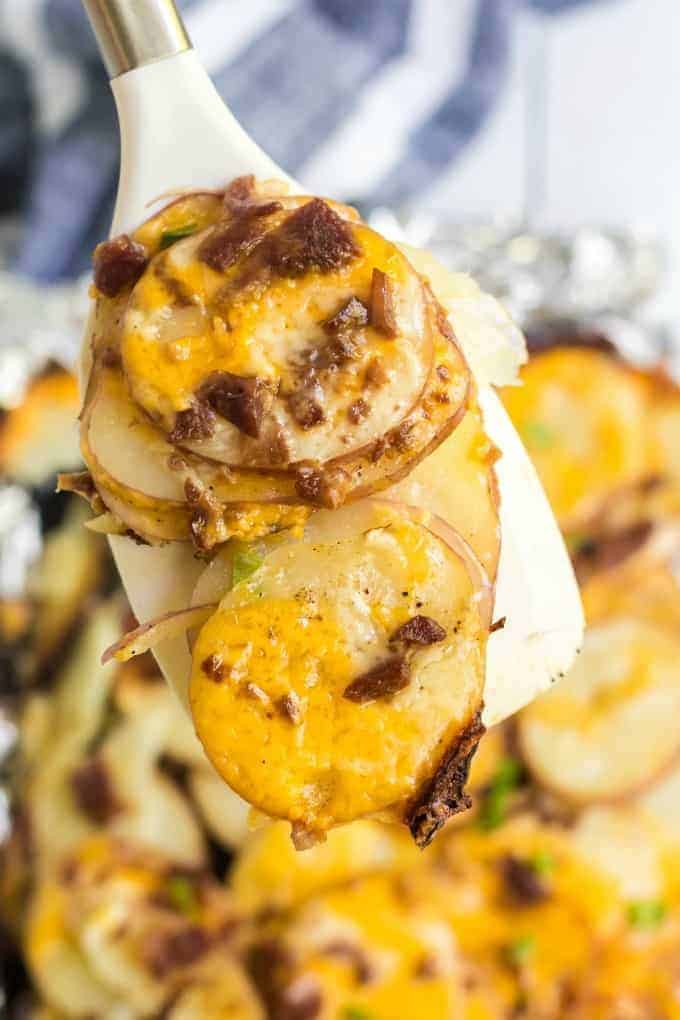 Few things will beat the simplicity of potatoes, and even fewer things will beat the simplicity of foil packs! We have Jenn Fishkind and her blog to thank for this easy-to-share campfire potato dish.
These potatoes will easily compliment just about any camp meal, or will surely entertain your group while dinner is cooking.
Related read: 24 Delicious Vegetarian Camping Foods for Your Next Weekend in the Woods
3. Bacon Wrapped Brussels Sprouts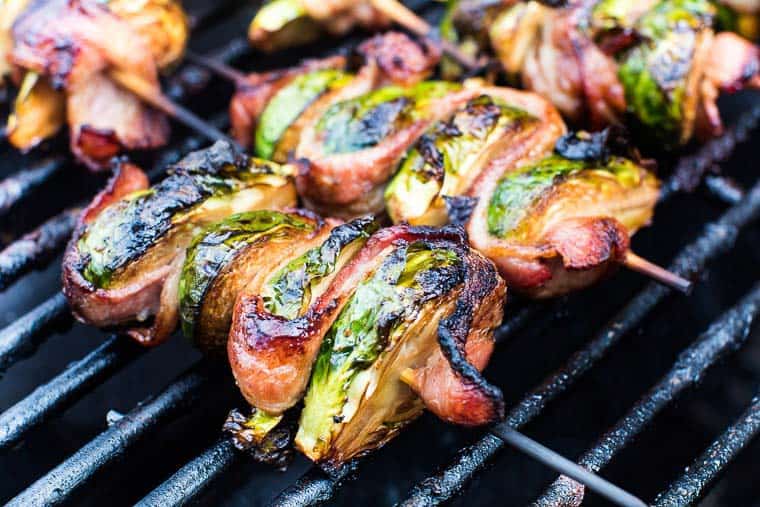 What doesn't taste better when you wrap it in bacon? Just when you thought Brussels Sprouts couldn't get any better, the geniuses at Gimme Some Grilling wrapped them in bacon and put them on a skewer.
These puppies are easy to prep at home, then throw on the grill or fire at camp whenever you're feeling hungry.
4. Panzanella Salad with Tomatoes & Peaches
Fresh off the Grid easily continues to surprise us with these gourmet camp recipes! This is my first introduction to Panzanella Salad and I'll probably be making this at home shortly.
The colors in this dish alone will bring everyone around the picnic table! If you're looking to get away from some of the heavier camp-food, here is your answer. There is still bread for some carbohydrates but the light and zesty fruit lighten the dish and won't bog you down.
5. Rustic Campfire Garlic Mashed Potatoes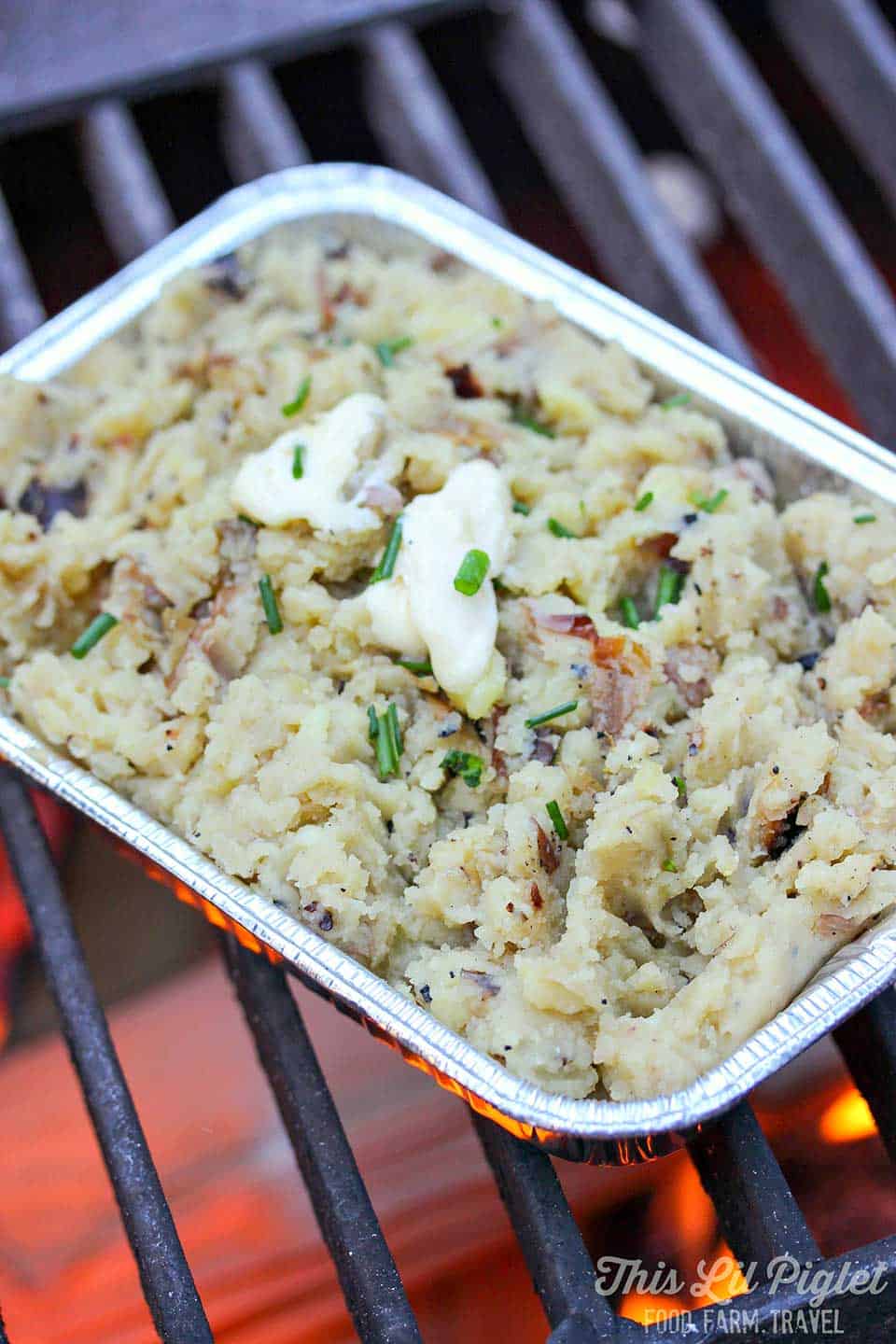 Since this is the second recipe that mentions potatoes, I'll go ahead and say that potatoes are just amazing at camp. They're great at helping you feel full and they are packed with fiber, carbohydrates, and vitamins that are great after a long day enjoying the outdoors.
These aren't your average mashed potatoes, though. Stacy with This Lil' Piglet has "loaded" these mashed potatoes!
6. Foil Packed Veggies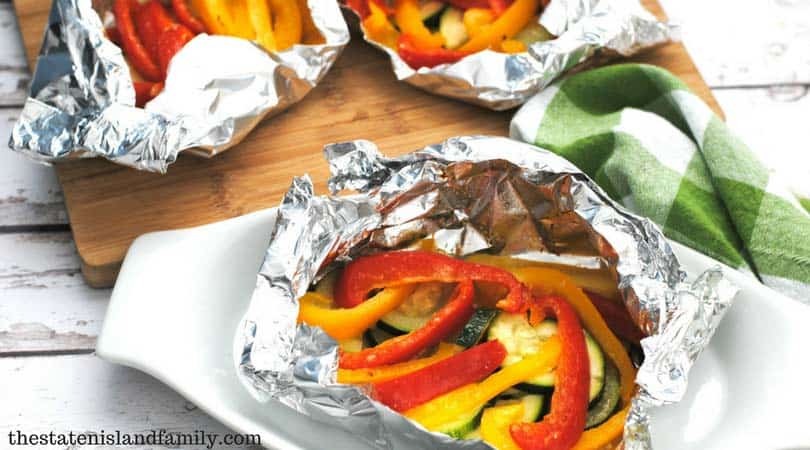 This refreshing side dish is the perfect pairing to burgers, burritos, pasta, you name it! Feel free to add in any other veggies that are in season or just sound good. If you're on a multi-day trip, bell peppers and other veggies are so versatile and can be used in other meals on your trip as well.
The Staten Island Family has made this recipe for the home, but these foil packs can easily be grilled or placed on the perimeter of a campfire to be camp-worthy.
7. Taco in a Bag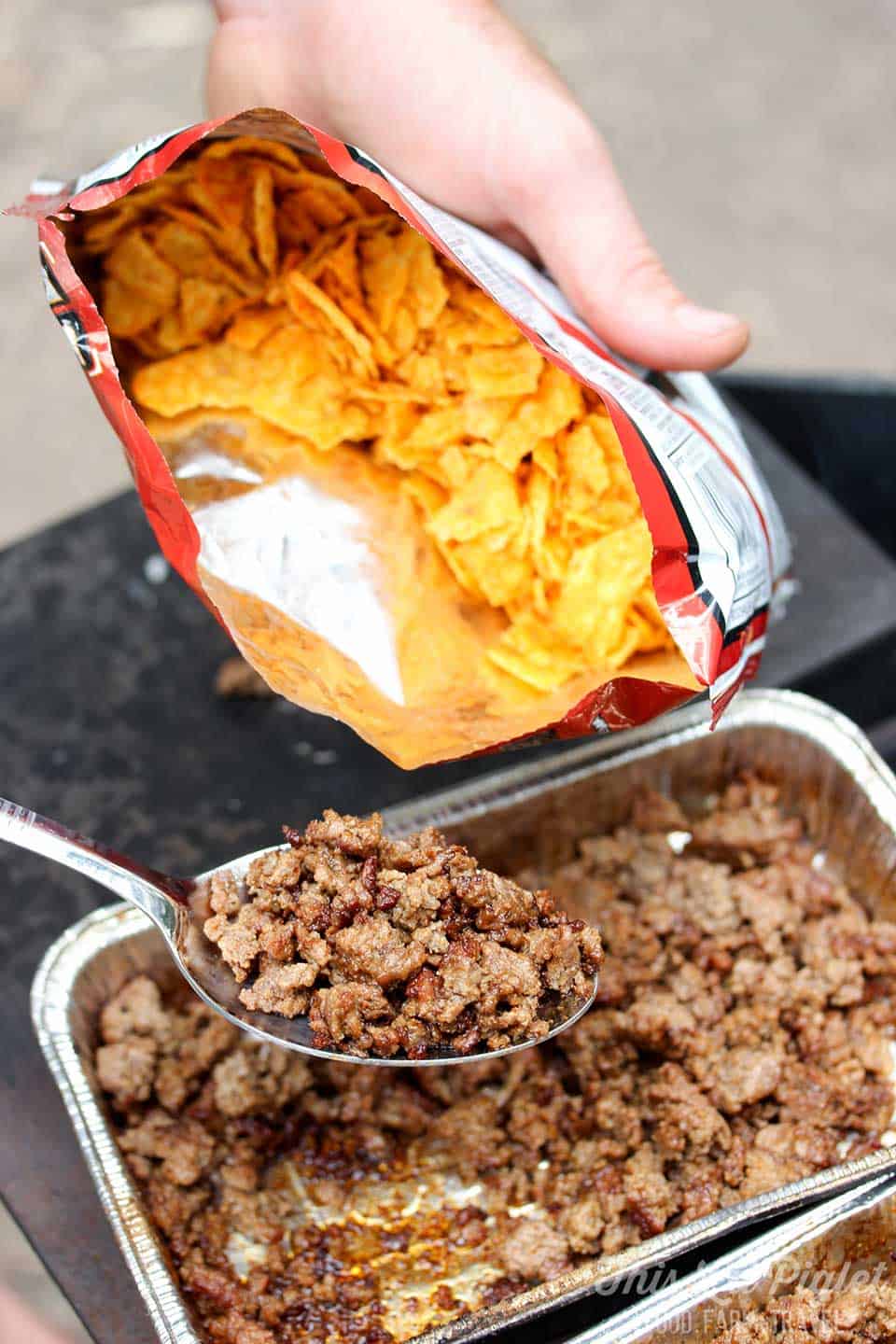 This is such an easy-to-prep little snack! It'd be awesome to quickly whip one of these up when you get back to camp for the day and need a little boost.
Stacy with This Lil' Piglet is to thank for this one, and she does a great job of explaining cooking over a campfire. You can easily take her advice and apply it to other over-the-fire cooking endeavors. It is possible to prep this dish at home by cooking the beef there, then just heating it up when you're ready to eat.
8. Steak & Blue Cheese Cast Iron Nachos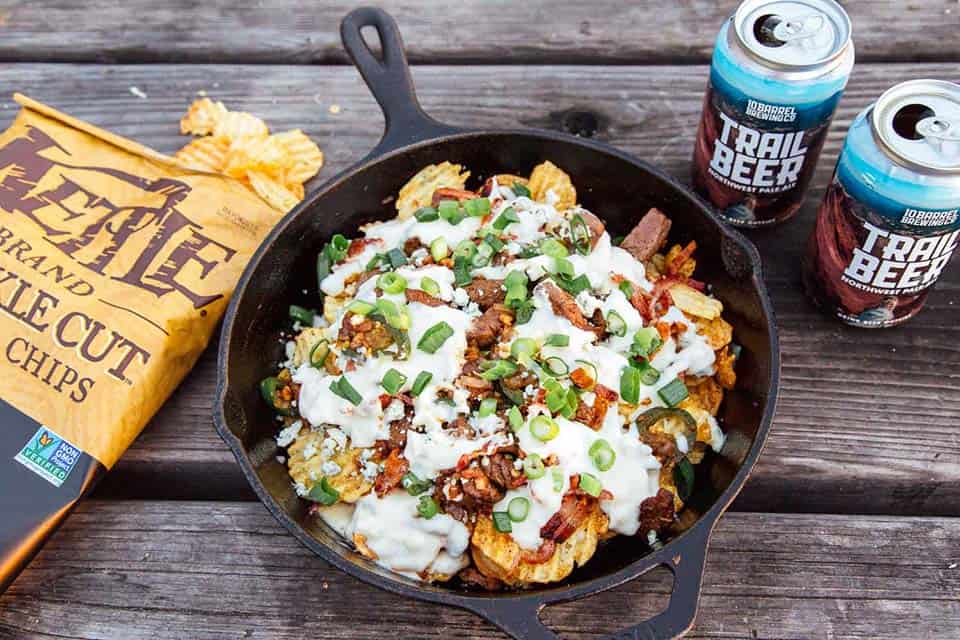 Taking it up a notch from "Taco in a Bag," we're here to tell you there's a much more gourmet option. Fresh off the Grid was inspired by their friends at 10 Barrel Brewing who serve a similarly intense nacho dish in their brew pub. And we are not complaining!
This dish can be as simple or complex as you want to make it. Fresh off the Grid does a great job of providing options if you want to make this a one-pot dish. So while this might be a more involved side dish, make others help you because no one will complain once they taste the outcome!
9. Cheesy Potato & Sausage Foil Pack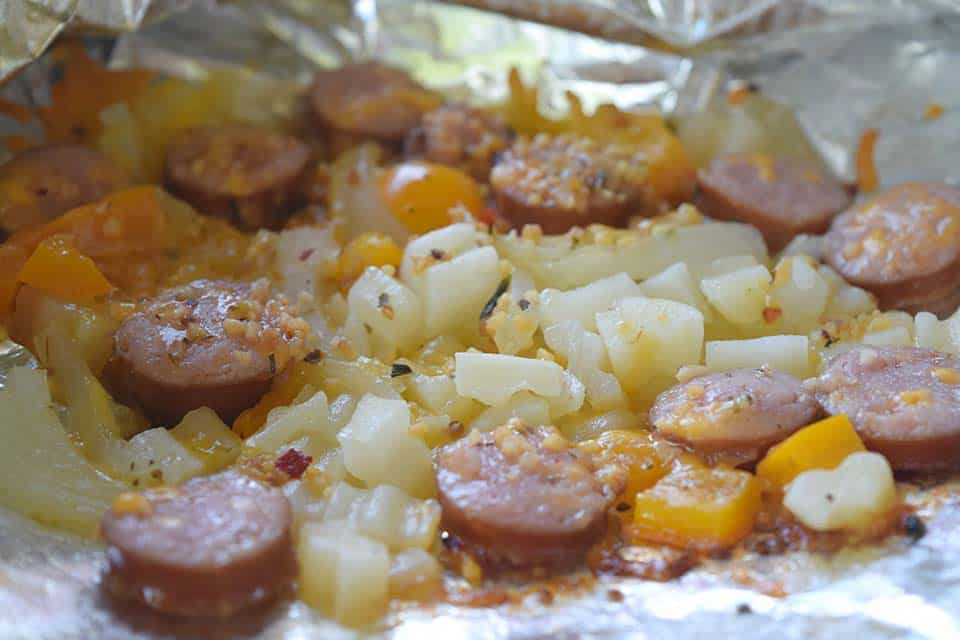 You had me at cheese and potatoes — the folks at Who Needs a Cape? deserve a cape, to say the least! Another foil pack recipe, this side dish is perfect for sharing and passing around. And also, no dishes!
This dish is packed with all the protein and good fats you need to replenish all that energy spent having fun.
10. Campfire Popcorn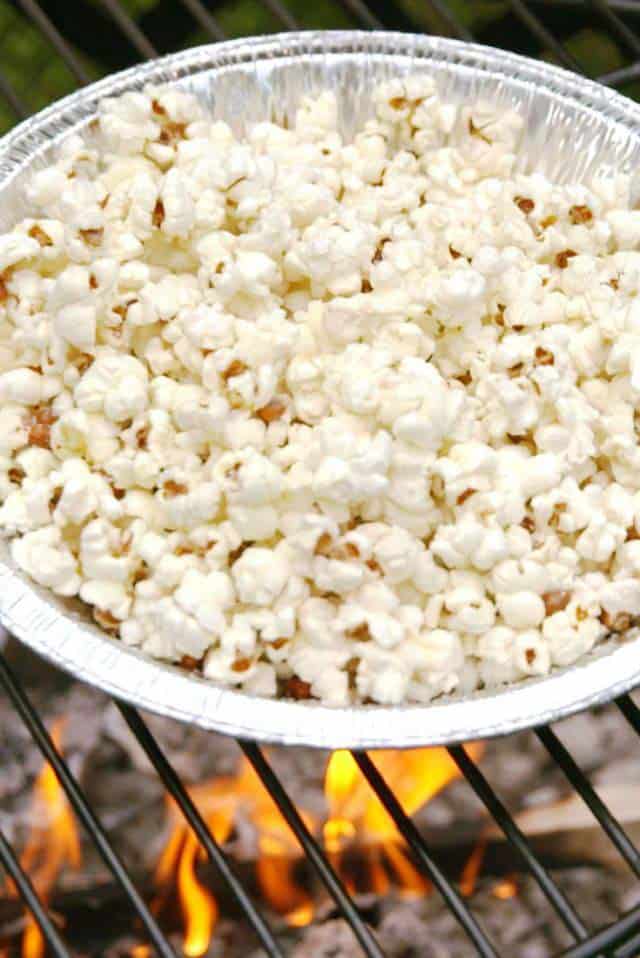 Popcorn is hands-down my favorite snack at home, and I can't believe I've never thought to bring it camping! I would love to make this while we play card games or (our favorite) camp-bocce ball.
Lindsay with Delish provides us with a quick and easy way to make popcorn over the fire. Popcorn kernels also require zero refrigeration and are an ultra-lite camp snack, making it backpacking-worthy. To adapt this recipe for backpacking, simply use a camp-pot instead of the pie tin.
11. Shrimp Boil Foil Pack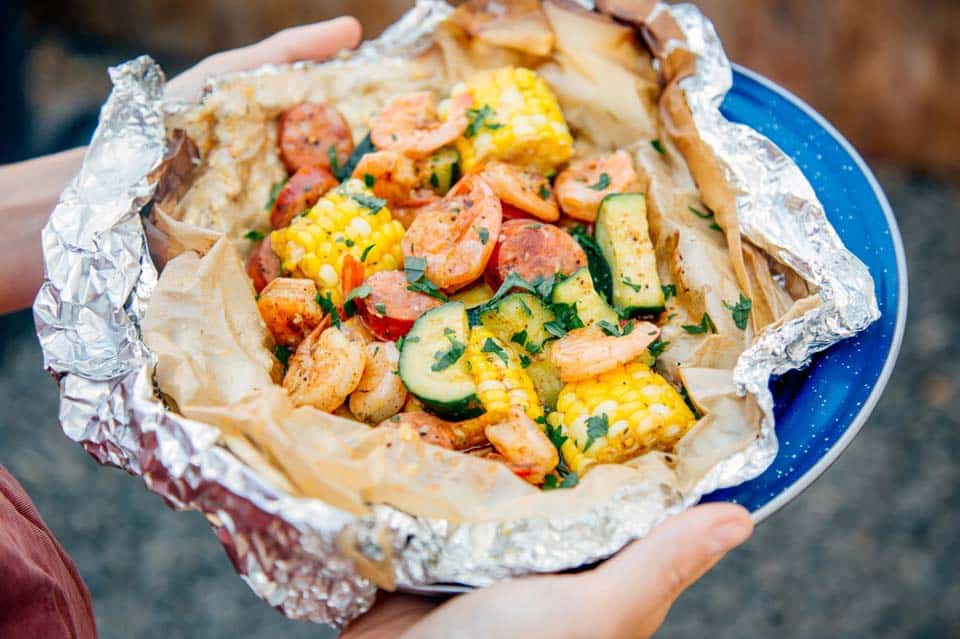 If you're a fan of Cajun Boils, you'll love this easy to make foil pack. This camp-adapted version of Louisiana's favorite backyard dish is ideal for a no-fuss side dish — REI & Fresh Off the Grid nailed it. Simply prep the foil packs at home, store in the cooler and throw on the fire whenever you're ready.
This was one of the first group-sharing dishes I've had in camp and holy cow it was easy to make! Not only is it easy to make, but it is packed with flavor. Don't forget the Old Bay's!
12. Lemon Dill Asparagus & Green Beans
This Lil' Piglet is at it again! The same Stacy that gave us the loaded Garlic Mashed Potatoes and Taco in a Bag has blessed us with this light and refreshing side dish! Grilled asparagus and green beans are super simple and pair well with pretty much anything.
At camp, these veggies will take minimal prep-time and leave everyone satisfied and feeling better after some heavy camp food.
13. Pull Apart Garlic Bread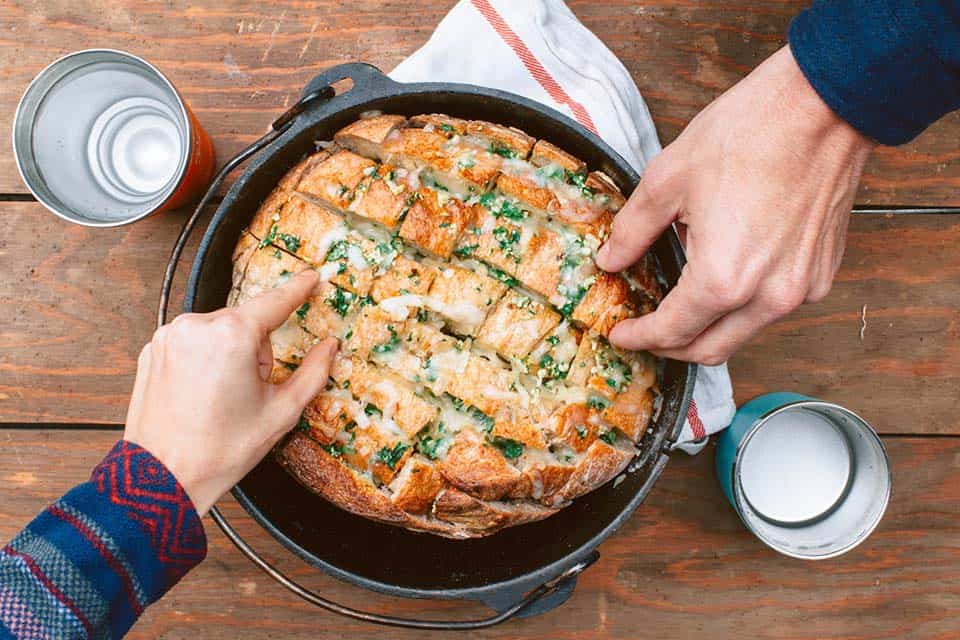 Our friends at Fresh off the Grid will never stop surprising us! This Dutch oven, single-pot recipe will pair nicely with a pasta or grilled chicken dish of your choice.
Not only is it a one-pot recipe you can easily cook, but it's also its own serving dish! Pull apart bread is one of the best ways to bring everyone around the table or campfire around dinner time.
14. Campfire Buffalo Beer Cheese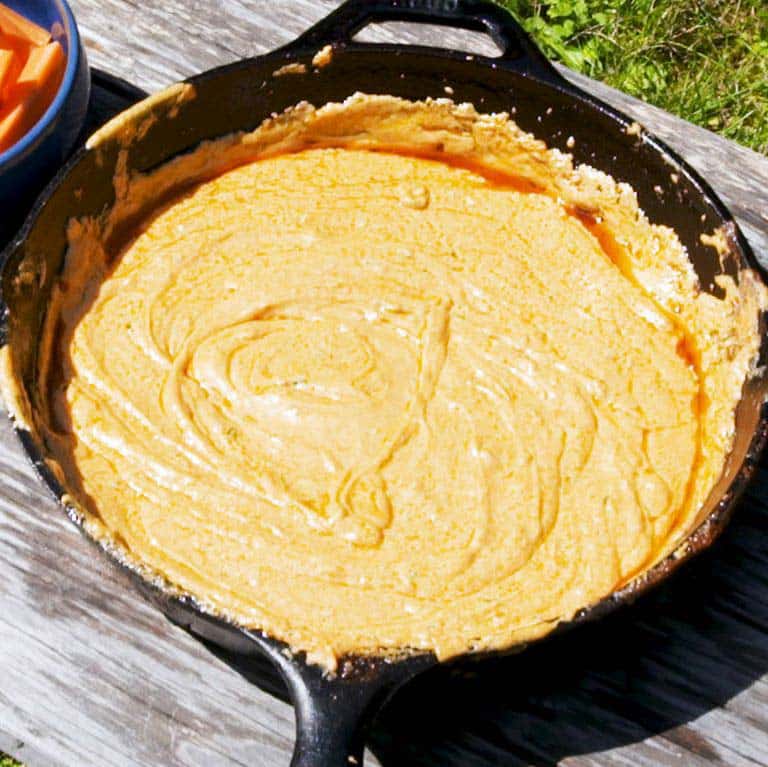 No fondue pot required, just a cast iron skillet and a campfire are needed to make this amazing treat. Pair with some chips, bread sticks, or veggies and you will be the camp idol! Just make sure to give Delish credit for the recipe.
You know those days at camp when you get rained on all day and it stops you from going out and doing the activities you had planned? Well, pulling this out when the sun finally came out and you can get a fire going would probably be the most epic time to eat this.
15. Mexican Campfire Street Corn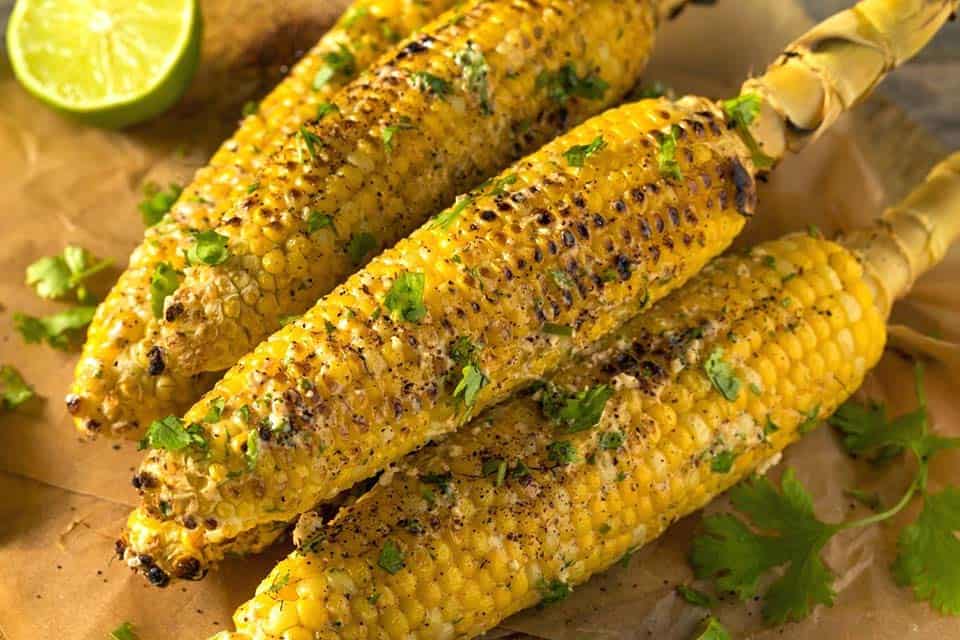 It's hard to beat corn when it comes to simplicity — and when you're camping, simplicity means you can spend more time doing the fun things!
There are plenty of ways to make corn on the cob, and everyone has their own preference, so feel free to adapt this recipe by Gretchen with Saving Money Camping.
16. Poutine Foil Packs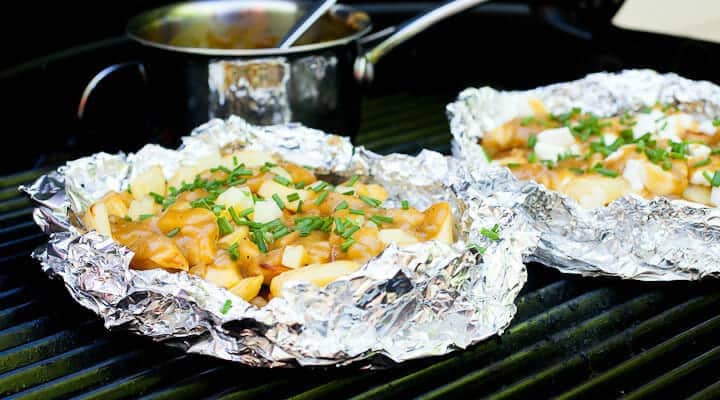 If you're a fellow Poutine lover like me, you have to give this recipe a try. Thank you, Nick with Macheesmo, for showing us how to make Poutine camp-worthy!
This is another super-simple foil pack recipe that you can prep at home and keep in the cooler until it's time to throw on the grill. When you're already making a camp meal, having a prepped and ready-to-go foil pack appetizer is an easy way to entertain the group without "slaving away" all day.
17. Beans & Rice with Frito's & Cheese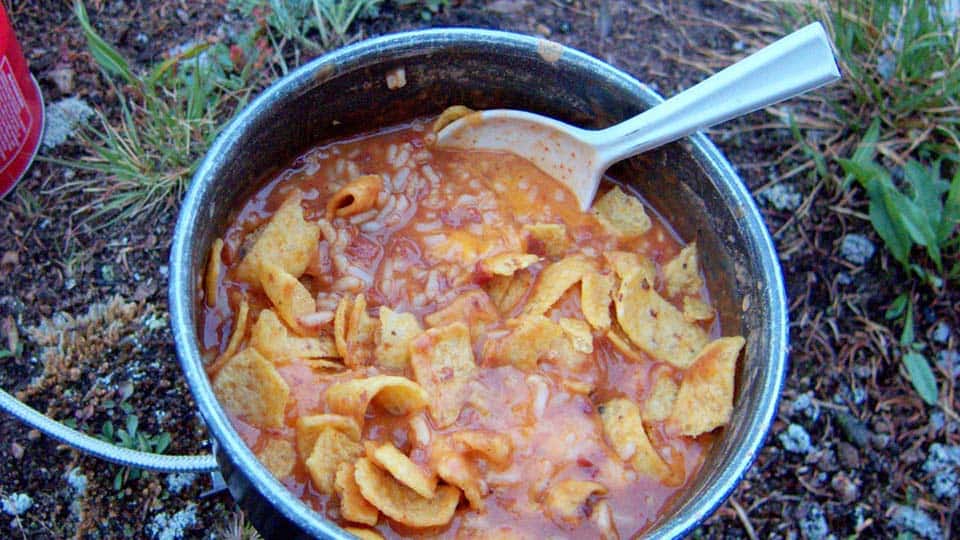 The name might be a mouthful, but the dish is quite the delicious (and literal) mouthful. Andrew Skurka (thru-hiker and columnist writer for Outside Magazine) isthe master mind behind this dish, having enjoyed it for years. After hundreds of trips, he's never gotten tired of eating it!
While this article does call it a meal, you can easily prepare this as a side dish that gets passed around the campfire.
More Camping Guides
Sign up for our free email to join thousands of readers getting epic travel, hiking, camping and gear ideas every week.
---