Teva and Chaco have dominated the sport sandal market since the 1980s, both serving similar but discerning audiences. Here's our breakdown of two of the outdoor industry's most iconic footwear brands.
A few summers back, my brother and I canoed the Verde River northeast of Phoenix from Needle Rock to the Beeline Highway some 15 miles south. Just a few miles in, we flipped our canoe when a downed tree blocked a tight bend in the river.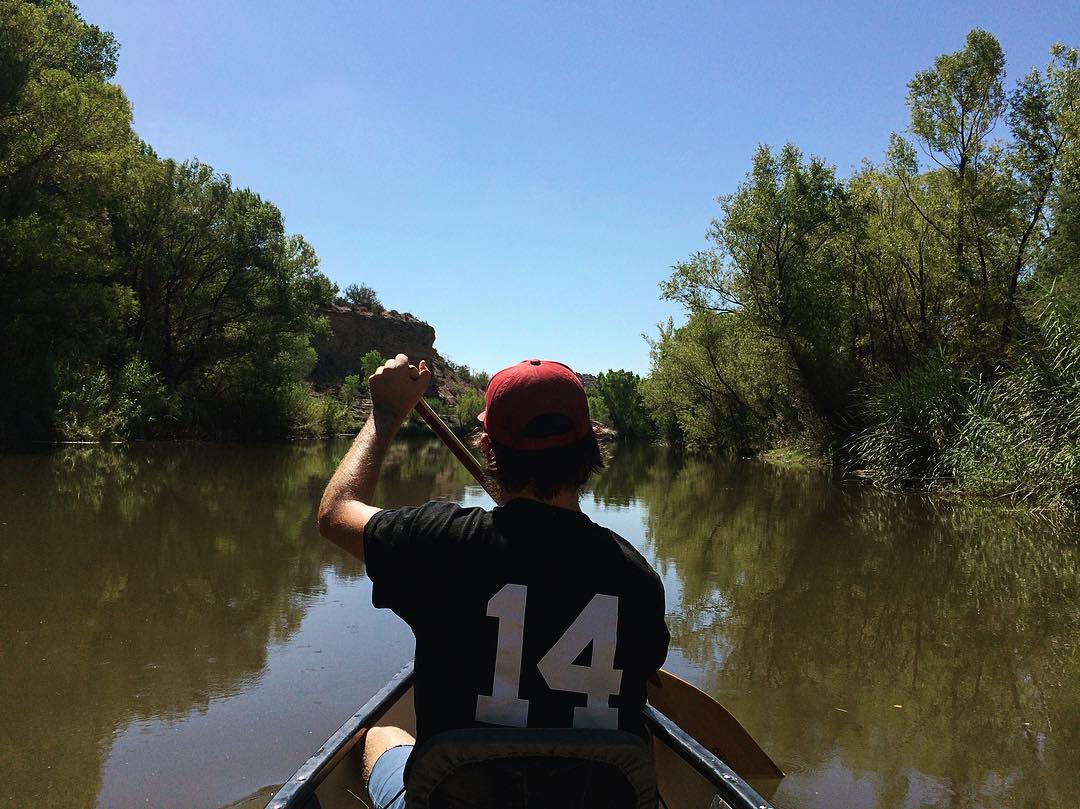 When we recovered on the shore, we watched as our supplies headed downstream: paddles, backpacks, life vests, a few gallons of water.
Oh, and sandals.
The founders of Teva and Chaco had much the same problem, though they paddled professionally on the Colorado River and Gunnison River, respectively. Teva began when its founder needed a sport sandal that wouldn't fall off during river trips, and Chaco started when its founder believed he could improve on the model.
More than 30 years later, both brands are alive and well, taking unique paths to helping adventure-minded folks tackle all sorts of terrain and water.
If you're in the market for a sport sandal (which sounds like something a dad would say), getting to know Teva and Chaco – and where each one excels – is key to making the best decision for your feet.
Teva vs. Chaco: How They Compare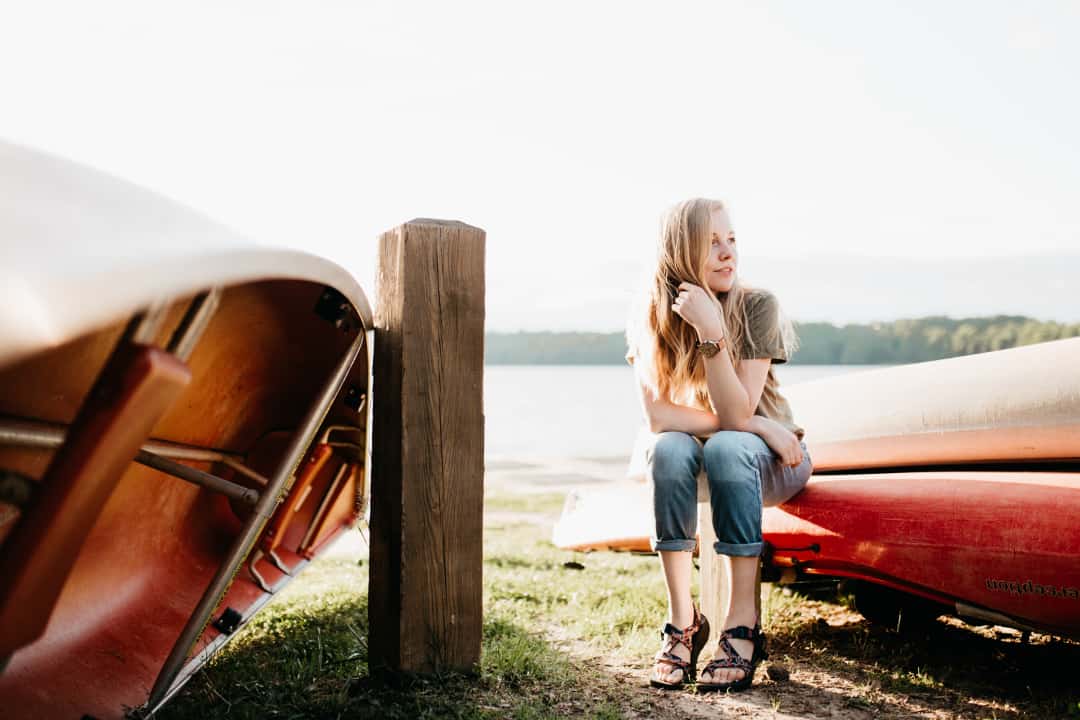 Although Teva and Chaco have similarities – both started as small, indie outdoor brands in the 1980s – they each use unique designs and materials to serve the outdoor market.
Tevas are generally more affordable, lighter and less durable than Chacos, while Chaco sandals are typically more expensive, but may last longer due to their materials and the ReChaco program focused on repairing old Chacos.
Tevas are known for their velcro-strap designs that wear easy, but may lead to more foot movement than in Chacos, which use a Z-style strap-and-buckle design for a snug fit that won't wear out the way velcro can.
Teva's Original Universal Sandal is constructed with a simple EVA foam footbed and rubber bottom outsole to create a soft, cushion-like experience, where Chacos use a polyurethane midsole and proprietary rubber outsole for a tougher, heavier bottom.
Which Brand Reigns Supreme?
Neither is objectively better than the other, but in our experience and research, Tevas work great for the casual outdoor enthusiast who enjoys the wild, but also needs a lifestyle sandal for travel, vacation, life in the city and more. Their designs are outdoorsy without being over-the-top, and versatile without being impractical.
Chacos may be best for hikers who put hundreds of miles on the trail each year and will likely wear through the thinner Teva outsoles, which does happen. And although Chacos work well for their intended purpose, they might not have the same wide lifestyle appeal that Tevas enjoy (though that's a matter of style, among other things).
Chaco's commitment to making thick, durable sandals that can be repaired makes them a more sustainable option, and the Internet is littered with stories of Chaco owners wearing the same pair for years – even decades.
For this reason, we recommend Chacos for high-mileage hikers and Tevas for the casual outdoors enthusiast who needs something practical but not necessarily as expensive or technically-designed.
If you're looking for something uber-lightweight, check out our favorite minimalist sandals, including the Xero Shoes Z-Trail.
Shop Teva at REI
Shop Chaco at REI
Teva Pros and Cons
Versatile: ideal for outdoors, travel and active lifestyles
Affordable: cost less than most Chaco models
Lightweight: typically weigh less than Chacos
Thinner soles: may wear out before Chacos do
Shorter lifespan: velcro straps can wear out over time
No repairs: Teva doesn't offer the same repair program Chaco does
Chaco Pros and Cons
Durable: thick, long-lasting materials and design
Less movement: keeps feet locked in place on the footbed
Offers repairs: ReChaco can repair years-old sandals
Expensive: classic styles cost more than Tevas
Heavy: not ideal for backpacking or lightweight packing
Distinct style: Z-style straps don't appeal to every lifestyle/everyday use
Popular Models
Although both brands continually update their product lines, many of their bestsellers for men and women are the classic sandals that debuted in the 1980s. Each brand continues to reinvent itself through modern sandals with new designs and materials, but the classic sandals from Teva and Chaco remain perennial favorites.
Men's Tevas
Women's Tevas
Men's Chacos
Women's Chacos
Product Comparison
In this section, we're comparing the classic or original models from Teva and Chaco, though it should be noted that both brands have an extensive lineup of sandals, flip flops and other footwear with varying degrees of features, materials and designs.
Fit and Style
Each brand has a distinct style profile based on the strap system. Teva uses a simple velcro model that can adjust easily for a quick fit, though it may not be as snug as Chacos.
The latter require more time to adjust to your feet, and founder Mark Paigen even noted that when the company started, one challenge they faced was how "ready" Tevas were out of the box, where Chacos required a sales person to fit the customer on the spot.
Teva offers a more general, flat fit, and Chacos, with more attention to arch support and proper alignment, are certified by the American Podiatric Medical Association. This is a two-way street, however: Tevas may work well for more people, where the specialized fit and feel of Chacos may not fit everyone's foot size and width.
Over time, advantage goes to the Chaco, which uses a buckle and strap system that can be adjusted and repaired as needed. The velcro on Tevas can't be repaired when they start to fade away, which can lead to a ill-fitting sandal once you've racked up years and miles.
Teva's Original Universal Sandal has a standard design model, and Chaco has several variations of their classic sandal:
Z1 has no toe strap
Z2 has a toe strap
ZX has two straps
These variations are small but noteworthy and each lead to a different fit, feel and aesthetic.
Advantage: Teva's the generalist here, Chaco the specialist
Durability
Teva's thinner, foam-based soles typically wear out before Chaco's polyurethane (PU) footbeds do. Chaco also uses proprietary rubber outsoles with thicker lugs and better grips, making their soles generally more durable than Tevas.
Many outdoors enthusiasts have owned both brands for many years without issue, but the general consensus is that a Teva sandal will wear out before a Chaco model does. If a Chaco sandal does wear out, it can also be repaired through their ReChaco program.
Advantage: Chaco
Cost of Ownership
Tevas are generally cheaper out the gate, but they may not last as long: the velcro and foam footbed can both wear out noticeably over time. Combined with their lack of repair program, that means you may have to buy another pair before you'd like.
Chacos are more expensive, but usually have better longevity, and wearing the same pair of sandals for 10 or more years is a great investment. When they do go south, the ReChaco program can help bring them back to life. Even after the brand's move overseas, they're still known for making quality, long-lasting sandals.
Advantage: Tevas are more affordable, but Chacos will likely last longer
Warranties and Replacements
Teva offers a limited one-year warranty that covers manufacturer defects but not wear and tear. They don't offer repairs in-house and take one to three weeks to evaluate a warranty claim.
Chaco offers a lifetime warranty on materials and workmanship, but doesn't cover basic wear and tear. To start the warranty process, send your Chacos through the ReChaco program and if they meet warranty standards, will be replaced or repaired for free.
Advantage: Chaco
Lifestyle Versatility
In recent years, Teva's made efforts to become more of a lifestyle brand, evidenced by their focus on music festivals, partnerships with events like Bonnaroo and pop-ups like their Outpost Tour. They're purposely appealing to a young demographic that's interested in a range of lifestyle experience and not just hiking through creeks.
Chaco's remained true to their outdoor focus over time and developed a rabid following for it, but in many ways they don't have the same universal lifestyle appeal Teva does.
Advantage: Teva
Overall Reputation
Each brand has its tribe of followers and those loyalists have good reason to be there. In today's market, Teva's built a lifestyle focus that lends itself well to the casual outdoors enthusiast who also travels, spends time in the city, goes to music festivals and wants something that will feel comfortable and practical in all of those settings.
Chacos are geared to the dedicated hiker or backpacker who puts more trail miles on their sandals and needs a supportive, snug-fitting sport product that won't slip or wear out easily.
They're focused on serving a market of outdoorsy people who want to hold on to a pair of sandals for a decade, repair them when needed and have something reliable in the wild when it matters.
That's not to say you can't put Tevas through the ringer or wear Chacos around town, but Teva's shift to a lifestyle brand is a notable departure from Chaco's focus on being the ideal outdoors sport sandal.
Shop Teva at REI
Shop Chaco at REI
Teva History
Teva began in 1984, when Colorado River rafting guide Mark Thatcher created what he coined the first "sport sandals" by taping Velcro straps to basic sandals. The idea was to create secure, lightweight footwear that wouldn't float downstream, which was wont to happen between rapids.
The idea caught on slowly: in their first year, Teva – which means "nature" in Hebrew – sold only 200 pairs of sandals. But over time, the need for sport sandals became clear, and Teva quickly became a multi-million dollar company. Thatcher eventually sold the company to Decker Outdoor Corporation and today Teva is still one of the leading sport sandal companies in the world.
They've grown their line of sandals from the Original Universal to a varied stock of minimalist and more updated sandals, shoes, boots and more. Tevas are typically manufactured in Vietnam, China and El Salvador, though this can be difficult to discern by shopping online.
Teva is committed to an ethical supply chain and admirable corporate responsibility policies, and some of their products use recycled polyesters and other fabrics. However, many of their initiatives on sustainability remain vague online, so it's unclear exactly what kind of environmental impact the brand has. In 2018, their parent company donated more than $1 million to organizations like Grand Canyon Conservancy and Camber Outdoors.
Teva is known for having more affordable sport sandals that work well for outdoors and generally active lifestyles.
Chaco History
Like Teva, Chaco began when a whitewater guide, Mark Paigen, decided that the early Tevas and Alps sandals he and other guides wore simply weren't cutting it. Although Tevas were meant for this type of work, he found their velcro system poorly fitting, and the sandals stayed wet far longer than he wanted.
So he set to work creating a better sport sandal made from "top-shelf components" and using one continuous Z-strap that could be adjusted for a better, more personalized fit.
In 1989 Chaco hit the market and soon began making adjustments to their sandals for a better experience, using molded polyurethane instead of handmade footbeds, a move that exponentially improved comfort and fit.
Chaco grew in the 1990s thanks to the popularity of rafting and continued to improve their products and innovative fits. "We weren't the biggest sport sandal company, but were the strongest at specialty retail," said Paigen.
Chacos were made in the USA until 2008, when the bulk of manufacturing was moved overseas. Today, custom Chacos are still American-made, but most of their line's now produced in China. Some users have noted a drop-off in quality since that move. Chaco was acquired by Wolverine Worldwide in 2009, and Rockford, Illinois is now the home of the ReChaco repair program.
The Best Outdoor Footwear
For more footwear ideas, check out our favorite camp shoes (Teva makes the cut), American-made hiking boots, and the best budget hiking boots under $100. Compare other leading footwear brands like Keen and Merrell, or find a solid USA-made work boot for when you're not on the trail.
---