Oahu (O'ahu, in Hawaiian) is a multi-faceted island, and the best way to explore the island's natural beauty is on one of it's many spectacular hikes.
Travelers, locals, and Kanaka Maoli (native Hawaiians) alike should hit the trails and explore the outdoor wonders Oahu has on offer. From the far-reaching views atop Mount Ka'ala to the tide pools at Makapu'u's rocky shoreline, there are so many awesome and unique sights to see.
The iconic beaches and rainforests of Oahu are only two parts of the island's complex ecosystem. There are also trails that guide hikers through arid cacti-covered craters, around geological volcanic oddities, and to secluded waterfall-fed wading pools.
The list below of Oahu's best hikes including trails ranging from easy oceanside strolls near Waikiki Beach to challenging ridgeline climbs deep in the heart of the island. And good news: every path is packed with awesome scenery. You can't go wrong no matter which trail you choose.
While hiking, remember that all of Hawaii's landscapes are fragile, and respect and care for the land should always be one of your top priorities.
Related Read: The 15 Most Incredible Hikes on Kauai, Hawaii
1. 'Aiea Loop
Why you should go: Easy ridge-walking with views of Pearl Harbor (Pu'uloa) and Diamond Head (Le'ahi.)
Difficulty: Easy
Distance: 4.8 miles
Elevation gain: 900 feet
Taking off from Keaīwa Heiau State Recreation Area, 'Aiea Loop begins in a forest of Norfolk pines and lemon eucalyptus trees. The rich fragrance of the local flora continues as you walk along the ridge west of Halawa Valley, where viewpoints look out on southwestern Oahu.
On approach to the trail's highpoint of Pu'u Uau (pu'u means "hill,") native koa and ohi'a trees become more abundant. From this point, it's possible to see remnants of a crashed B24 Bomber hidden in the flourishing plant life. Water shoes or hiking boots are recommended since there's a small creek crossing and the trail can get muddy after heavy rain.
Related Read: 11 Awesome Waterfall Hikes on Oahu, Hawaii
2. Ka'ena Point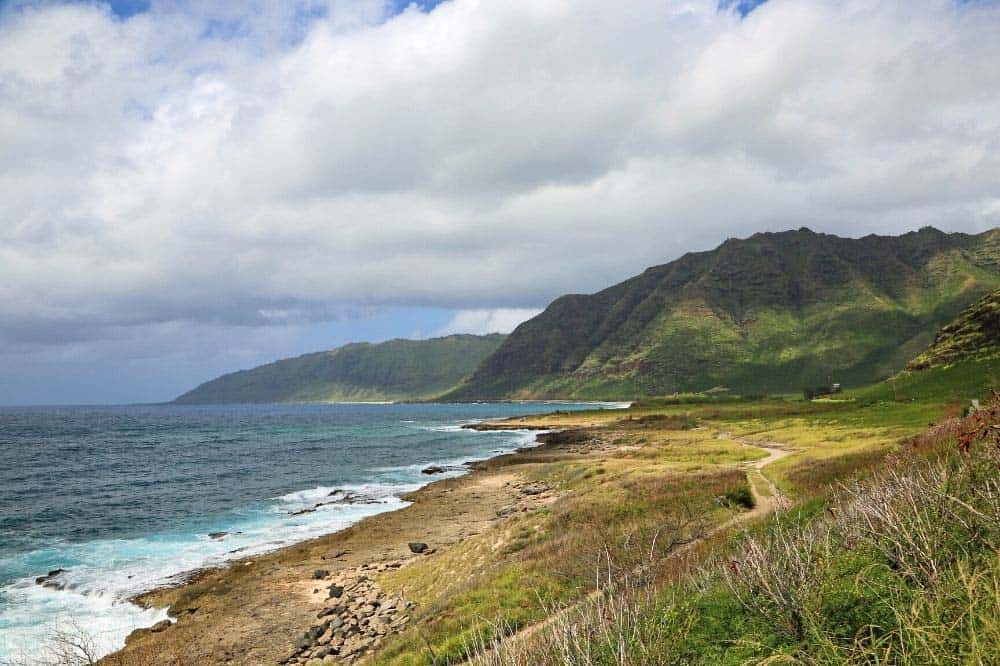 Why you should go: Vast ocean views and a wide variety of wildlife along the coast.
Difficulty: Easy
Distance: 5.0 miles
Elevation gain: 226 feet
There are two ways to get to Ka'ena Point. This specific route takes off from the end of the paved Farrington Highway on the north side of the island. Another more difficult route approaches from the western side. Both routes are remote, coastal hikes with plenty of native wildlife.
The northern trail is a 4×4 road often closed to protect wildlife habitat. Hikers can opt to stick to this road for easy walking or hug the coastline for a better chance at spotting seals, albatross, or other coastal creatures. The endless ocean vistas at Ke'ana Point are stunning, so bring a wide-angle camera lens if you have one.
Related Read: 10 Romantic Getaways in Hawaii for a Tropical Retreat with Your Boo
3. Koko Crater Botanical Garden Loop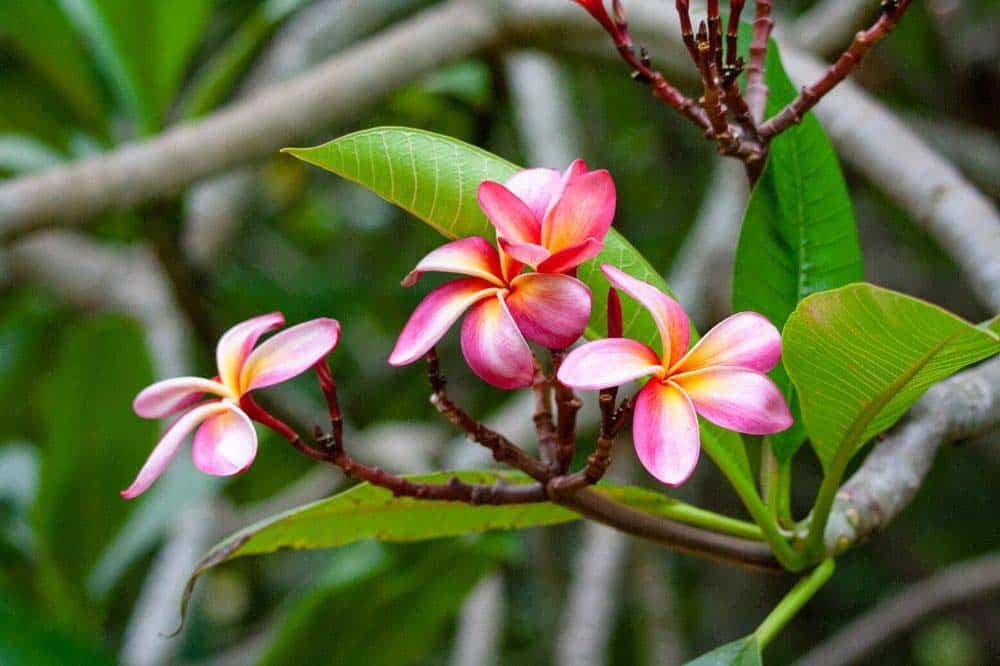 Why you should go: See rare dryland plants in the crater's desert-like interior.
Difficulty: Easy
Distance: 1.9 miles
Elevation gain: 337 feet
There's plenty to see along the Koko Crater Botanical Garden Loop. A wide variety of rare and endangered plants are cultivated in this dry and dusty crater, as are native Hawaiian plants and a collection of plants from mainland Africa and Madagascar that thrive in arid conditions.
The Koko Crater Ridge Trail provides more of a challenge (along with spectacular ocean views,) but it's the crater's dry lowland interior that makes this location so unique.
4. Makapu'u Point Lighthouse Trail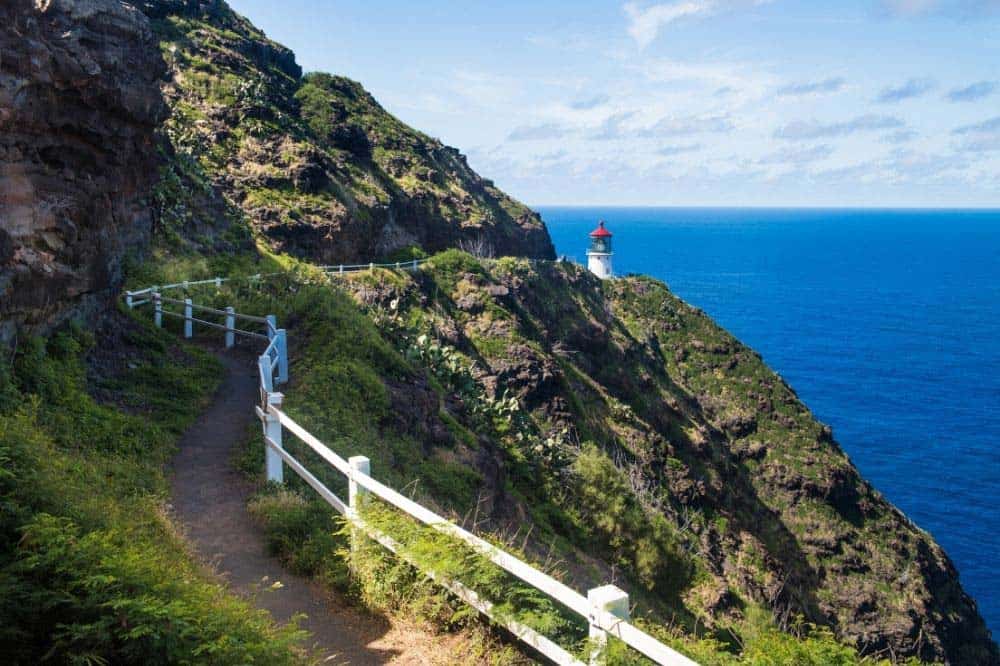 Why you should go: Breathtaking coastal views from a wheelchair-accessible paved trail to a cliffside lighthouse.
Difficulty: Easy-to-moderate
Distance: 2 miles
Elevation gain: 500 feet
Take a jaunt to Oahu's easternmost point on the Makapu'u Point Lighthouse Trail. This region of the island is often hot, dry, and decorated with cacti, providing a nice change of pace from the lush jungle that defines much of the Hawaiian experience.
You'll walk along the top of a cliff face for the majority of the hike with beautiful ocean views most of the way. The lighthouse itself is inaccessible to the public, but the adjacent lookout offers sweeping views of the islets to the north, including the Kāohikaipu Island Bird Sanctuary.
Whale and seabirds are common sights, so bring your binoculars. Adventurous souls can head off-trail and descend the cliffs down to the Makapu'u Tidepools for an up-close and personal look at smaller marine life.
5. Waimea Valley Trail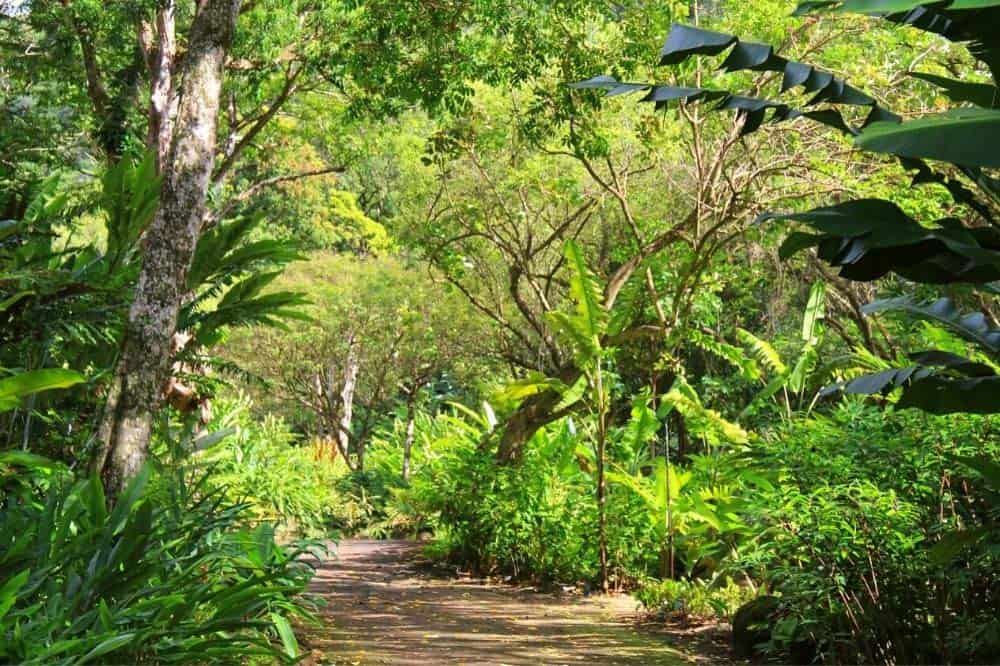 Why you should go: A well-maintained botanical trail leading to a picturesque waterfall and wading pool.
Difficulty: Easy
Distance: 2.0 miles
Elevation gain: 206 feet
Waimea Valley is a popular tourist destination deeply rooted in Hawaiian history. The whole of the valley is verdant as can be and speckled with vibrant flowers. The entirety of the main trail is paved, though it can at times be too steep for wheelchairs without assistance.
Expect to find interpretive signage (and bedazzling natural beauty) along the trail. The path leads to Waimea Falls, a quintessential Hawaiian waterfall that plunges into a large wading pool. Swimming and photos are highly encouraged. It gets pretty crowded here, so try to visit early morning or mid-week to avoid the crowds (though the swimming hole is quite large.)
6. Diamond Head (Le'ahi)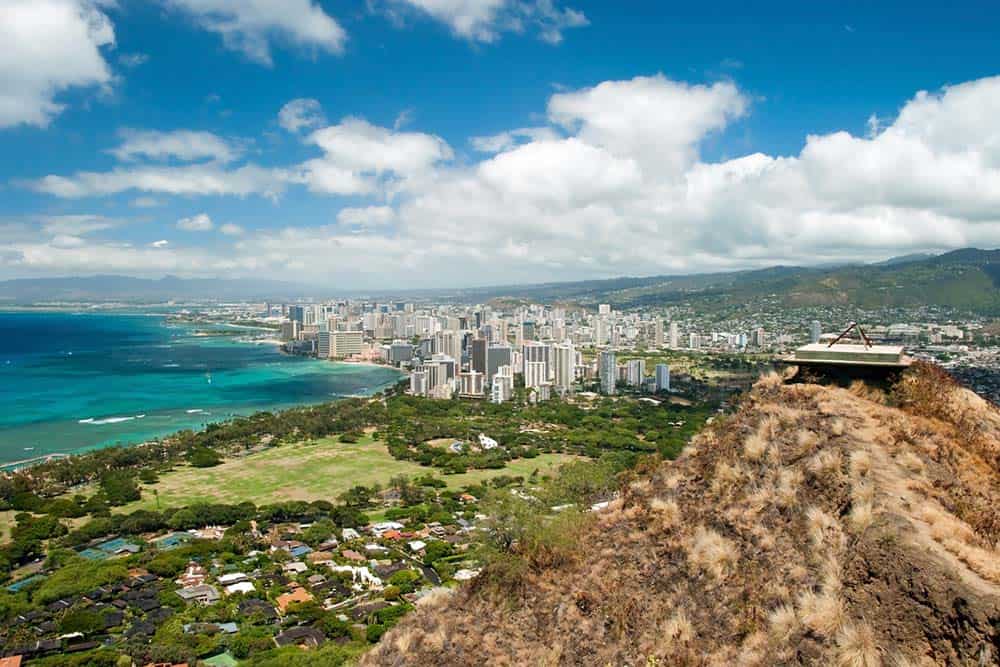 Why you should go: Postcard-worthy views overlooking Waikiki Beach and Honolulu.
Difficulty: Moderate
Distance: 1.8 miles
Elevation gain: 452 feet
Perhaps the most popular trail on all of Oahu, the path to Diamond Head's summit is within walking distance from the world-famous Waikiki Beach. The trail begins in the center of the Diamond Head volcanic crater and climbs up to the rim where 100-year-old deactivated military facilities still stand.
The path to the summit is paved and stairs with railings help hikers ascend the steepest sections. There will always be plenty of other people on the trail, but the panoramic views at the top are worth the trek. It's pretty exposed, so be sure to carry plenty of water.
Related Read: 9 Cabin & Cottage Rentals in Hawaii For a Perfect Island Escape
7. Kuaokala Trail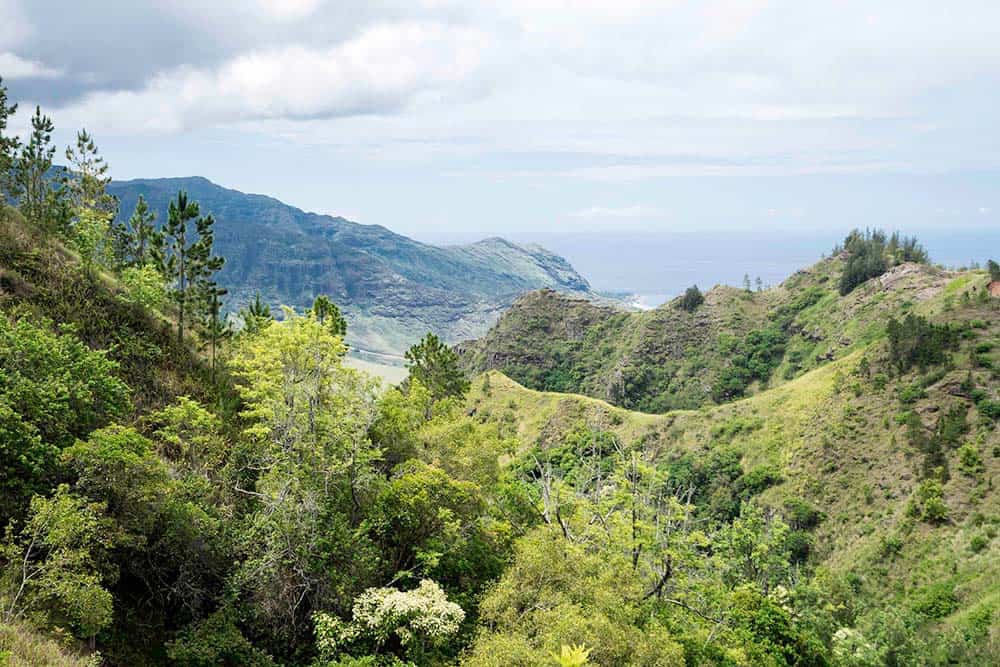 Why you should go: Stunning scenery on Oahu's wild and rugged western side.
Difficulty: Moderate
Distance: 4.7 miles
Elevation gain: 1,049 feet
Loaded with mountain views and ocean views in every direction, the Kuaokala Trail provides hikers with moments of solitude and natural tranquility that bring to life what Oahu was like long before colonization, WW2, and the tourist rush of the last century. Despite the remoteness, you'll have to pass by active military installations before attaining a permit and getting authorization by a guard to access the trail. Poetic, isn't it?
Most people can access the trail at most times of the year. The singletrack route passes through the Kuaokala Forest Reserve, where you can get a good feel for Hawaii's unmarred wilderness – the views are astounding no matter where you look. Keep your dog on a leash, though, as there are traps for wild goats hidden in the forest off of the trail.
8. Kuli'ou'ou Ridge Trail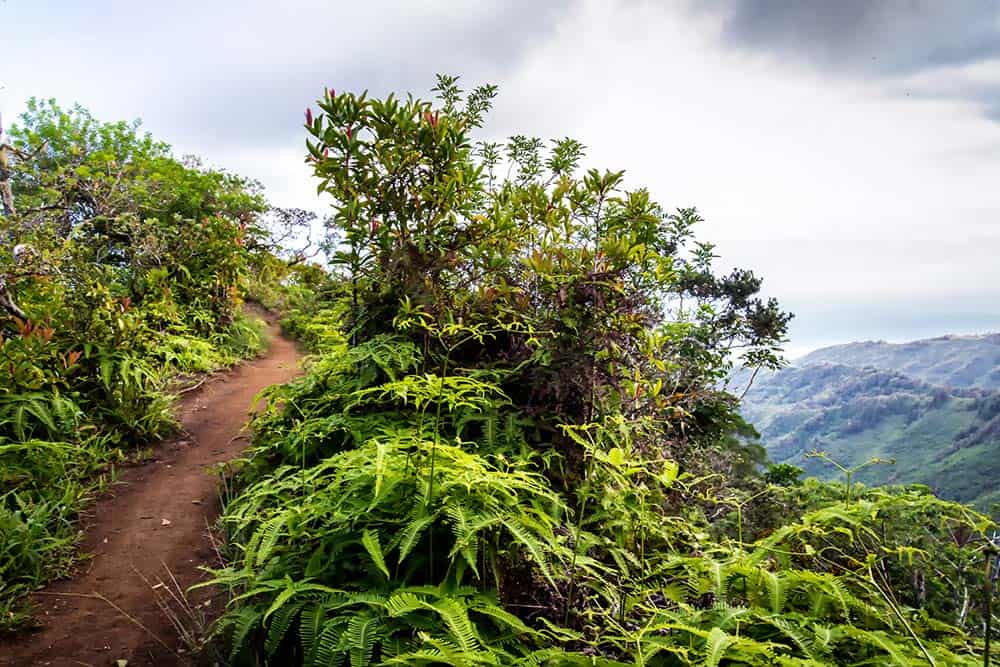 Why you should go: A rainforest trek through the heart of Oahu with expansive views of the island's western half.
Difficulty: Moderate
Distance: 5.0 miles
Elevation gain: 1,746 feet
Accessing the ridgeline of the Ko'olau Range can be quite a challenge, but the Kuli'ou'ou Ridge Trail is the most accessible path to its summit. It's a journey through the island's rainforest where you'll pass papaya trees, get mud on your boots, and maybe even see a wild pig. Really – of all the hikes on Oahu, pigs are most commonly seen here.
The switchbacks can be tiresome, but there are covered picnic shelters and viewpoint benches to catch your breath. And, of course, the views at the top are exceptional. All of western Oahu comes into view, and on a clear day, you can see Molokai and Maui on the horizon.
9. Maunawili Falls Trail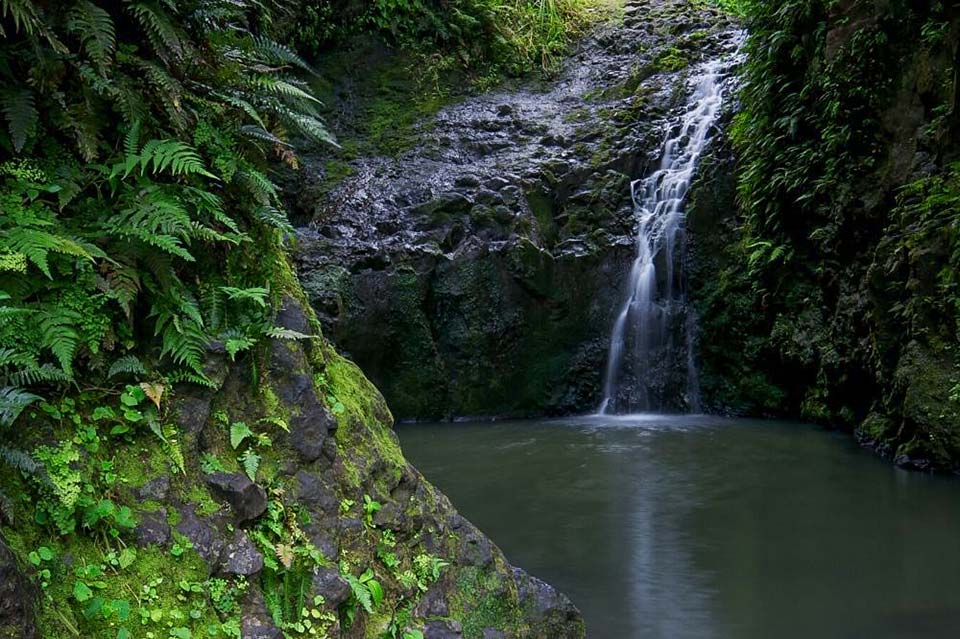 Why you should go: Take a dip in a secluded swimming hole at the bottom of a plunging waterfall.
Difficulty: Moderate (it's probably easy, but the mud makes it feel far more technical and slippery)
Distance: 2.3 miles
Elevation gain: 325 feet
You're going to get muddy when you walk the Maunawili Falls Trail – it's the unavoidable truth. This wild and slippery trail starts off in a residential neighborhood, but quickly veers off into a dense and wet rainforest.
The trail is marked and fairly well-trodden, but it's far from a walk in the park. You'll have to avoid turning onto one of the unofficial side trails while trying to keep your footing over slippery tree roots and puddles of mud. Hiking poles and/or shoes with a good grip will be quite useful.
The destination is worth the effort, however. Once at the falls, you can dive into the cleansing waters to rid yourself of the mud (though you'll get more on the way back, of course.) Keep an eye and an ear open to your surroundings as cliff jumpers will be plunging into the pool from every direction.
10. Ka'au Crater Loop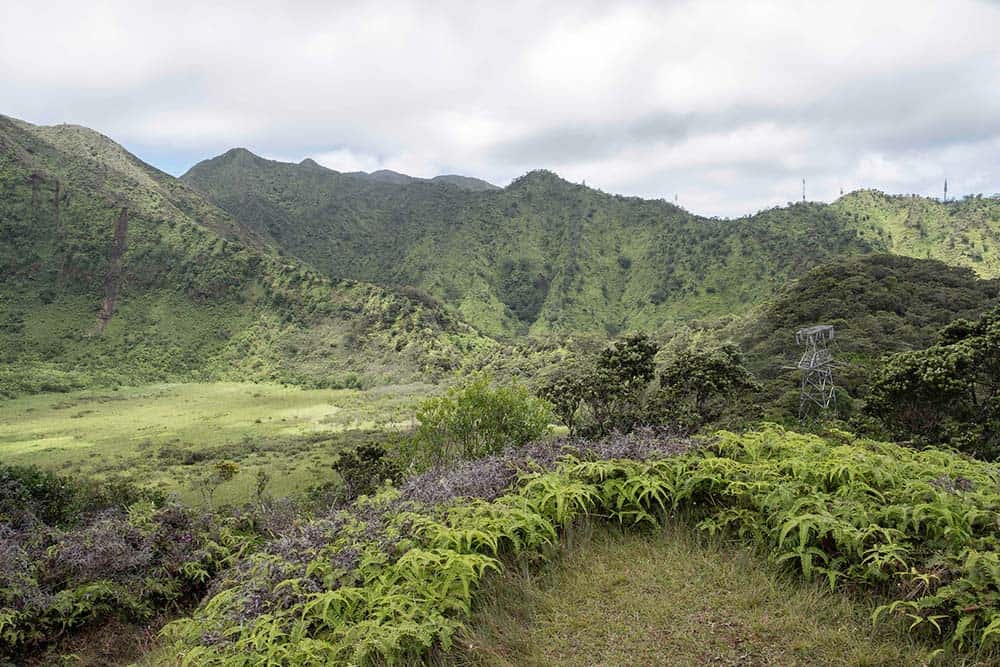 Why you should go: Scale multiple waterfalls as you climb to volcanic crater beneath Mount Olympus.
Difficulty: Challenging
Distance: 3.9 miles
Elevation gain: 1,440 feet
Be prepared for a challenge if you want to reach Ka'au Crater, one of the most difficult hikes on Oahu. This loop hike features a series of waterfalls that you'll need to climb and descending with the aid of climbing ropes, and the trail itself is often slick with mud, especially at the crater's treacherous rim.
It's recommended that all hikers travel in a counter-clockwise direction. This way, beginners will have a short trip to a beautiful waterfall, and experienced hikers will ascend the three waterfalls on the route, rather than descending them. Climbing these waterfalls is generally thought to be the safer of the two options.
Those not in the mood for an arduous trek can easily use the first waterfall as a turn-around point, creating a moderately difficult three-mile hike. If you do make it to the crater, you'll find yourself in one of the most isolated areas on the entire island. Considering how popular some of the hikes on Oahu are, that's a rare treat.
11. Olomana Ridge Trail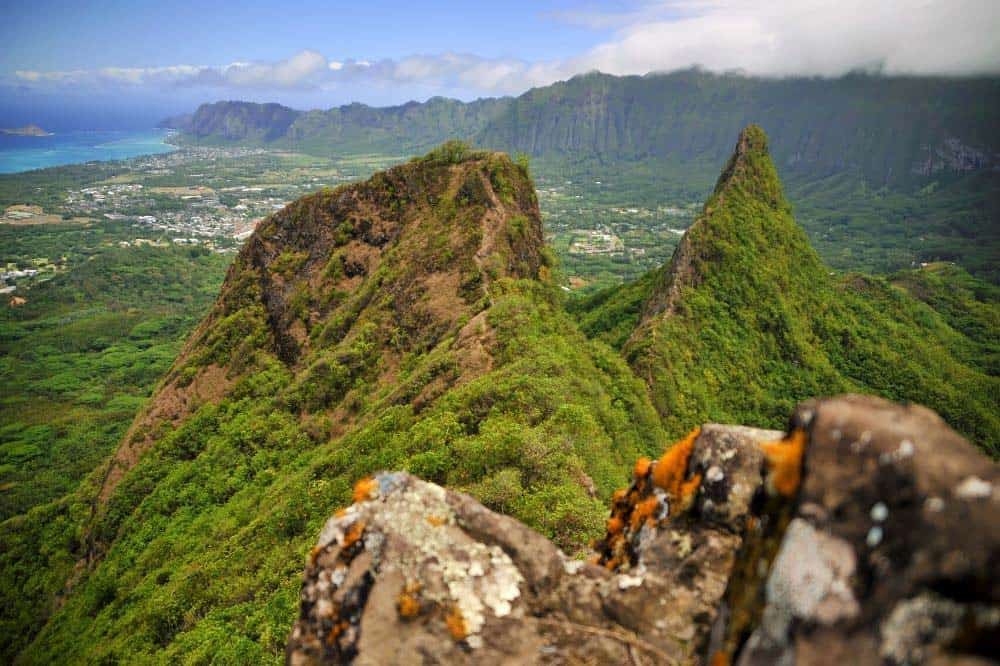 Why you should go: Summit a trio of steep peaks for personal glory (and unrivaled magnificent mountain views.)
Difficulty: Challenging
Distance: 4.4 miles
Elevation gain: 1,850 feet
Olomana Ridge Trail is only recommended for hikers seeking the toughest and least-traveled hikes on Oahu. But that's not to say that this hike is remote. The trail starts beside a busy highway and passes by a golf course before climbing above a rural countryside to a trio of peaks that few dare to climb.
Mount Olomana is the first of the three peaks you'll reach, as well as the tallest. Reaching the top requires a few sections of scrambling and rope climbing, and it's quite a small place to stand. Paku'i is the second peak and is where most people end their trips as the third unnamed peak is smaller and far more difficult to access.
12. Waimano Falls Trail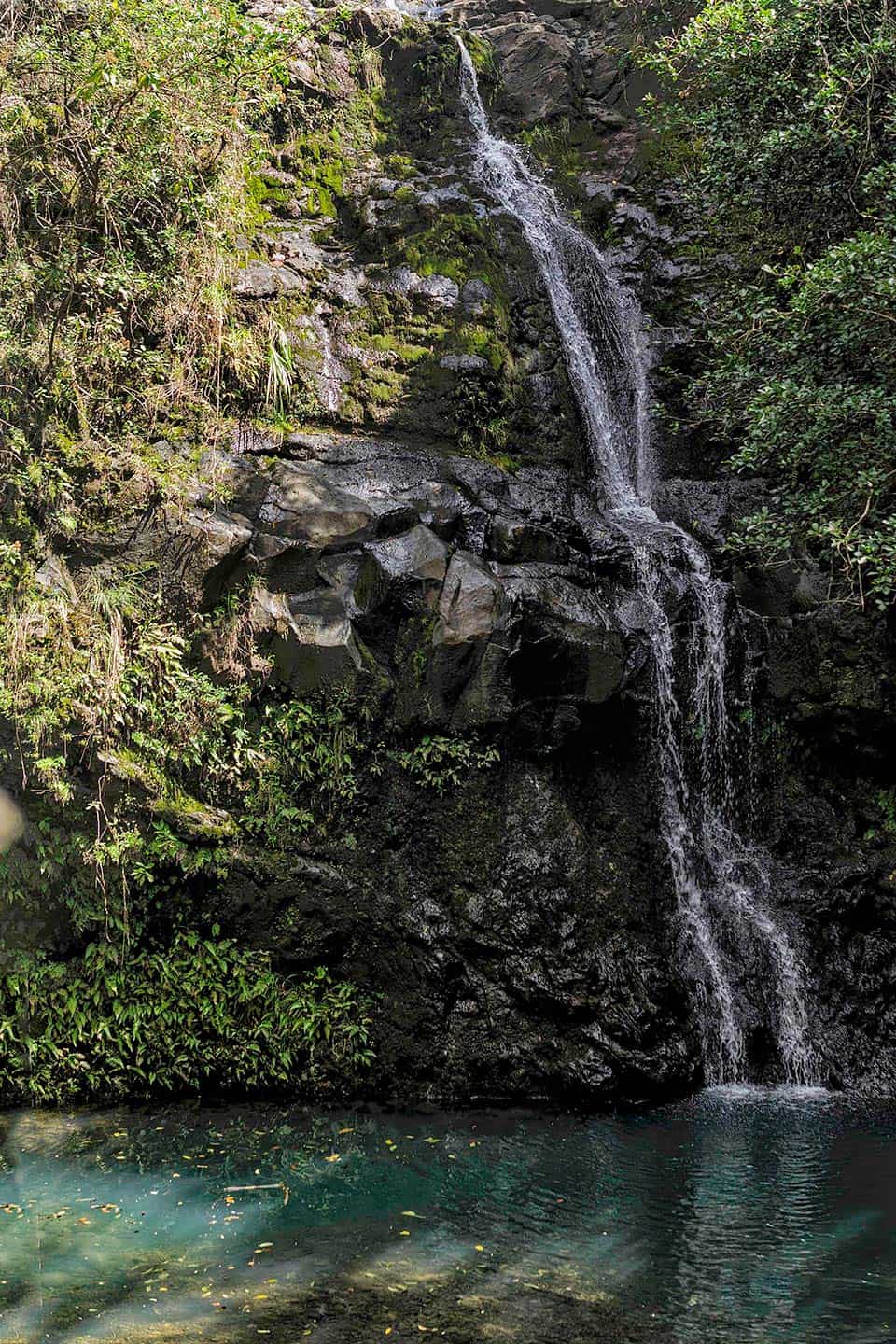 Why you should go: Venture on a technical hike to a hidden waterfall and several swimming holes.
Difficulty: Challenging
Distance: 2.9 miles
Elevation gain: 609 feet
Also known as the Waimano Pools Trail, since the waterfall is only present after a hearty rainfall, the Waimano Falls Trail is a favorite swimming hole with locals of the Pacific Palisades neighborhood. It's not too difficult of a trail for experienced hikers, but there are some technical sections, and those unfamiliar with the path may have trouble following the unmaintained trail.
When you do find the pools, it will be immediately obvious that this hike is less about the natural beauty of the waterfall and more about it being a sequestered rainforest playground. Rope swings hang from every branch strong enough to hold them, and you're sure to other visitors splashing around in the layered pools.
Explore More Bucket-List Hikes
Sign up for our free email to join thousands of readers getting epic travel, hiking, camping and gear ideas every week.
---