Traveling between New York City and Washington, D.C. by car can provide you with a fantastic mini-road trip that takes you to some of America's most interesting and historic spots — if you know what you're doing.
When traveling between New York City and Washington, D.C., you have several options. This highly-trafficked route — for both business and leisure travelers alike — boasts rail travel, affordable flights and major roadways.
However, if you're not merely worried about getting from NYC to D.C. as quickly as possible, you might want to skip the puddle jumper airplanes that serve this hour-long air route, as well as the trains.
While I-95 South will get you from Manhattan to the White House in under four hours, it's worth deviating off the beaten path to see what awaits the adventurous.
Here's how to break your New York City to Washington, D.C., journey into two segments, giving you plenty to do and see over two days' time, or even longer if you want to really slow down and enjoy yourself.
NYC to Washington, D.C. Road Trip by Section
The quickest way to travel from New York City to Washington, D.C., is by plane, with flights starting at around $100 and lasting only about an hour. Train travel between the two cities is frequent and only takes about three hours. Driving, then, is your slowest option, at about four hours, but the route is fairly straightforward. As you're leaving the Big Apple, you'll just take primarily I-78 West to I-95 South, through destinations like Jersey City and Baltimore.
For our road trip, though, we're using the convenience of the interstates to our advantage, while also deviating away from them to explore interesting spots along the way. We're splitting the route into two segments: NYC to Wilmington, Delaware, and Wilmington, Delaware, to Washington, D.C., with potential side trip opportunities in Cape May, New Jersey, and Dover, Delaware.
Keep in mind that this road trip is a little more suitable for spring through fall. The Northeast and Mid-Atlantic, especially in oceanside spots such as Cape May, New Jersey, can be brutally cold in the winter months. This not only takes away from your overall comfort, but also impacts your convenience, with inclement weather potentially causing road troubles.
Segment 1: NYC to Wilmington, DE
Distance: 127 miles
Drive time without stops: 2 hour, 30 minutes
The drive from New York City to Wilmington is only about two hours, but we have a lot of fun stops to enjoy along the way.
Segment 1 Highlight: Princeton, NJ
The first highlight on our road trip is Princeton, New Jersey, located just a mere hour and twenty minutes outside of Manhattan. This small town might be more known for its Ivy League school, but it also offers plenty to explore for those who are long past their college days.
On campus, you can visit the Princeton University Art Museum, with its range of collections exploring everything from women artists and abstractions to women and the arts of Africa. The campus also boasts the historic Princeton University Chapel, built in the 1920s and renowned for both its size and Tudor Gothic style. For history beyond the university, visit Morven Museum & Garden, an estate once home to a signer of the Declaration of Independence and New Jersey governors. Fresh air and outdoor fun can be found at Lake Carnegie.
Segment 1 Highlight: Philadelphia, Pennsylvania
Of course, this Segment 1 route will also take you to a much bigger city and one of America's most popular tourist destinations: Philadelphia. Less than an hour's drive from Princeton, Philly offers an abundance of things to do, no matter what you're interested in.
The Philadelphia Museum of Art, Philadelphia Zoo, Independence Hall — they're all top attractions that are easily visited on short notice. For travelers who like a little haunted history, Eastern State Penitentiary is a can't-miss attraction. Make sure to grab your next meal before leaving Philadelphia, too. A Philly cheesesteak is a must.
Segment 1 Side Trip: Cape May, New Jersey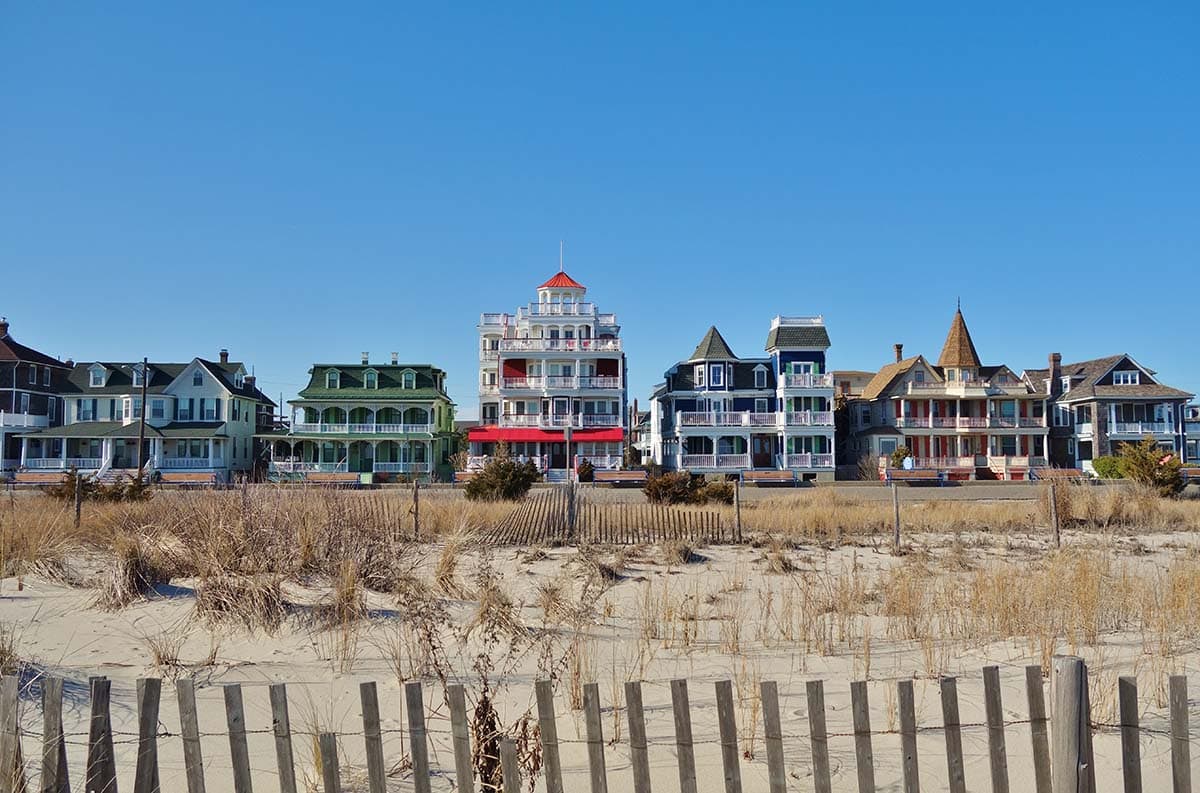 For a little side trip before you head to Delaware, consider jutting off-route, back into New Jersey and following the Atlantic shoreline south. There, you'll find one of Philadelphians' favorite summer vacation spots: Cape May.
A beach-y haven in the summer, Cape May delights just about anytime of year, thanks to its historic Victorian homes, pedestrian malls and more. Top attractions include the Cape May Lighthouse, Naval Air Station Wildwood Aviation Museum, the Emlen Physick Estate and Historic Cold Spring Village.
Related Read: 7 Pet-Friendly Hotels in Cape May, New Jersey
Segment 2: Wilmington, DE to Washington, D.C.
Distance: 108 miles
Drive time without stops: 2 hours
When you reach Wilmington, don't just count it off as a waymarker on your journey to Washington, D.C. There's plenty to see and do in this historic town — so much so that you could easily spend a few days here, before going on your way.
Want to see grand estates and gorgeous architecture? Stop by Nemours Estate, the Hagley Museum and Library or the Rockwood Park and Museum. Want to get outdoors? Stroll the Wilmington Riverwalk, or head to Bellevue State Park or Brandywine Creek State Park. Traveling with the kids in tow? Go to the Delaware Children's Museum and then take a ride on the Wilmington and Western Railroad.
However, once you're ready to move on from Wilmington and continue your journey to Washington, D.C., you'll find that the nation's capital is only a two-hour drive away via I-95 South. First, though, we're going to make some stops in Baltimore and Alexandria; if you want to take a brief side trip, however, on this leg of the journey, you'll want to head south immediately after leaving Wilmington, and make your way to Dover.
Segment 2 Highlight: Baltimore, Maryland
Another major city along this route that could easily host you for an entire stand-alone vacation, Baltimore offers something for just about every traveler.
Strolling the Inner Harbor is a must, as this is not only a beautiful piece of waterfront backed by the city skyline, but it's also home to some of the city's top attractions and lots of places to eat, drink, shop and stay, if you choose to remain overnight. The Maryland Science Center, National Aquarium and American Visionary Arts Museum are all attractions you'll find here.
Segment 2 Highlight: Alexandria, Virginia
If you're willing to loop around Washington, D.C., and make one quick stop in Alexandria, Virginia, before arriving in your final destination, you'll be well-rewarded. On the Potomac River, this town is known for its historic charm and fantastic independent shopping.
The Old Town, with its buildings dating back to the 1700s, is a great place to walk about, window shop and really take in the scenery. The King Street Mile is considered one of the top streets in the entire country, with its cobblestones and picturesque surroundings (and it especially comes to life in the winter, with the help of some holiday lights).
Related Read: 9 Cozy Cabin Rentals in Virginia with Hot Tubs
Segment 2 Highlight: Arriving in Washington, D.C.
Of course, Washington, D.C., hardly needs any introduction as a travel destination. However, extend your explorations of the nation's capital further beyond just the top highlights that everyone knows, like the White House, Lincoln Memorial, Washington Monument and all the rest. There are plenty of other attractions to see here, and things to do.
For example, get off the beaten path and see some museums that aren't the same ol' natural history museums you've seen before, such as the National Postal Museum or the National Museum of the American Indian. Explore D.C. neighborhoods beyond the National Mall and Capitol Hill; you'll find great shopping, dining and luxurious hotel stays in Georgetown, or you can go to the Adams Morgan neighborhood for the vibrant nightlife scene.
Related Read: 15 Amazingly Free Things to Do in Washington, D.C.
Segment 2 Side Trip: Dover, Delaware
If you did decide to take that side trip from Wilmington to Dover, you would've found Dover just about an hour south of Wilmington. The small state's capital city is home to a bevy of fun. Check out the Air Mobility Command Museum, Dover Motor Speedway and the Johnson Victrola Museum for starters. Popular historic attractions include the John Dickinson Plantation, Old State House and First State Heritage Park.
When you're ready to get back to the route, you'll find that Baltimore is just a two-hour drive away. Or, you can skip Baltimore completely — and maybe visit it on your return trip to New York City? and head straight to Washington, D.C., or Alexandria, both of which are also about a two-hour drive from Dover.
Explore More
Get epic travel ideas delivered to your inbox with Weekend Wanderer, our newsletter inspiring more than 10,000 readers every week.
---