We research, evaluate and select travel destinations based on a number of factors, including our writers' experience, user reviews and more. We may earn a commission when you book or purchase through our links. See our editorial policy to learn more.
Was this article helpful?
---
If you're ready to trade the glitzy nightlife and luxury of Miami for some more serene adventures, check out these nine weekend road trips to get a taste of what Florida has to offer.
Located within easy driving distance of the Magic City, these spots have their own charm, whether you're looking for cute downtowns, historic sites, white sand beaches, or stunning stop-offs in nature.
No matter which trip you choose, you'll get to see another slice of the Sunshine State — and you may just find your new favorite weekend getaway.
1. Key West
Head south for an escape to the historic island of Key West. The southernmost point in the continental U.S., Key West is famous for its beaches, ocean activities, lively nightlife, and unique history. The best spot to soak up the Key's culture is Duval Street, which is loaded with shops, bars, restaurants, and cafes.
To see more of the town, which includes many historic sites, as well as quaint, colorful homes, take a walking tour. For literary buffs, a stop-off at the Ernest Hemingway Home and Museum is in order (look for the famed six-toed cats). If soaking up some sun is more your style, you'll have your pick of pristine beaches with beautiful blue water or luxurious poolsides at award-winning properties like The Perry Hotel and Marina. Or, turn up the tropical vibes with a snorkel, sail, or paddling tour. And don't forget to catch a sunset to finish out the day.
Distance: 165 miles
Drive time without stops: 3 hours, 20 minutes
Related Read: 10 Unique Places to Stay in Florida for a Most Memorable Vacay
2. Everglades National Park
Not sure where to start with a visit to the Everglades? Head to the Ernest F. Coe Visitor Center for some ideas on how to spend a weekend in the largest subtropical wilderness in the U.S. The 1.5 million-acre park is essentially one giant slow-moving river and is home to a variety of rare and endangered species like manatees, American crocodiles, and Florida panthers.
From tropical hammocks and pinelands to coastal lowlands and estuaries, the landscape is varied and offers lots of ways to explore. Head out biking, hiking, bird watching, boating, fishing, kayaking, or canoeing to see the diverse habitats up close.
If you're looking for an overnight stay, the park also offers two drive-up campgrounds, as well as backcountry camping if pitching a tent (or pulling up your RV) sounds like a great weekend escape.
Distance: 43 miles
Drive time without stops: 1 hour
3. Lake Okeechobee
Sometimes called Florida's Inland Sea, Lake Okeechobee offers miles of waterways to explore. A popular stop for local anglers and hunters, the 730-square-mile lake is known for its great fishing for largemouth bass and speckled perch. The wetlands around the shores also offer great opportunities to spot migrating birds and waterfowl.
For a more laid-back weekend, take a hike along the Lake Okeechobee Scenic Trail then stop off in the small town of Okeechobee on the north side of the lake. Book a pontoon or airboat ride out of the marina or pitch your tent at the nearby campground along the scenic Kissimmee River for more time in nature.
If you have a boat, kayak, canoe, or stand-up paddleboard, the lake offers a different kind of on-water adventure that you won't find in Miami. If getting back to nature and learning about Florida's ecosystems is up your alley, this laid-back weekend spot might be your jam.
Distance: 96 miles
Drive time without stops: 1 hour, 40 minutes
Related Read: 14 Free Things to Do in Tampa for a Budget-Friendly Trip
4. West Palm Beach
If you're looking for a different city scene for the weekend, head north to West Palm Beach. Located on Florida's Atlantic coast, this palm-tree-studded city offers many of the same amenities as its southern sister city — namely shopping, fine dining, nightlife, entertainment, cultural attractions, and white-sand beaches.
For shopaholics and foodies, the town center offers plenty of fashionable bars, nightclubs, boutiques, and restaurants. For a dose of arts and culture, check out the Norton Museum of Art or Flagler Museum.
If you're looking to soak up some sun, the city also has several great beaches to choose from. Once you've had your dose of vitamin D, check out the Palm Beach Zoo or Cox Science Center and Aquarium, which both also make for great family-friendly activities.
Distance: 71 miles
Drive time without stops: 1 hour, 10 minutes
5. Orlando
Perhaps best known for Walt Disney World and Universal Studios, Orlando is home to a lot more than just theme parks. Though, if you've got young children (or are yourself a kid at heart), a weekend outing to Disney is definitely in order (go ahead and plan for a full weekend because there's plenty to see, lines notwithstanding).
But if you're interested in exploring Orlando beyond the theme parks, the city is also home to shopping, sports, parks, galleries, and museums. The downtown area has undergone a massive renaissance over the last decade and is now home to a great dining and nightlife scene, and depending on the weekend, you might catch a festival or parade, too.
Whether you're looking for outdoor adventures or indoor entertainment, Orlando is sure to have a weekend itinerary to fit your interests.
Distance: 235 miles
Drive time without stops: 3 hours, 30 minutes
Related Read: How to Turn Your Disney World Vacation Into an Outdoor Adventure
6. Cape Canaveral
Home to the Kennedy Space Center, Cape Canaveral also boasts several lovely beaches, a popular cruise ship port, and plenty of hotels, making it perfect for a weekend getaway.
Obviously, a visit to Florida's Space Coast wouldn't be complete without a tour of the Kennedy Space Center, where you can learn about the history of space exploration as well as get a glimpse at present-day missions. And if you are lucky enough to catch a launch, it's sure to be an extra memorable weekend.
For nature lovers, the nearby Canaveral National Seashore offers 24 miles of undeveloped beach where you can do some shell hunting and bird watching. Check out the Brevard Zoo (which offers kayak tours through a few of their animal habitats) or the Cape Canaveral Lighthouse for some other family-friendly activities. Then finish the day off with some fresh fare at one of the local restaurants.
Distance: 208 miles
Drive time without stops: 3 hours, 20 minutes
7. Key Largo
If you don't want to go all the way south and would prefer to skip the most touristy parts of the Florida Keys, Key Largo is an easy hour's drive from Miami and is a massively underrated destination.
As the self-proclaimed Dive Capital of the World, it should come as no surprise that scuba diving, snorkeling, and cruising around in a glass-bottom boat top the list of popular activities. John Pennekamp Coral Reef State Park is one of the best spots to visit with everything from mangrove swamps and tropical hammocks to coral reefs full of marine life to explore.
Fishing, paddling, and taking a dip with the dolphins are also great activities to put on your weekend agenda. Of course, finding a quiet corner of the beach and kicking back to take in the view is a perfectly valid option, too.
Distance: 56 miles
Drive time without stops: 1 hour
8. Marco Island
Looking for a Gulf Coast adventure? Head east to Marco Island. At a little over an hour's drive from Miami, it makes for an easy weekend trip, even if you need to be home early or only have a day to spend away. The largest barrier island in southwest Florida's Ten Thousand Islands area, Marco Island has over 100 miles of waterway and six miles of stunning white sand beaches and turquoise Gulf waters. Many resorts on the island, like the Hilton and Marriott's Crystal Shores, sit right on the beach and are considerably cheaper than comparable properties in Miami Beach.
If you're searching for a laid-back, beach-going weekend, it's as easy as pitching your towel on the sand. Other popular activities include taking a cruise to get out on the water – wildlife viewing tours offer the promise of spotting dolphins, manatees, or sea turtles, depending on the time of year.
Or, if you're seeking a bit more adrenaline, you can try out water skiing or wakeboarding instead. The town itself offers arts, culture, food, music, and shopping if you get tired of the sand and surf.
Distance: 106 miles
Drive time without stops: 2 hours
9. Vero Beach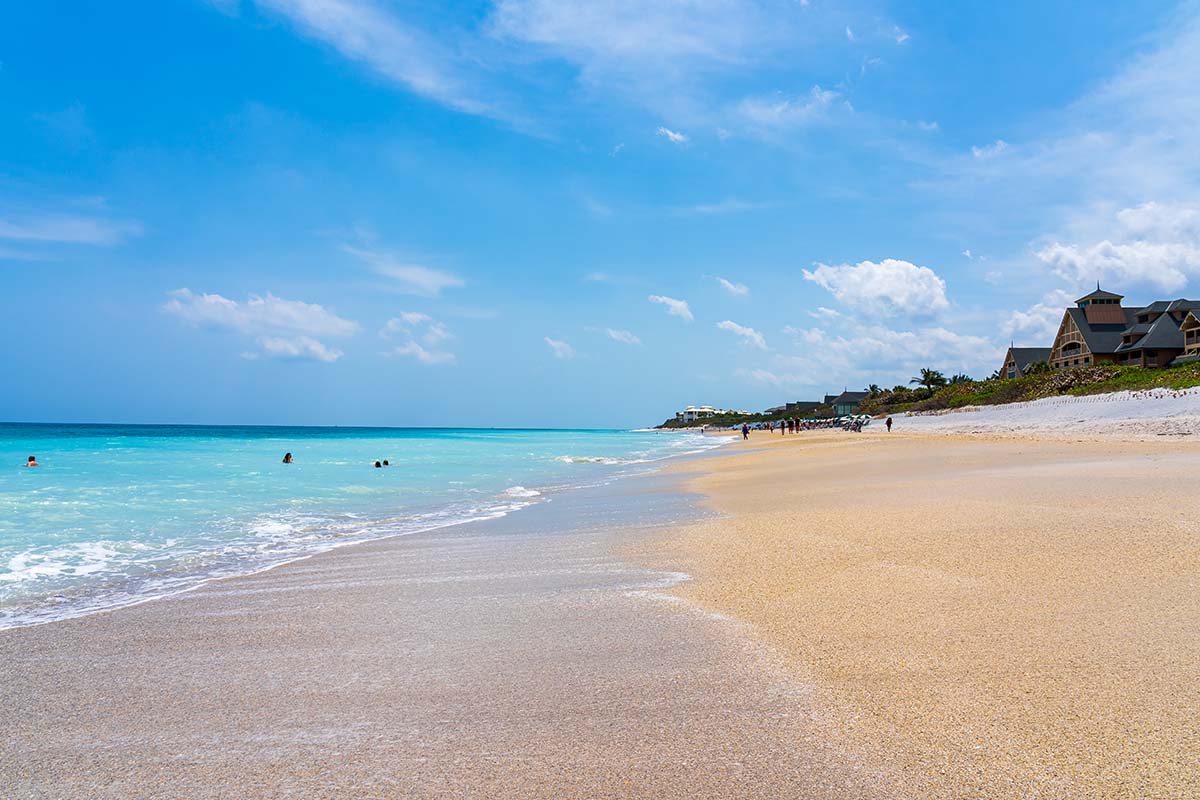 If you want to skip the hustle of Miami or West Palm Beach, but are still seeking an upscale ocean-side escape, Vero Beach offers all the perks of the bigger cities in a smaller, more relaxed package. But not to be underestimated, Vero Beach still has a wide array of fantastic hotels and resorts, including a Kimpton and even Disney's sprawling Vero Beach Resort.
A popular destination for beach-going, water sports, and fishing, the town also has a wide selection of shops, museums, art galleries, and parks. Hit up the historic downtown which hosts monthly gallery strolls, street festivals, and vintage markets. You'll have your pick of local eateries, too.
But perhaps the biggest draw for those seeking oceanside solitude are the uncrowded beaches. Notably, the area doesn't have any towering highrises along its 26-mile stretch of shore, providing a more natural feel as you walk along the crashing waves.
And while the area does offer plenty of opportunities for fishing, boating, scuba diving, surfing, snorkeling, kayaking, or stand-up paddleboarding, it's also a great spot to simply take a nap with your toes in the sand.
Distance: 143 miles
Drive time without stops: 2 hours, 30 minutes
Explore More in Florida
Get epic travel ideas delivered to your inbox with Weekend Wanderer, our newsletter inspiring more than 10,000 readers every week.
Was this article helpful?
---