Being in the wild is dope, and so is keeping it clean for future generations. If you're hiking, camping or backpacking, you can minimize your impact on the environment with Leave No Trace principles and ensure everyone has a good time with basic trail etiquette tips. Now let's get wild.
Was this article helpful?
---
Ready to go camping? Great. Now, what in the heck are you going to do with all that free time?
Whether you're camping with the family or a group of friends, it helps to plan ahead with a few activities for the adults.
We're not advocating for a structured schedule — that nonsense should go out the window as soon as you lose cell coverage — but having a few activities up your sleeve is a good way to ensure nobody succumbs to campsite fever.
Everyone has a slightly different picture of the perfect camping trip, so we've put together an eclectic list of activities to satisfy all types of campers.
For adventure-hungry explorers to campsite loungers, nostalgic souls to modern glampers, and of course all you party game enthusiasts, here are 45 camping activities and games that'll deliver a kick-ass camping trip that all of the adults will enjoy, including some of our favorite camping games and gear to stock up on for summer.
Related read: 60+ Epic Camping Quotes On The Great Outdoors
Quick List: Best Camping Games
Classic Camping Activities
Stargazing
It doesn't get any simpler than kicking back and quietly appreciating the cosmic wonders of the night sky. Try downloading a stargazing app to your phone ahead of time to enhance your experience.
Campfire Cooking
Take a moment to think about your favorite camping memories, and chances are one of them will involve campfire cuisine.
Keep it simple with marshmallows, hot dogs, and s'mores, or kick it up a notch with tin foil dinners. Whether you're simmering something delicious all day or whipping up a killer peach cobbler after dinner, a dutch oven makes it easy to cook delicious meals while you're enjoying other camping activities.
BBQ fan? Bring a campfire grate to cook burgers, chicken, and veggies directly over the fire. For dessert, wrap some bread dough around a broomstick, cook it over the fire, then add your favorite fruit toppings with a pinch of sugar.
Campfire Stories
Campfire stories are a classic camping activity. Whether you're looking for ghost stories, tales of adventure, or funny anecdotes, just turn to your camping buddies for entertainment.
For a modern twist on campfire stories, download an audiobook or podcast to share with your friends. Just be sure to bring a good Bluetooth speaker, like the waterproof Bose SoundLink Revolve+ or JBL Flip 4.
Campfire Songs
If you're lucky enough to have a fellow camper who's good with the guitar, bring a six-string and sing a few songs while everyone is roasting marshmallows around the fire. You don't have to be an American Idol contender to enjoy this activity — it's still pretty fun when your buddies sound like a pack of dogs howling at the moon.
Want to make a game out of it? Start strumming your favorite tunes and play Name That Song.
Hammock Hanging
Whether your idea of relaxing calls for a good book or a nap, adding a hammock to the mix will certainly upgrade your lazy afternoon.
Even better, ditch the tent and spend the night in a camping hammock for the best backcountry bed you've ever experienced.
Hiking
Between Alltrails and Gaia GPS, you should be able to find a good hike near your campsite.
When all else fails, grab your compass and start bushwhacking to explore the area around you.
Fishing
Fishing offers a double dose of fun and food — as long as the fish are biting.
Be sure to check the local fishing regulations, get your fishing license, and read up on what kind of fish you'll find near the campsite.
Survival Challenges
Ready to practice the survival skills you learned on Man Versus Wild?
Make Bear Grylls proud by tackling survival challenges like starting a primitive fire, building a shelter, and foraging for food.
Modern Camping Activities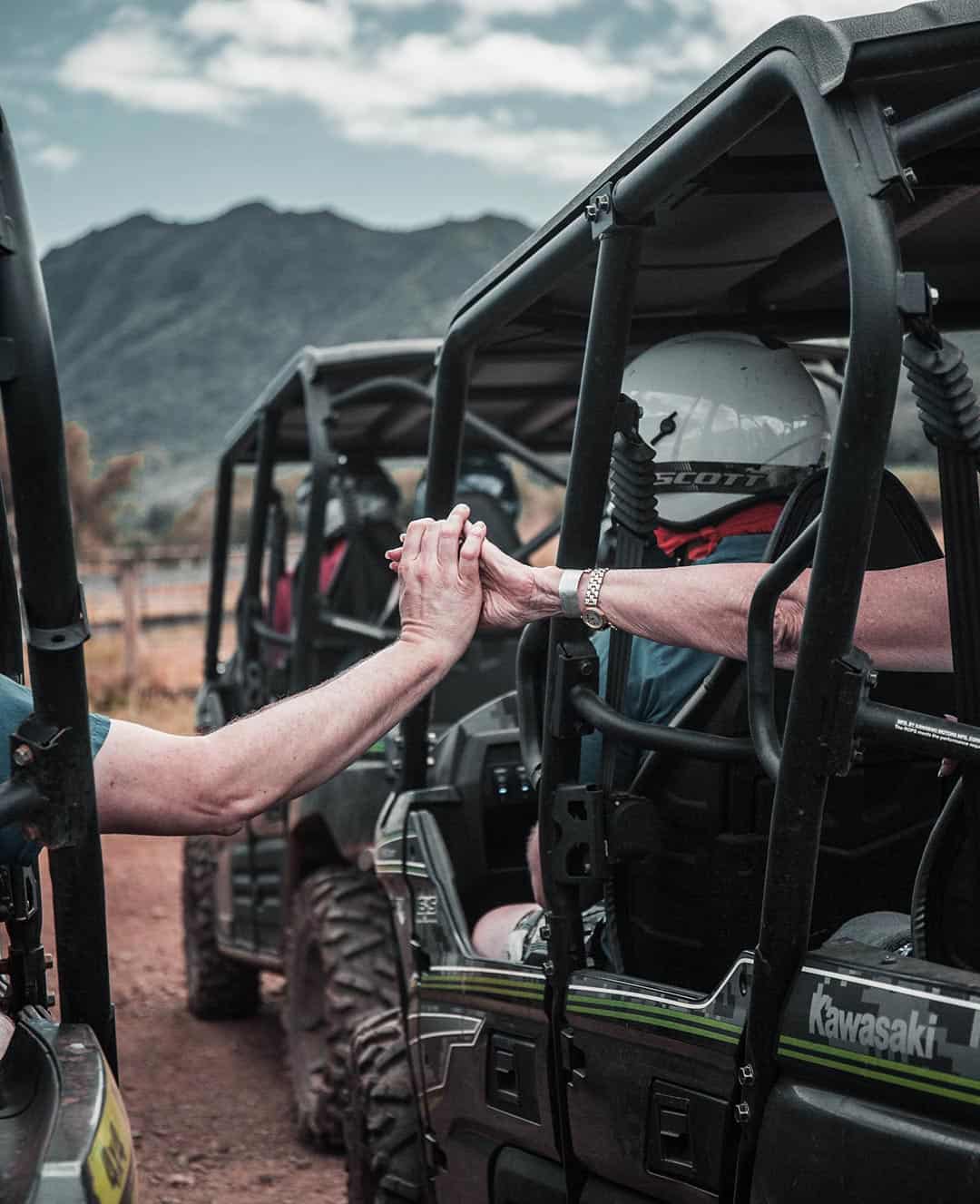 Photography
Nature photography is more of a solo-activity, so don't expect your friends to be very enthusiastic about following you around while you silently snap pictures with your DSLR. It's best if your fellow campers can bring their own cameras, and even better if you plan your camping trip around scenic locations where you can do a photo tour.
When you're ready to upgrade your nature photography game, get a drone. There are a few hoops you'll need to jump through to register and you'll always need to be mindful of local laws and restrictions, but in the end it's totally worth it for those epic panoramic shots from several hundred feet in the air.
Movie Night
Backcountry movies require quite a bit of advance planning, but it's a fantastic experience when you're able to pull it off.
You'll need a portable projector, outdoor projector screen, bluetooth speaker, and portable power source. Upgrade your power source to the Goal Zero Yeti 1500X and you can even power up your van build.
Off Road Vehicles
Off-Highway Vehicles (OHVs) like dirt bikes, ATVs, and UTVs are always a good idea when you're camping. If you and your buddies don't have one, check around for local rentals.
Most rental businesses are situated near OHV-friendly trails, and some will let you rent a trailer so you can take it out for the weekend.
Geocaching
Geocaching is the modern equivalent to ancient treasure maps. Download a geocaching app and you're bound to find multiple hidden caches near popular campsites.
You won't find any buried treasure at the end of the map, but there's usually a fun token to take a picture with, and a bragging board where you can sign your name.
Outdoor Sports
Axe Throwing
I tried axe throwing for the first time recently, and yes, it's absolutely as much fun as it sounds. Just make a DIY target at home, grab some tomahawks or throwing knives, and you're ready to release your inner warrior.
Cornhole
Cornhole is a great camping activity for DIYers. Follow this simple plan from Rogue Engineer, find a fun stencil or decal to personalize it, and you'll have a fun family activity for years to come.
Don't feel like building your own cornhole set? Check out the GoSports Flag Series Cornhole Set. It's built to last and offers a fun variety of national and state flags to suit your style.
Horseshoes
If the first horseshoe was invented on a Thursday, I'd wager by Friday the local townsfolk were already tossing them around in search of the elusive ringer.
Since then, the game of horseshoes has been a classic campsite activity, and perhaps the best game for grandpa to show everyone that he's still got it.
Ladder Golf
Whether you choose to buy a set or make your own, ladder golf (aka hillbilly horseshoes) is a fun camping game for all ages.
When you're not camping, set them up in your backyard for some outdoor recreation on the weekend.
Capture The Flag
You need a pretty big group to play capture the flag, so save this activity for that annual family camping trip when all of the siblings, cousins, aunts, and uncles are around.
If traditional capture the flag is too mundane, try playing at night to release your inner ninja. You can also mix things up with some water balloons, paintball guns, or airsoft guns.
Frisbee
Anyone who lived on-campus their freshman year at college should be pretty familiar with the many ways you can play frisbee games. Ultimate Frisbee is great for large groups with lots of open space. Try playing at night with a glow in the dark frisbee for a challenging twist.
For smaller groups, pick a tree in the distance and play a round of Frisbee Golf.
You only need two campers to play Tic Tac Toss, though you'll need to plan ahead with a tarp, duct tape, and a 12-pack of mini frisbees.
Flashlight Tag
Flashlight Tag is a combination of tag and hide-and-seek that's perfect for camping. It's a kid-friendly game that the whole family can enjoy, including the adults.
Volleyball
A sandy beach is probably the first venue that comes to mind when you think about playing volleyball, but it's just as fun in the grass.
All you need is a large open area, a portable volleyball set, and at least four players and you're ready to bump, set, spike!
Badminton
While you've got the volleyball net up, bring along some rackets and birdies so you can play a quick game of badminton.
The game calls for less diving and spiking than volleyball, making it a more relaxing (but still plenty competitive) alternative for those who don't move around like Goose and Maverick anymore.
Mountain Biking
Mountain Bikes aren't cheap, but they're an excellent investment that'll deliver decades of trailblazing excitement when you treat them well.
Bring along your GoPro and you'll have some gnarly videos for your Instagram Stories on Monday.
Water Sports
For the sake of brevity, I'm going to lump all watersports into one category. That includes kayaks, canoes, paddle boards, and for those who are fortunate enough to own a boat (or, even better, those who have a friend with a boat), don't forget about tubing, water skiing, and wakeboarding. Either way, few camping activities can top a day on the water when you've got the right equipment.
Keep in mind that you can find a rental business near most major bodies of water. Renting a jet ski or wake boat for the afternoon will cost a pretty penny, but renting a kayak or SUP for the day is usually fairly affordable.
Rock Climbing & Rappelling
Look hard enough and you'll find something to climb near most campsites, whether it's a large boulder or an actual rock wall. If you're not too keen on climbing, skip the ascent and try rappelling down the wall.
Keep in mind that both of these activities require serious preparation and practice with specialized equipment. Alex Honnold may have inspired you to pick up climbing in Free Solo, but it takes a long time to get to that level. Start with the basics and work your way up.
Archery
All you need to set up a campsite archery range is a bow, arrows, and a target. Grab a fun target like the Morrell Double Duty Field Point Bag and you can make a game out of it.
Paintball and Airsoft
I'm placing this lower on the list because most adults don't like to be shot at, but for the dangerous few whose Netflix queue includes SEAL Team, SWAT, and American Sniper, this may prove to be your favorite camping activity.
Whether you opt for paintball guns or the less-messy alternative, Airsoft guns, just be sure your buddy that served in the Marines is on your team.
Slacklining
Ready for a serious challenge? String up a slackline between two trees, kick off your shoes, and get ready to fall on your ass a few times.
It takes some practice, but once you master the slackline you'll find it provides excellent balance training and a healthy dose of entertainment.
Games
Anything With Playing Cards
A stack of playing cards should be on your campsite necessities list next to water, food, and toilet paper. For style points and maximum durability, go for the Gentlemen's Hardware Campfire Survival Set.
As for games, anything is on the table when you've got a stack of playing cards. If you're grasping for straws after poker, Mao, and Go Fish, check out this article with 40+ card games to generate some ideas.
Watch Ya Mouth
If you're on Instagram or Facebook, you've probably seen the viral videos of Ellen Degenres playing Watch Ya Mouth with celebrities. It's even funnier when you play this game with your friends, especially when you add the NSFW Expansion.
Cards Against Humanity
Cards Against Humanity is "the party game for horrible people" who are tired of playing Apples to Apples. If this game doesn't leave you laughing until you cry, you're playing it wrong (and you're probably playing it sober, which is kind of wrong).
After you've played through the first set of cards, keep the game fresh with the company's never-ending supply of expansion packs. Start with the big ones — the Green Box, Blue Box, Red Box, and Absurd Box — then fill in with themed mini-packs like the Period Pack, Weed Pack, and 90s Nostalgia Pack.
That's What She Said
Ready to move on from Cards Against Humanity? Check out That's What She Said.
Where the former can produce some duds after you burn through the good cards, That's What She Said is full of outrageously inappropriate innuendos from start to finish.
What Do You Meme?
For a fresh take on the genre of NSFW party games that Cards Against Humanity created, try playing What Do You Meme.
Instead of verbal prompt cards, you'll be given the pictures behind the best memes on the web, and your job is to complete the meme with a tagline from your hand.
Never Have I Ever
You've probably played this as a drinking game, but you haven't truly experienced Never Have I Ever until you play the card game.
You'll learn new (often embarrassing) things about your fellow campers as you all laugh at each other's poor life choices, and yes, it's even better as a drinking game.
Drunk, Stoned or Stupid
Drunk, Stoned or Stupid is the card game version of the voting game. You'll get 250 cards prompting you to vote for who is most likely to do crazy things like wake up with half a burrito in bed or have a 20-minute conversation with Siri. This is the game to play when you want to see your newlywed friends abandon the honeymoon phase for petty squabbling.
Once you've worked your way through the main deck of prompts, keep the game going with the First Expansion and Extreme Expansion packs.
Exploding Kittens
Exploding Kittens is the card game version of Russian roulette with cats, explosions, lasers, and the occasional goat.
Believe it or not, Exploding Kittens is the best-backed project in Kickstarter history, raising almost $9 million dollars from more than 219,000 backers. Follow the wisdom of the crowds and give it a try on your next camping trip — you won't be disappointed.
The regular edition caps out at 5 players, so you'll want to get the Party Pack if you plan on playing with larger groups. For even more laughs, opt for the Exploding Kittens NSFW Edition.
You've Got Crabs
Another blockbuster from the creators of Exploding Kittens, You've Got Crabs is a great party game for 4-10 players.
The title makes it sound NSFW, but it's actually family-friendly (though I wouldn't volunteer to explain to a child why adults find the title so humorous).
Pick Your Poison
If you've got kids, you probably play the Would You Rather game a few times a week. Pick Your Poison is the adult version of that, though there's a family-friendly edition if you'd like to include the kids.
Secret Hitler
Camping with classy friends who turn their noses up at NSFW party games? Try Secret Hitler.
There's a bit of a learning curve, but it's an exciting game once you get the hang of it, filled with secret roles, deception, betrayal, and (hopefully) killing Hitler.
The Resistance
The Resistance is another great social deduction game that requires secret roles, strategy, and lying your ass off. Expect a small learning curve and, with a group of decent poker faces, a good challenge.
Telestrations After Dark
Telestrations is a fun family game, but it can get a little dry when it's just the adults playing.
When you're surrounded by inappropriate friends and family, try Telestrations After Dark instead. It's the same idea, but with prompts that are sure to evoke ridiculous interpretations.
Cover Your Assets
I have no idea who Grandpa Beck is (I suspect he's vaguely related to Glenn Beck), but his Cover Your Assets card game is a winner. It's fairly easy for beginners to pick up, and the game gets surprisingly competitive.
One Night Ultimate Werewolf
Remember playing Mafia with your friends at summer camp? One Night Ultimate Werewolf is the card game version of that popular campfire game.
The rules are simple, the fast-paced rounds take only 10 minutes, and it comes with a smartphone app to enhance the gameplay.
Phase 10
Phase 10 is one of those nostalgic card games that you used to play with your grandma. You may be surprised to learn that it's still fun to play as an adult.
Conversation Games
Party games are a blast, but you don't always need a deck of cards to have a good time. There are plenty of group games that require nothing more than good company and some seats around the campfire.
Murder in the Dark is a crowd favorite, especially when you're with a big group. Also known as wink murder, a designated player "murders" fellow campers by discretely winking at them while one or more detectives try to identify the killer before everyone dies. The game is especially challenging at night around the dancing shadows of a campfire.
Telephone and Charades are also good choices when you're with a large group. You can find a card game version of both, but they're pretty easy to play on their own without cards.
Camping with a small group? Try Two Truths and a Lie, Never Have I Ever, or 21 Questions.
Drinking Games
You can turn just about any game into a drinking game, so this shouldn't take too much effort. Beer Pong is always a winner, though you'll need to plan ahead with a collapsible table, plastic cups, ping pong balls, and of course, a YETI Tundra packed with ice cold brewskies.
Tired of the same old drinking games? Try one of these 14 Insanely Fun Drinking Games You've Never Heard Of from our friends at Buzzfeed, or go for one of these simple classics.
More Camping Ideas
Sign up for our free email to join thousands of readers getting epic travel, hiking, camping and gear ideas every week.
Was this article helpful?
---