A wise old soul once said, "time camping isn't time spent — it's invested."
Whether you're chasing adventure, seeking solitude, kicking back with friends, or making lasting family memories, camping is like a natural therapy session.
It has a special way of helping us reconnect with what matters while disconnecting from the distractions of modern life.
The how is different for everyone. Your happy place might be exploring new trails, paddling across a lake, or waiting patiently for a rainbow trout to take the bait. Maybe you're peak-bagger with an eye on the next summit, or a speed-demon chasing adrenaline behind the wheel of a UTV.
Hell, maybe your favorite part about camping is the simple joy of cracking open a cold one by the fire with your buddies.
I suppose the why varies, too. Sometimes you're heeding the call of the wild, other times you're trying to get away from something. Most of the time, I'd say spending quality time with friends and family is a big motivator, too.
The point is, regardless of your how and your why, spending time in nature is always good for the soul. Camping clears your mind, fills your lungs with fresh air, feeds your skin with sunlight, and puts a little dirt under your feet to keep you grounded.
If you're rolling your eyes, remember that glamping counts, too. A little bit of nature is better than nothing.
To honor the rich tradition of camping, we've pulled together more than 60 of the best quotes on camp life and the great outdoors. Most of these fall into the inspirational category, but you'll find a few funny ones in there, too.
After all, nothing ever goes off without a hitch when you're camping.
John Muir Quotes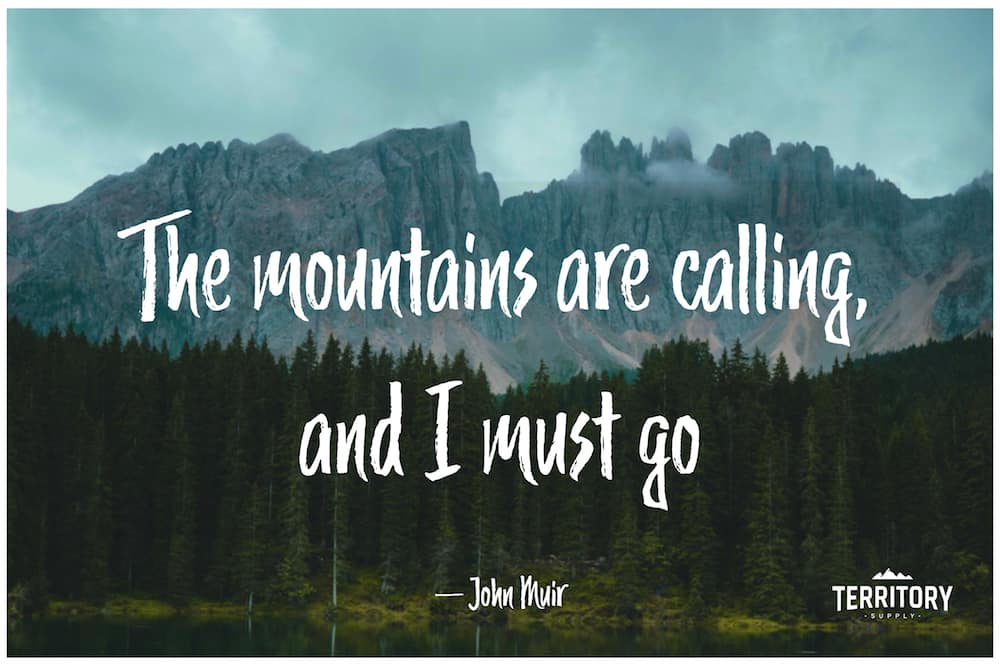 When it comes to appreciating and advocating for the great outdoors, nobody beats the Father of the National Parks, John Muir.
An early advocate for the preservation of the wilderness in America, "John of the Mountains" worked tirelessly to share his love of nature and educate mankind.
There are hundreds of quotes out there about the transformative power of the wild, but Muir's words echo the loudest. Here's a collection of some of his most powerful quotes.
"The mountains are calling, and I must go."
"In every walk with Nature one receives far more than he seeks."
"Between every two pines is a doorway to a new world."
"Come to the woods, for here is rest. There is no repose like that of the green deep woods."
"I am losing precious days. I am degenerating into a machine for making money. I am learning nothing in this trivial world of men. I must break away and get out into the mountains to learn the news."
"One day's exposure to mountains is better than a cartload of books."
"Few places in this world are more dangerous than home. Fear not, therefore, to try the mountain passes. They will kill care, save you from deadly apathy, set you free, and call forth every faculty into vigorous, enthusiastic action."
"The glories of a mountain campfire are far greater than may be guessed…one can make a day of any size, and regulate the rising and setting of his own sun and the brightness of its shining."
"Who wouldn't be a mountaineer! Up here all the world's prizes seem nothing."
"Our bodies were made to thrive only in pure air, and the scenes in which pure air is found."
"Thousands of tired, nerve-shaken, over-civilized people are beginning to find out that going to the mountains is going home; that wildness is a necessity; and that mountain parks and reservations are useful not only as fountains of timber and irrigating rivers, but as fountains of life."
"Of all the paths you take in life, make sure a few of them are dirt."
"The clearest way into the Universe is through a forest wilderness."
"Only by going alone in silence, without baggage, can one truly get into the heart of the wilderness. All other travel is mere dust and hotels and baggage and chatter."
"The world is big and I want to have a good look at it before it gets dark."
"One touch of nature makes the whole world kin."
"Climb the mountains and get their good tidings."
"Keep close to Nature's heart … and break clear away, once in a while, and climb a mountain or spend a week in the woods. Wash your spirit clean."
"Going to the mountains is going home."
"Doubly happy, however, is the man to whom lofty mountain tops are within reach."
"There is a love of wild nature in everybody, an ancient mother-love showing itself whether recognized or no, and however covered by cares and duties"
"The mountains are fountains of men as well as of rivers, of glaciers, of fertile soil."
"Everybody needs beauty as well as bread, places to play in and pray in, where Nature may heal and cheer and give strength to body and soul alike."
"The rivers flow not past, but through us, thrilling, tingling, vibrating every fiber and cell of the substance of our bodies, making them glide and sing."
Yearning for more words of wisdom from John Muir? You can read his essays and articles in popular books like Our National Parks,  Wilderness Essays, and Nature Writings.
Inspirational Camping Quotes
From Henry David Thoreau to Walt Whitman, and Albert Einstein to Charles Lindbergh, here are some of our favorite inspirational quotes on camping and the great outdoors.
"Leave the road, take the trails." — Pythagoras
"A great many people, and more all the time, live their entire lives without ever once sleeping out under the stars." — Alan S. Kesselheim
"The fire is the main comfort of the camp, whether in summer or winter, and is about as ample at one season as at another. It is as well for cheerfulness as for warmth and dryness." — Henry David Thoreau
"Earth and sky, woods and fields, lakes and rivers, the mountain and the sea, are excellent schoolmasters, and teach of us more than we can ever learn from books." — John Lubbock
"The woods are lovely, dark and deep." — Robert Frost
"Now I see the secret of making the best person, it is to grow in the open air and to eat and sleep with the earth." — Walt Whitman
"What if I told you that if you simply mix starlight, solitude, silence and softness, you may just learn everything you've ever needed to know about everything you hadn't known?" — Victoria Erickson
"In nature, nothing is perfect and everything is perfect. Trees can be contorted, bent in weird ways, and they're still beautiful." — Alice Walker
"I just want to live in a world of mountains, coffee, campfires, cabins, and golden trees, and run around with a camera and notebook, learning the inner workings of everything real." — Victoria Erickson
"Sleep under a blanket of stars, and your heart will forever be kept warm by your love of life." — Anthony T. Hincks
"The farther one gets into the wilderness, the greater is the attraction of its lonely freedom." — Theodore Roosevelt
"I felt my lungs inflate with the onrush of scenery. Air, mountains, tree, people. I thought: this is what it is to be happy." — Sylvia Plath
"To be whole. To be complete. Wildness reminds us what it means to be human, what we are connected to rather than what we are separate from." — Terry Tempest Williams
"My wish is to stay always like this, living quietly in a corner of nature." — Claude Monet
"Look deep into nature, and then you will understand everything better." — Albert Einstein
"I go to nature to be soothed and healed, and to have my sense put in order." — John Burroughs
"Although I deeply love oceans, deserts and other wild landscapes, it is only mountains that beckon me with that sort of painful magnetic pull to walk deeper and deeper into their beauty. They keep me continuously wanting to know more, feel more, see more." — Victoria Erickson
"In a cool solitude of trees, where leaves and birds a music spin, mind that was weary is at ease, new rhythms in the soul begin." — William Dean Seymour
"We can never have enough of nature." — Henry David Thoreau
"Real freedom lies in wildness, not in civilization." — Charles Lindbergh
"Wilderness is not a luxury but necessity of the human spirit." — Edward Abbey
"The wilderness holds answers to questions we have not yet learned to ask." — Nancy Wynne Newhall
"The outside is the only place we can truly be inside the world." — Daniel J. Rice
"Nature has been for me, for as long as I remember, a source of solace, inspiration, adventure, and delight; a home, a teacher, a companion." — Lorraine Anderson
"Light a campfire and everyone's a storyteller." — John Geddes
Funny Camping Quotes
Camping is always fun, but let's face it — it doesn't always go as planned.
Camping isn't exactly the Four Seasons, after all. Here are a few humorous quotes to help you laugh off the campout that you swore would be your last.
"Roses are red, mud is brown, the woods are better than any night on the town." — Earl Dibbles Jr.
"If you can survive camping with someone, you should marry them on the way home." — Yvonne Prinz
"The stars were better company anyway. They were very beautiful, and they almost never snored." — David Eddings
"It always rains on tents. Rainstorms will travel thousands of miles, against prevailing winds for the opportunity to rain on a tent." — Dave Barry
"How is it that one match can start a forest fire, but it takes a whole box of matches to start a campfire?" — Christy Whitehead
"Whatever form it takes, camping is earthy, soul-enriching and character building, and there can be few such satisfying moments as having your tent pitched and the smoke rising from your campfire as the golden sun sets on the horizon – even if it's just for a fleeting moment before the rain spoils everything." — Pippa Middleton
Anonymous Camping Expressions
I'm not quite sure who came up with these popular sayings, but we've all heard them a few times around the campfire. Here are some of the most popular anonymous expressions that we can all relate to:
"A bad day camping is still better than a good day working."
"Time camping isn't time spent, it's invested."
"Camping: the art of getting closer to nature while getting farther away from the nearest cold beverage, hot shower, and flush toilet."
"Money can't buy happiness, but it can buy a camper, which is kind of the same thing."
"Camping: donating blood, one mosquito at a time."
"I am most alive among the tall trees."
"I don't need therapy. I just need to go camping."
"I do have a retirement plan…I plan on camping."
Planning A Camping Trip?
Here's ideas for how to make your next camping trip a success.
Sign up for our free email to join thousands of readers getting epic travel, hiking, camping and gear ideas every week.
Was this article helpful?
---