Looking to escape the hustle of Florida's most populous city?
These 10 weekend road trips from Jacksonville will give you a change of scenery — whether you want to trade one cityscape for another or escape into the solitude of Florida's natural landscapes.
Jax, as it's known by the locals, is centrally located on northern Florida's Atlantic Coast.
And while there's plenty to see and do in the city itself, if you're looking for a few weekend road trips to get out of town and see the Florida sights, these ten spots have lots to offer whether you're looking for a beach day, an evening on the town or a chance to get into the wild corners of the state.
1. Saint Augustine
The historic town of Saint Augustine offers a full weekend's worth of activities whether you love shopping, dining, sightseeing, or getting out on the beach. The town boasts unique attractions, too. Notably, Ponce De Leon's Fountain of Youth and Ripley's Believe It or Not! are two stops for a memorable afternoon.
Originally founded in 1565, Saint Augustine holds the distinction of being the oldest continuously occupied settlement of European and African-American origin in the United States. The town's historic roots are on display with the quaint architecture and brick-lined streets as well as at the Castillo de San Marcos National Monument, the oldest masonry fortification in the continental U.S.
Plus, with 42 miles of beach to explore, you can easily get some time on the Atlantic. Head across the Vilano Bridge to hit up the popular spots along Vilano Beach. Or drive south of downtown to Anastasia Island for a stop off at Anastasia State Park for a beautiful stroll along the ocean in an undeveloped natural setting.
Distance from Jacksonville: 43 miles
Drive time without stops: 47 minutes
Related read: 10 Best Cabin Rentals in Florida for a Relaxing Vacay
2. Guana River Wildlife Management Area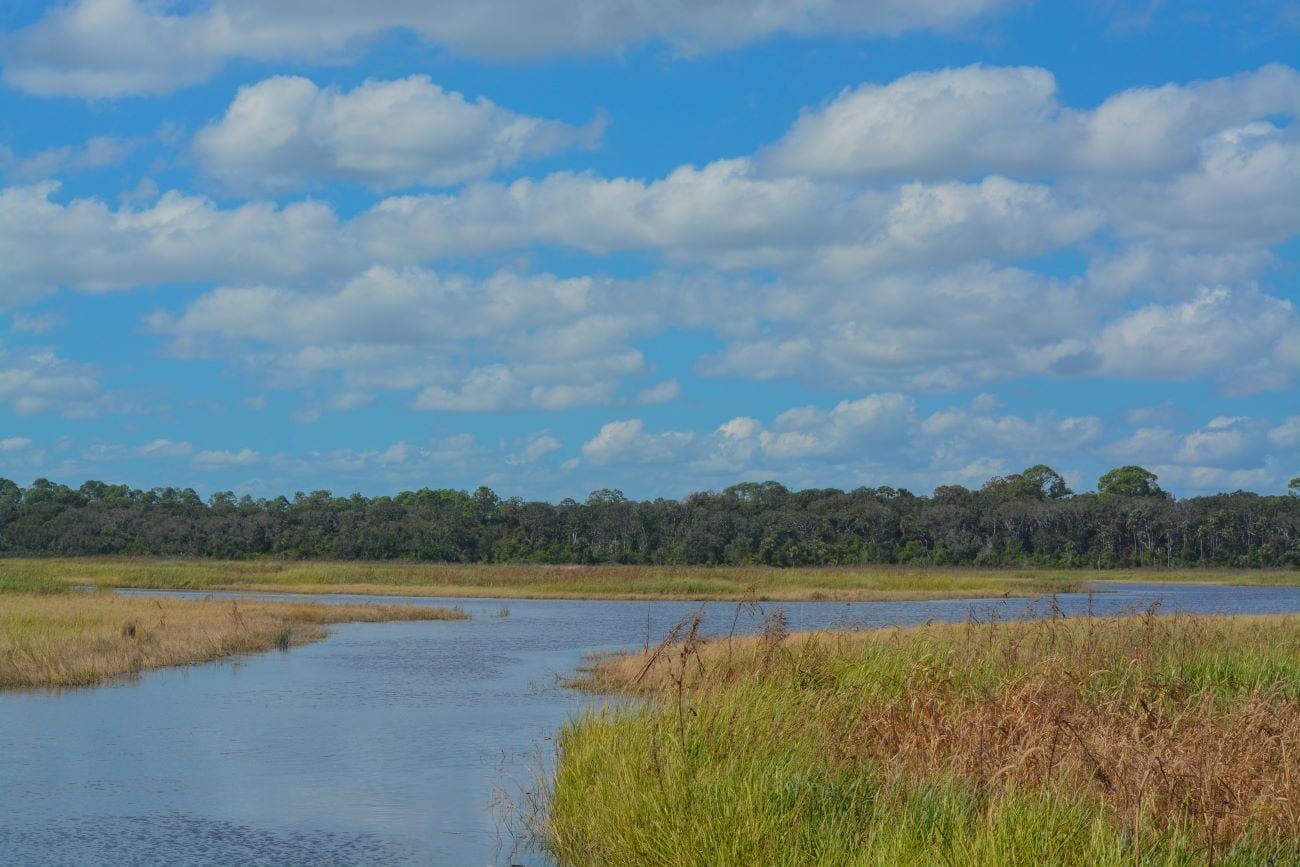 If you're looking to escape the bustle of the big city, a trip to the Guana River Wildlife Management Area (WMA) offers a chance to explore Florida's salt marshes, maritime hammocks, and pine flatwoods. Located just south of Jacksonville along the coast, this 9,815-acre conservation area protects a unique maritime ecosystem and is home to a variety of fish and wildlife.
Depending on how you want to explore the WMA, you can opt to head out hunting, fishing, wildlife viewing, bird watching, hiking, biking, paddling, boating, or horseback riding. Among the many lakes and marshes, you might spot wildlife such as gopher tortoises, wood storks, and little blue herons. The preserve is also designated as a Great Florida Birding and Wildlife Trail site, offering the chance to spot many species of ​​waterfowl and wading birds.
Distance from Jacksonville: 34 miles
Drive time without stops: 39 minutes
3. Ormond Beach
Looking for a family-friendly beach weekend road trip? Ormond Beach is an easy drive from Jax and offers the chance to explore some scenic Atlantic coastline without all the crowds of nearby Daytona Beach. Though it can still get crowded during peak season (skip spring break weeks if you don't want to fight for a spot on the sand), Ormond does have a smaller-town feel while still providing miles of scenic coastline.
The Ormond Beach MainStreet district running along Granada Boulevard offers you plenty of dining and retail options. The 1.8-mile district is home to more than 150 businesses, including restaurants, stores, and specialty shops.
And when you're ready for some sun and surf, head out to the white sand beaches at Ormond Beach and Ormond by the Sea. Ormond's beaches are broad and flat, and as you get away from downtown there are fewer high-rise buildings and crowds, making for a slightly more peaceful setting for walking or sunbathing. If you're an early bird, get on the road early to catch a sunrise over the Atlantic.
Distance from Jacksonville: 86 miles
Drive time without stops: 1 hour 16 minutes
Related read: 9 Gorgeous Beachfront Airbnbs in Florida
4. Little Talbot Island State Park
For an escape to a natural stretch of beach close to Jacksonville, you can't beat a weekend trip to Little Talbot Island State Park. One of only a handful of undeveloped barrier islands remaining in northeast Florida, the state park has five miles of beaches and three miles of hiking and biking trails, making it a great weekend outing whether you want to walk, cycle, paddle or simply play in the surf.
Once at the state park, you can head out beachcombing, surfing, fishing, hiking, birdwatching, or kayaking. Though the white sand beaches are definitely a draw, the bluffs and hammocks of the island make for a beautiful backdrop that provides a more "back to nature" feel than some of Florida's other white sand beaches.
And should you want to make an overnight stop, the state park also has a 36-site campground tucked among the dunes. Sites have electricity, freshwater, a fire ring, and a picnic table, and the campground offers two bathhouses with hot showers, so you can easily rinse off after a day out playing on the beach.
Distance from Jacksonville: 27 miles
Drive time without stops: 35 minutes
5. Gainesville
You may not want to spend every weekend on the ocean (especially around the notoriously crowded spring break season), so if you're hankering for a change of scenery, head inland to Gainesville. This vibrant college town offers plenty of fun, inexpensive attractions, many of which are family-friendly if you're looking for things to do with the kiddos.
One popular option is a trip to the Florida Museum of Natural History—budding naturalists, young or old, will love a stop off at the Butterfly Rainforest exhibit which is home to hundreds of free-flying butterflies and birds. Other unique nature-focused spots include the 68-acre Kanapaha Botanical Gardens and Devil's Millhopper Geological State Park, which features a sinkhole that is home to a miniature rainforest.
If finding a brewery is more in line with your idea of a weekend outing, Gainesville is home to several local microbreweries as well as a wide variety of downtown dining options if you want to grab a bite, too.
Distance from Jacksonville: 72 miles
Drive time without stops: 1 hour 16 minutes
Related read: 11 Unique Florida Airbnbs for a Sunshine State Retreat
6. Blue Springs State Park
If the 72-degree, crystal-clear blue water wasn't enough to entice you to visit Blue Springs State Park, add on the chance to see manatees as the icing on the cake for this weekend road trip. Blue Spring, a designated manatee refuge, is closed to water recreation from approximately mid-November through March to provide a safe refuge for the West Indian manatees who migrate to the spring for the warm waters.
The spring is located along the St. Johns River where you can enjoy year-round canoeing or kayaking (rentals are available at the park) or take a guided riverboat cruise. Other activities at the state park include birding, fishing, hiking, scuba diving, snorkeling, swimming, and tubing. You can also pitch a tent or pull up your RV at the park's campground. The 51 campsites are all within walking distance of Blue Spring.
Distance from Jacksonville: 119 miles
Drive time without stops: 1 hour 50 minutes
Related Read: How to Turn Your Disney World Vacation Into an Outdoor Adventure
7. Jekyll Island
Pop over to Georgia for a weekend trip to Jekyll Island. This island off the coast of Florida's northern neighbor is the southernmost island of a string of barrier islands known as the Golden Isles. The 5,500-acre island is home to 10 miles of shoreline, including the iconic and popular Driftwood Beach.
When you're not strolling the white sand beaches looking for seashells, you have plenty of other outdoorsy activities to choose from including hiking, biking, horseback riding, and fishing. Take a dolphin tour or visit the Georgia Sea Turtle Center to see some local wildlife.
In the small downtown area, you will find a variety of shops and restaurants as well as events, family-friendly activities, and attractions. Annual events range from art exhibitions to culinary festivals (the November Shrimp and Grits Festival is a fan favorite). Whether you want a quiet outing in nature or a festival-filled weekend, Jekyll Island has plenty to offer.
Distance from Jacksonville: 73 miles
Drive time without stops: 1 hour 12 minutes
Related read: 7 Treehouses in Florida For a Unique Stay in the Trees
8. Daytona Beach
Known for its miles of wide, hard-packed sand beaches, Daytona Beach is a unique spot along the Florida coast. Though the inland side of the town has plenty to offer, if you're making a weekend trip to the area, the beach is probably the primary draw.
Often referred to as the "World's Most Famous Beach," the 23-mile stretch of sand once hosted automobile and motorcycle races back in1902. Nowadays, several areas of the beach are designated for vehicle use so you can drive your car right onto the beach. Also home to the Daytona International Speedway, the city draws automotive enthusiasts and beach-goers alike.
For the kids (and kids at heart) the boardwalk offers rides and arcades, and the beachside Daytona Lagoon water park boasts go-karts, laser tag, and waterslides. And you have your choice of beachfront dining if a nice restaurant with an ocean view (and a tropical beverage) is how you'd like to end your day.
Distance from Jacksonville: 91 miles
Drive time without stops: 1 hour 26 minutes
9. Ginnie Springs
Seeking a magical escape away from the sand and surf? Head west and inland for a trip to Ginnie Springs where the delightful blue waters of the seven natural springs invite you to relax and explore. Located along the Santa Fe River, ​​the springs hold steady at 72-degrees year-round making for fun swimming, snorkeling, or simply floating in a tube to soak in the scenery. For a more active outing, try your hand at stand-up paddleboarding.
Or to see the springs from a unique vantage point, you can explore the underwater world at three different dive sites—the Ginnie Ballroom, the Devil's Spring System, and the Santa Fe River. Certified divers can rent gear at the full-service dive center at the Ginnie Springs Outdoors camp store. Should you want to spend the night, Ginnie Springs Outdoors also offers tent and RV sites as well as a cute cottage rental.
Distance from Jacksonville: 84 miles
Drive time without stops: 1 hour 33 minutes
Related read: 12 Best Glamping Spots in Florida for Soaking Up Sunshine
10. Amelia Island
For a barrier island beach retreat within easy driving distance of Jacksonville head to Amelia Island for the weekend. Located just off the coast of northeast Florida, the island has 13 miles of beaches and lots of wildlife to see.
Though it's known for its luxury resorts, if you're planning a day trip to the area, you can still find plenty to do. Head out fishing, paddling, boating, or beachcombing to take advantage of the area's clear waters and white sand beaches.
Or head to the historic downtown area for shops, restaurants, and more. The Fernandina Beach Historic District features colorful buildings and cool architecture, the perfect backdrop to check out the boutique shops or catch some live music at a local eatery.
Distance from Jacksonville: 34 miles
Drive time without stops: 40 minutes
Explore Florida & Beyond
Get epic travel ideas delivered to your inbox with Weekend Wanderer, our newsletter inspiring more than 10,000 readers every week.
Was this article helpful?
---