We research, evaluate and select travel destinations based on a number of factors, including our writers' experience, user reviews and more. We may earn a commission when you book or purchase through our links. See our editorial policy to learn more.
---
A visit to the land of country music and whiskey is best served with equally exciting accommodation.
When you think of Tennessee, the twang of country music and the smell of barbecue probably come to mind. And that's just the start of the exciting things to do and see in Tennessee! Anyone with tastebuds is sure to drool over the state's hot chicken scene and exciting Whiskey Trail  that follows rolling hills to the distillery after distillery.
And when you factor in top attractions like the Country Music Hall of Fame and the epic peaks of the Great Smoky Mountains, there's truly something for everyone in this southern getaway. But what may surprise you, is just how many cool and unique places to stay in Tennessee stand ready to make your visit one to remember.
Related Read: 8 Memorable Tennessee Romantic Getaways For Lovebirds
1. Deer Camp Cabin
Why you should stay: A glamping treehouse featuring a seasonal outdoor theater with hammock seats.
Location: Dunlap
Sleeps: 2
Minimum stay: 1 night
Rates start from: $167/night
The Deer Camp Cabin  is a homey tiny cabin for two nestled on an expansive wooded property about 40 minutes north of Chattanooga. The cabin's interior is a beautiful mix of white-washed walls, pops of color, and outdoorsy touches like a deer mount.
This may be a glamping experience, but the hosts know what's good and have stocked the cabin with various coffee supplies. The cabin's balcony doubles as a perfect spot to sip a morning cup of Joe and a little kitchenette when you're not up for cooking over the fire pit. A hot shower awaits you in the incredibly airy greenhouse feet from the cabin.
Check Availability
Related Read: 8 Dreamlike Treehouses in Tennessee
2. Under Canvas Great Smoky Mountains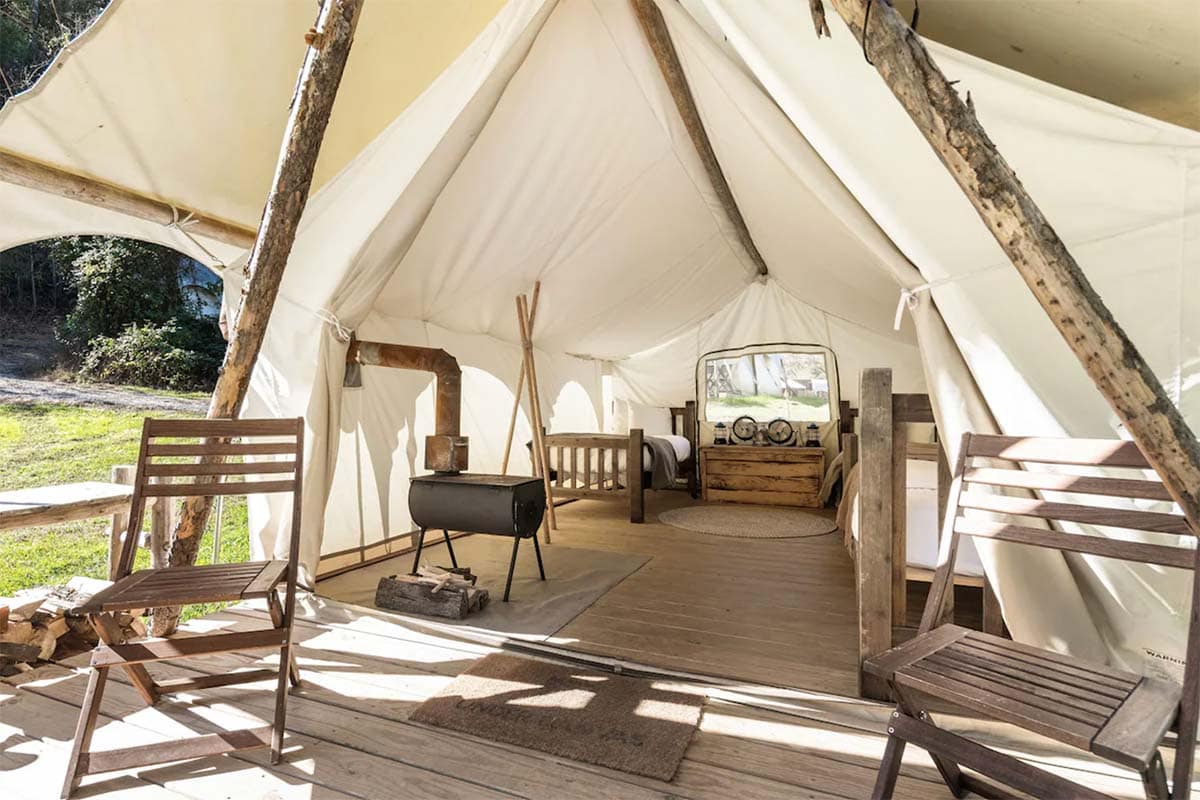 Why you should stay: A classy camping resort with glamorous safari tents near the national park entrance.
Location: Pigeon Forge, TN
Sleeps: 2-6
Minimum stay: 1 night
Rates start from: $119/night
Under Canvas, Great Smoky Mountains is ideally located between the pristine wilderness of the Smokies and the hustle and bustle of the region's top resort towns like Gatlinburg. Roomy safari tents and well-appointed facilities make this upscale glamping resort a unique place to stay in Tennessee.
Each tent features a private en-suite bathroom, plush king beds, and soft-to-the-touch linens. In true tent camping fashion, the tents don't have outlets allowing you to disconnect and enjoy quality family time. However, you can recharge when needed with provided battery packs.
Check Availability
Follow 'em: @UnderCanvasOfficial
3. The Dive Motel
Why you should stay: A colorful and eclectic motel less than 10 minutes from the Country Music Hall of Fame.
Location: Nashville
Sleeps: 2-4
Minimum stay: 1night
Rates start from: $195/night
Step back in time at The Dive Motel, where everything that fills the joint is inspired by the funk of the 1970s. This 21-and-up hotel is equipped with plenty for adults to let loose, including a sauna, a retro dive bar, and a delicious onsite food truck.
An in-ground swimming pool behind the motel means you can lay back and soak up some sunshine. You can feel the era of peace of love in every room, which features bright, earthy tones and a party switch that drops a disco ball and plays 70s jams.
Check Availability
Follow 'em: @TheDiveMotel
4. The Adirondacks at Crossing Creeks
Why you should stay: Two open-air cabins on remote farmland off of Tennessee's famous Whisky Trail.
Location: Bell Buckle
Sleeps: 5-10
Minimum stay: 2nights
Rates start from: $99/night
Sitting on 125 acres of a working farm, The Adirondacks at Crossing Creeks is a peaceful glamping site in the heart of Whiskey country. The cabins' allow fresh air to circulate through the front screen walls while ensuring pesky bugs stay out.
The site is equipped with a shaded picnic pavilion and a bathhouse complete with an outdoor sink. The hosts run a small farm store in a classic red barn, where you can pick up last minute bonfire supplies and more. Nashville is just an hour away, making this an excellent escape from the big city.
Check Availability
Follow 'em: @CrossingCreeksFarm
5. The Silo at Little River Barn
Why you should stay: A renovated silo within hiking distance to the Smokies.
Location: Maryville
Sleeps: 4
Minimum stay: 2 nights
Rates start from: $150/night
Nestled amongst the mountains, The Silo at Little River Barn is filled with rustic elements that play up its origins as a barn, like exposed wooden rafters, exposed stone walls, and metal touches. You'll find a little kitchen area on the ground-level entrance for meal prep. An artfully handcrafted staircase curves along the silo through all four levels of the home.
On the top floor, a circle of windows looks out onto the surroundings offering a picture-perfect panoramic view. From the silo, Great Smoky Mountain attractions like Cades Cove are conveniently close.
Check Availability
Related Read: 8 Incredible Glamping Spots Near Gatlinburg, Tennessee
6. Willow Pond Nashville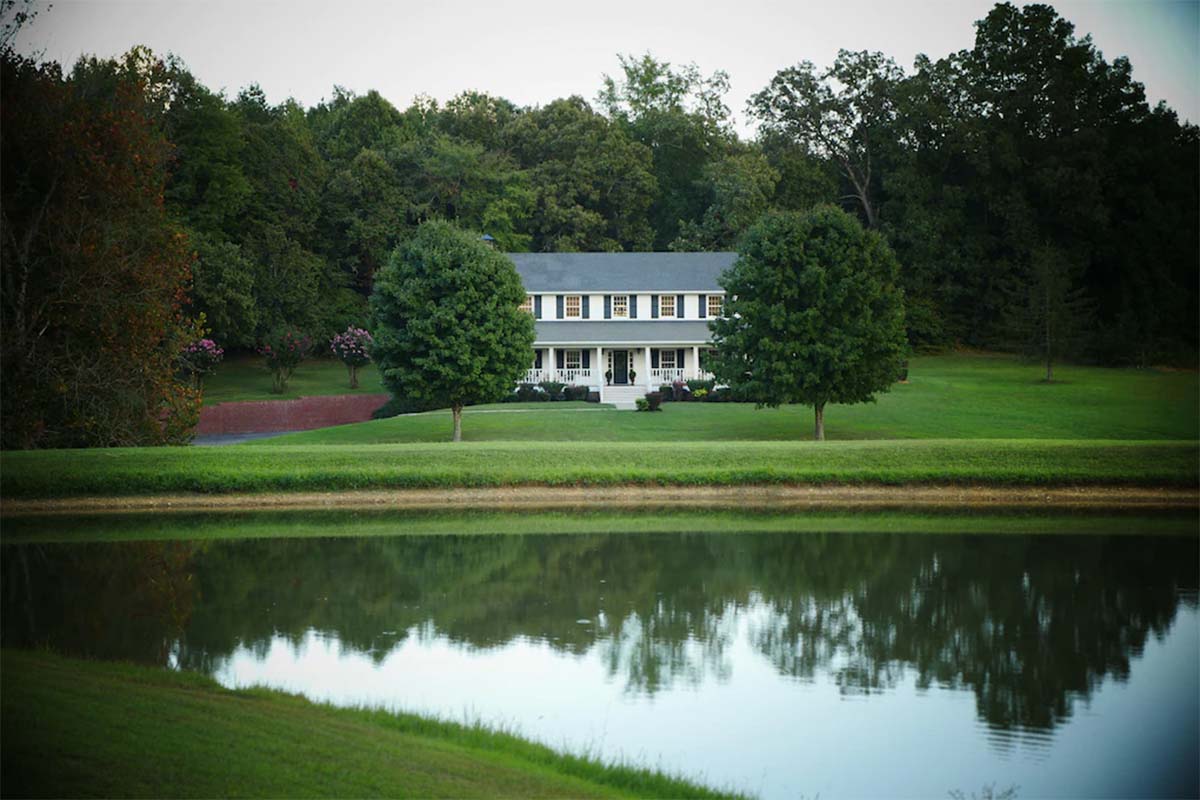 Why you should stay: An idyllic old estate with resort-level amenities surrounded by rolling fields and a pond.
Location: Coopertown
Sleeps: 20
Minimum stay: 2-4 nights
Rates start from: $881/night
Guests are treated to genuine southern hospitality at Willow Pond Nashville. Tucked 20 minutes away from the city, a tree-lined driveway first greets you as you pull up to this charming farmhouse mansion.
Inside, impressive living spaces like an in-home movie theater and a spacious living room make your large group feel at home. Other incredible amenities include the large private master bedroom and long dining table that sits 14. However, the real star of this estate is the pool deck lined with sun loungers and a cabana with an outdoor kitchen.
Check Availability
Related Read: 12 Best Cabin Rentals in Nashville, Tennessee
7. The Airstream Glamper at Stillwaters Farm
Why you should stay: A retro silver airstream on a rural farmstay halfway between Memphis and Nashville.
Location: Henderson
Sleeps: 3
Minimum stay: 1 night
Rates start from: $150/night
See farm to table in action at The Airstream Glamper, an upscale campsite where guests can get a first-hand glimpse into what it means to work the land. The airstream layout comprises a dining area, a bedroom, and a seating area that can sleep a third if needed.
Tasteful antique furnishings fill the living spaces, creating a cozy place to kick up your feet. The site also has a spacious wooden deck with sun umbrellas and a grill for time well spent outside. When nature calls, step out to the eco-friendly bathhouse equipped with a vintage clawfoot tub and a composting toilet.
Check Availability
Related Read: 11 Amazing Airstream Airbnbs Across the U.S.
8. Enchanting Horizons
Why you should stay: A custom-built cabin with eye-catching architecture and far-reaching valley views.
Location: Spring City
Sleeps: 2
Minimum stay: 2 nights
Rates start from: $274/night
Feel at one with nature at Enchanting Horizons, a bespoke and remote cabin perched high amongst the clouds. The incredible views from the firepit are sure to take your breath away. The interior of this unique cabin is equally appealing and features sculptures carved into the walls. Incredible extras like a massive movie theater screen in the bedroom and spa-quality robes make this a five star stay.
Guest Stephanie shares, "This place will blow your mind! It has gorgeous views, beyond comfy accommodations, details in the architecture that are truly unique, and so much more!"
Check Availability
Follow 'em: @EnchantingHorizons
9. Sweet Abi Mae
Why you should stay: A houseboat on the outskirts of Knoxville you can drive along the upper Tennessee River.
Location: Lenoir City
Sleeps: 8
Minimum stay: 3 nights
Rates start from: $475/night
Experience what it means to captain a 42-foot Catamaran Cruiser with a stay on the Sweet Abi Mae. Floating atop Fort Loudoun Lake, this brand new houseboat is conveniently located near many of Tennessee's top destinations like the Great Smoky Mountains National Park and the downtown streets of Knoxville.
This majestic boat features a waterslide and paddleboards for those who wish to relish time on the water. The spacious interior has two private bedrooms and a lofted sleeping space with two twins, plus a kitchen and full bathroom.
Check Availability
Related Read: 8 Best Resorts in Tennessee for Every Traveler
10. Dreamy Tiny House Cottage
Why you should stay: A storybook tiny home with a claw foot soaking tub a short drive from downtown Nashville.
Location: Nashville
Sleeps: 4
Minimum stay: 2-4 nights
Rates start from: $121/night
At this Dreamy Tiny House Cottage, elegant shades of blue marry nicely with the bright white walls and wooden accents. Thoughtful touches fill this small yet mighty home-like complimentary coffee supplies and access to a pick your own veggie garden.
Guest Katie shares, "The tiny home is such a fun novelty stay in the Nashville area. As you descend the backyard steps you enter into a magical fairytale. The garden space is delightful and was a perfect space to enjoy coffee."
Check Availability
Related Read: 8 Impressive Glamping Spots Near Nashville, Tennessee
11. The Coalmont Cabin
Why you should stay: A modern tiny cabin on a private stretch of lakeshore near South Cumberland State Park.
Location: Coalmont
Sleeps: 4
Minimum stay: 1 night
Rates start from: $219/night
Escape to the Mountains at The Coalmont Cabin, a contemporary tiny home with style. The cabin's recently updated interior is so well done, that you'd never guess it was once an old fishing shack. Designed specifically to accommodate families or groups of four, there's one private bedroom and a sleeping loft with two twins.
This Tennessee vacation rental is also outfitted with all that's needed to enjoy quality time outdoors during your stay. Provided boats allow for water fun on the lake, and the hot tub means relaxing soaks on demand.
Check Availability
Follow 'em: The Coalmont Cabin
Explore More!
Get epic travel ideas delivered to your inbox with Weekend Wanderer, our newsletter inspiring more than 10,000 readers every week.
---