Whether you're in search of a backcountry campsite, a lakeside lean-to, or a traditional campground, the Adirondacks has a spot for every type of adventurer.
With 6 million acres of rustic wilderness and seemingly endless hiking trails, the Adirondacks is a fantastic place to pitch a tent. Paddle to a remote lean-to away from the crowds or stay at a campground with amenities like bathrooms, playgrounds, and more. As the weather warms up and we enter camping season, it's time to get excited about outdoor slumber parties again.
Enjoy star-gazing, cook some epic campfire meals, hike some of the High Peaks, soak up the sun at the beach, take a lazy sunrise canoe ride, or crank up adventure with some white water rafting during the day and share stories about it around the fire as night falls.
With island campsites, primitive spots, campgrounds with facilities, and hike-in sites galore, there's a campsite for every type of outdoor lover. Need a family-friendly spot? No problem. Looking for something private? We've got you covered. These are some of the best camping spots the Adirondacks have to offer.
1. Heart Lake Campground
View this post on Instagram
If you're looking to station yourself within close proximity to some fantastic trails, Heart Lake Campground in the High Peaks region is an excellent option. As part of the Adirondack Mountain Club, campers can choose from bunk-style rooms in the Loj as well as 32 sites, 16 lean-tos, and 6 cabins available to reserve in the wilderness campground. With its various lodging options, this campsite is perfect for families, solo travelers, or friend groups.
Best of all, Heart Lake is right there for swimming, fishing, and paddling, as well as an easy 1-mile loop trail that skirts the lake. To truly appreciate the lake's unique shape (it really does look like a heart), hike up Mount Jo, a 2-mile steady climb to sweeping views. Venture a little further and consider some of the other area hikes such as Mount Colden or Mount Marcy (the tallest peak in the whole state) via the Van Hoevenberg trail.
Related Read: 6 Amazing Waterfalls in The Adirondacks You Don't Want to Miss
2. Lake George Islands Campsites
View this post on Instagram
Fancy some island camping? The 32-mile-long Lake George is loaded with islands, many with campsites. Three groups of islands, Glen Island, Long Island, and Narrow Island provide a plethora of sites with everything from tiny private islands with one campsite to larger islands with many more dotting the shoreline. Most have docks to tie off your boat as well as outhouses for comfort. The boat-in-only sites feel like you're camping in a secluded location, despite being relatively easy to access with a motorized boat, canoe, or kayak.
There are a few marinas that rent boats, or you can take a water taxi. Or, if you're feeling adventurous and pack relatively light, consider renting a canoe from Lake George Kayak Company in Bolton Landing and tackling the couple-mile paddle out to the islands. Highlights include views of the Tongue Mountain range, hiking, swimming, and waterfall chasing at nearby Shelving Rock Falls.
3. Frontier Town Campground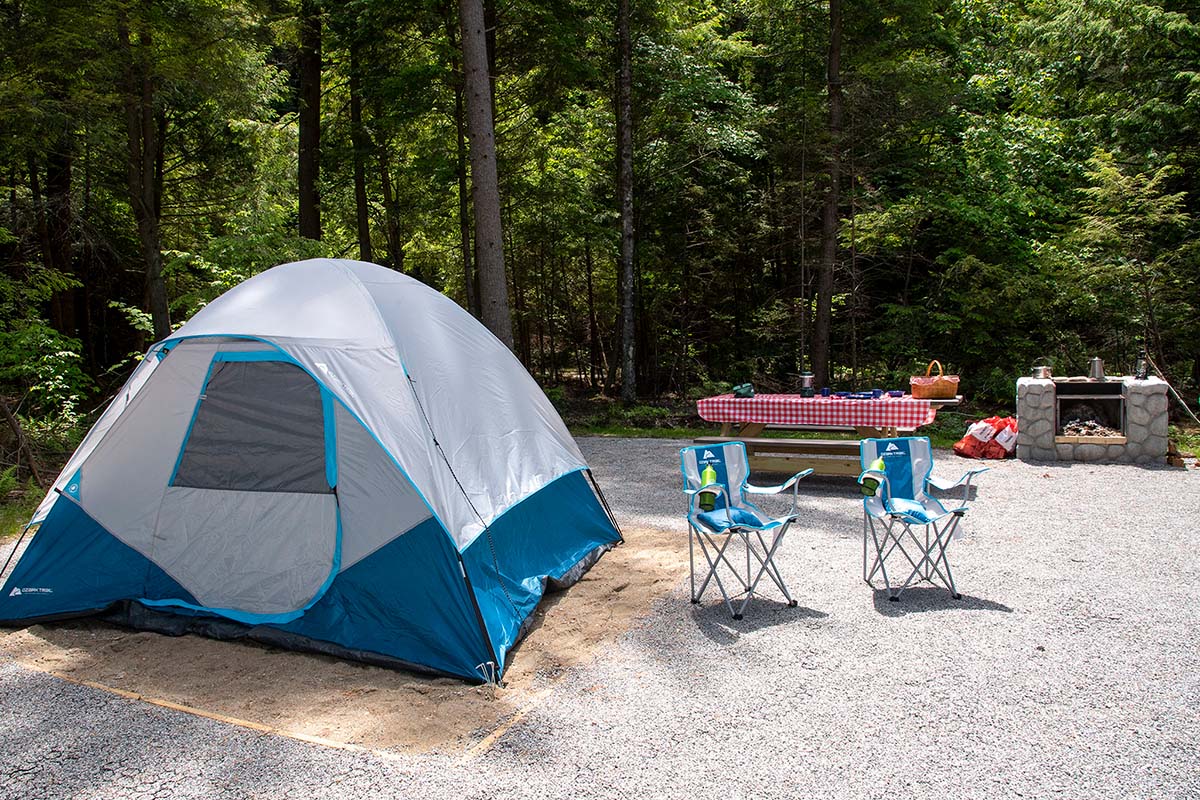 It sounds like an amusement park…because it was. This newer campground in North Hudson lived out its previous life as a western-themed amusement park until it closed in the 90s. Frontier Town was revived by the state in 2018 and now offers campers a multi-use camping area with facilities along the scenic Schroon River, with 77 sites total.
Oh, and you can bring your horse too – 19 equestrian-designated sites are nestled here as well. Whether you have an RV that needs to be hooked up, a bunch of horses that need to sleep in a stall, a trailer, or a tent, Frontier Town's revamped purpose has you covered. This is a great family-friendly option with pedestrian trails, a pavilion, and a playground.
Related Read: 11 Beautiful Cabin Rentals in the Adirondacks
4. Nick's Lake Campground
View this post on Instagram
Sleep lakeside just outside of Old Forge, NY at Nick's Lake Campground, where the white-tailed deer are as abundant as the views. With 112 sites, a beach, a playground, and a picnic area, this campground is a quiet escape from the busy town, but close enough to Old Forge to go eat, shop, or slide your way through the Enchanted Forest Water Safari.
Nearby, the Fulton Chain of Lakes, numerous hiking trails, and much more await to be explored. What makes this campground especially serene is the lack of motorboats – they're not allowed – however, rowboats, canoes, and kayaks are permitted for your paddling pleasure. Trout fishing is popular, as is hiking right from the campground property, where you can explore the myriad of trails within the Black River Wild Forest on foot.
5. Pharaoh Lake Wilderness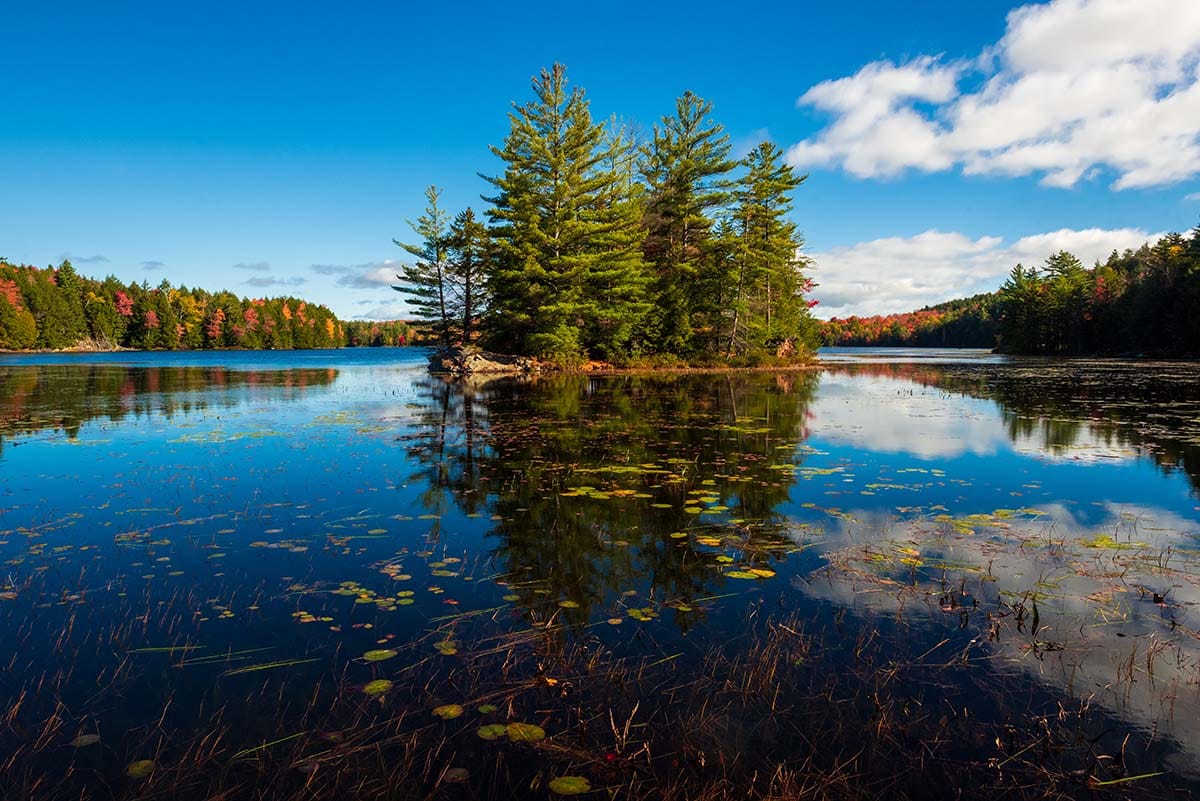 If remote backcountry camping is on your docket, then this one's for you. The Pharaoh Lake Wilderness area in the eastern region of the park is host to a large network of hiking trails, lean-tos, and tent sites, many along the shores of the area's lakes and ponds. The 38 first-come, first-serve primitive tent sites, and 14 lean-tos are accessible via a hiking trail and worth the effort to get there.
With a wide variety of trail lengths and difficulties (70 miles or so in total), it's possible to tailor your backcountry adventure to your liking. The namesake lake of this wilderness area, Pharaoh Lake, is a popular spot to snag one of the 6 lean-tos or 12 primitive tent sites. Due to the large swath of pure wilderness, this is also a great spot for potential wildlife viewing opportunities; spot the common loon, bald eagles, and even moose or black bears.
Related Read: Adirondack Park in Winter: Things to Do and More!
6. Saranac Lake Islands
Another island camping gem in the Adirondacks is in the northern region of the park, on Saranac Lake. The Saranac Lake Islands Campground offers 87 boat-access-only sites, with five of them having lean-to campsites. Rustic outhouses, fire pits, and an overall secluded feel make this an authentic Adirondack island camping experience.
Launch your motorized boat or canoe from the State Bridge Boat Launch at the registration office and make your way to your reserved island site where you can fish for your dinner, swim, and explore the Saranac Lakes Wild Forest and High Peaks Wilderness areas on foot.
7. Marcy Dam Campsites and Lean-tos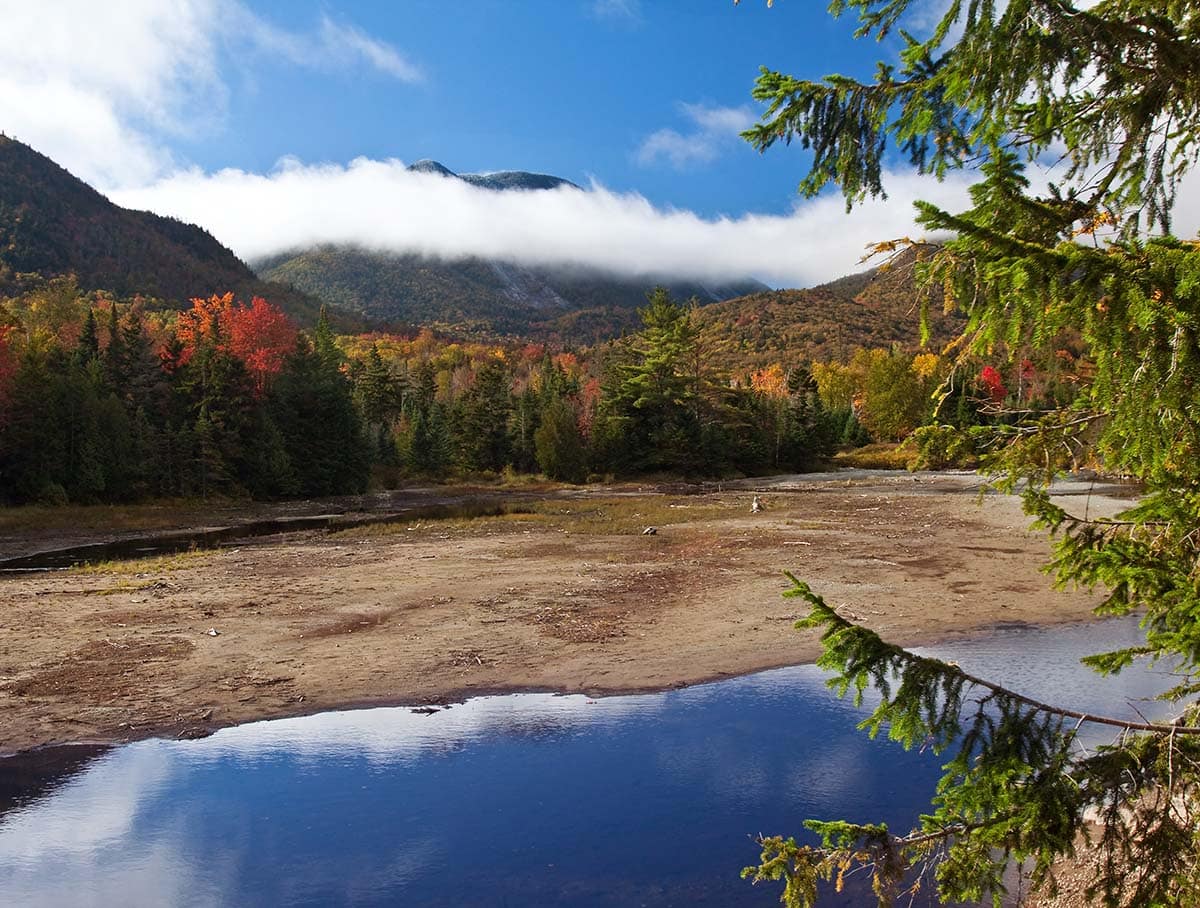 Known to be a favorite base camp for High Peaks hiking, Marcy Dam can be accessed by a 2.2-mile hike where marked tent sites and 4 lean-tos await. Many hikers camp here before starting their ascent of Mt. Marcy on the shortest trail (7.4 miles one way) up to the state's highest summit.
A plethora of other hiking trails can also be accessed from this camping area, such as Algonquin, Mount Colden, Avalanche Pass, Lake Tear of the Clouds, and more. You can also soak up gorgeous views of Mount Colden and Wright Peak from one of the most treasured backcountry spots in the Adirondack High Peaks.
Related Read: 8 Amazing Glamping Spots in the Adirondacks
8. Lake Durant Campground
View this post on Instagram
Located between the towns of Indian Lake and Blue Mountain Lake, Lake Durant Campground has 61 campsites and is a lesser-known spot to pitch a tent. Grab a waterside spot along the eastern shore of the lake and take in views of the towering Blue Mountain. Swimming, fishing for small-mouth bass and yellow perch, hiking, and boating are all popular activities here (but simply sitting by the campfire at night is great too).
Positioned along the famous Northville-Placid trail which spans 133 miles through the Adirondacks, hiking opportunities abound, like the almost 3-mile jaunt to Stephen's Pond. For a challenge, make the 4.8-mile RT hike up the resident Blue Mountain, or take a 2.8-mile out-and-back hike out to Castle Rock.
Explore More in New York
Get epic travel ideas delivered to your inbox with Weekend Wanderer, our newsletter inspiring thousands of readers every week.
Was this article helpful?
---