Do you want access to Maine's famous mouth-watering lobster, iconic beaches, and countless outdoor adventures without the crowds? Look no further than Lincolnville, Maine.
Seriously, it's true. Lincolnville has everything you'd want of a typical Maine seaside town. Restaurant and hotel prices are much more reasonable without the hordes of tourists in town, and you don't have to worry about having random people in your hiking photos.
Lincolnville is home to about 2,000 residents and two hours north of Portland. It covers 44 square miles, 75 percent of which are forested. People come here for the outdoor recreation since you can access a plethora of outdoor adventures from town. You can get on the water via sailboat, ferry, kayak, or stand-up paddleboard, though swimming and floating are great options, too. Lincolnville has six lakes, six miles of coastline, and over 30 miles of hiking trails.
The town is also overflowing with good dining options and culinary hidden gems. Whether you want to taste Maine's world-renowned lobster rolls or try a new wine, Lincolnville delivers. The only downside of Lincolnville is how crowded it's likely to be in a few years once everyone realize how great it actually is.
Related Read: 11 Amazing Maine Swimming Holes & Swimming Beaches
Things to Do in Lincolnville, ME
Walk Along the Beach
There's no shortage of coastline in Maine, but Lincolnville Beach is a true beauty. It's on Route 1 (also known as the Atlantic Highway to locals) and overlooks Penobscot Bay and the Island of Isleboro. You can bask in the sun, explore the surrounding antique shops and galleries, or eat at the several restaurants within walking distance.
There's even a cannon from the War of 1812 on the beach. It once protected the village, but now, it's just a cool piece of American history with a small informational sign. And by the way, it's also a great place to relax in the evenings, especially if you bring a blanket and soft-sided cooler with your favorite beverages.
Related Read: 12 Glamping Escapes in Maine for Your Next Adventure
Take the Ferry to Islesboro
While you're down on the beach, make sure to hop the ferry to the island of Isleboro. The Margaret Chase Smith will carry you three miles across the bay to this quaint but famous(ish) town. Both John Travolta and Kirstie Alley used to call Isleboro home. There's more to do on the island than sneak a peak at former celebrity residences, though.
Warren Island State Park is the main attraction here, and for good reason. It spans 70 acres and attracts boaters from across the country. In fact, it was the first Maine State Park designed specifically for aquatic adventurers. While you're in town, stop by The Island Market to grab everything you'll need for a picnic lunch. Bibliophiles will want to stop by the Artisan Books and Bindery for an appointment to view their rare volume selection.
Related Read: 11 of the Best Airbnbs in Bar Harbor, Maine
Hit the Trails
Pack your hiking boots: to breathe in the beauty of Lincolnville, you'll want to see the views from Mount Battie. You can drive or hike up Mount Battie, part of Camden Hills State Park.
Yes, the entrance to the state park is technically in Camden, but more than 75 percent of the park is in Lincolnville. You can also see some incredible vistas from Mount Megunitcook and Bald Hill Mountain (or from the 30 other miles of hiking trails in the park.)
Related Read: 14 Best Hikes in Maine for Exploring the Great Outdoors
Take to the High Seas
You'd be remiss to travel all the way to Lincolnville and not spend any time on the water. You can go sailing with the Lincolnville Boat Club or rent a kayak from Ducktrap Kayaks for a few days.
There's nothing like seeing the town from the water and maybe making a few aquatic friends along the way — coastal residents include whales, seals, ospreys, and more. For more of a traditional Maine experience, hit up Maine Windjammer Cruises and see what all the hype is about.
Related Read: 10 Scenic Oceanfront Campgrounds in Maine
Explore Nearby Towns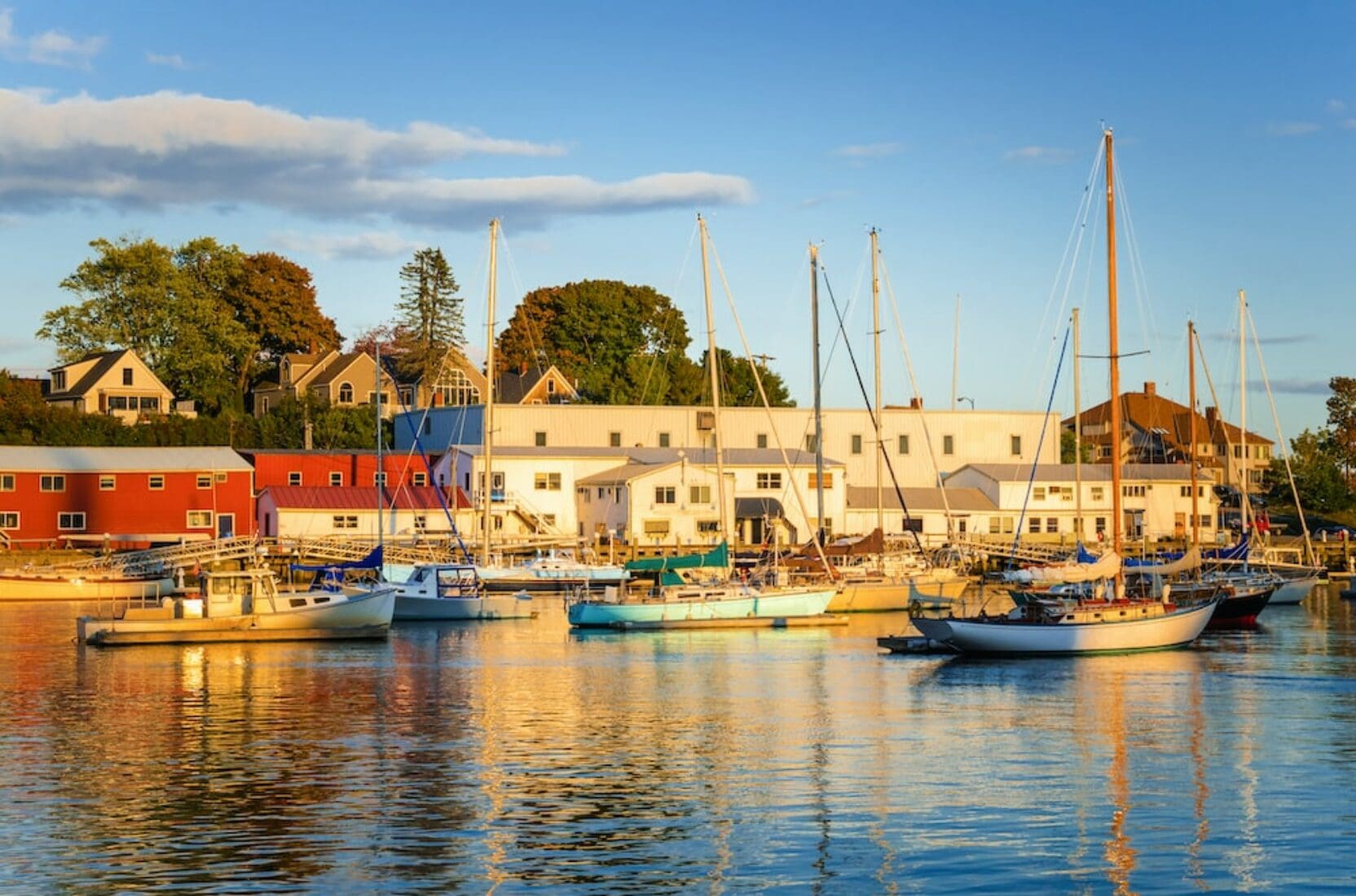 The surrounding towns of Camden, Rockport, and Rockland are not to be missed while in midcoast Maine. Camden's Opera House is particularly notable, especially in conjunction with its incredible festivals and bustling main street. The Camden Snow Bowl is a popular attraction, featuring hiking and mountain biking trails, plus skiing and a winter toboggan chute. Hang on tight.
Related Read: 8 Spectacular Glamping Spots Near Acadia National Park, Maine
Coastal Maine Botanical Gardens
Okay, so this one isn't in Lincolnville; in fact, the Coastal Maine Botanical Gardens is an hour south. But making the drive down is definitely worth it. Perfect for big and little kids alike, the gardens will lead you through a dream-like landscape.
It's complete with giant trolls (known as Guardians of the Seeds) and even a fairy village. It's a lovely place to stroll; the Meditation Garden is especially peaceful.
Related Read: The 9 Best Hikes Near Portland, Maine
Where to Eat in Lincolnville, ME
Cellardoor Winery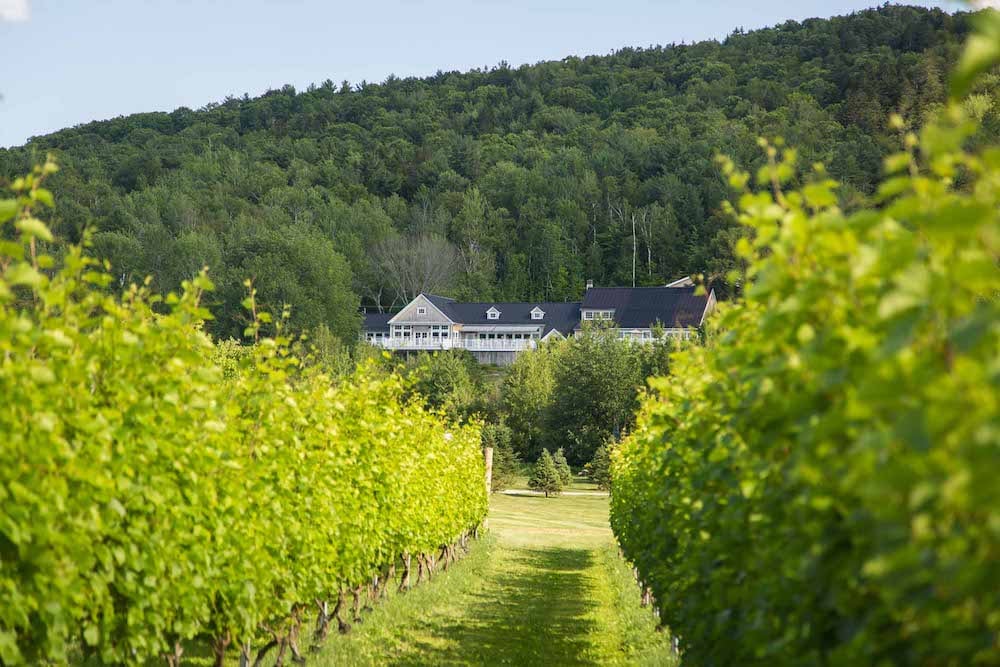 There's a heartwarming story of how Cellardoor Winery came to be. Around 100 years ago, a migrant worker swung by the farm looking for work. He carved a "hobo symbol" in the barn door (which is still there) as he departed to let other travelers know it was a welcoming place. Their logo is based on that etching.
Fortunately, it's still a pretty welcoming place – although to be fair, Mainers are known for their hospitality. But it's especially nice here. The winery offers a variety of red and white wines and is the first Maine winery to produce Ice Wine.
There are several events throughout the season with food and wine pairings from area chocolate- and cheese-makers. If there's not an event going on, you can still enjoy the winery's sandwich and salad selections.
Related Read: 12 Magical & Unique Places to Stay in Maine
Red Barn Marketplace
The Red Barn Marketplace is home to a lot of things: jewelry, antiques, local artisan goods, and collectibles. But it's also home to a bakery with fantastic sweet and savory dishes. It's a favorite among locals.
You can't go wrong with any of their baked goods, which changes daily based on ingredients — and whatever the bakers feeling like making. You might as well buy a few different pastries and do taste-testing to see which you like best.
McLaughlin's Lobster Shack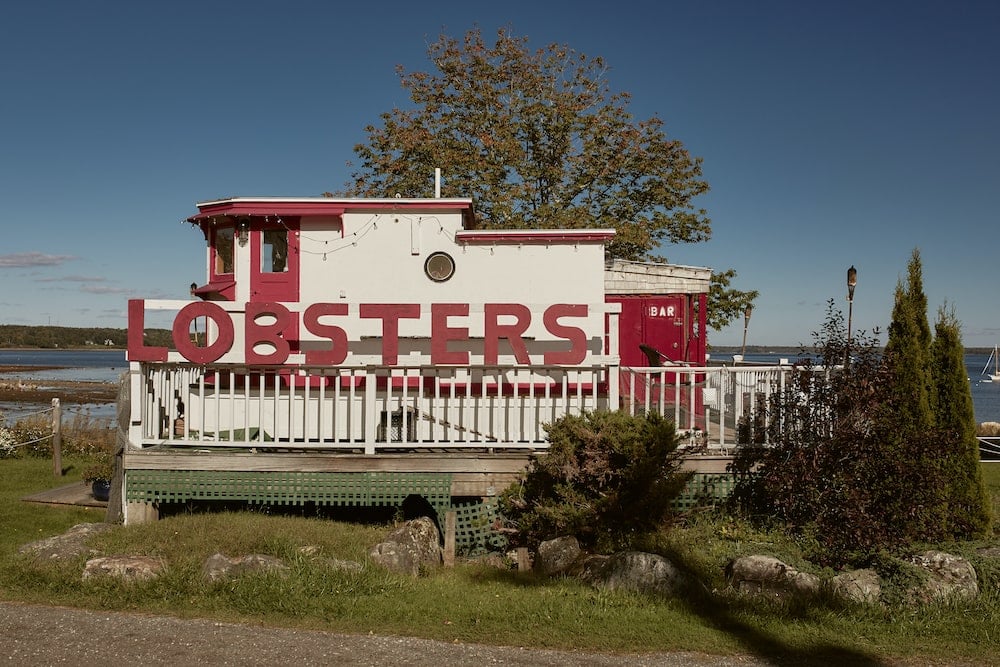 There's not a lot to say here. It's lobster. In Maine. On the water. It's delicious. It doesn't get any fresher than McLaughlin's.
If you need to sample other lobster (or frankly any other seafood), you may want to try the Lobster Pound instead.
Whale's Tooth Pub
Although "pub" is in the title, the Whale's Tooth Pub is like not really your average pub. Instead of burgers and peanuts on the bar, this pub has a duck reuben and crab-crusted halibut on their menu. But don't worry if your tastes are more simple as they also have burgers.
And truthfully, the service is great, so they could probably find you some pub peanuts, too. For a real treat, head there for Sunday brunch and order the Lobster Benedict — insert mouth-watering emoji here.
Salt Water Farm
For those who would rather cook their own meals, stop by one of Salt Water Farm's various cooking classes. Classes include modern country cooking, Italian or Mexican cuisine classes, soup-making, and even a "full moon supper" — werewolves, beware. Regardless of your choice, Salt Water Farm offers an opportunity to cook up some incredible meals with seasonal ingredients while viewing the sweeping vistas of Penobscot Bay.
Where to Stay in Lincolnville:
Point Lookout
Just north of Lincolnville, Point Lookout vacation rentals are one-of-a-kind. Unlike many other accommodations in this part of Maine, these are open year-round. There are one-, two-, and three-bedroom cabins complete with kitchens — some have stoves while some only have hot plates.
Charcoal grills and fire pits are at each cabin along with shared laundry facilities and a fitness center. There are even a few private hiking trails leading to a wooded pond. Bring your copy of "Leaves of Grass" to read on the shore.
Glenmoor By the Sea
The small cottages at Glenmoor By the Sea are perfect for small families. You can choose from one- or two-bedroom cottages, suites, and even a guest house.
They have two seasonal pools and plenty of activities for families including frisbee golf, cornhole, and soccer. On the weekends, the owners put on a huge bonfire and roast marshmallows while telling ghost stories. It's a good time.
Pine Grove Cottages
Tucked away under a grove of pines, the Pine Grove Cottages create a different experience than the one you'd find on the seashore. You'll still be able to smell the salty air, but you'll be in a little slice of forest heaven while staying here.
These cottages are perfect for anyone who wants to buy some fresh lobster and cook it up in the privacy of your own space (fully equipped kitchens are in every one.) Bonus: you can bring Fido as all Pine Grove cottages are pet-friendly.
Beach Cottage Inn & Suites
This is an ideal spot for those wanting to stick to "downtown" Lincolnville. The Beach Cottage Inn and Suites is on the town beach, so you can view the sunrises on Penobscot Bay.
You can also people-watch from your deck as you sip your coffee and keep an eye on the lobster boats coming in and out of the harbor with their daily catches.
Inn at Sunrise Point
Live in the lap of luxury at the Inn at Sunrise Point. It's technically in Camden (three minutes south of Lincolnville), but it's so lovely that it still makes the list. There are only twelve suites across five seaside acres, so solitude is easy to find.
The Inn's conservatory is a high-end dining room with a three-course breakfast daily and afternoon tea. Get lost in the surrounding gardens or swing your worries away in the seaside hammocks.
Lincolnville Beach Cottage on Airbnb
Feel good about your carbon footprint while taking in the views at this eco-friendly sunny studio. The cottage is powered by solar panels on the roof of the main house and it has phenomenal water views.
Note that there are no shades in the studio, so if you're not a fan of the light, you might have to find different accommodations. But what are you? A vampire? You'll want to get up early to hit the trails anyway.
Explore More in Maine
Sign up for the Weekend Wanderer to join thousands of readers getting epic travel and ideas every week.
---