We research, evaluate and select travel destinations based on a number of factors, including our writers' experience, user reviews and more. We may earn a commission when you book or purchase through our links. See our editorial policy to learn more.
---
Indiana has much more to offer than just long-held traditions of Irish football, Hoosier hoops, and the forever-rowdy Indy 500.
With a state motto like "The Crossroads of America," Indiana's small towns, peaceful wild spaces, and sunny lake life should entice both those passing through and those looking to stay a while. And that may be why the options for cool Airbnbs in Indiana are nearly endless.
Check out this list for the quaintest of woodland cabins, the most alluring of secluded stays, canvas tents next to water, an old white church you can sleep in, and even a restored vintage camper.
Boisterous family vacationers, romantic getaway-ers and even those just looking for some solitude will all find something within their budget in the thirteen best Airbnbs in Indiana detailed below. Ladies and gentlemen, start your engines!
1. Nashville Treasure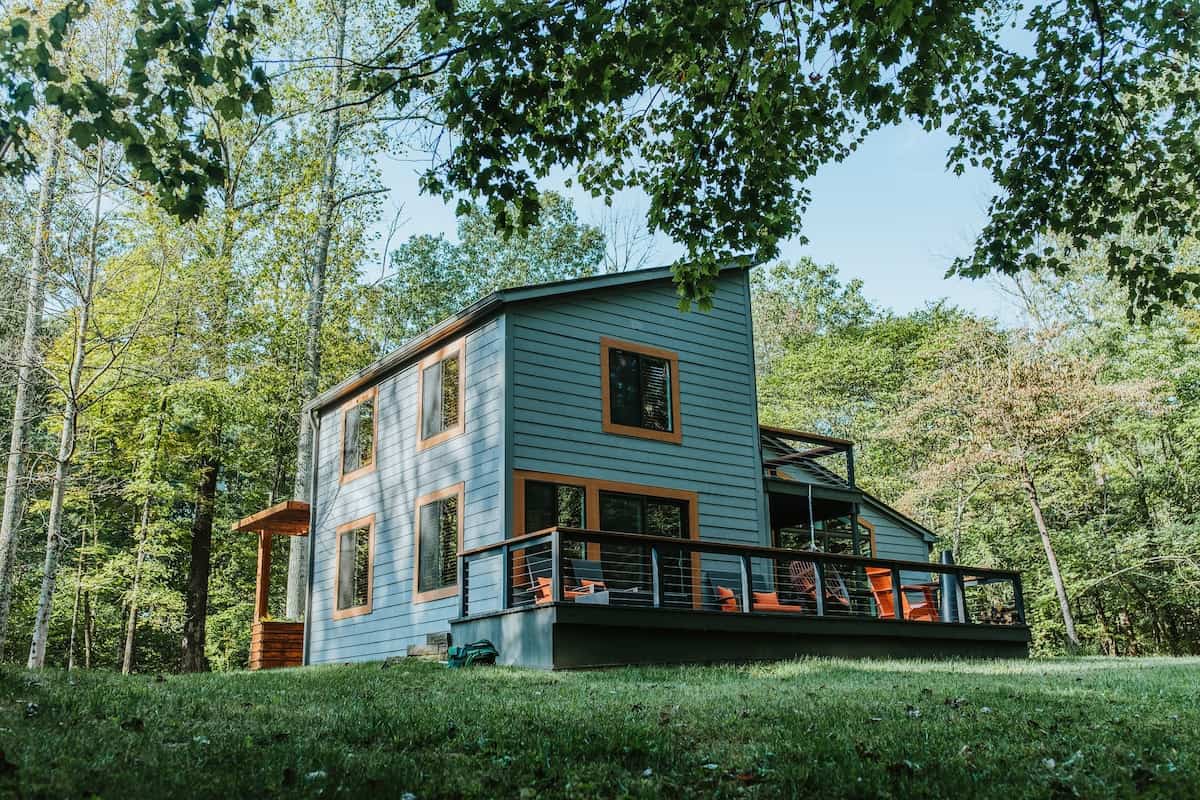 Why you should stay: Two words: orange appliances.
Location: Nashville
Sleeps: 2
Minimum stay: 2 nights
Rates from: $200/night
This recently remodeled spot is quirky in all the right Pinterest-worthy ways, and multiple reviewers left it with the high-ranking achievement of "Best Airbnb I've Ever Stayed In." The funky decor is part Art Deco and part mid-century, with a heavy dash of woodland cabin thrown in for good measure. It's definitely one of the most unique Airbnbs in Indiana in this area.
Even though the space is small, guests will enjoy a double-decker porch and patio with enough seating space for a small music festival, complete with a hanging egg chair and a secluded wilderness setting.
Nashville is just a short drive away, where you can find extreme small town charm. If you're looking for more nature-focused spaces, head further south into Brown County State Park, or go west to find Yellowwood State Forest. And if you're just looking for towns with amazing names, Gnaw Bone is to the east and Beanblossom is to the north.
Check Availability
2. Lakeside Canvas Tent Retreat
Why you should stay: Glamp like an influencer, fish like Hemingway.
Location: Jasonville
Sleeps: 4
Minimum stay: 2 nights
Rates from: $85/night
"Breezy" is the word that comes to mind upon first glance at these canvas tents, located just steps from the water. Hanging lights, repurposed wood, a full cast-iron outdoor kitchen and tiki torches give this glamping retreat a Jimmy Buffett-meets-Castaway feel, while amenities like hot and cold running water, flush toilets and a large refrigerator keep you comfortably on dry land.
This is one of the most fun Airbnbs in Indiana with serious safari vibes. Just be sure to bring your own bed linens and towels, as none are provided by the owner.
Snag an Indiana fishing license on your way to the property, and pay close attention to the regulations detailed in the listing. Kayaks and paddleboards are available to rent, and based on the size of the fish in those pictures, getting out on the water should be a priority for anyone choosing to stay here. Rentals are closed for the winter, but secure a spot starting the second week of May.
Check Availability
Related Read: 9 Delightful Weekend Road Trips From Columbus, Ohio
3. The Artist's A-Frame
Why you should stay: Lots of space and a central location for a good price.
Location: Madison
Sleeps: 4
Minimum stay: 1 nights
Rates from: $91/night
If you prefer proximity to civilization over seclusion for your family getaway, this precious A-frame is perfect. The home is located in a quiet neighborhood minutes from downtown Madison, so you'll feel connected to the community while still having your own space.
A big stone fireplace and large kitchen and eating area allow for a family with kids or a group of friends plenty of room to enjoy cold days indoors. The covered patio section encourages outdoor hangouts too, as does Madison's walkable charm and the Ohio River waterfront.
For under $100 before fees, this clean and modernized spot is seriously one of the best affordable Airbnbs in Indiana for small groups. Grab some friends or the kids and find an excuse to visit Madison, which shouldn't be too hard to do.
Check Availability
4. Cabin Porch Paradise
Why you should stay: One jacuzzi is good, but two is better.
Location: Unionville
Sleeps: 4
Minimum stay: 2 nights
Rates From: $350/night
Transform into a carefree wilderness fairy upon arriving at this romantic pad. Porches (yes, plural) boast bar-style seating and swings, while the surrounding space is home to multiple gardens, a frog pond, and an outdoor jacuzzi hot tub tucked into trees and open to the night sky, all likely to motivate hours of frolicking.
Inside, the massive stone fireplace, tall windows, full kitchen with wood stove and two luxurious bedrooms will keep you comfortable in the late night and early morning.
Toss a coin to choose between the bedroom with the canopy bed or the one with the french doors and private balcony, and then negotiate a schedule for equal use of the indoor jacuzzi with wall-mounted fireplace and walk-in shower.
While lower rates around $350 can be found during weekdays in December, this spot usually rents for $450–$475 a night, so if is one of the pricier Airbnbs in Indiana. But if you can get creative with your scheduling and be open to a winter trip, you'll save a bit of money on a truly unique and high-end experience.
Check Availability
Related Read: 10 Exciting Weekend Road Trips From Indianapolis, Indiana
5. Lakewood Cottage
Why you should stay: Free kayaks to use and a bunk room just for the kiddos.
Location: Jasonville
Sleeps: 4
Minimum stay: 2 nights
Rates From: $110/night
This waterfront spot with its own little sandy beach and breezy decor almost transforms Winona Lake into the ocean. The bright kitchen and living room boast oodles of storage space and seating options for big family meals, all with wide window views of the water and surrounding scenery.
Nestle around a large television for movies or sports on rainy days, or take full advantage of the patio, chaises, and Adirondack chairs spaced out around the yard and waterfront. The gas grill begs for burgers and hot dogs, and kayaks are available for exploring the water. Head up to Winona Lake Village to stroll along the little canal and grab ice cream.
Check Availability
6. Brown County Vintage Camper
Why you should stay: All the comfy cuteness you could possibly squeeze into something on two wheels.
Location: Nashville
Sleeps: 2
Minimum stay: 1 nights
Rates From: $55/night
If love grows strong in small houses, then memories must grow strong in vintage miniature campers. Go find out for yourself in this freshly renovated two-bed trailer in Brown County, parked at a campsite near lots of local outdoor recreation opportunities.
The campground has a shared bathhouse with showers and bathroom stalls accessible for those booking this space. If your friends get jealous and want to tag along, there are other campers at the same site also available for rent.
You will have your own fire ring with chairs and a picnic table for outdoor relaxing. If you need an adrenaline rush, booking here also gets you 15% off rates at eXplore Brown County, a local outfitter offering zip-lining, hiking and mountain biking, paintball and off-road tours. Wear yourself out and then retire to your cozy wooden cocoon for the night.
Check Availability
Related Read: 9 Exciting Weekend Road Trips From Cleveland, Ohio
7. Lakeside Beach Cottage
Why you should stay: Even the grill has its own cozy lakeside shack.
Location: Jasonville
Sleeps: 4
Minimum stay: 2 nights
Rates From: $110/night
Located on the same shore as the aforementioned BeachComber canvas tents, this bright teal mini-home looks like it belongs in a Corona "Find Your Beach" commercial with palm trees and salty waves.
Sit on the front porch, sway on a swing in the Boat House, lounge in a hammock, or snag a kayak and head out onto the water to find yourself some of those record-length fish. The bathroom, spacious food prep area and queen bedroom are all on the first floor, and two twin beds are located in the loft above.
This lakeside escape is just a few miles from nearby Jasonville, where you can stock up on necessities at the Dollar General. For bigger grocery stores or other amenities, Terre Haute is about a 30 minutes northwest. Unlike the canvas tents, this cottage is available for rent through mid-November and reopens in April.
Check Availability
8. The Cozy Nest
Why you should stay: All the necessary tools to enjoy a lakeside spot: s'mores, kayaks, and a big porch.
Location: Howe
Sleeps: 8
Minimum stay: 1 night
Rates from: $105/night
The Cozy Nest on Cedar Lake is the family lake haunt of your childhood all grown up. A recently renovated interior boasts lots of natural light, a cool robin's egg blue and worn white kitchen and a television mounted on a decorative barn door. Sleeping arrangements leave enough room for up to eight people if you're willing to use air mattresses.
Photos also reveal a s'mores station, a grill and plenty of outdoor seating space to watch over kids playing on the lawn near the water. Cedar Lake is a no-wake lake, and while there aren't any shallow swimming spots near the dock, there are public access beaches nearby. Otherwise, borrow a canoe, kayak, inflatable float or paddleboat, all provided by the owners, if bobbing with a beverage is more your speed.
Your lake-loving furry friends are also welcome in the Cozy Nest. Take them across the street to a trail network in the nature preserve!
Check Availability
9. Historic Hideaway by the Lake
Why you should stay: A small, historic church has a bright and modern secret hiding inside.
Location: Bloomington
Sleeps: 2
Minimum stay: 2 nights
Rates from: $159/night
Since this property has already been featured in Conde Nast and other local travel guides, you may already know how cool it is. But this church-turned-modern-studio is one of the best Airbnbs in Indiana and just too unique not to highlight.
Tall windows with gauzy curtains and a minimalist, all-white interior give the space an ethereal feeling. The fully-stocked modern kitchen with its range, double oven and full-sized refrigerator beg you to stay in and cook, while the extreme proximity to Monroe Lake and the bar at the Fairfax Inn might lure you to step out.
A 20-minute drive north gets you to downtown Bloomington, and Hoosier National Forest is at your immediate disposal. So whether you're looking for a long weekend near the wilderness or access to a fun college town with bright nightlife, head on down to the little white church.
Check Availability
10. Grain Bin Retreat
Why you should stay: …because it's in a grain bin. Duh.
Location: Ligonier
Sleeps: 6
Minimum stay: 1 night
Rates From: $70/night
If corrugated metal is part of your Instagram aesthetic – or if you want to know what living in a massive tin feels like — drop by the Grain Bin Retreat for a night or two. The large living room, television and well-outfitted kitchenette are on the first floor and a staircase leads to a fully furnished sleeping area upstairs.
One king bed, two twin beds, a desk and built-in closet space are all illuminated by windows, a skylight, and lots of extra fixtures. Many people think it's one of their favorite Airbnbs in Indiana.
While the structure is attached to the owner's house, you will have your own separate entrance and access to a unique screened-in fire pit circle, complete with a bench swing and lots of other seating for sharing ghost stories or gossip. And when morning rises, head out for a day of fun on Eagle Lake, accessible from the property.
Check Availability
11. Cabin on the Ridge
Why you should stay: Make all of your childhood Lincoln Log dreams come true.
Location: Madison
Sleeps: 4
Minimum stay: 1 nights
Rates from: $89/night
While you may be planning for just a quick getaway, the airstrip-sized covered porch, vaulted ceilings and precious decor in the Cabin on the Ridge might just hook you for a week or two instead.
Book for a few nights leading up to the holidays to escape from shopping and meal-planning, and cozy up next around the stone fireplace with a friend, loved one or a good book.
The two queen bedrooms and two bathrooms will accommodate four, but this is an ideal spot for one or two as well. And while "unplugging" is recommended, Wi-Fi is available for that one letter of resignation you'll be sending to your boss after your second cup of coffee on that porch.
Madison is located right on the Ohio River across from Kentucky. Take a day and check out the breweries and wineries, antique shopping, historic charm, and if it isn't too cold yet, join other pedestrians in a walk along the river. Grab some groceries and head back to your fully-equipped kitchen for a comfy dinner in.
Check Availability
12. Relaxing Retreat in the Woods
Why you should stay: Feels like the middle of nowhere, but is actually minutes from everything.
Location: Bloomington
Sleeps: 2
Minimum stay: 2 nights
Rates from: $110/night
While a little black cabin nestled in the woods might sound like something from a nightmare, this spot is a secluded dream for those looking to quench their escapism. The exposed wood interior and small floor plan insulate a cozy vibe, and the fire pit and hammock are perfect for late stargazing nights.
You won't need cable or cell phone service with the record player that is at your disposal. And even though the kitchenette has some useful amenities like a toaster oven and refrigerator, Bloomington and its many restaurants and bars is just a short drive away, allowing you to fill your mornings and afternoons with plenty of savoring and exploring.
Check Availability
13. Tippecanoe River Yurt
Why you should stay: The closest you'll ever come to sleeping in a circus tent.
Location: Monticello
Sleeps: 4
Minimum stay: 1 night
Rates From: $70/night
You don't need to travel to the West Coast or some remote mountain scene to get in on the yurt glamping trend. This colorful and eclectic spot is located right on the Tippecanoe River, south of the small town of Monticello near Lake Freeman. Cook outside, shower outside, do…other things…outside, and roll up the canvas walls to let 360 degrees of sunlight flood into the yurt during the daytime.
When night falls, sit out on your porch next to a wood stove for a bit, then drop the walls back down again and cozy up in your bed near the indoor wood stove for a peaceful night of sleep. The sunlight will greet you again in the morning when it floods through the skylight, signaling the start of another day of fishing and floating. It's one of the best Airbnbs in Indiana for people seeking some R&R in nature.
Check Availability
Explore More of the Midwest
Get epic travel ideas delivered to your inbox with Weekend Wanderer, our newsletter inspiring more than 10,000 readers every week.
---