Territory Supply is reader-supported and may earn a commission when you book or purchase using our links. Learn more about our editorial policies here.
---
Families across the country are staying home to slow the COVID-19 outbreak, but that doesn't mean a camping trip's out of the question.
With millions of people being asked to stay home and shelter in place, now's a great time to reconnect your family with the great outdoors, even if that means heading toward the backyard. Although it's still generally safe to camp where you can avoid crowds, more states are closing campgrounds and parks in an effort to prevent the virus from spreading.
No matter the situation, backyard camping's a great way to escape your normal home routine, get your kids used to sleeping outside and prep for the days when we can roam freely again. Here's a look at 10 ways to make your next backyard camping trip a success.
Related: 10 Amazingly Simple Camping Recipes for Kids
1. Raid your camping gear.
This might seem like a no-brainer, but the best way to set the tone for a backyard campout is with real camping gear. Of course, you can go the DIY route if you're lacking equipment, and most kids won't give a damn either way. But if you can, bust out the camping gear to make it feel like the real thing.
We have a few storage bins of camping and backpacking gear, and for this weekend I took out our REI Passage 2, some old sleeping bags, a few Helinox chairs, a Rumpl blanket and some random kitchen supplies for the girls to play with. Nothing crazy, but enough to turn our backyard into a makeshift campsite.
The girls brought their own supplies to the party: a grill and "pantry" to organize the essentials: camp mugs, condiments, lanterns and snacks.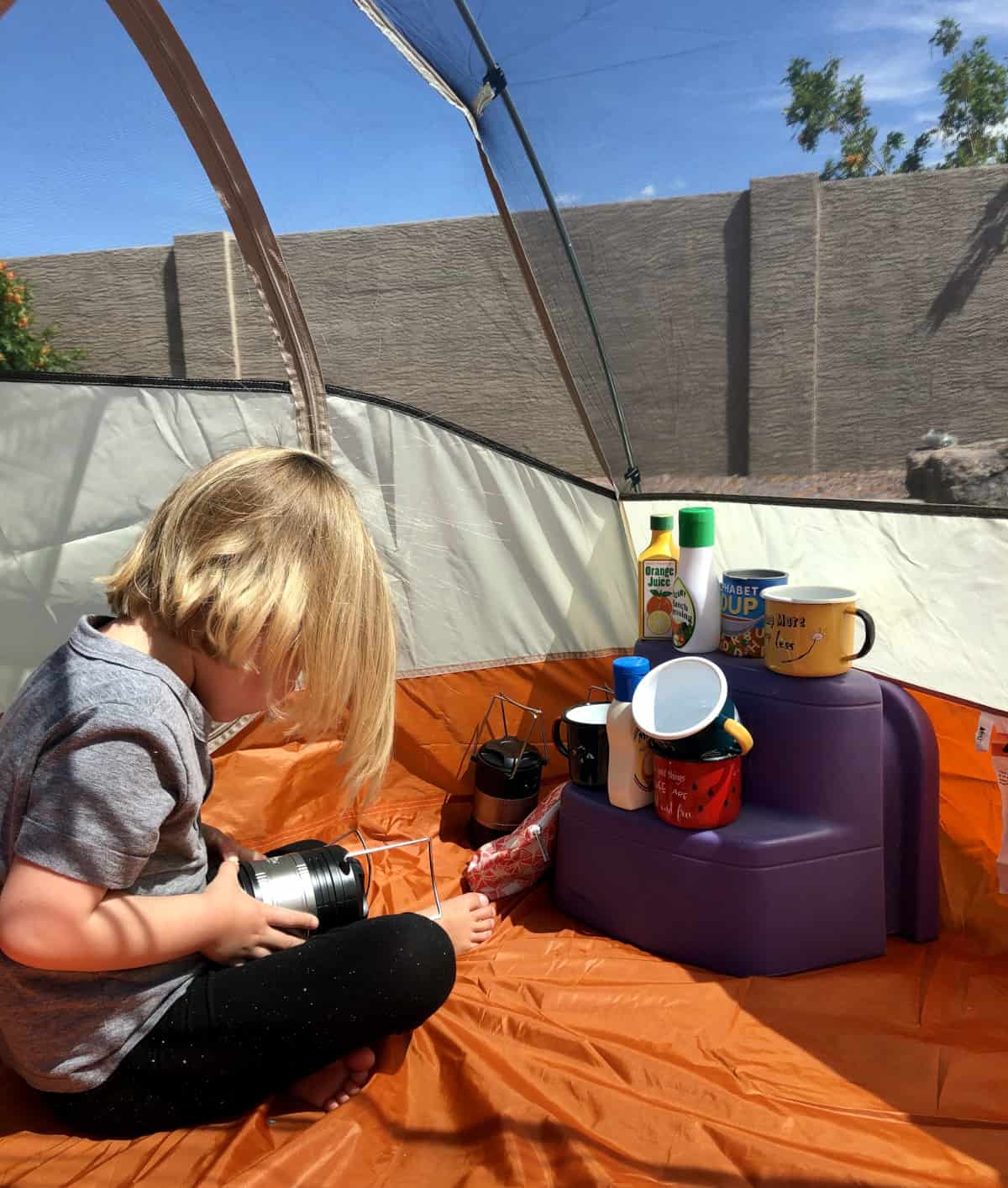 Fortunately, rounding up gear for a backyard trip is a lot quicker and easier than camping in the wild, so it doesn't take much to make it feel like a home (slightly) away from home.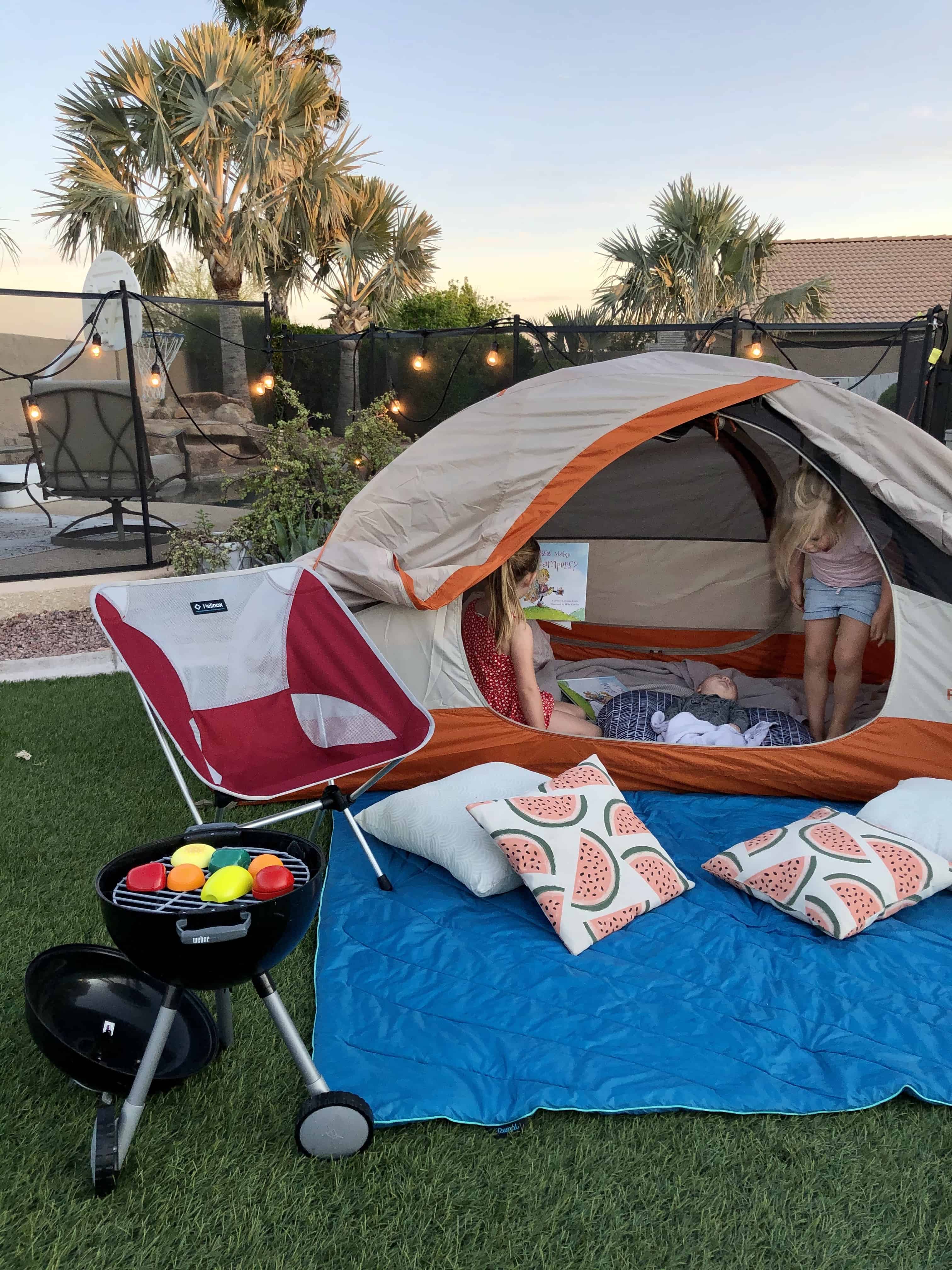 Spring's a great time to gear up for the year, no matter where you're camping. If you're looking to upgrade your family tent, check out the REI Basecamp 4, Kingdom 6 or Grand Hut 4.
2. Plan a hike.
What's a camping trip without a hike? If you can, plan a hike or neighborhood stroll within walking distance of your house. It's a great way to explore and expend some energy so the kids aren't bouncing off the tent walls later on.
We're lucky enough to have a house that backs up to the New River Trail, a 13.5-mile suburban path winding through Peoria. It's ideal for kids and families, with plenty of desert to explore off-trail when you need something more adventurous.
One of our kids' favorite past-times is visiting the "waterfalls" at Deer Valley Road after a heavy rain. This is what happens when you grow up in the desert.
To find a trail near you, check out Mountain Project or AllTrails.
3. Keep it outside.
In the spirit of camping in the wild, try to stay outside for the duration of your trip. It's easy to go back and forth into the house, but that can take away from the fun. Make it a challenge to stay outside, and if the kids get restless, don't be afraid to dip into a backyard scavenger hunt, camping crafts, yard games and more.
At the very worst, you can spend the entire day as a camel, offering free rides to children who promise not to pull your hair as you roam the wild landscape that is your backyard and only occasionally disobeying your handler, who may or may not have the proper training needed to handle such a wild beast.
4. Grab a drink.
Any good camping trip starts and ends with good food and drink. Give your kids options for backyard drinks, from classic hot chocolate to homemade summertime lemonade. If your drinkware needs work, check out this camp mug inspired by REI's founders' trip to the desert in 1936.
And don't forget to keep yourself refreshed, brave parent.
5. Bring your grill game.
The COVID-19 outbreak limited what we could make for this trip, but our go-to camping meal is usually grilled brats. Here's a delicious beer brat recipe that reminds of our summer days living in Wisconsin, and if you're looking to mix things up, here's a helpful list of foods that aren't hot dogs you can grill for kids.
Backyard grilling's straightforward, but if you're looking to round out your camp kitchen, check out the Eureka Ignite Plus 2-Burner Camp Stove or some of our other favorite camping stoves.
6. Pack a book.
Camping's the perfect time to unwind and remove yourself from the weekly grind, and there's no better way to slow things down than a good book. There are a ton of engaging camping books for kids, and if you need your own read once everyone's asleep (HA), check out our favorite true adventure non-fiction books.
This is also a good way to make your kids more comfortable with disrupting their normal routine.
"If you read a few books with your child before bed each night, don't skip it just because you're camping," says Jean Lim Flores at REI. "Young kids love routine."
7. Get your s'more on.
There's no end to the ways you can customize your s'mores, and s'more cooking is itself an art form. Because we had a small fire, we cooked marshmallows on an open flame rather than waiting for low, scolding embers.
"A young dancing flame will quickly sear the marshmallow coating, keeping the interior cool and firm," says REI.
Good enough for us.
We have a firepit in the backyard, but if you're looking for an easy portable option, check out the Solo Stove Bonfire Fire Pit, one of the most popular portable fire pits for families.
8. Light up the night.
Kids, like large flying insects, are attracted to lights. It's basic science. Make camping at night more fun and less frightening for 'em with an array of lighting options. We went with rainbow Christmas lights around the tent, patio string lights and their personal favorite, the MPOWERD Luci Outdoor 2.0 Inflatable Solar Lantern.
It's easy to use, charges quickly and attaches to just about anything, making it one of the more versatile camping lanterns in our inventory.
9. Make breakfast in the morning.
This is purely for the overachievers among us: if you're not exhausted from a night sleeping under the stars and covered by random and constantly moving child limbs, check out some of our favorite camping breakfast ideas.
If that's not in the cards, keep the camp vibe going with an easy outdoor picnic of fruit and oatmeal.
10. Have fun and be flexible.
Throw any rules you have about camping out the window. Educate and inform without lecturing. Have fun and go with the flow.
After all, camping's too fun to take seriously.
Explore More Camping Gear
Sign up for our free email to join thousands of readers getting epic travel, hiking, camping and gear ideas every week.
This post is sponsored by REI. Learn more about our content and editorial guidelines here.
---