In general, cooking at camp can be tough. Add in some wild kiddos running around the campfire while you're wielding a knife and balancing a cooking stove, and outdoor cooking can get pretty messy.
I'm the first to admit that kids can be picky eaters. My own kid rotates between chicken nuggets, macaroni and cheese, hot dogs, and PB&J sandwiches. I've tried hiding veggies in tomato sauce or sneaking in some healthy food wrapped up in a brownie. I swear, my kid knows when I'm doing this and spits it out immediately.
But with all the times that I've camped with my child (it's been at least two dozen), it seems like there's something about the wild air and the smoke of the campfire that gets my kid to eat just about anything. So if you've got a picky eater like mine and need some camp recipes for kids, check out the options below. And consider giving the meals funny names – trust me, that'll make more sense when you see the options below.
If you need a portable fire pit, check out these Solo Stove alternatives, and make sure to grab the best cooking tools and essentials for your camp kitchen. If you're car camping, pick up one of these best car camping stoves to make your cooking extra-easy.
Tips for Cooking at Camp with Kids
The biggest piece of advice is to prep as much food beforehand as possible. Aluminum foil is your friend. Consider making meals and gathering individual servings into aluminum foil packets. At camp, all you'll need to do is put it over the campfire to warm it. Try cleaning and folding the tin foil after you finish so you can use it a few more times before it gets tossed. You could also use a Dutch oven – my go-to piece of camping equipment.
To create as little stress as possible, have snacks on hand. I like having trail mix, dried fruit (or fruit leather), and pre-cut veggies and dip or hummus.
Camping Meal Recipes for Kids
1. Porcupine Meatballs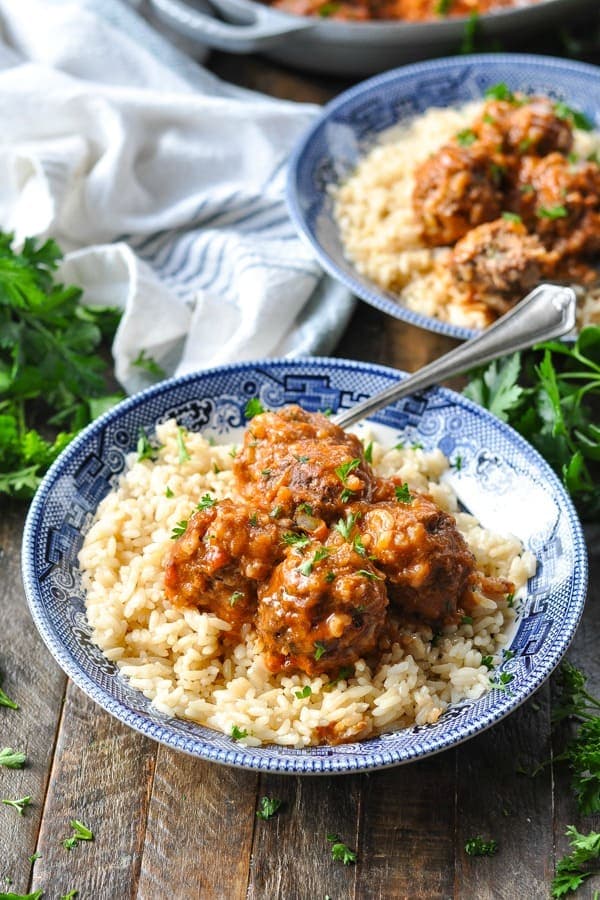 This recipe from The Seasoned Mom is one of my favorites to make at home. Its name comes from the rice in the meatballs that will eventually stick out, making them look like porcupine quills.
My kid gets a real kick out of eating them and is literally the only way he'll eat beef, though there's a vegetarian version from Lord Byron's Kitchen. This camp recipe for kids is one best made beforehand and simply warmed up in a can of tomato sauce on the camp stove.
Related read: 24 Delicious Vegetarian Camping Foods for Your Next Weekend in the Woods
2. Mini Camp Pizzas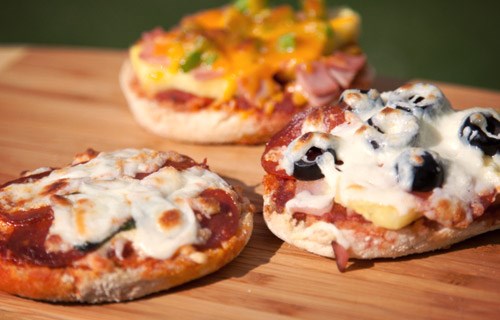 What kid doesn't like pizza? (Or adult, for that matter?) What's even better is if you can involve your child with making them – less work for you, right? These mini camp pizzas from the KOA Blog are perfect for any age.
Set up all the toppings you can possibly desire at your picnic table and let your kids go wild.
Related Read: 19 of the Tastiest Hiking Snacks to Fuel Your Adventures
3. Walking Tacos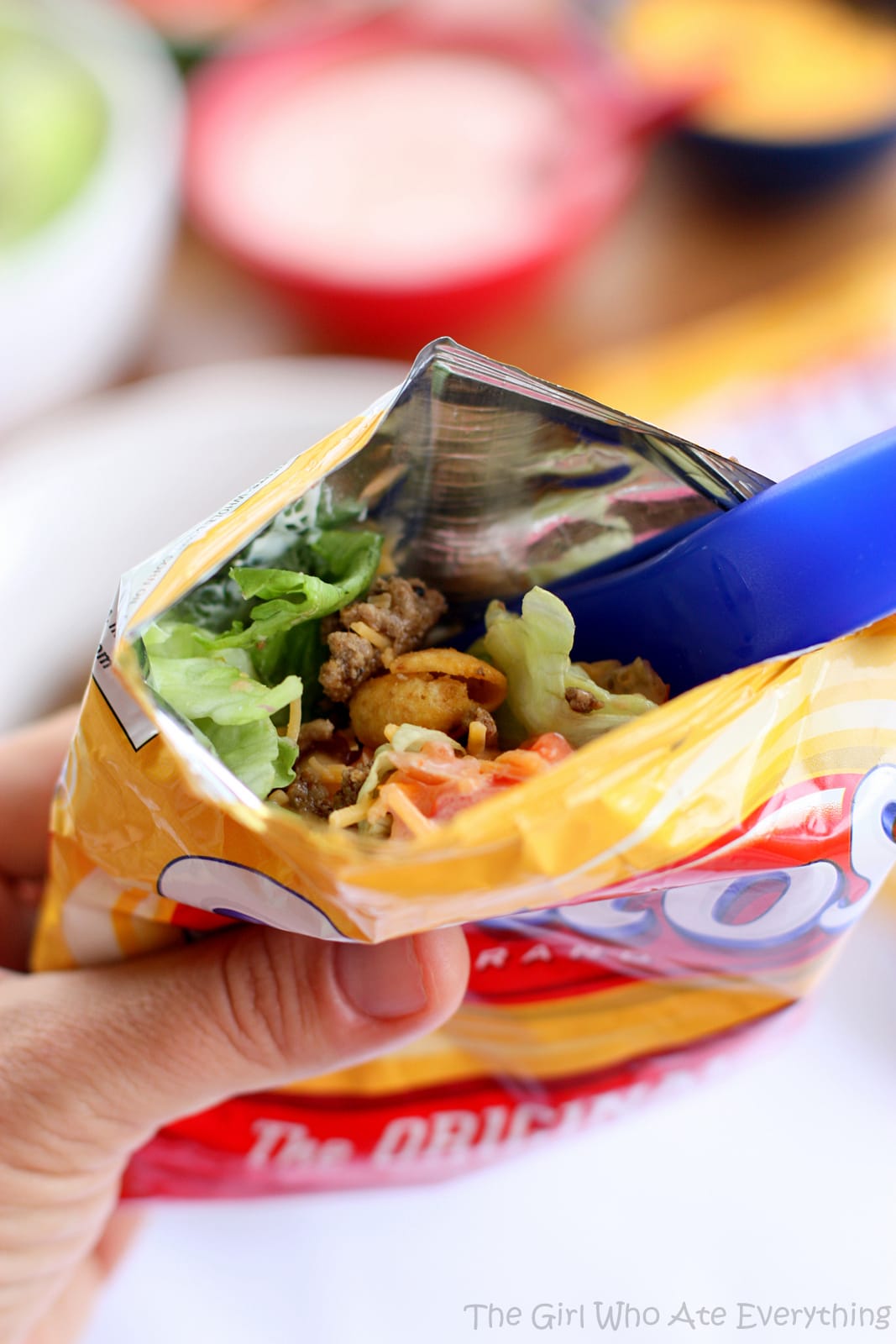 Tacos are a great, easy meal to make for any outdoor excursion. This recipe from The Girl Who Ate Everything takes the cake though (except there's no cake).
Her simple meal plan calls for bags of chips (Fritos seem to be a favorite, but feel free to spice it up a bit with Flamin' Hot Doritos) and all the toppings for a typical taco, including your choice of protein. Instead of using tortillas and plates, simply dump the ingredients in a bag and let your kids chow down using only a spoon. It's not the healthiest camp recipe for kids, but it'll be a fun kid-friendly meal after a day of playing outside.
4. Animal Hotdogs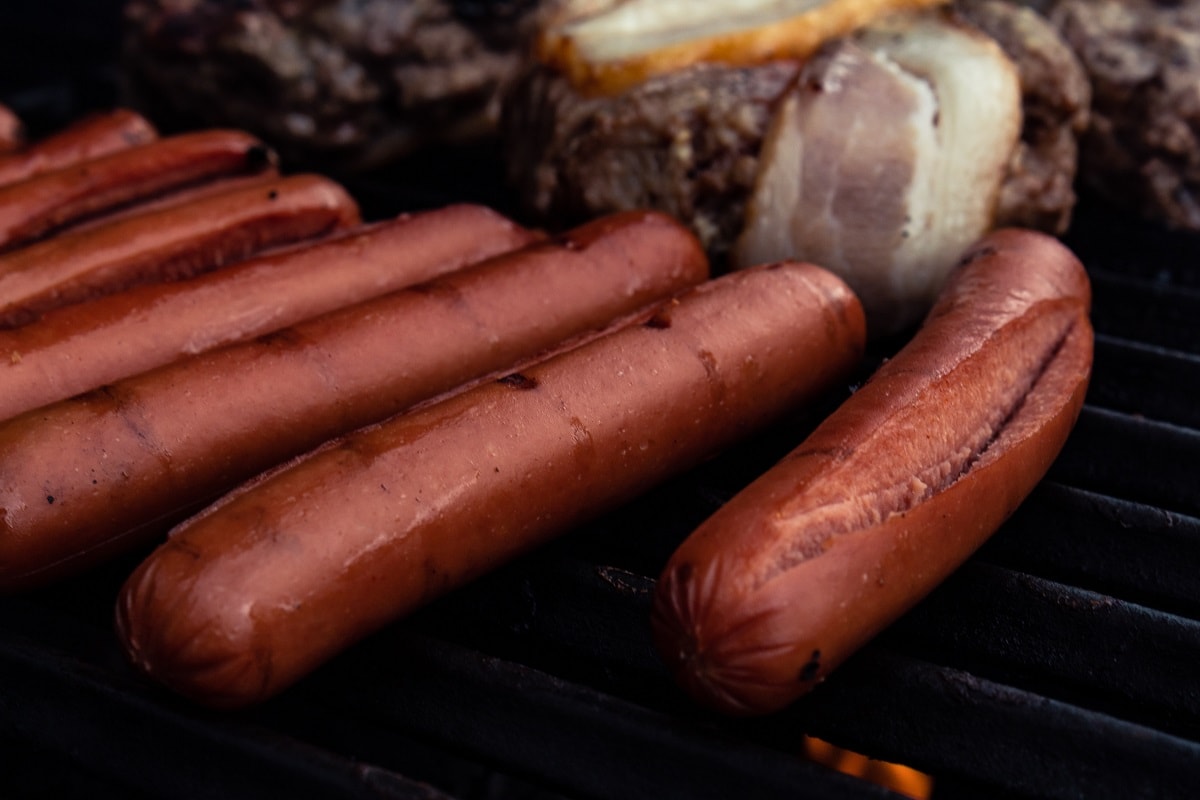 The "Camping with Gus" blog would argue it's all about the cut when it comes to delivering amazing animal-shaped hotdogs. So get creative and ask your kids how they'd like their hotdogs with this recipe. Maybe they prefer their hotdog shaped like a spider? Or maybe an octopus would be a little more exciting? Just don't make them too complicated or you'll find most of the pieces of your hotdog falling into the fire. Keep in mind that this recipe may not work with vegan/soy dogs as they tend to be more crumbly.
If you don't feel like you're that skilled with a knife, take on this simple recipe for race car hotdogs from Eating Richly.
5. Breakfast Banana Pops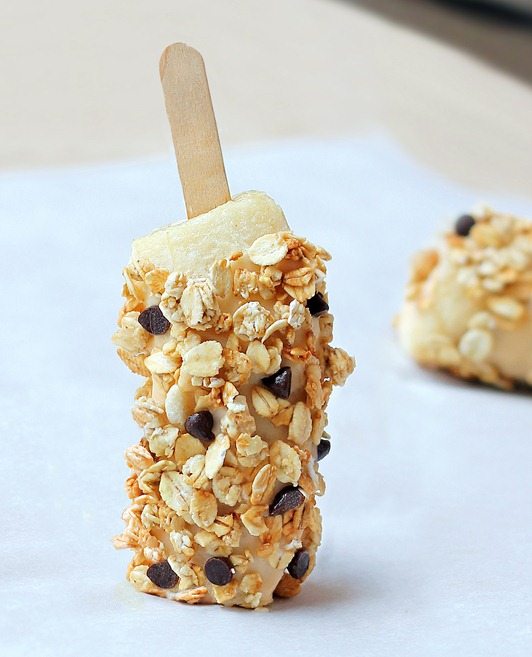 After a good night's sleep (or not so good, depending on how you sleep under the stars), wake up with a great breakfast. This recipe for banana pops from Chocolate Covered Katie is delicious and healthy. What's nice about this meal is how much you can customize it to your kid's preferences.
Depending on your kid's likes, you change up the toppings or make a few different types and do a taste-test. My kid's favorite is crushed Cinnamon Toast Crunch and mini chocolate chips. If that seems a little too unhealthy, consider making these as a late-night treat in lieu of s'mores.
Related Read: 18 Delicious Vegan Camping Food & Drink Ideas
6. Creamy Camp Mac & Cheese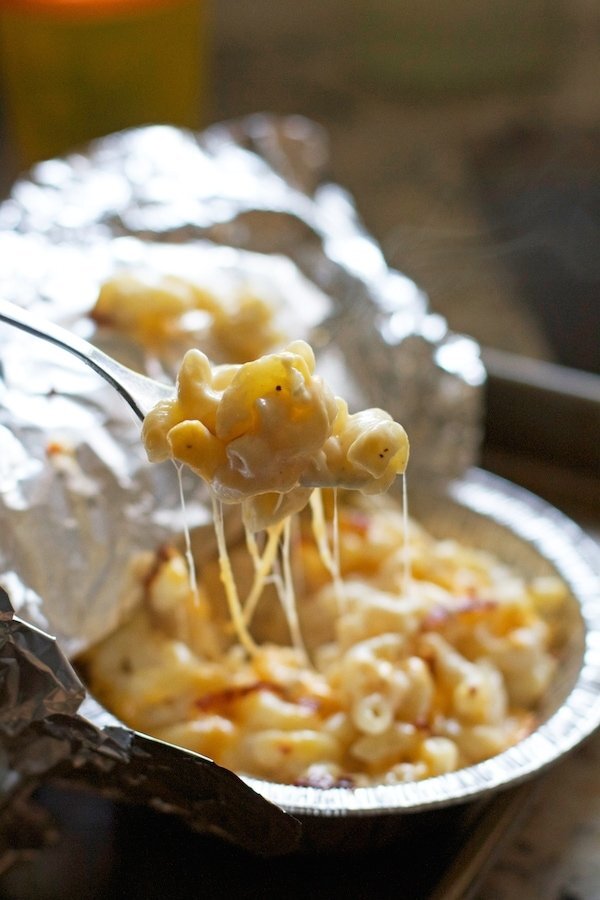 A classic whether you're at home or under the trees, you can never go wrong with macaroni and cheese. The recipe from Lauren's Latest is ideal for cooking up at a campsite. And honestly, it's just as tasty for adults; you'll be looking forward to it as much as your kiddos are come dinnertime.
If poor weather is in the forecast, this meal will cure any rainy-day blues and satisfy even the moodiest of kiddos. It's also a good meal to make if your kid is complaining about sore feet or bug bites – a huge plate of macaroni and cheese is enough to make even grumpy kids a bit happier after a long day.
7. Wilderness Poutine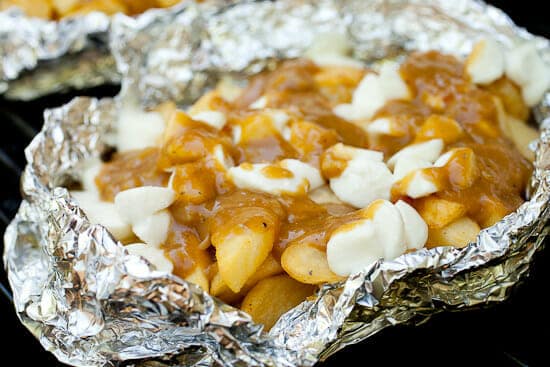 French fries aren't exactly the best of meals, but when you add some creamy gravy and savory cheese curds, you've got heaven in a foil packet. This poutine recipe from Macheesmo is ideal for grilling on your camp stove or over a campfire.
Kids will especially love this food because, well, it's french fries mixed with gravy mixed with cheese. My kid like to top his poutine with some bacon bits, though I prefer mine with chives. This is another easy camp recipe for kids that can be made vegetarian or customized for each kid's preferences.
Related Read: 8 Excellent One-Pot Camping Meal Ideas
8. Ice Creamless Cones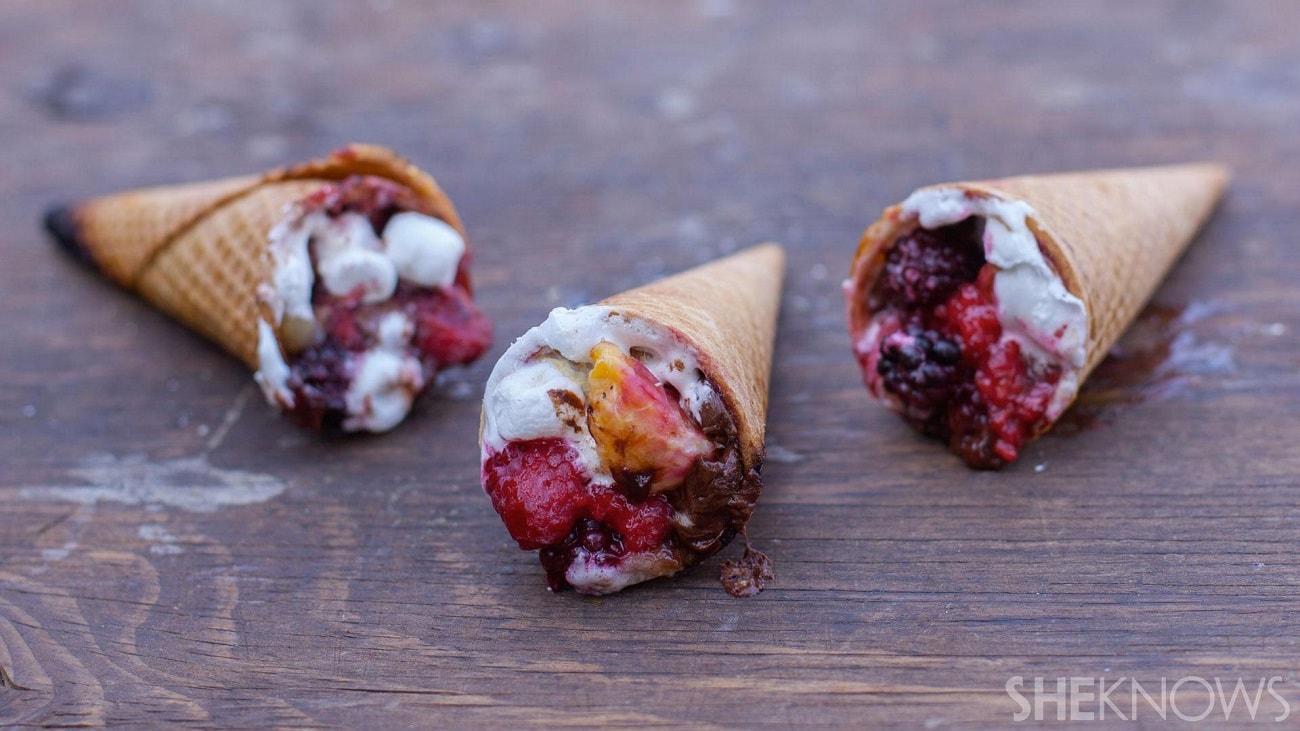 Ice cream might not last at a campsite depending on how off-the-grid you are. But if you take this recipe from Diana Johnson, you won't need a freezer to keep the ingredients.
Take a typical sugar cone, add in some marshmallows, fruit, and chocolate and boom, fireside cones. Keep the wipes handy for this one because it's bound to get a little messy. If you feel like making this camp recipe at home, you can mix in real ice cream for an extra-decadent treat.
9. Gooey Chocolate Skillet Cake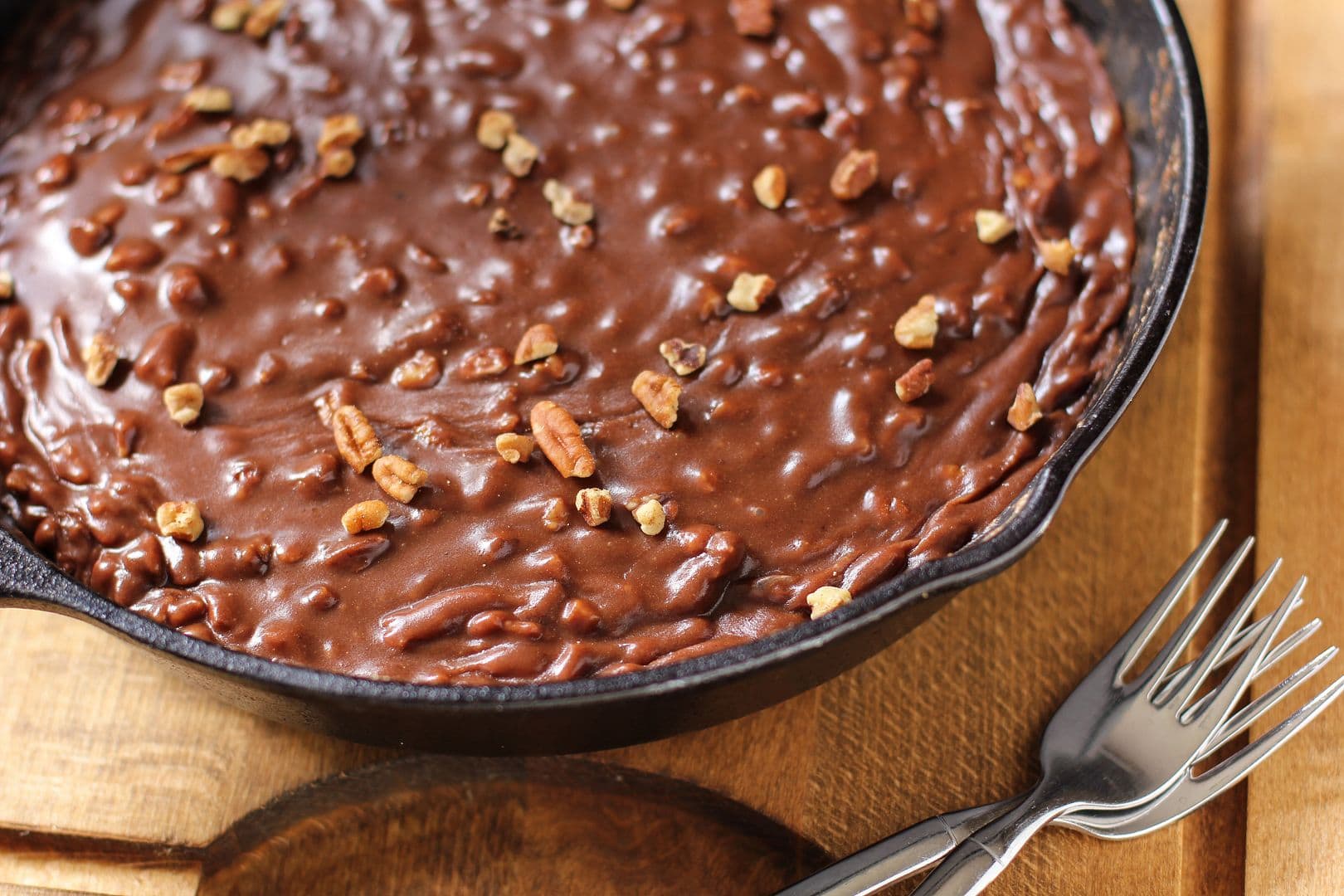 Break away from the norm of s'mores for dessert. Instead, make this delectable dish from Willow Bird Baking that will surely put your kids through a serious sugar rush (worth it!) Essentially, it's a really big brownie with nutty frosting goodness.
I suggest making this the first night at camp so you can pair it with some vanilla ice cream (assuming you have a good cooler.) Top it all off with some caramel sauce and this dessert is complete.
There's no need for individual plates. Stick the skillet in the middle of the picnic table, give spoons to the hungry hippos, and dive in.
10. Bear Tails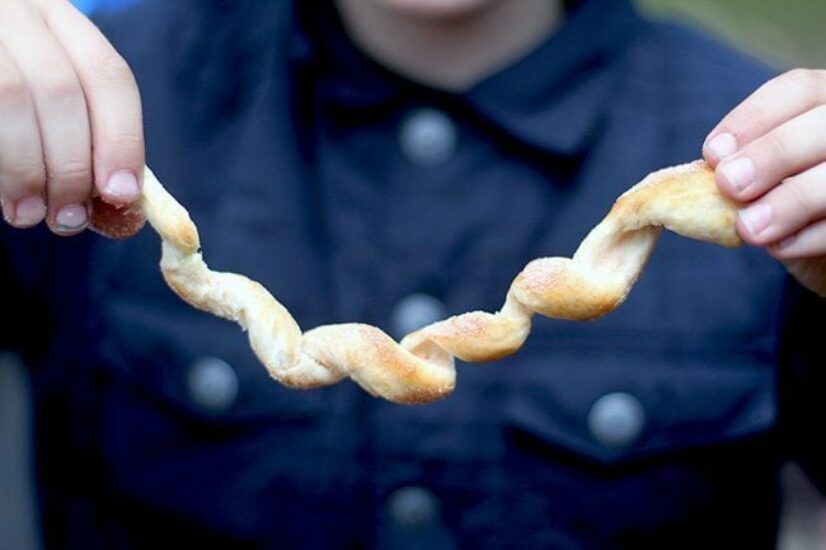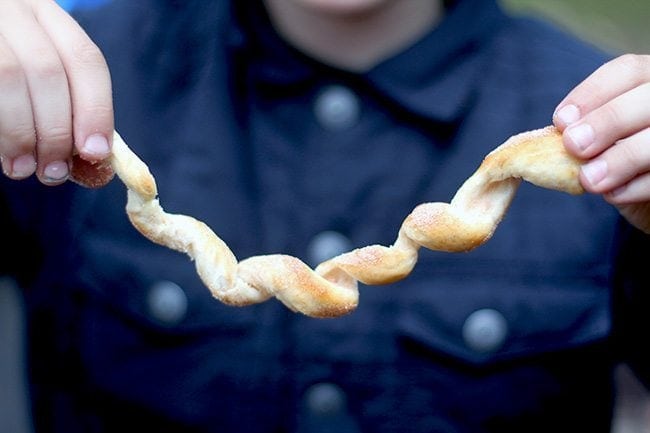 These delicious treats might not resemble actual bear tails (more like pig tails, probably,) but hey, your kids won't care.
The Kitchen Magpie has perfected this recipe and suggests using pre-made biscuit dough. This limits prep time, and as long as you can find a nearby stick or two, you'll have all the supplies you need to make them. Try to have some extra dough on hand as making sure the bear tails don't fall in the fire can be a bit of a trial-and-error process.
More Family Camping Tips
Sign up for Weekend Wanderer to join thousands of readers getting epic travel ideas every week.
---